Beetles - Early
Ovals Ovals Ovals
1956 Factory Sunroof Oval Window
Ray Black's 1943 Kübelwagen
Project OVL-057
Splits Splits Splits
Bob's Custom Bug
One Man's Okrasa
Phil's 1964 Beetle DUB-064
Peaches and Cream
Distinctive Deluxe
My '57 Ragtop Oval
My 1956 Oval
Blown Green Bug
The Life and Times of the Spearmint Volksy
And You Thought Christmas Only Came In December
Infected!
My Old Green Volkswagen
Richard's Ride
Leigh Harris' 1959 Turbo Beetle
Peter's 1957 Oval
The Thrill Of It All
Dave Birchall's Sea Blue '65 Sunroof
Ovals Ovals Ovals
By David Birchall
May 1986
Do you know what an oval is?
Ōv'al, a & n. 1. Egg-shaped or ellipsoidal; having the outline of an egg or elliptical; adv., ovalness, n. 2. n. Closed curve with one axis considerably longer than the other, like ellipse or outline of egg; thing with oval outline; The Oval, Kennington Oval in South London. (Concise Oxford Dictionary)
All you VW enthusiasts will realise that in this case, the Oxford Dictionary has erred. Everyone knows that an 'oval' is the name we use to refer to a Type 1 Volkswagen Beetle model produced between March 1953 and August 1957, which naturally enough has a rear window which is oval-shaped. Volkswagen Germany introduced this new window as an improvement on the previous split window.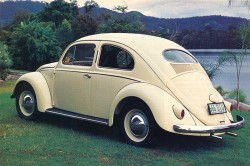 The Volkswagens that first went on sale in Australia in late 1953 were ovals. Splits were never sold here. In this article I will attempt to detail some of the more recognisable differences in the oval window models that were produced between 1953 and 1957.
1953 MODELS
From January 1953 – Chassis No. 1-428157
To December 1953 – Chassis No. 1-575414
VW chassis numbers were allotted consecutively, and prefixed with a '1-' for Type 1.
Motor: 30-bhp 1131cc displacement, round voltage regulator, no accelerator pump, single tailpipe exhaust, spring clip on oil filler, large generator pulley nut, side-exit high tension leads on distributor cap.
Body: One-piece oval window replaces split window type. Straight gearstick, handbrake offset on chassis tunnel to operate pushrod for handbrake. Heat control behind driver's seat on tunnel. Doors had raised mould around door trim, starter button on dash beside speedo. Only two seat runner tracks on chassis, interior seat trim was a leatherette-type long grain material, steering wheel spoke in centre of wheel, heart-shaped tail-light upper lens, rear lens was almost round, external door handles were flat faced not ribbed; window and door handles were grooved and ivory escution plate was ribbed. Semaphores dark orange in colour. Driver and passenger seat backs were not adjustable.
1954 MODELS
From January 1954 – Chassis No. 1-575415
To December 1954 – Chassis No. 1-781884
Motor: The most noticeable difference was the increase in engine displacement, from 30-bhp 1131cc to 36-bhp 1192cc. Intake valves increased from 28 to 30mm, compression increased to 6.0:1, and later 6.6:1. Inlet manifold increased in diameter; Vacuum added to distributor, and cap was changed up upright exit of high-tension leads. Accelerator pump added to carburettor. Oil bath air cleaner replaces felt element filter.
Body: Starter now incorporated with the key ignition switch, replacing separate switch on dashboard. Dashboard light brightness now variable by rheostat, and automatic three-way interior courtesy light added. The rear heater outlets were lowered, and the rear seat back has a rubber retaining strap. The heart-shaped top window in the tail light housing was dropped. Double-filament rear bulb shows red stop lamps instead of orange.

1955 MODELS
From January 1955 – Chassis No. 1-781885
To August 1955 – Chassis No. 1-929746
This year the changeover of models was brought forward from December to August, in line with the workers' summer holiday and similar to American practice. Previously the model year was simply January-December. Therefore you will notice that being a transition year there is really no distinct 1955 model. Those from January to August are practically identical to 1954 models, and those from August to December are now called 1956 models.
1956 MODELS
From August 1955 – Chassis No. 1-929747
To August 1956 – Chassis No. 1246618
The one millionth Beetle was made on 5 August 1955, which coincided with the new production year. The number of chassis digits rose from seven to eight. In an effort to simplify the system, VW reduced the number of digits back to seven again in January 1956 by simply dropping the '1-' type prefix. On December 30 1955 the last chassis made was 1-1060929, and on 2 January 1956 the first was 1060930.
Engine: Two chrome exhaust pipes instead of one. Square regulator, small generator pulley nut, and screw cap on oil filler.
Body: Lower off-centre horizontal spoke on steering wheel. Heater knob moved forward in front of gearstick, which now has a bend in it. Door moulding removed. Wider front seats with adjustable backrests. Seven different seat positions instead of two. Fuel tap lever position changed. Fuel tank reshaped to increase front luggage space, and fuel filler reduced from 80mm to 60mm. Tail lights moved about 65mm higher. Semaphores now yellow/orange in colour.
1957 MODELS
From August 1956 – Chassis No. 1246619
To August 1957 – Chassis No. 16000439
This was the last year of the oval window, and only minor changes were made before the much-revised big-window model was released for 1958. Total production of oval-window Beetles was 1,145,488 vehicles.
Engine: Metal timing gear on camshaft. Oil pump drive increased in diameter. Larger oil passages in crankcase.
Body: Adjustable striker plates in door locks. Front heater outlets were moved back from near the firewall to near the door pillars.
I hope this article has shed some light on the difference between the models of oval windows.
1956 Factory Sunroof Oval Window
By David Birchall
September 1986
June 1981. One Saturday morning an ad appeared in the paper for a 1954 VW not too far away from home. On first view of the advertised Beetle, it turned out to be a 1957 and was also full of rust. I then asked what other cars were for sale, as there was a Type 1 Ghia and a 1967 Sunroof Beetle parked next to the 1957. Rust was too far advanced in either of these, but the owner said there were a couple more VWs in the garage out the back. After counting 15 in all, I started to look them over one by one.
Tucked away in the back corner was this oval window Beetle. It had fifteen different colours of paint, and someone had started to make it into a Baja Buggy by cutting off the front and rear beaver panels. After removing all the surrounding junk from on top of it and around it, I revealed a 1956 factory Sunroof model; the first one I had ever seen. I wanted it! Even without the boot, bonnet, mudguards, wheels, motor, gearbox, front and rear beaver panels, interior, bumpers etc etc, (what a mess!) it did have one thing going for it – the factory-fitted sunroof. It wouldn't close, of course, but what the hell.
We had to move all the other cars to tow it out and home. How the neighbours laughed at my 'new' car, but they had done that many times before and of course, Sue was thrilled by my new acquisition (she could see it would be up and going in no time at all).
First job was to remove all the junk from inside the car and evaluate what we had. Obviously a full restoration, ground-up, was required. So began a complete strip of what was left of the car. I removed every last nut and bolt, wiring harness, body off the floorpan, windows, etc etc.
After this, the scrounging began in earnest. A 1954 Beetle was located (plus the rust, and I mean everywhere), but it had good guards, boot, bonnet, motor, gearbox, beaver panels and trinkets. Front and rear beaver panels were cut from the 1954 and grafted onto the 1956 Sunroof shell. Fortunately, the 1956 had no rust in the body shell. I rolled it upside down on the back lawn and hosed out all the hidden crevices. Twenty-eight years of dirt build-up was removed. A Beetle shell upside down on the back lawn is quite a sight to behold.
The floorpan was rather sad. It was bent, twisted, no jacking points, 2" water pipe welded to the gearbox forks and two 'Fred Flintstone' holed under the battery compartment and passenger rear side. I told Sue she could sit in the back and help push us along, but as she wasn't very keen on this idea I enlarged the holes to 400 x 300mm and cut another floorpan apart to get good floor sections to reweld back into my 1956 floor. The floorpan is much easier to restore as you can turn it upside down on the garage floor for welding purposes.
After 18 months the body shell was resprayed and restored with headlining and sunroof re-trimmed, and electrics rewired. I took the body shell to the motor trimmers using a box trailer.
Accessories include fuel extension lever, passenger sunvisor, headlight eyebrows, bonnet crest flag and 8-mph stipmeter speedo.
The motor was completely overhauled and re-assembled by me, but with a full balance, and port and polish of the cylinder heads, to fully gain those claimed 36 SAE horses.
I carried out all the work, with a few other helping hands. These being Dad and Sue with the paint stripper and wiring harness; Steve with welding and panel work (many a beer sunk) – he's a friend of mine; Qantas Airways Plating (Big Mick), cleaning (me), Paint Shop (Chris) and a host of many others. It's a great workshop.
After another 18 months of doing all the fiddly bits and pieces, the car was ready for rego. Of course, it passed with flying colours first time and so began my new daily driver and part-time show car.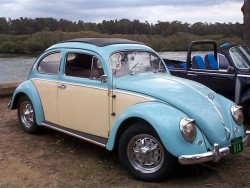 Overall it took approximately 3½ years to restore the car. This was due to my doing a Metallurgy Certificate Course at Sydney Tech, comprising 2 nights and half Saturday every week for four years. Not to mention getting married and having a baby!
A letter from the Volkswagenwerk in Germany stated that chassis number 1227636, motor number 1384715 and body number 259582 became a blue VW on 26 June 1956 (now 30 years old).
Up to the present date the car has won the flowing trophies:-
Best Pre-61: St Albans Day 1985 – Club VW
Runner Up: Bourke to Burketown Bash – G. Brothers Display
Best Beetle Original: Day of the VW 1985 – VW Club of NSW
Best Mechanical Original: VW Spectacular 1985 – Nambucca Heads
Best Original Volkswagen: VW Spectacular 1986 – Nambucca Heads
The car is currently in early sixties hot-up style with mods to 36-bhp engine being twin Solex carbs, mechanical distributor, extractors, front Maico 5-stud disc brakes, and front and rear sway bars.
It took a loooooong time, but we think it's been worth it (Sue's still not quite sure). Hope to see you all at our next Club VW event, and I would love to tell you more about this restoration (Just try and stop him – Sue)
Ray Black's 1943 Kübelwagen
By Ray Black
November 1986
They say the important things in life always happen by chance, and finding Kübelwagen, Type 82, Number 2-045-433 was no exception.
Like all of us bitten by the VW bug, the sight of Kübels was always the highlight of any war movie. For many years I lusted for one, but where to find one, let alone how much they were, remained unanswered questions for some years.
I subsequently went to England a few times, and the Kübels I saw there were tragic. The better ones were very rusty and held together by many layers of paint – to add insult to injury, the paint wasn't even the right colour or finish. They were festooned with a variety of stoplights and blinkers, and one even had the bench seats out of an Austin! Regular ply tyres (instead of 'M' treads) seemed to be type fitted to them all, which made the total effect more sad than ridiculous.
It also seemed the greater majority of Kübels were on Beetle floorpans, many with 15-inch wheels, modern synchromesh gearboxes and hydraulic brakes.
I guess a combination of the demon rust, and a desire for creature comforts caused a scrapping of 90% of all original KdF chassis and mechanicals. It's a miracle any Kübels survived at all, for many reasons:
1. They only had a planned service life of about 6 months – therefore no rust protection.
2. All surrendered vehicles tend to ultimately end up being melted down for scrap, because of the shortage of steel post-war.
3. It was illegal for a German national to own an ex-Wehrmacht vehicle other than under special circumstances.
4. All vehicles remaining in Russian-occupied zones and countries stayed there.
5. Those that did survive were pressed into all sorts of prosaic pursuits such as farm transportation and ugly duckling roles considered too demeaning for the new post-war saloons.
6. The severe European winters with salt on the roads finally took their toll on the majority of war veteran Kübels.
As best as can be determined from sources around the world, the nominal roll of surviving Kübels totals about 250. There were 50,000 produced.
While in England I saw a few Kübels that the owners said they would restore one day. What I saw were Kübel body shells laying on their sides in muddy water, exposed to the elements and quietly disintegrating. The panels crumbled in your hands like a Sao biscuit.
The owners wouldn't dream of selling what remained, because they said:
"One day I'll restore it." Sound familiar?
This depressing situation remained until one day, back in Sydney, fate intervened.
By chance I met an English military vehicle collector (a resident of Hong Kong) and inevitably the conversation turned to Kübels. He wasn't selling his, but he knew of another fellow in England who might be. This fellow was attempting to purchase an expensive American WWII armoured vehicle, and was strapped for money. Would he consider selling his Kübel to help finance the armoured vehicle was the tantalising question.
I wrote to this fellow, and yes he was considering selling his Kübel. The photo he sent me of 2-045-433 suggested it was basically a beauty – the best one I'd seen.
We all know it's not wise to buy a car off a photo, particularly from someone you don't know 20,000km away.
Enter fate again: I needed to go to England and this was my chance to see it close up. I wasn't due to leave for England for a few weeks, and if someone else wanted it before I got there – tough!
The second day in London I arranged to see the Kübel. It was all the photos promised; very original with many hard-to-find bits on it. There was some expected rust, but none of it terminal and reasonably easy to cut out and replace. Fate also wanted to give me a nudge. As we were sealing the deal on the spot, an overseas telegram arrived from someone who had heard about this Kübel and stated he wanted to buy it and a deposit was already on its way!
After several years I found the Kübel I had been looking for and made it by just three minutes!
I now had a Kübel, but now I had to get it back to Sydney and I only had a couple of days to get it to a shipping agent before I left England. My anxiety was heightened when I trailed the Kübel to the agent. He was sipping scotch straight from the bottle while he was taking down the details!
My anxiety grew further as I made my way to the airport, wondering in what condition the Kübel would arrive in Sydney. I had arranged for it to be shipped in a container, but there were still a few days it would be unattended before it went into the container, and a day this end.
Two months later when I went to the Sydney Freight Base at Villawood to collect it, I walked into the shed not daring to look… there it was! As beautiful as the day I first saw it. The only thing missing was the taillight, souvenired by some mindless jerk. I think in hindsight I was lucky that's all that was missing. The restoration took about four months intensive work, and was completed 21st November 1985.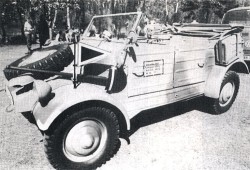 A few facts about Kübelwagen Type 82 2-045-433. It is a 1944 model, assembled on 21st January 1945 and delivered to Heereszeugamt (army stores depot), Kassel, Germany, the next day. Few specific war service details exist for Kübels, and mine is equally tantalisingly enigmatic in this regard. We can make some reasonable deductions.
Kassel late January 1945 was not a safe place to be. The tide had turned against Germany in the Battle of the Bulge, and Patton's tanks were heading east towards Kassel, dead ahead. The battle for Arnhem (A Bridge Too Far) was over and the British were bearing down from the north-west. 2-045-433 would have been pressed into service urgently, and I'm sure acquitted itself well in whatever task it was set. Incidentally, I have painted 2-045-433 in the unit markings of the Ramcke Regiment, 2nd Parachute Division (Luftwaffe).
The remnants of this unit were in the Kassel area at the time and it's feasible that it could – just could – have been assigned to this unit. It had seen action, because when we were restoring it we found a heavy calibre bullet hole through the heater tunnel, right-hand side.
2-045-433 remained in Germany after the war in the hands of a collector who had a number of Kübels. He hired them out to movie companies and it's quite possible it featured in movies during the 1950s and '60s. In 1968 he sold it to a Frenchman in Paris, who in turn sold it to the fellow I bought it from.
What stories could this sturdy little piece of history tell? What action did it see? How did it get the bullet hole? How did it end the war?
Like a true Volkswagen, even after 43 years, it can still do just about everything you want it to do – willingly and faithfully.
The only thing it can't do is talk, but being a Volkswagen, one day you just never know, it might.
Project OVL-057
By Peter Halliday
December 1986
One Saturday morning, twelve months ago, I purchased the Sydney Morning Herald as usual and with only a glimmer of hope, on account of past experience, searched the advertisements for an oval-window VW. Eureka! Today was my lucky day. Such a vehicle was for sale at Nabiac, just south of Taree, 250km north of Sydney.
On the 'phone I learned that it was part of a deceased estate, had been driven since new by the one lady owner, and had 84,000 miles on the clock. I had to see it, but we could not set out immediately as a prior engagement committed us to a woolshed dance that night. However, the late owner's daughter promised to keep it if we could reach their dairy farm on Sunday before 2pm – the time for commencement of milking. We went to the dance in our Kombi camper, and were able thereby to snatch a few hours sleep that night on the roadside, giving us a flying start to our mission northward.
Racing against the clock, we arrived at the farmhouse and took our first look at the oval – light blue in colour with royal blue interior – but it had a lot of stone chips to the body and, at first glance, I was disappointed. However, I wanted that Beetle! I could not pass it by! So the transaction was completed and on Monday morning I took delivery, then set out for home with my 'Best Girl' following in the Kombi. Three times en route the engine 'konked out' and three times I managed to get it going again and resume our journey. As I drove I was more and more pleased with it. The transmission was very quiet and it steered well.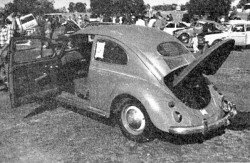 Restoration has now begun and, believe me, needs only be attempted if you can spend hundreds of hours on it.
I removed the guards, the bonnet and engine covers (including rubbers), running boards, wipers, bumper brackets, and chrome strips from the body. It was also convenient to remove the back wheels, although underneath I placed stands, adjusted to keep the vehicle a reasonable height from the ground.
At first I considered rubbing back the existing duco, but when scraping the roof little spots of rust were revealed. This called for a two-speed sander with a 24-grit disc to remove the duco, then an 80-grit disc to smooth out some of the scratches. Ferropro Metaclean was brushed onto the bare metal, rust spots rubbed with 150 wet and dry, then Metaclean applied again. The advantage of Ferropro Metaclean is that it can be painted on to the clean bare metal and left overnight or even a couple of days before further treatment is required.
Preparing the engine vent slots below the oval window is an awkward job but I managed, with reasonable success, using 150 wet and dry paper rolled around a small paint brush handle before treating with Ferropro Rust Converter.
The next step was to mask up the front and back windows, place a 'skirt' of about 300mm along the gutter to protect the as-yet uncleaned body, and blow the roof down with compressed air before spraying one coat of Ferropro Super Prime. This primer, water-based and waterproof in itself, needs 24 hours drying before the application of acrylic lacquer undercoat.
The reason I chose Super Prime in preference to etch primer was that the latter needs undercoating straight away, whereas the former can be smoothed with wet and dry and this may take several days. I sprayed on a second coat and, using 400 dry, rubbed out any scratches and marks without cutting through.
Next, two coats of Dulon Type A grey undercoat was sprayed and rubbed back when dry with 400 paper. This is time-consuming for the solitary worker as it must be done in small sections of about 300mm square. The Type A primer impressed me as it filled a lot of scratches and retained good cover when rubbed back.
The roof was now ready for the finishing coat, so I concentrated on preparing the body.
Working in small sections and using paint remover, I scraped off the old duco. This was much slower than disc sanding, but not as many scratches appeared. The body was then washed with duco thinners. Wheel arches and channel under the doors where the running boards bolt on were cleaned to bare metal and I found that a scraper, with radius ground on end, made this task easier. I used pieces of power-saw blades with the edge ground to about 45°.
The spare tyre compartment was tedious, and to remove paint from the headlight wire groove inside the compartment I had to use coarse emery cloth before applying rust remover. The brake fluid reservoir was removed and the 'Made In Germany' plate unscrewed. After blowing out all the dust I sprayed two coats of Super Prime, allowing drying time and rubbing down with 400 between coats.
Special attention was paid to the rubber groove, but in some places the orifice was closed and needed to be prised up to make access easier. Similarly the engine cover groove. The blunt end of a power saw blade 1.5mm thick by 32mm wide was used, as a screwdriver was too narrow and left corrugations.
At the time of writing the undercoating has been completed and I am about to convert the 'grey look' to blue – as near the original colour as possible – and although quite a lot more is required to restore OVL to its former glory, I feel it is on the way to becoming another Beautiful Beetle!
Splits Splits Splits
By Graham Lees
March 1988
Like all their cousins, these particular Beetles have been bugging us for years. For a comprehensive collection of Volkswagens, Splits were a necessity and, if possible, a 1946 as we already have excellent examples of a '56, '66, '76 and '86.
The only '46 commonly known in Australia was the one brought in by German immigrants Mr and Mrs Haenel in the early 1950s, which VW Australia secured in 1961 and used in advertising and promotion, being paraded around from dealer to dealer across the country. This car later spent some time in museums at the Gold Coast and at Gilltraps at Leppington, but now resides in the York Museum in Perth. The owner, Peter Briggs, to date has declined any offers by us to purchase it, so it looks as if it will stay on the west coast.
Anyway, this 'fairy tale come true' story all started last year (1987) during a Terry Willesee Tonight show. They were interviewing an eccentric gentleman known as Captain Maurice Sneddon. This man is a hoarder of all things possible. His current claim to fame was for sewing electrical wires into clothing, thus providing low cost heated clothes for the poor.
The interviewer, Andrea Kear, was being shown around the Captain's back yard, which resembled a graveyard of unwanted items. The cameras were circling the yard, and in a one-second glance, there was a 'split' sitting in the garden under a tree.
Within minutes I had TWT's switchboard on the phone, requesting where the interview had taken place. Golly, how far do these interviewers travel? It was recorded in Dachet, England!
Not to be put off, I was shortly pleading with the International Directory Assistance to try and find the phone number of this Captain Sneddon. After declaring she "can't do", she weakened and phoned the English Directory Assistance. Yes, I finally had the number.
This Captain Sneddon was very surprised (naturally) to hear from me. His scepticism eventually gave way to negotiations. He had owned the car for well over 25 years, and had travelled extensively through Europe in it. He only had a driver's seat so he could camp in the remainder. It even had curtain racks completely around the interior. The old luggage rack had an LP gas cylinder on it for (you would never guess) the gas conversion he'd done on the 25-bhp engine.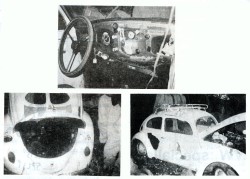 A close friend of mine, Iain Murray, was sailing in the Admiral's Cup at the time, relatively nearby (well, closer than I was anyway), so he went to see the car and take photos. He vowed never to return.
The Captain reeked of garlic, the house and yard were overflowing with 'precious rubbish', and the car had been in the flower garden for 13 years. The Captain had kindly 'detailed' the Bug the previous night by roughly painting straight over everything, dirt and all, with an old brush and a can of white paint!
Negotiations took over six months before we were at last able to get the car moved from his yard into a container and onto a ship.
We hope it arrives for the 1988 VW Nationals, although Aussie wharf movements (or lack of them), are likely to be a problem. We feel confident it could easily take out the 'Dog of the Day' prize, but who cares? It's a '46 split and that's all that matters.
Bob's Custom Bug
By Bob Hickman
May 1988
VW-054, as it is known these days, entered our life just after November 1986.
It was purchased from Jeremy Taylor shortly after one of Boris's Fitzpatrick Park Picnics. Jeremy and I negotiated over the weeks and arrived at a sum of three hundred dollars for the 1954 body shell.
My dad and I picked up the body shell on the back of my box trailer and brought it home. It sat for a couple of months in the back yard, covered by a tarpaulin.
When I went to remove the tarp, it had glued itself to the roof of the car. Consequently I damaged the paint and it was decided we'd have to re-spray the whole car. I liked the colour Jeremy had painted it, which is 1978 Porsche Guards Red, so I repainted it with five coats of colour and two coats of clear.
From the time of purchase I began to buy bits and pieces. The floor pan, a 1970 swing-axle type, was purchased for $150 minus the front end from a young kid from Manly who'd lost interest in building a beach buggy. The pan was stripped and painted and fitted with new cables and Koni adjustable shock absorbers. The front end was re-worked and lowered by rotating the lower torsion tube, new ball joints were fitted and the whole thing was attached to the pan. A new German master cylinder was fitted, along with new rear wheel cylinders and overhauled front calipers.
The body, now painted, and the completed pan were ready to be placed together. A carton of beer and a few mates later and the job was complete.
As it happens, while the project began to take shape, a set of 7" Hotwire mags and flared front guards turned up in the Trading Post. They were in the boot of my Falcon before 7 am in the morning. The rear guards were picked up in a wrecking yard in Punchbowl for $60. They were damaged but repairable, and it was up to the fibreglass shop at work for advice and lessons on how to fix them.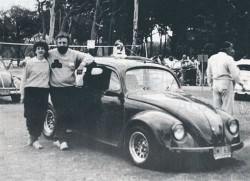 From day one of the project I was building an Aussie "Cal Look" vehicle. You know, lowered stance, de-chromed, painted door handles and headlight rims. But I should have stopped and read the rules; whose rules I don't know. It didn't qualify for entry into the 'Aussie Cal Look' at last year's Nambucca show because it doesn't sport a whale tail or skirts. Actually, I like to call it a mild custom Bug.
The engine was built with two major considerations in mind; it had to have a little bit of grunt, but most importantly, it had to be reliable.
The case was machined to accept 92mm barrels and a mild cam was fitted, along with a lightened flywheel to help it rev a little more quickly. Originally the engine ran a 40 DCNF single and a Bosch 009 distributor, but I have now changed to twin Kadrons and a Bosch 050 dizzy. This combination is proving to be very economical and produces a bit more low-down torque. To keep the engine cool, the standard doghouse cooler is in place as well as a thermostatically controlled Setrab external cooler. This combination keeps the oil temp down to below 90°C.
The interior consists of a pair of Porsche 911 bucket seats and the original '54 back seat was re-trimmed to suit the front seats. My wife Heather trimmed the door trims and the back parcel shelf in corduroy. Her handiwork can be seen on the little Beetles sewn in on the back of the front seats.
The total cost to date, including registration, is about $4000. It took many hours and lots of Saturday and Sunday nights in the garage to build, but it's sure worth it when someone says they like your car or you receive your first trophy.
The car receives no special treatment, is driven daily and serviced regularly. It is certainly washed and cleaned every week without fail.
A little advice to anyone contemplating building their own custom Bug: always shop around, check out the Trading Post and talk to as many people as you can, because you can get some good ideas from other people, especially club members. As far as I'm concerned, the help I received in acquiring parts and help to do certain jobs was invaluable. I would like to thank all the people who helped me out while I was building my custom Bug, namely Jeremy Taylor, Iain Smith, Dave Birchall, Boris, Fast Eddy and the Muller boys.
One Man's Okrasa
By Greg Figgis
November 1988
The apprentice panel beater walked into work one afternoon and casually asked me "Greg, have you ever heard of a VW engine called an Okrasa? "Yeah, I sure have", I replied. "I would like to get hold of one but they are as scarce as hen's teeth. They are the ultimate VW accessory to have". "Oh, my flat mate's got one that he wants to sell," he replied.
Following on from that conversation I became the happy owner of a genuine 36hp Okrasa engine.
A meeting was arranged with the flatmate who turned out to be a fellow mechanic, and whose father happened to once run a VW agency in Goulburn. They had imported 12 of the engines years ago to fit into gyrocopters. When the VW agency was sold three engines were left on the shelf. My engine had been fitted to a '58 Beetle owned by the mechanic's mother. It was used mainly on country roads around their farm. Upon meeting Holgar the mechanic, he advised me that someone else was already interested in the engine, but seeing that I was a friend of his flatmate and I made a better offer on the engine it was mine. Unbeknown to me, that someone else was Steve Muller. Would I have made that offer for the engine had I known that our "Club Presidento" was in fact in the running? I am glad I did not have to make that decision, as it would have been rather hard.
When I went to look at the engine it was sitting amongst a pile of motorcycle parts covered in mud and cobwebs. The first thing I noticed that was different with this engine was the twin carburettors sitting on tall manifolds that ended in twin ports atop cylinder heads. Wow, this was a real Okrasa engine. Other noticeable differences were the lightened flywheel, the factory set up carby linkages and the sports coil.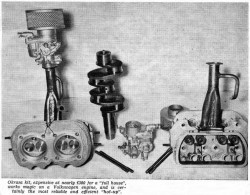 The deal was clinched and we carried the Okrasa out of the garage and loaded in onto the back of the Kombi single cab.
According to Holgar the engine had only travelled about 15,000 kilometres, so after checking the oil level, crankshaft bolt and end float, tappets and a compression check plus bolting on an exhaust I fired her up. The engine turned over quite easily and ran smoothly. I then stripped the motor down of all tinware and cleaned everything up. All the tinware was repainted and the carburettors and manifolds bead blasted. I fitted the engine into a 1960 Beetle that I had recently acquired.
After some initial problems getting the idling adjusted properly, the only other problem I encountered was when I ran out of petrol and some dirt from the fuel tank jammed in the needle and seats in the carbies. Otherwise the Okrasa runs like a ripper. Very smooth acceleration, responsive and of course lots more power when compared to the standard 36 hp engine.
But what of the future for this engine? Well, of course, I want to drive it along to some Club VW outings but I don't want to run up a big mileage on an engine that is so rare and hard to get parts for, e.g. cylinder heads.
So the obvious course is to put it in a vintage registration VW, namely my brother Phil's 1953 Beetle that he is restoring.
I bet he can hardly wait!
P.S. I wonder what happened to the other 11 Okrasa motors?
Phil's 1964 Beetle DUB-064
By Phil Matthews
May 1989
We've always had VWs in the family since Dad bought his first car, a second-hand 1954 Beetle (APD-920) in 1958 when he was a student teacher in Parkes. He wrote it off by sliding off into a ditch one night, then bought a brand-new Manly Tan 1959 Beetle from the Parkes VW agent, R.R. Nock Pty Ltd, in March 1959 (BTF-933). Guess what car he and Mum used to bring me home from hospital a few years later (and my two brothers and my sister over the next six years?)
We had a lot of good years growing up with a VW in the family. Who else remembers riding in the luggage area behind the back seat, looking out the back window, chewing the rubber strap and tearing the cloth roof lining? Or Dad pulling out the passenger seat to make extra room for carrying stuff – then picking up Mum's friend Gillian one evening and watching her fall backwards on her bum when she tried to sit inside – with no seat there! It went through several home-built engines (always finished late on Sunday night), and a respray over the years, but it got pretty worn out. Dad finally sold it in 1978 after 19 years, and when I left school in 1981 there was only one kind of car to buy.
I went to the University of NSW in 1982, and needed wheels to get there. After some looking I found Dick Swanton VW at Hurstville had two Beetles in the lot - a smart looking white 1300 Deluxe, about 1966 vintage, and a grape-coloured 1200. I wanted the 1300 Deluxe until Dad showed me the rust in the body, and what worn king and link pins looked like! After a quick test drive in the purply-grape 1200 (DLU-617) I was won over and bought it for $900 in cold cash. It was 12 February 1982. On getting it home the first thing it did was blow a seal in the master cylinder, and snap a clutch cable!
Apart from these minor problems it proved a comfortable and reliable means of transportation into 1984. I gave it new radial tyres and an AM radio (with Dick Smith 6-12 volt inverter wrapped in a towel to keep it quiet) and homemade carpets. The 1200 40-horse returned 30 mpg in town and 40 on trips; a NSW VW Club jaunt to Mudgee at the time was most memorable. The motor finally broke a piston at Liverpool in 1984 but it still ran on 3 cylinders and I drove it home with no problems.
Dad and I built a 1500 motor using an "H" numbered case and those domed high compression 'Twin S' Type 3 pistons you rarely see anymore. It was a good motor throughout its 3-month life! I was still learning about VW motors of course and forgot to wash out the case oil lines properly. Driving up the Putty Road north of Colo Heights in April 1984 the main line blocked up completely, starved the bearings and caused the engine to weld itself tightly together! It was a long way to be towed home.
That was the last straw for me. I'd been collecting new parts for a while and now it was finally time to pull the car completely apart and restore it, from the ground up! I took two weeks off work and stripped it back to the shell, placing all the bits into plastic bags marked, for example, FUEL SYSTEM or LIGHTING or BRAKE BITS or DOORS or whatever. When I was finished I was left with a body shell on milk crates and a chassis platform leaning on the back fence. The rest was in boxes in my bedroom.
I built the new motor first. Based on a line-bored 1600 'AD' numbered twin valve case, I clearanced it for a 78 mm Scat crankshaft with a rotary burr. Camshaft was stock, as were the rods (good low-RPM behaviour was important) but I used Treuhaft cam followers, heads (40 x 35.5. valves, ported), swivel feet rockers and stock size aluminium pulley. The oil pump was a Scat with screw on filter. Completing the package was NPR 85.5 cylinders and pistons, 2-litre Kombi oil cooler, twin Weber 40DCN carburettors and Thunderbird exhaust. This motor later proved very torquey (grunty) and produced 80 hp on the dyno at the back wheels.
Muller and Muller VW rebuilt the front suspension, Bruce Geddes the transaxle. Muller and Muller also sourced almost all the small mechanical bits in the chassis that a rebuilder always needs, and my thanks go to them for labouring for hours on the VAG fiche reader!
Having completed the sparkling chassis to "drivable" stage by December 1984, it was time for the BIG job, the bodywork. Being a Life Insurance clerk at the time I couldn't afford to get it done professionally, and it requires a great deal more skill than simple spanner work. My Dad Peter took on the huge job of cutting out the rust, straightening the panels, cleaning and prepping the metal and spraying on the original Ruby Red paint, all in our spare time. This huge task took until August 1986 to complete, many times being shelved due to dwindling interest as some readers would understand! Helping to start Club VW at about this time was somewhat of a distraction also, but worth it of course.
Once the body shell was straight, new and shining red, a new spark of enthusiasm was lit and it was then a matter of reuniting the body and chassis after 2½ years. West Coast Metric provided all body rubbers, lenses and roof linings. Thanks go to Mum and Dad for bringing home all that rubber from California in 1983 in their suitcases. This was of course in the days before we had WCM agents like Boris just around the corner. It took a month to complete the trimming, with help from Leader Upholstery, and another month to fit the ancillaries - gauges, lights, switches etc. It took another 3 months to install my custom wiring harness and to ensure all the electrics worked OK. What a job that was.
It ran! I put on 'traffic' plates and drove it to Muller and Muller VW in March 1987 for a front-end alignment and a final check-over, then took it over the pits and got it registered with my special request plates, DUB-064. They didn't twig about the big motor, chassis mods or anything else. The inspector merely poked the floorpan from underneath with a screwdriver, looking for rust. None there, of course.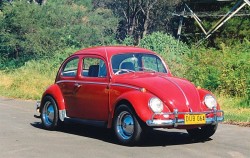 I've had two years since then of enjoyable VW motoring. The Volks is famous in our area for its bright red paint, smooth exhaust tone and quickness off the mark, and although I'm thrilled with how it's turned out there are still many improvements left. I will be fitting a radar detector (don't ask me why), more rust proofing, new door locks, better stereo, some more new body rubber and maybe give it a buff this year. In the pipeline is a bigger 2110 cc motor maybe five years down the track.
Some friends think I'm crazy to drive an old car when I should have bought a late model sedan with all the gimmicks. Well, my answer is that after all that work, I've got what amounts to a new car for half the price, it's fast, comfortable, custom tailored for me...and it's a Volkswagen.
Update – Since 1989 my Beetle continued to evolve and change. In 1990 the diff failed so I replaced the transaxle with a wider one from a Type 3, and upped the engine to 2007cc with 90.5 mm cylinders, Engle 120 cam, and the same 78mm crank in a new case. I also added 40IDF Webers and a hideway exhaust. I tried fibreglass exhaust wrapping, which made the engine much quieter. But it retained a great deal of heat in the extractor pipes, which eventually destroyed the steel's fine grain structure and the metal pipes crumbled into pieces like coffee sugar.
The original home-applied lacquer had chipped and faded by 1993, when I had the bodyshell professionally resprayed in baked two-pack enamel. The deep gloss finish looked great! Other changes I added over the years were new charcoal (not black) carpets, new door trims, white-wall tyres, a full-flow oil filter and pointless electronic ignition. It went to the Nationals every year through the 1990s, and was at the New Beetle launch at Darling Harbour in 2000. I fitted child restraint points in the back when my daughter Lily was on the way.
I was coming home from work in October 2001, stopped in traffic in the far left lane heading west on Anzac Bridge. As I sat there waiting for the traffic to move, I saw in my mirrors a Volvo 240 come over the crest behind me, and keep on coming. He didn't notice his lane had stopped until he was less than 20m from me, and slammed on his brakes. I could only helplessly watch him come and brace for impact.
He slammed hard into my rear, knocking me several metres forward into the car in front. The windscreen shattered as the whole body and frame twisted. I wasn't hurt, but got out in shock to see both the nose and tail smashed in, the body bent enough that the doors wouldn't close, and the smashed engine and gearbox bleeding oil onto the roadway. "Oh sorry," the Volvo driver said, "I got a twinge in my leg and didn't see you." The cops eventually booked him for neg driving; small consolation. I had to be towed away, to Vintage Veedub at Campsie.
Boris looked it over next day but there was no hope – every panel was bent, creased or twisted. Even a new body wouldn't save it – it was a write-off. The Volvo drivers' insurance company eventually gave me an $8K payout, AND the wreck. Thanks Boris, for all your help. Dad and I sadly trailered it home; here he is as he backed into the driveway.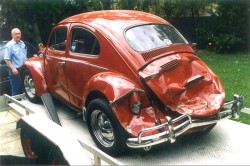 I stripped it to the last nut and bolt, separating the bent and broken pieces from the good parts. The bodyshell, floorpan, bonnets and mudguards all went to Simsmetal. I couldn't look, but I will never forget the noise their wrecking claw made on the bodyshell! The good mechanic parts, and many other items such as engine, gearbox, front end, wheels and tyres, seats, doors, trim, windows and electrical components, were sold at VW swapmeets over the next few months, and the proceeds all went towards buying my next VW - my 1974 Kombi Campmobile. There are a few of the Beetle's electrical components that live on in the Kombi – and I've kept the Beetle's keys, builders' plate and horn button as souvenirs.
The Kombi, and now my '95 Golf GL, have been fantastic substitutes, but I still miss my old red Beetle. However I wouldn't get another Beetle now – my days of working on old cars every weekend are over. My young daughter Lily loves our newer VWs, and while she likes the Beetles in the Club she doesn't want one. She says she wants an Eos for her first car…(!)
Peaches And Cream
By Dave Robinson
July 1990
Back in 1987 at the Motor Club Show, the rumour was heard of a '56 Oval body, in good condition, which has been stored in a workshop at Liverpool for 10 years. Upon inspection of the shell, it turned out to be an old Castlereagh drag car of the early '70s.
This car produced 14-second proper quarter mile times on the strip, using a mild 2-litre motor. It wasn't all that bad, back then.
The body had a little cancer in the driver's side sill and heater channel, but was very rust free otherwise. I didn't argue on a price of $500 for the complete shell and fixtures. The next 2 years were spent chasing body parts, and high performance engine bits, and most importantly an I.R.S. floorpan. While working at Muller and Muller as a mechanic, I purchased a '68 semi-auto Beetle that came in as a trade-in. The perfect basis for a cal-look '56 Oval. So I converted the semi-auto into a manual, with a reconditioned standard gearbox, when it was still on the road.
While all this was happening, the body was down at Mona Vale at Pete's Paint Shop, taking shape, welding in a sill, dechroming, and preparing for a fresh coating of paint, the colour 'Peach' in acrylic lacquer. Pete finally finished the job after months of sanding the body back to bare metal, and preparing for painting. I spent months of endless nights and lonely weekends, replacing every rubber seal in the body. Designing and making a complete wiring harness out of a Type 3 headlight harness, a Superbug fuse box, and 40 hp engine wiring. The underside was prepared with a lavish coating of fish oil and proofcoat.
I prepared for the swap to replace the tired 1500 body shell, and conned the boys at work to lend a hand with the muscle power. On a Friday night, we lifted the '68 body off and replaced it with a like-new '56 shell. A weekend of work, and plenty of patience, and help from Paul Muller and father, saw the Oval breathe new life again by the following Sunday evening. I drove it to work on Monday morning with no major problems.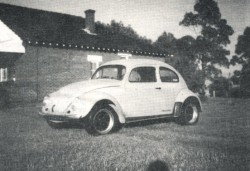 I was becoming impatient with the stock 1500 motor, and it was time for a more horsepower with a 2.2 litre engine I had built while the body was coming together. The engine consists of a Barrett 82mm stroker crank with 8-dowelled flywheel, standard shot-peened rods, Engle 125 cam and a set of Mahle barrels and pistons. The heads are modified, brand new 041s with stainless valves and Gene Berg valve springs and rocker shafts.
This was wrapped in a 1982 model AS21 German case that breathes via a pair of 48mm IDA Webers and Scat tall manifolds. Other items include a full flow, high volume oil pump, 16-row oil cooler, a remote oil filter and deep sump. The 2-litre motor is as good as it sounds, but there is room for improvement.
Finally, the Oval is a daily driver, and driven hard on night cruises. The car was topped off with a set of genuine Porsche 930 Turbo 16" factory mags, which really look the part. After selling my beloved 1800 camper, a 2-litre Kombi, and bleeding my bank account dry, it all worked out and I can drive the car of my dreams, which I have built myself.
Because there's nothing like an Oval!
Distinctive Deluxe
By Andrew Dodd
June 1994
What colour was that 'Anthracite? No, not Ruby Red, Pearl White or even Beryl Green.
Anthracite was an unusual colour for a VW back in the 'sixties, so dull and drab and a very rare colour today especially, when in original and unrestored condition.
The colour was the reason this particular car sat in the showroom of Spencer Motors (Melbourne) for nearly twelve months unwanted by the VW buggers until it was fitted with a few accessories at no charge, such as stone guards, seat covers, push button radio and seat belts just to sell it.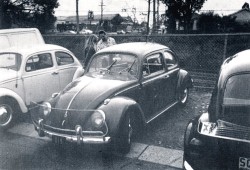 The car had covered 56,000 miles when purchased from the original owner by a friend of mine and then it was passed on to me. I have since done a couple thousand miles in the car and it is now on club plates.
I have also thrown a few accessories at the car, nothing as common as a Judson supercharger (did I count four of them at the Nationals, Dave?) but say a set of louvred wheel spats, white wall dress rims, gear lever extension, quarter vent locks and so on just to dress it up a little.
The 1962½ model had a few differences from the previous models such as a fuel gauge and no reserve tap; larger tail lights, spring-loaded front bonnet, thinner gear lever and an unusually heavy carpet behind the back seat. This particular car has brown rubber factory floor mats, which is quite unusual. Mechanically it was much the same as the previous model except for the camshaft, which was supposed to be quite noisy but a good performer. I was told this when I was an apprentice at House of David back in 1970-something, by the foreman of the shop. Maybe an early attempt by VWA at modification for the Armstrong 500? Who knows. Maybe only a rumour, but mine does perform well for a 1200 Beetle.
It's quite a delight to drive crossply tyres (original spare) swing axle, king and link pin a great combination - a real VW you might say, and a very nice addition to the family.
My 1957 Rag-top Oval
By Sebastian Semos
December 1994
To own an oval-window Beetle is most Volkswagen enthusiasts' dream, so when the chance to buy this 1957 Oval Ragtop came along I had to act quickly.
It was during one of the club meetings when Dave Birchall (of all people) read out the club's general mail. Amongst a few letters from overseas was a letter from a fellow VW enthusiast from Victoria who was selling his original 1957 Oval Ragtop. This seemed too good to be true. After reading the letter several times and staring at the photo supplied (checking out every square centimetre), I decided that another Beetle in the garage wouldn't be such a bad idea. On the letter it clearly stated to ring only on Mondays after six o'clock, so being a Thursday night I had several anxious days to wait.
Six o'clock Monday finally came and without any hesitation a phone call was made. A Mr Martin McRitchie from Bannockburn, Victoria, answered and a time was set for the Ragtop to be inspected. Having an uncle living in Melbourne and being a Volkswagen owner himself was of major benefit. Uncle Peter was more than happy to check out a piece of Volkswagen history. When he returned a phone call describing the car and it's condition, I knew I had to buy it (even though in my mind I knew I was going to buy it anyway).
I sent down a cheque, followed one day later by a truck to pick my pride and joy up. When attempting to drive the car onto the truck the accelerator cable broke which delayed the delivery time. The car purchased sight unseen was going to take an extra day to arrive.
Friday was the big day. Keith and Adam were already waiting out the front as I arrived home from work. On the front lawn was Keith's 56 Oval, but where was mine? Every minute felt like an hour as we anxiously waited, and then finally it arrived. The non English speaking Italian driver somehow had delivered it in one piece (after doing several laps around the area and confusing traffic with his erratic blinker signals). It was dark and raining at the time but that wasn't going to stop us from sliding back the roof for the first time.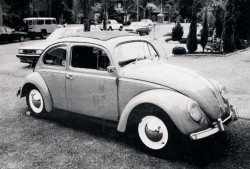 Over the next few weeks the oval had to undergo a few modifications if it was going to be ready in time for the Vintage Registration Day. During those few weeks Keith, Adam and I (75% of the S.K.A.B. team - Bobby was busy working on his car) also found a few so-called McRitchie time bombs on the car. Things such as broken front wheel bearings, torn front brake lines, no handbrake, original front shocks and a very unique wiring system for the lights were all recipes for disaster that had to be rectified. Generally overall the Oval was in surprisingly good and original condition for its age. A few additional options were on the car such as Smiths fuel, amp and oil pressure gauges, a flashing blinker switch and a hubcap-removing tool (good for those Carter's Crazy observation runs). Original logbooks were also supplied, which dated back to 1961.
After many hours of work, a hole in the bank account, and neighbours complaining of loud music the Oval passed its pink slip test and was registered on Vintage Registration Day (which was of much surprise to my parents as to "how all those pieces went back together"). All the work that had been done was worth it. It isn't finished yet, however, as a full restoration will take place as soon as the funds are replenished.
Hope to see you out cruizin!
My 1956 Oval
By Keith Haeusler
January 1995
You know how certain smells cause a distant memory or past event to come flooding back, making it seem like it was only yesterday? Well the pungent smell of non-deodorised fish oil takes me back to my earliest memories of a Volkswagen.
Yes, travelling to Miranda Fair in the back of my best mate's Mum's 1500 Beetle as an 8 year old. Now I can't remember what condition the car was in, what year model it was, or the colour of the headlining; however I do remember my feet sticking to the floor pan in the back where my mate's Dad had liberally applied fish oil. To him fish oil was the answer to everything, from common human ailments to rusty cars.
Anyway, to cut a vague story short, I think that was the start of the Volkswagen and myself. Although my Aunty has told me that she once threw me out of her Beetle, when I was at the tender age of one year, when it caught fire. Maybe I landed on my head, and that's what started it, who knows?
Unfortunately it wasn't until the age of 15 that I realised I had to have one of those machines.
My first VW was a 1959 Beetle that I paid $250 for. The car came from Engadine and was brought home on a car trailer being motivated by my Mum's Mitsubishi Nimbus (what a journey). I fixed it up with the help of my Dad (including hundreds of rust repairs) using mainly bits and pieces acquired from the various dumped Beetles around Lucas Heights. It wasn't a mega-buck resto but it turned out O.K. for the very little money spent. I gave that poor car hell for over 12 months before retiring it to the garage in favour of a 1968 1500 I had bought along the way. Even today I still think I had the most fun in that first Beetle, 36 h.p. and all.
The '68 model stayed standard for a little over a year, up until I attended my first VW Nationals.
Wow, can Beetles really look that good? And after seeing an orange one light the tyres in second gear, can they really go that fast?
Soon my Beetle was equipped with a hotty 1880cc engine, lowered suspension, new seats, cookie cutter Porsche alloy wheels, low profile Pirellis, better brakes and a few handling add-ons. Boy was I impressed with my 'new look' Beetle. I now had a car that looked good, handled, stopped, and most of all went like the proverbial.
I owned that car for 2 years before selling it to purchase my new project car, a 1956 Beetle, which is now my daily transport.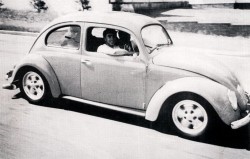 When I purchased the car it already had a very hot 2180cc engine, alloy wheels, double-joint floor pan etc, so I drove it the way it was for some time. During this period I assembled a new double-joint pan, fitted a close ratio L-Bug gearbox, larger brakes, a lowered front end and all the rest of the jazz that goes with a floor pan.
Next the car came off the road, and with the help of some friends we stripped the body, sanded it and worked out what needed repairing. It was then sent to a panel shop to be
smoothed out and sprayed.
While the body repairs were being undertaken the 2180cc engine was sold (less heads and IDAs) and a new combination nutted out.
The engine that resides under the decklid now tops the scales at 2165cc, using a Pauter 78mm crank and rods, coupled to Cima 94Bs to achieve the above capacity. Ported 44 x 37.5 mm Street Eliminator heads sit on either side of the engine, with a Berg 315 (FK87) cam and 1.45:1 ratio rockers opening and closing the valves. 48 mm IDAs with 42mm venturis give the engine all the go-go gas it can handle.
Power reaches the transaxle through a Berg flywheel, Street Strip clutch, and 2300lb pressure plate. A deep sump holds the oil in, while a heavy-duty pump moves it around. Compression is 8.3:1 and in conjunction with the oil cooler keeps the temp around 90°C.
Apart from some teething problems the engine goes pretty hard (too hard actually) and moves the old VW along quite easily.
By the time the engine was complete the body was nearly ready to return home. The day arrived and the freshly painted oval was lifted off the old pan and onto the new. A few months were spent assembling the car and fitting all the accessories (which included one-piece windows, a job I'll never do again to an oval) before it went to the trimmers for the final touches.
After the windows went back in and the electrical side of things was completed the car was finished.
A trip to the local engineer had the car passed as legal (sort of), and $450 or so later the RTA gave me a set of number plates. So far I've done 2000 km in the car and loved everyone of them.
Blown Green Bug
By Leigh Harris
March 1995
The article in the paper had convinced me this was the car of my dreams, but the drive out to Kurrajong put a damper on what I had expected to see. There in front of the house sat a Beetle stripped to a bare shell, wearing a set of flared fibreglass rear guards, with no boot lid, no motor and a stance that resembled a 4WD with a suspension lift kit. Everything that had been left on the car was now wearing a red-maroon colour that looked like a five-year-old child had applied it with a brush.
My parents tried to warn me all the way home of what I would be getting myself into if I bought that heap we had just looked at. To me it looked as good as any other I had looked at, which was because I had not bothered looking at any others. The body looked straight and rust free except for both floor pans. I had been assured all the parts were in those twelve cardboard boxes which sat inside the barn, in fact enough parts to build the car and still have spares left for later use. The only thing that worried me was that so called 'fully rebuilt motor' that sat in the barn covered in straw and dust half an inch thick. It looked as dry as the desert and hadn't been turned over for at least 6 years since the owner's mate had rebuilt it as a favour. There it had sat in the barn with the rest of the farm animals for 6 lonely years.
The following weekend my parents and I loaded the car, motor and the dozen or so cardboard boxes onto the car trailer and headed for home.
Originally my parents told me that the car would have to sit on the grass in the back yard while I put it back together. Then a fortnight or so later I was told I could have half the garage for a few months to do a little work. Well, four and a half years later and the car still sits in the garage, thanks to the generosity and understanding of my parents.
The car has certainly changed in the four and a half years I have owned it. It began as a quick cheap build but somewhere along the line I got a bit confused, I think! I can't believe what happened, for what started out as a dream turned quickly into a nightmare as I realised exactly how much money it was taking to build up a reasonable looking street car.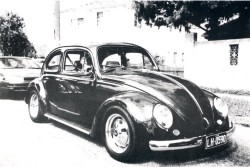 Now that the job has been completed I only have to look at it to remember those days crawling under the house looking for bits I thought I had and those bits I never knew I had; on days when the temperature was thirty degrees, covered in grease from head to toe with not one clean rag left to wipe my hands. I also remember clearly those days when even the smallest missing part meant that the job I wanted to finish on Saturday afternoon was still in progress at 11 o'clock on Sunday Night.
If I had the chance to do it all over again however, there wouldn't be much I would change about the way I built my car.
By the time I had finished my car every single bolt, nut and screw had been undone and thrown away to be replaced with stainless ones except for the dozen or so that were unobtainable. The only part I didn't remove from the car during the restoration was the clutch cable which broke 2 months after the car was finished. In the end every single part of the car has been dismantled at one stage cleaned, stripped, painted and rebuilt, or if it couldn't be rebuilt and painted it was replaced with a new item. Even the speedo was stripped, rebuilt and once again zeroed to mark the beginning of the car's new life, as it was to be once again registered for street use for the first time in 14 years.
The engine has proved to be the cheapest part of the car so far, as all I had to do when installing it was strip the engine down to the block, clean, detail and paint it. I replaced the old generator with a 12-volt system, changed the oil and freed the rocker gear, which had seized. The engine turned over first go and was later fitted with a Judson supercharger and a rebuilt carburettor that was re-jetted to suit the needs of the now thirsty engine. The engine has been fitted with a 009 distributor to increase the smoothness of the extra power that the supercharger delivers with its mild 7 pounds boost.
The car took every spare moment of those three and a half years it took to rebuild, but it wouldn't have been finished without the help of my parents who not only lent me a garage to work in but offered me their time and support over the rebuild, and a big thanks to Boris for his time and advice throughout the build.
The Life and Times of the Spearmint Volksy
By Simon Thompson
April 1995
16 months ago an unfortunate thing happened to my beloved Fastback - the engine exploded rather violently.
One sunny morning on my way to work I turned a corner (at 6000 rpm!) only to have my engine to go BANG. Now this car had been in my life for some time, my older brother bought it 16 years ago (his first road car) and somewhere along the line I inherited it.
Flash to 1993. The last few months had been good for the car as I had not put a lot of energy into keeping it alive, hence the meltdown. The same day, whilst contemplating what to do with my only transport, I spied an ad in the Manly Daily that sounded too good to be true. It read, "Volkswagon (sic) '64 one owner, good order $2000 ono." So I rang this guy to get the juice on the car and to arrange a viewing that evening. It was a pretty good car from the country. A little rust in the usual spots and a broken engine cover hinge was all that was wrong. $1500 later I was one Volksy richer, and mobile again.
I drove that car for a while (with 6 volts and 40 horses), but soon tired of no stereo after driving to Cresent Head for New Years. It was the beginning of a beautiful friendship between my car and myself. You know how it is, the girlfriend goes and you suddenly have all this time to play with your car. You Vintage lovers will hate me for this but I like my tunes, and also like to see where I'm going, so 12 volts were a must. That was it; I had been bitten by the bug (once again) that all autophiles get. There's nothing any shrink can do to help a lost cause like a car nut!!
So I lowered that front end (thanks to Dave aka: Jessie from South Oz), then the rear had to come down too. Sure that ride was a little rough, but it looked too cool and that is how it was for a couple of weeks while I tracked down a paint shop that I could afford but was sympathetic to the VW cause. I found a gentleman with the Volkswagen blood in his veins; his name is Peter Thomas from the Open-top Body Shop in Mona Vale. While he was doing his thing with the body, I was trying to find the right colour. Searching around in the mags and at my first Nationals (in 1994) I thought a two-tone paint job was the way to go. But what colours? Finally after endless books and paint chips I found them, 1961 Holden Mint Green and 1964 Mitsubishi Turquoise with Blue added. 6 weeks latter I got my car back and it was time to put it back together. I drove it around with just a windscreen for a week or so (the world's first hardtop convertible?). It was very draughty but I was having fun.
For months it remained unchanged until this Christmas. A trip home to West Oz netted a dig through my stash of bits and pieces I've horded over the years. Some Porsche replica mags, left-hand-drive 1500 master cylinder, dual 40 mm Dellorto carbs, 69 mm counterweighted crank, Engle 120 cam, OBERG filter and various other parts came back east with me in my luggage. It's amazing what you can get in a rucksack!
Since arriving in Sydney back in '91 (after living in the USA) I've made a few contacts that have become enthusiastic friends. The catalyst for this is Jeff Unwin. I thank this man for relieving me of my hard earned pennies in such a way that it didn't even hurt. The result of this is an engine package which, as of this writing is sitting on a bench at the House of Shimo & Onion (HELLBUG). Also whilst I was at it I purchased disk brake Plates to fit Type 3 rotors and callipers (off my dead Fastback). With these disks and 1500 drums my car now stops, and it also rides and handles loads better (you gotta love those alloys don't ya?).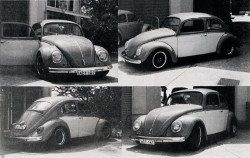 The car still hasn't got a complete interior or a good stereo, and the king and link pins need redoing. The shocks are worn out and the gearbox is tired, but it all will come one day. Still to be fitted are the original style rubber for the front and rear windows, plus some very cool pop-outs for the rear side windows. As you may have guessed from the story so far that I'm leaning towards a Resto-Cal-Looking car so I'm always on the lookout for vintage/ classic pieces to add to the car. Like Keith Haeusler I'm an Oval nut, preferring the style and finish of the older cars, but that's not to say that the late model cars are any less a VW. In my travels I've spotted a few very tidy Super Bugs, some trick Watercooleds and I've always wanted a hot-rodded synchro Kombi! If you see my car, you may notice a sticker on the rear window that says, 'NO WATER'. Don't take it personally as I'm really only having a go at the Rotary and V8 drivers.
The car was never built as a show car; it was built to run, and run it does. Since I've owned the car it's done 15,000 km. I like to explore and go hiking all the time so I'm not adverse to a little off-roading from time to time, so a few stone chips and scratches have shown up in the duco......cest l' vie. Volkswagen built these cars as budget transport for the masses but they had no idea what we were going to put the little suckers through. As my car stands with a bit of semi-regular maintenance it doesn't owe me much in the way spendoolay but it gives me heaps of grins.
These cars go back a way in my family. My first recollection is my dad delivering newspapers in a '67 Fastback though I believe he owned a Bug before I was born. My first car was a '64 Squareback that gave me heaps of trouble (if you've owned a tired Type 3 then you're familiar with fuel vapour locks!). It had flared guards, 7814 Sunraysia rims and was jacked up for off-road use. That car and I went on many adventures including numerous trips to Geraldton and Margaret River in search of the perfect wave and an empty beach (we got a lot of those in West Oz). That car ended up on its roof. Next came a '57 Bug that was low and slow but a hell of a lot of fun. Then came the Fastback (in 1984) followed by a '69 Kombi. Shortly after the Kombi came a '63 Notchback, a '69 Single Cab, '64 Split Screen, another Oval, a Buggy and a couple of British motorcycles. By this stage my shed was getting pretty full and I was getting the itch to travel (it's in the family genes) so to finance my first trip to Europe I sold the Kombi and the first Oval and gave the Notch to my little sister Sally (she's now travelling and she still owns the Notch). Two years later I returned home to Perth for my oldest brother Paul's wedding (he owns a '92 model Transporter) and to see the folks, only to head off again 12 months later, this time bound for the States. Vancouver was the first stop. I bought an '84 Pontiac for $400 and proceeded to do over 20,000 miles in that car travelling as far south as La Paz and as far east as Miami. I lived in Fort Lauderdale for 5 months working here and there. I sold the car for $500 and bought myself a Suzuki GSX750 and covered another 15,000 miles and that before it expired outside Washington DC.
While travel was the priority, V-Dubs were always there. Numerous car shows, swaps and museums were visited. Next trip I'm planning will be to ride a motorbike from LA to Chile then to Brazil. Hopefully the Volkswagen plant in Mexico will be building the Concept One by then, because I really would like to go for a ride in one.
My older brother Mark is as crazy about these cars as I am (some would say worse!). His collection is huge but he has an advantage over the rest of us mortals. He can fix anything; paint/panel, trim, wiring, engines, suspension; the works. And to top it all, he still travels six months of the year every year (the bum!) His current driver is '67 Karmann Ghia, but his stash is cool. How's this for a collection? '69 Karmann Ghia, '55 & '57 Ovals, '56 Kombi Panel, '67 Kombi, '68 Bug, '68 Squareback. I've got one more brother Nathan, hidden away and guess what - he owns a '69 Kombi. Is this a Volkswagen family or what? My older brother and myself put this car together in 3 weeks out of spare parts I had collecting dust in my shed. Since he's had that car he's been converted into a VW nut too!
This is the end of the epic, so I think it's about time I thanked a couple of people for their help. Thanks to Peter and the gang at Opentop Body Shop; Jeff, Shimo and Keith and the crew at Hellbug, Dave for welding the adjusters in, Andrew at Brookvale Spares, Mark Hammond and my brother Mark Thompson. All these people are very cool and were (are!) extremely helpful and come highly recommended indeed.
After messing with these cars for so many years, I'm still amazed by all the people who have been touched by the little critters. Lets see if we can touch a few more. See ya on the road!
And You Thought Christmas Only Came In December
By Phillip Zuber
June 1995
They say it always pays to advertise, and I can truly attest to the saying. Being an avid VW (aircooled) admirer and collector it would be difficult for my neighbours and friends not to notice my passion for the humble Beetle. On the average weekend the front lawn looks like a VW car lot, with visits from other enthusiasts adding to the three resident Bugs - 1974, 1972 and now a 1965.
The five remaining days are used as opportunities to drive my white Aussie convertible to and from work. This usually draws attention because of the appearance of the car itself but more the old bloke driving it! My story started around November 1994 when university applications were being processed and it looked certain that my daughter would be leaving home for the cooler climate of Canberra. Although she is very attached to her 1972 Beetle (first car) she had decided not to take it with her. This posed quite a problem, mainly where to store it, with its mileage of 39,000 genuine miles it warranted undercover storage.
After one month of anguish I decided my 1965 project car of 2 years had to go to make way for the 72 Bug. My project car was slowly heading for a 1995 arrival ready for vintage plates; however it had progressively got further and further behind. It had sat resprayed, no glass, no engine and with partial rust repairs, for far too long.
Utilising the best advertising I know (word of mouth) it took 5 days to find a buyer. It turned out to be the son of a good friend who was very keen to get stuck in and finish the project as he had just got his 'L' plates and was determined to have a car of his own ready for his 'P's. What a solemn day it turned out to be when my project car was transported to his house. I had lost a valued possession and it was hard to explain the feeling of loss.
Well the festive season approached and I found myself visiting an empty garage, tidying up the odd spares that I had collected and delivering them to the new owner. The enthusiasm of this teenager astounded me as he rapidly completed rust repairs and spoke of transformation of my once 65 stocker into a drop front super slick street machine.
After enjoying the Christmas holidays we returned home to the usual string of messages on the answering machine. One, however, was of particular interest. It was from a family friend telling me that their son was offered a Beetle by one of their friends. He was not interested, but they had told them I may be interested. My first thoughts were of spares and towing the wreck home, because the only Beetles I had come across being given away were full of rust with blown up engines and only good for spares.
When I returned the call very little was known about the car and I was given the phone number of the owners. After the very informal introduction of ' a friend told me you had a Beetle you wanted to get rid of', I asked the usual questions – "What year was it?" Answer – 1967. "What condition was it in?" Answer - Needs a lot of work! "Is it driveable?" Answer – It's still registered. "Sorry," I said, "I could have sworn you said it's still registered." Answer – Yes, it's still registered. "But I thought you wanted to give it away!" Answer - That's right, we want it to go to a good home and we were told you have a liking for them.
Well you can see how the call changed, and it wasn't long before I heard the full history of the 20 years they had owned it, and I was on my way, with wife in tow, to collect my next Beetle.
As I pulled into the street my eyes were greeted by a polar-white Beetle with 14" diameter wide wheels that looked very straight and original. The owners were out there with the key, registration papers and camera. Family photos were taken of mum with her arms over her Beetle (it looked like someone else was feeling the eminent loss of a dearly loved friend).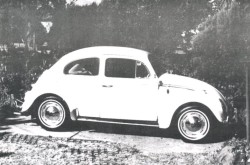 Well I can tell you Christmas came again to my family and me in January 1995 as I excitedly drove my new toy home.
After checking the chassis number and engine number with Dave Birchall, it turned out my treasure was actually a 1965 Beetle with the original 1200 motor still fitted. It also had its original owners manual handbook and a 1972 NRMA report in the glove box. It now wears a set of vintage plates numbered 015, and to the great pleasure of the previous owners and myself, it now enjoys a retired lifestyle, so fitting such a trusted and loved car.
I wish to express my sincere thanks to the Eurell family for their care and kindness shown to their Beetle reg no. DYZ 809.
Infected!
By Debbie Kirkwood
June 1995
Imagine a rich, red, human bloodstream, brimming with millions of tiny blue Volkswagens, all vying to be spied by a vast eye that rolls from side to side over the microscope? They're called 'Bug Genes', and guess what? I inherited! As a result, I just can't get away from Bugs! I know not if they're a dominant gene, nor can I show you what their DNA model looks like, nor do I know if they came from Adam, Eve, or the big bang - you'll just have to believe!
It all began when my father purchased his first dub many years ago. A grey 1963 model, it afforded this ex-country lad adventure after adventure in the developing Sydney town. You'd probably be interested to know that this Beetle would often tow his heavy, 16-foot, inboard boat to various water-skiing destinations. In the end, Dad met Mum, and the VW then became the courting machine – the Love Bug - which soon led to a happy marriage. And then I came along!
My next encounter with VWs came around the 10-year old mark. I became very close friends with a girl named Alison. We'd take turns sleeping over, and when it was my turn, Alison and her mum would dress in their Sunday-best tartans, and pick me up in their white Superbug. Our mums would have their usual cuppas, and then off we'd go, en-route to Alison's place. Most intriguing and exciting about Alison's Vdub was the hole in the floor, in front of the back seat. When no one was looking, we'd jump off the back seat onto the floor, peer through the hole to the speeding road beneath, and giggle. It was fascinating, and we'd talk about it for days. Either we grew out of all that nonsense, or the Superbug was sold - the only survivor today is Alison (and her mum).
And so my VW genes lay dormant. I finished my HSC, got a job, and dreamed of owning a SAAB turbo 900. My folks often discussed how cute my little sister would look in the Volksie that they envisaged as being her first car. However, the time came when I began to tire of asking permission to drive Mum's sacred Volvo. At the same time, my great uncle announced his intention to sell his light blue, '62 Bug, priced at $1000. We (rather, Dad) did the test-drive thing, and I fell for it. I sacrificed $700, Dad the rest. It was a sad parting for my great Uncle, who'd owned it since new. It had been a country car, admired by all the townsfolk and youngfolk in its newer days.
Little did I realise Dad's intentions! $4000 later, it had a new 1600, 12-volt conversion, extractors, etc. Cringing at my debt, I set to work cleaning it up. My great uncle had smoked a pipe, and the inside of the car was absolutely caked with 28 years worth of tobacco grime. A friend kindly buffed the paintwork, and in the end, the car, its shining chrome, and spoked dress rims, looked great. Independence at last! I even contemplated placing a sign on the back window, apologising to drivers behind me for the slow speed I had to maintain whilst the new motor was being broken in. Thankfully, I never did that.
Some years later, I accepted a proposal, (and ring) from my hubby-to-be, and we set about preparing wedding plans. I play the flute, and was on my way home one rainy evening from a wedding rehearsal, exactly one week before the big day. I remember little, except a flash of red in front of me that shouldn't have been there. My next recollection was waking in a hospital bed, neck braced, and body covered in the silver stuff used for shock patients. To my first words, "the VW?" I met only with grave demeanours, and cried for months. They wrote it off. I couldn't even get back my dress rims! Someone lucky ended up getting it for $600.00 at the auctions. Quite a bargain, considering the engine hadn't even been scratched!
I just managed to walk down the aisle, with broken toe, bruised ribs and knees, makeup over bruised, black eye, and scarred chin from where I'd cracked the steering wheel in two! I'd had the hospital in an uproar. "no scars, she's getting married, stitches out before Saturday, she has to be out for her tupperware party…" Etc! I guess I was lucky, it could have been much worse.
A year later, having given up battling with my husband's old red Premier, I decided that I needed another car. We scoured Sydney for months. I recall in horror the conditions of some of the VWs we inspected! We'd almost given up, when we saw a short ad: '1966 model, light green, one owner, 42,000 miles.' No hype, no rave; in fact, I'd skipped over it, but my husband hadn't.
Well, we both nearly fell over when we saw the car. We paid cash that very day. It was a 'bahama-blue' 1966 Bug, true to it's mileage, garaged all its life, with barely-scratched original paint, gleaming chrome, almost-new interior, and, surprise surprise, no rust! We immediately put disk brakes on the car, but still managed to keep the old-looking hubcaps (very tight fit!) I harassed wrecker yards, finally coming up with four spoked dress rims from various sources. They didn't fit properly, so a friend made up some metal disks and riveted them to the rims. I regret the brake conversion now, but shuddered at the time of a repeat write-off. I didn't intend showing the car at that stage.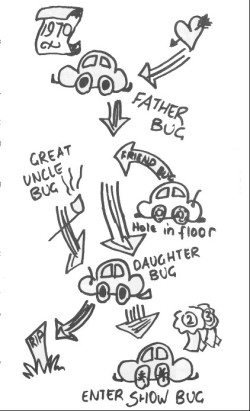 Well, I still have my Bug, and it has now reached 52,000 miles. I hesitantly entered it in the 1994 Nationals, and won 3rd prize! I didn't touch the car that year, apart from getting it serviced and cleaning it. We tossed the idea of a respray around for a while, as well as maybe making the Bug a little more 'hot', but, (thankfully), didn't really have the money. It was a last minute decision to put it in the 1995 Nationals, but I did, and, to my great surprise, it placed 2nd! My ideas of a respray have been blown away, and now I'll concentrate only on fixing the little flaws, 'til it's as good as it can be.
My story, I realise, is totally different from the stories of most hot-dub owners, who have worked so hard to get their cars looking great! I never thought I'd be a 'car head', nor do I know much about motors, but I know two things - I love my Dub, and, I'm infected!
My Old Green Volkswagen
By Andrew Frood
October 1995
Picture it. The sun slowly sets upon a balmy summer's evening in a small coastal village just south of Morocco. The trade winds off the ocean slowly engulfing all, bring relief as darkness falls. The village is silent except for the persistent hum of a vehicle fast approaching in the distance. Its headlights wind their way through the twists and turns of the coastal road. The car, a small black 356 Speedster shatters the silence of the village as it speeds on through the night. The driver vigorously works his way through the gearbox, negotiating the tight and cobbled village streets and lanes. Approaching a sharp turn the brake lights flash, the engine barks, as he dives in perilously close to a bricked retaining wall. The car turns, the tyres squeal. The headlights dance from one side of the road to the other. The driver gasps. His first instinct is to bury the accelerator, but instead he applies the brakes. The small bathtub shaped car slides to a halt in the middle of the road. The only sound now is the lumpy idle of the engine and the throbbing of the driver's heart. He stares forward, his eyes fixed. Before him, his headlights offer a narrow corridor of light, revealing a small green 1961 rag-top VW Beetle. It is love at first sight.
Unfortunately the previous paragraph bears little or no similarity to the first time I saw my Beetle. In fact no similarity at all. Not even remotely close. Just forget it.
I found my Beetle in a Suzuki dealership. One family had owned it all its life and had foolishly traded it in on, of all things, a Suzuki Carry (small coffin-shaped vehicle). It was in fairly good condition with a few scratches, the odd ding in it and the now mandatory ventilated floor pan around the battery. It was $2999 which was way too expensive for the project I was looking for. I took it for a test drive just for the experience. When I got back I told the salesman it was too expensive and would cost me too much to get on the road. He got this desperate look about him and offered it to me for $358.75. Basically what it owed him. I bought it on the spot. It was love at first sight, and it was damned cheap.
This was a real departure for me. I had previously owned three RX-3s and have been a total rotor-head all my life. I am even willing to publicly admit I still own one (the other woman).
A friend of mine at school was always into Volkswagens. He lent me some issues of VW Trends, which got me interested. My cousin had a '67, which I used to love going for spins in. From about 1990 onwards I was seriously looking for an excuse to build a Beetle. I was given a company car at work, which was as boring as all hell to drive. This gave me the perfect excuse to buy a Beetle to cruise around in on weekends and have a bit of fun with. A car I'd always been interested in but never owned. Well that was how it started.
I wanted a car which looked original but which was lowered and painted an eye-catching colour. I find the styling of all Volkswagens up to the end of the '60s very appealing. Everything they produced had so much character and such a distinctive look from anything else available. I think they look just as good stock as they do warmed up a bit. But my first attempt had to be a Cal-look car (but still with all the chrome so as not to get too far away from that classic look).
Things got serious when I first visited the Australian VW Performance Centre in Bayswater in Victoria. Oh my god! The place was jam-packed with all manner of old Volkswagens, which all looked brand new. Speaking to the guys out there set the wheels in motion. They could do everything I wanted to do and to a standard that was the best I had seen. They were jammed with cars to do, with a huge waiting list of people. I jumped onto the end of the queue and about two months later rolled my bare-metal shell into their workshop. I managed to score a factory ragtop that they grafted into my roof. I replaced all front and rear panels and got the guys to take out all the minor dents and ripples that 34 years of motoring brings.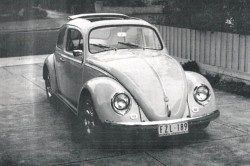 The colour was chosen as Porsche Mint Green, with roof trimmed in white and seats and door panels in pale grey. The guys found me some Empi 5 spokes which I got polished for that authentic California look. I got it lowered and got a 1600 put in it and have been rapt ever since. I think it is definitely the most enjoyable car I have ever owned.
I currently use the Beetle as a daily driver, but have just bought an early model Type 3 Fastback to do my daily commute in. It's a real cruiser. 1969, pale blue, big factory auto, double-joint rear, rust free pan, factory dress rims and everything on it works! Lights, wipers, cassette, the lot. It cost me $700 and it drives beautifully. I found it in a car yard in Melbourne that sells nothing but Volkswagens. It had been there so long there were cobwebs between the car and the ground. I was really looking for an early model Squareback but couldn't find one, but this seemed like too nice a car to say no to.
I'm looking at getting the duco redone and lowering it a bit. I plan to drive it everyday so I don't want to go too far with it (famous last words).
So that's me and my Volkswagens - riveting stuff.
Richard's Ride
By Ashley Westerman
March 1999
Most people like VWs. They are likeable, honest little cars that are enjoying a resurgence in popularity. Here's a car, with a red-hot modified VW engine, which can leave Porsches in its dust.
Richard Holzl has held a passion for the marque for longer than he can remember, and in that time he's rebuilt and modified many. The one you see here certainly isn't his most visually extreme, but is undoubtedly his fastest. Drawing on his past experience, Holzl has brought together what he considers to be the best in Beetle componentry by picking out the strong points of each successive model update and variation.
The 1955 body shell was chosen, as it was more aerodynamic - if a Beetle could ever be termed aerodynamic - than those that followed. Holzl stripped it back to bare metal and rewelded every seam. Other body modifications included the widening of the guards, which was made necessary by the wide rubber Holzl intended running. These were cut, the flared sections from a Porsche 911 Turbo welded in, and a glass fibre replica taken.
Hour after hour of filing, sanding and final body preparation went in before the multiple coats of talbat yellow, chosen from the Porsche colour chart, flowed off the gun. The result was worth every minute.
The chassis comes from a 1969 model originally fitted with semi-automatic transmission. This gave Holzl the more desirable trailing arm-type rear suspension and CV joint set-up, virtually identical to the rear end of a Porsche 924. Other suspension components worthy of a mention are the four KYB adjustable gas dampers, heavy duty at the rear.
The brakes were taken from a 1973 VW station wagon. The front discs and callipers grafted straight on, as did the rear drums and handbrake assembly. Holzl claims the braking performance is 60km/h to zero in 8.5 metres. Stopping power during our drive certainly seemed strong, progressive and fade-free.
The wheels were previously Porsche forged alloys, giving the car that 'when I grow up I want to be a 911 Turbo' look. But these appreciated in value considerably, and were subsequently sold for $2400. In their place came the gold Simmonds rims, 7 x 15 inches at the front, 8 x 15 inches at the rear, shod with Yokohama AOOSs, 195/50 and 225/50s, respectively.
The ride is firm, and over potholed surfaces could only be described as intrusive. But the low profile Yokohamas give enormous amounts of adhesion, the body roll is almost negligible, and the steering direct and responsive.
The interior re-trim incorporates a subtle brown velour material for the headlining, door trims and rear bench. Instruments - the speedo goes to 260km/h - are Porsche VDO. An Italian OMP race bucket was selected for the driver, and the passenger sits in a supportive Scheel 201.
The USA - where five million Beetles were sold during 29 years of production - produces most VW go-fast parts, reproduction replacement parts, and even magazines devoted solely to the marque. The cylinder heads have been reworked by Gene Berg, regarded as the father of this industry in the US. An extra section is welded to each head to allow radical porting, and the intake manifold is matched and flow tested. The valve seats are strengthened, and the oversize stainless steel valves use heavy duty springs. Forged rocker arms, a hot camshaft and 1¾" merged exhaust headers are all trick items imported from Berg.
Inside, the cylinders run forged Cima pistons and Deves rings, again made in the USA. Chevrolet provides the stainless steel conrods, which bolt to the Scat crankshaft, stroked to 78mm to provide a total displacement of just over 2.0 litres.
Induction is handled by a pair of Dellorto 48mm dual throat carburettors, topped with sports filters, while sparks are provided by Bosch electronic ignition.
The manual gearbox has taller ratios and additional mounting brackets, the car has a beefed-up clutch with a Berg pressure plate, and a rare limited slip diff.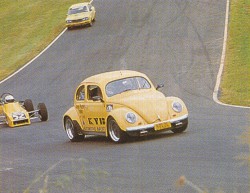 So just how fast is an extensively modified Beetle? Very fast is the answer in this case. Holzl has sunk $12,500 into this engine, and the net result is 120 bhp (89 kW) at the rear wheels - and they are fair dinkum German draft horses, Holzl was at pains to remind us, not Japanese ponies.
A stock standard 1200 Beetle, measured equivalently, produces 20 bhp (15 kW) at the rear wheels. An increase of 600% is useful in anyone's terms, and this, combined with the car's light weight and prodigious cornering limits, allows Holzl to hose off Porsche 911s during his club's track days.
"I've clocked up a flying lap of Oran Park south in 53.8," he says, "and I imagine it would cover the quarter mile in mid-13s."
The car is most potent off the mark, and Holzl says he once out-dragged a Porsche 911 Turbo. "We both went for it as hard as we possibly could, and I'll never forget the look on his face when I beat him. It was very satisfying."
The Beetle can, according to Holzl, spring from zero to 100 km/h in less than six seconds, and he claims to have seen 250 km/h on the clock - but only on the racetrack, naturally.
With more than $20,000 already spent on the car, Holzl adds new meaning to that 1960s expression, 'Beetlemania.'
Leigh Harris's 1959 Turbo Beetle
By Steve Carter
February 2000
This car's been around for quite a number of years and powered in many different configurations. The car was off the road for a period of 14 months while Leigh built a new double-joint floorpan to handle the horsepower needs that were to come. A 2-litre Type 1 motor was screwed together with big valve heads and a K8 cam and an Autronic SMC computer firing up four injectors sequentially into a quad throttle body arrangement. The cars first run netted a high 14-second pass with what was later found to be 80% throttle. Driven for a period of 12 months the car was nothing sort of awesome on the street. The quads were smooth compared to carbs but the noise was always a big element in the equation. There was no way of shutting the car up without losing horsepower. The neighbours weren't all that fond of the bark that was emitted from the flat four, especially when they could hear it coming from blocks away at an early hour of a Sunday morning.
There was nothing better than stirring a WRX up on the street with what was obviously a fat normally aspirated motor by the noise that was emitted from the 60mm tailpipe. People would just stand and watch, as the car would idle through the local main shopping centre, having heard the bark of the exhaust note before having set eyes on the car.
But as time went on Leigh got used to the all-out power and eventually wanted more, much more, than any normally aspirated motor could deliver. He was going to go turbo.
As time went on bits were collected and ideas tossed around as to how he was going to complete the turbo arrangement. First to go was the quad throttle body arrangement. Although visually pleasing to the eye it was no five-minute job to change spark plugs, and the quad throttle bodies never stayed in sync for more than 100 km. A trip to the local Jap wreckers netted Leigh a throttle body and electronic air bypass valve, and a completely new intake system was built incorporating a VW wasserboxer plenum chamber. If you look closely I think you'll agree that it's wild and like no intake system you've ever seen squeezed into a Beetle. The car was run like this with the K8 for quite a few months whilst the rest of the car was gradually modified to accommodate the turbo and intercooler.
A sealed insulated box has been crafted from square steel tube and aluminium, which now occupies the entire rear cargo space behind the rear seat. The box is divided into two separate compartments. One is for the turbo, which is nestled in front of the starter motor, and the other compartment houses the intercooler that sits above the floor. A 30cm oil cooler and fan sit below the floor.
The intercooler is actually an air to water unit, which was designed by Leigh, but built by Dave Stocker from LMS Engineering. Whilst at a mate's place Leigh noticed that his mate's trail and road bikes used a very small radiator to cool the motor, which included a thermo fan activated by a thermostat. Perfect for cooling water in an intercooler type arrangement, so yes one of these has been mounted under one of the rear mudguards to provide cooling for the intercooler.
This idea is just one of many that makes this car stand out from the crowd, both in engineering ideas and creativity. Much of the turbo and induction set-up has never been seen before on a Beetle, and in fact paves the way for many others to follow.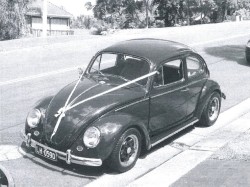 Ready for action the motor was torn down and rebuilt with lower compression and what was thought could be a good turbo cam - an FK-65. The motor's specs read as follows:
Type 1, 2007cc
Crank: Berg 78 mm, forged
Bore: 90.5 mm, forged pistons, Total Seal rings
Heads: Street Eliminators, SS Valves 44 x 37.5 mm
Cam: FK65
Sump: Berg Deep 3.5-litre
Oil Pump: 30 mm Berg, full flow
Rockers: Berg 1.4 ratios
Pushrods: Berg chrome-moly
Lifters: Pauter
The headers have been hand-made by Leigh, as was the exhaust, whilst a 75mm exhaust dumps spent gases to the atmosphere.
The turbo has definitely fulfilled its purpose of increased horsepower; in fact, the car's a giant killer. If it weren't for the lowered stance of the car and the Porsche wheels, the car would be the ultimate street sleeper, which is exactly what the owner was after.
But there is always some goal of a project that is never met. For this project it is exhaust noise. Leigh had hoped that the turbo would chop up the exhaust note, but that proved to be wishful thinking. It seems that the 75 mm system that, although increasing horsepower, has also increased exhaust noise. The car is now noisier than ever and resonance and exhaust note resembles that of a WRX on heat.
The car recently made a trip to Autronics Dyno where tuning took place. The car was found to make 86 kW (115 hp) at the wheels at 4000 rpm on just a low 0.5-bar (7 psi) boost. No higher rpm or boost levels could be run as the ignition spark was being blown out. But what has been realised is that this car will be easily able to make 120 kW (160 hp) at the wheels on just 1.1 bar (15 psi) of boost and all at around 4000 rpm – that's more than a current Golf 4 GTI.
As the dyno operator stated, "It's not just the horsepower that's impressive, it's the torque and just how early everything happens."
The car carries itself very well, turning heads wherever it goes. If it weren't for the chatter of the wastegate, or the whooshka of the blow off valve, you'd think you were staring at just another fat-looking Beetle. Maybe that's why this owner hasn't bolted on his recently acquired numberplates EAT-911; after all it'd give the whole game away.
Peter's 1957 Oval
By Peter MacQueen
February 2002
During my few years at high school, most of my afternoons were occupied by walking 4 km home after detention. A some point during my leisurely stroll home I'd pass this unloved, unpolished, black oval beetle. At the time it was still registered, and driven by on old bloke who'd built the house he was living in.
After I left school (read: 'asked to leave') and I'd acquired my first Beetle, a pristine Grey 1964 Deluxe with just 32,000 miles on the clock. Being young and stupid this lovely car had a short life in my hands.
After being forced to walk again, I noticed the old black oval sitting dejected, and by now unused at this old bloke's house.
I scrimped and saved what I thought to be just enough cash to put a bid in for this old bug. I finally asked the fella if he wanted to part with the old girl, to which he casually replied, "$200 dolla, take-a ta-day?" Yippee I thought, and I still had some cash to spend!!! I paid and took possession immediately.
This bloke lived a mile from my home, and fortunately it was down hill. I pushed and coasted all the way, once I'd found the original 36 hp-motor had clagged it.
The old bloke later told me he bought it new in Belgium, and used it as a mobile labourers tool storeroom, whilst driving all over Europe to find work. There was evidence of cement and blue metal having been mixed on the floor pan, where the passenger seat would have been, had it still been there. There was a plastic bucket over the battery, no headlining, no back bench, no floor matting of any sort, no glove box case, no bumper bars, the engine lid didn't close, and the bonnet popped open on the roll down hill to home. Need I say, it needed a 'little' bit of TLC.
Within two years I'd had an engine built by a VW workshop in Brock Rd Seaforth, Sydney, just down the road from the old Tech school (Can anyone remember their name??). It was a 1375cc kit using a 1200 cc case, tricked heads, a 200 cfm Holly Bugspray carby, lightened flywheel, power pulley, Kombi clutch etc. Now it went rather well, till the old crash box exploded one night coming home from work. New box required!! A close ratio box was built for me by a mob at Brookvale (again too much alcohol over the years has faded my memory as to who exactly built it). It had the luxury of full syncro on first and close ratio 3rd & 4th gears. The pan had to be modified a bit to fit the later box, but they did a great job.
I then fitted Michelin 185 x 15's all round, had the front guards flared a bit to accommodate them, Gabriel shocks, 3/4" K-Mac bars front and rear, a fibreglass air scoop over the engine vents, and (shock horror) I cut holes behind the rear quarter windows and fitted two air scoops, which had large heater hoses fitted in the them to funnel the cold air to the rear of the fan housing.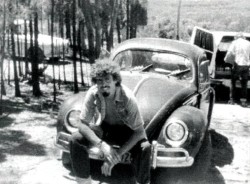 By now the thing went like a cut cat and stuck to corners like poop to a blanket. I thought it I was bloody hot cause I was winning the traffic lights drags. That was till the day I was blown away by another Oval at Crows Nest one night. At the next set of lights I coasted up to this sleeper of a vehicle and sheepishly asked what he had in it? The bloke with a big smile just said, "read the number plate mate," as this very plain looking bug disappeared into the night with a most wondrous sound. His plate read 'VW2180'.
As young a stupid kid, the go fast component of cars was all-important. You learned how to stop the things as you went along. I was constantly adjusting all the original 1/2" binders and the bloody handbrake never kept its adjustment, probably cause I was always using it in day to day stopping as an adjunct to the foot pedal.
The car kept it original 6 volts. I could never hear the original VW radio or the horn, due to no sound proofing in the cabin. Ole JDM-726 did me very well over the years and many a surfing trip up the north coast had me camping in it overnight.
One photo was taken in 1981 at a property in Molong in central west NSW. It was supposed to be a roo shoot weekend, but ended up as a beer and birds contest. The beer won!!!
Late in 1981 I sold the remains of my little creation to a fella in Willoughby, Sydney for (yep you guessed it) $200. By this time the motor was very tired, the box was crashing in most gears, the Scat extractor system had holes in them, the shocks were leaking, and I had NO bloody brakes at all.
The thing that really made up my mind to get rid of it, was one day, in a hurry to fill up the petrol tank, the bloody bonnet came completely of it's hinges (rust) and fell off the car onto the servo's driveway, much to the delight of my surfing mates in their hot HX panel vans and early Monaros.
The panel beater did me a favour and had a good look around the old girl, and said the cancer vas pretty extensive and was going to be costly to fix. I'd like to think she went to a good home and wasn't broken down. If it's still around I'd love to see her now. Can any body help me with this?
Twenty years later the 'bug' bit again, and my 13-yr old son and I are now going through a slow restoration of a 1963 Beetle. Subject to cash flow and opportunities, I hope to have this one done in two years, so I can get a drive of it before I hand it over to my son as his first car. There are lot of funny stories I could tell about this old '57, and maybe I'll get the chance if Club VeeDub included a 'Funny Bug Stories' section in this magazine.
The Thrill Of It All!
By Leigh Harris
November 2002
I can't say I enjoy anything more than standing next to my Beetle whilst it's on the dyno. With the motor under full noise watching the wheels spin on those rollers, which become a blur, the car makes incredible horsepower and torque from what really is a tiny engine. It's the fact that others stand around shaking their heads wondering why you ever attempted it in the first place that gives me a sense of achievement. It's a sense of pride and accomplishment watching that dynamics dyno computer screen flash up and watching the real time graph as the car screams away in front of you in third gear. It's in fact like watching the pre election polls were the audience turn the control knobs to agree or disagree with a politician's opinion.
Except no politician was ever this popular. You watch this wormy line plot a course up the computer screen as you stand in anticipation watching to see how much power, and more importantly how much torque, the car really has.
I remember watching with anticipation as we put my car through its paces with the old 2007 cc with a FK8 and quads. It made a low 65.6 kW at the wheels. The car sounded awesome as the quad throttle bodies competed with the doghouse fan for air. I think the fan was winning, until the decklid was removed and the blower fan was brought around to the back of the car to cool things down a bit and provide some much needed air movement. The fact was the car was awesome on the street. Others had quoted bigger power figures with similar motors, but it still puzzled me how come mine still had the edge at traffic light battles. Must have been the weight advantage!
Next I returned to the dyno with a smaller cam, lower compression and a single throttle body setup for a turbo. This set-up netted 48.5 kW at the wheels, which was extremely low but was exactly what I was looking for - heaps of bottom end all at very low revs. By now I was becoming quite well known in the dyno shop. We would all stand around and have a chuckle as customers would rush in wondering what the hell was making all the racket, only to be disappointed to see a near stock-looking Beetle with Porsche wheels on the rollers.
It's interesting to note I have always used exactly the same chassis dyno for all my work. I think this is very important as dyno figures vary greatly from workshop to workshop. It is also very very easy to fudge numbers by ramping the figures. It may impress your mates, but it was cheating yourself. The dyno operator showed me how easily these numbers could be obtained - with the simple turn of a knob, 45 kW suddenly became 70 kW!
I remember leaving the workshop and the two mechanics were having a laugh knowing I was doing all the work, including the turbo pipe work and mounting. "We'll see you in a year," one yelled out. To my word I returned just six weeks later, with a turbo and intercooler strapped to the car.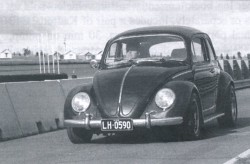 By now the dyno operator and I had become great friends and the mechanics thought I was nuts with too much time on my hands, but they keenly took an interest as it was something a little different too their day to day battle with Japanese imported engines. Their first question was "Why?" as they stood around watching me back the car onto the dyno for a fourth time. Their second question was, "How much?!" "What, money or power?" I'd reply. Both, they asked. My answer was, "Too much, and never enough."
The car edged forward on the rollers and straightened up, and once again I strapped the exhaust gas analyser to the exhaust pipe, which by now had grown from 50 to 75 mm in diameter. The motor sounded like a giant compressor as the wastegate chuffed and the blow off whooshed through the gears. After an hour the motor was mapped to 0.4 bar boost but the spark in the combustion chamber kept blowing out. We left it at that for the day, and stood around puzzling as to why it wouldn't cope with more than 0.4 bar of boost, but the car still made 80.6 kW at the wheels!
On the street people would look for a late model turbo car after hearing the wastegate snap and the blow off valve vent. What a laugh, the look on some people's faces after working out the car was indeed turboed. People used to look and stare and traffic lights when they caught me up after I'd give my normally aspirated motor a workout. Now they would stare and their facial expressions would look puzzled. At the next set of lights they'd then wind their windows down and ask questions. If it wasn't about the funny things that popped out of the B pillar (semaphores) it was what was in the back!
Several days later I was back on the dyno for a fifth time with a stronger new coil and smaller spark plug gap. We slowly wound the boost up to a max of just over 1.0 bar, which I was advised was a safe and stable figure for engine life. By now the operator was grinning from ear to ear, and I stood around content to hear the flat four whistle and whoosh as the power output figure rocked up the dyno screen. The curve flatted off at 4000 rpm at 118.6 kW at 1.0 bar. By now the car wanted to climb off the rollers as the front wheels climbed up the rubber chocks holding it on the dyno.
We stood around pondering at the thought of more boost and how much extra could be had, but several people at turbo shops had convinced me being greedy wasn't always a wise thing for the engines life. More horsepower but a short and troubled engine life! With what I had I was content. Boris' race car was making 150 kW in race trim on BP race fuel, yet I was making just 31 kW less in full street trim on unleaded - good enough!
That was 4 years ago now. I've never pulled the motor out, or touched a thing except for several broken exhaust flanges, which always seem to make contact with those steep driveways. I should raise the rear end one day I suppose! I've never broken a gearbox to everyone's disbelief, and my own at times. Especially after taking some people for rides outside of Vintage and some of my street displays. I've never broken down, except for a flat battery on several occasions, usually at 11 pm at night, which was eventually sourced to my faulty alternator and was kindly fixed by our auto electrician President.
After all these years I'd still like to thank Boris Orazem, Dave Birchall and Steve Carter for all their advice and enthusiasm. What next you ask? Well, another camshaft which has been sitting at home for 3 years, and just maybe a close ratio fourth gear as the car dies with such a large difference between a low 3rd and tall 4th. But hey it cruises at low revs on the motorway!
Dave Birchall's 1965 Sea Blue Sunroof
By David Birchall
June 2003
I purchased this car in 1988, with the intention of restoring it to match my other car, a 1956 Type 1 Oval window Factory sunroof, restored over the period 1981 to '84.
The car was bought from Nicholas Lathourakis, and I had to store it for a few years before I could get around to starting the project.
In 1991 I removed the engine and stripped it, commencing the overhaul. The 1200 engine case was cleaned and faced and tunnel bored back to original specs. A new set of barrels and pistons were bought from the USA and a brand new set of heads came from Vintage Vee Dub Supplies. The camshaft was reground by Watson's and a set of 1600 1.1 rockers were added. The engine was assembled but not run until around 1998.
The car remained in storage until 1993, when space became available, and in October the car was completely stripped down to the last nut and bolt ready for panel work to begin. It took another 3 years for the main body to be completed and have the doors fitting correctly. After this process the main body went into storage for 3.5 years.
The floor was the next project. After replacing one pan half, and straightening the other, the floor was then sprayed in baked enamel and completed in April 1997. By the end of 1999 the floor was back on wheels and ready to be driven. A seat was attached together with a steering column making the chassis drivable. It was test-driven, proving that the engine, gearbox and brakes all worked.
During the longer stages of the restoration, the smaller components were restored and boxed ready for assembly. These included headlights, chrome side strips, door components, seat belts, front and rear seats, bumper bars and overriders, window glass, accessories, taillights, gauges, radio, running boards, etc etc.
All of the larger heavy items were sand blasted prior to paint and refurbishment. This included wheels, bumper brackets, brake drums and backing plates, fuel tank, running boards, seat frames, etc etc.
The guards, doors, bonnet and engine lid were chemically stripped prior to panel work and painting. The main body was reunited with the panels at Kurt's Precious Metal in Wollongong, and trial assembled to check alignment of all the body work prior to painting. This took nearly 16 months or so, after which two-pack Sea Blue paint was applied by Helensburgh Smash Repairs.
The main body was reunited with the chassis in May 2001, and made driveable in the next month or so. Total time the body was of the chassis was 7.5 years. This was a major step and allowed the new process of installing a headliner. I searched around for a trimmer that could supply OEM roof lining, but unfortunately this process of installation took over 12 months.
Over the Xmas break 2002 the car was finally assembled, fitting all guards, engine lid, bonnet, running boards, and bumpers. Interior carpet was fitted together with all the seats and seat belts. In March 2003 vintage registration was granted and fine tuning began.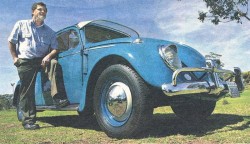 Inspiration for this car came from Boris at Vintage Vee Dub Supplies, who also supplied all the components for the job. I would like to thank my Dad for the many Saturday mornings working on the project over the past 15 years.
I was not in a hurry and during the 15 years I rebuilt several other cars including the Orange Smoothie. I found doing a few of the components while waiting for other things to happen, made the tune go quick, and final assembly easier.
A lot of components were obtained from various VW swap meets over the years. Accessories fitted include headlight eyebrows, door handle scratch plates, rear venetian blind, 90-mph trip speedo, reversing light, drivers side internal door pull, AWA Transistor Radio, chrome rear air grilles, under-dash parcel shelf, mesh sun visor and drivers door wind visor, and 40-hp Hazet toolbox.
Other accessories I am considering fitting include a Judson 40-bhp supercharger, Empi 5 stud wheels, Empi Steering wheel, Jack Braham Lukey Exhaust, 6 Volt Tacho, Oil temp and Judson Supercharger gauge, Gear shift Lock, Bug Screen and Fog lights.