For Sale
Classifieds are free to Club VeeDub Sydney members ($10.00 for non-members). Ads submitted will appear here and in our club magazine Zeitschrift for two months (or longer if requested). The deadline for classifieds to appear in Zeitschrift is the first Thursday of the month. Ads will appear first in Zeitschrift, so that our Club Members see them first. They will then be posted here a week or two later.
Members should email their For-Sale ads to the Editor. Non members can purchase an ad online or post a $10.00 cheque/money order to the Secretary, Club VeeDub Sydney Inc.
Photos can be included with your ad - just email JPGs to the Editor.

This page last updated: July 2021
New Ads: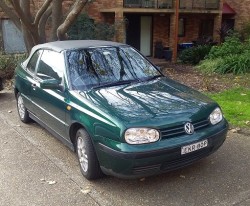 For Sale:- 1998 Golf Mk3.5 Cabriolet. Needs some TLC but is registered and in good working condition. Only 150,000 km and has been garaged so presents well. A great thing to drive with superb fuel economy and surprising performance. For all enquiries and more photos please email Warren at wsaxelby@bigpond.com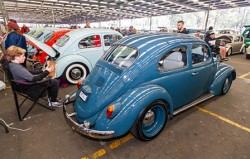 Wanted:- The owner's contact details for this VW Beetle at the VW Nationals. Hi I'm Craig Hughes, editor of VWMA magazine. I am interested in talking to the owner of this VW, but I don't know who the owner is. It did not have a show entry form, and its Historic Plates 08732J are not registered with Club Veedub. Can you help? Do you know the owner of this car? If so, please contact me on 0419 735596 or email editor@vwma.net.au Thank you!
Wanted:- I was wondering if you would be able to assist or point me in the right direction. I recently purchased a Golf Mk3 Cabrio which is missing a tonneau cover. Do you know where I could source one for a reasonable price? If you can help please contact Mr Michael Brandt on 0412 381644 or email michael.brandt@iinet.net.au
For Sale:- Hi, I'm not sure if you do advice. I am the proud (?) owner of a 2010 petrol Golf that I don't drive anymore because it has, I believe, well-known mechanical issues. I really don't want to try to sell it to someone who thinks its problems are minor, but I also don't feel that it is just scrap. Do you have any enthusiasts who might like it for parts, or to dismantle the engine to get it going properly again? Thanks, Benjamin Penny 0455 618898 or email Benjamin.Penny@anu.edu.au
For Sale:- Hi, my father in law passed away last year, it appears he left a Denzel engined 56 type 1, in one of his sheds. Would there be any interest amongst your membership in acquiring this engine? Contact Mr Bill Schmidt on 0403 963562 or email bill.dot.schmidt@gmail.com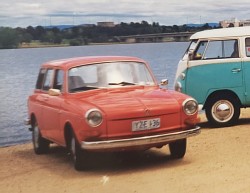 Wanted: I grew-up in Canberra and have recently returned with my family, after 30+yrs living away. While studying in Canberra I bought a jaffa red 1972 Type 3 Squareback from a Doctor living in Curtin, who had owned it since new. It was in great condition, almost completely original. During my time I had it re-sprayed and various small fixes. Just before leaving Canberra to go overseas, in December 2002, I sold it to a family living in Davis Street in Weetangera who were giving it to their son studying at University in Melbourne. I'm now keen to locate it and try to buy it back so I can restore it. I'm having trouble finding my old records with any more information about the buyers. I've attached a photo, but at the time of sale it had NSW licence plates: WAW 072. I realise this is a ridiculously long shot, but I've also seen how the VW world seems to be shrinking with the number of roadworthy cars. So I'd really appreciate any advice on how to track-down my old Type 3. Is anyone aware of this Type 3 or can help me find it? Or alternately do you know of anyone selling a nice straight rust-free squareback? If you can help, please contact Andrew Williamson at wilos72@gmail.com
For Sale:- Hi, I have a Gregory's 'Beetle Service & Repair Manual' - Scientific Publication # 46 for models: 1100/ 1200/1200a/1300 & 1500 1954-1971 & in very good nick. Was going to take local auction house but thought of you first should any member be interested in buying it. If you are interested, just let me know. Please contact John Mullavey Hobart at johnmullavey6@gmail.com
2nd Month Ads: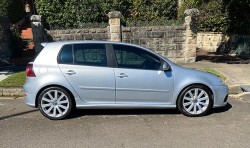 For Sale:- 2009 Golf R32 Less than 60,000kms! One owner, fastidiously maintained. Non-smoker, no pets. Never modified or taken on a track or raced. This is one of the last of the legendary R32s brought into the country in 2009. If you are looking at this ad you will already know what an amazing vehicle this is. Six cylinder, non-turbo with heaps of power (247 bhp) and sound that makes your heart beat faster! It's full-time four wheel drive lets it corner like a go-cart on rails. The DSG automatic transmission still lets you get sporty with real paddle shifters or drive it like a conventional automatic for the comfortable quick trip down to the shops. It has a recent rego (until January 2022) and four near new Pirelli Dragons all around. The leather interior is clean and has no major wear. Exterior is beautifully polished but has a few age appropriate dings and scratches (easily fixed). Almost all services were recorded in the log book with a major service in December 2019. Since then the vehicle has hardly been driven. I've loved owning this great car but sadly it is not being driven the way it should be and it is time for a new owner to enjoy it. Come have a drive and see why this is the best R32 on the market at the moment. $21,500 o.n.o. Also posted in carsales.com.au (search for SSE-AD-7147347). Vehicle is garaged in Mosman. Text Alex on 0400 535525 or email zaininger@me.com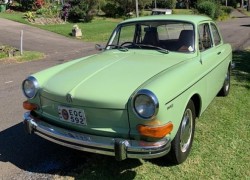 For Sale:- I have a 72 automatic Type 3 Sedan for sale, it has been garaged, serviced and is registered in NSW expiring Aug 2021. Body unmarked, no rust, no dents inspection welcome. Sensible offers considered. Contact Ken Dalton on 0439 746622 or email heykend@hotmail.com
For Sale:- Hi, I'm away a bit, email best for replies. I've owned VWs since 1966 and have built up a stock of parts as well as owning an 1971 Type 3 wagon in very good condition ( apart from carburetion issues I'm trying to solve). I'm happy to give away the parts and sell the car. I'm up at Narara near Gosford and was wondering if there's anyone from your Club who could have a look, if interested come back with a trailer and take the lot and if anyone is interested in car, great. As mentioned an email would be good for a reply. If interested I can give more details then. Please contact Mr John Shonk on (02) 43283072 or email susan48@aapt.net.au