For Sale
Classifieds are free to Club VeeDub Sydney members. Ads submitted will appear here and in our club magazine Zeitschrift for two months (or longer if requested). The deadline for classifieds to appear in Zeitschrift is the first Thursday of the month, and the magazine is published the week after. Ads will appear first in Zeitschrift, so that our Club Members see them before the general public does. They will then be posted here a week or two later.
Members should email their For-Sale ads to the Editor. Non members can purchase an ad online or post their ad with a $10.00 cheque/money order to the Secretary, Club VeeDub Sydney Inc., PO Box 324 Mortdale NSW 2223.
Photos can be included with your ad - just email JPGs to the Editor. Please take the photos in Landscape format if possible.

This page last updated: January 2023
New Ads: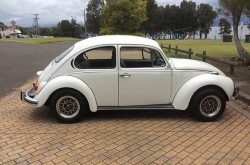 For Sale:- 1972 VW Superbug. It is in showroom condition with a fully recondition motor sand blast and new paint with new upholstery. It has won peoples' choice award at a kiama show and shine 10 months rego BTL072 number plates 24824 klms My Beetle has been a great passion but it's time to move on hoping it goes to another enthusiast who appreciates the fun of driving a classic car and getting the comments I have had over the years. I am asking $35,000 o.n.o. Contact Stephen on 0401 102794 or email stephenrussell1@aapt.net.au
For Sale: Four (4) 14 inch x 7 inch wheel rims. I'm selling them because I wanted to revert back to the original standard 15 inch rims, and as I needed new tyres this was an opportune time to do that I have $200.00 on the set. I can be contacted on (02) 42713467 or mob. 0428151135 or email: brianmannix75@gmail.com
For Sale:- I am selling a pair of Black and White QLD PPQ Number Plates 'OUR BUG.' I would like to give your club members the opportunity to own these before I advertise them publicly. I can be contacted on 0427 884714 or email gordonmob01@bigpond.com if any of your club members are prepared to make an expression of interest. Kind Regards, Jason Gordon
For Sale:- I own two early Australian VW's, both stored near Bindoon in WA. Due to terminal illness, these vehicles are now available for sale. The Beetle is a 1954, # 1-0595235 and the T34 Karmann Ghia is a 1965, # 345 1 63245 Both require restoration, although the Beetle is all original and could be recommissioned with relative ease, given an appetite for patina or more finished appearance. It was my daily driver in the mid-80's, since when it has been stored, last 10+ years in perfect dry container conditions. The T34 was not running when I acquired it, its disassembled, but all parts that were with it, are well stored. It will be more of a challenge to restore, due to some missing parts, but the shell is decent, but not rust free, in particular the rocker panels. I have casually socialized the availability of these cars in the WA scene, but had no interest. It would be a shame to send these cars to scrap, but that is one of the possibilities if they have no sensible value to the Australian VW enthusiasts. You can email me at burvoid38@gmail.com I'm only in Australia for another week, then my number USA based, so email is the best, orWhatsapp to my email or +1 650 3468655.Regards, Hayden Burvill
2nd Month Ads:
Free to good home: I was a member for several years but lapsed about 5 years ago - used to attend meetings at the Greyhound Club. I have a collection of stuff - magazines, accessories, etc. - that I would be happy to GIVE to the club. Less stuff for my family to throw out eventually. If you are interested I am happy to donate them to the club. Let me know. Albert albert.renshaw@gmail.com
For sale:- I have a rear (engine) door off a Kombi in good condition & want to sell it as it is too good to throw away... I'm in Darwin and not sure who to contact... Thanks in advance... Robert cupidsdc_e@hotmail.com
For Sale:- 36HP Cranks and Cams. Have 11 cranks and 12 cams Some cranks have rods and some don't. $150 for the lot Contact: njsansom@hotmail.com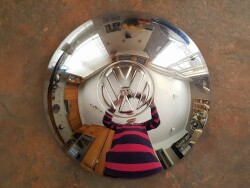 Free to good home:- When I was a young boy I enjoyed collecting chrome hubcaps off the side of the road! After caring for them for more than 50 years, I'm now wanting to find good homes for them all and would like to give my 2 Volkswagen hubcaps away to any enthusiast willing to pick them up from my place in Glenhaven NSW (between Castle Hill and Dural). 1 hubcap is in very good condition, whereas the other has some surface rust and pitting and would need to be reconditioned and replated. Anyone wanting them please contact John Learson on 0411 336444 or email jlearson@bigpond.com
Free to Good Home: Hi there I have an old copy of the Gregory's VW Type 2 Transporter workshop manual no 48, for 1200, 1500, 1600. Was wondering if anyone in your club is interested? The manual is not in good condition, however, it has all the pages, it's just the outside that's somewhat ratty. I don't want anything for it and am happy to post it. If you would like it, please contact Linda Lawson on 0407 210742 or email lindaxphil@yahoo.com.au
Wanted:- Rear bumper for 1976 T2 Kombi, in reasonable condition. To finish my kombi all I need to get it finished is a rear bumper, I have the brackets don't have rubber strip on front one. If you can help, please contact Robert (Bob) White on 0419 437132 or email rwjawhite@bigpond.com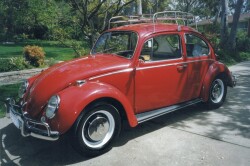 For Sale:- Historic 1966 VW 1300 Beetle. A unique opportunity for a genuine VW enthusiast to make this purchase. This vehicle was purchased by the owners in Munich in 1966 and transported by them to Australia in 1998. It has been driven by one owner largely around the ACT and has been enjoyed by three generations of the one family. Always housed in a garage or sheltered carport. Left hand drive, German manufactured. Probably the only one in Australia. Acquired by owners in Munich in 1966. One owner, 68,000 km. In excellent condition. Sunroof – wind back manual. Roof rack. Flat front window. Manual windup front windows. Original engine. Regular servicing. Registered as Historic Vehicle until August 2023 (not transferable) Extra features with the sale: Original German number plates (front and rear), Original Bill of Sale (Mahag dealer, Munich), Original Car Registration (Munich), Original car tool kit. Offers over $50,000. Contact Fyfe Bygrave on 0427 656 919 or email fyfelbygrave@grapevine.com.au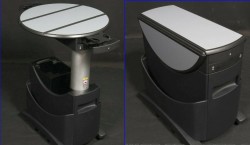 For Sale:- Folding Table - Multi-Functional originally fitted in VW 2021 Multivan Comfortline TD1340 SWB – basically in new condition. Located in Jindabyne. $250 plus freight. Please contact Nolen Oayda on 0412 207534 or email nolen@zestproductions.com.au
Wanted: Does anyone have a spare copy of the 2022 VW Spectacular magazine from this year's VW show at Nambucca Heads? Unfortunately I missed this year's show having to work. If you can help, please contact Phil at editor@clubvw.org.au or see me at the next monthly meeting. Many thanks!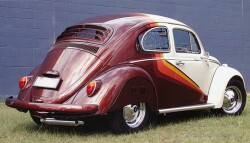 For Sale: Shirley Pleydon's 1967 VW Beetle 'Alvin.' Been in the Pleydon family for 40 years. Travelled only 26,000 miles since full restoration in 1992. Consistent show winner at the VW Nationals over many years. Engine specs: engine rebuild to 1600 from standard 1300, otherwise mechanically all stock, nothing changed apart from the engine. Many extras, including custom paint job, back wheel covers (spats), Porsche rims, banjo steering wheel, custom running boards, rear window louvre, pop out side windows, billet mirrors, parcel shelf, stainless firewall louvred, replica tool kit, extractors, colour coded throughout. You've probably seen Alvin at club runs and it was featured in VWMA magazine Jan 2008. Worked on and serviced by Andrew Dodd Automotive. Been garaged and taken care of for the last 9 years. Currently getting fuel lines and brakes re done along with a service for sale. Blue slip and registration can be organised for the cost of both if needed. Want it to go to a good home for someone who enjoys antique cars and will get good use of it so it's not sitting in the garage. Price: $35,990. Contact Ryan Pleydon (Shirley's grandson) on 0408 828553 or email ryan.pleydon@hotmail.com.au for more information.