For Sale
Classifieds are free to Club VeeDub Sydney members. Ads submitted will appear here and in our club magazine Zeitschrift for two months (or longer if requested). The deadline for classifieds to appear in Zeitschrift is the first Thursday of the month, and the magazine is published the week after. Ads will appear first in Zeitschrift, so that our Club Members see them before the general public does. They will then be posted here a week or two later.
Members should email their For-Sale ads to the Editor. Non members can purchase an ad online or post their ad with a $10.00 cheque/money order to the Secretary, Club VeeDub Sydney Inc., PO Box 324 Mortdale NSW 2223.
Photos can be included with your ad - just email JPGs to the Editor. Please take the photos in Landscape format if possible.

This page last updated: September 2023
New Ads: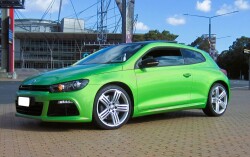 For Sale:- Volkwagen Scirocco. I've hardly driven Viper Green 'Mr Bean' the last 3 years. It's fully-owned, not under finance. For genuine reasons [personal safety & security], I'm not selling via public channels such as carsales, autotrader, etc. I love it, and would prefer to retain 'Bean', but unfortunately must sell what has been the best all-round drive I've had in just a whisker under 55 years. * 99,296 kms as of today * serviced last by Denlo, next @ 104,000 kms * new battery * panoramic sunroof * good-as-new tyres * complete wiper blades back-up set, top grade, in packaging * pristine body, except for a small number of chips on driver-door protection strip * clean-as-a-whistle, and currently simply collecting dust * always garaged undercover I am Inner West Sydney. 'Bean' would conservatively be about $23,000. It is probably the most-enjoyable [even in traffic] car I've had over the years, Please contact Chris Miller on 0423 052 641 or email theblokedownunder@gmail.com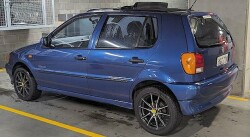 For Sale:- 1998 VW Polo Open Air. Blue, electric roof slides back. Manual, Loose gears due to age. 111,000 km on clock. Runs well, regularly serviced with records. Always garaged, Paint work lovely, no rust. Registration due January 2024. Resides North Sydney. $2700 ono Contact Alexandra Paterson on 0410 058405 or email benauda@iinet.net.au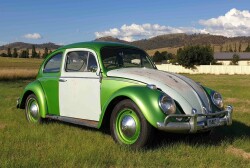 For Sale:- 1965 Beetle 'Libby', appeared in 'Neighbours' many times, needs some work but change of circumstances means I have to move her on. 6 volt, 1200 basic car. Suffered a minor engine fire a few years back and still wears the scars (not fuel+exhaust fire). Had some work 2 years ago to return to the road and passed the roadworthy check – bearings, brakes, 2 new tyres, elec check etc. Engine lid still has the fire scar, bonnet replaced (rust), drivers door replaced (horse hoof). No carpet, basic interior, passenger seat and spare wheel missing (elsewhere in storage), car was driven to a dry storage location and been laid up over 12 months. Was working on the drivers window when she went to storage, don't think I finished it. Unregistered, no current shots as yet but hoping to get some soon. Car is located at Bredbo, approx. 1 hour south of Canberra. Due to storage it will take some coordination to view the car so please interested enquiries only please. Appeared at the Nationals years ago in her 'Neighbours' livery, it would be great if someone can get that look back. Made the cover of the Dec 2009 club magazine. $8000 please message Bruce on 0400119220 or email bruce.walker1@defence.gov.au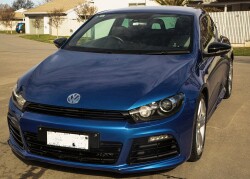 For Sale:- Hi. I have a Scirocco R (MY2013) for sale. It is in good condition with only 80,000 on the clock. Your members will recognise that this is an uncommon vehicle and I wondered if any of them might be interested. The car is 'rising blue' in colour. The mileage is just 80,938 km. It is registered in the ACT until December 2023. The car is located in Isaacs, ACT. I'm asking $27,500. For more info please contact Linda on 0419 514 578 or email mopsella@gmail.com
2nd Month Ads: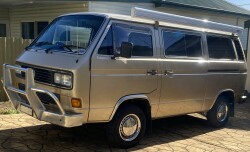 For Sale:- 1989 Volkswagen Caravelle T3. I have owned this great vehicle for 4 years after purchasing it from the original owner who purchased this vehicle brand new in 1989. This a reluctant sale prompted by my deteriorating physical condition. Luxury 7-seating, 2.1-litre 4-cylinder, water-cooled boxer engine. 3-speed automatic transmission. Factory-fitted air conditioning. Savanah Beige Metallic paintwork, velour trimmed interior, anatomically shaped seats with adjustable armrests and fitted head restraints. Power steering, soft-feel steering wheel. Digital controlled fuel-injection, electronic ignition. Central locking, weather shields, reversing camera. Sony FM/AM Radio/Compact Disc player with remote control. All hoses and radiator have been replaced. All new tyres with spare and new maintenance-free battery. All window rubbers replaced (original OEM). Engine and transmission regularly maintained by qualified mechanic and always garaged. Comes with: Fiamma 3-metre Wind-out awning with attachable walls, original fitted ROO bar, variety of spare parts. This vehicle is in excellent condition for age and runs beautifully. Won Best T3 in Show Volkswagens in the Square (VITS) Albury. Currently registered on Club Plates (these are not transferrable) but has a Safety Inspection Report. Original documents included as well as a Bentley Publishers Repair Manual worth $330. Selling Price $26,800 Negotiable. Genuine offers considered. Please contact Gary Townend on 0488 971 662 or email gazsan60@gmail.com
For Sale:- I have a range of parts in Canberra for 1800 Kombi if any of your members are interested , Here is a list of what is available: Side mirrors, Windscreen rubber, Windscreen wiper arms, Windscreen wiper frames, Pair of brake shoes, Rear axles with CV joints, Front door pull straps, 3x Wheels, Sliding door striker plate, Dashboard blank for radio, Some in dash air flow fittings, Turn signal mounting bracket, Rear view mirror, Battery clamps, Oil filter removal tool, Shock absorbers (new), Petrol pump, 1800 crankshaft and connecting rods, Rear window rubber for beetle 1971, Apac garage jack. Please contact Warwick on 0404 469370 or email warwick.fulton@gmail.com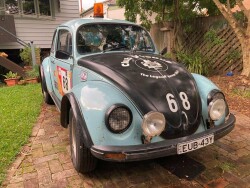 For Sale:- 1976 VW Beetle for Sale. Sought after model, last of Australian made. Beam front and IRS rear suspension. Mileage 70,000 on clock. NSW Road registered August 2023. Motor: Pobjoy 1916 cc, twin Kadron carburettors custom under guard exhaust. This motor is low stressed low compression happy on standard fuel with plenty of low revs torque, a pleasure to drive. Reconditioned transmission and HD Clutch. Adjustable Spax Shocks all round. HD Torsion bar on front suspension. Long range fuel tank fitted, Rally trip meter, and CB radio. Half roll bar, front and rear stone guards available but not fitted (these were removed to pass Blue slip) 14 inch Hotwire mag wheels brand new tyres. Set up as two seater new leather cloth seats and rear parcel shelf and stowage boxes. Has participated in Flying Doctor Charity events . This car is great to drive and in excellent running order, recent passed blue slip to take it off club plates. $18,000 ono. Contact Barry on 0425 275097 or email bpparks1@bigpond.com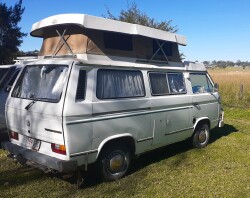 For Sale:- One owner 1990 T3 Kombi fully decked out camper with near new engine, new radiator, new front brakes in good condition. Sopru conversion with double gas burners and grill, new Dometic three way fridge, fitted sink with 20 litre storage tank, double fold out bed below single slide out bunk up top, plenty of cupboard space with hanging option. The last of the rear engines and first of the water cooled complete with bull bar and driving lights. Fully lined interior and priced $15000 for quick sale. Location Gloucester NSW. Phone Allan on 0413 188633 or email allanwearne1@gmail.com
For Sale:- 1967 VW 1300 Deluxe Beetle. One owner, original straight condition. Unmodified except for conversion to 12V. Still has original rego plates. Birch green colour, runs well, long service history. Hardly used the last five years. Needs minor cleaning up. $20,000 ONO. Contact Hendrik on (02) 4945 4811.
For Sale:- 1989 T3 Transporter window van, white. No rego, deceased estate. Rebuilt gearbox. 2.1-litre motor runs but has two broken head studs. Rear aftermarket seat, a bit rough. Front bull bar, lights. Car located in Belmont North, NSW. $4,000 for quick sale. Contact Hendrik on (02) 4945 4811.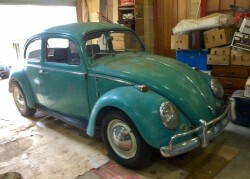 For Sale - 1966 1300 Beetle, one owner last 40 years. Rebuilt to 1600 single port (much torque), 12 volts. Just had comprehensive service with complete brake system overhaul - 4 new wheel cylinders, new master cylinder and brake hoses. Continually registered with 5 months remaining. Very straight car, comes with many new parts supplied, replacement engine lid strips and rubber seals, door hinge mirrors with pins etc. As featured in the July 2015 issue of Zeitschrift. Open to offers around $18,500. Contact Bill on 0438 478404 or email forbsiedw@gmail.com