For Sale
Classifieds are free to Club VeeDub Sydney members. Ads submitted will appear here and in our club magazine Zeitschrift for two months (or longer if requested). The deadline for classifieds to appear in Zeitschrift is the first Thursday of the month, and the magazine is published the week after. Ads will appear first in Zeitschrift, so that our Club Members see them before the general public does. They will then be posted here a week or two later.
Members should email their For-Sale ads to the Editor. Non members can purchase an ad online or post their ad with a $10.00 cheque/money order to the Secretary, Club VeeDub Sydney Inc., PO Box 324 Mortdale NSW 2223.
Photos can be included with your ad - just email JPGs to the Editor. Please take the photos in Landscape format if possible.

This page last updated: September 2022
New Ads:
Wanted:- I am missing three issues of Zeitschrift. Does anyone have copies of these issues that they could donate or sell to me? I am looking for July 2013, September 2014 and December 2014. If you can help, contact David Birchall on 0415 957030 or email david@clubvw.org.au
For Sale:- Hello, I am wanting to sell my gorgeous 1965 Split screen Kombi. Do you advertise in your magazine?? For all information contact Simone on 0477 008866 or email hurs2148@outlook.com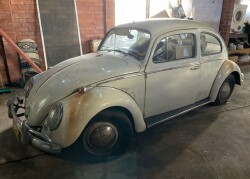 For Sale:- 1967 VW 1300 (12 Volt Conversion), I parked it in the garage under a leaky roof 24 years ago. We purchased the car for our then 3 year old "Herbie Fan." The car is located at Fairfield East 2165 NSW It has not been started since and would be suitable for restoration project only. Help, I have no idea what it is worth. Please contact Raymond Heilman on 0408 610545 or email raymondsbox@hotmail.com
2nd Month Ads: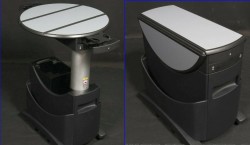 For Sale:- Folding Table - Multi-Functional originally fitted in VW 2021 Multivan Comfortline TD1340 SWB – basically in new condition. Located in Jindabyne. $400 plus freight. Please contact Nolen Oayda on 0412 207534 or email nolen@zestproductions.com.au
Wanted:- My name is Gavin Farmer and I'm an Australian motoring historian and author living in the Adelaide hills. I have written a book about all the cars made and/or assembled in Australia in the 1950s and it is ready for laying out. However, I have a problem that I am hoping you can sort for me and it concerns the VW chapter of the book. I have some illustrations taken from various VW brochures of the period plus a few shots of VWs being assembled ibn Clayton but I do not have any nice portrait shots of 50s Beetles and Kombis to add to the illustrations for the chapter. The book will be published by New Holland which is based in Sydney. Would it be possible for you to find appropriate images from your members for me to forward to the publisher please? There is a degree of urgency in the matter…no pressure! If any of your members with '50s VWs can help me, please contact me at ilingabooks@gmail.com Thank you. You can view other books that I have written at www.ilingabooks.com.au to verify that I am genuine. Regards, Gavin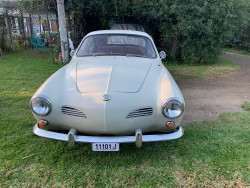 For Sale:- My 1960 Karmann Ghia is for sale. I am the second owner and it was my daily driver for several years. It has been restored with Rise Again in Bathurst and Vintage Veedub Supplies in Sydney. For further information and photos please call Stephanie 0410 430682.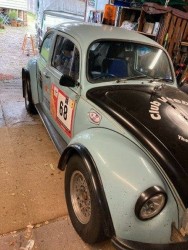 For Sale:- VW Beetle 1976 Bash Car parts, set up for Charity Rallies raising money for the Flying Doctor. Half Roll Cage Front and rear alloy skid pans (stone guards) Full Harness, Extra 45-litre Fuel tank Rally trip meter Raised suspension adjustable shocks front and rear Dust lights CB Radio, 1916cc Pobjoy racing motor twin Kadrons. Reliable low stress motor runs on standard petrol Reconditioned transmission $20,000 Contact Barry 0425 275097 or bpparks1@bigpond.com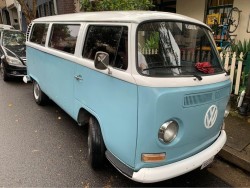 For Sale: 1971 VW T2 Microbus, low-light 8-seater. This model has low-light indicators and front disk brakes. Reconditioned gearbox 2021. $5,000 panel work 2021. Dual battery system (incl. 100Ah AGM battery). Two tone - Flipper blue and white. Original vinyl seats in fair condition. New roof lining 2017. New glass rubbers 2020.New master brake cylinder 2017. Original dashboard. Locking petrol cap. Engine immobiliser. It's come time to sell as I no longer have the space. Runs and drives beautifully. Maintained in almost original condition. It is ready to go and be enjoyed! $37,500 ONO. Located central Sydney. Please contact Nic Seton on 0407 638973 or email nic.seton@gmail.com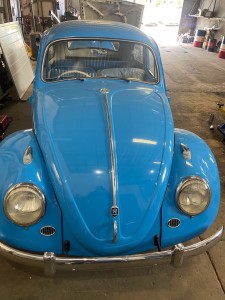 For Sale: 1962 VW Beetle. Fully restored. Body sand blasted and full paint job of body and chassis. Rims sand blasted and painted underbody painted. 5 new tyres 6 months old. New quarter windows, new door latches. All new chrome and rubber glass and door surrounds. New windscreen wipers, new horn ring and blinker switch. All new interior upholstery seats doors roof liner matting. New boot liner. Fully reconditioned original 1200 motor, gear box, clutch, brakes and steering. New exhaust. New running boards. New 6V starter motor and regulator. All new light bulbs. This car is practically brand new. Blue slip pending. View it in Gloucester NSW. Price $45,000 negotiable. Contact Graham Marsh on 0428 582 110.