Australian Volkswagens
Most reference web pages for VW restoration come from the USA. The USA market always directly imported German-made Volkswagens in the air-cooled era, shipping over as many as half a million VWs a year from Wolfsburg, Hanover and Emden. The USA was VW's largest export market in the air-cooled era, and most of the safety modifications made to the German VWs over the years were to meet US laws. US websites such as www.thesamba.com document these changes very well, making restoration of US VWs relatively easy. Likewise, the UK also imported complete VWs from Germany, and British/Euro VW specs are therefore very similar to US models.
However Australia was very different.
Australia was one of the countries outside Germany where Volkswagens were locally manufactured; South Africa, Brazil and Mexico were others. Australian-sold VWs in the 1950s, 1960s and most of 1970s were made in Melbourne, and there are numerous differences between our VWs and the American/UK/Euro versions. This page will outline many of the unique features of Australian-built VWs, show the differences from Euro/US models and hopefully make parts buying and restoration of Australian-made VWs easier.
Australian construction of Volkswagens can be divided into three phases.
Phase 1 – Assembly of German CKD Kits (1954-59)
Volkswagens were first imported to Australia in late 1953 and went on official sale in early 1954. These earliest cars were fully imported. The Federal Government of the time offered large tax concessions on locally-made cars, so from June 1954 Volkswagen Australia began importing German CKD ('Completely Knocked Down') kits and assembling them in Melbourne. After a short while, basic Australian-made components such as batteries, tyres and glass were substituted, and through the late 1950s this was gradually expanded to locally made paints and glues; nuts, bolts and fasteners; rubber, cloth and trim, and electrical components. German companies like Bosch, Hella and VDO set up Australian factories to produce components for the expanding Melbourne VW factory. By 1956 the Australian-assembled VW was already more than 50% Australian-made.
Phase 2 – Full Australian Manufacture (1959-68)
A new expansion program was begun to fully manufacture the VW in Australia with Australian-made parts, rather than assemble German-made parts. This meant expanding the factory ten-fold, building presses and tooling to stamp the complete bodies and floorpans – over 1,000 different pressed steel parts that make up a VW body. The first Australian stampings were made in 1959, and by 1964 local content was 75%. The Melbourne factory also pressed parts for the Transporter and Type 3 series that were made alongside the Beetle. Another expansion program provided an engine assembly shop, front end shop, aluminium/magnesium foundry, and transmission assembly shop. Local content aimed towards 95% by 1967, with only the trickiest forged parts still imported from Germany. Phase 2 saw the greatest differences between Australian and US/Euro VWs, especially so after 1964.
Phase 3 – Assembly of German CKD Kits (1968-76)
In 1968 local manufacture ceased and the factory returned to making German CKD kits. The factory had spent millions of dollars in the existing tooling, and could not afford to keep up with the annual changes of the Wolfsburg parent plant. The factory was 'locked' into making the 1961 model, and the 1962-67 Australian VWs were practically the same. The factory was built to produce 50,000 VWs a year, but production peaked in 1964 with just over 34,000 built. Sales then dropped as the Aussie VW became increasingly outdated, but the factory could not afford to update to European specs. So in 1968 all the Australian production equipment was stripped out and sold off, and the factory reverted back to German CKD assembly. Again there was some basic local content and minor differences, but the cars were essentially Euro. Transporters and Type 3s were also converted back to CKD assembly in 1968. After 1974 the factory also assembled German CKD kits of the Passat, and then the Golf in 1976.
Nissan bought the VW factory in March 1976, and controlled VW assembly that year alongside their own products. The last Beetle was assembled in July 1976. Kombi, Golf and Passat assembly ended in February 1977, and from then on to today all modern VWs have been fully imported.
Australian Beetle annual changes
This section lists the major changes made by the Australian factory and what was included on Australian VWs. It also lists German/US changes that DON'T apply to Australian VWs.
For German-made VWs made after 1957, the 'model year' ran from the previous 1st August to 31st July. However this did not apply to Australian-built cars. The CKD kits took two to three months to be shipped out to Australia, and then railed and stacked in storage at Clayton before they were unpacked, prepared and put together. Assembly could be as much as six months after they were built in Germany, and mixed with much more recent Australian components.
When local manufacture began, the factory was independent of the Wolfsburg parent. 'Year model' production generally began in February after the Christmas holiday break, and continued until the following February. Sometimes improvements were held back even further and released mid-year, such as the '1962½' catch-up model that appeared midway through 1962.
Changes were not made instantaneously on one day, but were often spread over a period of months as older parts were used up. It is quite normal to find Australian VWs with some parts from the previous year. In general, you should assume that Australian 'model years' match the calendar years in respect of changes.
CKD and Australian-manufactured VWs up to 1965 used normal German chassis numbers, but assigned in batches to Australia (to prevent duplication). After 1965 with the new '11y nnnnnn' format, Australian VWs were assigned '19y nnnnnn' chassis numbers – the '19' signifying Australian Manufacture. Note - US/UK websites and reference books don't recognise these Australian numbers! These were used 1965-67 and into early 1968. When German CKD assembly recommenced in June 1968, Australian VWs reverted to the normal '11y nnnnnn' German sequence, but around three to six months behind Germany.
US and European enthusiasts can obtain official VW 'birth certificates' for their historic VWs from the Wolfsburg Museum. The fee is currently 50 Euro and the link to apply is http://automuseum.volkswagen.de/urkunden.html?&L=1 However Australian VW chassis numbers from 1960-68, especially the 19ynnnnnn examples, may produce incorrect or meaningless results - such as assigning the car to Fiji with no paint/trim details – or even a 'Number Not Known' message. Wolfsburg does not have detailed Australian production records, with chassis number date and paint/trim/accessories details, as these were destroyed in the late 1960s and no longer exist. This is not to discourage Australian enthusiasts, but the result may be disappointing.
1954
The first Australian-imported VWs are oval window with 30-bhp 1131cc engine. Early models have push-button starter. In June 1954 the new Australian-assembled CKD VW is upgraded to the new 36-bhp 1192cc engine. Practically identical with Euro VWs.

1955
First Australian components are incorporated – tyres, batteries and glass.
We did NOT get:
· US-style turn signals low on the front guards; we kept the semaphores
· US-style sealed-beam headlights. Australian Beetles kept the Euro-style fluted lenses, separate reflector with removable main and parker bulbs until 1968

1956
Improvements appeared in March. Raised taillights and twin exhaust pipes. Front luggage space is increased by changing the design of the fuel tank. Seat adjusters added. Heater knob moved forward. Bright new Australian paint colour choices and new interior trim are introduced – see the Paint Colour reference page for details.
We did NOT get:
· US-style deluxe bumpers with 'towel rails' and large verticals; we kept the regular Euro-style chrome bumpers with small verticals

1957
Early models only had minor changes such as adjustable striker plates, a taller diff and modified heater outlets. These were the last 'oval window' cars. In late 1957 the new larger rear window body is introduced, together with smaller rear intake grill, and a larger windscreen with narrow pillars. A new dashboard with much bigger glove box and a flat accelerator pedal was added. Also bigger and better brakes.
We did NOT get:
· US-style tubeless tyres; our locally-made Dunlop tyres remained tubed
· US-style turn signals on the top of the front guards; we still kept the semaphores

1958
Only detail changes. Very similar to late 1957, with usual Australian range of paint colours.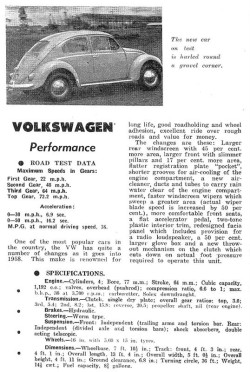 1959
Detail changes early, such as new 'Vynex' straight-line headliner material, changed floor-strengthening ribs, and a stronger clutch and different fan belt are fitted. At the end of the year the dished steering wheel with chrome horn ring, self-cancelling indicators and push-button door handles are introduced.
We did NOT get:
· Radio interference suppression on the ignition system

1960
Early and mid-year changes include updating the paint finish from 'Duco' lacquer to baked enamel, and adding a front anti-sway bar and steering damper. The front seat backs now have a curved profile acrossways. The front passenger now has a sloping footrest. The semaphores and wipers are now self-cancelling, but soon after the old B-pillar semaphores are replaced by flashing blinkers on the front and rear guards. The front ones are narrow with white lenses; the rear lenses are special small, oval-shaped half-amber half-red units designed for the Italian market, and not used anywhere else in the world, making new ones impossible to find today. In November the redesigned 40-bhp engine with automatic choke is introduced, together with a redesigned all-synchromesh gearbox. Other additions are padded sunvisors, redesigned fuel tank for more luggage space, passenger grab handle and footrest, and suction pump windscreen washers. The US/Euro Beetles already had these improvements, six to eight months before Australia caught up. We were transitioning to full local manufacture.
We did NOT get:
· Deletion of the water drain pipes in the engine bay corners. They stayed until 1968
· The smaller rear stop lights retained by US models

1961
No changes most of the year. The Euro 1961 updates didn't arrive, as the Melbourne factory was busy converting to full local manufacture during a period of economic recession. Late in the year the Beetle got an Australian-made VDO electric fuel gauge, not the mechanical one fitted to US-spec VWs. Ours look identical to the US ones, except for registering Empty with the ignition turned off. This makes them a better theft deterrent than the US gauges, which register the fuel level at all times. Australian gauges are marked 'VDO Australia' and have the VW-kangaroo logo stamped on the back. US-style 'deluxe' towel-rail overrider bumper bars are now fitted as standard.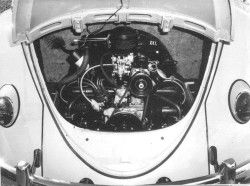 1962
An upgraded Australian Deluxe Beetle is released mid-year, called the 1962½ model. This was basically a 'catch up' model that brought in improvements that had been held back. These include two hefty seat belt anchor points for each front seat and four in the back, a spring-loaded front bonnet, door check rods, worm and roller steering with sealed tie-rod ends and a redesigned heater with front sliders and rear footwell outlets. The small Italian taillights were replaced by the same familiar 3-segment units fitted to Euro and US-spec Beetles.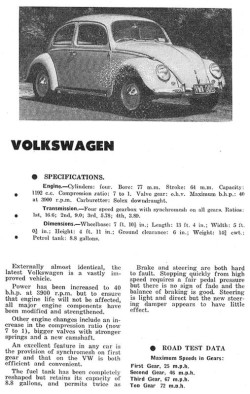 We did NOT get:
· Compressed air windscreen washers – the pump washers (and plain wiper switch knob with rubber suction bellows) would remain until 1968
· Third seat belt mounting point for front seats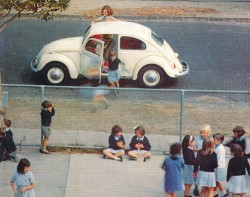 VW also released the 1200 Standard Sedan. It is mechanically identical to the normal Deluxe Beetle except for having no steering damper. It has a simplified, stripped-down interior with no washers, no horn ring, no interior light, no glovebox lid, no fuel gauge, only one sunvisor and only the most rudimentary roof lining and vinyl trim. Outside there is no chrome trim, and the hubcaps and bumpers are painted grey.

1963
The Wolfsburg Crest was no longer fitted to the front bonnet, but otherwise the Aussie 1963 was the same as the 1962½ model. The floor is insulated with cork mats under the rubber, not foam sandwich like Euro models.
We did NOT get:
· Plastic perforated headlining – the Vynex straight lined 3-piece material remained
· Adjustable rear heater vents – ours remained fixed
· All-chrome hubcaps; our Australian-made hubcaps retained the black-painted VW symbol until 1968
· Nylon window guides – ours remained thin steel in rubber and felt

1964
The rear number plate light was widened. Later the front blinkers were also widened and moved further back on slightly reshaped guards. The front blinker lenses were still white, not amber, and would remain white until 1968.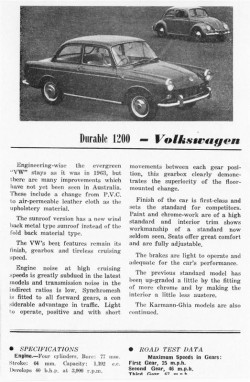 We did NOT get:
· Horn thumb bar – the 1960-63 chrome horn ring carried over
· Perforated upholstery – the earlier non-porous two-tone vinyl carried over
· Metal sunroof – Australian Beetles would not get that sunroof option until 1965

1965
The interior is updated with thinner rolled-top front seats (to increase rear leg room), a rear seat that now folds completely flat, and new trim. 1965 marks the major divergence between Aussie and Euro/UK/US VWs. The Melbourne factory could not afford to change all the pressed metal tooling for the new German big window body shell, for such a small turnover (25,000 cars a year). The old 1958-64 body shell carried over, and from the outside looked identical to the 1964.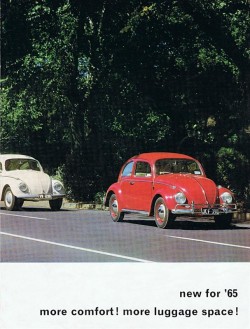 We did NOT get:
· The new larger window body shell
· Larger vent windows with sloping pillars – the old doors and windows remained
· Larger, slightly curved windscreen – we still used the flat 1958-64 windscreen
· Improved windscreen wipers
· Redesigned brakes
· Lever-operated heater – the old rotating knob would remain until 1968
· Lever operated rear heater control
· Side-swivelling sun visors
· Push button engine lid – the old T-handle remains
· Thermostat flaps on the 1200 – the throttle ring cooling controls remain
· 115* chassis numbers – Australian Beetles use 195*

1966
In February the new 1300cc 50-bhp motor replaces the old 1200, and Deluxe Beetles now have a '1300' badge on the engine lid. The gearbox and brakes are also improved, but the link pin front end remains. The roof lining is now the Euro-style white perforated vinyl. Otherwise the Aussie '66 is still the same as the '65. The Standard model retains the older 1200 engine for one more year.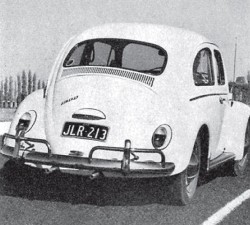 We did NOT get:
· Slotted wheels – the solid wheels remain, still painted ivory/body colour
· Flattened hubcaps – the previous domed, VW-painted chrome hubcaps remain
· Ball joint front end – the previous link pin front end carries over
· Round door handle buttons – previous square buttons and handle carries over
· High-beam switch in steering column stalk – the old floor dip switch remains
· 4-way emergency flashers
· Centre windscreen defroster outlet – dash is unchanged
· Larger rear view mirror
· Front seat backrest locks
· 116* chassis numbers – Australian Beetles use 196*

1967
The Australian Deluxe is freshened with a new range of bright colours and one-colour interior trim, whitewall tyres and seat belts. The engine badge now reads '1300 Deluxe'. The engine lid T-handle is replaced with a push button lock. The ashtray knob is deleted, while side-swinging sunvisors are introduced. The Standard is renamed the 'Custom', and is upgraded to the same 1300cc engine, with improved fittings such as chrome hubcaps and stainless steel blade bumpers (without the towel-rails), and improved (but still basic) trim. Australian VWs still have the 1961 body shell and platform, 6-volt electrics, swing axles, link-pin front end and wide 5-bolt wheel pattern. The Aussie '67 is totally different from the Euro/US version.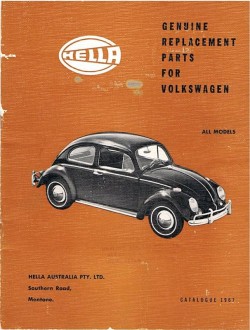 We did NOT get:
· 1500cc engine with 130-tooth 12-volt flywheel and bigger clutch – the 6-volt 1300cc engine carried over
· Redesigned rear panels and bulged, shortened engine lid with 'Volkswagen' badge
· 12-volt electrics
· Wider rear swing axles
· Twin circuit brakes or front disks
· Vertical sealed beam headlights in new front mudguards
· Thinner chrome strips on body and front bonnet – older trim remains unchanged
· Recessed interior door handles and push-button locks
· Reversing lights (except as accessories)
· Two-speed wipers
· Rear equalizer spring ('Z' bar)
· 117* chassis numbers – Australian Beetles use 197*
As you can see, Australian Beetles up to 1968 are very different from their US and European cousins. In most respects, they are really just 1962 models with detail changes only. Be very careful then, when ordering parts such as window rubbers for your Australian 1965-67 restoration project. If you are getting them from the USA or the UK, they won't fit. For 1965-67 Australian Beetles you need to regard them as European/US 1964 or earlier models, and order accordingly.

1968
Australian 1967 Deluxe models continued unchanged until they were discontinued in March 1968. They were replaced by fully imported German-made 1968 1500 Beetles, in both manual and semi-automatic versions. Australian buyers effectively moved from a 1961 to a 1968 Beetle in one month! We finally caught up on all the German improvements. New big-window body shell, 53-bhp 1500cc motor, 12-volt electrics, ball joint front with twin-circuit disc brakes, rear equalizer 'Z' bar, lever heaters, new front and rear lights, safety dashboard with centre vents, collapsible steering column and black steering wheel, external fuel flap, slotted black and cream 4-stud safety wheels, stronger bumpers and all the other latest European features. The car is so much changed that VW Australasia advertises it as its '68 Revolution.' The only problem was that the '68 Beetle was European – it now had the bonnet release on the left (passenger) side and the wipers parked to the left. But a small price to pay for the most modern and up-to-date Beetle yet.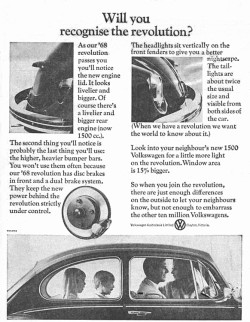 In June the first German CKD kits arrived and local assembly of manuals began, but semi-auto Beetles were to remain fully imported from Germany. The old Australian Custom model continued to be built as the remaining Australian parts were used up, until all local manufacturing ended in September. The old small-window body shell tooling was sold to VW's Brazilian factory, which was to make the small window Beetle until 1986.
We did NOT get:
· US-style head restraints
· US-style exhaust emission controls
· Front drum brakes (US models) – our models had Euro front disc brakes

1969
Arriving five months after its debut in Germany, the CKD-assembled 1969 Beetle now has some Australian-made components such as tyres, batteries and glass, and a new range of Datsun and Volvo paint colours. The front heater vents are moved from the front kick panels to the door sill area, with new plastic outlets. The front bonnet release is moved to the inside of the glovebox. All Australian-sold VWs are fitted with 4-way emergency flashers, the Beetle with a large red switch on the dash.
We did NOT get:
· Double-joint rear axle on manual cars (US); Australian manuals retained swing axles
· Choice of 1200 or 1300 engine (UK); 1500cc engine the only one available

1970
The engine lid now has cooling louvers, in two blocks of five slots each. The wheels are now painted silver. The dashboard no longer has the chrome trim strip. To combat rising prices, a smaller-engined 'economy' version of the Beetle is introduced mid-year. It has the same body and ball-joint/swing axle suspension as the 1500, but with the old single-port 50-bhp 1300 engine and front drum brakes. It has a '1300' chrome badge on the engine lid.
We did NOT get:
· Choice of 1200 (UK) or 1600 (US) engines
· US-style large front blinkers or safety reflectors
· US-style headrests or safety buzzers
· Radial ply tyres

1971
The 1500 Beetle is discontinued in February, and replaced by the new 1600cc 60-bhp twin-port 'Superbug S', also locally CKD-assembled in Clayton. It is completely new from the windscreen forward. It has Macpherson-strut front suspension with disc brakes, a redesigned fuel tank, flat-laying spare tyre and larger front boot in the bulbous nose. At the rear the new 1600 engine has an improved oil pressure system and a 'doghouse' offset oil cooler. The rear has the sophisticated double joint rear axles from the 1500 semi-auto, but on both manual and semi-auto Superbugs. It also feature crescent vents behind the side windows, headlights wired into the ignition switch (to turn them off with the ignition off), and Volvo-style seat belt latches. It is similar to the German '1302S', but the German '1302' 1300cc option is not available here so the '1302' name was not used. The normal 1300 Beetle is upgraded to a twin-port 52-bhp version of the 1300 motor, manual only. It still has front torsion bars with drum brakes and a swing-axle rear, but shares the Superbug's crescent vents behind the side windows.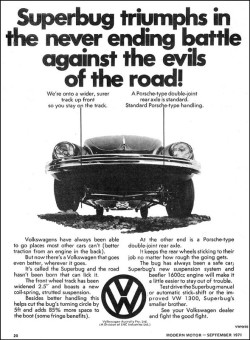 We did NOT get:
· 1200cc or 1300cc options on the Superbug (Euro 1302)
· 1600cc option on the torsion bar 1300 (US)
· Activated charcoal filter (US)
· Base Euro 1303 and US Super Beetle front drums – our Superbugs have discs

1972
Both the 1600 Superbug S and 1300 Beetle are updated with four sets of louvers on the engine cover (outer two sets have 7 slots; the inner two sets have six); a 4-spoke steering wheel on a new steering column with a wiper stalk and ignition lock, white reversing lenses and lamps in the taillights, and extra dash vents. Both Beetles have a slightly larger rear window, while the Superbug gets US-style highback seats with inbuilt headrests. Both Beetles get a VW Diagnosis socket in the engine bay, being a standard part of the German-made CKD kit. Later in the year a Commemorative Edition Superbug was released, with carpets, red-wall tyres and a glovebox medallion, celebrating the Beetle passing the Model T Ford's production total.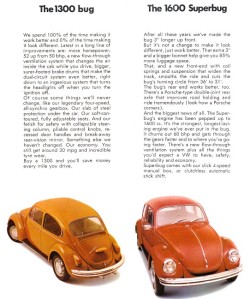 We did NOT get:
· Smog control plumbing and EGR (US)
· Vacuum retard distributor (US)
· 6" wide wheels (US)

1973
April saw the release of the 1600cc 'Superbug L' (known colloquially as the 'L-Bug'), still CKD assembled in Melbourne. Again it is similar to the German '1303S', but the Euro '1303' 1200cc and 1300cc options are not available, so the '1303' name is not used in Australia. The Superbug L is mechanically identical with the previous Superbug S, but has a new curved windscreen that is 43% bigger; a shorter bonnet, round 'elephant foot' taillights on reshaped rear guards and a redesigned, fully padded dashboard with a binnacle speedo and two-speed fan. The 1300 Beetle is updated with padding over its original flat dashboard and the same elephant foot taillights and reshaped guards. In July both models (plus the Type 3 and Transporter) get Euro metric speedos due to Australia converting to the metric system.
We did NOT get:
· US-spec reduced power smog engines
· US-market engine improvements (these would come in 1974)
· Base Euro 1303 and US Super Beetle front drums – our Superbugs have front discs
· Euro/US 'Sports Bug' or 'GT Beetle' options

1974
The Superbug L gets an updated front suspension with Negative Steering Roll Radius, black wiper arms, updated 160 km/h metric speedo and a fluted number plate light cover. The engine is modified with the Euro 1973 improvements, such as an alternator, shorter fuel pump, Porsche-style clutch, paper air filter and sump plate with no drain plug. In November the seats are updated to the 3-point runner design. The basic 1300 Beetle loses some of its window chrome trim, using more basic 'cal-look' rubbers.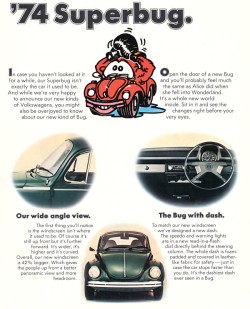 We did NOT get:
· US-style energy absorbing bumpers
· Catalytic converter (Australia would not mandate lead-free petrol until 1986)
· US-style front seats with smaller separate headrests – the older one-piece backs continue
· US-style passive restraint seat belts – Australian 3-point lap/sash belts continue

1975
Both the 1600 Superbug L and 1300 Beetle continue largely unchanged. In June the last German update CKD kits for the Superbug L arrive and it receives rack and pinion steering. The rear apron is bulged outwards to accommodate a US-style catalytic converter – which was not fitted. The front charcoal canister, however, was. The front blinkers are moved from the mudguards to the bumper. The 1300 Beetle is discontinued (replaced by the new Australian-made Golf LS). The Superbug L is discontinued in November, as the model has been discontinued in Germany and the CKD kits are no longer available.
We did NOT get:
· Fuel injection (Australian VWs would remain carburettor until the end)
· EGR light on speedo (US)
· Single tailpipe

1976
The Melbourne factory is now owned by Nissan, but VW assembly continues under Japanese control. This is the last year for the VW Beetle in Australia. The '1600 Beetle' debuts, basically an updated 1300 'old body' Beetle from the previous year, fitted with leftover mechanical parts from the Superbug. It has a torsion bar front end with disc brakes, while the rear is ex-Superbug 1600cc twin-port alternator engine with double joint rear axles. It has chrome bumpers with rubber inserts and blinkers, black wiper arms and 'elephants foot' taillights. For the first time there is no VW badge or logo anywhere on the car, except on the hubcaps. It's also the first (and only) time the car is officially sold as the 'Beetle'. Production ends in July 1976, as the Beetle cannot economically meet the new ADR27A pollution laws coming into effect.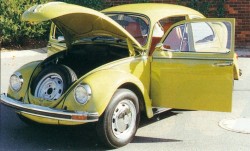 We did NOT get:
· Metallic paint and full carpets
· Semi-auto option (that ended with the Superbug last year)
· 1200cc or 1300cc options (Europe)

1977
The last 1976 'old-stock' Beetle is sold in March. The other Australian-assembled Volkswagens – the Passat, Golf and Transporter – also come to an end as VW Australia does not renew their assembly contract with Nissan. From March 1977 – to the present day – all VWs sold in Australia have been fully imported.
From 1977-81 the only Volkswagens imported were the Golf GLS and GLD, Passat GLS and GLD, and the Transporter / Microbus.

1981
All imports and sale of Volkswagen passenger vehicles ends. The T3 Transporter (van and Caravelle) is imported from 1982 and remains the sole new VW model available until 1990.

1990
The Golf 2 (8V GTI only) and Golf 1 Cabriolet begin import and local sale, restarting Volkswagen car sales in Australia.