2015 - 2019
Australian Volkswagen History

2015
The revised Polo made the finals of the News Ltd CarsGuide COTY award (won by the Mercedes-Benz C200), and lost out to the Mazda2 Maxx in the competing Fairfax Drive awards. However the Golf R did win the Drive Best Performance Car Under $60,000. In the NRMA/RACV/RACQ awards, Volkswagen won three categories. The Golf 90TSI was Best Small Car Under $35,000; the Golf GTI was Best Sports Car Under $50,000; and the Passat Alltrack was Best SUV $65,000-$135,000. No VWs made it to the final five of the Wheels Cars of the Year, which was controversially won by the BMW i3 electric car.
Club VW celebrates its 30th birthday with a run from Parramatta to St Albans, a re-running of the Club's first ever run in 1985. The original starting point of Old Government House at Parramatta Park was no longer available due to redevelopment, so we started from Hungry Jacks. Over 35 VWs turned up for a relaxing navigation cruise through north-west Sydney and Wisemans Ferry to St Albans, worked out by Lily, and a BBQ lunch and a beer at the end. Happy Birthday Club Veedub!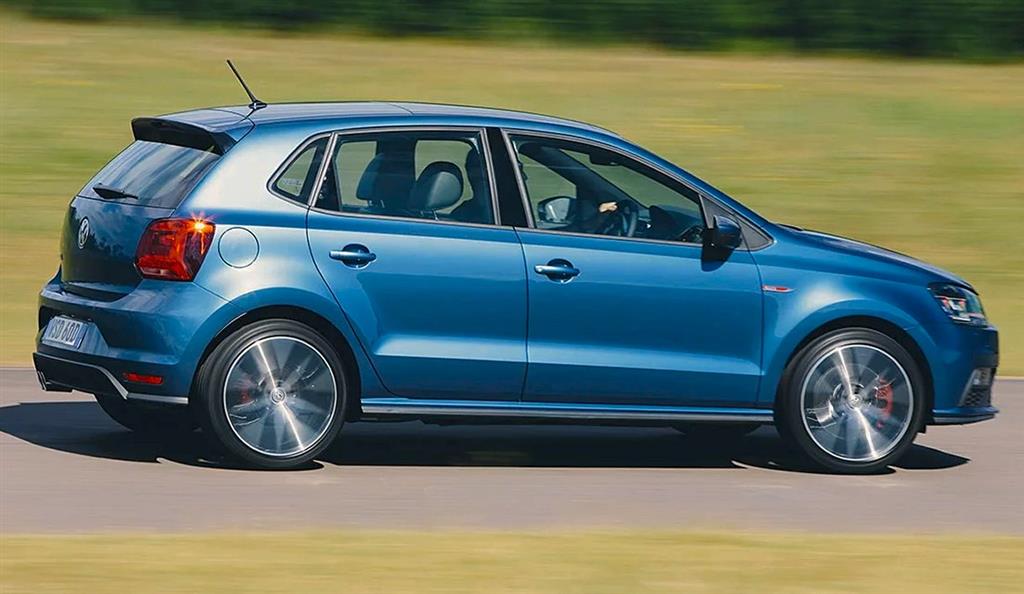 With the normal Polo range being revised last year, the much-awaited updated Polo GTI finally joins the Australian range. The Polo GTI has replaced the old 1.4-litre turbo with a 1.8-litre turbo engine from the Golf family. The new engine makes 141 kW, 9 kW more than before, while torque is up to 320 Nm (250 Nm with DSG). Both the 6-speed manual and 7-speed DSG accelerate from 0-100 km/h in 6.7 sec, some 0.2 sec quicker than before. The Polo GTI includes new tech such as touchscreen and Bluetooth, stop-start engine system and multi-collision brake safety system. The Polo GTI manual starts at $27,490, and the DSG at $29,990. An additional Luxury Package is available for an extra $3300, and a Drivers Package for $1700. A couple of months after its local launch, the Polo GTI is upgraded further, receiving the Sport Select suspension package.
The Golf Cabriolet is now available exclusively in a new Exclusive model, the sole model available for Australian buyers. The same 1.4-litre 118 kW twin-charger engine continues, with a 7-speed DSG the only gearbox choice – the manual has been dropped. New trim and extra features matching those of the Golf Highline have been added, such as leather, bi-xenon lights, LED running lights, parking sensors and an improved info-tainment system. The price has increased to $43,990, effectively moving up to where the discontinued Eos was in the lineup.
After rumours that it would be axed from the local lineup, the Scirocco R continues on and is both updated slightly and reduced in price. It gets a redesigned grille, larger lower air intakes and a gloss black rear diffuser, revised bi-xenon headlights, LED taillights and daytime running lights, matt chrome side mirrors and 19-inch 'Cadiz' alloy wheels. Australian Scirocco Rs miss out on the Euro 206 kW engine, which is detuned to 188 kW for our 'hot' country. The Scirocco R now starts at $45,990 for the six-speed manual, and $48,490 for the 6-speed DSG.
The almost-forgotten Jetta range receives a long overdue upgrade, with sharper and more modern styling touches to match the Golf 7 (the Jetta is still based on the Golf 6). The base 1.4-litre twin-charge 118TSI Trendline now comes with 16-inch alloy wheels, cloth upholstery, leather steering wheel and gear knob, driver fatigue system, cruise control, air-con, touchscreen, and eight-speaker audio system. Prices start from $22,790 for the manual and $25,290 for the DSG. The 118TSI Comfortline adds 17-inch alloys, chrome trim, auto lights and wipers, auto-dipping side mirrors with puddle lamps, reverse camera, climate control, sat-nav and improved trim with woodgrain highlights. Prices start from $29,990. The 118TSI Highline adds leather, heated seats and proximity key and starts at $33,990, or $36,490 for the equivalent 103TDI diesel. The top model is the 155TSI Highline Sport, which adds 18-inch alloys, bi-xenon lights, LED running lights, tinted taillights and windows, paddle shifters and a chrome exhaust. It starts at $39,990.
The large local Amarok range gains increased equipment and specification levels for the diesel versions including 4Motion now available across a broader range of models, while axing the petrol versions. Only TDI engines are now available. The new entry model is the 2WD TDI340 from $31,490 (cab-chassis) or $32,990 (twin-cab ute), replacing the old TSI300. The 2WD TDI420 is also available in two body styles, priced from $36,490 to $37,990. TDI400 and TDI420 4WD single cabs (manual and auto) are priced from $35,490 to $39,990 depending on engine, gearbox and trim choices. The TDI400 and TDI420 dual cabs come in Core, Trendline, Highline and Ultimate trims levels. Prices begin at $41,490 and top out at $65,490 for the TDI420 Ultimate 8-speed auto.
The big Touareg SUV also gets an upgrade, with sharper exterior styling, and updated interior and subtle specification changes. The range is simplified and only three variations are now available – the 150TDI, V6 TDI and V8 TDI. The off-road focused V6 TDI 4XMotion has been dropped. All Touaregs come with a long list of standard equipment, including 18-inch alloy wheels, bi-xenon headlights and LED running lights, rain-sensing wipers, parking sensors, eight-speaker audio system, Bluetooth, touchscreen, sat-nav, driver fatigue system, collision avoidance, cruise control, partial leather and heated seats. . The base 150TDI starts at $67,990, while the 3.0-litre 180 kW/550 Nm V6 TDI is $81,990 and adds 20-inch alloys, electronic air suspension, power tailgate, woodgrain trim, and alarm with towaway protection. The flagship 4.2-litre 250 kW/800 Nm V8 TDI comes with 21-inch alloys, proximity key, push-button start, climate control, adaptive cruise control, heated sports seats, 12-speaker audio system and dark windows. Prices start at $114,990.
Volkswagen Australia boss John White, a Canadian who had held the position since 2013, announces his resignation and imminent return to Canada. His desire had been to lift VW into the top 5 in Australia, but he was unsuccessful. He struggled with VW's after-sales support, especially parts and service, which had been rated poor for a number of years. He made no attempt whatever to interact with VW clubs and VW enthusiasts in his time in charge. His replacement is Michael Bartsch (photo), an Australian who had spent a decade as boss of Porsche Cars North America and Infiniti America. He is the first Australian to head Volkswagen Australia since Peter Sturrock headed importers TKM back in the early 1990s. He is the first under the post-2000 factory-owned Volkswagen Group Australia. We're told he owns a Karmann Ghia, so it sounds like he's a proper VW enthusiast too.
The latest Mk7 version of the Golf Alltrack is launched. The high-riding AWD Golf wagon is available in just one model, with a new 1.8-litre single turbo four producing 132 kW / 240 Nm and a 6-speed DSG. The ride height is 20 mm higher and the 4Motion AWD system uses a Haldex 5 hydraulic clutch to send up to 50% torque to the rear wheels. Standard features include 17-inch wheels, leather seats, climate control, reverse camera, touchscreen, Bluetooth and infotainment system. Prices start at $37,990, with the option of a $2500 Sports Luxury Pack and a $1300 Driver Assistance Pack.
The latest Mk8 'B8' Passat is finally launched in Australia, over a year after its European debut. The new Passat sits on VW's MQB platform and is shorter and lower than the earlier model but has a longer wheelbase. Both sedan and wagons are offered, with just two different engines – a 1.8-litre turbo petrol with 132 kW / 240 Nm, and a Euro 6 2.0-litre TDI with 140 kW / 400 Nm. All models come with a long line of features. The range starts with the 132TSI sedan at $34,990, with the Comfortline sedan at $39,990. The equivalent wagons are $36,990 and $41,990. The 140TDI Highline sedan is $45,990, and the Highline wagon is $47,990. R-Line packages are also available for an additional $2500; Highline Luxury packages for $3500 and Driver Assistance packages for $1800.
For the third year in a row, the Volkswagen Motorsport Red Bull Polo WRC team wins Rally Australia at Coffs Harbour, this time finishing 1-2. The Sebastien Ogier Polo WRC was again first outright; the Jari-Matti Latvala Polo WRC was a close second. Third was a Citroen and Andreas Mikkelsen in the other Polo WRC was fourth. Again, with its unassailable lead, Volkswagen wins the World Rally Championship, for the third year in a row.
The news breaks of VW's US market diesel scandal, where VW TDI vehicles had software fitted to detect when they were being emissions tested, and adjust the engine management system to ensure the car passed the test, especially for nitrogen oxides (NOx). Later the system reverts to normal operation, ensuring excellent performance but with illegal levels of NOx. The results are costly for VW in the litigious USA, but the results are less relevant for Australia as US-style NOx testing is not done here. Nonetheless, the ACCC begins investigations into Volkswagen Australia.
Volkswagen sets a new all-time Australian sales record in 2015, selling 60,255 vehicles – an increase of 5,454 vehicles on 2014 (+9.96 %). It's the first time ever that more than 60,000 VWs are sold here in one year and VW's sales grew three times more than the market in general. VW finished well ahead of Subaru and Honda, just behind Nissan and Ford, and finishes in 8th place (overall) among the Australian market car makers for the fifth year in a row. New all-time Australian sales records are set for the Polo, Golf, Multivan, Amarok and Touareg. The Golf's record sales of 22,092 is VW's third-best ever one-model-one-year result, behind only the VW 1200 Beetle in 1960 (24,388) and 1964 (22,293). The Golf actually passes the VW 1200 in 1964 if you include Golf Cabrios and AllTracks (22,662 altogether). Volkswagen is Australia's most popular European brand, for the eleventh year in a row.
60,225 Volkswagens are sold – 3 Up!s, 9,694 Polos, 240 Beetles, 22,092 Golfs, 288 Golf Cabriolets, 282 Golf AllTracks, 2,541 Jettas, 367 Sciroccos, 2,292 Passats, 249 Passat AllTracks, 161 CCs, 159 Caddy Lifes, 819 Multivans, 71 Caravelles, 1,755 Caddys, 1,346 Transporters, 8,545 Amaroks, 419 Crafters, 6,334 Tiguans, and 2,568 Touaregs.
2016
The new B8 Passat, current European Car of the Year, missed out on the local News Ltd Carsguide COTY awards, "lacking personality." Their winner was the Toyota Camry (!). In the Fairfax Drive awards, the Passat was penalised for needing premium fuel, and finished second to the Ford Mondeo Trend in Best Family Car. However they did award the Golf Alltrack as the Best Small SUV. The NRMA/RACV/RACQ sensationally disqualified ALL VWs, Audis and Skodas from their awards due to the emissions scandal (including unaffected petrol models).
In the prestigious Wheels awards, the Passat made the final eight but was eliminated there. "Ultimately, it was deemed a great mid-sizer – brilliant even," said the Wheels report, "but one that achieves its excellence without the spirit and fizz necessary to really elevate itself." The Audi Q3 made the top three, but the winner was the Mazda MX-5.
In response to the US emissions testing scandal, Volkswagen Australia suspends all local sales of EA189 1.6- and 2.0-litre diesels, the ones identified as having the 'cheat' software on US models and up to 11 million cars in all world markets. "Volkswagen Group Australia met with the relevant government authorities to advise them of its strategy in Australia to address concerns that have been raised regarding the diesel issue," a VWGA statement said. "Effective immediately, VWGA has temporarily suspended the sale of affected vehicles fitted with 1.6 or 2.0-litre EA189 engines. The suspension will remain until the emission issues are addressed in those vehicles."
VW Australia releases an on-line tool for concerned owners to enter their VIN to establish if their VW or Skoda is fitted with a suspect EA189 engine. A customer help line is also established. Local models affected include Polo, Golf, Jetta, Passat and CC, Eos, Tiguan, Caddy and Amarok in years ranging from 2008 to 2015. "Volkswagen Group Australia takes this issue extremely seriously and is continuing to gather all the facts from our head office to support any rectification plans in Australia," outgoing VWGA boss John White said. Long-time VWGA PR boss Karl Gehling resigns, and is replaced by former motoring journalist Paul Pottinger.
The feature-packed Touareg Element is released. Based on the entry-level $67,990 Touareg 3.0-litre V6 150TDI, it adds $2,000 to the price but gains a host of additional features. These include 18-inch Yukon alloys, proximity key with push-button start, electric tailgate, heated steering wheel with paddle shifters, speed-sensitive power steering, extra-dark tinted windows, cargo cover, and motion sensor alarm with towaway protection. It comes with Black Vienna leather and a choice of six colours. The Touareg Element 150TDI is priced from $69,990.
The redesigned fourth-generation Caddy range arrives in Australia, continuing Australia's best-selling range of small commercials. The Caddy is still based on the older PQ35 platform, rather than the latest MQB platform, but with a new range of engines and specifications. There are three broad variations – the Caddy van, the longer Caddy Maxi van and the Caddy Maxi Crew Van. Due to the emissions scandal, only petrol engines are offered – the Golf's 1.4-litre turbo petrol engine (in two states of tune), replacing the previous model's Polo-sourced 1.2-litre. The base model Runner TSI160 produces 63 kW/160 Nm, while the TSI220 produces 92 kW/220 Nm. TDI engines will follow later once the scandal issue is dealt with. The standard Caddy has a 2682 mm wheelbase, while the Maxi's is 324 mm longer. The Maxi Crew Van has one extra row of seats, with cargo area behind that. All models include four airbags, daytime running lights, 16-inch steel wheels and full-size spare, electric windows, cruise control, touchscreen and Bluetooth. The vans have one sliding door; the Maxis have two. The Caddy Van (DSG only) starts at $28,990, while the Maxi Van is $28,190 (manual) or $31,190 (DSG). The Maxi Crew Van is $29,690 (manual) or $32,690 (DSG).
The updated Caddy people mover also joins the range; previously known as the Caddy Life, the 'Life' has now been dropped. The people mover is again available in both long- and short-wheelbase versions, and come with DSG and the 92 kW/220 Nm version of the petrol 1.4-litre turbo. Again, TDI versions will wait until after the diesel scandal is dealt with. The people mover gets the same standard features as the vans, plus unique bumpers, side mirrors and trim, and extra curtain airbags, sensors and rear-view camera. Comfortline models add auto headlights, rear privacy glass, gloss black exterior trim, roof rails, 16-inch alloys, climate control, touchscreen with Apple CarPlay and Android, and higher-end cloth trim. The Caddy Trendline TSI220 DSG starts at $32,490, while the Maxi version is $34,990. The Maxi Comfortline is $37,990.
The sixth-generation VW Transporter, the T6, debuts in Australia. It's evolutionary in design, with the same basic body shell dimensions but with mechanical upgrades, sharper styling and a host of new features. Australia only gets a fraction of the number of variations available in Europe, but we still get an extensive choice. Two different wheelbases; three roof heights; regular van, crew van, single or dual cab chassis; three different TDI engines (no petrol models); manual or DSG; FWD or 4Motion AWD. The base TDI 250 Runner has a 75 kW/350 Nm 2.0-litre TDI; the TDI340 is 103 kW/340 Nm, and the TDI400 is 132 kW/400 Nm. The short wheelbase is 3000 mm, while the LWB is 400 mm longer. All T6 models have dual front and side/head airbags, multi-collision brakes and fatigue alert. Vans get parking sensors, electric windows, 16- or 17-inch steel wheels, full-size spare, cruise control, touchscreen and Bluetooth. The crew van has windows, two sliding doors and a row of seats in the rear. The range of 18 different Australian T6 models starts at $36,990 for the TDI340 SWB manual van, up to $49,090 for the TDI400 LWB 4Motion. The Crew Vans are $43,490 and $45,490 for the two wheelbases. The single cab-chassis (TDI340 DSG) is $44,690, and the dual cab chassis are $45,290 up to $48,290.
VWA also offers six versions of the T6-based seven-seat Multivan. It has seven seats in three rows (2+2+3), with the middle two seats being swivelling captain's chairs on rails. The Multivan comes in two wheelbases; the SWB in Comfortline, Generation Six and Highline specs, and the LWB in Comfortline and Executive versions. The Comfortline models use the TDI340 103 kW/340 Nm TDI engine, and the higher-spec models the 150 kW/450 Nm TDI450, a step above the top engine in the commercial vans. The Multivan comes with a huge list of standard features, while the 'Generation Six' adds two-tone paint and chrome trim, 18-inch alloys, LED headlights, privacy glass, cruise control, Alcantra leather seats and power side door. The Highline adds sat nav, voice control, speed sensitive steering, 12-way electric front seat adjustment, Nappa leather and a pop-out swivelling coffee table. For the base Multivan Comfortline TDI340 prices start at $49,990 for the SWB and $53,990 for the LWB. The Generation Six is $74,990, while Highline TDI starts at $76,490. The Executive starts at $80,490 – $5000 cheaper than the equivalent high-end Mercedes-Benz V-Class. Finally, there is a sole nine-seater Caravelle Trendline TDI340 LWB (2+2+2+3), which begins at $49,990.
Another special edition of the Amarok, the Atacama, is released in Australia. Superseding the Canyon, the Atacama is based on the Amarok TDI400 and TDI420 Highline variants and adds bi-xenon headlights with LED daytime lights, 18-inch Durban black alloy wheels, a black sports bar, black side steps and a black rear bumper. The rear tub has a liner and the sides have 'Atacama' graphics. The cabin has 'Quad' quilted fabric trim, plus touchscreen with sat nav, dual climate control, auto headlights and wipers, front and rear parking sensors and rear camera. Limited to 500 units, the Amarok Atacama TDI400 manual is $53,990, and the TDI420 auto is $56,990.
Volkswagen changes its visual presentation in advertising and promotion, removing the 'Das Auto' slogan that had been used in VW ads since 2007. The VW roundel is now accompanied only by the word 'Volkswagen', both in printed ads and spoken TV ads. It's a reaction to the US diesel scandal and an attempt at a refresh for the company. In addition, the familiar 'Futura' font that VW has used in headings since the 1960s is replaced by a newly commissioned font designed by MetaDesign in Germany, called 'VWHeadline.'
The latest Passat Alltrack is launched locally. The B8 Passat wagon has a ride height raised by 28 mm, with flared wheel arches, plastic guards, brushed aluminium mirrors, roof rails and 4Motion and Alltrack badges. Just one engine choice is available, a 2.0-litre TDI producing 140 kW / 400 Nm, with six-speed DSG and VW's 4Motion AWD system. Standard safety equipment includes autonomous emergency braking, radar cruise control, nine airbags, lane assist, blind spot monitoring, multi-collision assist and driver fatigue system. Unique to the Passat Alltrack is the use of Continental Mobility tyres on its 18-inch Kalamata alloys, which use a viscous interstitial layer to prevent up to 85% of puncture-caused flat tyres. The Passat Alltrack has a 679-litre cargo capacity and comes in eight colours. Prices start from $49,290.
To celebrate 40 years since the release of the original Golf GTI in Germany in 1976 (it was never sold in Australia), VWA introduces the Glof GTI 40 Years special edition to Australia. In Europe the model is called the Golf GTI Clubsport, but as Holden uses that name here, VW had to call it the GTI 40 Years. From the regular GTI's 162 kW (and the GTI Performance's 169 kW0, the GTI 40 Years produces 195 kW / 350 Nm, only just short of the Golf R's Australian 206 kW output – but a boost function ups this briefly to 213 kW /380 Nm, even more than the R. The FWD's 6-speed DSG or 6-speed manual goes through a Performance limited slip diff. The 40 Years has a unique bumper and deep side ports and 19-inch 'Ruby' alloy wheels. The rear has a modified bumper, tailgate wing and dark taillights. Tornado Red and Pure White are the only colours. Only 200 cars are available, priced from $46,990 (manual) or $48,990 (DSG).
Volkswagen continues its rationalisation of the local lineup, discontinuing both the low-selling Beetle and the Golf Cabriolet. The Golf 6-based Beetle is sent off with a special model called the Beetle Classic Final Edition, with just 53 units imported (not for Herbie, but for 1953, the year VWs were first imported here - even though they weren't actually sold until 1954). The 110TSI Beetle Classic Final Edition is priced from $36,990. The Mk1 Golf Cabrio was sold here from 1990-93, and the Mk3 from 1995 until replaced by the New Beetle Cabrio in 2003 and the Eos in 2007. The current Golf Cabrio was introduced in 2011. However, it was discontinued in line with the parent company's trend to phase out convertible models. The Mk2 Beetle convertible was never sold here, while the Eos had been discontinued in 2014.
Volkswagen Australia announces that the Scirocco will also be discontinued. A final Scirocco R Wolfsburg Edition is released as a 'farewell' model. The style-focused pack is limited to 150 cars and includes black-finish 19-inch Lugano wheels and side mirrors, and a premium cabin with sports bucket seats and a numbered plaque. Mechanically, it's the same 2.0-litre 188 kW/330 Nm turbo four as before. The final Scirocco is priced at $49,490 for the manual and $51,990 for the DSG. It's a sad end for the Scirocco in Australia, given that it was only sold here for six years (from 2011), and that the first and second generation Sciroccos were not sold here at all.
The much-delayed second-generation Tiguan is finally released in Australia in October, with hopes to refresh VW's stagnant local sales with the insatiable market demand for SUVs. "One of our most significant launches in recent memory," VW's Paul Pottinger said. The Mk2 Tiguan is bigger than the earlier model, better equipped and more spacious, with the boot especially much larger at 615 litres. It's also more premium and more dynamic. All models get low-speed autonomous brakes, lane assist, fatigue detection, multi-collision braking, parking assist and a rear-view camera. Both FWD and AWD models are available, with five engines – three petrols and two diesels. The 1.4-litre 110TSI (110 kW/250 Nm), and 2.0-litre 132TSI (132 kW/320 Nm) and 162TSI (162 kW/350 Nm) are the petrol choices, while for turbo diesels there's a 2.0-litre 110TDI (110 kW / 340 Nm) and 140TDI (140 kW/400 Nm). The range starts with the FWD Trendline 110TSI manual from $31,990 ($34,490 for DSG). The Comfortline version starts at $36,990 (TSI), while an AWD 132TSI Comfortline goes up to for $41,490 or $42,990 for 110TDI. The top model is the Highline; in 162TSI 7-speed DSG form it costs $48,490, and 140TDI for $49,990.
The hottest version of the latest B8 Passat, the 206TSI, is launched in Australia. This combines VW's flagship sedan and wagon with a sporty styling package, all-wheel drive and more power. The hot Passat is fitted with the 2.0-litre 206 kW/350 Nm from the Golf R, with VW's 4Motion AWD system and 6-speed DSG. With a 0-100 km/h time of 5.5 seconds, it's even quicker than the revered Passat R36 from 2008-1. The 206TSI includes adaptive chassis control with drive-mode selection, and 19-inch alloy wheels and LED headlights. Sporty R-Line styling is standard, with leather seats, multi-function wheel with paddle shifters, alloy sports pedals and touchscreen and infotainment system. The 206TSI sedan starts at $57,990 for the sedan and $59,990 for the wagon. The standard equipment list is so extensive that the only extras offered are metallic/pearl paint and glass sunroof.
A special edition of the Polo is released, called the Polo Beats. Based on the Polo 81TSI, it sports a 300-watt sound system with two tweeters, two woofers and two full-range speakers, subwoofer and eight-channel amp. Visually it gets contrasting door mirrors, body decals, dark tail lights, 16-inch alloys, Alcantra leather seats and red cabin stitching. The Beats sells for a $2,000 premium over the normal Polo 81TSI.
For the fourth year in a row, the Volkswagen Motorsport Red Bull Polo WRC wins Rally Australia at Coffs Harbour. This time it was Andreas Mikkelson who scored the win, finishing ahead of teammate Sebastien Ogier in another Polo WRC. Hyundais were third and fourth. The third VW Polo WRC of Jari-Matti Latvala damaged his suspension on the first day and finished ninth. And with 11 wins from 13 events in the season, Volkswagen again finishes as WRC Manufacturers Champion for the fourth year in a row. It's a nice last hurrah for Volkswagen, which has announced its withdrawal from the World Rally Championship at the end of the season and won't be competing in 2017.
VW's local sales suffer a drop of 6.1% in 2016, to 56,571 vehicles; a disappointing result given the overall market grew by 2%. Still, this is still the second-best ever sales result in Australia and still better than the results recorded in 2013 and 2014. Most commentators immediately blamed the drop on the fallout from the US diesel scandal, but in fact it was due to the long wait and late release of the new Tiguan holding up sales. The Caddy was again Australia's most popular small van. Volkswagen finished 8th on the list of most popular makes in Australia, for the sixth year in a row, still ahead of Subaru and Kia and behind Toyota, Mazda, Hyundai, Holden, Ford, Mitsubishi and Nissan. VW is again Australia's most popular European brand, for the twelfth year in a row.
56,571 Volkswagens are sold. Due to the Black and White Data Book no longer being published, we have not been able to source specific VW model sales figures. If anyone has access to the full VFACTS sales figures for 2016, please let us know.
We are currently working to bring the history up to date - please stay tuned.

Back | Next