1990 - 1994
Australian Volkswagen History

1990
The T3 Transporter Pickup and Double Cab Pickups are released, with the 2.1-litre engine, with manual or auto trans. A fifth possible version is the Syncro version of the Double Cab. An additional 'luxury' Double Cab syncro 4WD is also announced – the Tristar – but only one of these ever arrives. Graham Lees, dealer principal of Northshore Volkswagen in Sydney, uses a base twin-cab Syncro 16" to compete in the Australian Safari, winning his class. The T3 Syncro is named Overlander Magazine's 4WD of the Year.
A luxury Syncro version of the Caravelle GL is also now available, at $42,000.
Ateco Industries sells the Australian VW franchise to the large British-based auto distribution group Tozer Kemseley Millbourn plc (TKM). Ateco have discovered that selling and supporting an existing make like Suzuki was relatively easy, but restarting Volkswagen from scratch was beyond their resources. Ateco were having difficulties with parts and service support, dealer contracts and new model release. The much larger TKM pays $A25.5 million for Ateco Industries, and the associated VW/Audi business. TKM already owns the Subaru franchise (purchased from LNC in 1989 when they were liquidated), so Volkswagen and Subaru are united again. TKM Director Maurice Rourke indicates that his company intends to support Volkswagen and Audi in the same manner as it had revitalised the Subaru franchise.
Former sales manager for the Rick Damelian Group and boss of Ateco's Suzuki and Mazda divisions, Peter Ruefli, is appointed Volkswagen/Audi General Manager. He expresses the aim of raising the profile and market performance of the Volkswagen and Audi brands, and forecasts selling 2,000 VWs and 1,200 Audis in 1991, and 10,000 VWs in 1994.
'Ateco Industries' is replaced by 'TKM Automotive Australia' as the Australian business name, and the VW head office moved from Marayong to TKM's existing Subaru headquarters at Wetherill Park, Sydney. The Subaru parts warehouse, only one-third used, is used to store VW/Audi spare parts.
The Golf Cabriolet and Golf 2 GTI 8V are officially launched at a lavish function at the Fairmount Resort at Leura, marking Volkswagen's return to the Australian car market after 9 years and the first time either VW model has ever been sold in Australia. Both have the 1781cc engine, in 70 kW form for the Cabrio and 77 kW for the Mk2 GTI. TKM imports two shipments of Golf GTIs, one in June and one in August, bringing in 287 altogether. This would provide sales stock for the next two years, with no further shipments after that.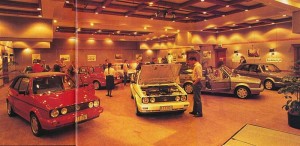 The Passat B3 is displayed at the Sydney Motor Show, in both sedan and wagon layouts, together with a choice of collectable Australian-edition brochures, but only 13 of them would be imported before the model is discontinued.
1,182 Volkswagens are sold – 107 Golfs and 1,075 Transporters.

1991
Australia's biggest VW show, the VW Nationals, is moved to the Valentine Sports Park at Parklea, home of the NSW Soccer Federation. Two Caravelle Syncros, driven by VW-enthusiast police officers Dallas Tidyman and John O'Donnell, are used to take passengers around a special off-road bush track beside the show area. This impressive display of the Syncro's abilities results in a number of Syncro sales the following week.
Lanock Motors, once Australia's largest Volkswagen dealer, is closed down and their last two sites are sold. The St Leonards had closed in 1989, and after a couple of years as a boatbuilders' workshop it became a Holden dealer (and, in 2008, a Skoda dealer). The last site at Camperdown, which Lanocks had occupied since 1954, survived until 1991. Former Lanock Motors and LNC staff hold a wake at North Sydney Leagues Club to say goodbye to the old organization. This special night is MC'd by former Lanocks manager Gil Slattery, with other former managers Dick Higgins, Peter Sturrock and Trevor Chard saying a few words. Doug Donaldson's widow Lee is there and receives a warm tribute. Afterwards the Camperdown site becomes a Toyota dealer, and in 2011 is demolished for modern 'city living' apartments.
Another long-time VW dealer, McCallum Motors, closes. They had been at Strathfield since 1956, but moved to Sylvania in 1984. That left Muller and Muller Pty Ltd at Lakemba as Australia's longest surviving VW agent. Joe Muller had started his VW workshop at 999 Canterbury Rd in 1958, and became an official VW dealer in 1968 (as Muller and Markwell) when Ronstan Motors VW went to Toyota. Unfortunately Muller and Muller would lose their 'official dealer' status in 1995, but they are still in business today (2011) as an independent VW workshop.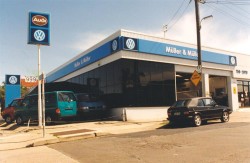 Release of the Passat for Australian sale is postponed indefinitely. TKM issue statements to the press that the VW Polo would go on sale in Australia in 1992, but this does not eventuate. TKM appoints former Daily Telegraph motoring editor, Nick Senior, as their Public Relations manager. TKM National Sales Manager Keith Coulston loses his job as VW's overall sales stall and drop by 19%.
Graham and John Lees again compete in the Australian Safari in a Syncro Double Cab Transporter, again winning their class and finishing 13th outright.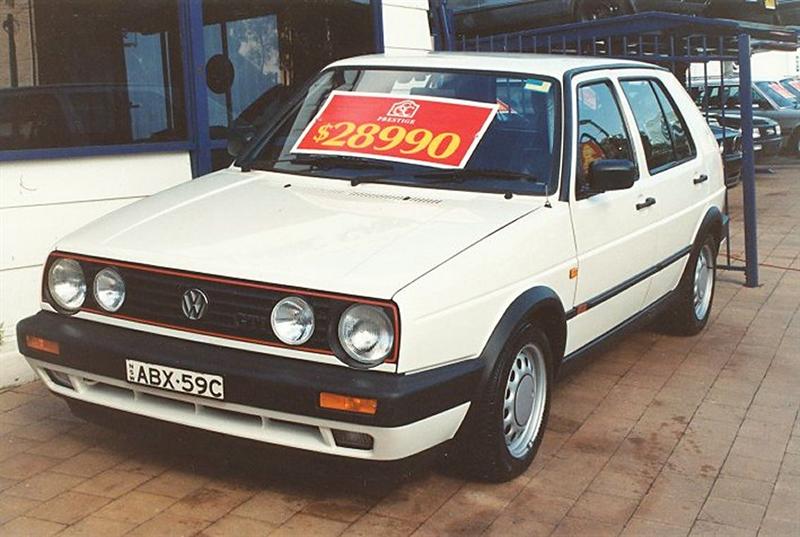 With TKM's stock of 1990 Golfs running out, VW dealers begin a Golf GTI and Cabrio 'End of Model Runout' sale, just a year after their introduction. No more Golf 2s were imported, and with the Golf 3 still in development in Germany it will be at least a year before any new models could be released, which causes new concerns for VW's future in Australia.
954 Volkswagens are sold – 289 Golfs and 665 Transporters.

1992
TKM struggles with the marketing and sales of VWs in Australia, attempting to sell VW's modern range to dealers, the motoring press and the public all still mentally stuck in the air-cooled era. Rising costs and bringing in superseded European models are becoming stumbling blocks to VW's regrowth in Australia.
TKM Automotive is taken over by an even larger British-based auto company, Inchcape plc. The TKM name and business continue without change. A team of Inchcape executives visit VW Germany to investigate the Golf 3 for Australian sale.
The old Golf 2 8V GTI and Golf Cabrio are discontinued, ending VW passenger car sales in Australia again. The Golf 3 is scheduled for Australian release, but not until next year.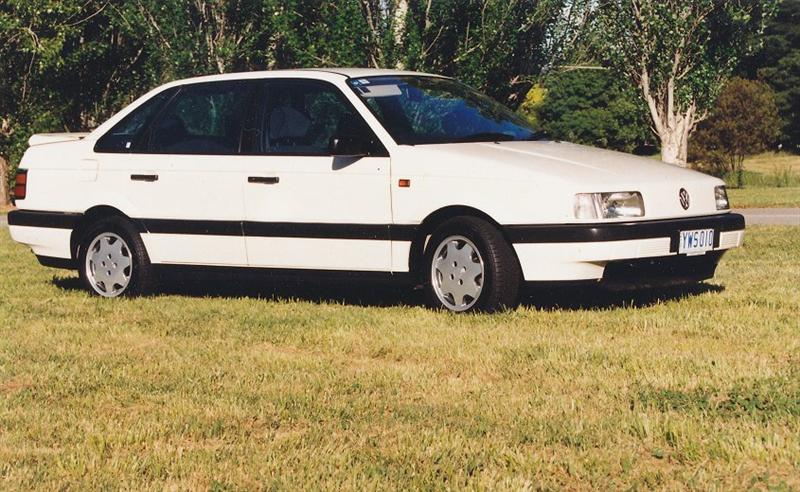 A few examples of the Passat B3 are imported for sale, but the model has already been replaced in Europe by the B4 and TKM considers it uneconomic to continue. The Corrado is considered, but is also judged uneconomic for local release. VW's Australian car sales drop by 68%, and overall by 56%. TKM managing director Peter Sturrock expresses doubt about VW's future in Australia, given the DM exchange rate.
The last shipment of T3 Transporters is imported and the model is discontinued, but old-stock sales (especially Syncros) continue on into 1993. This brings an end to rear-engined VWs in Australia, in a history stretching right back to 1954. The T3 is replaced by the modern, front-drive T4 Transporter with 62 kW 2.0-litre four-cylinder engine and five-speed gearbox. The panel van is $24,750, and the window van is $29,900. The T4 makes its debut at the Sydney Motor Show.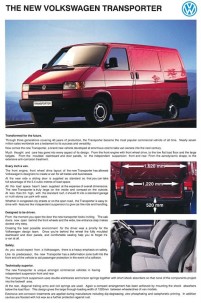 Australian VW Power magazine ceases publication, after 21 issues.
George Geshos and Boris Orazem (Vintage Veedub Supplies, Campsie NSW) are the first competitors to run a Volkswagen Beetle in the Targa Tasmania.
418 Volkswagens are sold – 90 Golfs, 2 Passats and 326 Transporters.

1993
Due to the European delay in introducing the Mk3 Golf Cabrio, TKM imports another batch of Mk1 Golf Cabriolets, 360 of them. These take more than a year to sell, but even so the Golf outsells the Transporter for the first time since 1981. The few Passats that were imported are also sold off, and the model discontinued again.
The VW Nationals is expanded, so that the old-fashioned 'Bug-In' dirt motorkhana can be an additional part of the normal drag day and car show. The organisers believe this will provide more incentive for interstate visitors, and make Australia's biggest and best VW show even better. US-based VW hot-up expert, Gene Berg, visits for the first time.
The 81 kW 5-cylinder Caravelle version of the Transporter goes on sale, priced at $42,990 for the manual and $45,690 for the auto. However total Transporter sales continue to fall, dropping by more than 65%.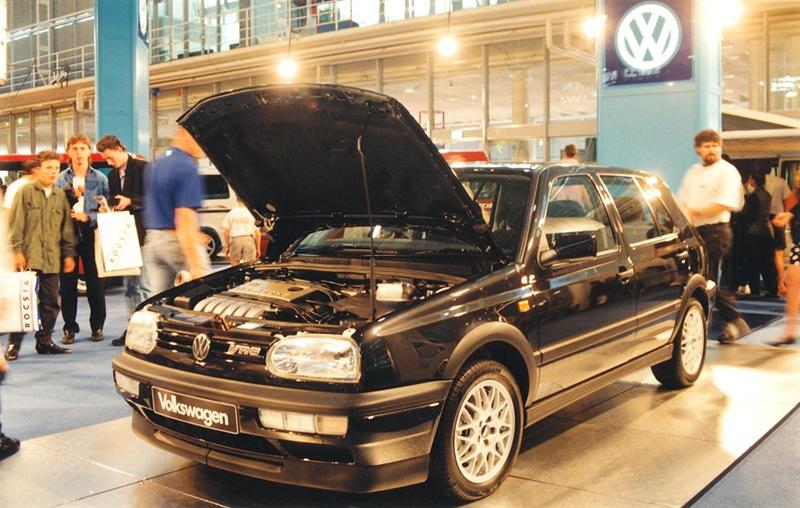 TKM displays a Golf 3 at the Sydney Motor Show, in VR6 form. The Jetta version of the Golf 3, to be called the Vento, is also imported for evaluation but doesn't make it to the Motor Show. One Golf 1 Cabrio is on display but it looks old-fashioned and out of date.
The Federal Chamber of Automotive Industries now lists the sales of all makes, rather than grouping minor sellers into 'Others'. Therefore, Volkswagen is now reported in 19th place on the Australian car market – behind Ford, Holden, Toyota, Mitsubishi, Mazda, Hyundai, Nissan, Daihatsu, Honda, Subaru, BMW, Mercedes Benz, Peugeot, Saab, Suzuki, Volvo, Audi and Renault.
Express Publications begins a series of bi-monthly colour VW magazines, edited by Geoff Paradise and sold at newsagents. They are glossy and colourful, but lack meaningful content and suffer from inconsistencies. Sales are hampered by a curious and annoying policy of changing the name of the magazine each issue. The series lasts 20 issues, into 1998, before closing.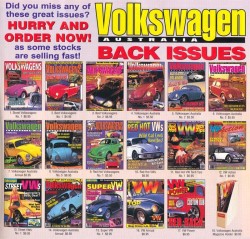 616 Volkswagens are sold – 290 Golfs, 1 Vento, 1 Passat, 95 Caravelles and 229 Transporters.

1994
TKM establishes a Purchasing Office in Australia, in order to source locally made components for VW's overseas factories and thus gain import tax concessions. This should reduce the purchase price of Australian VWs, making them more competitive. TKM also wants a share of the $40 billion that VW AG spends on buying components every year.
After several years of uncertainty and disorganisation, TKM makes a fresh launch of an entire new range of VW cars and commercials on the Australian market. This is Volkswagen's third official Australian 'relaunch' since 1987. One newspaper reports that VW is restarting in Australia, "after more false starts than the Eastern Suburbs Railway line." TKM again forecasts to be selling 10,000 VWs a year in Australia – this time by the year 2000, or possibly earlier.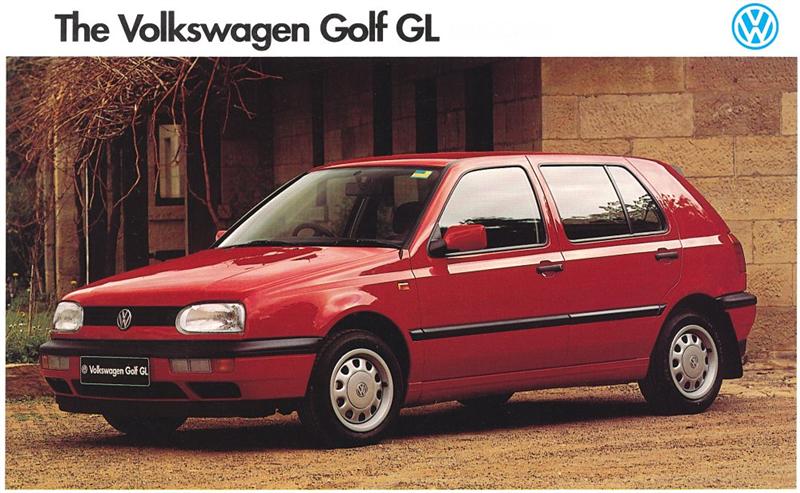 The Golf 3 is released in two versions – the well-spec'd 85 kW 2.0-litre GL hatchback, and the 128 kW 2.8-litre VR6, auto or manual. Prices range from $28,600 to $49,090. The Australian Golf GL uses the European GTI engine, rather than the 1.8-litre engine fitted to UK-spec GL models. TKM elects to bring in the powerful VR6 as a luxury European tourer, rather than a 'hot hatch'. The Golf 3 GTI is not imported. A Vento GL (booted) version of the Golf GL is also released, priced only slightly above the Golf version.
The Transporter now has a choice of engines, the 81 kW 2.5-litre five-cylinder engine or the 2.0-litre petrol four. The 57 kW 2.4-litre diesel is also introduced later in the year. The Transporter regains its title as Australia's best-selling Volkswagen, a position it has mostly held for 20 years. A special custom low-floor ute version is introduced, privately converted by Razorback Vehicles of Sydney.
Three new Volkswagens are shown at the Sydney Motor Show in October – the Vento, which goes on sale immediately, and the Passat and Golf Cabrio, which are to be released next year. VW sales nearly triple and they overtake Renault, but are passed by Daewoo and remain still in 19th place.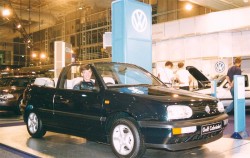 TKM launches the VW-owned, Spanish-built SEAT brand in Australia, promoting the Ibiza, Cordoba and Toledo as a sort of cheaper Volkswagen. No one has ever heard of the brand, so TKM tries to sell them with the slogan, 'Say It Si'.
1,801 Volkswagens are sold – 459 Golfs, 217 VR6s, 72 Ventos, 163 Caravelles and 890 Transporters.