1985 - 1989
Australian Volkswagen History

1985
Australia's first 'all VWs and VWs only' owners club, Club VW, is formed in Sydney to cater exclusively for VW owners who wish to maintain, restore and preserve their VWs, and keep as many VWs on Australian roads for as long as possible. The four founding members are Chris Edwards, Rod Young, Phil Matthews and Alex Simpson. The new club is actually spun off the old NSW VW club (who insist that a Volkswagen-only club would 'never work'). The first meeting is a gathering of 19 VWs at Parramatta Park in February, followed by a cruise to Wisemans Ferry and St Albans. The club produces their new magazine, 'Zeitschrift' (German for 'magazine)', on an early Olivetti computer. By the year's end the new club has 70 members owning over 150 VWs.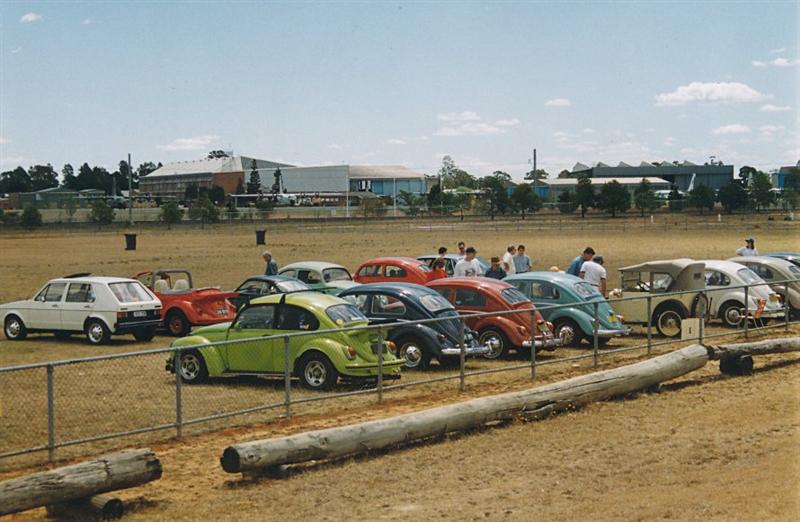 A charity event to revive the spirit of the 1950s Round Australia Trials is organised by the Variety Club. The 'Bourke to Burketown Bash', for cars older than 20 years, is a huge media event and entices celebrities such as Dick Smith, John Newcombe, Len Evans, Simon Townsend, Gordon Elliott and Peter Wherrett to raise money for charity. Shark experts Ron and Val Taylor take part in a 1960s VW Beetle. Barry Ferguson enters with his 1965 works rally Beetle with a new Powertune engine, and news footage shows his Beetle blowing off Townsend's Ford Galaxie. There is no 'winner' as such and Barry is 'penalised' for taking the event 'too seriously'. The Variety Bash for charity becomes an annual event, but never with as much media coverage as this first one.
Sydney restaurateur and musician Paul Greene makes two attempts to cross Bass Strait in his converted VW 'Seabug'. His floating Volkswagen travels 15 nautical miles but hits a sand bar off Port Albert and springs a small leak. One of the following media boats suffers a propeller shaft leakage in the rough seas, and needs a tow back to port. The water police are not impressed. They turn the Seabug back, and for safety reasons refuse permission for any further attempts.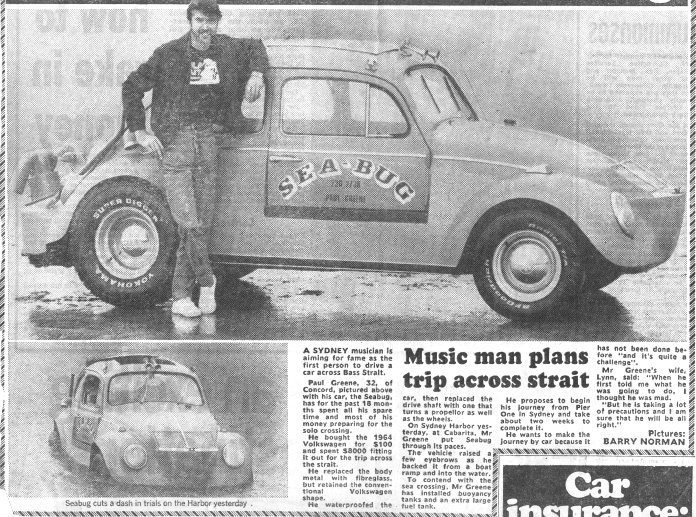 Larry Perkins enters the Wynns Safari in a backyard-built baja-style 1964 Beetle. For a week he holds second outright against a field of multi-million dollar custom-built 4WD race cars. Just imagine a hi-tech race Pajero being beaten by a scruffy 21-year old VW! To their relief, Larry finally crashes out near Darwin with a broken steering arm, but not before sending a major scare through the organisers, sponsors and big-dollar race teams.
German marathon drivers Gerhard Plattner and Rudi Lins drive a VW Transporter Syncro across Australia as part of their 6-month 46,000 km 24-country around-the-world drive. It's the first time the new Syncro is seen in Australia. The Syncro is damaged after hitting a kangaroo in South Australia but is repaired by Lanock Motors in Adelaide. The Germans continue on and depart Australia for Malaysia on their way to the finish in Austria.
Stirred by the unexpected good publicity following the Germans' visit, LNC Industries imports a 4WD Syncro Transporter and places it on display at the Sydney Motor Show. They also provide a Syncro bush driving demonstration at Duffys Forest for VW dealers and various agencies such as the Army, Water and Forestry Commissions, in the hope of future fleet sales. Initial reaction is keen, but when LNC's proposed pricing for the brilliant VW Syncro bus is revealed – around $45,000 – interest evaporates.
VW Australia Public Relations supervisor, Phil Scott, leaves LNC Industries and joins the Sydney Morning Herald for a career in journalism, eventually ending up editor in chief of the 'Drive' motoring supplement (and later, of Street Machine magazine). Subsequently he rarely has anything good to say about VWs in his articles, referring to them as 'dak daks' and 'chaff-cutters'. He pioneers the 'smart-arse' motoring journalist habit of always starting off his VW news articles (even ones about Golfs and Passats) by mentioning Hitler, the Nazis and the Third Reich. Yet somehow he never notes that Mercedes was actually Hitler's favourite marque; or that Messerschmitt Bf109s, Bf110s and Heinkel 111s had Daimler-Benz engines; or that Focke-Wulf 190s, and Dornier 17 and 217s had BMW engines (the BMW logo is a spinning aeroplane propeller). Or that the Japanese A6M Zero, G4M Betty and Ki-46 Dinah were built by Mitsubishi, who also built the engines for the Aichi 'Val' dive bomber and Nakajima 'Jill' torpedo bomber. Even Kawasaki built warplanes, such as the Ki-45 'Nick' and Ki-61 'Tony'. Oh yes the VW-Germany-Hitler thing is just oh so cute. Never mind the fact that our Volkswagens were actually made in Melbourne, by Australian workers, with Australian steel and over 80% Australian parts.
393 Volkswagens are sold – 393 Transporters.

1986
LNC Industries experience increasing upheaval and rationalisation as the Liberman group continues the break-up and selling off of their various divisions. The division called 'Volkswagen Australia Pty Ltd' is closed down, as with only a few hundred annual sales it is now only a mere shadow of its former self. All future VW sales and service is to be handled by 'LNC Distribution Pty Ltd.'
VW Germany sends a telex to LNC Industries, asking why Australia has the highest demand for replacement Superbug steering boxes in the world. LNC passes the Telex onto their dealers and the VW clubs for an answer – a combination of our rough roads; our warm, dry climate allowing old VWs to live longer; and a lack of new VW product forcing loyal owners to hang on to their old Superbugs.
Boris' Picnic Day is held at for the first time at Fitzpatrick Park, beside the Georges River at Milperra. Over 200 VWs of all kinds enjoy the sunshine. Thanks to organisers Boris Orazem, Stephen Muller and David Birchall, Boris' Picnic Day becomes a much-loved annual VW event in Sydney. A similar event called the 'VW Shootout' by the Flat Four VW club in Sydney, and the VW Club of Vic's 'Day of the VW' in Melbourne, are also extremely popular.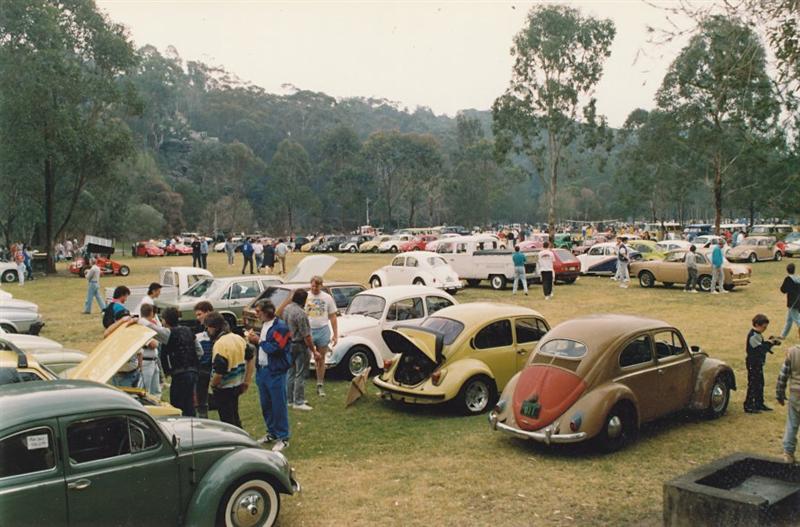 Through the CMC, Club VW Sydney initiates Vintage (Historic) Registration, for Volkswagens older than 30 years, on special Club VW plates in NSW. This is the first scheme of this kind for Volkswagens in Australia.
LNC Industries announces that no more shipments of new Transporters will arrive, and their future with the Volkswagen marque will be limited to spare parts only. Most former VW dealers (now Subaru, Nissan, Honda or Mitsubishi dealers) are no longer able to service VW vehicles older than 10 years, if at all. There is a corresponding mushrooming of independent VW workshops, as there are still well over 150,000 air-cooled VWs on Australian roads needing parts and service.
For the first time since VW's first Australian sales in 1954, there is no Volkswagen stand at the Sydney Motor Show.
LNC Industries' Chairman, Doug A. Donaldson, retires through ill health at the age of 58. He had worked for Lanock Motors since 1954, starting as a spare parts hand and car salesman at William St, and working his way up to sales manager, then Lanocks' Managing Director in 1962. He became a director of LNC Industries in 1964, and General Manager in 1967. He was appointed managing director of Volkswagen Australia on its formation in 1968, and held the post to his retirement. He was also a president of the Federal Chamber of Automotive Industries on several occasions, and was a patron of the original Volkswagen Club of NSW from its formation in 1955. Dubbed 'The Father of the VW in NSW' by the press, he was to die of emphysema in 1991.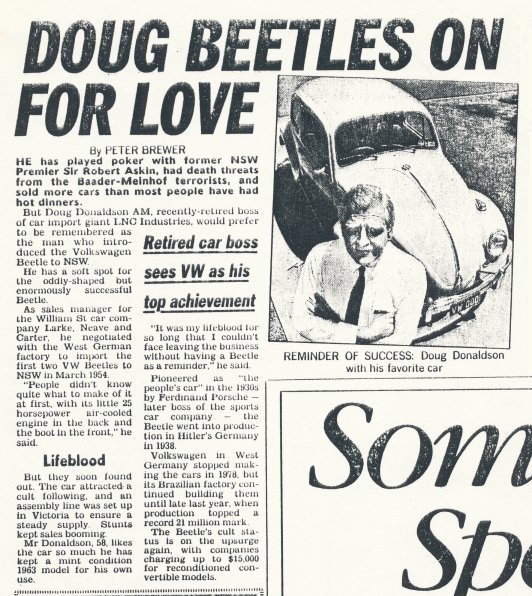 123 Volkswagens are sold – 123 Transporters.

1987
A survey of road-registered vehicles by the Bureau of Statistics reveals that there are actually 170,000 Volkswagens (of all types) registered for use on Australian roads, from the 420,000 or so sold here since 1954. This is an excellent survival rate of just over 40%, especially as volume local sales of VWs ended ten years earlier. Sadly, this would drop to less than 25,000 air-cooled VWs remaining by the mid 1990s, and below 10,000 in the 2000s.
LNC Industries announce that they will relinquish the Australian Volkswagen / Audi franchise, effective from 30 June, ending a 33-year association with Volkswagen. Parts and accessory support would continue until 30 September. Newspapers report that the severance came, "despite a last-ditch effort by LNC to save the 33-year association." It is unclear as to exactly what, if anything, LNC's 'last-ditch effort' was, 7 years after discontinuing VW car sales here. With only spare parts and a few hundred Kombi and Audi sales, the Australian VW/Audi business was basically dead and had been for years.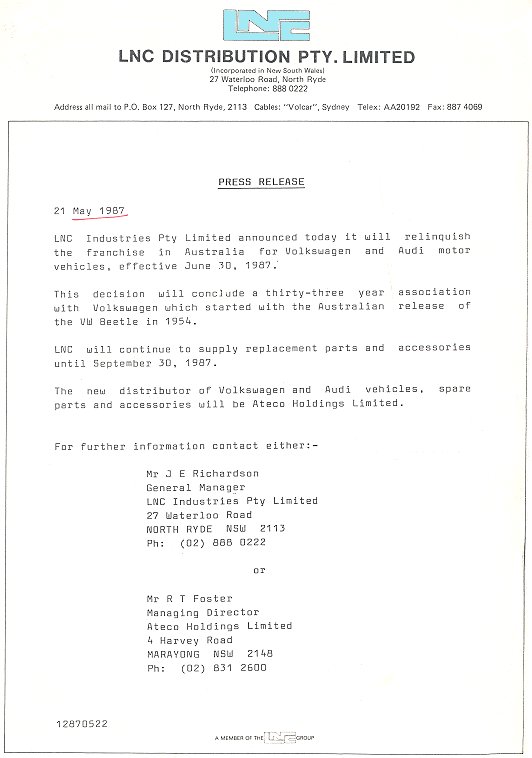 In fact, VW Germany's Audi division had pressured LNC to guarantee 1,000 Australian sales a year, and LNC had rejected the request. LNC 's general manager Jim Richardson described Audi's request as 'unrealistic'. VW Germany then terminated LNC's Australian VW/Audi franchise.
Ateco Holdings Ltd, owned by NZ-born race driver Neville Crichton, picks up the Australian VW/Audi franchise. Based at 4 Harvey Rd Marayong in Sydney, they are already the local importer for Suzuki, selling 3,000 a year. Ateco inherits LNC's national VW dealer network of around 100 sites, although by now they all sell other makes and mostly only stock VW spare parts.
The Liberman Group continues the breakup of LNC Industries. Over the next two years LNC's other car franchises – Subaru, Honda, Fiat, Renault, Lancia and their dealer chains – will be sold off. LNC's former landmark VW headquarters on Waterloo Rd at North Ryde is sold. An enormous amount of remaining VW parts, equipment, signage and records are thrown out (including dumping crates of metal parts into the harbour near North Head); Sydney VW enthusiasts rescue a tiny portion. The former North Ryde site is demolished to make way for a new industrial subdivision.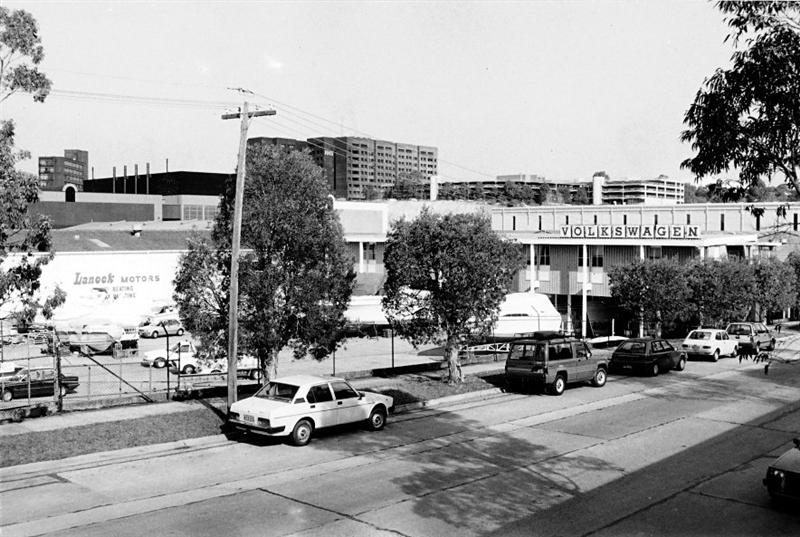 Lanock Motors is sold to the City Ford group of companies. Only the St Leonards and Camperdown branches are still operating, although St Leonards soon closes down. City Ford utilise the large Camperdown workshops to service Fords, alongside Lanock's other makes. Motor Caravan Holdings Ltd, LNC's former Campmobile converter, is sold to Trakka Pty Ltd at Mt Kuring-gai, and their old workshops at Rydalmere are sold off. Ruslit Motors at Auburn, once LNC's division for VW industrial engines as well as Perkins, Deutz trucks and Chrysler vehicles, is closed. The site is bulldozed and rebuilt as a modern homemaker centre.
Only Larke Hoskins, formerly owned by Lanock Motors, survives. They are spun off and resume independent trading. They survive today as a Honda dealer, but not at the same locations as 1987.

No VWs are imported; the only sales are clearing of LNC's old stock. By this stage the basic 1.9 Kombi is $25,000, and the 1.9 Caravelle GL is $39,497. The Toyota Tarago GLI was just $26,603 by comparison.
48 Volkswagens are sold – 48 Transporters.

1988
The first VW Nationals, the biggest Volkswagen enthusiast show Australia had ever seen, is held at the Hawkesbury Agricultural College (now UWS, Hawkesbury Campus) at Easter, hosted by Club VW Sydney and sponsored by Ateco Holdings. It comes about partly through a NSW Government promotion (but no cash grant, sadly), as an official Bicentennial celebration event. Over 500 VWs turn up in spite of torrential rain, and the event gains national TV and press coverage.

Ateco lay the foundations for VW's relaunch by reorganising the remaining VW dealer network, releasing most of the former VW agents who are now Subaru, Honda, Nissan or Mitsubishi dealers. The number of official Australian VW agencies drops from around 100 to about 30, with only a handful of the air-cooled era dealers surviving. New 'European Classic Car' VW dealers are established in the capital cities.
For Ateco's first year, they concentrate on restarting Audi, introducing the Audi 80/90, Audi 100 saloon and Avant (wagon), and the 200 Turbo. As for Volkswagen, a batch of current Transporters is brought in to keep product available and to prepare for a major relaunch in 1989, which will include for the first time the 2.1-litre engine and Syncro 4WD system.
Trakka are announced as the 'official' VW camper converter, and they quickly release a prototype 'Trakka Syncro' camper model with pop roof, swivel front seats and a kitchen and living area. Manager Dave Berry proposes a starting price of $39,950 for the basic Syncro, with the camper conversions ranging from an additional $9,240 to $11,944 for the Deluxe Gold Pack.
The first modern Australian A4 format colour Volkswagen magazine, 'Australian VW Power', goes on sale at newsagents. It is published every two months by Syme Media in Melbourne, and edited initially by Tim Britten (later followed by David Morley, then by Tony Glynn). The issues are well received and fill a much-needed niche in the marketplace with the new generation of VW enthusiasts emerging. Even race driver Larry Perkins contributes a column. However early issues contain numerous technical and historical errors, so the editorial team gradually removes these style of articles and just writes features on owners' cars.
82 Volkswagens are sold – 82 Transporters

1989
Ateco launches the 'Volkswagen Is Back!' campaign, with the relaunch of the updated, modern T3 Transporter range. The T3 comes with the 70 kW 2109cc wasserboxer engine and new front grille and rectangular headlights. The Panel Van is the basic model, starting at $19,990. The Kombi window van starts at $22,450, reduced from nearly $30,000 under LNC, while the Deluxe Kombi is $25,400. The Caravelle CL is $32,600, and the luxury Caravelle GL is $39,990. A 5-speed manual is standard, or the 3-speed auto is $1,500 option.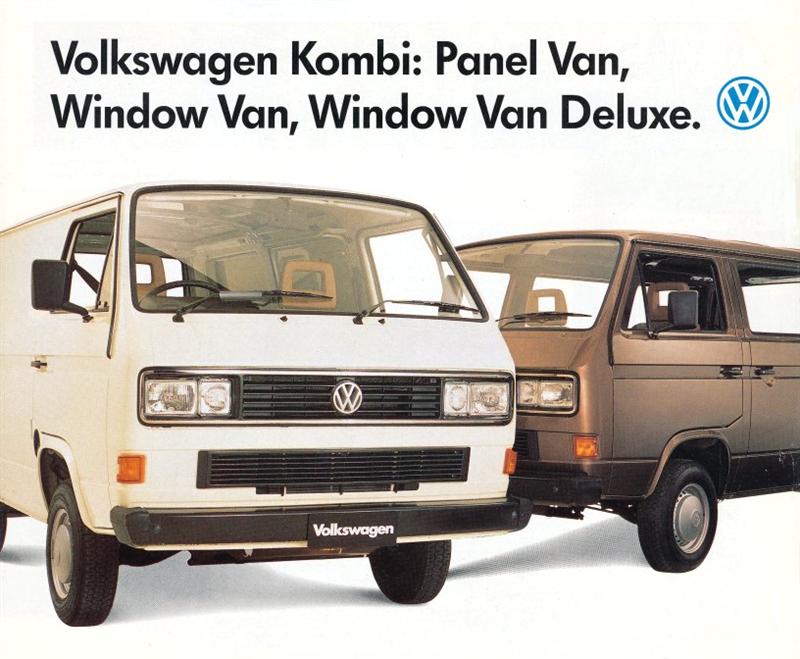 The Syncro 4WD Kombi version is also available, at $39,990. Several Syncro options are offered, such as a Rear Diff Lock ($1550); Front Diff Lock ($700); Power Steering ($1790) and Metallic Paint ($1810).
The new VW range comes with a 12-month, unlimited km warranty. VW ads appear in newspapers, magazines and on TV again for the first time in many years.
Ateco launches with 60 new Volkswagen dealers nation-wide, and plans to have 90 within two years, one in every 'major' city in Australia.
The VW Nationals at the University of Western Sydney (Hawkesbury) is moved from Easter to February to better utilise the summer weather, and to give the old-fashioned dirt 'Bug In' in Brisbane at Easter a chance to succeed. But this proves an unpopular move with Sydneysiders and the QLD dirt event is a flop. The VW Nationals is rescheduled back to Easter for 1990 and beyond.
The T3 Pickup and Double Cab Pickup are displayed at the Sydney Motor Show alongside the rest of the Transporter range. Ateco announces that the flagship Carat executive version of the Caravelle will be introduced and even produces brochures, but this doesn't eventuate.
The first Golf Cabriolets and Golf 2 8V GTIs are imported for evaluation and release, and are shown to the public for the first time at the Sydney Motor Show. Thanks to Ateco Industries, Volkswagen has returned to the Motor Show (alongside Audi) for the first time in four years. VW's Australian sales increase by 1,238%, their largest annual increase in history.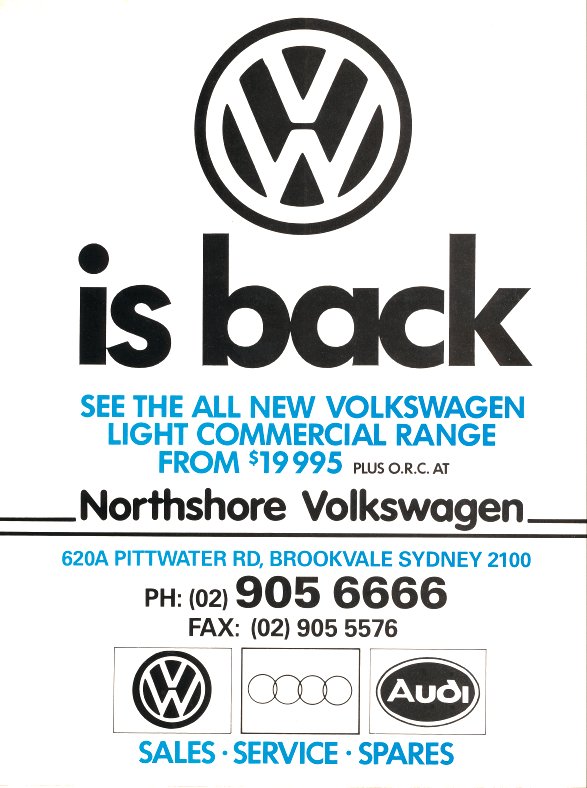 Meanwhile the former long-time VW franchisee, the once-great LNC Industries, has been broken up and sold off. Their last remaining car franchise, Subaru, is sold to TKM Investments and the remaining capital is sold to the Permewan Wright group. LNC Industries is delisted from the stock exchange, and ceases to exist.
1,097 Volkswagens are sold – 1,097 Transporters.