1965 - 1969
Australian Volkswagen History

1965
Investment and expansion continues, with another £10 million committed to local manufacture. The Clayton machine shop, boiler house, central service area, medical centre and inflammables store are completed, and work begins on expanded parking and storage areas, new office block, new service centre and light alloy aluminium/magnesium foundry.
Volkswagen Australiasia Ltd establishes a subsidiary, VW Distribution Ltd, to take over state distribution of VW vehicles from the independent companies. LNC Industries loses the wholesale distribution rights for NSW, but still has the wholesale spare parts business for NSW, as well as the largest VW dealer chain, Lanock Motors. Another new Lanocks VW sales and service branch is opened at Hornsby, and Volkswagens are also sold through the Grenville Motors Land Rover dealerships at Cooma and Coonamble (also owned by LNC Industries). The Australian VW dealership chain reaches its all-time peak of 330, including 31 in Sydney.
Volkswagen Australasia introduces a quarterly magazine for Volkswagen owners in Australia, called 'New Horizons with VW'. It is the first-ever Australian magazine published for owners of any particular make of vehicle. It is an A5 format 24-page magazine on glossy paper, in monochrome colour with full-colour cover, published and printed by D.W Paterson and Co of Prahran, Melbourne. The editorial offices are in Rigby House, Queens Rd Melbourne. It is available for sale from genuine VW dealers and parts shops, or subscriptions are available for 80c per year. The introductory issue is dated 'Autumn 1965', and a second issue is dated 'No 2 1965'.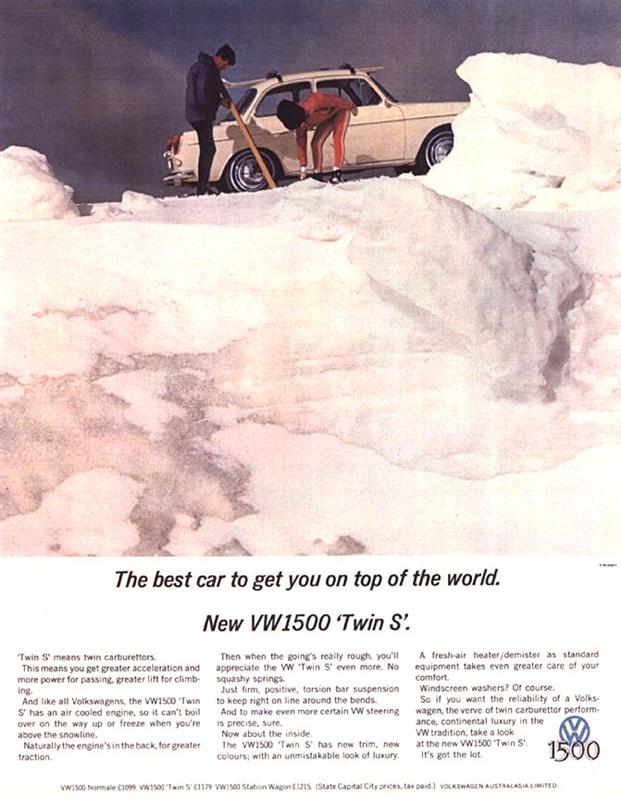 The German-made 1500S sedan is imported, a deluxe, high compression twin-carb model that is only £40 more than the normal Australian 1500 sedan. After two months, it is replaced by an Australian-made version - the VW 1500 'Twin S'. The Australian version is very similar to the German 1500S, except that the bumper overriders, all-night parking lights and push-button controls have been dropped. The Australian 1500 range is soon expanded further when the locally-made 1500 Panel Van is introduced. It is a 1500 station wagon 'squareback' with no side windows, and black plywood floor and interior panelling. Priced at £1199, VWA urged buyers to 'Save on deliveries - Now!'
The new 1965-model European/US Beetle body with larger windows is not used in Australia, as VWA could not justify the very high cost of replacing all the dies and tooling for the presses. "The Australian content of the VW 1200 is 95 percent," said VWA MD Allan Gray. "This has been achieved at the cost of a factory worth £20 million. Therefore it would be some time before any retooling could be done to produce a new model, even if it were considered necessary." Apart from hundreds of tools and dies for the small window body shell, Clayton also still had its master body jig - which of course was for the small window body. So for 1965 the 1964-and-earlier small-window body, frame and mechanicals continue on, but the Australian Beetle is updated with roll-top front seats, a rear seat that now folds flat, and new trim. This marks the first major difference between Australian Beetles and their European/US cousins.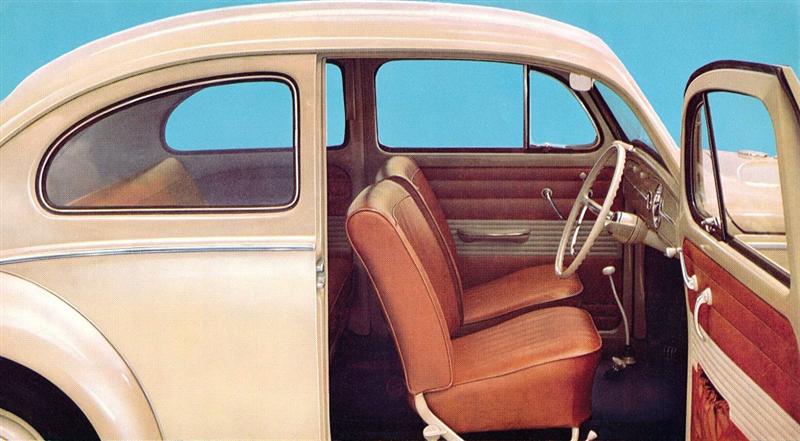 Volkswagen (Australasia) Ltd announces price reductions for three of of its models. The 1200 Standard is reduced from £819 to £799; the 1500 Sedan from £1125 to £1099, and the 1500 Twin S from £1329 to £1179. VWA Ltd's managing director, Allan Gray, says that VW's Australian profit of £974,990 for 1964, and increased Australian content of locally-built Volkswagens, has permitted the price drops.
Volkswagen (Australasia) Ltd prepares at least one prototype of a possible new model, the Beetle 'ute'. Based on the 1200cc Standard model, the utility is a normal Beetle to the 'B' pillar, with a rear wall and window behind the front seats. The rear is cut horizontally just above the side trim, with a deep full-width corrugated steel cargo well in the rear. With no rear engine louvres, the prototype uses the louvered engine lid of the German convertible. One example is shipped to the RAAF in Malaya for testing, but the conversion never enters production.
National advertising offers a tempting series of trade-ins and discounts on VW models as part of VWA's 'tenth birthday' celebrations, but sales suffer a steady decline and drop by 17.5% for the year. VW's market share slips from 11.6% (December 1963) to 7.1% by November 1965. Modern British and Japanese small cars are already on sale and more are starting to appear, and the '65 Aussie VW looks the same as a 1961. Chrysler (with their Valiant) overtakes VW in sales, dropping VW to fifth place on the car market, while smaller cars like the Ford Cortina, Vauxhall Viva. Morris Mini and 1100, Austin 1800 and Toyota Corona are also stealing VW sales. Volkswagen Australasia Ltd still makes a trading profit, of $1.1 million, but this is barely half the 1964 profit.
No VWs are entered in the Bathurst Armstrong 500; they would have had to compete against faster Ford Cortina 200s and Vauxhall Vivas in their class. Instead, former VW drivers Barry Ferguson and Greg Cusack are now in Mini Coopers; David Walker and George Reynolds are in Cortinas; Neil McKay is in a Toyota Corona and Bill Ford in a Volvo 122. The Beetle's competitive era in Australian price/capacity production racing was over.
Greg Cusack demonstrates a US-built 'Formcar' Formula Vee at Sydney's Warwick Farm circuit. He joins with engineers Bruce Burr and Bob Brittain to produce their own 'Cee Bee' Vee (for Cusack-Burr). Nota Engineering of Parramatta also show their first three Vee prototypes at Warwick Farm, and Elfin Sports Cars also begin making Vees – lower and sleeker than US designs. The first Australian Formula Vee race is held at Warwick Farm in November, and is won by Frank Kleinig Jr.
25,577 Volkswagens are sold – 18,077 VW 1200s, 3,158 VW 1500s, 31 Karmann Ghias and 4,311 Transporters.

1966
Australia converts to decimal currency, where £1 = $2. VWA invests another $10 million in local manufacture. Clayton's new expanded Quality Control facility comes online. The local assembly of front axles, engines and rear axles from imported components begins. An expanded employee-training programme begins.
In March the 1300cc 50-bhp motor replaces the old 1200, and Deluxe Beetles now have a '1300' badge on the engine lid. The gearbox and brakes are also improved, but the link pin front end remains. The roof lining is now the Euro-style white perforated vinyl. The Standard model retains the older 1200 engine for one more year.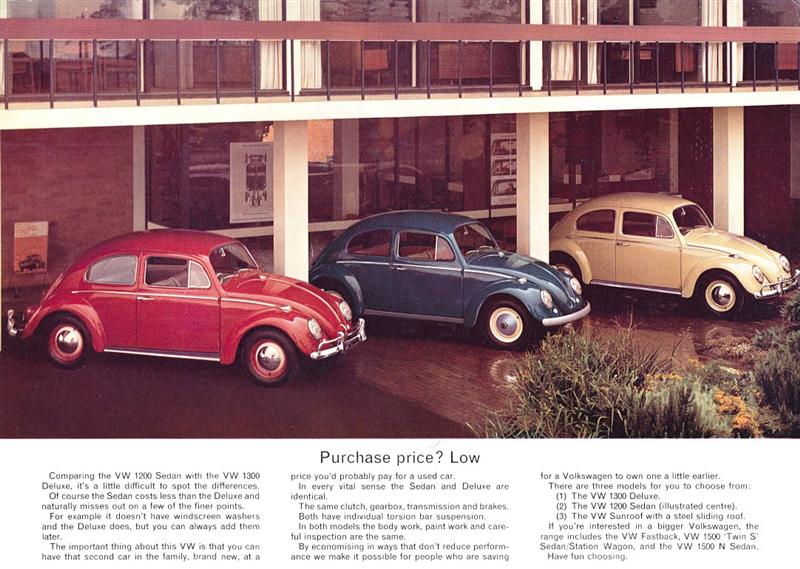 The 1500 Twin S sedan is discontinued, and replaced in by the fully imported 65-bhp 1600TL Fastback. The TL fastback was released in New Zealand a month before it was seen in Australia, so interest from the press and private buyers headed across the Tasman. The first TL in Australia was imported by race driver Rod Blair, and driven in sporting events at Warwick Farm. The 1600 TL was soon officially released in Australia at $2,415. The locally built 1500 sedan, station wagon and panel van continue.
In April the German 1600 TL Fastback was replaced by the now locally built equivalent, the 1600 TS Fastback. The Australian version is very similar to the German TL, but with one major difference - the German TL's front disc brakes are replaced by drums on the Aussie TS. The Aussie version also misses out on door safety catches and opening side windows.
In August Volkswagen Australasia announces an improved range of VW Commercials. The payload is increased from 15cwt (760 kg) to 1 tonne using heavier suspension, and six-ply tyres. The 1500cc engine is increased from 51 to 53 bhp, even though compression drops from 7.8 to 7.5 to 1, thank to using a larger 30-PICT carburettor and improved cylinder heads. Other improvements include reinforced brakes and wheel bearings, press-button engine lid and an improved gear change. Prices range from $2,350 for the pickup to $2,771 for the Microbus, and $3.076 for the container van.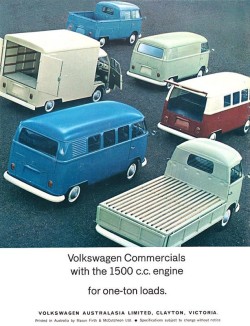 The special-order Type 34 Karmann Ghia is upgraded to 1600cc, the same as the TS Fastback. The first example makes its first public appearance at the 1966 VW-Mobil Performance Test run from Melbourne to Rockhampton, driven by Mureen Keady and Judy Gallagher (44.1 mpg, 6.4 L/100 km). The 1600 Ghia, and the rest of the local VW range, is then displayed at the VW Gala Day at the House of David VW dealership at North Ryde.
Australian VW sales slump another 29% in a contracting market, with VW now managing barely half of Chrysler's sales but just hanging onto fifth place above the rising Toyota. Volkswagen Australasia posts a $3.2 million loss for the year, $175 on every VW sold, on a turnover of $40.7 million. In NSW, Lanock Motors lose 90% of their former sales volume after changing from a state distributor of VWs to a dealership. However they remain profitable thanks to parts and service and used sales, and take ownership of Barker Motors VW dealership at Killara.
LNC Industries (owners of Lanock Motors) doesn't post a loss but their overall profit is cut in half, to $250,000. LNC counteracts by increasing its diversity, taking on the Australian franchises of Rambler and Fiat, and the rights to the Japanese Colt, Bellett, Wasp and Elf vehicles through Griffon Motors. LNC's Ruslit Motors division (VW Industrial engines) adds Dodge and Valiant trucks to its fleet of Deutz and Commer trucks, and Perkins diesel engines. Ruslit would soon expand further to become a general Chrysler dealer.
LNC also sells its shareholding of Greg Cusack Pty Ltd, the successful ACT-based distributor of Volkswagen, making them a capital profit of $138,800. Cusacks continue as the ACT VW sales and service outlet (with branches in Braddon, Manuka and Queanbeyan), but Lanock Motors retains the wholesale distribution rights.
'New Horizons with VW' magazine publishes issue #3, dated 'No 1 1966', then issue #4, 'No 2 1966'. Unfortunately the magazine then ceases publication. Subscriptions and sales had been disappointing, and the magazine did not become an economic proposition. Years later, these four issues have become much sought-after collectors items among Australian VW enthusiasts. Archived copies can be browsed in the Mitchell Library in Sydney. Meanwhile, VW Australia would not produce another owners' magazine until 2004.
18,213 Volkswagens are sold – 3,869 VW 1200s, 7,738 VW 1300s, 1,220 VW 1500s, 2,465 VW 1600s, 5 Karmann Ghias and 2,916 Transporters.

1967
Clayton's new Hall 2, new machine shop, engine plant, central service area and non-ferrous foundry come on line. The foundry is the largest aluminium and magnesium alloy foundry in Australia, and features three die-casting machines of 100, 200 and 800 tons. The Automatic Dewpoint Heat Treatment can carburize 230 kg of steel per hour, to a depth of 0.25 mm. The Service Centre has new boilers, air compressors, oxy-acetylene tank, LP gas tanks, cooling ponds and towers and a 22 kV switchroom. Hot water is provided by 12.3 MW high pressure boilers. Rotary screw air compressors provide oil-free air to the plant at 690 kPa, and can produce 100,000 litres per minute. The engine shop produces both new and reconditioned engines, and includes induction hardening machines, elaborate machine tools and sophisticated engine assembly equipment.
The Australian 1967 Beetle is freshened with a new range of bright colours and one-colour trim, whitewall tyres and seat belts. The engine badge now reads '1300 Deluxe'. The Standard is renamed the 'Custom', and is upgraded to the same 1300cc engine, with improved fittings such as chrome hubcaps and stainless steel blade bumpers (without the towel-rails), and improved (but still basic) trim. The Custom now has a glove-box lid and interior light, but retains the Standard's reserve fuel tap and no fuel gauge. Both the Australian Deluxe and Custom 1967 VWs still have the 1961 body shell and platform, 6-volt electrics, swing axles and link-pin front end. The 1300 Custom is $1,698, the Deluxe is $1,863, and the 1300 Deluxe Sunroof is $1,957.
The Type 3 range is rationalised. The 1500S Sedan and 1500 Station Wagon ('notch' and 'squareback') are both discontinued, replaced solely by the 1600 Station Wagon. Its price is reduced $100 over the previous 1500S, selling for $2,490. The 1600TS Fastback continues on at $2,425, while the 1500 Sedan's price is dropped $100 to $2,098.
The 250,000th Australian Volkswagen is sold in March, but no official ceremony marks the occasion and it passes unnoticed.
The locally designed Country Buggy begins limited local production. Developed by VW Germany engineer Rudi Herzmer and local expert Howard Harcourt, it uses a mix of standard VW parts such as a Type 1 floorpan and 1300 engine, with Type 2 trailing arms and reduction hub axles, and a simple pressed and folded open-top metal body. Initial plans call for an amphibious design, but this doesn't eventuate. It is planned for sales release, but various design problems cause it to be delayed until the following year.
VW records another $2.6 million loss for the year as sales slide further. VW is overtaken by Toyota and falls now to sixth. After three Australian members of the VWA board of directors had "relinquished their appointments" in 1966, the remaining three Australian directors now depart. Assistant managing director Mr J. R. Sullivan retires, as does the Managing Director Mr Alan V. Gray. The last remaining Australian on the management team, Mr William J. King, resigns. He and Alan Gray had been with VW since the earliest Regent Motors days. The departed Australian VWA management team are replaced by Germans. The new Volkswagen Directors team is revealed at the National Dealer Convention in Melbourne - Dieter Korff (Manufacturing), Rudi Herzmer (Inspection) and Dr Alfred Solzer (Finance). Ex-VW Canada exec Jack Cook joins them as Director of Marketing.
These four new Managing Directors are also appointed to the board of Volkswagen Australasia Ltd, together with Wolfsburg-based executives Dr Carl Hahn, Otto Hoehne and Dr Freidrich Thomee. The Chairman of the Australian board is still VW boss Heinz Nordhoff. The company announces that the changes have been made to "align Australian procedures with world policy," but the replacement of all the Australian bosses by Germans and a Canadian makes headline news.
An auditing team from VW Germany visits the Clayton plant to stem the losses, dwindling sales and low turnover. These problems mean that the factory cannot maintain the Government requirement of 95% local content, in an economic manner. They note that Volkswagen Australasia Ltd has been conspicuous for its heavy investment outlays on the strength of the Government's Plan A requirements, raising the local content of its Australian-made cars to the detriment of keeping up with German improvements. $45 million has already been spent on trying to meet Plan A, at a time of high demand for Japanese vehicles and the Government beginning to change its policy towards imported cars and components.
The auditing team therefore recommends that no more production investment be made in Australia. Manufacturing should end as soon as possible by withdrawing from the Government Plan A, and the factory should revert back to German CKD assembly. Unsold VWs are clogging the distribution yards and the factory is partly idle, but the VW auditors believe that CKD assembly should allow sales of the latest available models, and updating of the Australian VW range in an economic fashion.
Volkswagen Distribution Ltd reverses their previous decision, and reappoints LNC Industries and Lanock Motors as the NSW state distributor for Volkswagens. Annand and Thompson are also reappointed for QLD and Western Motors for WA. Volkswagen Distribution Ltd. continues to service VIC, SA and TAS.
The Audi range of vehicles, produced by the now Volkswagen-owned Auto Union, is released onto the Australian market for the first time. The Audi 80 and 90 are sold through the existing Volkswagen dealer network.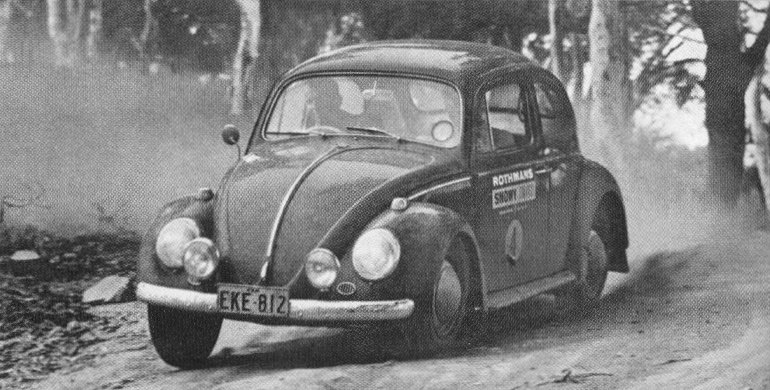 Barry Ferguson and his navigator Dave Johnson win the 3700 km Southern Cross Rally, driving a Beetle specially prepared by the VW Clayton workshops (under team manger Pat Whitaker), with help from VW dealer Worrell Motors of Toorak. One of five 'works' Beetles, it had a souped up 1600cc twin carb engine, front discs, 80-litre fuel tank and Country Buggy limited-slip diff. This was the first international rally won by a Beetle, anywhere in the world. Barry's family still owns this car today. The Southern Cross Rally ran from 1966-1980 inclusive, but this was the only time it was won by a Volkswagen.
17,450 Volkswagens are sold – 10,550 VW 1300s, 1,504 VW 1500s, 2,058 VW 1600s and 3,338 Transporters.

1968
Based on the German VW auditors' recommendations, VW Australasia Ltd announces that it has withdrawn from the Government's 'Plan A' for 95% local content. Australian VW manufacture will cease immediately, and all future VWs will be either be fully imported, or locally assembled under the Government's 'SV Plan' (small volume), which allows a maximum of just 7,500 units of each 'model' annually, with a local content of 60 percent. The $50 million investment in the Australian factory was written off. The mighty presses, machinery, tooling and equipment are dismantled and sold to VW factories in other countries. The master body jig is sent to Brazil (where the Australian small-window bodies would be made until the 1990s), while the exchange engine equipment ends up in Malaysia. Other more general equipment is sold to Holden and Ford. The Clayton plant is completely stripped out, and refitted for CKD assembly only. VW's giant press hall, once the pride of the works, now becomes a storage area.
VWA's director of marketing, Jack Cook, explained that under the new plans, Volkswagen could assemble up to 22,500 vehicles a year with a local content of 60 per cent. This was down from 1964's Australian peak of more than 34,000 vehicles under Plan A, but more than 1967's figure of around 19,000. He said that the Melbourne 'Plant No 2' site, which included the head office, administration building and foundry, would be sold. Employees at the Clayton plant would be gradually reduced from 2,200 to fewer than 1,500 over eighteen months.
Production of the 1967 Deluxe Australian Beetle ends in March, and is replaced by the fully imported German-made 1968 1500 Beetle. The semi-automatic is released in March, and the manual follows in May. Australian buyers effectively move from a 1961 to a 1968 Beetle in one month. New big-window body shell, 53-bhp 1500cc motor, 12-volt electrics, ball joint front with twin-circuit disc brakes, lever heaters, new front and rear lights, safety dashboard with centre vents, collapsible steering column and black steering wheel, external fuel flap, slotted black and cream 4-stud safety wheels, stronger bumpers and all the other latest European features. The car is so much changed that VW Australasia advertises it as its '68 Revolution.' CKD kits arrive from June and local assembly of manuals begins, but semi-auto Beetles were to remain fully imported. The 1500 Manual is $1,998, and the 1500 Semi-auto is $2,130. The old Australian Custom model continues to be built as the remaining Australian parts are used up, until all local manufacturing ends in September.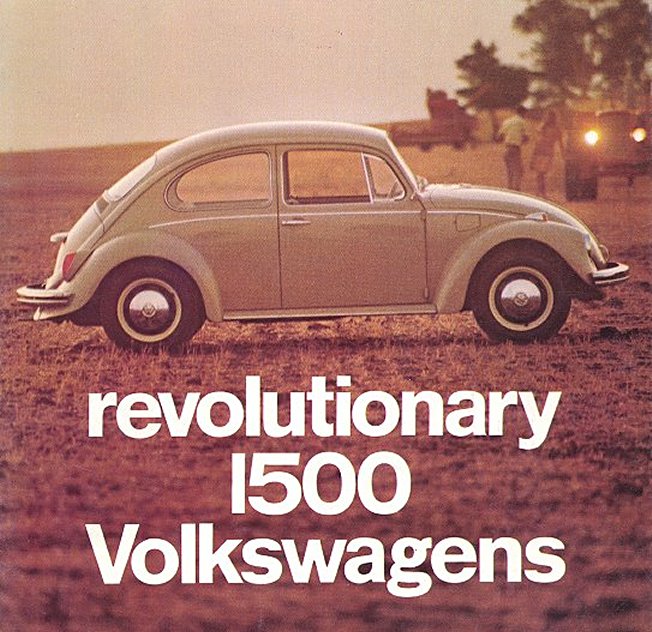 The old Australian-made split-window T1 Transporter is discontinued, and replaced by the T2 model in July. The new model has a full width curved windscreen, ball joint front suspension, four CV-joint rear suspension and 1600cc engine. These are initally fully imported, but are soon locally assembled from German CKD kits. The Type 3 range is also converted back to CKD assembly in October, after a short period of full imports. The engines are upgraded to 1600cc across the range. The 1600 Sedan is $2,215; the 1600 TS Fastback is $2,235 and the 1600 Station Wagon is $2,490.
The Country Buggy is finally released in April, priced at just $1,432. VW Australia had high hopes for its success, but it was a sales failure and was discontinued when manufacturing at Clayton ended in September. Hopes to sell it to the Australian Army were dashed when it was rejected for not being 4WD, and having insufficient payload. Less than a thousand were sold to the Australian public, mostly to rural buyers. Several hundred were sold in the Philippines as the 'Sakbayan', in left-hand-drive CKD kit form.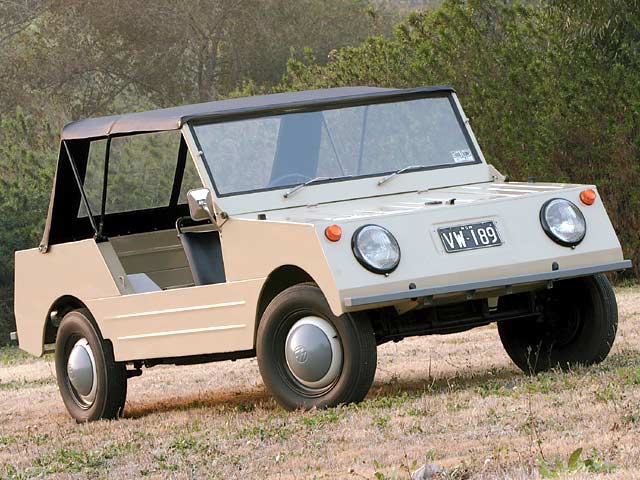 The fully imported Type 1 and Type 3 Karmann Ghias are both discontinued as the local lineup is rationalised. The bigger Type 3 Karmann Ghia was only minor part of the Karmann Ghia range sold in Australia in the 1960s, as it was only available by special order only). Today is impossible to say exactly how many sales were Type 1 or Type 3 Ghias, as surviving sales records do not specify.
In July Volkswagen Australasia Ltd caused considerable shock when it announced it would no longer assemble, distribute or market VWs in Australia, and the company would be dissolved. Instead, a new company called Motor Producers Limited, fully owned by VW Germany, is created solely to control and run the Clayton plant. They have the ability to contract assembly work at the Clayton factory to other makers as well as VW. In this way, the large factory can be more fully utilised, and make some money again. Soon Datsun and Volvo cars, and Mercedes trucks, are being assembled at Clayton alongside Beetles, Kombis and Type 3s.
The VW distribution and sales rights for the whole of Australia are awarded to Sydney's LNC Industries, together with 100% ownership of Volkswagen (Distribution) Ltd, and Volkswagen (Services) Ltd. Another former division, Volkswagen Acceptance Corporation Ltd, is liquidated. LNC Industries sets up a new subsidiary called Volkswagen Australia Ltd in October to handle these businesses. This was a most unusual instance of the Volkswagenwerk allowing an independent company to officially register the 'Volkswagen' name.
Doug Donaldson, the former Lanock Motors salesman and later boss, and current LNC manager and board member, is appointed the LNC Industries Managing Director on the retirement of William R Locke (co-founder of Lanock Motors in 1954). Doug Donaldson assembles a new Volkswagen management team - Dick Higgins (General); Bob Bessemer (Marketing); Terry McGovern (Parts); Juergen Seil (Service) and Gordon Bingham (Advertising). This group, with the later addition of Norm Newbon, would stay together at LNC Industries for another 18 years.
LNC's new Volkswagen Australia Ltd head office is set up at the Lanock Motors sales premises on William St in Sydney, with an additional temporary office set up on the Pacific Hwy at St Leonards. Many former VWA staff transfer up to LNC in Sydney, thus preserving their long service leave and superannuation entitlements. LNC buys a 4-hectare block of vacant land at North Ryde for a new national head office.
By the end of 1968, the huge reorganisation has cost the former VW Australasia Ltd, and its new identity Motor Producers Ltd, a loss of some $4.4 million. VW has also fallen behind Austin in local car sales and now sits seventh.
14,957 Volkswagens are sold – 4,097 VW 1300s, 4,350 VW 1500s, 2,308 VW 1600s, 2 Karmann Ghias and 4,020 Transporters.

1969
Work begins on the building of the new 10,000 sq. metre Volkswagen headquarters and central parts warehouse on Waterloo Rd at North Ryde, opposite the Skyline Drive-In. NSW Premier, Sir Robert Askin, duly officially opens the completed building on 5th September. The previous national Volkswagen spare parts store at Clayton is moved up to Sydney, needing nearly 80 semi-trailer loads to complete. To handle all data processing for the group, an IBM System/360/25 mainframe computer is installed in the administration office, one of the first of the new budget Model 25 IBM machines in Australia (smaller than the big Model 65s bought by government departments and universities).
In order to meet the 'SV Plan' rules and maximise tax concessions, the local content of the German CKD packs at Clayton climbs back up to around 60%, with items like batteries, tyres, glass, rubber, glue, fasteners, paint, electrics, upholstery and trim all made in Australia. Motor Producers Limited completes its reorganisation of the former Volkswagen Australasia business, and the Clayton plant, and the company makes its first profit, $259,900.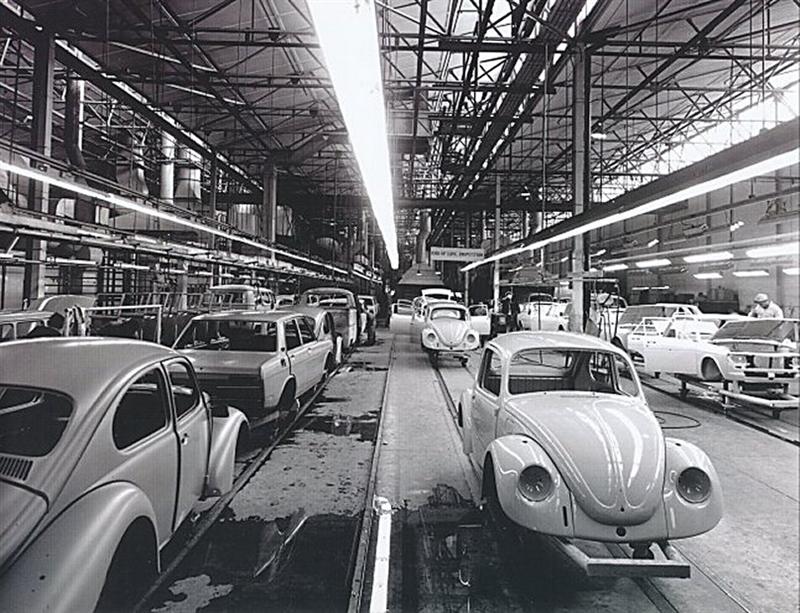 The CKD-assembled Beetle has detail changes like a glovebox-mounted bonnet release and new heater outlets, and a new range of Australian Datsun and Volvo paint colours. The locally assembled manual stays with swing-axles, not double-joint axles like US-spec cars. The Type 3 gains a fully automatic option on all three body styles, making Volkswagen the last of the major car markers to offer a fully automatic transmission. All Australian-sold VWs are fitted with 4-way emergency flashers. The locally assembled manual 1500 Beetle retails for $1,999, and the imported semi-auto at $2,390.
LNC imports several 1.7-litre 4-door VW 411s (some sedans and a wagon) for local testing and market evaluation. They are driven thoroughly through the cities and the outback (even to Ayres Rock), and are praised by the local motoring magazines. But LNC decides that at an estimated $2,600 (about the same as a Ford Falcon 500 or Holden Kingswood), they would be too expensive to be sold in Australia. The Type 4 is never released here. Likewise, similar proposals to sell the VW-Porsche 914 in Australia from December - the 'Volksporsche' as the press call it - also come to nothing. Even the Porsche distributors, Hamiltons of Melbourne, are unable to release the 914 in Australia.
LNC does, however, manage to introduce two new luxury 'Volkswagens' to Australia - the NSU Ro80, which is sold through LNC's Eurocars dealership subsidiary, and the Audi 100, sold through LNC's Lanock Motors and the rest of the VW dealerships. The Audi 100 joins the existing Audi 80/90 models.
Volkswagen returns to the Bathurst 500 race (now called the Hardie-Ferodo 500) when privateers Garry Campbell and Gerry Murphy enter a solitary VW 1600 Type 3 sedan in the $1801-$2100 Class B. The Type 3 qualifies 58th of 63 cars and completes the race (106 laps) but is totally outclassed by the relatively potent Datsun 1600s that sweep the first five places in class. The VW finishes seventh, behind a Ford Cortina, and 32nd outright. The overall winner was Colin Bond in a Monaro GTS350, followed by Bruce McPhee in an XW GTHO Falcon. This was the last time an air-cooled Volkswagen raced at Bathurst.
The Walt Disney film 'The Love Bug' debuts in Australia, just in time for the Christmas school holidays. In Sydney it debuts at the luxury 1920s St James theatre in Elizabeth St (demolished for an office block in 1971). An opening night showing at the MGM Metro Twin Drive-In at Chullora in Sydney attracts 400 Volkswagens, completely filling the south field. (The Chullora drive-in later closed in 1978 and is now the Marketplace Big W shopping centre). The Love Bug is also shown at the Roselands shopping centre 'Theatre Beautiful', with a new white 1969 Beetle painted like Herbie placed in the foyer, courtesy of the Hurstville VW dealer Dick Swanton Pty Ltd. Grace Bros store at Roselands organises a 'Decorate Your Love Bug Day, with a chance to win a new VW and five $100 consolation prizes; over 50 VW owners show off their cars. Motorways' VW dealer at St Peters also displays a Herbie replica in their showroom, as do other VW dealers such as Youngs Motors at Collaroy, Bill Ward Motors at Penrith, and Freshwater Motors at Manly.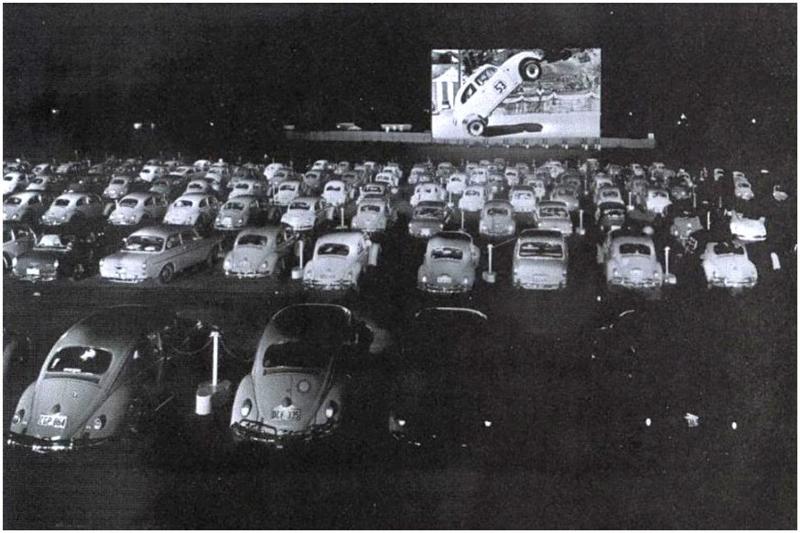 VW sales remain steady, with increasing sales of commercial vehicles to the defence forces and government departments such as the PMG. However, booming Datsun, Mazda and Hillman sales see those makes overtake Volkswagen, and they fall back to tenth place on the local car market.
14,267 Volkswagens are sold – 72 VW 1300s, 6,417 VW 1500s, 2,414 VW 1600s and 5,364 Transporters.