1980 - 1984
Australian Volkswagen History

1980
Prices of Volkswagens continue to rise to unrealistic levels, killing off sales. LNC Industries blame import quotas and the $A-Deutschmark exchange rate, but somehow BMWs and Mercedes are unaffected. LNC continues to wind down its Volkswagen franchise and concentrate on their big-selling Subaru and Honda subsidiaries.
Lanock Motors remains profitable, but only by their booming sales of Subaru, Honda and Fiat, which offset the terminal decline in VW sales. VWs are now just a minor sideline as new sales slow to a trickle, although strong sales of VW spare parts continue and remain profitable.
The last Total Oil Economy Run, the four-day fuel consumption test between Sydney and Melbourne, is run. 42 cars of all makes and models are entered in the CAMS-sanctioned event. Larry Perkins is in an Alfetta; Barry Ferguson in a Gemini; and John Leffler now in a Jaguar XJ6. LNC Industries enters examples of their franchise cars - Fiats, Hondas and Subarus. They also enter one Golf Diesel (driven by Chris Heyer and Phil Scott), and one Passat Diesel (Fred and Christine Gibson). The two Volkswagens dominate, finishing 1-2 with the Golf (4.8 L/100 km) and Passat (4.9 L/100 km). This was the third straight win for the Golf Diesel. The best petrol result was a Daihatsu Charade, 5.4 L/100 km. The Federal Government soon introduces 'bench testing' for makers' official fuel consumption, so the Total Oil event is never run again.
The petrol-engined Golf GLS, both the 3-door and 5-door, are discontinued. The only Golf available in Australia now is the 5-door Diesel GLS, retailing from $9,900.
The petrol Passat GLS sedan and wagon is also discontinued, leaving only the Diesel Passat 4-door to continue (from $12,890). This leaves VWA with no petrol-powered cars for sale at all. Only LNC's Audi franchise has petrol cars – the 5E from $16,445 up to $22,995 for the 5E-CD.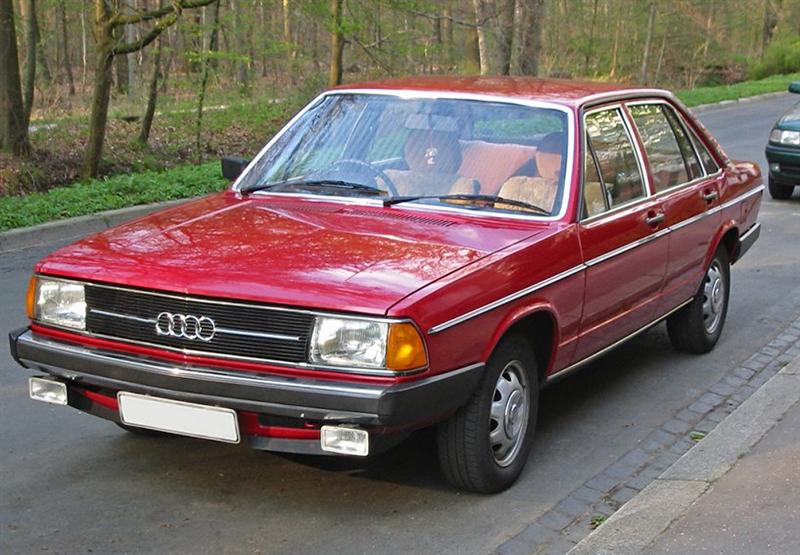 Chris Heyer and Peter Lander race the Lennox Motors Golf GTI at the Hardie-Ferodo 1000 for the last time. In the race featuring the famous Dick Johnson rock, the Golf qualified fastest in the under 1600cc class but sadly bows out on lap 63 with a broken differential. It had earlier made the TV coverage by catching fire in pit lane during a refuelling stop. It is the last time that a Volkswagen raced in the Bathurst classic (as it is now Holden/Ford V8 Supercars only), although Chris Heyer would continue on with an Audi 5+5 from 1982 to 1985.
LNC decides not to import the new T3 Transporter, as large stocks of 1979 T2 models still exist in storage yards and dealers. Trickle sales of the obsolete Kombi continue, at prices twice that of the Japanese opposition. VW's sales decline continues, dropping by 61.6% and below 1,000 annual vehicles for the first time ever. FCAI's sales statistics no longer record 'Volkswagen' as a separate marque – they are simply included in the 'Others' total.
987 Volkswagens are sold – 551 Golfs, 271 Passats and 165 Transporters.

1981
Volkswagen sales decline even further, while LNC tries (unsuccessfully) to lobby the Federal Government to introduce price incentives for diesel-powered cars. The $A-DM exchange rate improves; yet local VW prices continue to rise. The Golf Diesel is now $10,600, compared with $5,900 for a Holden Gemini diesel.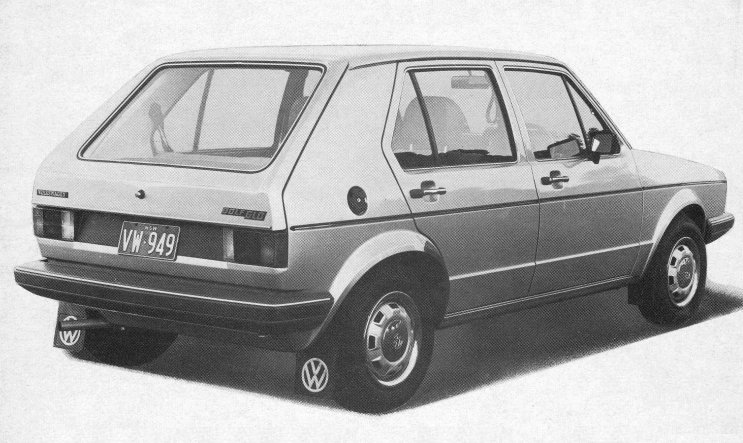 Imports of the Golf GLD end halfway through the year, and the model is discontinued. The Passat GLD sedan and wagon are the only new VWs available, at Statesman/Fairlane prices, but they too are discontinued at the end of the year. The last old-stock T2 Transporter is sold. VW's Australian sales are just 3% of what they had been five years earlier.
LNC Industries executives travel to Germany to meet with Volkswagen about the future of the brand in Australia. The Volkswagenwerk can tailor vehicles for specific markets (such as Australia with its own unique 'design rules' requirements), but LNC refuses to meet the extra costs of a production run of Australian-spec cars, for a turnover of just few hundred sales a year. Therefore no VW car models (petrol or diesel) are deemed possible, but it is agreed to import the T3 Transporter (that doesn't need to meet the same 'car' regulations). A batch of 2,000 Australian-homologated Transporters is ordered, enough to last two years.
Together with securing the Audi 100 (still sold locally as the 'Audi 5E') and the 200 Turbo, LNC also orders a special Australia-only version of the Audi 80. This model differs from the usual 1.6 or 1.8 fours on the Euro Audi 80 by instead adding the 2.1-litre five from the Audi 100. It will be sold in Australia as the 'Audi 5+5'. LNC sees greater profit potential in these expensive Audis.
LNC brings a new T3 Transporter demonstrator to the Sydney Motor Show in October, but the orange example is parked outside with its rear to the kerb, not with the sole Passat GLD on the small VW stand in the old showbag hall.
A branch of the successful Campmobile rental business is established at Lanock Motors' Wollongong branch. However Lanocks close their Sydney branches at Killara, Bondi Beach, Waitara and Maroubra, reducing their number of Sydney branches to just two - Camperdown and St Leonards. Several other long-time Sydney VW dealers also close, including Cloughs at Bankstown, The House of David at North Ryde, Kinsley Pty Ltd at Drummoyne, Hibiscus Motors at Caringbah, Lennox Motors at Parramatta, and Whittaker Motors at Penrith.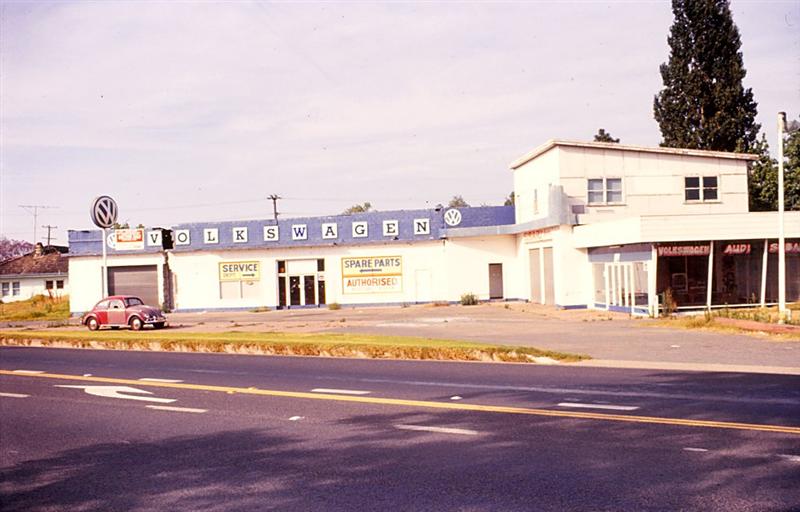 Chris Heyer and Peter Lander attempt to enter the Lennox Motors Golf GTI in the Bathurst 1000 for the sixth time, but they do not qualify. The Golf is retired, and is sold to VW enthusiast Anthony Healey who races it at club level for several years. It is now under the care of Stephen Muller (Kombi Rescue, Annangrove). He has restored it and continues to occasionally race it today at VW club events such as the VW Nationals Supersprint at Wakefield Park.
442 Volkswagens are sold – 96 Golfs, 287 Passats and 59 Transporters.

1982
The T3 Transporter is released for sale, in Kombi and Microbus versions, with hydraulic fuel-injected 51 kW 2.0-litre air-cooled engines, and manual or auto trans. Prices range from $10,995 to $14,995, 50% more than the Japanese competition. Modern Motor magazine praises the T3 in its test and notes its superiority (and price) – "Move over Japan, the King is back – but he's expensive." LNC's VW spokesman Dick Higgins says that VW, "can no longer expect to dominate this sector of the market" – something of an understatement.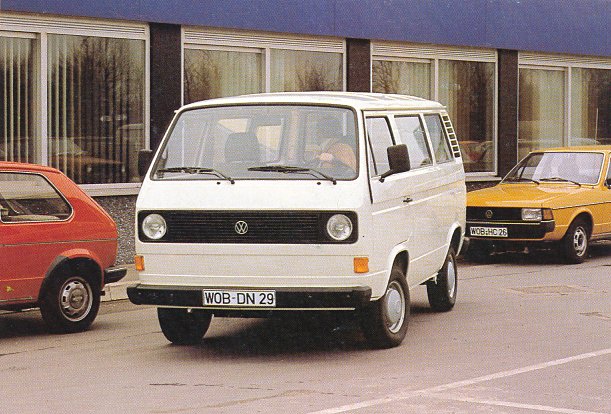 The last stocks of 1981 Golf GLD and Passat GLDs are sold, ending the sales of all Volkswagen passenger cars in Australia. The new T3 Transporter becomes the only Volkswagen available for sale in Australia.
Volkswagen Australia's Public Relations Manager Peter Sturrock issues a press release celebrating the 20 millionth Volkswagen (a Golf GTD) to be manufactured at the Wolfsburg factory since 1945. 10.8 million of them have been Beetles, and 3.7 million Golfs. Of the 3,500 cars built at Wolfsburg each day, 2,300 are Golfs; 400 are Jettas and 800 are Polo/Derbys. The press release doesn't mention that none of them are now sold in Australia.
LNC is importing the Audi 5+5, 5E and 200 Turbo. The 5+5 is initially quite popular, with its shapely Giugiaro body and 2.1-litre five-cylinder engine with a sound reminiscent of the brilliant Audi Quattro rally cars that won the 1982 World Rally Championship (but were never sold in Australia). The 5+5 gets excellent press reviews, and more good publicity when Chris Heyer and Peter Lander finish 5th in class and 16th overall (139 laps) at the Hardie Ferodo 1000 at Bathurst. Audi would later release a European market version of the 5+5 in 1984, called the Audi 90. But local sales of the Audi 5+5 quickly dry up when LNC jacks the price up several times in a short period.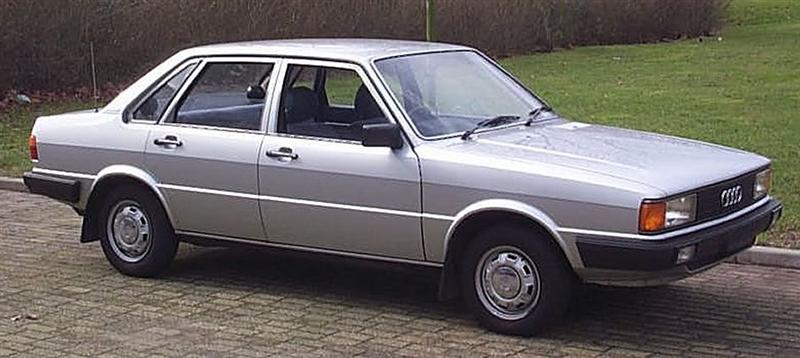 The modern VW enthusiast scene is emerging in the USA and Europe, with big VW shows and specialist VW magazines and traders and lots of beautifully restored classic and custom VWs. In Australia the small VW owners' clubs are still focused on 'Group 7' rallies and various dirt competition events, with their membership long open to all makes. Other brands of car, especially Japanese, dominate VW club events such as the long running interstate motorkhana between the NSW and VIC VW clubs held in Young, NSW. Only two cut-down VW 'specials' take part in a field of Minis, Renaults and Japanese cars.
Recognising the emerging trend, the VW club of South Australia organises the 'Day of the Volkswagen' in Adelaide, the first Australian show'n'shine event for VWs only, with no dirt racing and no Japanese cars. The idea is soon picked up by the VW Club of Victoria, who organise their own 'Day of the Volkswagen' at Eltham Lower Park in Melbourne.
518 Volkswagens are sold – 3 Golfs, 80 Passats and 435 Transporters.

1983
The now greatly diverse LNC Industries group (owners of over 25 companies and franchises) comes under a stock market raid when the wealthy Melbourne-based Liberman Investment group and their subsidiary JGL Investments, begins buying up their shares.
The VW Transporter range is expanded slightly with the arrival of the up-spec Microbus Deluxe and the luxurious Caravelle, joining the existing Kombi and Microbus. All four are mechanically identical. The basic Kombi is now $12,280; the basic Microbus is $15,250; the Microbus Deluxe is $16,550 and the Caravelle is $18,250. By comparison, the Toyota Tarago starts at $9,990 and tops out at only $14,950.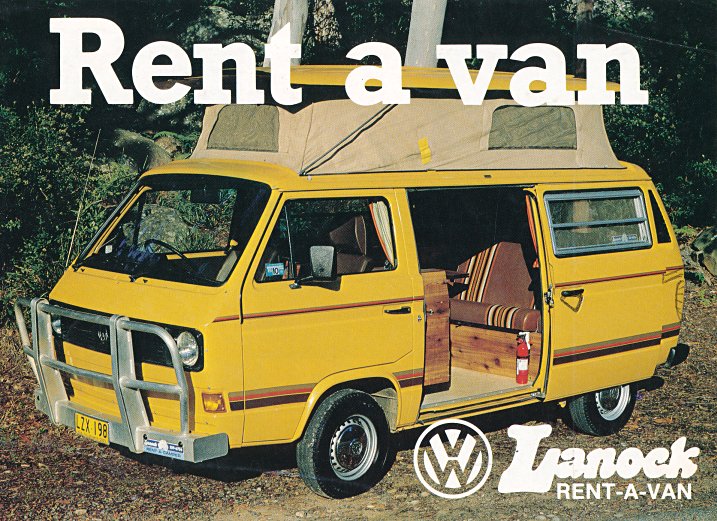 The Audi 200T passes $30,000, the first VW vehicle to pass that milestone in Australia. LNC announces plans to bring in more luxury Audis – with their higher profit margins – but no other new VW models are announced except for the new water-cooled Transporter and Caravelle, which will appear next year.
Suggestions are made to organise a similar Volkswagen-only 'Day of the VW' in Sydney, but the VW Club of NSW decides that it would not work, and would discriminate against most of their members - who do not own VWs. They reject the idea and decide to continue focusing on 'all-makes' dirt motorsport.
The 14th 'Bug-In' is held in NSW, involving a dirt motorkhana at Plumpton in western Sydney. The event involves 22 drivers from NSW, 12 from VIC, 4 from QLD and 2 from SA in a field of Datsuns, Mazdas, Toyotas and Minis. Only three Beetles take part, indicating that this 1960s-style event was now obsolete as a 'Volkswagen' event. It was not what the 'new-era' VW enthusiast was after – the modern US-style 'VW Classic' show, with old VWs preserved, restored and displayed, not bashed in the dirt.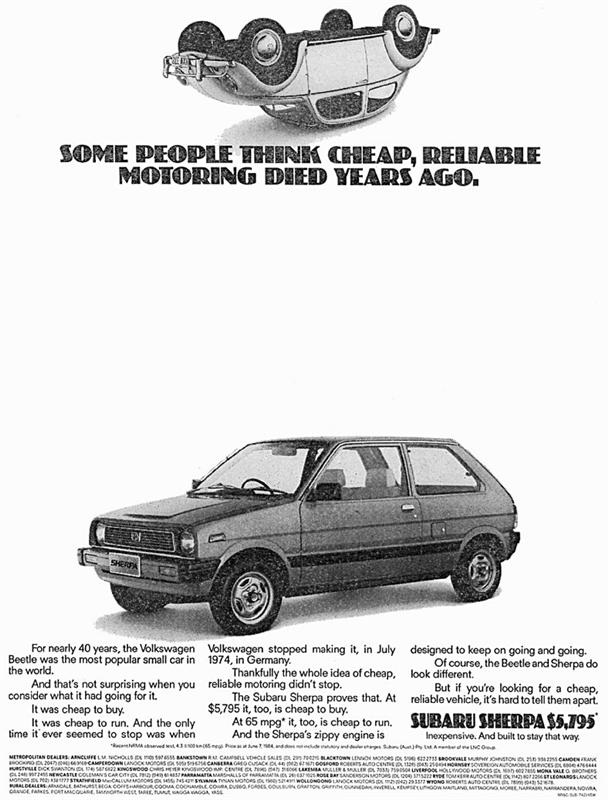 LNC Industries advertises their Subaru Sherpa with an upside-down '60s Beetle, saying "Some people think cheap reliable motoring died years ago," when "Volkswagen stopped making it (the Beetle) in Germany in 1974." Annoyed VW enthusiasts write to inform LNC Chairman Doug Donaldson that German Beetle production (at Emden) actually ended in 1978, while Karmann Beetle Cabriolets ended at Osnabrück in 1980. He dismisses these facts, stating that "according to the VW history book, Beetle production ended in Wolfsburg in 1974." Further correspondence about the Emden factory together with 1978 newspaper clippings gets no reply, but the Sherpa ad is withdrawn.
179 Volkswagens are sold – 179 Transporters.

1984
The wealthy Liberman family and their private investment company takes complete ownership of LNC Industries, and begins breaking it up by selling off profitable subsidiaries, franchises and property.
The first Australian 'chop-top' Beetle conversions appear. The craze is started by TV star Norman Yemm (famous for playing Norm Baker in The Sullivans) and his business partner Barry Jan, who set up a business in South Yarra called 'Rent A Love Bug'. They quickly expand into franchises in Sydney's Double Bay and the QLD Gold Coast, with a fleet of nearly 100 chop top convertibles in all colours – but the favourite is hot pink. 1968-'71 1500 Beetles are the most popular donor vehicles. A similar company, 'Rent A Bug' in Sydney's Croydon, soon has its own fleet of topless and Hebmuller-style 'roadster' chopped Beetles. In no time there is a veritable army of backyard chop shops cutting the roofs off Beetles and selling the shoddy results to naïve, fashion-driven buyers at great profit. The craze results in many hundreds of otherwise good Beetles being ruined over the next few years, greatly reducing the number of surviving VWs on our roads.
One of the first of the new 'wasserboxer' flat-four engines is displayed at the Powertune stand at the Knox Motor Club Show, in the Macquarie shopping centre in Sydney. Owner Adrian Corvisy has imported them as crate motors to investigate modifying and fitting to older VWs. He and his Gladesville-based Powertune VW tuning business are famous for their high-performance '2200 Stage 5' conversion, with a 390% power increase over the standard VW.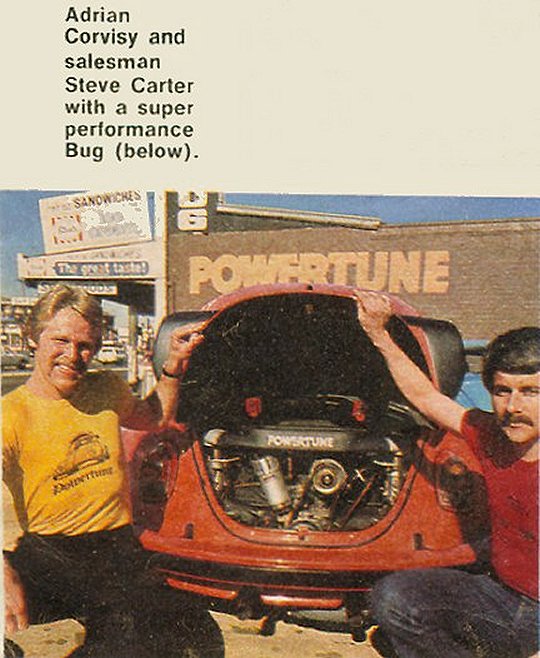 The NSW VW Club also has a stand at the Knox show, featuring a cut-down VW dirt 'special' sitting in sand and a wall of motorkhana photos under the slogan, 'Do It In The Dirt'. Many disappointed potential new members wonder where the restored classic, street and Cal-look VWs are.
LNC Industries issues a press release announcing that 1985 would "blow the storm clouds away, because the mighty Golf is set for a triumphant return to Australia." It was proposed that the new Golf 2 GTI was going to be released for sale; our GTI would not need much change from the RHD Japanese spec. However, with LNC's corporate problems this doesn't eventuate. Australians would have to wait until 1990 to buy the Golf 2.
The first modern VW show in NSW is held at Valla Park, near Nambucca Heads, featuring hundreds of shiny VWs in a street parade and show n shine event. The 'VW Spectacular' is organised by Nambucca locals Mark and Donna Pell with help from new VW enthusiasts on the NSW north coast. This becomes a much loved annual (and later bi-annual) VW show.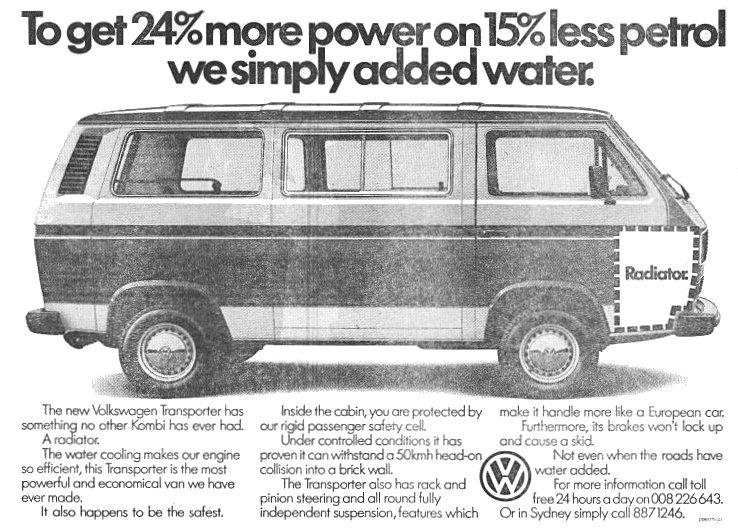 The Transporter is updated to the new 1915cc 63 kW 'wasserboxer' water-cooled flat four engine, replacing the ancient Type 4-based air-cooled engine. A 5-speed manual gearbox is available for the first time. The nose gets a second, lower grille for the radiator. The Australian range is rationalised, with the Microbus versions no longer available. The only available models are the basic Kombi ($13,495); the Caravelle CL ($17,195) and the luxury Caravelle GL ($18,295).
262 Volkswagens are sold – 262 Transporters.