1955 - 1959
Australian Volkswagen History

1955
Regent Motors form a new company, Volkswagen (Australia) Pty Ltd, to oversee all Australian operations. Their head office is set up at 67 Queens Rd Melbourne SC2 (in the days before postcodes). They also create a subdivision called Volkswagen Distributors Pty Ltd. They introduce a uniquely Australian logo – the white VW symbol inside a dark blue square, flanked by two kangaroos. The first Transporter CKD kits are imported and assembled by Martin and King, in addition to the Beetle CKD kits already being built.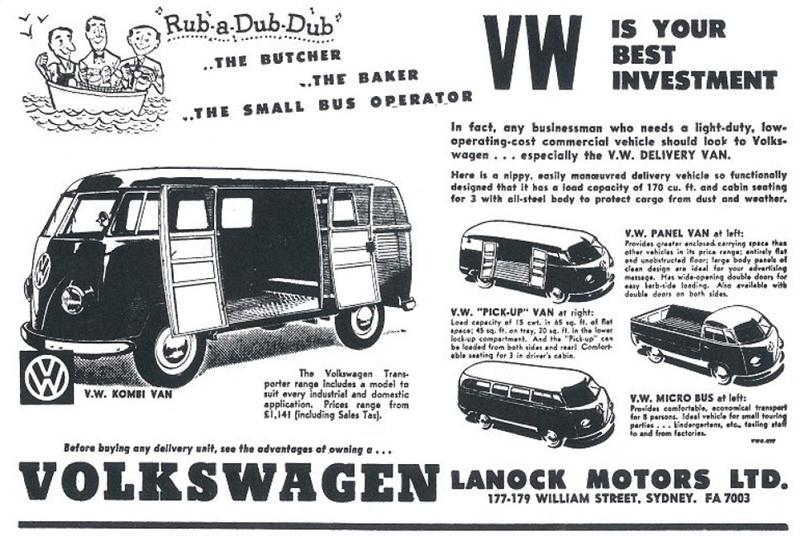 The Australian–assembled German CKD kits are already being mixed with local 'general' components, such as tyres, glass, batteries and paint. The company begins sourcing additional local suppliers for upholstery, wiring, rubber, nuts and bolts, hopeful of eventually having some component parts made locally.
Lanock Motors sets up the first VW Mechanics Training School at their new Five Dock premises on Parramatta Rd in Sydney, which is also now the NSW VW distribution yard. A German named Uorich Jakubassa supervised the operation and signed the graduation certificates, but the instructor was Bruce Butler from Lanock Motors Camperdown. Lanock Motors has also swapped their old Rushcutters Bay yard to Grenville Motors Rover, and taken over Grenville's giant Camperdown 'Carsell Park' premises as the VW Commercial Vehicles headquarters and service centre. These Camperdown premises had once been a large pottery and ceramics factory in the pre-war years.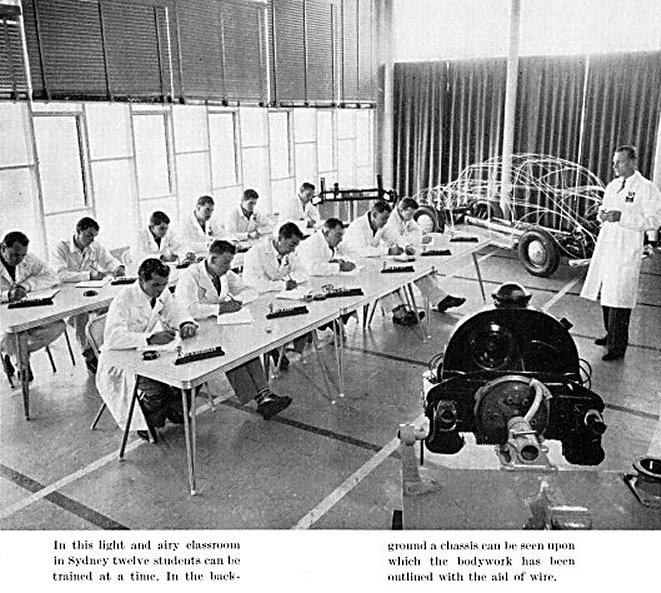 Sixteen VWs are entered in the 16,900 km Redex Trial, the second-most popular make after the Holden. It's a disorganised and acrimonious trial, with several last-minute route changes, random inspections and points penalised and restored. A bad redirection sees the field flounder in a farmer's mud bog at Wee Jasper, only 300 km from the finish. Redex posts their winners but teams protest and re-protest and CAMS overturns them. Redex objects, and the RAC in London becomes involved. Finally, after three months of arguments over whether cracks in the VWs' floor (from hitting rocks) are 'structural' or not, the RAC eventually announces that the Regent Motors VW of Laurie Whitehead / Bob Foreman is the winner, with another VW driven by Eddie Perkins / Lance Perkins in second. These two VWs had actually led for three quarters of the trial, so it was the right result. VWs also finish 15th, 30th, 31st and 32nd. This was to be the last Redex Trial.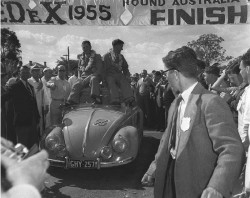 Volkswagen achieves its first circuit racing victory in Australia when Eddie Perkins wins an event in a Beetle at the old Altona circuit (circumnavigating Cherry Lake) in southwestern Melbourne. This circuit only operated from 1953 to 1956 and is now a nature reserve. Eddie's brother-in-law George Reynolds soon joined him in circuit racing VWs, both men racing Beetles for years afterwards.
After an invitation letter arrives from the VW Club of VIC, staff of Lanock Motors at William St form a similar club for local VW owners, the VW Club of NSW. Their first meetings are held at the 'club rooms' at 333A George St, near Wynyard station. Some of the founding members are Lanock Motors Sales Manager Doug Donaldson (later club patron), and VW racers Theo Borrer, Greg Cusack and Bernie Haenhle. Similar VW owners clubs are also established in South Australia and Western Australia. These early VW clubs are focused on basic dirt motor sport – motorkhanas, rallies, gymkhanas, khanacrosses and mud scrambles.
VW sales more than triple, and VW overtakes five other makes to move up to 8th place on the car market behind Hillman.
7,313 Volkswagens are sold – 5,800 VW 1200s and 1,513 Transporters.

1956
The Menzies Government continues to protect the local car industry by adding a new 30% tax hike on fully imported vehicles. Total car sales slump by 20%. Overseas-built cars like the Citroen 2CV, Fiat 1100 and 1400, Hillman convertible, Riley 1½ litre, Isetta and Jaguar Mk7 are discontinued. Regent Motors and LNC Industries realise that their German-made VW kit assembly is also vulnerable to future tax hikes, so they accelerate plans to add as many Australian-made parts as possible. Plans to show the fully German-made VW Rometsch roadster and hardtop at the Sydney Motor Show are cancelled.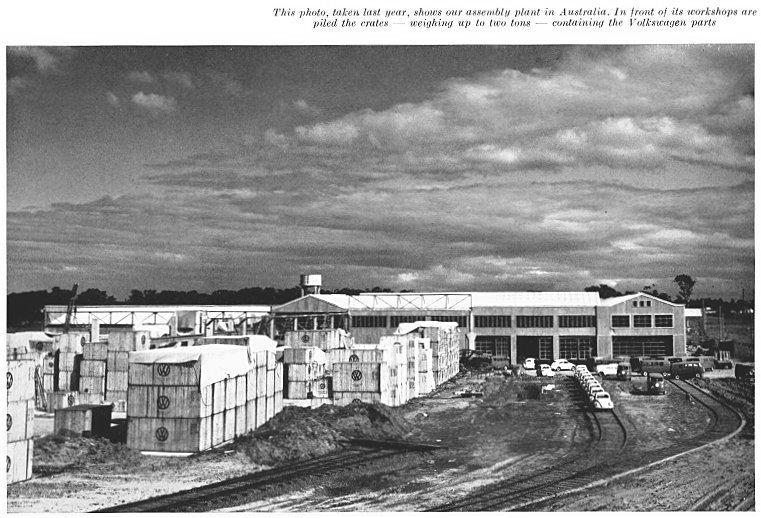 The first Australian-made VW-specific components are added to the CKD assembly of Beetles and Transporters, in VWA's anti-tax program to replace German-made parts wherever possible. German companies Bosch, VDO and Hella all set up facilities in Melbourne to supply components. Bosch's Australian headquarters couldn't be closer - right across the road (Centre Rd) from the Martin and King VW assembly shop in Clayton.
Improvements to the Beetle appear in March. Raised taillights and twin exhaust pipes. Front luggage space is increased by changing the design of the fuel tank. Seat adjusters added. Heater knob moved forward. Bright new Australian paint colour choices and new interior trim are introduced.
With no more Redex Trials, two new Trials sponsors emerge – petrol companies Vacuum (Mobilgas) and Ampol. CAMS back Mobilgas but not Ampol, but in spite of legal wrangling both trials go ahead. Nine VWs are entered in the 10,400 km Ampol Trial, with six finishing the event. The Trial is won by the Wilf Murrell / Allan Taylor Peugeot 403 (258 points lost), but the Volkswagen of Max Goldsmith / Bob James finishes a close second (395 points lost), followed by a Holden. The VW of Jack Letchford / Arthur Glasson is equal 4th with a Vanguard, and the other VWs finish 9th, 22nd, 28th and 30th. Volkswagen wins the Teams Prize. The Trial is darkened by the deaths of Les Slaughter and Bill Mayes (MG-TF) in a crash near Grafton. CAMS threaten to sue and ban the 'rebel' Ampol drivers.
22 VWs are entered in the 13,600 km Mobilgas Round Australia Trial, the most popular choice of car in the trial. 83 cars start from Parramatta Park, with just 27 finishing (12 of them Volkswagens). After taking the front at Mt Isa, the Volkswagen of Eddie / Lance Perkins leads all the rest of the way and wins the event. The Perkins brothers had been second in the Redex Trial the previous year. Second is the FC Holden of Jack Masling, while the Volkswagen of Bob Foreman finishes in third. Other VWs are 4th, 6th, 9th, 10th, 11th, 14-17th and 26th. Volkswagen wins the Teams Prize. Eddie Perkins wins £5,750 prize money and the chance to compete in the Monte Carlo rally in Europe (which he did the following year, but his Porsche 356 retired).
VW's trials success boosts local appreciation of the Volkswagen brand, and sales boom by 58.7%. VW overtakes Standard, Vauxhall and Hillman to move up to 5th place on the Australian car market.
12,239 Volkswagens are sold – 9,207 VW 1200s and 3,032 Transporters.

1957
Australian-made content of CKD-assembled Beetles reaches 51%. The head of the Volkswagenwerk, Heinz Nordhoff, visits Australia and together with Baron von Oertzen (now boss of VW Southern Hemisphere), inspects the busy Martin and King assembly workshop in Clayton. The decision is made to commence full Australian manufacturing and create a major Volkswagen 'hub' in Australia, joining similar VW operations in South Africa and Brazil.
A new company, Volkswagen (Australasia) Pty Ltd, is formed with £10 million capital, 51% owned by VW Germany and the remaining 49% shared by Regent Motors, LNC Industries and Clyde Industries. The new company will be responsible for the making, and distributing, of Volkswagen vehicles and parts throughout Australia and the South Pacific. VW boss Heinz Nordhoff is Chairman of the Board, and the business manager is Allan V. Gray. The board includes Lionel Spencer (Regent Motors), William Locke (LNC Industries) and Baron von Oertzen. Gottfried Lange, formerly of VW of America, is the 'contact man' between the Wolfsburg headquarters and Volkswagen (Australasia).
The vehicle assemblers Martin and King Pty Ltd, and their Clayton land holdings and factory, is purchased outright from the former owners, Clyde Industries. The remaining railway business is moved to Port Melbourne, where Martin and King (Railways) would continue to make stainless steel railcars for the Melbourne Met into the 1990s.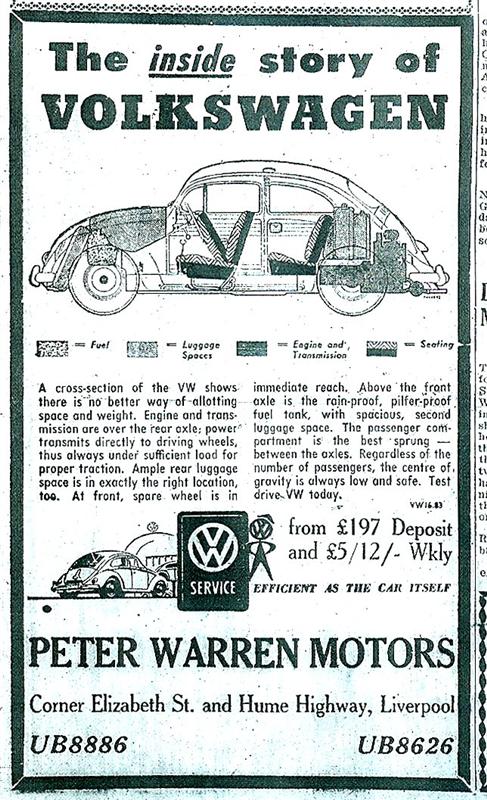 Early model VWs only had minor changes such as adjustable striker plates, a taller diff and modified heater outlets. These were the last 'oval window' cars. In late 1957 the new larger rear window body is introduced, together with smaller rear intake grill, and a larger windscreen with narrow pillars. A new dashboard with much bigger glove box and a flat accelerator pedal was added.
Both the Ampol and Mobilgas Trials go ahead again, in spite of CAMS' legal threats against the Ampol participants. Interest was keen in the 'non-official' 11,200 km Ampol Trial, which again started and finished at Bondi Beach (and didn't go into Western Australia). 79 cars started, with only 42 finishing. The winner was the Volkswagen of Jack Witter / Doug Stewart, followed by another Volkswagen driven by George Reynolds / Lance Perkins. Another VW (Sheedy / Roberts) was 7th, and yet another VW (Dean / Houstein) was 8th. The media tired of anther 1-2 to Volkswagen and instead the press concentrated on Blanche 'Granny' Brown in her 2-tonne 1927 Rolls Royce (an amazing 5th overall).
Volkswagen then totally dominated the Mobilgas Trial. 86 cars started, and just 52 of them finished the 16,000 km event. 23 of the starters were Volkswagens, and 18 of them completed the trial. VWs finished 1st, 2nd, 3rd, 4th, 5th and 6th in a devastating display of reliability. Laurie Whitehead / Kevin Young were the winners, followed by the VWs of Jack Vaughan (2nd); John Hall (3rd); Eddie Perkins (4th); Bob Foreman (5th) and Greg Cusack (6th), all experienced Volkswagen trials drivers. Volkswagen also won the Teams Prize, and the Class Prize. VW even won the 'New Zealand Special Prize', thanks to VW-driving Kiwis Alma and Gerald McMillan. This was Volkswagen's greatest-ever domination of a 'round-Australia' trial, but the press and public were quickly losing interest.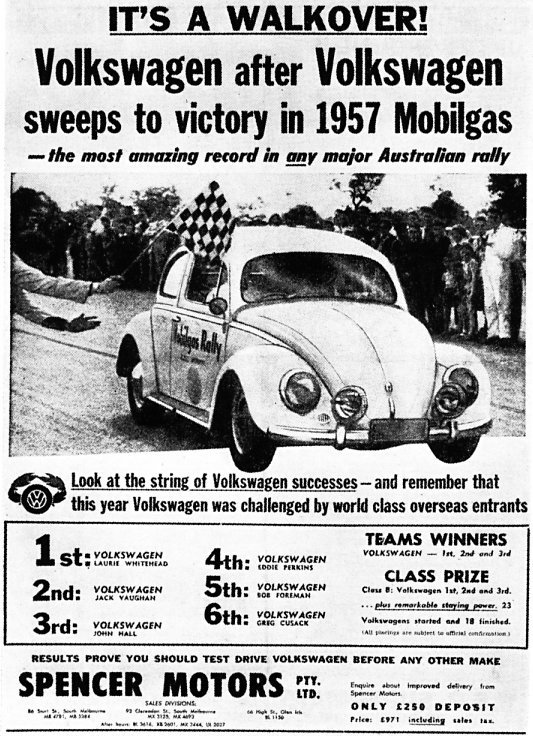 VW sales consolidate and increase by 12.7%. VW remains in 5th spot on the local market, behind only Holden, Ford, Morris and Austin.
13,456 Volkswagens are sold – 10,379 VW 1200s and 3,077 Transporters.

1958
Work begins on a major expansion of the now VW-owned Clayton factory, with a new press hall, paint shop and assembly hall beginning construction. The factory building areas will be increased ten-fold.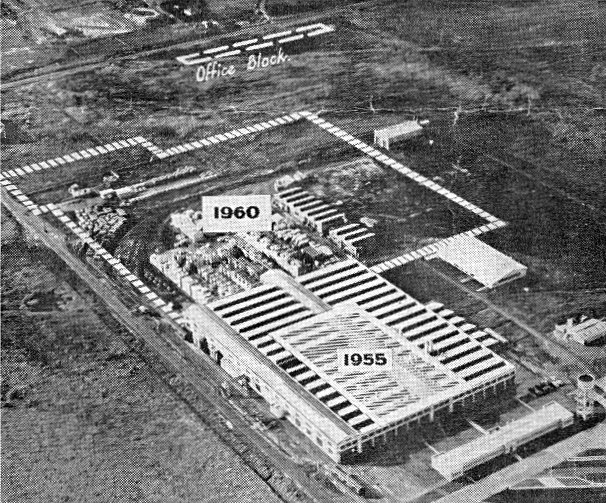 A Fine Measuring Room is constructed, containing a precision master body jig imported from Wolfsburg. This is just the second such jig outside Germany (the first going to South Africa) and takes months of careful assembly and calibration before it is ready. But it will allow unprecedented accuracy of component sizes, production tolerances for the press dies and assembly jigs, and a high quality, reliable fitting of all body parts in production.
The 50,000th Australian VW is sold. A group of Australian State Sales Managers attend a ceremony at the Volkswagenwerk in Wolfsburg, hosted by the VW Export Manager Mr Manuel Hinke. A symbolic flower-laden '50,000th VW for Australia' rolls off the Wolfsburg lines, even though by now more than 98% of Australian-sold VWs are actually made in Melbourne.
Lanock Motors opens their new large dealership and service facilities at St Leonards, joining their existing branches at William St (City), Camperdown and Five Dock. St Leonards also becomes the main VW Spare Parts Bulk Store for NSW. In Melbourne, Spencer Motors open their huge new 'double barn roof' service workshops on Cecil St, South Melbourne.
LNC Industries receives its first shipments of VW Industrial Engines, imported complete from Germany. These are sold through a division called LNC Trading Co Ltd, based at Reynolds St in Balmain. The VW Industrial Engines soon find a wide range of industrial applications, such as mobile power generation; air compressors; timber milling and planing; refrigeration units; welding plants; marine engines; railways trolleys; water pumps and so on.
The Snowy Mountains Authority in Cooma place their first fleet order for VWs, and the air-cooled Beetles and Kombis prove ideal for work in the Australian Alps (once filled with 10W oil). Within a few years the SMA owns a fleet of more than a hundred Beetles and Transporters. Transporters also become popular fleet buys for the Royal Australian Navy and Air Force, the Army, the Red Cross and hundreds of companies around the country – such as Australia's largest electrical appliance retailer, H.G. Palmer Pty Ltd. The Post Master General was the largest VW fleet owner, with more than a thousand distinctive red Transporters (with gold lettering) by the early 1960s.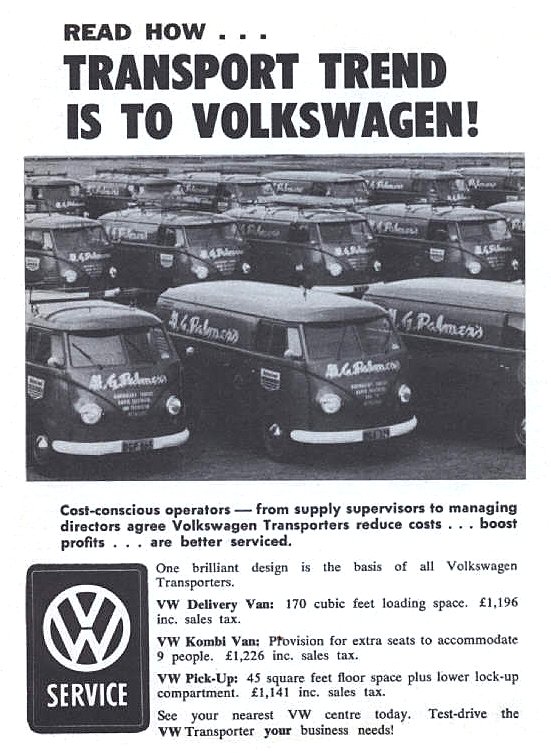 The first Australians win Commendation Day awards at the annual ceremony at the Volkswagenwerk in Wolfsburg. These include Fred Gilham (Western Motors, Perth); Doug Jacobi (VW Distributors Melbourne); Cyril Jones (VW Motors QLD); Thomas Hester (Light Motors, Adelaide); Dieter Theile (Lanock Motors Sydney); and Laurie Whitehead (Laurie Whitehead Pty Ltd, Melbourne).
Again both the Ampol and Mobilgas Trials are run. The Ampol Trial, now recognised by CAMS, uses a new format of special competition stages with transport stages in between, the precursor to today's rally format. Interest is keen. 27 VWs are entered. The winner is the FC Holden of Don Garard and Jim Roberts, with Jack Witter's Volkswagen only 1 point behind in equal second with the Vanguard of Doug Hughes. Jack Witter almost won two in a row! Then came a Ford Zephyr; a Peugeot 403 and a Vanguard. Ray Christie's VW is 7th, George Reynolds' VW is 10th and Ron Smith's VW is 11th. Other VWs finish 18th, 19th, 23rd and 47th.
The old-fashioned Mobilgas 'round Australia' Trial, at 16,250 km the longest yet, is a disappointing anti-climax. Compared with the innovative Ampol format, it is considered 'old hat' by the public. Eddie Perkins' VW was first, Greg Cusack's VW was second, then a Holden, then Stan McGlashan's VW fourth and Harry Smith's VW fifth. Four of the top five cars were Volkswagens. Other VWs were 8th, 9th and 15th. VW also won the Teams Prize. There was some curiosity in novelty foreign entries such as the Japanese Toyopets and Datsun 1000s, but in general public interest in the event had evaporated, and so too sponsorship money. Volkswagen's unbeatable reliability, and dominance, over four years, had killed the event. This was to be the last Mobilgas Trial, and the last full 'Round-Australia' trial until the 'Repco' of 1979.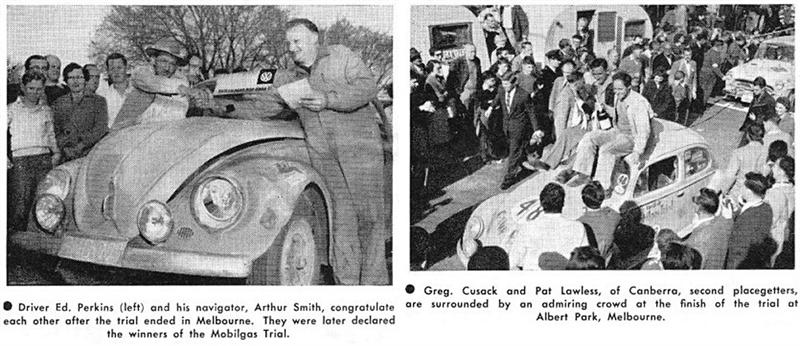 At club level, the first ever 'interstate' VW motorkhana is held, between the Victorian and NSW VW clubs at Tumut. The Victorians emerge the winners, and go on to also defeat the South Australians later at Mt Gambier.
Only detail changes were made to the Beetle and Kombi through the year. Even so, Volkswagen sales grow another 32.5%. VW overtakes both Morris and Austin to move up to third place on the Australian car market, behind only Holden and Ford, and becoming Australia's most popular European brand for the first time.
16,654 Volkswagens are sold – 13,755 VW 1200s and 2,899 Transporters.

1959
The first Australian-made body panels are stamped in the giant new Clayton press shop, flat panels for the Transporter. Chrysler in Adelaide made tooling for the presses at a cost of more than £2 million. Importing of CKD kits ends, with only the required non-Australian parts now separately imported. Full-scale manufacturing begins, at up to 90 cars per day, with VW Australasia aiming towards 75% local content.
An adjoining property at Clayton, owned by Allied Ironfounders Pty Ltd, is purchased. This site, on the other side of Centre Road and facing the Princes Hwy, will be the new VW administration headquarters, central parts warehouse and engine assembly shop. This complex becomes known as 'Plant No. 2'.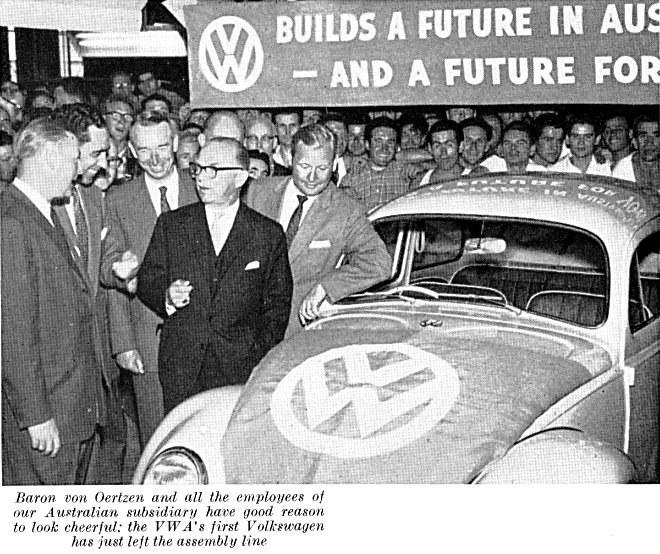 Lanock Motors converts its Five Dock branch from an agency delivery unit to a Volkswagen sales and service centre, compete with VW accessories shop and the existing Training School. A new 16,500 square metre yard is established at 128 Frances St Lidcombe for vehicle distribution and delivery throughout NSW.
The first Australian VW exports are made, when locally made Beetles are shipped to New Zealand. The Kiwis also make plans to locally assemble the VW in Auckland, using a mixture of Australian and German parts.
The first promotional floating VWs are seen. Peter Webster, Stuart Campbell and Norm Manners pilot a modified oval-window Beetle up the Swan River in Perth on the day the new Narrows Bridge opens. Burr Motors in Mildura launch a similar VW on the Murray River. Lanock Motors build their own version named the 'Boatswagen', engineered by Lanock's Service Director Bruce Butler. It was first launched on Kogarah Bay from the ramp at the St George Motor Boat Club, piloted by Reg Goodall and Joe Muller. Later it was motored across Middle Harbour on four occasions, driven in at The Spit by Howard Reese or Reg Goodall, and out again at Clontarf Beach, to huge public reception. These nautical VWs had little modification apart from masking tape and heavy grease on the door rubbers, a 45-cm lift extension of the distributor shaft and exhaust pipes, a snorkel on the carburettor and a propeller running off the engine.
Detail changes early in the year when Vynex straight-lined headliner material is introduced and the floor-strengthening ribs are changed. At the end of the year the dished steering wheel with chrome horn ring and self-cancelling indicators are introduced, together with push-button door handles.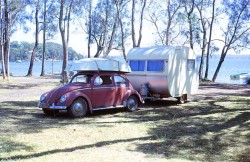 Volkswagen (Australasia) Pty Ltd introduces two new incentives to increase Australian VW sales. One is the company's first-ever nationwide newspaper and radio advertising campaign. The second is the introduction of the 'Value Warranty' promotion, to help VW dealers boost sales of used cars from their lots.
Seven Australians win the 'VW Badge of Honour with Diamonds' at the annual Commendation Day at the Volkswagenwerk in Wolfsburg. These include Bruce Butler (Lanock Motors, Sydney); Afton Galbraith (VW Distributors, Melbourne); Bill Harvey (VW Distributors, Melbourne); John Martin (Annand and Thompson, Mackay); John Newman (Spencer Motors, Melbourne); Arthur Russell (Lanock Motors, Sydney) and John Zupp (Zupp's Motors, Ipswich). Six more Australians win the 'VW Gold Badge' – Harry Callan (Lanock Motors, Sydney); Henry Crawford (Autocars Pty Ltd, Launceston); Neil Greasley (VW Motors, Brisbane); Adrian van Helvoort (Western Motor Co, Perth); Martyn Keely (Spencer Motors, Melbourne); and Bill Page (Page Motors, Northam).
The Karmann Ghia is introduced to Australia as an exclusive, fully imported model. The initial models are left-hand-drive, and are converted to RHD at Clayton (using the same procedure used by VW Great Britain) prior to distribution to dealers.
21,002 Volkswagens are sold – 17,734 VW 1200s, 13 Karmann Ghias and 3,255 Transporters.