VW Nationals 2024
Yes it's on again! This year's VW Nationals will be held on:
Saturday 25th May (VW Cruise)
Sunday 26th May (Car Show)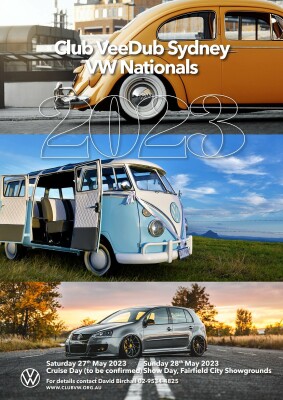 VW Pre-Nationals Cruise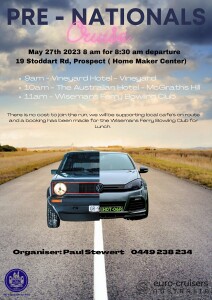 Saturday 25th:- VW Pre-Nationals Cruise, organised by Euro Cruisers Australia. Join us on an enjoyable VW cruise through north-west Sydney! All old and new Volkswagens welcome.
Meet up at Prospect Homemaker Centre, 19 Stoddart Rd, at 8:00 am for an 8:30 departure.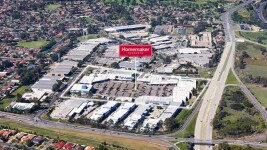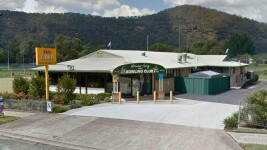 Or meet up with us at any of the following spots along the way:
9am - Vineyard Hotel. 10am - the Australian Hotel McGraths Hill. 11am - Wisemans Ferry Bowlilng Club for the finish and lunch.
Contact Paul Stewart on 0449 238234 for more info.
Where's the VW Track Day?
Due to the very poor response the last time we ran it in 2022 (less than 10 VWs out of 44 cars competing), and the organisation hassles and high costs involved, we are not running a VW Nationals track day this year.
If YOU would like to organise a VW Track Day on a future date, we would love to support it. Please get in touch with us.
Show n Shine
The Show and Shine will be on Sunday 26th May at Fairfield Showgrounds, Smithfield Rd Prairiewood. Australia's biggest Volkswagen show! 45 show categories, Concours class, trade stands, swap meet, new VW display, kids rides, Club shop, German dancing, musical entertainment, great food and drink, VW fun for the family all day.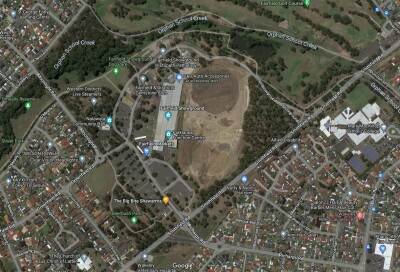 Fairfield Showgrounds:
You enter Fairfield Showgrounds off Smithfield Rd, Prairiewood. It's a good idea to get there early, well before the entry gates open at 7:30.

Car show entrants and swappers should follow the entry road around the back, clockwise around the ground to the car show entry gate at the back. General entry cars park in the outdoor carpark and walk in through the south-western gate.

Car show entries close at 10:30 am, after which the gates close and no further vehicle entry to the show area is permitted.

NO general parking inside the showground unless you are entering the show n shine. However the outer carpark is still a pleasant place to park and there will be lots of extra Volkswagens out there to look at.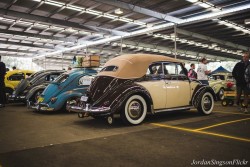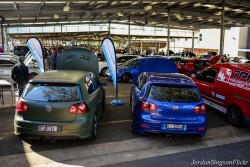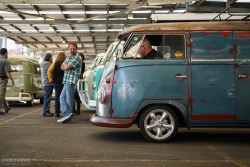 You will be able to tap-and-go on entry, and some traders will also have EFTPOS for purchases. However you'll still need to bring cash to buy from swappers and food/drink sellers.
Note there is NO ATM in the Showgrounds. The nearest is in the 7-Eleven across the road. Make sure you organise to bring enough cash with you on the day.
Fairfield Council advises that NO DOGS are permitted in the showgrounds.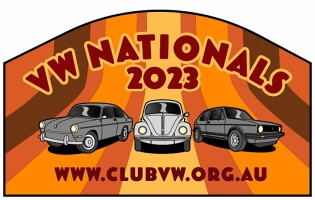 Programme:
7:30 am - General admission, car show and swapmeet entry gates open
7:30 am - 3:00 pm - Car Show assembly & Swapmeet
10:30 am - Car Show Entry Closes (entry gate shut)
11:00am - First Raffle Draw (at the Club VW Stand)
12:00 pm - Major Raffle Draw
12:30 pm - Peer Judging Forms CLOSED
1:00pm - Final Raffle Draw
3:00 pm - Trophy Presentation and multi-media presentation
Entry Fees:
General Admission: $10.00
Children under 16: Free
Show and Shine Entry: $30.00 (includes 1 show entry for the driver, additional entry tickets may be purchased if needed)
Swapmeet sites: $30.00 (includes 1 show entry, additional entry tickets may be purchased on the day if needed)
Sell your Vehicle (inside the grounds): $30.00 (includes 1 entry)

Car Show Instructions:
Those entering their VW in the car show need to fill out and submit their entry form at the entry gate. We will provide them on the day, but you can save a lot of time by printing it off first and filling it in at home. Then just bring it along on the day.

Available here - click on the picture to download the PDF:


Air Cooled Water Cooled

Make sure you know which category your VW should be entered in (the available classes are listed on the entry form); what specific model yours is, and (if required), whether it is STANDARD or MODIFIED. What's the difference? Well, does your VW look and run as it did when it left the factory? Then it's Standard. But if you've hotted it up, customised or changed it, then it's Modified. You can only enter ONE CATEGORY.

All car show entries are automatically entered into People's Choice category, and the two perpetual trophy categories.

If your VW is absolutely perfect, you can choose to enter the Concours category. The Concours category is personally judged by a panel of VW experts. It's open to immaculate stock VWs, 10 years old or more, only (no custom or modified cars).

All other categories are peer-judged. All car show entrants receive a ballot sheet when they enter. They can choose whichever cars they think are best, or their favourites. Choose a car by writing down its entry number from the sticker on the windscreen. You can choose up to 10 different air-cooled, and 10 different water-cooled cars. The computer will tally up all the votes. Don't worry about the categories - the computer will sort them out. Thus, car-show entrants get to choose up to 20 cars of their choice.

When you register your VW at the entry gate (with the form filled out), you will receive an entry number sticker, which goes on your windscreen. You will be directed to drive forward for a photograph, which will be used during the presentation if you win a trophy! After this, move directly to the designated parking area as directed by the Club officials in yellow vests. Areas are set aside for particular models - Beetles together, Kombis together, Golfs together, etc. Lock you car if you aren't staying with it.

General entry people receive a 'people's choice' voting form, which allows them to choose ONE favourite vehicle. These are tallied up along with the peer judging sheets by computer to calculate the overall winners of each category.

Entries to all categories close at 10:30 am sharp. Peer judging forms must be returned to the Club VW stand no later than 12:30 pm. Please place the forms in the big blue box.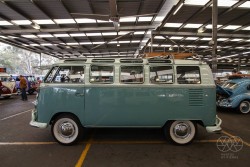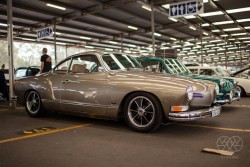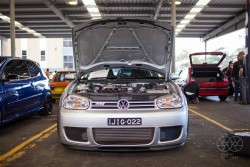 The trophy presentation will be at 3 pm. We will try to make this as quick and efficient as possible. Please don't start up your car and rev your engine to leave while the presentation is still in progress. It normally only takes 45 minutes.
If you would like to have a trade stall, get a sponsor package or have any early questions, please contact the VW Nationals manager Lee Woods via email, or on 0414 952509.
Shine up your lovely air- or water-cooled Volkswagen (or even your Audi, SEAT or Porsche) and we'll see you there!