VW Nationals 2023
2023 VW Nationals
Was für ein Auftritt! (What a show!)
Where to even begin - This year's Volkswagen Nationals had our biggest turn out EVER!!! With over 240 cars, polished to perfection parked inside Fairfield Showgrounds. A huge thankyou to all those who came along!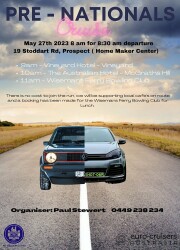 Saturday saw the kick-off of Club Veedub Sydney's 2023 VW Nationals with a cruise, organised by Euro Cruisers, from Prospect HomeMaker Centre to Wisemans Ferry. We had great support from both air-cooled and water-cooled cars. We travelled in convoy, via a short stop at the Vineyard Hotel, enroute to the Wisemans Ferry Bowling Club for lunch. The new lower car park had more than enough space for the 40 odd cars and will be a great location for future events. Again, thank you Paul for pulling this all together!
On Saturday night it was off to Fairfield Showgrounds to set everything up - unpacking trailers full of gear, setting the layout, putting up signs, setting up tables and chairs, hanging banners, getting the office and shop areas organised and all the other work getting the venue ready. Thank you to all the helpers who came along. The beers and pizzas afterwards were well deserved.
Early Sunday it was clear and very cold, as show cars, traders and swappers lined up well before dawn. Our volunteers were there early, some even camping there overnight, and soon suited up with fluoro vests and radios. The club shop and office were ready, the entry gates were manned and opened right on 7:30am, and it was on!
The car show entry is usually the bottleneck, but this year we had plenty of volunteers to make things run smoothly. Clipboards with entry forms and tap-n-go payment were run up the queue, so that most cars had them filled out and paid by the time they reached the entrance. They got their stickers and judging forms, their photos taken, and then directed to their parking areas by more of our volunteers.
The traders and swappers were also in place early, and by 9am the show was looking great. By 10am most of the show cars were in place, and the gates were closed at 10:30. The showgrounds were packed with cars, traders, swappers and spectators, what an sight!
We simplified the show categories a little this year, with some dead categories removed (race categories) and others simplified (exotics included with off-road, and SEAT/Skoda merged). The Brian Walker award was retired (it's been five years since he passed away), and the Pleydon trophy was named for both Ray and Shirley - she had passed away a few weeks earlier. We also introduced the Pam Withers Award thanks to Paul from Euro-Cruisers.
Last year, as we were still recovering from the pandemic, we only had 177 cars in the show. Pre-covid, in 2019, we had 198 cars. Our best years were 213 in 2016, and the record 231 in 2017. This year, however, we got 241 cars in the show - the most ever!!! And 84 of them were on Historic Registration, which is also the most ever. They made up 35% of the entries.
There were 159 air-cooled cars in the show, much more than the 117 last year, and just one less than the record 160 air-coolers in 2017. It's great to see people bringing their classics out again after a few years of lockdowns. And significantly, there were 80 water-cooled cars, by far the most ever and easily beating the 58 last year. This is the future and it's great to see our younger-generation VW Golf fans coming along and enjoying the show.
By types, there were 76 Beetles across 6 categories (24 more than last year); 45 Kombis in 5 categories (7 more than last year), and 49 Golfs in 7 categories (9 more than last year). The most popular show category was Beetle 68-on Modified, with 23 entries (11 more than last year). Kombi T2 1968-79 Standard had 19 entries (5 more than last year); Beetle '58-67 Standard had 17 entries (6 more than last year); Beetle '58-67 Modified had 15 entries (1 more than last year).
For the water-coolers, Golf 7 2013-2020 had 11 entries (6 more than last year), while Golf 1 1976-83 had 10 entries (5 more than last year). VW Sports (Scirocco, Corrado, New Beetle) had 8 entries (6 more than last year!). Golf 2 1984-92 also saw a big increase, 5 this time up from just 1 last year.
Almost all of the 42 categories in 2023 increased in number over last year, which was just wonderful to see, and those that didn't were usually only a few less. Classes like Pre-'57 Beetles, Karmann Ghia, Buggies and Off-roaders matched their longer-term averages. Rat Class saw 10 entries, 5 more than last year, but 10 is the long-term average.
There were just 2 Modified Type 3s, down from 4 last year and 10 in 2017, so modifying Type 3s is not the done thing any more. Standard Type 3s were up to 4 from 3 last year, but a way to go to match the 7 in 2017. We only saw 5 T3 Transporters, down from 7 last year.
There were slightly fewer Polos, Golf 3, 4 and 6 than last year, but more Golf 1, 2, 5 and 7. There were 5 Audis, the most ever, and just the one Porsche (mine!). Again there were no SEATs or Skodas, the only category with no entries. However Cupra (a SEAT subsidiary) has been launched in Australia so we might see one or two next year, hopefully. If not, we'll retire this category.
There were just two entries for the Concours d'Elegance category, the only one judged by a panel of VW industry experts, and for the first time both of them were water-cooled!
All car show entrants received a judging sheet, allowing them to wander through the show and choose up to 20 different cars of their choice (air and water). Altogether some 1,685 separate votes were cast on these (164 more than last year), and posted in the blue box at the club stand before the 12:30 close-off. In addition, there were 404 People's Choice voting coupons dropped into the box by show spectators, making 2,089 votes altogether (plus the 241 entry forms) for Phil to type into his laptop computer. This took all morning and lunchtime, but data entry was complete by around 1:45 pm.
Phil's custom-designed Excel spreadsheet uses the COUNTIF function to count the number of times each particular entry number appears as a vote. Then sorting by category and vote totals gives all the results in correct order. Then it only remained to create the PowerPoint presentation by matching the car photos to the winning cars. Phil and Sam had everything worked out by 2:15.
Presentation could then be started a bit earlier, and it was quite quick as we no longer do 3rd place trophies and only about ten 2nd places for the most popular categories. We were all finished by 3:30pm and most people started heading home. We still had another hour's work packing up!
I want to express my sincere gratitude to all the volunteers who helped make the 2023 VW Nationals a huge success. Your dedication and hard work did not go unnoticed, and I am deeply appreciative of your efforts. Your selflessness and commitment to this event are truly remarkable, and it is because of you that the event was able to run.
This year I would like to make a special mention of David Birchall, who due to his terminal illness was not able to attend or finalise the event. This being his 35th year of single-handedly organising this event, he still did 90% of the organising work leading up to the event. We are grateful that he lived to hear about the biggest-ever VW Nationals before he passed away. His unwavering dedication, hard work and attention to detail have been instrumental in making the event what it is today.
From coordinating volunteers and vendors to ensuring the safety and enjoyment of attendees, his contributions will never be forgotten. We all say THANK YOU DAVE from the bottom of our hearts. You will be greatly missed.
I also want to mention another long-time member and Nationals helper who passed away last month, Shirley Pleydon. She and her husband Ray joined the club in the 1990s and were familiar at many meetings and runs over the years. Both were on the committee for a long time. Shirley used to organise the trophies every year and was always generous with a cake at the Christmas meeting. Ray passed away in 2013 and the Ray Pleydon Award was set up in tribute. This year it was the Ray and Shirley Pleydon Award. Our thoughts and sympathies to Ray and Shirley's family.
Mit mehr Wertschätzung, als Worte ausdrücken können (With more appreciation than words can express)
Lee Woods