1971 Superbug - Brian Mannix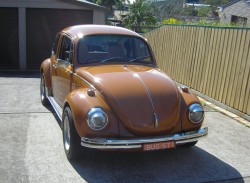 I bought my 1971 Superbug back in October 2005 after a long search.
Tracking one down without rusty bits was difficult, and we had just about given up when one Saturday morning my late wife Eunice noted a VW for sale in our local newspaper and just one (1) kilometre from our home.
On checking it out we couldn't find any major rust problems, so we purchased it. It was a mess inside the cabin and in the boot. The poor unfortunate Vee Dub was used by a house painter; spilt paint was all through the boot and on the carpet. It was a nightmare, paint was everywhere and a few dings for good measure on a couple of guards - from paint cans I guess. Luckily the paint was water soluble and not of the oil variety, but still took a lot of elbow grease to remove it. A rub back and respray by my son and all was new again.
The front seats were wrecked and the head lining was beyond salvage, so the 'Bug' had a complete internal makeover. New head lining, re-covered seats and new door cards and a change of colour, came up nicely.
And finally, I swim each morning, throughout the year, at the Continental sea pool in Wollongong, at around 6.00 am. One morning some years ago, I just got into the VeeDub when this old guy came over to me and said, "I have been watching you regularly for a few months, and I am impressed with the way you have been looking after your VeeDub and noting the improvements." I thought, what is this guy on about??
He then introduced himself and said "would you like the original documents of this VeeDub?" What could one say but "Yes!" So he presented me with a plastic folder with :(1) Full VW Service Record, (2) Instruction Manual (3) VW Without Guesswork booklet and (4) a 'Where to get your VW Serviced booklet.
These indicated the VeeDub was first registered in Blacktown and sold and serviced by Lennox Motors Blacktown, registration number ATI 044. He was the original owner (!) and I meant to ask him how he found me but at the time I didn't think of it, it was a very strange but remarkable encounter. I didn't see him again.
I bought my first VW beetle back in 1957, was an active member of the old VW Club of NSW (Wollongong Branch) and never lost the love. We owned various vehicles over the years, larger cars to accommodate ever increasing family. One of the worst feelings is when we sold our beloved beetle in 1964 to purchase a milk run, and swap it for a purpose built Holden EJ milk van. Money was short at the time due to a credit squeeze, so we could not afford to keep the VeeDub, very sad.
However, as the fire kept smouldering over the years, we knew one day we would get behind the wheel of another VeeDub and here we are. They are unique, I love driving it.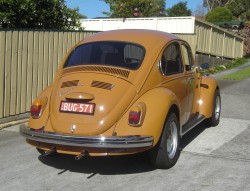 Look after yourselves, keep safe and well until we meet one day at an event.
Kind Regards
Brian Mannix