1973 Superbug - Joe Buttigieg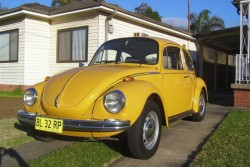 I first saw this Mustard Superbug advertised on carsales.com. I was attracted to this vehicle because in 1972 I had a brand new mustard Superbug, and I was thinking of getting another one now.
At a glance the little bug looked pretty good, but as everyone knows pictures don't always bring out the imperfections in a vehicle. It was a dealer ad, so I requested the salesman to email me some close up shots of the car inside and out.
The car was for sale at Rod Wright Motor Co in Southport, Queensland so I had to be sure I'm doing the right thing here. On the phone Rod gave me the full history of the car and told me that he had receipts for services rendered from day one, going back to 10/7/73.
The original owner was Mrs Leslie Scott from Mt Eliza in Victoria, who was a schoolteacher. She bought the car from Ansis Motors (the Busier Beetle people) at 8 Wells Rd Frankston, Victoria; she was 38 years old at the time. Ansis Motors was Frankston's VW dealer from 1968 until 1977, although two later VW agencies existed at that address until the early 1990s.
The Superbug gave faithful service to the Scotts for the next 25 years. Between June and August 2000, the car had some major restoration done. The roof lining was re-trimmed, rust repaired in rear turret, and the quarter panels and right front door repainted. I have receipts to the value of $6549 for the job. The rest of the body still has the original 'Mustard' colour paint.
In October 2000 the Scotts moved to Labrador, Queensland where they planned to spend their retirement. Leslie's husband Robert told me that the car was transported by road to Queensland and wasn't driven around much up there, because his wife was in and out of hospital due to ill health. When she passed away in 2008 at the age of 73, he sold the car to an old friend John Rekers, who was a mechanic. John lives on Macleay Island, Qld and tells me that he traded the Superbug in for a Toyota at Rod Wright Motors only recently.
So I caught the 4:25 pm Brisbane XPT train from Strathfield, which travelled north overnight and arrived at Casino at 3.55 am. I then caught the connecting Coach at 4.08 am and arrived at the Gold Coast at 6.45 am on Thursday morning. Rod met me at the Surfers Paradise bus station, and after we had a hearty breakfast in one of the Cafes on the Gold Coast, we headed to Southport in his 4WD where the Superbug was sitting ready and waiting for me. Rod and I had a lot to talk about because he is a triathlete and I'm an ex marathon runner, and it just happened that the Gold Coast marathon was on that weekend. We talked about our athletic experiences.
It just so happens that Rod was a young car salesman at Ansis Motors in Melbourne way back in the '70s, and was there when Mrs Scott bought the little bug in 1973! The car was locally advertised for $7,999, and on carsales for $7,499 but I got it for $7000 neat.
Anyway after signing all the necessary papers, I left Southport at 9.30am and headed home. I originally planned to stop somewhere near Nambucca Heads or thereabouts overnight, but I decided to keep going and eventually arrived home back in Sydney at 10:45 pm, and 855 km later. The car drove beautifully with no engine problems, but I could not see the speedo reading at night, due to no light on the instrument panel. The other problem I had was the fuel gauge needle was stuck constantly on full so I had to keep topping it up every 200 km or so just to make sure I didn't run out of fuel.
The engine has never had any work done on it so at the moment it's getting a major overhaul at Kombi Rescue, Annangrove - I'm looking forward to the end result and showing it off at some Club events in future.
Update - After I overhauled the engine, I had the body re-sprayed by TNT Auto Body Repairs and the inside put new carpet and roof lining by Gary's Motor Trimming and when I brought to the Nationals I found out that they placed the quarter window with the securing black knob on the outside ! it got nicknamed the Irish L Bug.
Joe Buttigieg