Karmann Ghias
For the Love of a Karmann Cabrio
Karmann Ghia – A Flair for Fashion
Café Racers (Types 1 and 3)
The Karmann Ghia
Origins of the Karmann Ghia
All about Karmann Ghias
1962 VW Karmann Ghia
Karmann Ghia – Styled for Success
For the Love of a Karmann Cabrio
By Luis Guevara
March 1987
A convertible is not a convertible unless it's a Karmann convertible!
What, you may ask, constitutes a Cabriolet? Well, take for example the rear glass window, the fully padded and lined hood interior, the snug tight fit which, even at high speeds, produces very little noise or 'sail effect'.
A Cabrio hood does not fold up and get pushed behind the back seat, hidden from view, but is displayed with pride, sitting up proud as if to proclaim its desirability.
The first Volkswagen convertible was just that, a convertible! It was built by Reutter of Stuttgart-Zuffenhausen in 1936. This car was based on the Porsche Type 60 Volkswagen chassis, although the body lines were not those used on the later Type 1 as we know it today.
The Reutter convertible used 'suicide' doors and its headlights were close together. Unfortunately the car was destroyed in 1942 by Dr. F. Porsche.
Following development by Porsche, the first true VW convertible was displayed at Wolfsburg on the occasion of placing the cornerstone for the new VW factory on 26 May 1938. This was one of the cars featured in the famous photo of Hitler at the foundation stone ceremony. This car still exists and is in the VW Museum at Wolfsburg. For a number of reasons this layout did not reach production until June 1949, when it appeared in the guise of the much sought-after Hebmuller.
Shortly after the war, expert craftsmen at the Wolfsburg plant hand-made two convertibles. They were two-seaters and were the basis of the Hebmuller convertibles.
VW had liked the stylish Hebmuller convertible and plans for production were made. Unfortunately not long after commencement a fire destroyed most of the Wulfrath Hebmuller plant and although production continued until 1953, the fire marked the downfall of the Hebmuller convertible.
Only 750 Hebmuller convertibles were made. None yet exist in Australia.
More positive steps were however being planned by Wilhelm Karmann Sr, and by 1 July 1949 Volkswagen announced the release of the Karmann four-seater VW Cabriolet. By the end of the year 364 Cabrios had been completed. Production had begun in September 1949, and by April 1950 the first order of 1,000 cars was filled.
This highly successful venture saw Karmann produce the last Type 1 Cabrio in March 1980. A total of 331,847 Cabrios were made.
During Karmann's involvement with Volkswagen, a decision to produce his own car evolved. After discussions at Wolfsburg, the Turin-based Ghia coach body company was called upon to design a convertible-bodied car utilising the VW mechanicals.
The final design was not a convertible, but a coupe. There is much speculation as to where the inspiration for this coupe came from, but what is important is that in June 1955 the new VW coupe first saw the production line.
When the car was released to the public on 14 July 1955, it didn't have a name. On Dr. Karmann's suggestion it was hurriedly named the 'Karmann Ghia' – just in time for its public debut.
Volkswagen marketed the car and gave it the Type 143 designation. The right-hand drive version was designated the Type 144. In the first fourteen months the 10,000 car mark was passed.
The Type 141 and 142, which were the designations for the left-hand drive and right-hand drive Cabrios, began production in August 1957. They have a lower Type number as they were consigned first, but the Cabrios took slightly longer to reach the public.
The last Karmann Ghia produced was a white Type 143, chassis 144 2780502, and remains the property of the Karmann museum. It rolled off the production line on 21 June 1974 and marked the end of Karmann Ghia production. During their 27-year run, 80,897 Ghia Cabrios were produced. The new VW Scirocco took the Ghia's place on the Karmann production lines.
Karmann Ghia – A Flair For Fashion
By Peter Korsch
April 1987
A daring design from Ghia, a creation of the master Karmann – a remarkable combination by any standard. The introduction of the 'Everyman's Porsche', as some have dubbed the Karmann Ghia, was the culmination of a calendar of faultless timing.
A Karmann Cabriolet Sedan had been a deluxe offering of the VW ever since 1949, and its detail quality was widely recognised. The dependability of the VW chassis had been proved beyond question by the 1,000,000 VWs on the road by 1955. The Porsche car demonstrated that a certain segment of the public was willing to pay the price for superb quality, irrespective of a car's size. Karmann's plan to produce a plush coupe, using the standard Volkswagen chassis, could not have come at a more opportune moment. The car was introduced at major European auto shows in the autumn of 1955.
Most Ghia owners had had VWs first, and knew what they were getting. So it was that the very limited production of this model was absorbed almost casually by established Volkswagen enthusiasts, without a stick of advertising promotion. In the USA the Karmann Ghia story was not told in national ads until 1961. And what a story. Fifty percent (50%) of all Ghias were exported. Eighty percent (80%) of those went to the United States.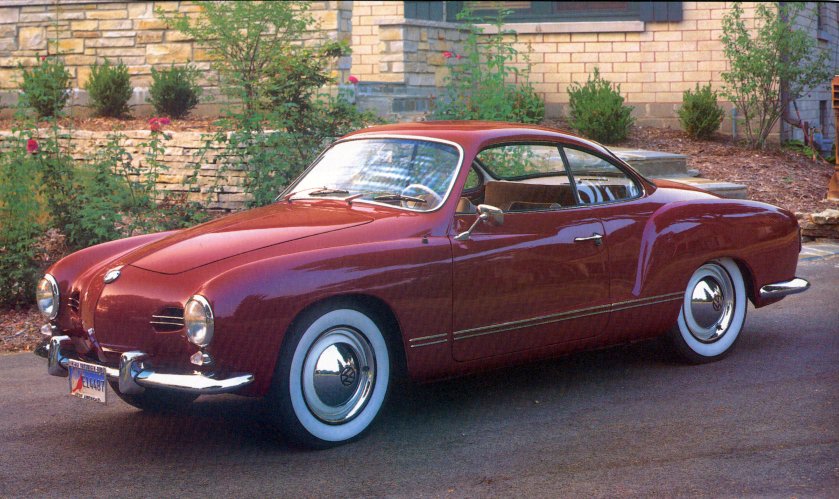 It took over 185 men to make the Ghia body alone. That will give you an idea of the handwork that went into the car. The first Karmann Ghia Cabriolet appeared on the market in 1956, one year after the introduction of the coupe. This first series of Cabriolets is, in fact, the most rare of all Karmann Ghias as the first and only really significant styling changes happened to the car in 1958. The precedent for the Karmann Ghia was the 356 Porsche sports car.
The problems and solutions developing at Porsche influenced the future of the Ghia before the first car rolled off the assembly line. The streamlining of the Porsches had a very favourable effect on their performance. High cruising speeds and low fuel consumption were the direct payoff. The Ghia studios had taken this into consideration, and aerodynamics were an integral part of the Karmann Ghia's shape. Simple operating features were taken directly from the Porsche, like the engine compartment lid release and torsion bar access ports. Later, the petrol cap release mechanism with its protective rubber flap was added to the Ghia, adapted from the 356 Porsche.
Sitting in a Ghia and a 356, almost all controls share exactly the same function with identical position in relation to the driver.
The Porsche was having a most beneficial effect on the Ghia. It was a proving ground for advancements. Each suspension and brake discovery at Porsche filtered its way into VWs. The Karmann Ghia profited from the improvements more than Beetles, of course, because of its shape and height. So it was that with one addition at a time, one improvement after another, the Karmann Ghia took on the Porsche components.
The 1950s wound out and the popularity of the Karmann Ghia increased, with sales climbing every year, totally without the help of national advertising. It was six years after the introduction of the car that the Ghia had its first ad.
With photographs of the Ghia from all sides, the headline ran, 'This car is six years late.' The body copy made it clear that the sports car that been mistaken for everything from an Alfa to a Ferrari was – brace yourself – a Volkswagen. So it wasn't secret anymore. The mass of the motoring public didn't catch on, however, and the Karmann Ghia to this day is still confused with faster, more exotic machines.
The 1972 Karmann Ghia had equalled the Porsche Speedster in 'Car and Driver' magazine's test. With the 4-joint rear suspension, disc brakes and twin-port engine, the Ghia was finally a contender on the sports car scene. The 1972 model represented the high-water mark of the Karmann Ghia, because of the 1972 decision to cashier it had been made at VW.
Tighter US emission and safety legislation hemmed in old model designs, world-wide inflation cut into profits, and suddenly, the aluminium air-cooled VW engine was too expensive to build, too hard to control emissions and no longer economical with fuel in its modified state.
Meanwhile, Volkswagen's successor to the Karmann Ghia was being run in 1973 at the VW test track. It was a modification of the basic Audi design, a front-engine, water-cooled front-wheel-drive automobile named the Scirocco.
Café Racers (Types 1 and 3)
By Dave Long
December 1989
A leading caption in the English magazine 'Classic and Sports Car' states, "Cafe society loves the Karmann Ghia, but it's reliable as well as stylish."
Most of the article is on the history of the Karmann Ghia, and much of this information relates to how the styling came about, highlighting the intrigue surrounding the Chrysler connection, in particular Ghia styling work on the Chrysler Coupe d'Elegance (which looks like something between an old French Delahaye of the '30s and a Type 1 Karmann Ghia).
It is a controversial subject, but Ghia were working on both designs in the very early 50s and Virgil Exner Senior, head stylist for Chrysler at the time, claims to have provided the d'Elegance (designated K310) original plaster mock-up. It was of course twice the size of the Karmann Ghia, which would have had to be scaled right down.
On technical aspects, this article refers to the way the Karmann body was put together: "The body was welded together from relatively small stampings, as Karmann had no big presses at the time, and although designed free from stress-bearing duties, it retained quite some strength due to the number of pieces that went into it. There were five panels just in the front end, all seam-welded together in water-cooled jigs to prevent distortion, than hand-finished with lead. There is nearly 12 ft. of welding on the outer skin alone."
Then comes a bit of history of the Type 3 Karmann Ghia, but I am losing interest at this point due to unreasonable in-built prejudices. It does mention the existence of this model as a prototype convertible, which was described as better looking than the coupe, but it was never a production model. This passage concludes, "Production of the Type 3 Ghia Coupe came to a halt in June 1969, after a measly 42,432 had been built. More to the point, the ones that were built went on to become one of the rustiest cars in the history of the marque. As one dealer recently informed me, 'Some of those cars sat at the docks for so long, waiting for buyers, we had to replace the front wings from new before we sent them out.' Thankfully that was not the case with the Type 1 cars.
"The Type 1 Karmann Ghia was originally designed as a small sporting convertible, yet it was a coupe that was first introduced in July 1955, and the Cabrio was brought out in 1957. Now for some hard facts.
"Pause for some deep thought before deciding to buy a Volkswagen Karmann Ghia. It's no Beetle spin-off, this car; it's a properly coach built coupe which just happens to be based on an economy car chassis. Restoration costs for the car's coachwork are in the 'sixties Alfa Romeo league - it looks as good as a Giuletta Sprint and rots as much - and even though virtually all parts are still obtainable, a total body rebuild will be a labour of love rather than an investment precedent.
"Equipped with this foresight, give yourself plenty of time to look over the Type 1 you're interested in. Begin with a good browse underneath; the floor pan of the K-G is roughly similar in shape to the Beetle item, but it's 160mm wider and has slightly different ribbing. Most floor pans should be all right, but on convertibles, water might have seeped in and settled. Sills, on the other hand, rust very badly, both inner and outer; replacement items are easily available. Prod the rear suspension mountings, as they can rust as well. If these parts have gone, the rust may have spread to the edge of the 'pan, so check it again to make sure. Metal decay also eats away around the edges of the body panels. Apart from the sills, it likes the bottom of the front valance and the rear wings, and also the inner wings at the base of the wheel arches. Rust in the rear suspension points can spread to the rear wheel arches, and you can check for this by lifting up the carpets in the back and poking about.
"The bottoms of the doors corrode badly and have often been patched and filled. On post-'71 cars the tops of the doors rust too, due to a redesigned lip. In the same manner, the engine lid rusts along its bottom edge, and on early cars the drainage tray beneath the ventilation louvres is steel, but is rarely rotten; later versions had a GRP tray that is detachable. The bonnet, however, is usually only subject to surface rust, which is just as well, for replacements are not plentiful. The wings at both ends are invisibly seam-welded on, in true coach-built fashion, so there might be very slight corrosion along the joins. Check also around the headlamp openings.
"Above the sills should be two parallel trim strips split into three pieces on each line. There should also be small, covered holes just in front of the rear wheel arches, behind which lurk the torsion bars, and a Karmann badge at the foot of the offside front wing only. If these details are wrong, suspect bodgy repairs. Headlamps were specially made Hella units and you'll pay 120 pounds each for new ones, including the rim. Prices for front indicator lenses and rear lenses are similarly exorbitant.
"The air intake nostrils at the front of the car can hide a multitude of horrors. Rust gathers around their openings - the grilles are of rather brittle aluminium - and damp that is drawn in can linger in the passage that takes fresh air to the cabin, thus causing corrosion. It's important to ensure that the bumpers are in good nick, as pitted chrome is difficult to restore, and accumulated mud sitting inside them won't wait long to get to work. Badges and trim are costly, but mostly available, while wheels and hubcaps are the same as those on contemporary Beetles.
"Buy a pretty good one and then have it brought up to scratch. Leave really rotten cars alone, because they are going to cost a fortune to do. Moving inside, first look at the B-post striker plate in the door opening - it's often broken because it's made of plastic. The plastic on the dash top also cracks and is an expensive nuisance to repair. The rear-view mirror on early cars is an intricate piece of equipment to have renovated as it has about a dozen components. Look for rips in the headlining, but don't worry about stains, as most can be over-sprayed white. New carpets are a possibility but good originals are preferable; don't be fooled by their outer appearance, though, as rust and water may be lurking beneath. Knobs on the window winders often snap off and the door trims can get scruffy, particularly if they are water-damaged.
"Condensation in the coupes is a BIG problem. Finally, on the inside, examine the stitching in the seats - it often bursts (literally) at the seams. It's easy to sort out. Type 1 Convertibles suffer from flexing - the weight of the engine tends to pull the panels apart, resulting in widening gaps around the door-shut lines! The three-layer, fully lined hoods rarely decay, but the wooden header rail can suffer; a synthetic replacement is available. Later editions have a glass rear window.
"Not much to worry about in the engine department, because it's all-Beetle running gear that will last forever and ever. On driving the car, however, listen for a plopping sound that means that a cylinder head is loose. The torsion bar bushes sometimes seize if they haven't been lubricated frequently, and you can tell this if the car seems rather stiff and jumps about a bit. Engines can smoke somewhat and they use quite a bit of oil, some more than others, because oil leaks are a common problem.
"The Type 3 Karmann Ghias are completely different cars, and there is virtually no interchangeability of parts. Their reputation for rusting is a Volkswagen legend –some experts reckon that they cost twice as much to renovate and have only half the value of the more popular Type 1 cars. Availability of body and trim parts is also half as good, which means that restorations are difficult and expensive. The car rusts very badly at the front and back, although the doors usually remain unscathed. Otherwise check a prospective purchase as you would a Type 1. The really good news about Karmann Ghia restoration is that Type 1 parts supply is excellent, with only a handful of bits not forthcoming from Germany or (in the main) the USA. American interest in the sporty VWs has meant that much has been remanufactured or copied. The Type 3 was never sold in America; hence parts availability and interest generally are low.
"There is a price to pay for this ease of obtainment: Karmann Ghia parts are on the expensive side, new panels in particular commanding high prices. You can still buy a ropey, near-scrap condition Volkswagen Ghia Type 1 coupe for under £400, as a low-cost starting point for leisurely revival. This, though, is for the ultra-keen only; £800-£900 should secure a marginally less-tired car, but expect to pay around £3500 for a sound, almost rust-free car that would benefit from some tinkering. Absolutely mint examples should command no more than £5000.
"For convertibles, expect to pay a premium of £1500-£2000 - a rough car at £1500, a museum piece at no more than £7000. Many Type 1 cars in the UK have left hand drive, but don't accept the more desirable RHD advantage as worth more than about £250 on the car's price. Type 3 prices make this bigger, longer-legged but far more rust-prone coupe seem a bargain in comparison. There are plenty to choose from at around a grand that will easily recover from dis- or misuse. A mere £3500 will secure a Type 3 in the Concours league."
The Karmann Ghia
By Graham Howard
May 1992
Of all the many attempts to build special bodies on the long-suffering platform of the VW Beetle (albeit modified), none have ever come close to the success of the original steel bodied conversion built with the complete approval of VW itself. This was the Karmann Ghia, introduced in 1955 as Beetle-mania started to sweep the world.
Digressing for a moment, Karmann Ghia is actually misspelt even more commonly than Volkswagon is (oops...Volkswagen ! ) I've seen the poor thing spelt Karman Ghia, Kharman Ghia and Karmahn-Giah. Please note that Karmann is spelt Karmann, Ghia is spelt Ghia, and there is no hyphen.
By the time production ended in 1974 (it was replaced by the Scirocco), exactly 444,300 Karmann Ghias had been built, made up of 363,401 coupes and 80,899 cabriolets. Such a volume would be quite respectable for a specialist carmaker.
It needs the 20+ million total output of Beetles to put the Karmann Ghia's numbers in better perspective.
In addition, it needs a better illustration than the idea of a VW-based kit car to properly define the Karmann Ghia's real value. Far removed from any kit car associations of flimsiness and amateur finish, this was a genuine production car built to VW's standards of quality.
What's more, it had stock VW mechanicals underneath. This meant it was universally serviceable, highly reliable, surefooted on rough or slippery surfaces and long legged on highways. It wasn't quite as fast as it looked, but no one could deny it looked a lot better than the proletarian Beetle.
With all the practical virtues of the sedan, but without its unusual and all too familiar shape, the Karmann Ghia offered an interesting combination of self-indulgence and common sense. This was a marketing cocktail that had been mixed elsewhere. Product theorists across the Atlantic had followed similar thinking and produced the wife and mistress sedan, the hardtop convertible.
The concept for the Beetle-based coupe came from VW boss Heinz Nordhoff, who in 1955 assigned the task of building the Volkswagen in an Italian sports jacket to the Wilhelm Karmann coachworks in Osnabrück. VW's association with Karmann dated back to 1949, when Karmann began building a limited number of four-seat VW Beetle Convertibles. Prior to that, Karmann had produced modified bodies for Opel, Ford, Adler and Porsche.
The KG bodies were styled by Luigi Serge at Ghia of Turin in Italy, who firstly produced some 30 preliminary sketches. Two prototypes were built for assessment by both the Karmann and the senior VW management. The final version, with its slim pillars and softly rounded contours, was nicely judged and it looked nothing like a Beetle. And with a slightly longer wheelbase and notched roofline, it did not pretend to be a Porsche 356.
It was built on a modified VW floorpan that was wider and squarer at the front corners, giving more foot room. This wider floorpan was also used later in the VW Type 147 'Fridolin' post office vehicle, and again on the VW Type 181 'Thing'. The Type 3 floorpan was of a similar shape.
Flashing indicators, like those fitted to US-spec Beetles from 1955, were chosen in preference to semaphores. As the seats were lower than those in the Beetle, the steering was at a different angle and this demanded a redesigned drop arm. Inside, the coupe retained some Beetle hardware like the steering wheel and various knobs and switches, and it was still far from plush. There were rear seats, but for temporary use only.
Performance was subtly different from the Beetle. Karmann Ghias were about 12 km/h faster than the sedan, due to a more aerodynamically efficient body, and many road tests reported the coupe was quieter, too, for the same reason. However, some testers found the Karmann Ghia even less at ease than the Beetle in crosswinds, perhaps because the coupe, with slightly more weight over the rear wheels and a centre of pressure slightly further forward, had marginally less aerodynamic stability.
Though faster than the Beetle in terms of top speed (122 km/h to 110 km/h), the Karmann Ghia was slower to accelerate because it was about 55 kg heavier, with a kerb mass of around 895 kg. In a 1962 road test, it took 22.7 seconds to cover the standing quarter mile and needed 33 seconds to reach 100 km/h.
Initially the Karmann Ghia was only available in left hand drive and was designated Type 143. In 1957 the coupe was joined by a cabriolet version, still left hand drive only, and it was called the Type 141. The earlier Ghias had rounder tails and lower headlights than later cars, as these changes were made in 1960 when the front nostril grilles were updated, the headlights raised and right hand drive versions of the coupe and Cabrio were finally offered, being Type 144 and Type 142 respectively. The basic lines, however, carried through for the duration.
Underneath, like the Beetle itself, the coupe was continually changing, acquiring the Beetle's bigger and better engines, gearboxes and suspension. Production for the German market ceased in 1973, when the final chassis was built on 21 December. Production for the US market continued for a further six months, until 21 June 1974 when the model was finally discontinued and the modern Scirocco took over on the Karmann production line.
The first examples were seen in Australia in 1960, and when VW Australasia finally listed a retail price in September 1961, the coupe was quoted at £1598. The Cabrio was never officially sold here. The Beetle – Australia's second best selling car after the Holden in 1960, and available only in De Luxe spec, was £971. The last Ghias were sold in Australia in 1967, although VW enthusiasts have privately imported quite a few more since then.
Origins of the Karmann Ghia
By Brandon Traynham
July 1997
By the late 1940s and early 1950s, people around the world had pretty much recovered from World War II. As many of these people began to prosper again, they started to demand better, more elegant, and more entertaining things for their money.
Unfortunately, at this time, rather bland but functional cars dominated the world automotive market. Most automotive manufacturers, Volkswagen included, felt the need to come out with a 'flagship car' to bolster their image. Witness the Ford Thunderbird, Chevrolet Corvette, and of course, the Volkswagen Karmann Ghia. The story behind the development of the Karmann Ghia is an interesting one.
Volkswagen, in the early 1950s, was facing the prospect of selling a small line of 'ugly' cars (the Beetle and the Bus) to a more demanding car buying public. VW executives felt it was necessary to introduce an 'image' car to reach this new market. Several other car companies were in the same situation, most notably Chrysler.
Chrysler contracted with the Italian styling and coach building firm of Ghia to build a series of 'dream' cars. While Chrysler produced some of these dream cars, one car they did not produce would eventually become - you guessed it - the Volkswagen Karmann Ghia. While Chrysler worked with Ghia, Volkswagen contracted with the German coach builder, Karmann to build their 'image' car. Karmann, in need of a design, approached Ghia and somehow the old Chrysler design surfaced and was modified to fit the Beetle floorpan. The VW executives liked what they saw and by August of 1955, the first Volkswagen Karmann Ghias rolled off assembly line in Osnabruck, Germany as 1956 models.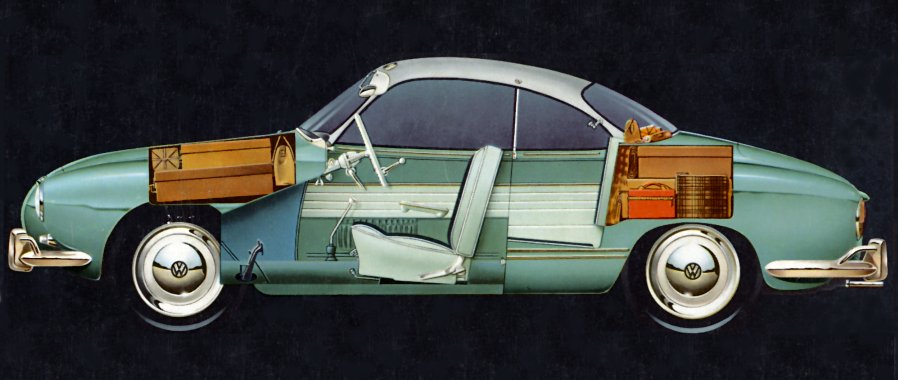 The automotive and the public instantly fell in love with the beautiful design and hand crafted workmanship, but not the performance. For the Karmann Ghia, Volkswagen decided to use the same 36-bhp flat four engine that was being used in the Beetle at the time. While the looks and craftsmanship made for a 'sporty' car, the small engine did not make a sports car. The power was adequate and the suspension was good for the era. These two factors combined with the Karmann Ghia's great looks made for a fairly good selling car, totalling over 10,000 the first year. When the convertible came out a couple of years later in 1958, sales jumped to around 18,000 cars per year. Sales climbed steadily until the late 1960s when they peaked in the neighbourhood of 33,000 cars a year. The Karmann Ghia was last produced in 1974, before making way for the new VW Scirocco. Only 365,912 coupes and 79,326 convertibles were produced, which make the Karmann Ghia a fairly rare car considering it was produced for nearly 20 years.
It's interesting to note that only a couple of years after the Karmann Ghia was introduced, Volkswagen refocussed its efforts on the Beetle. The VW executives felt the Beetle had enough 'image' of its own and that the company would be most successful if it continued to sell the Beetle by the millions. During the same time period, several other 'image' cars debuted, including the aforementioned Chevrolet Corvette and Ford Thunderbird. These cars were indeed true sports cars and in an effort to maintain sales in light of this competition, VW embarked on a unique advertising campaign. Volkswagen tried to convince consumers to focus on the beauty of the Karmann Ghia and ignore the engine (or lack thereof.). Some ads were quite funny. For instance, in one television commercial, they showed a Karmann Ghia racing toward a huge sheet of paper as to rip through it, only to bounce off of it! In some print ads, VW had the nerve to put a Ghia in the same picture as a Maserati and Lamborghini and then tell you that even though the Ghia isn't as fast, it sure costs a lot less!
Today, the Karmann Ghia is one of the most sought after air-cooled Volkswagens, especially the convertibles. Appraised values of nice coupes typically run from $9,000 to $18,000 for coupes and $20,000 to $30,000 for convertibles. I've even seen some advertised for as much as $45,000! Not bad for a car that originally sold for around $3,000. Most parts are readily available, especially the mechanical parts, and are quite reasonably priced. It is quite possible to restore an old Karmann Ghia to its original beauty and add a larger engine and better suspension to come up with a 'true' sports car. The biggest drawback to restoring a Ghia is that they tend to rust considerably more than other Volkswagens. This is probably due to the different body construction, with more closed cavities to retain moisture than a Beetle body. Fortunately, there are plenty of after market body parts available, and when restored by a capable body shop they can look just as good or better than original.
The Karmann Ghia has a graceful, timeless design that, in 1969, was named one of the most beautifully designed products in the world. In June of 1972, Car and Driver magazine put the Karmann Ghia into world-class status by comparing it to the ever classic Porsche Speedster. The Volkswagen Karmann Ghia is truly a special car. It is beautiful and timeless in design and it wonderfully affordable, reliable, and fun to drive!
All About Karmann Ghias
By Jim Paterson
March 2001
So you're looking for a Ghia to restore. You know it's often a matter of taste what year car to restore; but, what are the good points and bad points, as far as restoration goes, of the various years? And, what would be the best year to look for to fix-up?
Wow! You ask a number of important, interesting questions. First, I'm going to talk mostly about American market Ghias, as we bought a couple hundred thousand of them. For you folks down there in Australia, the Ghia was much rarer. It wasn't even imported until 1959, and was discontinued in 1968. Only around 800 Ghias were officially sold in Australia in ten years. You will still a few, and also the occasional model outside those years in Australia, thanks to some private imports (usually from the US) over the years.
Nonetheless, the US-market Ghia info is still useful to Australians as unlike their Melbourne-made Beetles, their Ghias were all made in the same factory in Germany.
This response is broken down into three steps: Step 1: Information common to all body styles; Step 2: Information common to cabriolets (convertibles); and Step 3: Information common to coupes.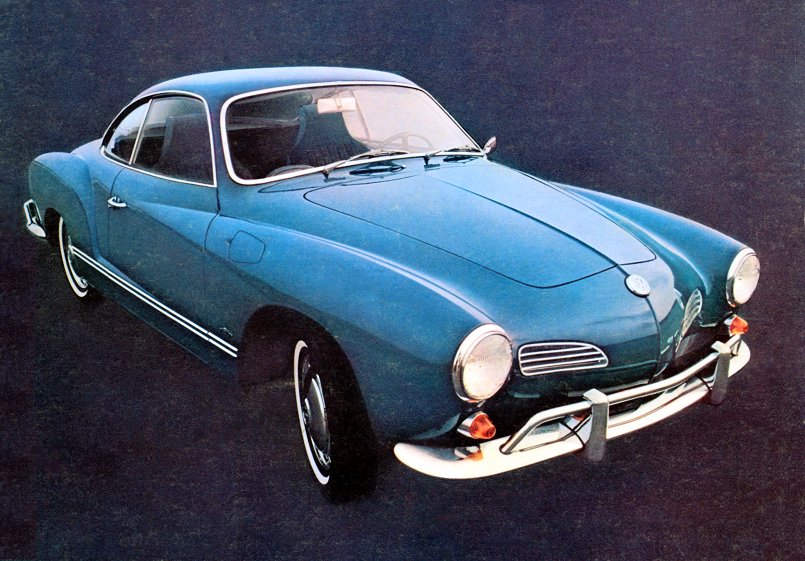 Specific Information: (Common to all body styles)
Advantages: Karmann Ghias had lots of hand labour lavished on them. No car-a-minute assembly line for the folks at Karmann. And the labour! It was applied by craftsmen. People with talent. So, where there is provision for adjustment, say, door glass movement, there's lots of adjustment. No bigger hammer needed here. Materials used (especially in the first decade) were superb. Take carpet! German square-weave carpet was expensive then, and is ruinously expensive today. But still, no better carpet. Lots of small parts take on the beauty, complexity and cost of jewellery. There's not one body part that will scream, "Cheap car, sleazy car. I'm merely a Beetle with a higher price tag."
Disadvantages: If a part didn't fit, say, a mudguard, the talented folk at Karmann would tweak it in place and cover their tracks with lead. The body appears perfect, not because of precision mating of highly accurate, precisely fitting parts; but because the skilled craftsmen at Karmann made the parts fit. "No two cars are built exactly the same," is an accurate statement only in a philosophical sense. For Karmann Ghias, the statement is physically true, as you will quickly find when you try to transplant major used sheet metal components.
'56-'59 All Models
Advantages: Desirable! First of the breed. Many adore the classic droop snout front end and tiny tail lights. Can be made to accept any engine and up to '66 transaxles easily. Most rubber seals for the body are available as at least semi-quality parts. Decent-looking interiors (but by no stretch of the imagination, stock upholstery) are readily available. Primo examples bring 'big bucks'.
Disadvantages: Scarce! Hard to find complete, good condition, running examples. Restoration costs are very high. Any missing parts will be difficult to find, but electrical / lens parts are especially rare (read expensive). True assembly line interior fabrics, vinyl, and mats are non-existent. On cars you want to restore, the interiors either need to be 'perfect' - highly unlikely; or you MUST compromise and use a make-do / look-good fabric alternative. Only twenty-two thousand droop snout, '56-'59 Ghias were sold in the U.S. Over 50,000 '55-'57 T-Birds were sold and they're considered scarce. No wonder early Ghia parts are hard to find. Stock machines use a non-synchro low gear. You would not want to make a cross-continental trip in a 36-hp stocker. Heating / defrost system is barely worthy of the name on any Ghia but rust can make this era Ghia a gas chamber. Mechanical parts are increasingly scarce, and 36 hp engine stuff is hard to get. Few body parts interchange from other year Ghias (or other model VWs). Nearly impossible to restore to better than a 80 or 85 point car. The label 'rare' has fallen on all cars of this era, when in fact, only cars that approach the 'first' label command hefty premiums: i.e., the first coupe made; the first convertible assembled.
'60-'66 All Models
Advantages: Cars needing restoration are easy to find. Restoration costs can be moderate. Easy to make into 85 to 90 point restored stocker! Quality body seals, mechanical parts, and (from '61-up) electrical parts are relatively available. Body parts from other year Ghias can often be readily adapted. Mechanically identical to same year Bug. Later mechanical components, i.e., engine, transaxle, etc., can often be easily / cheaply grafted to these years.
Disadvantages: Nearly impossible to bring back the classic 'farmer's field', 'needs-total-restoration' Ghia to more than a 90 point stocker. Gaining the last 10 points needed for a 100 point show restoration isn't just a matter of having deep pockets - the parts may not exist. Headlight and parking-light items are scarce. Stock interior and exterior mirrors are a pain to find. Nearly a dozen shades of vinyl armrests were used on these years, so finding correct colours and patterns of interior upholstery is virtually impossible - your chance of winning the lottery is better. All parts that wear -- door hinges, striker plates, wiper shafts, etc. - probably need replacement.
'67 All Models
Advantages: Large numbers of people think this the best year ever, because of its firsts: 12 volts, disc brakes; an engine powerful enough you'd want to take it on a transcontinental trip. Make fine restro-rods.
Disadvantages: Extremely high number of critical one-year-only parts. Living with a semi-stocker can be a pain. Restoring a dilapidated car to museum quality could be impossible. Locating electrical items, relays, locks, mirrors, dash and some door parts could take the patience of a Saint and the financing of a Midas. Physically will not accept much wider wheels / tyres than stock.
'68-'69 All Models
Advantages: Easiest Ghia (along with '70-'7l models) to rebuild or restore. Has a stock 12-volt electrical system, disc brakes, a powerful engine (1500 cc), and ('69 and later), has Porsche-style double-joint rear suspension. Interiors were of only three basic fabric colours, making renewing the interior much easier. Most cars of this era, or newer, are basically intact. Basket cases, project cars or semi-complete Ghias are much less likely in this age group. These cars still have the 'classic' look, i.e., no bulldozer bladed bumpers or thigh-sized taillight lens.
Disadvantages: Round side reflectors hard to come by. Most restorers dislike semi-auto stick cars, and the value of a car with automatic is less than a manual (this holds true for all semi-auto Ghias through to the end in 1974). Safety and pollution equipment begin showing up. Some states are much more diligent about requiring working pollution equipment. However, virtually all pollution devices requiring only occasional repair or maintenance are nonexistent in the VW parts system or elsewhere, in a form or appearance that would be assembly line original the very part some state pollution laws say MUST be operational. That's right! The old 'Catch 22' dilemma: It's not available at any price but you must have it at all costs.
'70-'71 All Models
Advantages: Shares most advantages of '68-'69. Larger tail-lights and parking lights, some feel, are a safety factor.
Disadvantages: Park and tail-light assemblies are often expensive to replace. Park-light bulb-holders are very prone to corrosion damage. All bumpers for any Ghia are hard to find, and expensive. '70-'71 rear bumpers are unique to those two years and so are doubly rare. Rear reflector parts (that thing below the tail-light) are so hard to find, that our advice is: Remove the reflectors and fill in all mounting holes.
'72-'74 All Models
Advantages: Controls have been Americanized. No longer does the driver need to be an octopus to operate everything. Coupes having seals in good shape are the tightest, most weather-resistant Ghias. Huge taillights, some feel, are a safety factor.
Disadvantages: Some seals (coupe door and quarter window seals, and all era window scraper seals) are very expensive and may not be available at any price. Late engine compartments are infested with a host of wires and hoses. Even VW doesn't remember how some of these hoses connected. Shares electrical/light problems with '70-'71 cars. Surprisingly, it is more expensive, more difficult to restore (or even get road-worthy) this era Ghia than, say, '68-'69 models. Lots of buffs are completely turned off by the square-bladed bumpers and bigger taillights.
Specific Information: (Common to cabriolets)
Advantages: All years cabrio. All Ghia cabriolets share a world class, stunningly engineered, amazingly complex Karmann-designed cabriolet top. Thirty-five years later, folding tops even in today's 100,000-dollar plus price range don't come any better. The advantage of a cabriolet top over a mere Detroit style convertible top is they are quieter, vastly more wind and weatherproof, and warmer. Why? Because cabriolet tops are padded and lined.
Disadvantages: All years cabriolet. The downside of cabriolet ownership? Cost! Seldom can any Ghia cabrio owner replace a top for under $2,000. You don't believe it? Add up the cost of an outer cover, all the bows, cables, headliner, top padding, and replaceable bushings. Then, price having the parts professionally installed! Big Bucks! Ah ha, you're thinking of a 'do-it-yourself' top installation to save major money! Don't! That's the flaw with a world class, state-of-the-art cabriolet top. You can't install the top even if you want bragging rights to the statement, "I restored the car completely All by myself." The cheap side of your personality is still in command and you ask, "Why can't I save a lotta bucks and eliminate the padding and headliner. I'll have a top just like those on American convertibles!" Nope! You'll end up with a noisy, cold, drafty convertible with major resale problems. Ghia convertibles / cabriolets are very prone to rust. Their very construction makes them, when the top is down or missing, a bathtub. Rocker panel rust can destroy any Ghia's structural strength in a hurry. But, without the strength added by a coupe's metal roof, convertibles can positively quake, moan and vibrate big time!
'58-'59 Cabriolet Only
Advantages: Truly rare. Only two years of cabrio shared the 'droop nose' styling. Some very nice early convertibles fetch disgustingly large amounts of money, nearly 10 times what the cars cost new and often 4 times what a similar condition coupe brings.
Disadvantages: Some top parts show up on only these two years of Ghias, making these parts the rarest of the rare. Stock tops were canvas, adding to the expense.
'60-'67½ Cabriolet Only
Advantages: Top and top frame parts are adaptable from any '58-'69½, making most items at least available. Sturdy vinyl tops show up first on this era cabrio. So, for practicality, as well as authenticity; a less expensive vinyl top becomes a true option.
Disadvantages: The junction between top fabric and body metal was covered by a large, chromed, U-shaped joint cover or moulding. By now, the true assembly line piece has disappeared, replaced by a cloth 'hide-um' strip. ('Hide-um' is the only major American convertible top idea, proving to be superior to the way Karmann did it.) These mouldings are hard to find. An incredible number of cabrios have a bad or missing crank handle. At some point in the past, the crank handle was lost, or was removed because it had the 'floppies'. A mental midget thought the solution to opening a handle-less top was to clamp pliers or vice grips on the fragile serrations of the top crankshaft. Someone just made a $400 boo-boo!
'67½ - '69½ Cabriolet Only
Advantages: These cabrios are the first Ghias with a cable holding the top cover to the rear of the body. A great idea!
Disadvantages: The top crank mechanism found in the centre of the header on these, and all earlier cabrios, continues to cause expensive grief. If this crank has stripped gears, rusted hooks or rounded handle shaft serrations, replacement could be pricey.
'69½ to end of '69 Cabriolet Only
Advantages: This convert, produced for only half a year, sports a glass rear window AND classic early styling. Ever after, Ghia convertibles used bigger, more awkward-looking tail and park lights.
Disadvantages: See notes for '70-'74 disadvantages.
'70-'74 Cabriolet Only
Advantages: Glass rear window.
Disadvantages: Glass rear window. Without maintenance, and a correctly installed top cover, a glass rear window introduces a massive hole for water to enter the car. All parts associated with the window itself such as the glass are breathtakingly expensive; and some absolutely critical parts may not be available at any price. The wooden header is hung from a complex thin metal plate - the junction cover. The plate easily rusts. Replacements are expensive, and any shortcuts one takes in this critical area, become doubly expensive in the long run.
Specific Information: (Common to coupes)
Advantages: Styling-wise, Karmann Ghia coupes used a very clean, 'post-less hard top' look. A decade before other design capitals caught-up, Ghias became the first major 'hardtop coupe' without a front vent window.
Disadvantages: Because of the roof's shape, Ghia coupe headliners aren't much bigger than a baby's nappy. Worse, reinstalling a headliner, once damaged, is a major task that merely begins when all of the glass is removed from the car. I'm not trying to alarm anyone, but the roof of a Ghia coupe, when the car turns upside down, will collapse faster than a soufflé (this is true of most cars designed before the mid-'80s.)
'56-'59 Coupes Only
Advantages: Year specific coupes. Visually, the most pleasing profile with a very slim post between door and quarter window.
Disadvantages: Year specific coupes. Quarter window does not open or pop-out. Quarter window post and seal work well when all components are new; but if say, the hinges get sloppy; closing the door can badly damage seal and post. Glass and post are expensive, hard to find.
'60-'65 Coupes Only
Advantages: Quarter window glass now opens, or 'pops out', at the back edge. Sealing problems associated with door hinge wear have generally been solved.
Disadvantages: The wider chrome divider post adds stoutness to the window sealing problem at the expense of a visually clean look. The 'knee action lock' or clasp allowing the rear of the window to be held rigidly in the 'pop-out' position is a clever design. But, in order to share components throughout the VW empire, 90% of the locks parts are borrowed. Of course, the 10% of the lock uniquely Ghia is of a flawed design. It easily fails if abused. Also, the plastic hinge blocks at the leading edge of the quarter window glass tend to crumble with age. Crumbling hinge blocks mean a loose piece of glass. More than a dozen customers have said, "I was just driving down the road when the front of the quarter window fell out of the post and pivoted along the flank of the car. I'd have still been all right, and been able to save the glass; but now, it was hanging from that chrome lock thing, and the foot of the lock broke. Next thing I knew, the glass was shattering into a million pieces on the road."
'66-'71 Coupes Only
Advantages: Designed for heated rear window.
Disadvantages: May actually have a heated rear window. These first generation heated rear windows used a type of tape dusted with copper granules. The purpose was to have these grains, shoulder to shoulder, act like a copper wire and conduct electricity. However, even the most microscopic scratch can cause a Grand Canyon-sized breach to the flow of electricity. Once a determined customer, armed with test equipment, metered every used heated rear window in the shop. Twenty-five duds. Then, he tested every car in the yard. Another 25 flawed heating elements. Not one working heated rear window. If you think Ed McMahon has ten million dollars just waiting for you, then try to find a working heated rear window. The rest of us know better! We'll spend our effort on some achievable goal like catching the Loch Ness Monster.
'72-'74 Coupes Only
Advantages: The tightest, most weatherproof Ghia coupes ever made. Installation of door seals is a snap.
Disadvantages: To achieve simple assembly line installation, the seals became much more complex. Yep! That translates as more expensive.
1962 Volkswagen Karmann Ghia
(From the Autocar, July 1965)
December 2001
Volkswagen rates of wear and deterioration are still lower than with the majority of comparable cars. Because of this, and the fact that the timeless design continues practically unchanged for year after year, second-hand prices remain high. With the VW Karmann Ghia, demand is not so great, and the used car buyer can have his cake and eat it. He gets the sturdy construction and long life of the VW with a substantial fall in price from first cost as well. With this particular example, first registered in 1963 (but actually bought new in Kenya in 1962), three years have brought the price down to half the original list figure of a new one. What was once £1272 with tax is now a mere £625.
In practically every respect the car is now, if anything, all the better for having covered a 'nominal' mileage of 26,800 to loosen and free up all the working parts, and the only marked exceptions to show signs of wear are the brakes. Efficiency is not too good, and roughness when the brakes are used hard at speed suggests that some ovality of the drums may have developed.
With its well-adjusted automatic choke, the engine is an immediate starter hot or cold, has negligible oil consumption, and also seems appreciably quieter than the average Volkswagen. This may be the result of improved sound insulation in the Karmann Ghia. The engine does not ping on regular grade fuel, but does run badly when very hot. Performance is slow when measured against the watch, with a time of 51 seconds to reach 70 mph from rest, but the car does not seem sluggish on the road. The somewhat leisurely and unfussed sound of the engine encourages one to use to the full what little performance is available, while the quickness of the gearchange both saves time and ensures that the gearbox is used freely to keep the revs up. Synchromesh is fitted on all four gears, and top gear gives the tireless cruising for which Volkswagens are renowned. Clutch takeup is a little late, suggesting that adjustment is needed.
As well as being quieter than an ordinary Volkswagen saloon, this Karmann Ghia version also handles and steers better, although there is still the typical strong tendency to wander in crosswinds. Oversteer is noticeable only in really hard cornering, and is easily controlled. The steering itself is light, and has not yet developed any free play. New Michelin SDS tyres are on the front wheels, and half-worn Pirellis are on the rear and the spare. This odd mixture seems to work well, and not upset the handling.
A curved and much deeper windscreen than the small flat screen on normal Volkswagens gives improved visibility, but the driver sits low and sees little of the bonnet and wings. Efficient wipers and the simple but very good pressurised windscreen washer are still working well. The bodywork is in beige below the waistline, with a white roof and surrounds, and only one or two marks and blemishes are present on otherwise excellent paintwork. The chrome, too, has lasted well, except for a few pips of rust on the door handles. There are no rusted edges, and an undersealing compound has looked after the under body.
Although the interior finish is not particularly attractive, with its extensive use of plastic, painted metal, rubber floor mats and coarse weave carpet over the backbone, it is certainly durable and conceals signs of use and wear. A few marks can be seen here and there, but generally the interior, like the outside, is in very clean condition, even in relation to the comparative youth of a mere three-year old car. Two small points of attention are that on opening and closing, the engine cover fouls the rear bumper, and the passenger door handle tends to stick.
We set the hands of the clock neatly to 12 after fruitless attempts to get it going, and the only other fault in the equipment is so huge an error in the speedometer that the needle must have slipped. It reads approximately 7mph slow throughout the speed range. Four position adjustment for rake of the front seat backrests is available, and the squab of the rear seat can be dropped flat to serve as a platform for extra luggage.
Lasting impressions of this Volkswagen are of an exceptionally conformable car, thanks to the excellent ride on its all-independent torsion bar suspension, and the feeling of complete mechanical reliability. It must certainly have many trouble-free years and miles still ahead of it.
Karmann Ghia - Styled for Success
By Cliff Leppke
February 2004
One prominent advertising character of the late 1920s was Fisher's Body Girl. GM's 'Body by Fisher' became a euphemism for 'well-formed' ladies. The girls and Fisher's carriage logo became emblems of desire that elided the realities of mass production.
By the late '50s, Fisher's finned auto bodies were shown rocketing through space. Americans learned however, that on the terra firma these jet-age fetishes were actually caskets. In 1957, Industrial Design claimed ill-conceived bodies by Fisher "die young." The car that I.D. thought would endure because it looked "elegant, fast, and expensive," was the compact, unexaggerated VW Karmann Ghia.
I.D's words proved prophetic; VW's Ghia outlived its contemporaries, due to sound styling and careful construction. Unlike most affordable post-war cars, the smart-looking Ghia was coach built by Karmann GmbH.
Karmann was established in 1901, when Wilhelm Karmann took over Christian Klages' 27-year-old coach building shop. In 1902, the firm built its first car body. By WWI, Karmann employed 50 people, who built bodies for chassis supplied by automobile makers.
During 1924, Wilhelm Karmann travelled to the United States, where he learned steel bodywork and spray-painting methods. These new techniques were adopted and Karmann began series production of car bodies.
The Depression however, proved difficult; Karmann's best customers folded. Yet, an arrangement with Adler proved beneficial because Karmann built Adler's Trumpf - a successful 1930s engineering marvel. Karmann also built Adler's fine convertible tops. These well-made weatherproof tops won several Concours d' Elegance.
In 1949, Karmann resumed coach building when VW's executive director Heinz Nordhoff ordered 1,000 four-seater Beetle cabriolets. Karmann's signature multi-layered insulated top - albeit bulky - was four-season friendly.
Karmann's topless Beetle attracted actress Brigitte Bardot and designer Pierre Cardin. They were open-air Bug enthusiasts. When production ended in January 1980, Karmann had produced more than 330,000 Beetle convertibles. The legend continued on with the VW Golf Cabriolet, also built by Karmann, which went on to be even more popular than the Beetle Cabrio.
Instead of ephemeral paper glamour girls for promotion, they also manufactured something that was timeless - VW's Karmann Ghia. This remarkable motorized billboard proclaimed Karmann's bodybuilding prowess worldwide.
It worked. Soon, according to Alex Walordy (Car and Driver, January, 1962), "When a naked chassis needs to be clothed, motor moguls who care usually say, 'Have Karmann make the body.'"
The Ghia's design is shrouded in controversy. At least two designers have said the car's gestation was secretive and that they penned its compelling shape: Virgil Exner and Mario Boano.
Some writers agree. Graham Robson's 'Volkswagen Chronicle' says, "whether [the Karmann-Ghia] was a copy of Exner's d'Elegance concept is less certain. Nonetheless, the cars had obvious similarities." Robson is probably incorrect when he says, "Ghia added two front 'nostril' grilles for effect." Ghia's original prototype didn't have grills. Thus, it's possible that Karmann created them.
Automotive historian Jan Norbye set the record straight. In 'VW Treasures by Karmann', Norbye - who interviewed designers and checked documents - suggests that the inspiration for the car came from Mario Boano's creative mind (he worked for several Italian coach building firms and bought Carozzeria Ghia in 1944).
Norbye's evidence is powerful. Several Boano-designed cars foreshadowed VW's Ghia. These include the Alfa Romeo 6C2500 S Convertible (1949), the Lancia Aurelia limousine (1950), and the Gioiello/Fiat coupe (1949). It's more likely that the sultry VW's pint-sized Chrysler d'Elegance-look was Boano's rather than Exner's.
Nevertheless, the piot thickens. Ghia built Chrysler's show car in 1953. Then, it built about 400 d'Elegance-like GS-1s for Charles Ladouche's Societe France Motors. This Paris firm imported Chryslers and VWs too.
Meanwhile, Ghia, whose commercial director was Luigi Serge, bought a Beetle from Ladouche. Within five months, Ghia built a prototype on this Beetle's chassis. Then in the fall of 1953, Ghia presented their VW to Dr. Karmann.
Later that year, the vehicle was secretly delivered to Osnabruck. During November 1953, Karmann presented the voluptuous coupe to Dr. Feuereisen, VW's vice president, Heinz Nordhoff, VW's autocratic boss. According to Norbye, Feuereisen's reaction was visceral: "Now that has class!" Nordhoff's response was more reserved when stating that it was "a very beautiful car, but much too expensive." Dr. Karmann then questioned, "How can you say that? I have not even told you what it costs."
Dr. Karmann made an excellent offer and Nordhoff sealed the deal. Karmann would build it and VW would sell it. Modifying the Beetle's platform and testing the prototype commenced. Later, production tooling was ordered. In June 1955, the first unnamed Karmann coupe was born.
During July 1955, VW introduced the sensuous auto to the European press. The coupe's press preview, claims Dr. Karmann, "was a world sensation," but the car "still did not have a name." Italian monikers were considered. Eventually, Dr. Karmann suggested 'Karmann Ghia' - a delicious sounding name that everyone liked.
Two months later, VW's new coupe appeared at the Frankfurt Motor Show. It received accolades for its "purity of line and perfection of proportion that almost takes one's breath away." (Autosport, February 15, 1957)
It was luxuriously aerodynamic without clichés. Indeed, American industrial designer Walter Dorwin Teague selected a Karmann Ghia for his list of the world's most beautifully designed products.
Americans got their first glimpse of VW's Italian beauty in late 1956 when Science and Mechanics (October, 1956) tested an early model. Australia's 'Wheels' magazine (April 1957), said the "Ghia-Karmann [sic] versus the Volkswagen" comparison revealed that the "Ghia looks better, handles better, and outshines the Volkswagen on the road," while America's Road and Track (April, 1956) was less sanguine when stating, "the overall performance improvement, we feel, is negligible. For nearly 1000 dollars more than the sedan, then, the customer is acquiring a very pretty body."
Science and Mechanics said, "The ladies asked for this one." Yet, an editor's wife disagreed. Her sidebar said this might be correct, "were it not for the fact that every Ghia I have seen...was being driven by a man!" Nevertheless, by 1974, she and 485,983 (Karmann's official production total) future owners were "sold on the Ghia's looks."
VW's glamour car puzzled reviewers. In fact, many got the name wrong! Road and Track in its first two Ghia articles called it the 'Ghia Karmann', as did Modern Motor, Science and Mechanics and Wheels. Journalists had a point. Even though the 1956 Ghia erased 10.8 seconds off the 1956 Beetle's 0-100 km/h in 45-second time, bested the Beetle's top speed by 6 km/h at 114 km/h and had a front stabilizer bar (which reduced side-sway in sharp turns), it was really more tortoise than hare. And the back seat was "not improved," whined another reviewer.
Nonetheless, although the Karmann Ghia never excelled as a performance car, it did per formatively succeed. The car became a contemporary classic and it democratised automotive fashion; it had "sensible richness." The Ghia was to 'automobility' what Christian Dior's New Look was to fashion - a version of automotive haute couture.
The similarity between Karmann, Ghia and Dior wasn't accidental. These 'fashion' houses symbolized post-war affluence with sculpted elegance and fine craftsmanship. There was one significant difference – "dynamic obsolescence." Dior's fashions were like GM's autoerotic Motoramas. GM's extravaganzas - you could look but not touch -were big-budget versions of cheaper Hugh Hefner-like creations meant to "distract men from the anxieties of the atomic age." Dior, GM and the press spun a frenzied series of fashion trends, each meant to draw consumers into an unending chain of commodity consumption. VW's Karmann Ghia, however, wasn't about chrome, 44-D cups, rocket launchers or push-button symbols of primal lust. Instead, it eschewed faddish exterior design and mechanical novelties for styling sanity and mechanical simplicity. It offered good design in an age of shoddily built insolent chariots. VW, true to form, avoided hyperbolic promotional stunts. Without fanfare, the Ghia slipped into VW's Bauhaus-like showrooms.
Quiet worked. Ghia buyers, during the 1950s, exceeded supply. One reason was that the Ghia's seamless shape required a lot of hand labour. After hydraulic pressing and welding of this automotive confection, cotton-mittened hands caressed the Ghia's nude shimmering, discoloured body searching for blemishes. Seam joints were hand-filled with lead.
Once the body passed inspections, it was submerged into a zinc phosphate primer, and then it was wet sanded. Following that came the initial coat of paint and hand sanding, and this was repeated until the fourth coat. To achieve a nearly flawless finish, Karmann's paint booth used a dust-removing curtain of water.
Ghia production increased during 1962, when Karmann developed techniques that replaced some handcrafted methods. This lowered the 1962 Ghia's U.S. price by $135 for a coupe, and by $200 for a convertible.
Road and Track (January, 1962) predicted that "you'll see a lot more Ghias, simply because more are being made and the car will receive a greater share of VW's advertising budget." The magazine's forecast proved correct. The anti-hotrod Ghia moved from 2,452 US sales (1956) to 9,300 units (1961), then toward first place in two-seater sales - 38,825 in 1970.
The Australian market, on the other hand, was unlike the US and more like Britain in the 1950s. Cars were much more expensive, so small four and six-cylinder cars predominated. Volkswagen Australasia didn't introduce the Karmann Ghia to the local market until 1959, as a fully-imported 'luxury' coupe alongside the locally-manufactured 1200 Beetle. The price was high - £1,598, about the same as a Chrysler Royal, Fiat 1800, Humber Hawk, MGA Magnette, Renault Floride Coupe, Studebaker Lark, Sunbeam Alpine or Vauxhaul Cresta. A normal 1200 Beetle was £971.
Just 13 Ghias were sold in Australia in 1959, but this increased to 264 in 1960 and 284 in 1961. But after that, sales never passed 100 again and the Ghia was discontinued in 1968, the year that Volkswagen Australasia Ltd was dissolved. Just 805 were sold in ten years. The new Australian VW distributors, LNC Industries, never considered re-introducing the Ghia to Australia.
VW's coupe was technologically advanced. All of the car's windows were curved - even the side glass. Moreover, the door and side-quarter windows were frameless. Finally, the car's low profile and carved out-of-soap shape required sophisticated production techniques.
The packaging was also unique. By putting a coach-built body on a (widened) Beetle chassis, VW found a niche for an exotic-looking economy car. Eventually, other automobile manufacturers borrowed VW's recipe.
Even the ads were different. Although early sales literature used artful illustrations, during the '60s, VW's US ad agency - Doyle, Dane and Bernbach - discarded tradition. They turned lampooning 'normal' advertising into a sport.
The agency's soft-sell ads were hip. Instead of herds of horses or scantily clad women, an early Ghia ad admitted, "This ad is six years late." It was a thinly veiled attack on planned obsolescence and false advertising claims. For instance, its copy faux confessed that what the car people thought was an Alfa Romeo or a Ferrari was "Brace yourself...a Volkswagen." It warned, "Sorry we can't do anything about strangers who think it's a $ 5,000 car. You may still find bellboys... expecting bigger tips. But nothing's very perfect is it?"
Another ad's cutline, below a Ghia with racing stripes, admitted, "You'd lose." But, "it might comfort you to know, you'd be driving the best-made loser on the block." VW even suggested the Ghia was "for people who can't stand the sight of a Volkswagen." Then, it revealed that the photogenic car shown was a fancy wrapper; it covered the Beetle's "strictly functional chassis." Its beauty was "more than skin deep."
In an era of duelling muscle cars, an ad mocked racy cars and their owners. Its cutline asked, "Can you spot the druggist from Toledo." Photographs of viral well-attired men with their equally fancy European sports cars are shown. One "playboy," however, was an impostor who drove an ordinary Karmann-Ghia.
Finally, there was a TV spot that spoofed the Shell's Platformate commercial. In this ad, the Karmann-Ghia is shown heading toward a paper barrier. When the car hits it, the barrier merely budges and then car bounces backward. A voice-over says, "The Karmann-Ghia is the most economical sports car you can buy...It's just not the most powerful." Rosser Reeves, the assertive advertising man who pushed "unique selling propositions" had a coronary.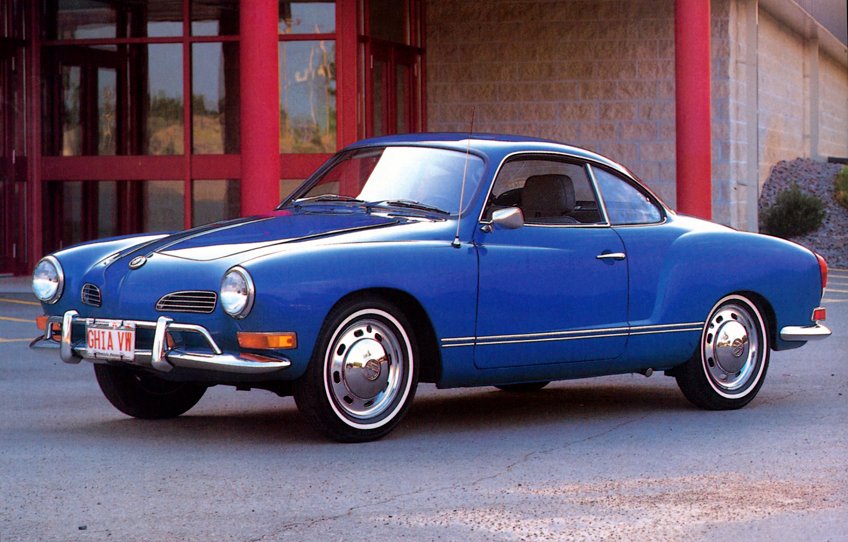 The Ghia received few exterior changes during its production run. Various modifications to the signal lights and bumpers followed headlight modifications. The most notable was the addition of bigger bumpers and larger rear signal lights in 1972. Like the Beetle, the most significant chassis improvement came in 1969 when a new double-joint rear suspension was introduced. And like the Beetle, engine displacement increased from 1200cc to 1600cc.
While these alterations improved the car, they never transformed its tame image. That was problematic. After Woodstock, the coupe's price escalated from US$2,399 in 1970 to $3,475 in 1974. Likewise, the convertible's price climbed a whopping $1,326 to $3,935 in 1974. The 1974 Ghia - eclipsed by competitive offerings - was quietly laid to rest. The modern new Italian-designed, Karmann-built, front-drive VW Scirocco coupe replaced it. Like the Ghia, the Scirocco won acclaim for its styling, practicality and, contrarily, its sports-car demeanour as it had a powerful, modern engine.
From the late '50s, VW's model year begins the previous August. VW made changes during production runs. Overseas-delivered VWs are 'export' models, usually with deluxe trim, the largest available engines and up-to-date suspensions. However, European buyers had a choice of engines and suspensions.
1950 - Unknown to Karmann or VW, Carozzeria Ghia's owner, Mario Boano, designs a VW coupe. The 'paper car' refines previous Ghia styling ideas. Ghia tries building the car but VW won't supply a chassis. Meanwhile, Karmann and VW discuss building a Beetle-based sports convertible. VW's management rejects Karmann's styling concepts.
1951 - Dr. Karmann shares the VW sports car idea with Carozzeria Ghia's commercial director Luigi Serge. Ghia, during this year, decides to build an Exner-designed body on a Chrysler chassis.
1952 - Ghia builds first in a series of Chrysler show cars or Styling Specials.
1953 - Early in the year, Mario Boano's son Gian fetches a VW Beetle from Charles Ladouche, the French importer of Volkswagen and Chrysler cars. Within five months, Ghia's Turin facilities complete a prototype. By late summer, Serge presents this coupe to Dr. Karmann.
1954 - Karmann's body engineering team designs body tooling and modifies the VW chassis. Only four or five test cars were built. Since the coupe's mudguards were welded into the body shell and that shell used many small pressings, there were nearly 140 inches of welds on the outer skin. Many stampings were water-cooled to prevent distortion. A convertible prototype is built.
1955 - On 14th July, Karmann offers the press preview of the nameless VW coupe. VW decides to call the lithe coupe the Karmann Ghia. On September 14th, the car is officially introduced at the Frankfurt auto show. The Karmann-built coupe differed slightly from Ghia's prototype. Changes included twin nostril-type front apron vents, curved side glass, full-width bumpers, wider chromes strips around the windows, relocated front signal lamps, revised rear deck louvers and a repositioned Ghia mudguard badge.
1956 - Karmann Ghias become available in the U.S. Price: $2,395. Zero-100 km/h time is 34.2 seconds.
1957 August - Karmann-Ghia convertible production begins. Fuel gauge and elaborate Ghia-only horn ring introduced. Vinyl replaces cloth door panels. Roller accelerator wheel replaced with treadle pedal.
1957 September - Convertible model's official introduction at Frankfurt's international motor show. The U.S. price is $2,725 and deliveries begin in 1958. Various body reinforcements compensate for the topless car's reduced body rigidity. All U.S. bound Ghias get bumper overrider tubes.
1958 August - Door hinges get multi-position check straps.
1959 April - Revised windows and winding mechanisms.
1959 August - Karmann-Ghia loses the voluptuous front fender dip; headlights are raised 5 cm and the wheel arch openings are reshaped. Front nostrils are replaced by perky multi-louvered intakes. The quarter windows pop out and there are larger rear lamps. Padded dash with grab handle. Side trim length is changed. Driver's door armrest added. Special Ghia horn ring replaced by semicircular Beetle ring. Steering wheel is dished. The Ghia is first sold in Australia.
1960 March - Steering damper added.
1960 August - New 40-bhp SAE 1200cc engine with fully synchronized four-speed transmission. New carburettor with automatic electric choke. Flatter fuel tank increases boot space. Last year for fuel reserve lever.
1961 August - Seat belt anchor provisions installed. Revised front VW emblem. US price reduced: $2,295 coupe, $2,495 convertible. Worm-and-roller steering gear improves precision.
1962 August - Smaller Ghia script from Type 3 Ghia, and the Volkswagen name installed on rear deck lid.
1963 August - Fresh air heating system. Semicircular horn ring dropped. Type 3 interior door lock controls installed. Exterior door handles and latch assemblies changed.
1964 April - Convertible top changed. Sheet metal pressings replace castings. Various changes through mid-1965 reduce the top's bulk. For the coupe, two levers near parking brake handle replace former heater knob. Sun visors now swivel sideways. Side trim and interior light revised. Basket-weave vinyl seat covers.
1965 August - Larger 1300cc engine with Solex 30 PICT carburettor improves acceleration; new ball-joint front suspension increases steering precision and the semi-circular horn ring returns. Flat hubcaps grace vented wheels. The battery is moved to left side of engine compartment and the air cleaner is now on the right. An ashtray is now mounted below the dashboard that sports plastic chrome trim. Swan-like, fender-mounted, rear-view mirror replaced by door-mounted breakaway design. Front lid drain tubes added.
1966 August - Type 3-inspired 1500cc engine, rear 'Z' bar, wider rear track and softer rear spring rate. Front disc brakes. Four bolt wheels. Dual brake circuits. Final drive ratio lowers engine rpm for relaxed cruising. Twelve-volt electric system. Faux-wood dash fascia (mask) with dashboard kneepads sports mini Ghia script. Large speedometer flanked by smaller gauges. Round, dash-mounted, fresh-air control knobs replace former levers below dash. Door locks now have buttons on door tops.
1967 August - Rear side reflectors. Petrol filler moved to right front mudguard, a safety feature. It has a nifty paint protecting rubber flap. Automatic Stick Shift with new multi-jointed rear suspension. Mirror-shaft mounted interior lamp. Seat backs taller. Boot release moved inside lockable glove compartment. Front shoulder straps standard. Air conditioning is an option. Trigger-style exterior door handles. Column-mounted ignition switch.
1968 August - Manual transmission model's swing axles replaced by new multi-jointed rear suspension which improves handling. Separate headrests on front seat backs. Electric rear window defroster. Convertible gets glass rear window. Petrol filler on right guard's top has remote release. Locking steering column. The last model officially sold in Australia.
1969 August - Larger front and rear signal lamps. Rear lamps include back-up light. Relocated and redesigned rear reflectors, 1600cc single-port engine. Beginning during the 1970 model year there were throttle positioners, either vacuum operated or dashpots installed to reduce emissions. Air intake preheating system thermostatically controlled by engine's thermostat. Evaporative emissions system installed on California cars; this eventually becomes standard on all U.S. models. Detachable rear lid drain tray with tubes.
1970 August - 1600cc dual-port engine with Solex 34 PICT-3 carburettor. Thermostatically controlled air preheating system has separate thermostat on air cleaner assembly. Door locks revert to earlier style. Larger defroster outlets. Felt-style carpeting.
1971 August - Single blade sturdier bumpers, Type 3 rear tail lamps. Four-spoke collapsible steering wheel. Dashboard fascia and windowsills covered by pebble-grain plastic. Inertia locking, single-tab seat and shoulder belts. Instrument cluster redesigned. Fuel, speed and time are now indicated within two tunnel-like round dials. Revised vacuum-controlled intake air preheating system. Right stalk on steering column operates wipers. Fresh-air control knobs moved. Door window seals changed and window scrapers revised. Seat covers changed. Engine's compression ratio dropped from 7.7 to 7.3.
1972 August - Reinforced front bumper meets new U.S. standards. Alternator introduced during 1973 model year. Fuel pump body and push rod changed. Girling front brake callipers installed. New cylinder head alloy. Engine and transaxle mounts improved. Fasten seat belt warning system. Parking brake warning lamp. Rear 'emergency seat' eliminated. Exhaust gas recirculation on California models.
1973 August - Rear bumper extended. Meets new bumper standard. EGR on all vehicles. California cars get Solex 34 PICT-4 carburettors and twin-tube intake manifold preheating system. Seat belt starter interlock. Small lamp beneath dash illuminates heater controls. Brake light and fasten seat belt lamp now placed together at the dash's centre. VW Owner Security Blanket with Computer Analysis (12-month or 20,000-miles basic warranty) provides free 'substitute transportation.' VW claims a 0-100 km/h time of 18.5sec, top speed 145 km/h.
1973 21st December - European Type 1 Ghia production halts, but U.S. export production continues.
1974 21st June - Karmann-Ghia production halts. Coupe's price: $3,475. A Motorola-built AM radio with stereo eight-track player is a popular option. The new Scirocco replaces the Karmann Ghia.