VW Adventures
Chasing Halley's Comet in a 1600 Kombi
Bourke to Burketown Bash 1985
VW Classic '86
Gold In California
Country Cruising
Like Father Like Son 1
Like Father Like Son 2
Bad, Bad Camberg
If Two Can't, Who Can?
Backwards Into The Bush
Shades of Wolfsburg at Birrong
The Saga of a Volkswagen
VW Wins 1963 Armstrong 500
Impressions of Wolfsburg
What Makes a VW Enthusiast?
LAX VW Classic
On the Road to Valla
Dig Tree Adventure
Yerranderie Or Bust
Visiting Clayton, Victoria
Targa Tasmania
Illawarra Turbos
From State To State
Nambucca Valla Park '95
Nothing Lasts Forever
Adelaide the Easy Way
Racin' with the Locals
VW Spectacular 2001 – Part 1
VW Spectacular 2001 – Part 2
A 1971 Trip to Cape York in a VW
Clockwise round Oz in a Wasserboxer Campervan
Top of the World – well almost!
Dubs and Dynos
Around the World in 80 days
Frankfurt to Wolfsburg in a Golf TDI
Chasing Halley's Comet in a 1600 Kombi
By Phil Matthews
April 1986
Well, why not, I thought? What better excuse to get out of the city smoke for a while and stretch the old bus to breaking point on the country highways? Halley's Comet, although overrated, does only come once every 76.3 years, and I doubted if I'd be around in July 2061 when it reappears (let alone the Kombi).
So, I packed the tent, eskies, sleeping bags and so on into the cavernous rear, plus good mate Wayne in the front, and set off on Good Friday night after work. Keep in mind that my beast is an ex-PMG 1973 red windowless van fitted with the unbustable 1600 motor, and I had complete faith in it. It is a Volkswagen, after all! I finished work (I'm a computer operator) at about 1.30 a.m. on Good Friday morning, filled up with fuel and pointed the nose in the direction of Coonabarabran, reason being that the skies are clearer there than anywhere in Australia. Siding Springs Observatory is located nearby.
We headed out through Windsor and onto the Bells Line of Road through Bilpin to Lithgow. There was almost no traffic; just as well I guess because the bus had some problems with climbing some of the mountain passes, but never bad enough to have to go back to first gear. Second gear was fine! You should've heard the motor flat knacker in 2nd up a long incline, valves bouncing about, fan whistling, and occupants leaning forward in their seats. What fun. The dense, cool, moist mountain air must have added at least 2 or 3 horsepower to the bus, and you could definitely feel it as we went screaming down the other side like kids in a billy cart.
Through Lithgow we turned off toward Mudgee. It was along here that I had a great dice with a Mitsubishi L300 Express van; they have a modern 1.6 or 1.8-litre motor, but the old VW held its own. He was quicker up the rises; I was faster down the slopes and around the bends. We overtook each other again and again for an hour, and this really opened my eyes. The old 1600 bus was only slow compared to other Kombis, not other vans. Jap boxes such as dual-wheel Mazdas/Fords, Hiaces and Urvans were easy to pass flat out, and it was only the newer Taragos that were quicker. Several days later I was passed by a late-model VW Wasserboxer camper. I was doing about 100 km/h, and he passed me like I was standing still. Made me feel proud.
The sun rose as we passed through Gulgong, the town on the $10 note, and we stopped for some photos. On through Dunedoo and Mendooran and so to the Oxley Highway. We finally rolled into Coonabarabran about 10 am, 7½ hours after leaving Sydney. We did stop for brekkie at Mudgee for an hour, though. The bus used almost a full tank of fuel and the extractor was a funny white colour. All in all a good trip and she didn't miss a beat.
Coonabarabran is a great place (pop. 3100 people) and it is small enough to walk almost everywhere. Over the next few days we photographed the comet (it wasn't easy because of the full moon.) I took the Kombi for a drive through the Warrumbungle ranges nearby, where we saw dirt roads for the first time. The bus loved it, the 205/14 radials soaking up the corrugations. Almost before we realised, it was Easter Monday and time to come home, so we packed up the campsite and headed back. Halley's was all right, but I remember the Coonabarabran pubs (all 3 of them) better. Thanks also to the lovely Natalie and Ruth for being such good company, especially with the dinosaurs at Miniland.
We decided to be different on the way home, so we went through Binnaway to Coolah. This is a little used back road which soon turned to dirt, about 160 km on and off until Denman. The Kombi roared along the dusty, stony corrugated road, throwing great plumes of dust into the air. Sand drifts at the shoulder would loosen the tail occasionally, but she handled like a Beetle and it was easy to snap the tonne and a half of VW back into line. We passed only a couple of cars here, because that's all there were to pass.
It was after a particularly rough stretch and we arrived in Cassilis (pop. 120) that I first noticed something wrong. The Kombi was twice as loud as normal as we cruised along the bitumen of the main street. Oh well, I thought, I've blown a hole in the muffler. Never mind, push on.
We stopped for lunch in Denman and the noise was unbelievable. On getting out and looking, I noticed the extractor muffler had fallen completely off, and was lying goodness knows where 100km back on the road. The Kombi had just the four-into-one open pipe left. After a great counter lunch we realised that we couldn't get a muffler anywhere on Easter Monday, so we just kept going, the bus roaring all the while. It was only noticeable through towns, anyway, as we left the noise behind at higher speeds.
Driving on past Jerry's Plains, I suddenly noticed I couldn't see out the back window. Admittedly there was plenty of dust accumulated back there, but this was something else... as if the rear had been sprayed with paint. Then the oil light flicked on...
After I got my heart out of my throat I immediately pulled over and killed the motor. We were in the middle of nowhere, and I got out to have a look. The back of the Kombi was smeared in oil (which was why I couldn't see out) and I bent underneath to see the last dregs of sump oil dripping onto the dusty ground. There was a thin trail of oil leading back up the road as far as I could see. The reason? The shaking on the dirt road had apparently loosened one of the oil strainer studs in the bottom of the case, and this had come undone and fallen out completely, leaving a threaded hole about 4mm in diameter for the oil to drain out.
After popping a cold XXXX from the esky I considered my options. I didn't carry any tools or spares at all (I drive a VW remember?) so I had to hitchhike back to Jerry's Plains (pop. 230) to get more oil. This I did while my mate Wayne minded the bus, which looked so pitiful beside the road, smeared with oil and dust with its engine lid up.
There was only one service station in the town, and I was able to buy 4 litres of XMO (all they had in plastic containers). The girl looked blankly at me when I asked if I could get a 4mm bolt to screw into the motor; I had to find a way to plug the hole. I didn't know what else to do, so I bought a packet of PK gum and a roll of electrical tape. I then hitched back to the Kombi, about 20 km from town.
Wayne had brought a kerosene lamp for camping, so I used the kero and a hankie to clean the bottom of the Kombi's motor. I plugged the hole with a thin wad of chewed gum, and taped it up to keep it there. Crossing my fingers, I poured in the oil... it held. I started the Kombi, and we were off again. I took it carefully and we reached Singleton with no problems.
Pulling into a service station that 'specialised in VWs' I asked if I could get an oil strainer stud. The chap muttered that he hated VWs, but wait a little while and he's see to me. After we waited half an hour we decided he could stick it so we continued on, the chewy holding fine and not leaking at all. Before we knew it we reached Newcastle.
We stayed the night at Dave's in Newcastle, and I had it all figured out. Next morning (Tuesday) was a proper working day and I would cruise to the local VW dealer and get an oversized stud. I checked the chewy; it still held but there was an ominous puddle under the motor where the Kombi had sat overnight, drip...drip...drip. Arriving at R.H. Taylor, the Subaru/VW dealer in Newcastle, I told them what I wanted. They had no such item in stock; but could order it in (5 days). They didn't even have an old motor lying around that I could strip. Blast... so I picked up the Newcastle yellow pages, and noted there was no Helicoil place in Newcastle, but there was in Sydney. We decided to push on.
We headed off through Newcastle towards Sydney, the unmuffled exhaust still roaring. It wasn't until the Budgewoi turnoff that the chewy finally gave way and the oil light came on again. I repeated the temporary repair, but bought extra oil from a local service station as a precaution. This was just as well, as the oil light flashed again just before Brooklyn.
It was as I was lying under the motor this time, glumly staring at the crankcase, when it occurred to me that perhaps a tinware screw from the engine shrouding might fit. With a 10-cent coin I unscrewed one and...it did, tightly. Permanently fixed, we rejoined the traffic and reached Sydney before lunch.
It was great to go away, but great to get back, too. With a new muffler and a wash the Kombi is as good as new, and in the aftermath I'd forgotten all about Halley's Comet...
Bourke to Burketown Bash 1985
By Barry Ferguson
May 1986
I heard about the Bourke to Burketown Bash, and thought that it was a fantastic idea and I should try to get an invitation. The concept was the baby of entrepreneur Dick Smith, and it centered on recreating the spirit of the early Redex Trials in memory of the late Jack "Gelignite" Murray. The cars had to be 20 years old or older, entrants had to have a spirit of fun and adventure and be prepared to bribe and cheat so that a $200,000 aim could be achieved for the Variety Club of Australia. The money raised would go towards the buying 15 'Sunshine' buses for handicapped children.
Having been a 'works' driver since the late '50s, I bought the blue/green works Beetle from VW Australia after the 1965 trial season and gave it to my father to use. He used it regularly until about four years ago when he 'updated' it to a 1976 torsion bar front end Beetle, retiring the old works car under some blankets in the back shed. This then would be our mount for the B to B. What a nostalgia kick to go in the old style event again in a car we had traveled in, back in those early years. We walked thru the first shed with the white '76 sitting there in all its smugness. Across to the second shed, put a large key in an ancient lock to open a weatherworn door, and removed the blankets to revel the toy. To the average onlooker it was like any other old, used, 1967 Beetle, but to the trained eye, the 'jewels' were obvious. A speedo with trip meter, the double grip African axle beam supports, the rear metal under guard shields with mud flaps, the holes strategically cut in metal work and glove box for wires, switches and Halda Speed Pilot cables, and several other minor things – 'chip baskets' on the headlights, and a 12-volt electrical system.
After a quick check by Eric Brown Motors, just out of Goulburn, the car was registered and taken to Sydney for a total check over and preparation for this 4,000 km adventure. Whilst preparation was under way, my oldest son, 14, himself a motoring enthusiast already, found under the house our 82-litre works tank from the 1967 works Beetle, the car in which I won the International Southern Cross Rally.
Work proceeded quickly. One amazing point to emerge was the availability of parts for this 20-year old car. Everything we needed came off the shelf at VW Spare Parts, North Ryde. The assistance given, in particular the help and time put in by Ray Ratcliffe of VW Australia was enormous. If a required part showed up as no longer available, he was able to come up with an alternative from a later model or another type.
I decided to run the car basically as we had done until the end of 1966. This meant using drum brakes and 560 X 15 Cross-Ply Olympic tyres, with tubes. The engine would be modified to somewhere between standard and the level of the twin carby units of our 1967 and 1968 cars. Powertune of Gladesville carried out this work, through the skills of Adrian and Steve.
In no time at all, it was 8:00am on Saturday June 1. The Sydney Opera House start. A very colourful field of 53 cars faced the starter. Len Evans had a 1924 Lancia, John Singleton a 220S Mercedes, Gordon Elliot of Channel 10 an EH Holden, John Newcombe of tennis fame, an EH Holden. There was a model T Ford, a Rolls Royce, a brace of Beetles and a flock of Holdens. Peter Wherrett the motoring writer was in a 1960 Morris Minor and Dick and Pip Smith,a 1964 EH Holden.
Day one was a fairly straightforward 783km drive to Bourke, but didn't it rain!! So much so that most of the cars with their drum brakes had no stopping power at all - we almost overshot Bourke.
Day two was to have been a 414 km run to Tibooburra but there had been so much rain that the roads were closed. The whole day was rerouted to Charleville in Queensland, with a 'horror' stretch thrown in for good measure. And horror it was, much mud and more mud, gates and holes, but the Beetle was in its element. Our time was ten minutes faster than the rest; we were quickest car and it was fun. Had we gone home then we would have been happy. We had relived the past in a section that was just like those years so far away. The Beetle had shown again where it really had the advantage. Rough roads were soaked up by the torsion bar, trailing arm suspension and the mud taken with ease with the weight over the rear wheels and that marvelous suspension again.
Day three was also a remote day. This time to a little place called Windorah. It was in this town that we saw the true Australian outback hospitality. Another horror section was thrown in on the way, this one being very flat and smooth to start, ending up with a lot of creek crossings and rough stuff. A well driven EH passed and beat us by five seconds on this section. Another EH and a VS compact Fairlane had passed us also in the open, but we disposed of them in the rough. The tiny township of Windorah, with no large hotels or motels, had 24 hours warning of our arrival. Everyone rallied around and cooked food, made accommodation available and generally went out of their way to help. About 240 people who descended on Windorah were fed in the local hall that night and at breakfast the next morning. An amazing effort.
When you looked around the town, it would have boasted thirty-seven people and six dogs on a busy day. The highlights of Windorah were too numerous to mention but some of them were:
1. The team of people who attacked the local garbage tip looking for parts. One entrant took a motor out of an abandoned FB Holden ute and fitted it to his Bash Car. We retrieved a flipper window for our car from the only VW at the tip and Tim Donovan from Import Advantage in Brisbane, who ran as back-up for me, also got a windscreen from the same wreck for one of the girls' Beetles.
2. John Newcombe arm wrestling in the main street at 1.00am.
3. Tents pitched in the middle of the main street.
4. People staying in the cells of the local gaol.
5. John Newcombe playing tennis at 2.00am.
6. Sandy Kidd, a local grazier putting up 30 people for the night in the old homestead.
7. The second-hand condition of my support crew of Roland Hill, Ken Grinlord, Kevin Anchor and John Kran at breakfast the next morning.
From Windorah it was off to Birdsville, a fast hard trip with a destination we looked forward to. It was on this run that we lost our outright event lead when we ran out of sparks before
Betoota. When we worked out what had gone wrong, and then replaced the coil, it had cost us forty minutes. Birdsville and the Birdsville Pub were great. Another great night, not much sleep and then on to day 5 and Mt. Isa.
Day four was a hard run, and gradually cars had their share of troubles as the distance rolled on. Len Evans auctioned places across the finishing bridge into Burketown to dinner in Mt. Isa, John Singleton bidding $4,800 for the privilege of car one.
Day six, the last day, was a 514km run to Burketown and the finish. Lots of fun on the way, with more rerouting due to rain and mud. The finish control was across the bridge that spans the Albert River, but to pass over it one needed a Shire of Burke Official Passport. This seemed fair enough, but the issuing table was over the river and you could not walk or drive over the bridge to get to the other side. Obviously some bureaucratic bungle, and with a river infested with crocodiles and sharks. Competitors used surf boards, pump up boats, pump up beds and all manner of weird devices to get to the other side and back and then on to the finish, the end of a wonderful, fun packed carefree six days. That night, the Thursday night, a presentation was made and Len Evans was declared winner (obviously the best cheat), in his 1924 Lancia. We were third in the trial section and picked up the best VW award.
After a relaxed stay of one day, the Friday, we did a U-turn and drove home, staying at Winton on the Saturday night and Bourke on the Sunday night, getting home at 2.00pm on the Monday afternoon of the long weekend.
My navigator for the event was long time friend Max Stahl, who had navigated for me in the '60s. We both agreed that it had been a great event, a bag of fun, and had more than lived up to the aims of Dick Smith and his amazing band of helpers who made it all happen - on a voluntary basis. Over $200,000 was raised for charity.
To the best of my knowledge our Beetle is the only known remaining works rally Beetle in Australia, and thanks to VW Australia, G. Bros of Mona Vale and Powertune of Gladesville it excels itself again. Shortly I will take it back to its shed in Goulburn and cover it with blankets for another 20 years. Provided my 80-year-old Dad lets me. He may decide to use it instead of the '76 - after all it is still a sprightly member of the family and the shed did look cleaner without it.
VW Classic '86
By Ed Garcia and Boris Orazem
August 1986
This event was held on 15th June 1986, American Fathers Day, at Irvine Meadows, California. Prior to this event, there was a literature and model car swap meet at the Marriott Hotel the evening before. This gave enthusiasts a chance to rub elbows with the famous faces of the US Vintage scene; the likes of Bob Gilmore, Mike Hornbecker, Steve Horan, Rich Kimball, Jeff Walters, etc. The night's display included early accessory catalogues, KdF literature, bud vases, 100,000-mile badges, rib semaphores, etc (all N.O.S. of course). An early night was on the cards so as to get us to the gates by 6:30am.
When we got there the queue was ½km long, four lanes. As we were some of the early birds, we saw the unloading of vintage parts unseen in Australia. Pancake air cleaners, D-type regulators, KdF headlights, round tool boxes, etc. We were so rattled we didn't know which stand to look at first. To confuse things further, the show cars started to arrive. First a dozen ovals, then splits, then cabriolets galore, 3 Hebmullers, a Rometsch; in addition to the numerous barn-door Kombis, Karmann Ghias and cal-look Beetles. By this time we were running around like headless chooks! I didn't know whether I was to look at swap parts, check out the Hebmuller or snap a photo. I think I managed to do all three at once.
Then there was the dealer displays. Bugs For You, KdF Enterprises, Vintage VW, West Coast Metric, and T-shirts galore. One look at my watch – 12:00pm, and I hadn't picked up a T-shirt. PANIC!
By the time I eventually did, the trophies were being given out and the day was over, too short, yes it was. There were over 430 cars at the show, and I counted 25 ovals. We enjoyed the day and we were one of the last to leave the place.
This is a must for the vintage VW freak as I can say we OD'd on Vintage that week.
Gold in California
By Boris Orazem
August 1986
Yes there really is gold in California. Not the precious metal, nor the 'black gold' as we call it, but the gold for our VW enthusiasts in the form of rare VWs, Cabriolets, Karmann Ghias, cal-lookers, etc. cruising the freeways of California.
The 1986 Budweiser-sponsored vintage VW meeting was the aim for our visit to the USA, so with the Aussie dollar falling by the minute a quick decision was made to purchase air tickets and traveller's cheques.
First stop L.A. International Airport and off to the hotel with the shuttle bus and, oh boy, are my eyes deceiving me or am I dreaming? No sooner had we edged our way down the freeway than I spotted the first Cabriolet, then the second and two more Ghias, one with two surfboards sticking out of the back seat. The bus driver didn't know whether to stop the bus and call paramedics to help me with my uncontrollable spasms, or throw me off. Instead, he just shook his head and mumbled something or other about the goddam tourists.
During that night I spent thinking of the day past and the treasures still unseen, so in the morning it was decided to go sightseeing. The first stops would be 'Johnnies', 'Bugs For You', 'Small Car Specialties' etc. And what better way to travel than to hire a Golf (sorry – Rabbit) Cabriolet? After finding our way, avoiding freeways, there was the Bugs For You store on the opposite side of the road. With cars coming to a screech behind us, I made a quick U-turn and almost collected an innocent driver on the right (wrong) side of the road.
Open Sesame – and I'm face to face with hundreds of hard-to-find VW spares hanging on the walls, behind glass-topped display counters filled with VW toys, VW memorabilia, literature, etc etc. Lost for words, I just stood there until a tall man with thick glasses offered me a seat. This was none other than the famous Rich Kimball, owner of Bugs For You, VW freak, collector of everything with a VW stamp on it and owner of several VWs. After talking to him for a while, we met Mark Bruto who serves behind the counter, and Scott Hendricson, another VW pervert. Teena had a busy conversation with the delightful secretary, Maribeth Leadley, while Mark took me around the back where under covers was his pride and joy – a 1952 Split Window in original unrestored state. By the way, Maribeth is also the owner of an immaculate 1957 Rometsch, as featured in the August 1986 issue of VW Trends.
In the front part of the showroom amongst Kimball's collection of rare memorabilia, badges, posters and VW toys (not for sale) were also three early bugs – one Split Window, one Oval circa '56 and the other a very rare black '52 Cabrio – all for sale on consignment.
Most of the day was spent in the spare parts section, going through all the shelves and boxes I could find. I managed to buy some of the stuff that my 1950 Split Window is missing for a later restoration, and also for the Barndoor Bus.
All the customers had been and gone when Mark hinted that the shop closes at 5:30 – it was 6:30 by then. I offered to stay the night and keep watch but 'no go'. Apologies all round, and the promise that we'd be back.
OK, I've tried to describe as much as possible the life of a vintage VW fanatic let loose in 'Bugs For You'. Now for something different – how about a cal-looker's paradise? After an over-exposure to Split-window bumper bars, three-spoke steering wheels and bud vases, it was refreshing to turn up at places such as 'Car Custom' in Azusa on the very outskirts of Los Angeles County, and 'Small Car Specialties', a bit closer to the coast.
It was a long drive to the suburb of Azusa at the foothills of the San Gabriel Mountains, rising more than 3,000m above the plains of the San Fernando Valley, San Bernadino County, LA County and Orange County. The distance from LAX airport is approximately 50km as the crow flies, and a bit more by a complex net of freeways.
That translates to about a 2-hour trip, between looking at the street directory and getting lost every time we looked.
'Car Custom' is more than your average spare parts shop. It's a Mecca for the cal-look brigade, sand buggy owners, dragsters, street posers, and restorers alike. For those with even more money and less practical ability, there is a complete customising workshop right next door, where you'll get any job done by tradesmen with the right know-how, from complete spray jobs to any possible modification to the running gear, and engines from mild to wild. If that's not enough, and you don't know exactly what you want your VW to be, there are about 20 or so cars to choose from in the front yard of the shop. They range from fully-restored early (circa 1955-56) Oval Windows to super-wild lookers with Porsche wheels and wild graphics, or just 'down-in-the-weeds' boulevard cruisers (NOT suitable for Aussie roads). Just to be different, you might choose a notchback or have a pick from a selection of convertible Karmann Ghias. For Mom to go shopping, 'Car Custom' also re-manufactures VW Beetles. They are 1968 and later cars, fitted with reconditioned stock engines and transaxles, re-covered upholstery and a new coat of paint to have them look and perform almost as they did when new. All cars come with a warranty.
Inside the shop they like to call it the 'largest VW parts and accessory store in California'. It looks more like a supermarket. Some ten or more people serve behind the counters or help out in the aisles with any questions you may have. Shelves and baskets are packed with chrome and aluminium accessories, engine parts, shifters, hub caps, front-end parts, exhaust systems of all kinds, and anything else imaginable. I know this sounds like a 'Dear Santa' letter, but we can all dream a little.
In the middle row of the store is a display of Type 1 engines to suit all occasions. You can choose from 1300cc stock runabouts to 1835cc, 2180cc and bigger, with hot cams, super-deep sumps, large oil pumps and dual Dellortos or Webers. If your Daddy owns a bank, or even better, a mint, you can build yourself a super mill out of all the bits in stock. You can start with the Type 1 'race case', a special casting by 'Superflo; saimesed cylinders and forged pistons of 101.6mm (!) diameter, and 'Superflo' heads with 50mm intakes and 40mm exhaust valves. Put in a 94mm stroker crank with 155mm rods and a suitable cam, top it off with a couple of Webers of your dynomometer's choice, and you've got a 3048cc monster. A couple more rounds with the shopping trolley for all the accessories and chromework, and you're done. Start dreaming!
If no one is getting bored with my overseas reports, there's more to come. Otherwise I might just accept an offer I got from the Society of Goggomobile owners to write for their weekly magazine.
See you at the next club meeting!
Country Cruising
By Luis Guevara
June 1987
"Carry your bags, Sir?"
"Nah, she's right, ta Mate, there's nuffin' in 'em!"
Sunny California!
Where's the beach? Where's all the VW Cabrios? Better still, where's the b….y door out of this airport?!!"
Even though it was late February (winter) in the US of A, it was not as cold as I had expected, and LA turned on two great days for my search of Ghia parts.
"Snowed here yesterday you know, first time in thirty years!" grinned the shuttle bus driver as we motored down the freeway.
Yep, I could feel it, luck was with me this time!
First stop after the motel was Bugs For You, owned and run by Rich Kimball. An excellent place to search for that hard-to-find part. Highly recommended to anyone planning a trip to the 'States. My thanks to Rich, Mary-Beth and Mark for their hospitality and for letting me browse around out back (yes, the '56 pop-out rear quarter windows travelled well). Rich expressed interest in joining our club, and he will soon be receiving his membership form and invitation to join Club VW.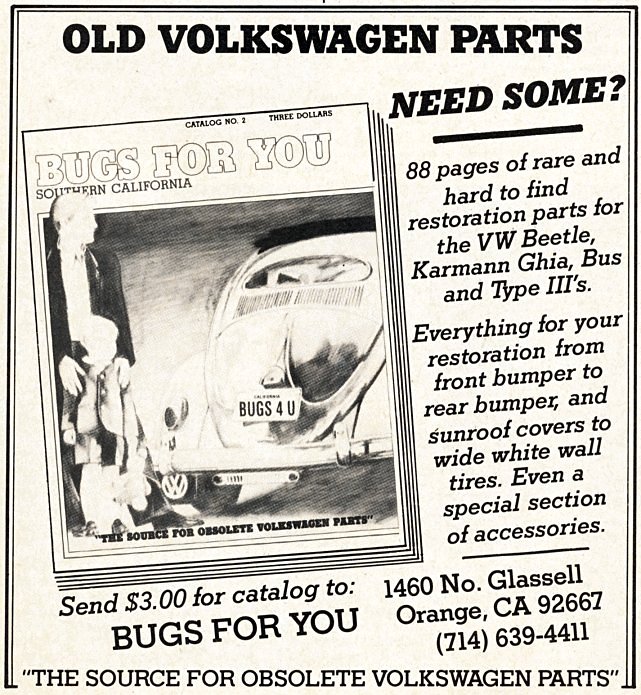 Rich and co were also quite impressed with the samples of our magazine I had taken along, and with the quality of some of our members' cars of which I had photos.
I also drew a lot of interest with our VW NATIONALS '88 posters, and with some luck we could have some visitors from BFY next year. How about it Mary-Beth, you won't forgive yourself if you miss out.
While there I met two Mexicans who had travelled up from Mexico City in search of parts for their '58 K.G. Cabrio and '56 Bug. As I had no transportation, they offered to take me around as they were going to a few other places as well. So, loaded up with my loot (Karmann Ghia Cabrio badges, '71 rear light lens, T-shirts, pop-out windows, etc), I said good-bye to Bugs For You and went 'adios' with the Mexicanos.
From there it was off to Small Car Specialties for some eyebrows, then to Performance Parts, Johnny's Speed Shop and some other place where they sold beer! Funny sort of a place, not one VW part in sight; not what I had expected in Orange County.
Anyway, after spending at least five days' budget my new friends dropped me off at the motel, waved 'adios' and screamed off under bulk VW power.
After waiting twenty minutes for my prime rib to arrive, I finally pushed aside the salad and waved at the waitress.
"Yes, Sir?" (everyone called me 'Sir' in the 'States; can't for the life of me understand why, unless of course it was my hair style!) "Is there something wrong with your salad?" she asked with a look of confusion.
"I don't know," I replied, "I'm still waiting for my rib!"
"You want to eat your salad WITH your rib?!" The confusion was starting to spread.
"Yes, I always eat my salad with my meat at home."
"You Australians sure are funny!" she said, and with that she was off to fetch my 10oz (280g) prime rib.
Believe it or not, she watched me eat my salad/rib from behind the counter, and on my way out explained that, "we Americans eat our salad before our meat." Moral of the story: when in America, eat your salad before your meat, otherwise you'll go hungry waiting for it.
OK, enough of the social studies, back to world of VWs.
The next day dawned fine, and after hiring a car at the motel and checking out the map, I headed north – I think.
I had guessed right, turned left, turned left again, a quick right, dodged the on-coming traffic, all four lanes of it, and parked! My first stop of the day, The Bra Shop.
Sounds like my sort of place…
After chatting with the people inside, I emerged with yet more good stuff, my very own bra. Black shiny leather, I knew it would look good once I got it on…the Karmann Ghia, of course.
Back in the traffic, I pointed the car towards the freeway and headed in the general direction of KdF Enterprises. About 45 minutes later I arrived and parked next to a gleaming '54 Bug.
More goodies, including a factory promotional model of a 411, were added to the collection and I began to wonder where I was going to put everything; after all I had been there only two days, and still had seven weeks to go. At this rate I would be broke within days and not able to pay the excess baggage fees!
I arrived back at the motel just in time to shower and catch the tour to downtown LA, Hollywood and Sunset Boulevard.
Interesting place, LA.
Next day it was back to the airport and off to Ohio, home of cold weather, snow and me for the next five weeks.
Like Father, Like Son 1
By Stephen Muller
June 1987
This story starts back in 1985. The announcement of the Wynn's Safari caught the attention of a number of dedicated VW nuts – the reminiscence of the early-day trial victories in Beetles was rekindled. Surely a well-sorted and balanced Beetle should be more than capable of competing in a 6,000km Safari from Sydney to Darwin? These thoughts definitely passed through my mind, and also those of Andrew Dodd and Fred Perrott – and apparently the Perkins brothers had the same thought.
Larry Perkins is, of course, the famous Bathurst winner. Larry's brother Terry is also a rather famous racing driver, with many wins overseas in Formula 3 and Formula Ford etc. The Perkins had a fundamental aim – to win and cause a major upset. They very nearly pulled it off.
For those who may remember, Eddie Perkins, the father of Larry and Terry, also won many long-distance trials in the 1950s, in VWs of course. Eddie had the best reputation for clean-sheeting sections and not damaging cars. In fact, Eddie's wins included second outright in the 1955 Redex, first in the 1956 Mobilgas, second in the 1957 Ampol and first again in the 1958 Mobilgas Trial. The following research may add a touch of nostalgia.
Eddie Perkins and Laurie Whitehead had a big influence in establishing VWs in Australia. During the trials they showed the Australian public how durable and reliable the funny-looking German car really was. 1955 was the first year that VW was to win a major trial. First and second places went to Laurie Whitehead and Eddie Perkins respectively – of the 176 starters, only 57 finished a total of 16,900km (compared with today's marathons of only 6,000km). The roads in this trial were appalling on this hardest trial yet. On one Queensland stretch from Maryborough to Sarina there were 128 creek crossings in 230km, as well as 32 wooden cattle grids, mostly in poor condition. The 1955 Redex Trial paved the way for VWs to become popular Trials cars.
The 1956 Mobilgas Trial, which started on 4th August, was where the money was. Second-place getters in the '55 Redex, brothers Eddie and Lance Perkins, won around 7,000 pounds prize money in their Volkswagen (£3,750 cash, a new car plus £2,000 if they competed in the Monte Carlo Rally). Volkswagen took out six of the first ten places, and of the nine VWs entered, six finished. This was mainly due to the fact that Germany sent out trained factory technicians to man mobile workshops. It was Australia's first sight of international-standard works servicing support, and it was to change the nature of rallying from then on. This trial consisted of the usual long, boring drags punctuated with absolute madness over rough tracks not even marked on maps. The worst car-wrecking section was the 118km between Kajabbi and Mt Isa. The trial was decided here – the Perkins became leaders and stayed that way.
In the 1957 Ampol Trial, Eddie Perkins did not have luck on his side, although he helped the overall winner, Jack 'The Waster' Witter. About 140 km from Birdsville Witter ran out of petrol. Perkins and George Reynolds arrived with help and syphoned out 8 litres of petrol, allowing them to reach Birdsville to be the eventual winners. Perkins was the second-place winner, due to the fact that they turned at a wrongly arrowed signpost. They also suffered from a broken oil cooler, which drained all the engine oil.
In 1958 Perkins was to find revenge with first-place outright in the 16,260km Mobilgas Trial. It was also in this rally that Eddie Perkins sustained the only panel damage to a vehicle being driven by him in a trial, after hitting a kangaroo. This fact has been constantly reminded to Larry and Terry after their exploits in the 1979 Repco and '85/'86 Wynn's.
At this stage I would like to remind you of other VW trial drivers of that era who are still around: Greg Cusack, Frank Kleinig, Bob Foreman and Jack Witter all drove VWs. You can read all about VWs in the early Round Australia Trials here.
Therefore, the aim was well and truly established. This was not Larry's first attempt at a trial/safari. In 1979 the Repco Around Australia Rally was held. Larry competed in a home-built 1963 Beetle. On the second day Larry was placed sixth outright and was up against the factory entrants from Ford, Holden, Datsun, Mitsubishi etc. The VW captured the hearts of many. Large headlines read '1963 VW leads fancied crews', etc.
The 1979 Repco started in Melbourne. By the time the rally approached South Australia, Larry was a hero. I clearly recall a radio interview with Larry that went along these lines: "This car is capable of a top speed of no more than 80 mph (130 km/h), but in the rough stuff we just pass everything else flat-out." From then on, Larry became the underdog hero for which I greatly admire him. Larry unfortunately didn't complete the Repco, as he rolled the VW at Coober Pedy, but this didn't stop the gallant Perkins who then proceeded to short-cut the event by heading up to the Northern Territory, unsuccessfully.
Fast forward to 1985. After failing to secure time, money and a starting place, my own hopes of competing were dashed. I had planned to see the start of the Wynn's Safari at the Sydney Showground, but a number of unexpected events took place that prevented me from doing so.
The day before the scheduled start, I answered a spare parts call at the counter at Muller and Muller: "Have you got a right-hand door lock mechanism and striker place for a 40-hp Beetle?"
"No", I answered, "but I could get you one by tomorrow."
"Ah, that's no good, we're competing in the Wynn's Safari tomorrow."
I proceeded to ask questions about which car he was driving, then his name. "Larry Perkins," he answered. Silence…"I think I can get you that door lock by this afternoon", I hastily replied. A number of phone calls to VW Australia at North Ryde and a special delivery was on its way to Lakemba.
Larry rolled into work about 3pm. The conversation started. Firstly I bombarded him about his car, a 1968 floorpan with a '64 body shell. The original ball-joint front end was retained with Bilstein shock absorbers, standard 15-inch VW rims were used with Goodyear Wrangler tyres – leftovers from the 1979 Repco, he added proudly. The rear end was basically stock, swing-axle 1500 gearbox with altered third and fourth gear ratios, welded hubs, and a ZF limited-slip differential. The engine was of Type 1 configuration with Okrasa crank, Porsche rods and Mahle pistons with alloy finned barrels, capacity two-litres with owner-designed heads. The factory tinware, distributor, manifold and carburettor all gave a very stock-looking effect.
A sidewinder extractor was used as an exhaust system, and a remote oil cooler. Mechanically the car was stock-looking but a bit of a wolf in sheep's clothing. The body work was…unusual. A drab green/turquoise 1964 colour was the basic theme, except for a white engine lid salvaged from the 1979 Repco car. The front half of the Beetle was cut away nearly up to the fuel tank area, on a 45-degree angle. This enabled the standard headlights to be retained with little or no front overhang. The body was metal, including the guards and bonnet. A home-made bull-bar protected the driving lights and front end, and gave winch access. The rear end of the car was cut away moderately. Approximately three-quarters of the engine lid and surrounding sheet metal and bodywork was retained to protect the stock-looking engine bay. A rear cage or bar arrangement was used to mount the skid plate.
The interior was unique – two daggy Jap seats were used up front, the dash was uncluttered except for two gauges and a Halda. Stock steering wheel and safety belts were used. A six-point roll cage was built in and a rather large fuel tank took the place of the rear seat bench. All the window glass and windscreen were Perspex and no window regulators were used, as rubber straps opened and closed the windows. Larry carried few or no spares, as bush fence wire is the best spare part, so he reckons. A major aim was to keep the weight as low as possible. The basic description of the car is a bit like Larry himself. He is a person who will speak to you at any time at your own level, without a high-class, too-busy attitude.
Back to the Wynn's. Many people thought that Larry had entered as a joke. This event was specifically designed for four-wheel drives, or was it? People soon leaned that looks do not count.
Like Father, Like Son 2
By Stephen Muller
July 1987
A fine day dawned for the start of the 1985 Wynn's Safari at the Sydney Showground. Larry's Bug was number six in the starting order, and the first two-wheel drive to leave of the initial eighty-one two-wheel drive cars entered. Although the Wynn's stated in Sydney, the real action didn't start until another 627km at Girilambone. This tiny speck on the map was to go down in the history of the Safari. Every competitor experienced the sloppy mud, which was so thick that in the first section nearly half of the field was eliminated there and then. This is where the slippery diff on Larry's car came into its own. "No problems," Larry reported for this stretch, and he completed it with considerable ease. Terry Perkins in a '68 Bug also came through this section with relative ease. The Safari led the competitors to Bourke, where Larry's time earned him a good starting position for Day 2.
Day 2 consisted of an 879km stretch from Bourke to Windorah further into the unknown. By this time nearly eighty entrants had withdrawn. Andrew Cowan had begun his charge for the lead. With many open stretches, the turbocharged Pajero had the long legs compared with the Bug, which had a terminal speed of 135km/h.
At the end of Day 2 the scores were tallied up, with Cowan in the lead followed by Zanolli in another Pajero. Larry Perkins in the VW was in outright third, the most highly-placed 2WD vehicle.
Day 3 consisted of a 1,400km leg from Windorah to Tobermoray. Larry still held his remarkable position, and the looks on the organisers' faces had become sour. How could a '64 VW Bug still be in contention against the high-dollar, high-tech factory Pajeros? What kind of publicity would be generated if an old VW blew off the best technology Japan had to offer? The laughter soon disappeared as it became clear that the VW was a real threat.
Day 4 was a quick run of 107km to Alice Springs. The four-wheel-drive teams revelled in the treacherous conditions, but at the end of the day Larry was still holding sixth position outright and was the third car. In one section Larry was advised not to attempt to negotiate a rocky incline, as it was supposed to be too difficult for two-wheel-drive vehicles.
Day 5 was 977km Brunchilly. Larry was still holding a commanding lead in the two-wheel-drive class and was more than a threat to Andrew Cowan and the other big boys. In one particular section the organisers deleted a swollen river crossing from the route. Larry dared to stand up and ask why, and followed an official down to the crossing to check out the situation. Larry thought it was still possible to cross here, and wanted to prove it to the official by driving the Beetle over and back again. To no avail, as the organisers stood by their earlier decision. Larry confided to me later that if this section had been included in the Safari, he's have had it in the bag.
Day 6, and a 791km drive to Katherine. By this time only the lucky or talented had survived the severe battering of the last five days. Perkins was still in a strong position, being second car outright and some sixty minutes behind Cowan. Bear in mind that the Mitsubishi team had service teams following in Unimog four-wheel-drives, and the Pajeros were being rebuilt along the way. Larry had a complete lack of spare parts, save for a toolbox and fencing wire.
Day 7 started with a 658km run to Darwin. For the survivors this was a welcome run to the finish. For Larry it was his chance for a final charge. However the treacherous pounding had taken its toll on the ball joint front end and a tie rod snapped. This caused the Beetle to swerve and end up in a ditch. After frantic winching and some bush repairs with fencing wire, they proceeded on to the end. By the time they reached Darwin, they were out of late-time – but only by two minutes. The treat of a VW winning the event had been averted, allowing a relieved sigh by the organisers.
But the tale lives on: "Perkins, while not classified a finisher, had thumbed his nose at the dollar-flush factory teams in his elderly V-Dub, all but upstaging them. Larrikin Larry's remarkably gutsy, characteristically Australian Safari assault was one of the highlights. In years to come, when wise men sit down over a bottle of claret to jaw about the old days, the wonderfully mad and ambitious 1985 efforts of Perkins will not be forgotten." (Australian Off-Road Year).
The 1986 Wynn's proved to be a non-event for Larry Perkins, as his racing commitments were to deny him the chance to compete. His brother Terry was to hold the fort in his own version of an off-road VW. He had his own very strange variation on the VW theme.
Terry's VW started life as a 1968 semi-automatic Beetle. The ball-joint front end was discarded and in its place Terry had mounted an A-frame front suspension of his own design and fabrication. It utilised 1976 Type 2 rear torsion bars that came through the firewall, 16-inch off-road wheels with Suzuki disc brakes all round, the steering was rack and pinion and the front track was 410mm wider than standard!
The 1976 Type 2 gearbox was also utilised. It incorporated welded close-ratio third and top gears with a factory ZF limited slip diff. The gearbox and engine were solid-mounted and an integral sump guard was fitted. The rear suspension was home fabricated, and terry had designed his own trailing arms. Standard Type 2 CV joints and Sway-Away torsion bars and adjustable spring plates were used.
The big grunter motor was a 2.7-litre VW Type 4 motor. It was built by Larry and his brothers in Melbourne. VW Rules, OK? It consisted of a Scat crank, rods, barrels and pistons, and retained standard heads and valve geometry. Standard Type 2 carburettors, electric solenoid jets and all, were used. The basic appearance of the motor is reminiscent of a Type 1. The fan housing was made of fibreglass with a Beetle alternator mounted in the centre. Air filtering was taken care of by two Jap filters inside the car. The oil-cooling system consisted of a Mazda RX-4 cooler mounted above the front petrol tank in the boot.
The bodywork of the car was hand-fabricated. The usual Baja Bug chops front and rear were evident, and the standard front guards were flared 200mm per side. The final bodywork was painted in a quick and dirty blue enamel. The interior of the car consisted of cardboard door trims, standard steering wheel, Jap car bucket seats and a fuel cell where the back seat used to be. The cancer growing in the front door pillars had been welded and the headlining had been hastily removed, with much of the underfelt fibres still hanging down. Like Larry, terry also insisted on carrying no spares, except for a toolbox and fencing wire.
The start of the 1986 Wynn's Safari was not at the Sydney Showground, but at Oran Park. A special stage called the prologue had been included there, and this sorted the drivers into starting order from Newcastle.
Bad, Bad Camberg
By Boris Orazem
July 1987
Four years is a long time to wait. Wait for what, you ask? Oh, only the largest assembly of vintage VWs and special coach-builts in the world.
With the kind assistance and a great love for the rare things in life, the good Heinz-Willi Lottermann of Bad Camberg, West Germany, has succeeded in bringing together the crème de la crème of Europe's best Volkswagens of the post-war era; some very rare WWII military Kübelwagens and Schwimmwagens, one-off specials and even the oldest VW – a 1938 Beetle straight from the Wolfsburg museum, together with Dr Berndt Wiersch. Dr Wiersch is the man in charge of the Volkswagen museum in Wolfsburg and the man who signs all those vehicle data forms with your car's birthday, colour, chassis number, etc. at your request. He also collaborated very closely with Ferdinand Porsche on the early Volkswagen project.
The meeting in July was the third one organised by Heinz-Willi, previous ones being in 1979 and 1983. This year was by far the best and most widely publicised event on any enthusiast's calendar for the year. The guests came from all corners of the world. Apart from local germans and neighbouring Europeans, the largest contingency came from the USA with all the very well-known names such as Rich Kimball, Bob Gilmore, Mike Hornbecker, Phil and Mribeth Leadley, Jeff Slater, Joe Allacnes and, of course, the globetrotter that he is, Chris Morley, plus at least a hundred more others. Australia had four reps. Rodney Farrell of Osnabrück (oops, I mean Muswellbrook), who managed to get himself most of the rare spares for his very common '51 split window; Ed Garcia and his camera, Ray Black with a long list of "Kübelwagen Parts to Purchase", and, of course, Yours Truly, the Roving Reporter.
Scandinavia, Italy, Austria, Holland, Belgium and Switzerland were well represented too with cars as well as visitors, as were Canada, Britain and Japan, etc.
Many friends were made in the course of ten days, and addresses exchanged; the knowledge gathered alone was worth the visit. Not to mention all the Bratwurst and Sauerkraut.
Bad Camberg is a small 12th-century country town north of Frankfurt with lots of Tudor-type architecture in its buildings, which suited the village atmosphere very well. There could not have been a better scene than to see lines and lines of split-window Beetles, Kübelwagens, Hebmüllers and some later oval-window Sunroof Beetles winding down the narrow streets of the medieval village.
Our own VW Nationals '88 generated a lot of interest too, and we have the first sure bookings from overseas guests already.
So, like I said, 1991 and the next Bad Camberg meet is a long time away, but with excellent meets of our own and with Valla Park Volkswagen Spectacular just days away, it won't be hard to wait for.
Congratulations go once again to Heinz-Willi Lottermann for an event that all others will be judged by.
If Two Can't, Who Can?
Names Withheld…
October 1987
What would you say if somebody told you that once while they were driving on the open road, they were overtaken by an old Beetle being physically pushed by a fully laden Kombi at speeds in excess of 130 km/h? "Bullcrap" probably, but the above event actually happened, and more than once I might add.
The practice started while on an interstate trip searching for VW parts, when my 1200 Beetle with a somewhat stuffed engine was having heaps of trouble making it up hills. You probably know the story – flat-out past everyone down the hills, only to be overtaken at the first sight of an uphill grade.
Well, we sort of came up with the idea that it would be great if the Twin Cab Porsche-engined Kombi driven by Agent X could push my old girl up some of the hills, thereby keeping a much higher average speed. Seeing that both cars were equipped with CB radios, it was possible to call up Agent X in the Kombi, bring the two weapons together and see that the two bumpers were at exactly the same height. The manoeuvre worked beautifully.
We employed the tactic to pass trucks up long climbing sections, the grunt of the Porsche-Kombi keeping us easily at 115km/h, whereas without the assistance I could be battling to keep 50 km/h on the speedo. We did not encounter any problems at all, only the puzzled faces of the overtaken truckies and some radical comments on the CB.
All went smoothly until we attempted to overtake a Mercedes Benz all crammed full of Dad, Mum and the rugrats. It was a long, very slight climb, but as I made my run at the Merc, the Beast just couldn't make it so Agent X came to the rescue, picking me up and propelling us past the Mercedes. We were picking up good speed but still not quite enough, so as we were approaching 130km/h with my Old Girl screaming its head off, I pushed my foot on the clutch and knocked it out of gear to try and pick up more speed as the gearbox was slowing us down.
That's when all hell broke loose, because as I did so, the rear end, which was no longer under load, rose up high enough to hook bumpers with the Kombi.
Jesus Johnson! I thought it was all going to come unstuck, as I had no control and using the brakes only made it worse! We both just had to hang on, keep straight and let the hill slow us down. And you wouldn't believe it – worst of all, the bloody Mercedes retook us. They were keeping a very wide berth and just shaking their heads as they went past. How embarrassing!
Well finally we stopped, and it seemed like it took ages. We dived out and unhooked the two beasts, trying not to attract too much attention from the fans going to the Adelaide Grand Prix, and started off again in search of the Mercedes, just to show him we could get past.
Well, if you don't believe that this actually happened, along with countless other radical stories on our way to and from Adelaide, then just ask Agent X. He doesn't lie.
Names withheld to protect the guilty.
Backwards Into The Bush
By Barry Lloyd (Modern Motor)
February 1988
Imagine the power in the hands of the James Hardie 1000 race starter. He just waves his flag at a bunch of drivers and wham! Fifteen thousand horsepower hits the deck in about half a second.
Spectacular stuff. We've come a long way since the 1960 Armstrong 500 at Phillip Island, which started it all. Total horsepower of those 47 competitors would have been lucky to make 2500.
If the starter that year had a warped sense of humour, his normal announcement – "Gentlemen, start your engines," could easily have been, "Gentlemen, wind up your rubber bands." This would have been appropriate for the second half of the field at least, which comprised NSU Prinzes, Lloyd Hartnetts and Renault 750s. In the midfield there were stronger rubber bands, like Triumph Heralds, Morris Majors, Simcas, VWs and others, while up front were out and out powerhouses like Vanguards, Falcons, Vauxhaul Crestas, 220SE Mercedes and Humber Snipes. Most factories, importers and dealers had entered with great enthusiasm.
NSU lead driver Lex Davidson had found some clothing resembling a German army uniform, can could be seen goose-stepping here and there, clicking heels, saluting and whipping off the occasional line from 'Deutschland Uber Alles'. A suggestion was put forward that the Simca team, which included 'Gelignite' Jack Murray, should let us have a few verses from the 'Marseillaise', but this was not acted upon.
The most reluctant entry was from Volkswagen Australia, cloaked under the names of various dealerships. Modern Motor's David McKay had persuaded VWA to enter three Beetles in the first long distance race for production cars held in Australia, but the management viewed the idea with trepidation. They pointed out that the Beetle had won everything possible in Round Australia Trials. Why, they reasoned, should they risk that reputation in an 800km road race against much faster cars? But McKay was very persuasive and eventually received grudging approval. Unfortunately an indiscretion of mine during pre-race practice did nothing to improve their attitude to the entry – but I'll come to that later.
Eight hours of non-stop racing in standard cars was something new, and few people knew what to expect. Some had doubts that the Phillip Island circuit, out from Melbourne, would survive the pounding – and they were right. 'Siberia' was an aptly named corner near the ocean edge, at the point furthest away from the pit area. A huge hole appeared in the circuit there as the race progressed and the thin bitumen cover broke up. The resultant potholes and stones played havoc with suspensions, windscreens and tyre sidewalls, causing several retirements. Some competitors went bush on wheels – others on roofs.
Another incident occurred just as the Vauxhaull Cresta of Frank Coad and John Roxburgh took the chequered flag: a huge explosion shook the pit area. Many people assumed the Cresta had blown up, others suspected foul play, but those in the know had little doubt about the culprit.
'Gelignite' Jack Murray had planted some explosive in the bushes to the rear of the pits, and with immaculate timing had lit the fuse when the leading car had half a lap to go. The fuse reached the bomb just at the right moment, with Murray far enough away to look about innocently and say, "Couldn't have been me, I'm over here."
There were two practice days before the event, and my indiscretion occurred on the second day, brought about (I keep telling everyone) by the Michelin tyres. It happened this way.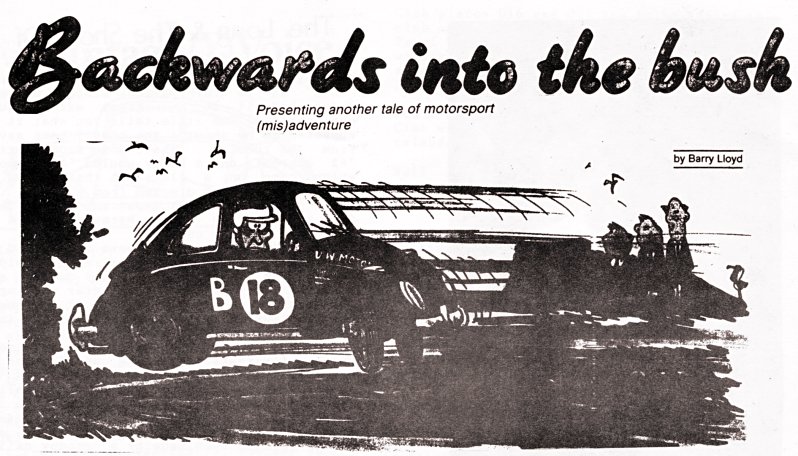 The VW factory, showing a fine lack of understanding of their own engines, delivered our team three new cars. Now as everyone knows, Beetle 1200 engines never gave their best until they've been thrashed for about 20,000km. On practice day, being the junior member of the team, I had to use an old hack VW. It had done about a million kilometres and was shod with Dunlop B7 cross-plies. The hotshots of the team – David McKay, Bob Foreman, Eddie Perkins and Greg Cusack – practiced in the actual racecars, running on Michelin X radials.
David McKay, who was also managing the team, showed me the lap times, and I discovered that I was only a second slower than the others. They had not driven the hack car, and no one twigged that these times weren't the result of my driving ability, but the fact that the new cars were stiff and sluggish, and the old hack was going like a shower of shavings.
David was most impressed. "Wait until you get into the Michelin-shod car," he said. "You'll improve your times drastically."
I knew nothing of radial-ply advantages in 1960, and said naively, "Surely tyres can't make any difference?" He could have leapt twenty years ahead of his time to coin the phrase 'tyres ain't tyres', but David doesn't speak like that so he just said, "I assure you, you'll be amazed."
I jumped into the other car and buckled the seat belt. David patted the roof and said, "Go to it, boy! Oh, by the way, just watch out for the Michelins. They don't break away gradually like the cross-plies. When you lose adhesion, it all happens very quickly."
In two laps I could see that the tyres were making a huge difference to the adhesion. Cornering speeds were much higher and by lap five I was really getting into the groove. I decided I probably did not have Welsh ancestry after all, but had descended directly from Nuvolari, and resolved to put in a lap time that would blow the big names to the weeds.
While this was happening, the reluctant VW management had even more reluctantly agreed to visit the circuit and watch their cars at practice. Keeping the lowest possible profile, the small group of grey-suited executives chose to stand out at Siberia corner, as far from the public as they could get.
They arrived at the spot as I commenced my 'desperate lap', designed to put my name in the record books. In my enthusiasm I'd forgotten David's warning about the tyres holding on and then letting go with a rush.
They let go all right, about 10 metres before the VW executives. The car, exceeding the limits of adhesion, took off like a bullet: at first sideways, then backwards, disappearing into the light tea-tree scrub like a rocket. The bushes closed behind the car and I was gone.
Damage to the car was negligible; damage to the ego was immense. The executives were quick to pounce on David McKay, asking him to explain how their car came to be in the hands of a maniac when he had sold them on the idea that all team members were levelheaded fellows. His explanation of tyre slip angles relating to B7s and Michelin Xs was largely lost on them, but I remembered it clearly for years.
Shades of Wolfsburg at Birrong
By Eileen Carter
March 1988
Last month saw a lot of activity at Les Robinson's place, for the 'five day restorations' of two VW Beetles for the Nationals.
Picture this: about ten scruffy looking fellows, ripping, rubbing and kicking two 40-bhp Beetles apart and then sanding and hacking them back into shape for painting and assembly.
But let's start at the beginning. These two Beetles were donated for the Club's use during the Nationals. They were donated by Les Robinson and Steve Muller for use in events like the Bug Push, Bug Balance, Go Slow Race and the Engine Pull competition. When our makeshift restoration crew first saw these cars, it was agreed they were a sorry sight. Les Robinson's car was purchased many years ago after having resided at the bottom of a river. The car needed a lot of work. After a team diagnosis, the following work had to be done: Panel work, fitting of an ignition system, a new coat of paint and a look at the 'iffy' motor. Les told us he had never started the car, so it was odds-on that the motor was cactus.
The team got to work. Firstly the car was stripped naked in preparation for the panel and paint team. The colour of the car could be best described as 'bottom of the river-bed white'. We gave it several coats of VW colour Gemini Blue. Believe it or not, our ugly duckling was transformed into a swan… well from 10 metres away it looked a lot better than it did!
Next came the motor. We changed the oil and gave it a quickie tune-up. Then came the moment everyone was waiting for. We crossed our fingers, held our breath and turned the key. The starter motor gave a feeble grunt and that was all. OK, back to the drawing board and Plan 2 was called into action. Manpower! This consisted of all the guys putting muscle power into pushing the car up and down the road in front of Les' workshop in the hope of coaxing the motor into life.
A few asthmatic coughs (from the team and the VW) and it was Plan 3 into action. 12 volts! After Paul Muller was volunteered to pull the 12-volt battery out of his souped-up Oval for Plan 3, we made a few more adjustments to the tune up department, and blasted the mongrel with 12 volts (the car, not Paul). Yes, it was time to try kicking her over again. Success! Birrong echoed to the sound of Sonic extractors in the night. A resounding cheer followed quickly after. The brakes were bled and the car was taken for a test run by each and every member of the restoration crew. One down, one to go!
Steve Muller's donated Beetle was one of Andrew Dodd's off casts. It needed as much panel work as les' car and in a similar condition except it was virtually rust-free. It had an extremely hot motor; so hot in fact that the engine bay had previously caught fire.
The poor old girl looked in a pretty bad way, but not for long! With one successful restoration behind us, the restoration crew were on a roll.
Firstly guards, front bonnet and engine lid were to be found to replace the empty spots. After much knocking into shape, they were put on the old girl and she was ready for her paint job. Once again the crew put their heads together and came up with the decision to paint her a VW colour, Gemini Blue as was the first Beetle. You may ask if the restoration crew had a fetish for this colour? The answer is simple, they had enough paint left over from the first Beetle, which meant we wouldn't have to buy more, and funds were considerably less available.
The night had settled in around Birrong and the artificial lights shone brightly. The paint was being applied with great care and skill gained from spraying the first car. The team decided that the paint was going to look good at less than 10 metres. Things progressed nicely except for the kamikaze insects who delighted in physically hurling themselves onto the still-drying paint.
It was a thought that, rather than abort the attempt and start painting again later, consideration should be given to the tragic state of the world, and to look ahead another 50 years when our children may well be deprived of the insect life as we know it today. I have no doubt in my mind that the ageless Volkswagen would still be going strong, and this momentous night at Birrong with the fossilised insect paint would be truly inspirational and educational to tomorrow's youth. To put it succinctly, the paint job looked great from just 8 metres, a clear 2-metre improvement from the last effort!
The floorpan of this Beetle was in superb condition, which left us shocked and stunned and not a little amazed. The hood lining was not replaced, which will no doubt help the weight factor should the car ever reach its full potential and compete in the drags. The red 'rodent refugee camp' seats were replaced with Golf seats. The car's razor-blade tyres were replaced with a different set of 14-inch wheels with off-road tyres, and the car was lookin' good.
A quick changeover to 12-volts, a speedy welding job on the gearbox mount and it was time to look at the surprise package under the engine lid.
I would like to describe to you the work that was done on the motor, but by this time the restoration crew were pretty pooped and switched to automatic pilot. Consequently, no one has a damn clue as to what work was done, but the car goes and that's all that matters. For further details regarding the mechanical side of the project, you are more than welcome to approach any of the restoration crew as listed below, and providing they are sober enough to be coherent, they will fill you in on the details. The only problem is, it's a bit like the 'fish that got away', the story gets better all the time. Wait until they are really blind and they start on the turbo-charged bit – it's a scream!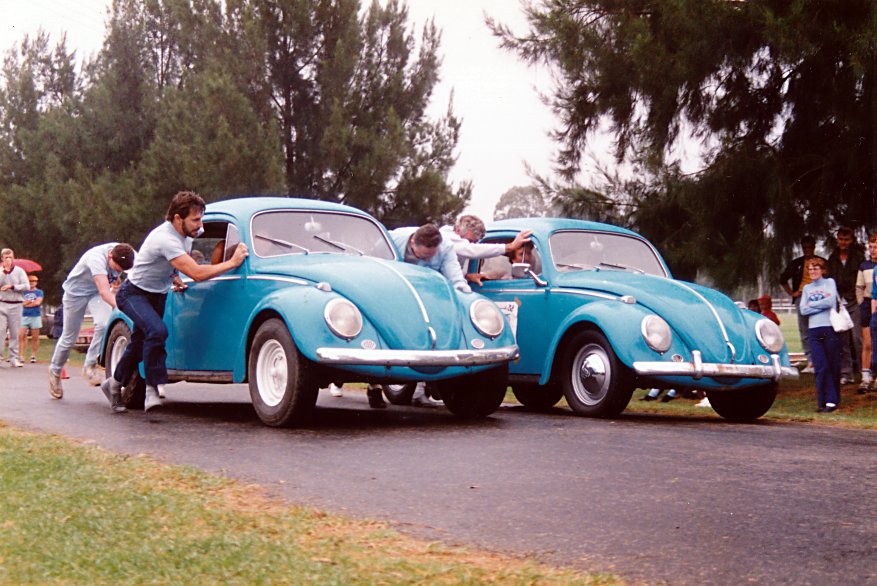 Our sincere thanks must go to Les and Marilyn for putting up with our invasion of their house during restoration week.
Starring our restoration crew:
DAVE Injury expert and nicky man
ROD Electrical engineer and painted wire scrutineer
VINCE Sanding expert and masked avenger of Birrong
STEVE Foreman and panic merchant
ADRIAN Painter and food consumer
LES & DAVO Owners of the premises. Damn nice fellows.
EDDIE Chief rubber backer
JOHN Food getterer and do things no one else will doer.
PAUL Apple pie consumer and brake bleeder (except at meal times)
The two finished blue VWs looked great and were a big hit at the Bug Push at the VW Nationals. Should you desire to hire our restoration crew, please contact Club VW for an inspection of your premises to enable us to inspect your fridge and pantry to ensure you would be able to cater adequately for the crew.
The Saga of a Volkswagen
By Peter Halliday
October 1988
The following story, which I thought would be of interest to VW enthusiasts, was given to me by a friend.
"Over many years I have owned five Volkswagens, but my first will always be in my memory. It was way back in the late fifties that I purchased this little beauty - my first new car. I can still remember that smell it had! For the next two years this Beetle took us to Queensland, Victoria and South Australia towing a box trailer with our camping gear on board.
"In June of 1959 I was having a boat built by a boat builder on the south side of the Georges River opposite Lugarno, in Sydney. Arriving home one evening, I ate a hurried dinner, jumped into my pride and joy and raced down to see how the boat was progressing. Everything being satisfactory, I left about 8.30 pm and returned down to the Lugarno punt. The ferry was just about ready to push off when I arrived, but they fitted me on. Having made it on board, I relaxed, watching the car headlights on the far side queuing up for the return journey, when, to my horror, I saw the gatepost of the ferry go past me! I hit that foot brake hard, but too late; the next second - splash - my rear wheels hit the water. Before they could stop the ferry, the surge of movement dragged me off the apron into the river.
"My first thought was the channel - I knew it was 10 metres deep - and I was thankful I had left my small daughter at home, as she would have been in the back seat of a two-door car. I pushed open the door and jumped. My feet hit bottom and the water just reached my chin, about three metres off the channel. I recollect hearing the radio go "phutt" as the water reached the dash. By this time, the car, with open door, was down at the stern, tail lights shining under water and the headlights, now elevated, lighting up the whole ferry which had come to a stop leaving me and the VW parked between the chains in about 1½ metres of water.
"Suddenly I realised that the VW was afloat and taking off downstream, so like a horse in a cart I turned around and with both hands on the rear bumper, hauled until the wheels stuck in the mud. A Good Samaritan with a truck threw me a rope, which I tied to the towbar and a lot of willing hands hauled the VW up the ramp and pushed it into a corner near the phone box.
"I rang the boat builder, who soon arrived with a change of clothes and a bottle of whiskey, as by this time I knew it was the middle of winter.
"For the first thirty minutes we repeatedly cleaned and dried spark plugs and wiped out the distributor at least twenty times. All of a sudden she fired, and two beautiful streams of water from the twin exhaust pipes shot at least ten metres up the road. Within twenty minutes I had her back on the ferry and drove her home. Yes, she was sick, if that could describe her condition, and I really didn't think she would make it home, but she did.
"Knowing that section of the river was salt, I hosed that car inside and out thoroughly, but next morning there was not a nut or bolt that was not red rusty. Within two hours I was at the VW dealer, and to my surprise, after talking to the insurance company, they would not strip the engine down, but wanted to give me a guarantee, that, if anything went wrong with the engine over the next twelve months, they would carry out those repairs free of charge. This was not acceptable to me, so, after a long debate, I asked the price of a nice-looking VW on the showroom floor. I drove home in another sweet-smelling VW.
"My last VW was a Kombi Camper which I had for fifteen years, and that one, after my retirement in 1972, took my good wife and self all over Australia. The only trouble was a busted shock absorber crossing the Nullarbor when it was just bulldust.
"Now, in my later years, I drive a little Ford Laser, but still notice every VW on the same road and think of all the happy memories of my first VW days. I sometimes wonder who was riding with me that night on the Georges River - most likely it was Old Nick along for the ride, for they say he often looks after his own".
VW Wins 1963 Armstrong 500
From VWA Review, 1963
October 1988
A Volkswagen Type 112 Sedan once again took first place in its class in Australia's toughest production-car race, the Armstrong 500, at Bathurst, N.S.W. on 6 October. This year's 500-mile classic race was so tough that 15 of the 57 cars that started failed to finish.
As well as winning Class A (Cars priced under £900) Volkswagen took third and fourth places, and of the five VWs that started, all five finished. No other make of car, including some that cost nearly three times as much, was able to give such convincing proof of reliability.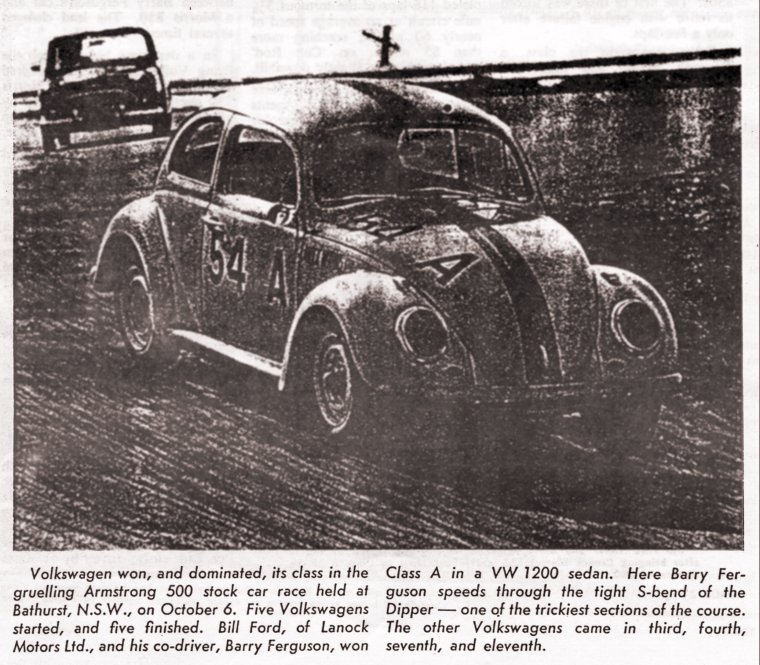 This year was the first time in the history of the Armstrong 500 that the race was ran on a true road racing circuit, the Mount Panorama circuit at Bathurst, N.S.W. The previous races in 1960, 1961, and 1962 were held at the Philip Island circuit in Victoria. After last year's race (the under £900 class of which was won by a VW driven by George Reynolds and Jim McKeown) the circuit was so badly broken up and potholed that it has not been used since.
The sponsors, Armstrong Shock Absorbers, decided to hold this year's event at Bathurst, and have already indicated that it will probably be held there again next year.
The aim of the race is to show motorists in Australia what the cars they can buy can do in the way of performance and reliability. The only fuel that cars may use is standard or premium grade petrol as available at roadside refueling stations throughout Australia. Cars must be absolutely as standard as they come from the production line in Australia.
The start at Mount Panorama is situated half way along the Pit Straight at the bottom of the moun¬tain. After taking Hell Corner, the cars have a steep climb up Moun¬tain Straight, then through the tight XL Bend on to an even steeper climb through a series of tight curves up to Skyline, which runs along the top of the circuit.
Then comes the Dipper, a tight downhill S-bend which leads to Forrest Elbow and the long down¬hill run along the notorious Conrod Straight, so named because many a car has thrown a con rod as it over-revs furiously flying down the hill. Many of the bigger cars clocked more than 112 m.p.h. coming down 'Conrod', which caused serious braking troubles. Some of them had to begin braking 500 yards from Shell Corner at the bottom of the straight. None of the VWs suffered from this sort of brake fade. Many cars came to grief on the Corner, including the Morris 850 that overturned and limped home second in Class A.
The race is for standard production cars made or assembled in Australia, and the successful Volkswagens were exactly the same as those on agent showroom floors throughout Australia.
Chief opposition in the under £900 class came from six Morris 850s. The first of these was forced to retire with engine failure after only a few laps. Other makes in the class, a Triumph Herald and Fiat 770, finished well back.
The winning Volkswagen was entered by Lanock Motors Ltd. Sydney, and was driven by Bill Ford of Lanocks, and leading N.S.W. trials driver Barry Ferguson. Their car, and the four other Volkswagens, completed the race with only routine pit stops for refueling and change of drivers, and experienced no mechanical trouble whatever.
Not one tyre change was needed, and the tyres on all five Volkswagens looked fit for another thousand miles of racing after the event. Several tyre changes were necessary on the Morris 850s, and broken radius rods and overheating on two of them also necessitated pit stops for mechanical attention.
Including their two pit stops, the Bill Ford-Barry Ferguson VW completed 116 laps of the tortuous 3.8 mile circuit at an average speed of nearly 60 m.p.h., reaching more than 85 m.p.h. on Conrod straight, which is slightly downhill. The Volkswagens racing were Standard sedans, which are lighter than the Deluxe models.
Other Volkswagen honours were won by the Victorian VW Agents entry driven by George Reynolds and Jim McKeown (third) who won in a VW last year, and N.S.W. trials driver Arthur Andrews who teamed with Rocky Tresise from Melbourne to finish fourth.
The Volkswagens also recorded excellent petrol consumption figures. George Reynolds reported more than 25 miles per gallon — at racing speeds.
The crowd of 25,000 was thrilled by a duel over the last few laps between Barry Ferguson's car and a Morris 850. The lead changed several times.
In a desperate bid to catch the flying Volkswagen a few hundred yards from the finish, the Morris 850 overturned. It was righted by officials, and just managed to limp home in time to take second place.
Barry Ferguson and Bill Ford said their car had run magnificently throughout. They noticed that they were able to continually out-brake the Morris 850s on the comers.
The superior braking of the Volkswagens, which enabled them to hold maximum speeds right up to the bends, gave them a distinct advantage over competitors in their class. This was particularly noticeable towards the end of the event, when other cars suffered badly from brake fade while the winning Volkswagen was braking just as quickly as at the start.
The VW also outpaced competitors in the straights.
The other Volkswagens to successfully complete the race were the Bathurst agent, Maquarie Motors, entry driven by Greg Mackie and Graham White (seventh) and Sydney agent Kinsley Pty. Ltd. entry, driven by F. Hann and G. Forrest.
First place overall in the event was taken by Bob Jane in a Ford Cortina GT, specially developed for racing.
Impressions of Wolfsburg
By Rocky Marov
November 1988
This is a description of my visit to the VW factory and museum at Wolfsburg during July of this year.
After completing a 1-month Contiki tour of Europe, my brother and I caught a train from Amsterdam to Augsbur, West Germany, where we planned to stay at our relatives' place. After a few days, we were on our way to Wolfsburg by train. The German train system is quick, clean, and always on time.
Nearing Wolfsburg, we stuck our heads out the window, and the first thing we saw were the tall smoke stacks of the old power station at the VW factory. After leaving the train station we tried unsuccessfully to find a reasonably priced hotel, so we went to an information clerk and they put us onto a youth hostel. When we got there we couldn't believe how cheap it was and the place was near new to boot. As the lady showed us our room, I was stunned to find each room was named after a VW model! Ours was called "VW TRANSPORTER".
The rest of the day was spent checking out the town. We noticed streets named after Ferdinand Porsche and Heinz Nordhoff.
As you would expect, about 90% of the vehicles in Wolfsburg are either VWs or Audis. While walking along a quiet street, we were confronted by a granite monument in the shape of a Beetle split rear window. It was put there as part of Wolfsburg's 50th birthday celebrations. Each block is about two metres high and they look impressive in real life.
The next day we made our way to the VW auto museum. Admission is only DM5 and worth every bit. The museum is well lit, with plenty of interesting VWs. I can't describe every car here, but highlights for me were the 1938 Beetle prototype, 4WD military Beetle and twin-engined Scirocco. There was even a sign describing Australia's Country Buggy, but the car wasn't there on the day. The Type 3 Cabrio was missing also.
After 2 hours of eyeballing the cars we headed for the factory with plenty of VW propaganda bought at the museum.
The entrance to the factory is reached by walking through a huge pedestrian tunnel under a set of train tracks. The tour starts at 1.00 p.m. and when we got there, only about 50 people were waiting around, but after an hour there must have been at least 500 people milling around the entrance.
I couldn't believe this many people visited the factory on a weekday. They finally let us in and herded us into groups of 50. Each group is given a different colour plastic medallion to hang around your neck in case you get lost in the factory.
We were led to a theatre, where we were shown a 20-minute film describing Golf production from start to finish. It was in German with English subtitles. When this ended, English speaking people were given the rundown by a VW public relations man on which production departments we would be seeing. He told us some interesting info.
There are two 8-hour shifts during the day, with 20,000 people for each shift. During the nights an army of maintenance workers enters the factory to service all the machinery. They make 3200 cars a day at the Wolfsburg plant, which only produces Golfs, Jettas and Polos.
The PR man warned us not to take pictures with a flash inside the factory, because of an accident that happened during the year. He told us of a lady taking a photo inside which set off a light sensitive welding robot at the wrong time, completely destroying a Golf body shell!
After the talk we went back to our groups and entered the plant. The first thing that hits you is the size of the place; it's more than a kilometre long, and is the largest car assembly plant under one roof in the world. We were led through the body stamping and welding sections first, then assembly, trimming and testing. The painting process can't be seen because of safety reasons. It's all done by robots, but the end result is an excellent finish. We noticed workers getting around on pushbikes and there are small self controlled parts carrier trams which weave their way around the entire factory.
It was all over after 2 short hours and was damn good value for free. We walked out amazed at what we had seen during the day.
If you ever have a couple of days off in West Germany, visit Wolfsburg, you won't be disappointed.
What Makes a VW Enthusiast?
By Peter Robilliard
August 1989
My love affair with the Beetle dates back to 1955 when my mother, after test driving a gleaming black demonstrator, purchased a green 'oval'.
Even as a six-year-old child, the superior quality and feel of the VW compared to the cars of the day was obvious to me. Owners in those days in Port Kembla (where I lived) used to wave to each other, a sort of de facto club, and their enthusiasm for their cars was very infectious.
As young kids, my brothers and I used to love riding in the rear 'boot', but unlike Phil Matthews, who used to tear the roof lining for amusement (Zeitschrift May '89), we just quietly removed the beading around the seats!
Another reason to ride in the back was the sound, and if adults have never had the opportunity of at least riding in the rear seat, I reckon they should do so Just to listen to the engine. Compared to the front seat position it sounds so user-friendly, and I find it ironic that 50 years after the Beetle's conception, the Japanese are now researching to find that elusive sound to build into their cars.
There were critics back in the 1950s, of course, despite the car's success in Redex Trials; they were always 'falling over', catching fire, and were gutless.
Being a staunch supporter (if a somewhat ill-informed young chap), I used to rock the knocker's Holdens and-Vauxhall Victors from side to side, and then compare their sloppy leaning to the almost rock-solid Beetle. Anybody who inverted a Beetle obviously wasn't a good driver! My knowledge of swing axles and roll-over steer came much later!
As for gutless, compared to what?
In 1959, when Mum purchased a darkish blue new VW, one of her friends purchased a stylish 6-cylinder gull-wing (Opera House) Chev. It was found that 45 mph was the top speed for both cars up Mt. Ousley!
In later years when we moved to Sydney, I learnt to drive on the blue '59. I don't remember where I heard of the slow in/fast out cornering technique for keeping Beetles curved side up, but I certainly applied it religiously when 3 -wheeling down the Rose Bay Esses.
There was a brief period of a couple of years from 1967 to 1970 when the family defected to Renault.
Owing to the general perception at the time that VW in Australia was going backwards by not incorporating the latest European improvements, such as 12 volt electrics, bigger windows and engines etc, I persuaded good old Mum to get a Renault 10 (similar rear engine and suspension layout, and a sweet-revving little 1100cc motor).
In retrospect, it still seems the right decision at the time, given the demise of local VW manufacturing, and the growing physical size of my younger brothers. Nevertheless, I still had enormous respect for the Beetle, and while at Tech in 1968, I had several rides in a fellow student's warmed-up Barry Ferguson-engined Beetle. That car was a revelation to me, and I've never forgotten the thrill of winding the car out to an easy 30, 50, 80, 90+ mph in the gears. The sheer effortlessness of its performance made a big impression on me.
After the re-launching of the fully imported Beetle in 1968, and seeing the gleaming black and chrome Empi Beetle at the Sydney Motor Show, the scene was set for another bout of VW motoring. In 1970, I bought a new 1500 Beetle. I was very taken with the fact that it had the identical new-car smell of the 1959 model.
But I was most impressed with the handling after fitting anti-sway bars and steel belt radials. The knockers of VW handling were still thick on the ground despite the factory's adoption of the Z-bar to lessen tucking under of inside rear wheels during cornering. It was therefore most satisfying to me to be able literally to leave the Japanese tin cans and family sedans of the time wallowing in my wake; even the wide-wheeled V-8 engined ones on the Bell or Putty Road corners.
After 5 years of enjoyment, I sold the car to my brother, who still has it, and is about to restore the body. The new VW I then bought was a TS Passat, martini olive green, which I owned for eight years. That car was an extremely efficient package, with superb steering, comfortable, seats, and a very good power-to-weight ratio.
However, it was not built to last in the old VW fashion, so I reluctantly sold it, and 'defected' again for 3 years.
When you've been bitten by the Bug as deeply as I have, it's not easy to forsake it. Whenever I visited my brother, I could not resist opening and shutting the doors to feel and hear the quality, and to go for the occasional drive.
My wife was not surprised, therefore, when I weakened again and bought a fully imported 1968 Beetle in 1985.
I suppose one could look at the psychological or the social reasons for the enthusiasm generated by the car, such as it being different; its giant-killing abilities in rallies or drag racing; or the quality of its build and engineering. But to me it's that, plus the experiences and pleasures associated with the use of the car that has made me the enthusiast that I am.
Because they don't build them like they used to, I intend to keep this one so that I can be buried in it when I finally 'retire.'
LAX VW Classic
By David Birchall
July – September 1990
It's travel time again. Back to LA to the VW Classic and SOTO meets. The Four Musketeers managed to get back to Los Angeles again this year. The tour left Thursday afternoon Sydney time and returned home again the following Tuesday morning - five VW days away from home.
Leaving Sydney on Thursday afternoon and arriving in LA on Thursday morning is certainly the way to go. That is the direct flight - only thirteen hours, and with a few drinks and a movie to put you to sleep, what a way to go.
On arrival at LAX, it's straight to the general hire car services. "Would a Cadillac convertible be suitable, Sir?" "Of course, why not?" Powered bloody everything and the car even talks to you. "Good morning, 84 degrees Fahrenheit", or hit the button and instant metric conversion.
Next, down Century Boulevard to the 405, the north on-ramp, and instant traffic jam. Up the 405 to the 10 and take the east ramp, then along to the 22a North until you hit the 5 North. Next take the 134 East to the San Fernando Rd. exit and turn right up one mile. One hour later and there you have it: KdF Vintage VW Shop. You should have the smile on 'NOS' Eddie's face - a home from home.
After making our acquaintances, it was down to business. John and owner Gary were certainly most helpful, and three hours later we departed. After we left, we were trying to decide which shop was next on our map. Ric finally won out, as Ed and myself were not that fussed.
So it was east on the 134 until Azusa, where we found Car Custom. Quite an interesting shop, that is, if you're into chrome and bright paint. Looks like the latest craze in VWs is iridescent paint, and I mean bright and loud. You need sunnies for this junk. As before, Ric spent more money. Ed and I had to laugh, but the bargains are just too good to pass up. Then we found Barretts in Azusa, not a very big shop and still all the same junk paint and chrome.
By this time, it was about three in the arvo, but it felt like midnight on our bodies' clocks. We started to head for the hotel near Disneyland and just happened to pass a Wolfsburg West shop in La Habra, and guess what? We stopped. Tony Moore was quite helpful, and as usual, we Aussies had the behind-the-counter tour. You find more things that way. This time it was my turn to hand over the cash - some synchro rings and door mirror pins and a few trinkets. Nice Karmann Ghia in the car park.
Finally we dragged ourselves away from the goodies and back down the freeway - down to Disneyland. The hotel was a major decision. Would we spend 25 or 50 dollars on luxury accommodation? We chose the expensive one and rang Bob and Heather Hickman, who were staying at the hotel across the road. "Meet you guys in five minutes, that is, after a shower. We're going for dinner, Bob". They had been there a week and had checked out all the value-for-money places there were. The 'Jolly Roger' sounded good for dinner.
After dinner we took a cruise down Harbour Boulevard. The Hickos had a Golf Cabrio - what else? And Ric and Ed just had to take a ride with the top down. We ended up at a VW dealer and took a parking lot tour of the new VW range. Quite impressive, and at least you can afford to buy a new VW in the U.S.A.
Slowly we drifted back to the hotel for a good night's sleep, because we certainly needed it after being awake for nearly 34 hours straight.
The next day we made arrangements to meet the Hickos for breakfast; after all, they had already checked out the value places. I mean the 99c breakfast special sounded great to us, and only a short walk in the smog on Harbour Blvde right across from the Disneyland entrance.
After breakfast it was off to Gene Berg's shop for some quick dispensing of the good old green backs. About three thou should fix up everyone's accounts. As usual, Gene and Dee were helpful and gave us the usual tour. We had to interrupt Gene from the MIG welding machine for a while but I am sure he likes talking with us Aussies. He just loves our accents. Dee had a new gimmick - VW cigarette lighters from Korea ! Of course Ric couldn't help himself from parting with more money at Berg's, and 3 hours later we left.
Obsolete Parts is just around the corner from Berg's, so naturally we just wheeled around to the shop. When we arrived it was like a who's who of the VW world, with all the biggies being there at once. Rick Kimball, Ed Economy, Bill Dierickx, Phil Lucas (the Cincinatti Kid), the Leadleys etc etc. Everyone was checking out the specials and likewise we did the same. Everyone was pleased to see us and we did some wheeling and dealing to get the right items. At the shop they have a small museum with about five cars and a few display cases full of the rarest of the rare items. Not for sale of course, just display only and just enough to make your mouth water - or dribble as the case may be. Marybeth helped us out with the tickets for the show on Sunday and special instructions on how to get into the show early by 6:00am Sunday morn. You have to do this to get the bargains and be there for the best. It's all gone by 8:00am when the general public are admitted.
The next port of call was just up the number 5 Freeway to Johnnies Speed and Chrome. I last visited this shop in 1983 and it hasn't changed much except the chrome seems to have been replaced with bright iridescent paint and colours. Everything seems cheap until you look closely at the product. Some are good and worth buying but some are complete junk. Of course Ric just couldn't help himself and had to buy something, so therefore I had to buy something in the way of tooling for working on engines.
After Johnnies we decided to get our general shopping out of the way and so we headed for the Reebok shop and Toys R Us store. In between we managed to squeeze into Sizzlers for some great lunch. We really stuffed our faces for only $8.50 tacos and steak and a few drinks. The Toys R Us shops are really great if you have kids. It's twice as big as most Woolworths or Coles shops in size and you need at least 1 to 2 hours to have a good look. But warning - never but never do this with your kids! You will never get out of the shop and over 100 green backs later, Eddie had to pull me out. They have some great things even for us big kids.
We headed in the direction of John Wayne Airport and the Holiday Inn, and passed a large marine base with helicopters the size of a house doing manoeuvres around the hangars. We all though that they were going to land on top of us, they were that close.
The bellhop at the pub said that he had never seen a Cadillac full of VW parts and this was a first. After checking our room it was time to go shopping again, after all, we had been sitting still for nearly 1 hour. This time we headed for the department stores at the largest shopping centre on the west coast of USA - South Coast Mall. It's a city within a city. Ed just had to buy some gifts for Brenda and it was also my turn at the cosmetics counter for Sue. I bought one product for 10 bucks and received a sample bag of bits and pieces that was probably worth another 30 dollars.
We drifted back to the pub for a quick shower and change of clothes and headed up the freeway with Hickos in pursuit to the Friday night VW cruise at Daddos 'Fifties Restaurant for a burger delight and beer. After talking in the restaurant and going for a ride in Mark Bruto's '50 split Okrasa-powered Beetle, it was bed time, being approx 11:30 and we wanted to be on the road at 6:00am Saturday morning for the SOTO meeting.
Early Saturday morning I awoke only to find Eddie counting cars passing by the hotel on the 405 freeway. It's only 10 lanes wide and has absolutely a continual traffic flow, except for peak hour when it gets worse and slows to a snails pace. Ed lost count around 300,000 cars. After a quick yawn and continually shaking Ric to get out of bed we were heading out of the car park and down the 405. It had just passed 6.10am and six keen VW enthusiasts were on their way south to just near San Diego to the SOTO meeting at Deer Park. Both Phil (Cincinatti Kid) Lucas and Bob Hickman agreed to travel with yours truly at the wheel of the Caddie. By 7.10am we managed to find a Maccas for a quick breakfast and coffee. No matter where you are in the world the Maccas don't change much. Only the amount of plastic varies in the scrambled eggs and pancakes. After a few more miles down the road we arrived at Deer Park for the day's activities.
The SOTO meet (Society of Transport Owners Club) has several meets throughout the year in Southern California and usually have over 100 pre-1967 split windscreen Kombis in attendance. At the meet, most owners display the excess of spares for sale, and as with all VW fanatics, they always have a mixture of Type 1, 2 and 3 parts for sale. Unfortunately, only one toolbox was for sale on this day and the asking price was too high for us. Eddie bought some Hella reversing lights, while Bob and I bought a few VW toys.
Several well-restored vans were on display with an extra, extra, extra long bus, which consisted of three Kombis joined together, taking pride of place amongst the trees. Barndoors were there in a force of 4 vehicles, while the buzz boys attended with tweeters, woofers and boom boom box stereo systems (you can hear them coming three blocks before you see them).
Unfortunately rain, yes rain cut the day short but you can only look at Kombis for so long and with no more bargains to be had we headed north back to LA and stopped for lunch at Sizzlers once again. Lunch was a welcome break from the VW scene, but only for a short while as we were all breaking our necks to get to the VW toy and literature show held at the hotel. We arrived back about 2.00pm just as the show was starting. Jerry and Melissa Jess, Bill Dierickx, Ed Economy together with a dozen
other dealers had set up shop in the conference room to sell their wares.
We all managed to buy a brochure or two here and I traded for a rarest of rare brochure for the Type 3 convertible from 1963. This brochure was for the car that never was. Karmann made three only Type 3 notchback convertibles for testing and public reaction. Only one still exists in the factory museum but they also produced a brochure to promote this car.
After our wheeling and dealing we headed for the swimming pool and sauna plus a beer or two while relaxing in the LA sun.
Phil 'Hotdog' Weiner from Miami found us Aussies lying by the pool and just had to show off his latest acquisition being a 16 inch spare wheel fuel tank accessory. These are really rare and hard to find let alone purchase. Phil said that with this one he now owned 5 of these beauties, and just doesn't know when to stop.
Later that evening we went out to dinner with the Leadley, Kimballs, Jesses etc and of course we ended up out late again as sleep just was not on our weekend agenda.
Sunday morning started out just like the previous three days; that is, awakening early, and only a minimum of sleep. There was no time for laying around in bed, although Ric had some difficulties making it into the shower.
By 6:15am we were heading down the 405 to the Irvine Meadows Amphitheatre, where the Classic was already underway and the deals being discussed. We had a special clearance with the security guards this year – and that was a direction from Mary Beth that he was to allow any crazy Aussies through the gate whenever they arrived.
Once inside we quickly headed for the Swap Meet area, only to find it in full swing with cash being exchanged left, right and centre. Prices were high, as expected, but the best thing was that whatever you wanted to buy for your car, from split-window bumper bars to Judson superchargers, or even bud vases, you could definitely buy them provided you had enough greenbacks in your pocket.
We spent the morning scrounging through the second-hand bins of parts, while also dreaming a lot. All of us found some trinkets, and I finally managed to buy a Hazet tool box for Bill Moore. It wasn't exactly the way I would have liked to buy it; it was empty, rusty and bent slightly. But tools seemed insignificant and at the time and for the cost, it appeared to be good value.
By 8am we had scrounged the second-hand parts laying around, and had decided to head into the show area.
Many fine examples of all types of VWs were given the 'once-over' by the 'Three Amigos'. We casually drifted around the Hebmullers and Rometschs, while trying not to get too fussed over the split-windows.
There were several cars fitted with Judson superchargers, and I inspected them all closely. One that was fitted to a Rometsch was not in the correct position, and I had to explain to the owner how and where he had gone wrong. He did take some convincing to explain where his blower was incorrect, but eventually he understood why his car would not perform, and would remedy the problem when he got home. Otherwise he had done an excellent job in restoring the car, and managed to gain second place to a '49 Hebmuller in the Coachbuilt class on the day.
The car show was split into two areas, of Custom and Standard type vehicles, and then most categories were grouped together. Any judging is carried out by the entrants themselves, and that way they can only blame each other if anyone is at fault.
By 10am we had to return to the pub to pack our bags, and check out of the place.
On returning to the Classic, we proceeded to the Custom side of the show, and there I was in heaven. 10 show cars in a line, all fitted with EMPI BRM wheels. These wheels had me upside down, checking them out, and of course I asked every owner if they had any spares. The standard answer was "No".
Some radical cars were on display, together with the 'sonic booms' from their sound systems. One such car had its own portable generator as a power supply for the amplifiers and stereo system. I felt sick in the stomach just trying to stand near this car. The Boom Boom boxes were at their fullest, with over 1500 watts of power feeding into them. Ric just couldn't go past the Ghias, while Ed and I just cruised the Bugs and Kombis.
Time flies when you are having fun, and by 2pm they had judged the bikini contest – and of course, we were not interested in that!
Then it was trophy presentation time. Ric collected the 'Longest Distance Travelled' plaque, because Ed convinced the judges that an Aussie must win this as we had done for the last five years. Ric had a smile from ear to ear.
By 4pm we headed off to Phil and Mary Beth's place for a quick beer and change. There was a surplus of cars, so I had to drive a diesel pickup home, while Ed took over the reins of the Cadillac. It was the first time he got me out of the driver's seat all weekend.
After changing, and several beers, we headed back to the airport area, so to be early for our flight. We just couldn't resist Sizzlers once more for a bite to eat, and then had to return our rental car. As it was we only just made the flight, due to a holdup with the rental car office. We were the last passengers to board the aircraft, then we settled down for the 14-hour flight home.
On the Road to Valla
By Eileen Carter
August 1990
The trip up to Valla Beach is usually quite a nice drive with anticipation of what lays ahead for the weekend, but unfortunately for some, the trip can be quite a nightmare. As usual, the Pacific Highway held off on all repair work until the Volkswagens started their annual migration to the warmer climate. Road gangs were seen to be filling in a never-ending amount of pot holes and doing general repair work. Once we had all arrived at Valla and were sitting around the bar, the stories unfolded of each person's trip. Henry Spicak managed to collect a limb of a tree somewhere near Bulladelah and transported it all the way to Nambucca Heads underneath his car. Bob Hickman and kids arrived safe and sound albeit with not as much paint on the car as they left with, but all in all, we arrived safe and sound.
Steve and I decided to give the Pacific Highway a big miss and thought we would use the opportunity to call in and see friends at Armidale. We set off at 6:30am on Thursday morning, and after getting through the floodwaters on Silverwater Road (via the median strip) we were on our way! Steve had a smile on his face that is kept only for Volkswagen events and spirits were high. Whilst driving through Muswellbrook we decided to call in on Rod Farrell to say Hi. Rod gave us the grand tour and took us back to his place to show us his 'collection'. Very impressive! While we were there, we called in to see his mate Kerry and to talk VWs for a while before hitting the road again. We stopped for a rest and had lunch at Tamworth RSL club and had a beautiful meal before heading up to Armidale.
When we arrived at our friends' place, it was to find the whole family struck down by a virus. We all decided to hit the sack early that night, only to awaken to a beautiful covering of snow the next morning. After fond farewells it was time to hit the road for the 2-hour trip to Nambucca.
The road from Armidale to the Pacific Highway via Dorrigo has a reputation for being a bit rough. "No worries," said Steve, "We'll just cruise on in." We commented on how beautiful the snow was and how isolated the scattered homesteads were. However conversation went to a minimum and the radio was silenced as the snow got deeper and deeper and our full concentration was on the skinny tracks through the snow on the road ahead. The snow started to build up in the centre of the tracks, and seeing the road was so slippery, we decided to let the snow pass down the middle of the car. Big Mistake!
We were about 20 km out of Armidale when we realised that the radiator hose running from the front of the car to the rear had come loose and was trailing on the ground. Steve's Beetle has a watercooled engine from a T3 Kombi. "Don't panic," said his lordship, "We'll just pull off the road here and I'll get underneath and fix it." We reversed the car into a paddock (reverse was all we had as the hose would break off if we went forward), and searched for a mound to get the car up on to give Steve enough clearance to get underneath. Things weren't looking good!
After much kicking of snow and searching we finally found a couple of rocks and some old rotten timber to use as ramps. Once we had everything set up, we started to worry that the timber palings would not hold the car and Steve would be flattened under the car. "Ok," I said, "If you want to risk being squashed, go right ahead, but don t you dare leave me stranded in the snow to freeze to death!" After some heated discussion about why we didn't bring the Audi 200T instead (still a sore point!) I spotted a farmhouse in the distance and set off to find someone to rescue us.
I walked up a track, which I guess underneath the snow was a driveway, and got to within 100 metres of the house when the sound of barking dogs made me beat a hasty retreat back to the car and the slowly turning blue husband. "How was the track?" asked Steve. "Good," I replied, "let's try and drive up to the house." Back into the car we got and reversed up the track. Mistake number 2!
Half way up the track we got bogged. "Oh, marvellous!" said I. "Now we are totally out of view and I just know we are going to freeze to death!" How on earth are we going to get out of this mess? Snow, snow and more snow!
"Ok," I said, "let's hit the horn and pray someone in the house will hear us and come out." My brainstorm worked all right. As I sounded the horn, all I attracted was the cows that thought it was dinnertime! Doomed, that's what we were, doomed. About 5 minutes passed and I longingly glanced up the track and couldn't believe my eyes when I saw a guy walking down towards us. Yippee! It was like a miracle!
After we told our tale of woe, Peter (our knight in shining armour) told me to go up to the house and sit by the fire to thaw out, and Jenny would make me a cuppa. Peter only had to say that once and I abandoned ship and fled tor shelter. Meanwhile Peter and Steve worked on the car and managed to tie up the hose with some fencing wire for a quickie repair job.
Afterwards we all sat around the fire and drank coffee. Peter told us that the next 30 km to Dorrigo were the worst and it was very bad for fog as the night came. We were so lucky that Peter and Jenny were home and that they were so helpful. They are the type of people that give the country folk such a good reputation as caring and friendly people. Valla Beach, here we come!!
The road to Dorrigo was everything Peter described and more. We nursed the car through all the bumps until finally we saw the sign 'Dorrigo 7'. We were just congratulating ourselves when the car started to fill with steam and coolant. "Oh no, not again," said Steve and quickly killed the motor and we rolled down the winding road to Dorrigo. Luck was with us. If we could overcome the headspins the coolant was causing us, we might just make it. After what seemed like hours we finally rolled into the NRMA service depot with doors open ready for the bail out! It was now about 4:30 in the afternoon (we left Armidale at noon) and we were only at Dorrigo! Steve managed to borrow a jack and floor trolley and climbed underneath the poor old girl to see the damage (the car, not me). It appeared that the hose had sheared off at a different point to the earlier repair, which could not be seen in the snow. The NRMA didn't have any hose and the only shops opened were the Lawnmower repair place and the hardware shop. The Lawnmower shop had nothing suitable and our last hope was the hardware shop. No luck! Steve spotted a Mobil Service station and the guy said he had nothing we could use, although there was an old box with odds and ends in it Steve could look through. Bingo, a piece of hose that should do the trick!
In the meantime, I had done my usual trick and had fled for shelter as it was still bitterly cold and my bladder doesn't take kindly to that sort of weather. I had settled myself in the old NRMA workshop on a chair that had seen better days, when a lady came up to me and asked if I was Steve Carter's wife. "Yes," I replied and she said, "There's a phone call for you." I thought to myself, "Who the hell knows I'm here in the back of woop woop?!" I picked up the phone with a hesitant "Hello?" and a voice asked me how Steve was going with the car and he had some hose lined up at the next town for him. "Who is it?" I asked, and found that it was Kerry who apparently had seen Steve outside the hardware shop and knew the story. What a relief to know that someone was looking after us! We agreed that if we hadn't arrived at Valla by 8pm a search party would come looking for us.
We had the car ready to go around 6pm with another Carter Quickie job and headed off for Valla once again. We drove along the winding roads at about 10 km/h and struggled into Valla Beach about 7:30 minus one headlight bulb, and headed for the bar. As usual, Dave Birchall, Eddie and a few of the guys were keeping the bar company when we rolled in. What a relief!
On Saturday we headed straight into an Exhaust place at Nambucca Heads and the guys there bent some pipes for us to replace the radiator hose and the 'old girl' was as good as new.
The weekend was great fun and before we knew it the weekend was over and we were headed towards home. The trip went well and as we reached Pennant Hills road we waved goodbye to Bob Hickman and the Muller Convoy, and within moments snapped the clutch cable. After a quick left hand turn into a side street, Steve assured me that he would have it fixed in a jiffy. Out came the spare clutch cable and in 5 minutes, we would be on our way. Sure! Steve came out from the car and said. "You're not going to believe this (at this point, I would have believed anything!) but the clutch pedal has broken!"
Off I walked (again) up to Thompson's Corner to the phone booth. We were sure that Bill Moore lived somewhere around here, but where? I rang the NRMA and organised a tow truck to take us home and walked back to the car. No sooner had I got back to the car and the tow truck arrived (it's amazing how fast the NRMA come if you're a patrolman's wife) and we started to pick the car up. "Careful," said Steve, "the car's pretty low." "No problems," said the towie, "she'll be right." CRUNCH! %&$@!! said Steve. The spoiler is now a new aerodynamic shape.
We decided that Bill's house had to be here somewhere and began our search. We eventually pulled up out the front, much to the amusement of the Moore girls. Steve raced in and phoned up Jim at Volksbahn who had an exchange clutch pedal that Steve could have. What luck!
It was now just before 5pm and Jim said he would wait. Bill and Steve flew down and grabbed the clutch pedal and came back to Bill's to work on the car. Bill demonstrated to Steve his intimate knowledge of the back streets and how a Nissan 4 wheel drive should really be driven in peak hour traffic. Shirley and I sat inside and drank coffee and gasbagged (I can sniff out coffee at 500 metres) and eventually all was fixed (yet again). After a couple ot pizzas and a couple of bottles of wine, we were on the home leg and GUESS WHAT??? Nothing happened! We drove the whole 20-odd kilometres without anything breaking, bending or snapping. As Dorothy said, "There's no place like home."
P.S. The reason the Beetle was not getting enough ground clearance was that just prior to our trip to Nambucca, Steve did a lowering job that seemed to go well, but after the car was loaded for the trip and after a few hundred kilometres the car did its own lowering job. Also the clutch pedal (which was original) decided to pack it in after 18 years' good service and 375,000 kilometres!
Dig Tree Adventure
By Peter and Anne Halliday
February 1992
Friends had long dreamed of journeying to the Dig Tree at Cooper's Creek, where the ill-fated Burke and Wills expedition had met such a tragic end in 1861. Having aroused our interest and enthusiasm, a small group was formed - three Toyotas, one Nissan and our own VW Campmobile (five campervans against the unknown).
We had been advised that rains in the northwest were imminent and could, perhaps, jeopardise our trip. Therefore, it was decided to get to Dig Tree without delay and include other sightseeing when returning.
We headed for Narrandera - some more leisurely than others - but the rendezvous, a reasonable distance, had been settled so lunch and coffee breaks were individual decisions. The majority preferred a caravan park, but fortune favoured the brave who found hot showers and all amenities in less congested surroundings at a very reduced rate. Reunited, and after a short pow-wow the next overnight stop was to be Robinvale on the banks of the Murray. En route at Hay we went to gaol, now an interesting museum, thence to Broken Hill.
As we drove further into the outback we were grieved to see the number of dead kangaroos roadside. Birds of prey were in evidence and one very splendid hawk was disturbed mid-road as our Kombi approached. We made good time to the Silver City and as the hour was early paid a visit to Silverton. Here we found a hive of activity - albeit rather odd. A painter - claiming to have 'duco'd' VW Beetles with Vegemite - a coin cutter, camel train, artists, and of course, the ever available pub, combining to make this ghost town of interest to the tourist.
A few kilometres from Broken Hill the Silver City Highway became what is loosely described as gravel but is in fact large, sharp stones and corrugations. Food and fuel outlets were scarce, but we were prepared with good stocks of food, water and fuel. Some took the opportunity to re-fill at Packsaddle, the only supply between Broken Hill and Tibooburra.
After the hot, dusty road, showers at Tibooburra were most welcome. A tour of the town was not time-consuming as it consisted of two pubs, the caravan park, Post Office, National Parks and Wildlife, three stores (two with fuel) and the school of the air, closed unfortunately for the holidays.
Leaving Tibooburra the road became worse - something we thought impossible. However, all five made it to Cameron Corner where fuel is dispensed from jerry cans at the store run by an enterprising couple coping with the requirements of travellers like ourselves.
Owing to a torn tyre we had been delayed in Tibooburra and the party, having lunched and been refreshed, were just leaving the Corner as we arrived, so we refuelled both body and vehicle and were quickly off again. From here the road became mostly great pools of bulldust into which our Kombi ploughed and hopefully emerged. The others were not quite so fortunate. More than one was bogged, a water bag was lost and eggs in the fridge were dislodged and broken.
The country through which were now travelling was semi-desert, dry and barren, and the stockmen's heartbreak was evident. Dead cattle, skeletons and bleached bones were scattered along the track. The lines of Dorothea Mackellar's 'My Country' came to mind – "Her beauty and her terror." We had long known the beauty but now we were seeing something of the terror. Here we felt as the poet had when she wrote:
"Core of my heart, my country!
Her pitiless blue sky,
When sick at heart, around us
We see the cattle die –
and could only imagine any transformation made by the steady soaking rain.
Thus we reached Innamincka. Vehicles, nearly all 4WD, came and went, but we remained, parked near the amenities contained uniquely in concrete cylindrical shaped structures. No charge, simply donations from the grateful users. We checked over the Trading Post with its souvenirs and other items and - of course - here also was a pub! We walked the few metres to ruins of a hospital built by the Australian Inland Mission back in the 1920 s and found the names of medical staff listed to honour their service in the outback.
After a quiet night our big day dawned! Up early, away we went to the Dig Tree! Who can express our feelings as we stood in front of the cairn on the site of the Dig Tree where Burke and Wills had, with their men, endured so much long ago. This was the climax of our journey!
We took photos. We recalled Australian history and revered the courage of our Australian explorers. We scrambled down to Cooper's Creek - wide and flowing, but whitish in colour - then, grouped under a shady tree, celebrated our achievement with cool drinks and cake.
Reluctantly we moved on.
Reports of Cullyamurra waterhole had been glowing, so we turned off appropriately. En route a couple signalled us and when we pulled up they asked the way to the Dig Tree. Of course, we were mine of information, a nice change from having to ask the questions.
Burke's grave was to be our next stop, but deep sand again accounted for the Nissan's unscheduled halt. Thanks to a helpful 4WD driver it was not a lengthy delay and after visiting the grave we returned to Innamincka for the night.
Now it was necessary to retrace our steps to Tibooburra. On the way we turned to King's Site - a delightful area beside Cooper's Creek where King had been found in 1861 living with aborigines. We would have stayed a day or two, but some of the party had gone on and were expecting us. We returned to Tibooburra. Not a great distance away lies Milparinka, another ghost town with history of exploration, suffering and gold-mining. Depot Glen, where Sturt and his men were marooned for six months due to drought, was closed to us as it is on private property and the owner was not available to give permission.
Three of our party had decided to go to Mootwingee - two were not interested, so for a couple of days the group was 'split'.
Arriving at Mootwingee a short rest was useful to make minor adjustments and tighten screws etc. shaken loose by the terrain over which we had been travelling, before enjoying several fascinating walks, viewing rock-paintings, ancient ruins, waterholes and the picturesque gorge abounding with wildlife. A major talking point, however, were the showers, cold though they were. First sight seemed to indicate they were unfinished as no tap was visible, but water was obtained by pulling a chain. Under such conditions showering was no easy process. Holding the chain alone was a full-time operation, which made soaping oneself, then rinsing, quite a feat. Someone suggested holding the chain with his foot. What an experience!
We departed Mootwingee rather unwillingly, for we felt there was much more to be seen, and headed for Menindee, then southwards. With one night to spare before rejoining the party at Wentworth we found a peaceful place by the river Darling in company of sheep, cattle and birds - also rabbits galore, the number of which was slightly depleted when we moved on.
Two nights at Wentworth provided opportunity to replenish supplies - mainly drinks - before proceeding to Hattah National Park. Here we enjoyed walking along the shores of Lake Mournpool, and the sight and sound of a great variety of birds and bush creatures. The evening was spent around a cosy fire. Tomorrow the other four would go on without us!
We waved goodbye. They were headed for Echuca, we for Griffith via Darlington Point. Driving alongside the Murrumbidgee was pleasant, and a number of overnight spots were noticed - as also were the mozzies - therefore we kept on, reaching Cocoparra National Park at dusk.
Our last night was at Illalong Creek - a tranquil setting with willows, greenery, a deep pool, and a dilapidated structure giving the appearance that a large quarry had, at some time, operated there.
Then came the final lap. After 5,000 km, fifty percent of which had been rough stones, unsealed or sand dunes, we were home. We had seen much of the sunburnt country and, reflecting on the journey as we mull over the photographs we say -
"Lives there a man with soul so dead,
Who never to himself hath said –
"This is my own, my native land'".
Yerranderie Or Bust
By Les Robinson
July 1992
Several times a year the Water Board allows escorted tours into the Warragamba Catchment Area, to the historic silver mining town called Yerranderie. Four Club Veedub Sydney members decided to join the tour, and also show the off road fraternity that Volkswagens can match any modern (yuppie) four-wheel drive vehicle on the market today.
The ultimate off road VW (apart from the Syncro) is the Type 181, and who better to borrow the vehicle from; none other than our esteemed (absent) president, Steve Muller. He could not say no, because he is currently in the United States. His brother Adrian graciously allowed me the privilege of using Muller's mighty orange Type 181.
The intrepid foursome, namely Christine Eaton, Gloria and Keith McNeil and myself, set off early on Saturday morning of the long weekend, to rendezvous with the convoy starting point at Oakdale Primary School. Arriving at the meeting place, we discovered 50 various types of off-road vehicles, even a bus, waiting to commence the journey. We could feel the stares of derision from the other participants, that we would have the audacity to take part with an old VW.
The Cox River flows down from the Blue Mountains, and joins the Wollondilly River from the Southern Tablelands. Downstream from there to the Nepean River the system is called the Warragamba River, and is thus part of the Hawkesbury-Nepean river system. The Warragamba section is 22 km long and flows in a narrow, steep-sided gorge bounded by sandstone cliffs and cutting through the sedimentary rocks of the Blue Mountain region. It remains a protected wilderness because of its use as a water catchment area.
Sydney's severe drought in 1937 forced the Water Board to begin design work on a dam to harness the huge volume of water flowing through the gorge, but the idea had first been proposed back in 1908. Work was halted during the War, but recommenced in 1949 and the dam was finished in 1960. With a wall 116 m high, the dam contains 2.5 million tonnes of rock and 3 million tonnes of concrete. The waters impounded by the dam, over 2 thousand gigalitres, today form the main reservoir for Sydney's water supply, as well as some beautiful scenery. The reservoir is named Lake Burragorang, an Aboriginal name meaning a tribe that lives in a valley where there is plenty of game.
And so the caravan commenced and 51 vehicles, plus two Water Board guides, wound their way into the Burragorang Valley and along W4 fire road to the Wollondilly River. The total distance from Warragamba to Yerranderie township is 97 km. We ate dust for most of the trip, and surprised everyone when we crossed the Wollondilly River.
We arrived at Yerranderie mid-morning after a 2-hour trip. Several people came up and asked questions about the design of the 181, which of course they had never seen before. We inspected the old police station and courthouse, which are under Water Board control. These two buildings have a heritage order on them and are presently being restored.
After lunch we went on a tour of the old buildings and museum in the Yerranderie township. An old local identity, Frank Walker, gave us the full tour, which was very interesting. Later we drove up the hill to the old mine site and surprised everyone walking up the road. The 181 was the only vehicle at the mine, and two fellows came over to the VW and peered under the front end to inspect the front wheel drive system. They were shocked to learn the 181 is only rear-wheel-drive, albeit with a limited slip differential.
We drove back to Warragamba in the late afternoon, taking photos of the magnificent mountain scenery in the valley. The vehicle covered approximately 250 km, mostly off-road, and performed faultlessly. Gloria and Keith's opinions were that the 181 is the best off-road vehicle they have ridden in. It ran all day without a mishap; not even a flat tyre.
Visiting Clayton, Victoria
By Phil Matthews
December 1992
By the time you read this, local production of Nissans at Clayton in Melbourne will have ceased. A combination of several factors - high costs and low volumes mostly - led to Nissan's decision to pull the plug on its Australian manufacturing facilities.
Of course, the Clayton plant is more familiar to Volkswagen enthusiasts as VW Australasia's old manufacturing plant. My main regret is that I had no first-hand experience of visiting the factory – we live in Sydney and I was too young to visit Clayton when VWs were being made there.
But there are some interesting videos in the Club library of VWs being made at Clayton; Shape of Quality is one that springs to mind and I recommend you see it if you can. VW did arrange for tours of the plant in the old days to all interested parties, particularly VW clubs. They were apparently quite popular, particularly the 'night' tours as Clayton actually worked two shifts in VW's heyday. The tours would end with a film and refreshments, courtesy of VW.
I have not yet spoken to anyone who actually went on one of these tours; if you did I would be delighted to do so! Please write something for us. But in the meantime, I had always wondered what the Clayton plant looked like today; how had Nissan changed it and was any part of it recognisable from the old VW films and photos? What happened to the huge, rotating VW lollipop? Could I still see the plant, even though Nissans (in 1991) were being built there?
Last year I spoke to Rod Easdown, Nissan's PR boss in Sydney and a thoroughly likeable chap who showed great interest in the few back copies of Zeitschrift I sent to him. He said I would be welcome to view the Clayton plant; he assured me that there were some structures I would recognise but generally Nissan had modernised the plant almost out-of-sight. In fact, only the original walls remained; all else was new. I still wanted to see it for myself. I would only have to ring on my arrival in Melbourne and all would be taken care of.
David Stogden is an old workmate of mine from the days when we were mail-boys for SBU Life Insurance. Being both car nuts, we would race home from Milsons Point to Bankstown, me in my 40-horse Beetle, he in his V8 Ford XY Fairmont, until we parted company at the top of Stacey St. He would win more often than not, but even so it was always close and he came to at least respect, if not actually like, those "ugly VWs." Anyway, David eventually left, got a better job and moved to Melbourne in 1990, I think. I phoned him and said I wanted to visit Clayton, and he immediately volunteered to put my brother Simon and I up for the weekend and chauffeur us around too. Thanks Stoggo!
So Simon and I jetted into Melbourne on an Ansett 767 early on Friday 22 November 1991. David met us at the airport and drove us along the wide boulevards of Melbourne to his place in Bentleigh, where after a bite to eat I rang Nissan to confirm the tour, hopefully for that afternoon.
"I'm sorry sir," said the young woman on the Nissan switchboard, "we only have factory tours on Tuesdays and Wednesdays." I paused. I couldn't visit today? "No, that's impossible." But I'd arranged it with PR in Sydney! "I don't have any information on that, sir." Could you ring Rod Easdown in Sydney and confirm for me? "Would make no difference I'm afraid." But I'm only in Melbourne for today! Couldn't you do me a favour - please?! "I'm sorry sir."
So, no tour! Stoggo laughed, then suggested we try the Ford factory at Broadmeadow. I did so, was put on hold for ten minutes before being transferred to PR - and the phone just rang and rang and rang. So much for car factories. David drove us back into the city and we spent Friday playing tourist in Melbourne. We checked out about five car book shops, I think, followed by the shot tower centre, Australian VW Power's tiny offices in Little Lonsdale St, and the Victorian Museum. After seeing the planetarium, various Triassic dinosaurs and Phar Lap, we trammed home and that evening pigged out on Hungry Jacks and the awful movie, Drop Dead Fred, at the local Village multiplex.
Still being a 'car' frame of mind Saturday morning, we decided to visit Phillip Island for the day, home of the original Armstrong 500 and, until recently, the bike 500cc Grand Prix. David stopped outside the deserted Nissan plant on the way, where he stood calmly by while Simon and I rushed about at the wire perimeter fence, cameras in hand. In the old VW films the plant looked as though built in cleared virgin bush, but today it was like any other developed industrial suburb. Clayton reminded me of Smithfield or Wetherill Park in Sydney; it has the same flavour.
The old VW press shop was clearly recognisable, being the tallest, largest building on the site, topped by a Nissan roundel, covering what was once a VW roundel. Look at your old VW dealer list booklet from the 60's; there's a drawing of the factory on the back cover. See the press shop? Similarly, the long assembly building with the sawtooth roof is also a VW original, but it has been expanded considerably since VW's days. Several newer buildings have been added, including a showroom where the VW lollipop lawn used to be, as well as numerous smaller buildings that may or may not have been original. Long lines of new Pulsars and Pintaras lined the eastern perimeter, but the old VW CKD storage area at the rear remained hidden. It wasn't possible to observe much more from outside the locked gates so we departed - but not before noting the modern Bosch premises right across the road. No doubt Bosch originally set up there to service the VW plant.
We stopped at Lang Lang on the way to Phillip Island, the home of GMH's famous testing and proving ground. We turned off the highway and followed the road in, but came of course to a locked gatehouse. Sorry, not allowed in - not even VW enthusiasts! Similarly, although we greatly enjoyed the remarkable Phillip Island scenery (including the fairy penguin rookery at Summerland Beach), the racetrack was also closed. The blokes from Modern Motor who were manning the gates would not let anyone in while they were doing auto testing. Same old story! We had also heard there was a car museum there; well, there isn't.
Saturday night in Melbourne, and David recommended a pub in Mordialloc that had an excellent resident '50s rock'n'roll band. This proved a pleasant spot to enjoy a cleansing ale or two, listen to some good music and check out the locals. The band organised a talent spot later, in which your writer won second place and two movie tickets with a passable Elvis number. The winner was a bosomy young woman who bore a striking resemblance to my former band singer from pre-'Angie and the Ovals' days, Anne-Marie, although not nearly so bitchy.
Sunday was spent at the Moorabbin Custom Car Spectacular, a show featuring over 400 rods, street machines, customs, originals and restored vehicles. The huge swap meet was most interesting, but the trike and odyssey motocross was somewhat boring. The sun blared down, the ducos shone and it was a good way for car nuts to spend the day.
And so it was time to jet back to Sydney. Our flight left at 5:30am (!) Monday so we crashed with Stoggo once more. One final drama - on the way to the airport, driving through the deserted streets in the pre-dawn darkness, we were passed by a speeding black, unlit car as we sat at a traffic light. As we headed slowly in his unseen wake along St Kilda Rd, we spotted several police Commodores turning to follow and pursue him. Where did he go? What had he done? The scene climaxed at Princes Bridge, where the cops had road-blocked and stopped him. As we passed slowly by on our way, we saw the cops had dragged him from the car, slapped him in cuffs and pulled his pants around his ankles.
No wonder Volkswagen left Melbourne!
Targa Tasmania
By David Birchall
August 1993
Oh! What a Fahvergnugen - Targa Tasmania - German translation: pleasurable experience of driving (a Volkswagen of course). For the second year running the 1993 road race was held from 29th April to 2nd May, covering over 2,000 km of the most demanding sealed roads Tasmania had to offer. Twisting, narrow stretches of bitumen traversing breath-taking river gorges, rain forests and mountain passes.
Targa Tasmania is a race for all comers; some 250 starters comprising of pre-war classics and spoils cars right up to the very latest 1993 releases, the latter more prolific. These later cars consequently filled the top placings, aided by their superior road performance and superior technology such as four-wheel drive, four-wheel steering, ABS brakes, fuel injection and turbo-charged multi-valve engines. Yet when it comes to sheer driving exhilaration, none would have enjoyed the stint more than Boris Orazem from Sydney driving and David Pryor from Adelaide navigating Vintage Vee-Dub Supplies-prepared 1968 VW Beetle, the only Volkswagen in the race.
Boris also shared another Beetle with George Geshos in last year's inaugural Targa Tasmania. This was the same car George Geshos and John McLean successfully competed with in this year's London to Sydney marathon.
As a matter of fact both cars were constructed at the Sydney workshop of Vintage Vee-Dub Supplies, from the best components. Gene Berg for engine, mainly genuine Volkswagen gearbox parts with Quaife LSD. Type 3 front and Porsche 914 rear disc brakes, VDO instrumentation, Arrow-disc pads, Dellorto twin carburettors with Finer Filters and of course, the best engine oil specially formulated for the needs of air-cooled engines - Filco 10/30W.
The two cars simultaneously raced on separate continents, one in Europe and Asia, and the other in Tasmania, clocking up a combined 25,000 km in total over 28 days with no major mechanical failures. The only breakages on the London to Sydney car was a clutch cable and a shattered windscreen, caused by irate villagers throwing rocks at the rally cars in the Turkish Highlands. In Western Australia driver fatigue took its toll, the car hitting a tree on a forest stage, somewhat re-arranging the front suspension. The fellas worked all night to straighten it before heading off again, finishing 57th outright at the Sydney Opera House finish line, down from a best of 26th but up from 76th.
Meanwhile, Boris and David also clean sheeted mechanically. Their road-registered Beetle sustained two stone-damaged headlights and windscreen, a legacy of tailing Porsches just a bit too closely.
The sump plate on the Tasmaina car had been ground off to wafer thickness, thanks to at least a hundred low bridge crossings, according to David who had the unenviable task of navigating every dip, bump, blind crest and hairpin. On the second last day a 360-degree spin just slightly damaged the bumper bar and fractured the exhaust, which was hastily welded during a lunch break.
The car was fully airborne at one stage, doing 185 km/h over a crest.
Even so, the car proved itself reliable and strong enough to win its class from 28 others, 40th outright out of 250 runners, and beating a lot of very classy machines. For example, the Beetle finished ahead of 17 Ferraris out of 19, 14 Jaguars out of 15, 31 Porsches out of 39, 9 BMWs out of 11, all 6 Lotus, and so on.
Both Beetles are a testament of the years of experience and engineering know-how of Richard Holzl and Boris at Vintage Vee-Dub Supplies, piecing together just the right combination of engine, drive train, suspension and brakes, and the skills of workshop mechanics who do all the preparation - Steve, Michael, Mohammad, Body man John, and gearbox wizard Henry Spicak.
Illawarra Turbos
By Michael Shimo
April 1995
Perhaps its something to do with the air down here. Or it could be that our petrol is usually cheaper than in Sydney. Whatever the reason, the fact remains that Club VW Illawarra members have achieved a reputation for being petrol heads. Name any VW racing event and chances are that the Illawarra boys are there in force, and the forced induction boys are here in the Illawarra. You see, down here we've been playing with turbocharging our air-cooled VWs since 1985.
The first of these Illawarra turbos was my own Kombi, which I turbocharged with much enthusiasm and little knowledge starting in '85 and finally hitting the road in 1986. Back then the few turbo shops that were around didn't offer any information or help and there weren't many books around on the subject. So designing a turbo system that would work on an air-cooled motor was a real 'seat of the pants' thing.
I remember back then the turbo guys in the know used to think that a suck-through system with an SU carbie on a Torana was a pretty neat thing. A blow-through system was unheard of, and an intercooler? Hey isn't that a thing they put on a truck between the motor and gearbox to cool the clutch?
One mechanic in the Illawarra who had a reputation of being able to extract ungodly horsepower from red motor Holdens with his turbo system was Bill Wilhelm. Towards the end of '85 he was about my last hope of finding out some of the secrets to allow my Kombi-Turbo project to start. He was friendly and helpful and agreed with the other guys who would talk to me that suck-through is the only way to go. If you use more than 6lb boost you need a super water system to stop it pinging. He showed me a whole row of Holden cylinder heads cracked one end to the other from those of his turbo engines that really worked. Why did these crack, Bill? All turbos crack heads after a while, but they go great while they are going.
I got out of that place, jumped in my Kombi and went away camping for the weekend to clear my head. Being more relaxed I started thinking logically and decided to look at how some of the factory turbos were set up. Using the Mitsubishi Starion as a guide, I decided to go blow-through, not suck-through; use injection retard under boost, Iow compression, an oil cooler, and a special Weber blow-through carby. I didn't know then how good a choice I had made, and it was a pretty brave choice as it was contrary to what all the turbo-wankers were preaching.
Finally up and running in Oct '85 the Kombi was AWESOME. On a cold day in winter it cooled adequately, but warmer conditions it ran hot, pinged, and spat off four pairs of cylinder heads in 24,000 km. If only we could have known then what we know now, is how the saying goes. I abandoned the turbo in '87, but not before another Illawarra clubbie was bitten by the Turbo bug.
Enter lain Hall, owner of a 69 semi-auto Bug, and looking for a power upgrade. At the time lain was just about to build an 1835 with twin 40 DCN Webers. He'd just bought the Webers and was chasing extractors and a barrel kit when we met. We went away for another camping trip to the Snowys to talk VWs, and on the way I offered him a drive of the Kombi. I didn't get to drive again that weekend and he was so taken with the smoothness and quickness of the turbo not mention that cool (whine) as the turbo comes up on boost, then he sold the Webers as soon as we got back. His turbo project got under way.
About the only things I helped Iain with were getting his compression right, setting up a pressure-retard distributor and helping him build up his engine. He chose 1776, not 1835 as the barrels were thicker, and 041 heads as they had larger Inlet valves. We built up the engine quickly and the nightmare started soon after we bolted the engine into the car to see where the best place for the turbo would be. lain wanted to mount the turbo outside of the engine bay so that it would not superheat the air going into the cooling fan, but still had to mount it high enough to get a gravity oil drawback to the engine sump. I crawled under the car for a day and decided it was impossible. lain wasn't daunted. The next day came over after having dreamt of the ideal location at 3.00am in the morning. He came up with mounting the turbo on the LHS of the gearbox, and it worked! He also decided that the reason my Kombi had run hot was that it didn't have an intercooler. He wanted his Bug totally reliable. He found an intercooler off a Saab in the Trading Post. After fabricating some brilliant brackets and air ducts he mounted the intercooler on the RHS of the gearbox. It was beautiful! Opening the engine lid the engine appeared stock. The entire serious pony producing hardware was underneath out of the way.
As with all good projects we finally got lain's turbo going the night before the VW Spectacular at Nambucca. We drove up at 6lbs boost and gradually turned it up to 11 lbs. The word awesome lost meaning. If my Kombi was awesome then lain's Bug was something else. There are still stories circulating about a street drag between lain's turbo and certain 2180 sunroof Beetle at Nambucca that year.
The big difference between my Kombi and lain's Beetle was that with the simple addition of an intercooler, the motor cooled perfectly and was totally reliable. lain did 130,000 km on that motor before the Beetle rusted away and the rego man informed him that it would take a miracle to get a pink slip. Since he was no miracle worker, lain parked the dead Beetle in the backyard of another Illawarra clubbies house, Dave Becker.
lain decided he was finished with the Beetle and was already dreaming of his next car, a water-cooled Karmann Ghia, so when Dave asked lain to sell him the motor out of his old Beetle, he said YES. Enter the new famous Becker turbo Oval Beetle.
Dave rebuilt the motor with a new case, mild cam (just a little warmer than stock), and he built a larger exhaust system. Dave even fabricated a brilliant 4 into 1 collector up to the turbo (an engineering feat when you see how little room there is up there) and fitted the new motor to his Bug. He has since dragged it in the 1/8 and 1/4 mile, hill-climbed it, taken it shopping, taken it to Nambucca many times and it has always been super reliable. Who says turbos run hot? At the moment he is fitting a proper turbo cam and Haltech fuel injection. The result should be interesting!
By this time you've probably formed the opinion that the Illawarra crowd is a little eccentric when it comes to turbos. But a lot of the characters you've met so far in these pages are mild grannies in comparison to the Illawarra Turbo God, Chris Fraser.
Chris bought a clapped out '73 1700 Kombi that had a total loss oil system. You see when valve guides come out of heads the result is some interesting noise and more exhaust smoke than you ever thought possible. And so it was that at the Illawarra's annual VW event at Logbridge Farm, Chris wowed the crowd when doing his turn in the motorkhana paddock. Not only did his Kombi disappear, but also the crowd, buildings and car show were engulfed in his oil cloud of smelly fog.
I believe this single event is where Chris got the taste for being a crowd pleaser. He built the motor up to a 2-litre with Webers and a cam which gave him 130 hp, but after a couple of years of that he wanted MORE. He decided turbo was the way to go after seeing how the other Illawarra turbos went.
Being a fitter, Chris fabricated most of the turbo system himself, and together with Michael Tait produced a exceptional turbo exhaust system. His raw materials were a 2-litre Type 4 Kombi motor, some Shimo-modified heads, a Pauter machine turbo hydraulic cam, a Garrett TO4 turbo, a huge B.A.S. intercooler and fan, single throttle body and Haltech fuel injec¬tion. After a few teething problems he now has a truly fast car. And the sick part is that his 1250 kg Kombi blows away many 'fast' Beetles that weigh only 800 kg. You see Chris's Kombi is reliable, runs cool and produces 270 hp at the rear wheels! And while many magazine stories apply poetic license to quote unreal horsepower figures, this 270 hp is no idle boast.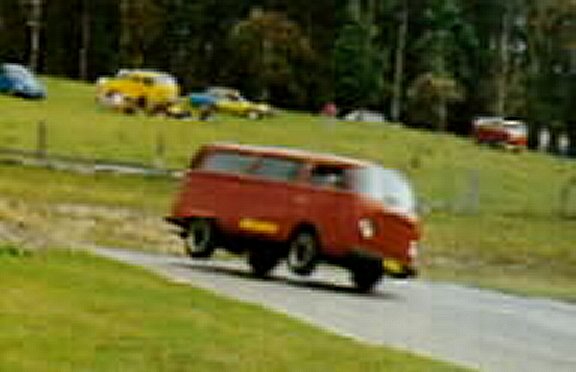 In setting the E6 Haltech up, the Kombi spent 6 hours on and off the Doctor Tune dyno in Wollongong. After applying correction factors to take in such variables as relative humidity, barometric pressure, ambient temperature, height above sea level and vehicle gearing the horsepower figure came out at 270! At the wheels! Which is about the same as Boris' amazing turbo drag Beetle. Chris doesn't use an especially bulletproof gearbox. It's just a standard rebuilt 2-litre Kombi box. Therefore he just runs standard street tyres so that at the drags they will just spin and not break more expensive driveline components. Even so, at Eastern Creek he spun wheels madly through 3 gears and still pulled a 14.5 second 1/4-mile pass. But it's even more impressive on the road and I speak from experience, as I've been a passenger in it. Chris and I were travelling at 80 km/h in the left lane and a young hoon pulls up next to us in a Cortina with all of the options. You probably know the type - flared guards, ten inch mags, V8, twin exhausts with chrome tips, P plates, the whole works. He smirks across at us, goes back a gear and attempts to leave us behind in his dust. Chris goes back to 3rd, twists the boost control knob up to 24 Ibs, floors it, instantly pulls 7,500. Top gear, instantly pulls 7,000, speedo needle is hard up against the stop on the other side of zero, Cortina is one suburb back. This all took place in the Northern Territory of course. Why not come and see him race at the Nationals.
Reliably turbo charging an air-cooled engine is no longer just a theory, and there are enough Illawarra turbos on the road to verify that. With turbo charging you get the best of both worlds - all the quietness and smoothness and good fuel economy of the standard engine and all of the awesome torque and horsepower of a RADICALLY modified race motor. If you would like some free information on setting up a turbo in your Vee Dub ring me at HELLBUG ENGINEERING.
From State to State
By Keith Haeusler
August 1995
How far would 8 VW loonies go to see and smell some of the fastest VWs in Australia? Answer - Queensland, and in particular Willowbank for the Fast Fours and Rotaries Nationals, of course.
Adam, Leigh and myself along with 5 Club VW Illawarra hoons departed Gymea at 7:30, with Jeff Unwin taking the first stint behind the wheel of the Kombi. What was to be a leisurely drive to Queensland turned into something of a time trial for a hillclimb, with the occupants in the back shifting side to side as corners quickly approached. Joe Smith & Shimo, who were both confidant pilots, shared the next stint and they saw us to Taree on the first night.
An early rise the next morning had us eating breakfast at the golden arches to fill our bodies for the long haul to Willowbank. We made Grafton for lunch with no dramas and Shimo had not even flinched as we all took turns thrashing his Kombi. He did, however, manage to lift his head from the novel he was reading when I tried to overtake another Kombi, going downhill, on the wrong side of the road at twice the posted speed limit, around a 90-degree corner. I'm sure the back-way short cut we took prolonged the journey but hey, it was scenic. Anyway we landed at Willowbank around 7:30pm Friday night, the Kombi still intact although a little worse for wear.
Hamo and Leigh stocked up at the local bottle'o before we made camp at the local caravan park. I awoke the next morning to the sounds of Dave Becker's 1776 turbo running on 3 cylinders. Dave's Haltech was playing up, so a quick trip to the local wrecking yard for some speaker wire and connections had the problem solved.
Out at the track there was many a 4 cylinder or rotary to drool at in the car show, or if one preferred they could feast their eyes on some of the meanest and quickest cars around. If the sight, sound and smell of all these cars didn't keep you on your toes then the weather certainly did. I kid you not when I say it was bloody freezing!
Racing started at 3:00pm and by this time everyone felt like a frosty fruit. I could have been mistaken for believing I was in heaven, surrounded by all those ultra fast VWs. With names like Gary Berg, Matt Berry, Boris Orazem, Mark Calus, Dave Butler and all the other VW hoons, who can blame me? Poor old Gary Berg had trouble keeping his black beast in a straight line most of the night but pulled off a ripper of a run with a 10.37 at 126.something MPH. Dave 'My bug is very bloody loud' Butler was blitzing the field running low 11s and even beat Gary in a heads up race. Matt Berry had the crowd stunned with his wheel-standing matt black choptop running 12s all night long. Jeff 'smokin' (tyres that is) Unwin had the crowd in awe and on their feet with his filthy second gear brake jobs. More smoke than a Cheech and Chong movie.
There were many more VWs running very healthy times as well but I cannot remember their names. Dave' turbo pulled 13.5s which stoked all of us. Racing finished at 11.30 with everyone eager to get near a heater so they could regain feeling in their bodies. An early start the next morning had us on our way, making Sydney by 8.00pm with all of us pretty tired and eager to hit the sack. See you there next year.
Nambucca Valla Park '95
By Leigh Harris
October 1995
Two Beetles left Sydney jammed to the roof full of everything that we needed for our trip up north. We left Oatley at 8 pm Thursday night, deciding not to show for work on Friday. The first leg of our journey ended at the Oak factory at Hexham (we think). Here we had tea and time to gather our thoughts. The next leg was somewhat different to a normal person's journey up north. We took directions off Adam's uncle as to what way we should go. It led us along some roads that we classed as goat tracks but back in the 1900s these would have been super highways. Both cars were equipped with those super you beaut shocks which give the best ride available (by now you're all wanting to know what shocks we've got on our cars), but I'm just being sarcastic. We rock and rolled up the coast on KYBs, so you can imagine what the ride was like with both cars riding on all four bump stops. Hey the ride might not have been good, but we looked cool, dropped on the deck.
Somewhere along the goat track out the back of nowhere Adam nearly had a hood emblem which no one else has ever rolled up to a VW event with, a full life-size kangaroo with a VW boot handle up its bum. After Adam's close encounter with a 'roo, we pulled over to the side of the road for a toilet stop.
Two minutes later the five of us stood 5 metres apart facing the bush on a toilet stop, when someone pointed out a pair of eyes the size of golf balls looking at us from 20 metres in the bush. Someone yelled out "F*%$ !" and everyone was ready to run, business finished or not. Then someone yelled that it's only a bull, but by then we had run the distance back to the car.
We continued our journey north, now with everyone on 'roo patrol, not wanting to pick dead bits of carcass from the front of our cars. The next stop was at a servo at Taree where Adam's car with a 2.2 litre engine took 35 litres of fuel and my 1.2-litre engine took 32 litres of fuel. Now for all of you out there wondering how that works, try keeping up with a 2.2 engine up and over hills in a dunga 40-hp engine built by Leigh and Keith in two afternoons after work. I don't think my revs dropped below 4500 all the way from Sydney to Nambucca.
After filling up with petrol at Taree we went looking for a motel to stay at in town. Now have you ever tried finding accommodation at 1 o'clock in the morning on the dark side of Taree? Now picture this, two noisy Beetles pulling up at 1:00am into some sleazy motel called 'The Black Boy Motel' that was awarded one star for having fly screen doors on its rooms. Adam and Simon walked into the office to find the manager in a sleep so deep that they needed a crane to pull him out. When woken by their 20 quick presses of the counter bell he seemed to be in shock and a little confused. Then Adam asked the manager the most difficult question he'd had to answer all day, "Hey mate you, got some rooms for us?" Instead of answering he just turned slowly looking at his peg board of keys which had two keys hanging on it and simply said "No".
After Adam and Simon closed the door behind them and came to the car and told us what had happened we just cried with laugher all the way to the next motel, which was 4 km up the road. The next problem we faced was how we were to unlock Adam's car at 1:30 in the morning. You see Adam had been so excited in rushing inside with his bag to jump up and down on his motel bed (I'm not lying he looks like a 5 year old who's just tied his shoe lace for the first time when he jumps on his bed) that he'd left his keys in the ignition of his car and locked the doors. This posed somewhat of a problem so we decided to leave it for the morning.
The next morning after breaking into Adam's car we paid our motel bill and headed for Valla. On cruising into the park we looked to be five of thousands who had headed away for what was to be a weekend full of fun.
Well I'm sure you've all heard of singing for your supper, well we carried trestles and tables for our room key. Some idiot who I won't name (Jeff Unwin) had informed the ladies at the reservation counter that the five of us would love to carry 20 or so tables (that seemed to be made of hardwood, so you can guess the weight). At least the ladies were thoughtful enough to give us one of the closest rooms to the bar (you should have seen Adam and Simon's eyes light up when they saw our location). Even Adam was able to stagger this distance back to bed after drinking at the bar.
After unpacking our cars, which consisted of throwing our bags on Dave Becker's balcony from twenty metres back, we headed to the racetrack (no time wasted there).
Keith thought he knew the way to the racetrack (heaps of time wasted here). We took every left hand turn from the park to the real racetrack turn-off, twenty kilometres up the Pacific Highway. We spent the afternoon at the racetrack throwing cow dung at one another and watching Simon and Adam start to demolish a case of beer.
Friday night saw us visit the local pub where we gave two fellow enthusiasts a lift back to the caravan park (Paul Zanello and Steve McMullin). Now work this out, how do you fit seven people in a Beetle, not forgetting the case of beer? Well Adam decided the best way was for two to sit under the bonnet of his 1500 with either person sitting on each front guard with their legs under the bonnet and holding onto the other persons' hands over the top of the bonnet for stability. Well Adam and Simon were the willing participants but no one wanted to drive.
Keith was elected driver unanimously (the rest of us had been drinking), with the two ring-ins by now wanting to walk back to the caravan park. "Fellas you can't leave now we've almost fitted everyone in, not forgetting the case of beer," (it was first in). Keith drove with the bonnet 3/4 open, peering through the opening left under the bonnet and through the bottom 2 inches of the front window ducking around Adam and Simon's heads. We almost made it without a hitch. We were all just wondering what Keith was going to do about the car coming straight at us, seeing that he had decided to enter the caravan park through the exit lane to avoid the speed hump on the entry lane (we wouldn't have cleared it anyway). Well we made it back to the cabin in one piece with both Paul and Steve first out of the car (hey Keith I think they were a little nervous about your driving). We had successfully shown these fellow enthusiasts how we at Club Vee Dub make the best of what could have been a difficult situation for other clubs faced with a similar circumstance. There isn't a lot to be said about the weekend except that it is a pretty laid back weekend for individual groups and families to enjoy themselves whilst mixing with fellow VW enthusiasts.
The cruise through the main street of Nambucca was something of an awesome sight with cars cruising from one end of Nambucca to the other for as far as the eyes could see. I will guarantee you that you will never see anything as awesome as a couple of hundred VWs of all shapes and sizes grouped together in the main street of Nambucca and some off streets (because they wouldn't all fit in the main street). It seemed that even the organisers had underestimated the actual size of the VW convoy that left from Valla in the morning.
Well the five of us mixed in rather well on the Saturday night with the Flat Four Boys. You see they were thoughtful enough to cook us some Chinese food for tea and deliver it to us (on the door of our cabin). Well from then on in it was full-on war; every available item that was of no use was thrown back and forwards from our cabin to theirs. We thought the wet toilet paper was a nice touch! Then I was abused by some bloke in a cabin behind us, trying to get two kids to sleep because my stereo was toooo loud. Fancy trying to put kids to sleep in a caravan park full of VW enthusiasts on a Saturday night.
On the Sunday the car show was a huge success, which seemed to indicate by the attendance that the event may be on in future. For those that didn't go we saw cars that we had never seen at any Volkswagen event before, so it made a nice change to look at totally new rides and talk to new people we had never met before.
Sunday night saw the Flat Four Boys go to town for tea, so I walked into their cabin and turned off their hot water switch at the fuse box. After that we went out for tea ourselves. The next morning saw some pretty upset Flat Four Boys walking around who were not overly impressed with having to cope with cold showers. And fellas we may not win every volleyball match (well any volleyball match) but we won this game; we like to call it the game of life.
The drive home was fairly uneventful, with us arriving back in Sydney on the Monday afternoon at about 4:30 pm. So for all of you who have read this boring story from start to end and wonder what the weekend was all about, attempt to make the next event at Valla if it is ever held again, because you are guaranteed to have a fun weekend. And for all of you sitting there reading this, saying that Nambucca is too far to go for a weekend event, then try driving there and back in a Beetle equipped with a powerhouse 40 horse. If I can do it so can you.
Nothing Lasts Forever
By Keith Haeusler
November 1995
How many of you readers out there have an interesting or funny story to tell the rest of us? I should imagine every one of you could rattle off a little adventure from the past without having to think too hard.
Well here's one of mine - about the time some mates and I went to look at a VW after reading about it in the Trading Post. I guess we were about 17 at the time because we were still at school. Shawn, the mate who wanted the car, had a mad infatuation with Type 3s, especially early models. Now the ad in the paper read as follows: "1965 Type 3 Notchback, unregistered. $500.00". Not really a very descriptive ad, I hear you all saying to yourselves. Let me tell you, looking back in hindsight, that it was accurate and realistic. Anyway, scanning throughout the under $1000.00 section (should have been wrecking), Shawn's eyes came across that dreaded ad. Within 10 seconds I knew he was going to buy this, and that he must have it at all costs. So we all rushed home after school and surrounded him while he made that fateful phone call. The guy on the other end said to get over quickly as a few people had already called and seemed interested in the car (yeah right).
So four of us waited around for Shawn's Mum to get home so we could scam the 351 Fairlane. When questioned why we didn't take his Dad's VW and leave the Ford at home, Shawn simply gave some lame excuse like the VW has no rear seat belts and his friends might get hurt. You see we were only meant to be looking at the car and were under a death oath that we wouldn't trailer it home. If he bought the car, a tow truck was meant to bring it home.
Anyway by the time us guys got there it was dark, around 8:00pm, and you couldn't really see much of the car. A quick look around the '65 revealed massive 8-inch rear tyres sticking out past the bodgie home-style flared rear guards. The green primer paint with black guide coat spray job did its best to hide the copious amounts of rust. Interior trim was still intact, although the huge hole in the pan under the passengers' feet was a bit of a worry. Someone had cut out the rust in the pan but had not bothered to replace the section they had taken out.
Electrically the car was a nightmare, with not much working at all. We managed to fire up the engine after using the Ford battery as a donor. Blow me away, it actually ran OK. So out the drive it goes with Shawn as the pilot. So far so good, but did he remember to check the brakes? I think not. He made it around the block all right, as he did not have to use the brakes up to this stage. Next thing I remember seeing is the Notch come hammering down the street on its victory lap past us guys, and seeing Shawn's grin turn to panic as he tried to stop for the stop sign 50 metres ahead. The car had no brakes at all (although the brake lights worked - amazing) and he sailed straight through the stop sign. Thank God no cars were coming.
By this time we were on the ground rolling around in fits of laughter, and Shawn had discovered the true colour of adrenalin is brown. On returning to the Notch's home it became apparent that 2nd gear was shot as we heard the grinding two streets away. They say that love is blind and in this case it was. Shawn bought the car (he fell in love with the big, wide rear tyres).
After a 10-minute conference it was decided that to have it towed home would cost a fortune at 9:30 at night, so we would tow it with the Ford. A quick trip to the local servo and 8 dollars later had a towrope on the scene. Out came the street directory and Shawn mapped out every back street we could take to get home from Auburn to Woronora.
Now let me tell you that being towed by a 351 Cleveland at night in a pussed out VW with no lights and no brakes is one scary ordeal (I drew the short straw to drive). After nearly having several accidents I decided at Padstow to untie the car and drive the rest of the way home. At this point in my life I discovered the true colour of adrenalin was brown. We managed to get the car and ourselves home in one piece and didn't even have to talk to the boys in blue.
The light of day revealed the Notch was an even bigger pile of junk than we had thought the night before, and the rest they say is history. Twelve long and tedious months passed (plus 3 rolls of mig wire, 2 tins of bog, 1 tonne of sheet steel and lots of blood, sweat and swearing, some tears, more swearing) before the '65 had a set of plates. But hey, it was a legendary car and we had heaps of fun in it.
Shawn sold it a few years later to buy an Ford Escort RS 2000 (yuk), and at last report the old '65 had been written off. I can't go on as it is too upsetting!
Adelaide the easy way
By Greg Bendle
May 1998
The trip to Adelaide, although organized long before the actual event, only really hit home with most of us about a week before we were meant to have our cars on the truck bound for SA. Then the rush was on to get the cars ready for the long journey of an unknown fate that awaited them.
My own car was still on the dyno with a week to go, and Chris Fraser's Fastback was next in line for the same dyno, which left Chris in a spot of bother if something went wrong. As it turned out, Chris did have some problems so the car was tuned as best they could and was going to have to go as it was, unfortunately not at its full potential but nevertheless running well enough to take. My car was no hassle, it just had no interior and on the trip home from the dyno, the intercooler burst for the third time. This had to be repaired and re-installed before the interior could be finished, with five days to go. As it turned out, my car was on the bottom of the priority list and had to sit in the corner till the last minute.
For those who know the saga of Keith Haeusler's self-destructive 1956 oval, it is easy to see why my car was not important. Keith's newly rebuilt 2007 cc turbo motor was not running at all close to its full strength and, as usual, for no apparent reason as everything had just been rebuilt. The decision was made on the Saturday night to take the car as it was and try to fix it down there. I then started putting my own Beetle back together as my intercooler had been promptly attended to by Dave Stoker (thanks Dave), and now resembled a miniature Sherman Tank - totally indestructible. With the newly improved intercooler, I headed home on big boost to put the interior in my car. Halfway between Keith's and my place, I was stopped at traffic lights - time to test the intercooler - wound the boost up to about 23 psi and launched from the line as the lights changed green (just getting some practice for next week-end) 1st gear 8 psi, 2nd gear 18 psi, into 3rd 23 psi and BOOM - bugger - one of the hoses blew off the intercooler (phew). No terminal damage, a normal occurrence when the hoses have been tightened up cold. Then the frightening sound - the tinkling of metal coming from the rear of the car. Sounding VERY terminal, I pulled over and let the car idle - noise was gone, no worries, home I go. Waiting to pull back out onto the road, another car's headlights shone from behind. A quick glance into the rear-vision mirror told the story. The hose that blew off had punched straight through the rear window and a 30 cm diameter hole was quite evident. I drove the car home, locked it in the garage and went inside for the night.
Sunday - only 1 day to finish my car as the truck leaves at 12 noon (so they told us) tomorrow. With no interior or rear window, time to call the boys for some help. One quick phone call to Keith's place and all thoughts of them helping me with my car were thrown away when I found out that Keith's car had exploded the fan on the test drive, taking out the fan housing and alternator and snapping the alternator stand in 3 pieces. Back down to the house of Haeusler for some more quick repairs. Time to find some donor organs to give life back to Keith's motor. A trip to the Hellbug workshop found another fan, backing plate and alternator stand and the fan housing was kindly donated by Sebastian, straight off his own motor.
By 10:00pm Sunday night, we had completed the transplant and the car was, again, back in action. Time to finally go home and finish my own car and with the boys coming up to help me, it would take no time at all.
2 am Monday - no sign of the boys from the Woni River, but my car was complete for the first time in 2 years and 2 weeks, not that I was counting. Too tired to think anymore - time for a sleep.
At work at Hellbug Monday morning - still haven't heard from the boys so I thought I'd give them a call. As it turned out, when I left them at about 10:15 pm Keith drove Sebastian home, a 5 minute drive and he almost made it home but instead, the new fan exploded as well destroying our whole days work and almost causing Keith to throw himself in the river, which flows along his back fence line, with his car around his neck.
Obviously the donor organs we had found had been rejected by the body into which they had been transplanted. Thinking quickly, team Woronora - Hamo and Keith - made a desperate dash for the back yard of Jeff Unwin's house to remove the fan housing from the 'Hellbuggy' (thanks Jeff) which was totally compatible with no modification necessary.
Finally all cars arrived safely to the depot of the car carriers and off they went to Adelaide without us. None of us had realised how boring it could be, not having a car to work on for a whole week.
Friday finally arrives. Those of us who chose to fly headed for the Ansett domestic terminal and the luxurious 1¾ hour flight. The rest boarded the Kombi express bound for South Australia on a 14 hour tour, but that is another story which needs to be told.
The Saturday morning was spent in Peter Debiasi's workshop finishing off the final bits on my car and rebuilding Keith's turbo again.
Seb and I took off for a tour of the Greater City of Adelaide to put some km on my motor because I didn't want to race my car all night with only 140 km on the clock but I suppose it's one way to run the motor in. You can see most of Adelaide in half an hour and only 20 km or so, so that idea went out the window and the car was set to be raced as it was.
Out to the racetrack, Adelaide International Raceway. What a buzz. A great and probably the only, FLAT track in Australia, and a lot of very serious drag racers considering it was only a street meet. We later found out in SA there are no annual rego checks so streetcars for them are race cars for us.
Practise all went well for us, the turbo cars cranking up the boost to see what boost we could get and Shane in his drag car getting time to set his mixtures right. It was also good for the locals to get their cars right and get a time to dial in for the bracket racing.
Racing was much better than practise because we didn't have to race against the ridiculously loud V8s, so we could actually hear what our own cars were doing.
All of the VWs ran respectable times. I think the Adelaide locals got a taste of what you can get out of a VW if you spend enough money. Our cars from Sydney were the fastest VWs on the night, with the exception of the very clean Kermit green early beetle drag car. Revenge was sweet for Rachel Tidswell in her neat and tidy Beetle when she blew away Keith's 12 second and Shane's 11 second Beetle to take victory with her dial in of 17.25 seconds. The night was also made that much better with two record-breaking runs by Rod Penrose and Keith Haeusler.
Rod being the first VW in Australia to run under 10 sec with a 9.63 @ 132 mph and Keith now having the fastest street registered beetle in Australia with 12.6 sec @ 113 mph on street tyres with a car he drives every day, as it is his only car.
Everyone else ran good times. I did 13.8 @ 104 mph. Chris Frazer did 13.9 @ 80 mph, proving that when the car is set up it will be extremely fast. Jaimo did 14.4 at 93 mph - for a Golf, that's fast, arguably the fastest Golf in Australia. Shane did 11.8 @ 120 mph. A great night of racing was had by all and congratulations to Rod, Keith and Rachel.
After the racing was finished, it was time to check out the nightlife in the greater city of Adelaide. As it turned out, we were pleasantly surprised. Keith, Seb, Chris, Ernie and myself were 'shown the town', so to speak by Rachel, while all the others snored their way through the dark hours.
Chris and I were the last two home at 8 o'clock the next morning, just as all the sleepy heads were getting out of bed and just in time to go to the Volks Enthusiasts Club Show. A 2-hour power sleep did me the world of good, Chris I'm not so sure about. I think he could've slept for two days and still felt bad.
Finally we navigated our way to the park where the show was being held, making a grand entrance at the wrong entrance and having to drive across open grassland to join the crowd. A few people gave us some strange looks but sliding around on grass is always a bid of fun.
The Show was good with around 40 cars on show, all of a high standard a credit to the owners and to the club, which has only been up and running for around 18 months. The swap meet they had, although small, was also of a high standard.
After the show had finished, the Kombi express left Adelaide, bound for home on what turned out to be a 17-hour trip (suckers). Seb, Chris and myself followed our now famous (after Saturday night) tour guide Rachel and her boyfriend David, on a Beetle cruise to sunny downtown Glenelg for the afternoon to see some other parts of South Oz. Unfortunately, like always, there wasn't enough time to have a good look round but nevertheless, what we got to see was great.
We left the run a bit late to get back to the airport so the boost came in handy through orange traffic lights. When we got back to Peter's workshop it was all closed up, so with no time left, I had to leave my car on the street, throw the keys over the fence and hope for the best. As it turned out, my poor car didn't have to sleep in the gutter in a foreign land, far from home because Peter came back later and luckily found the keys and locked my car away with all his mates.
The flight back was very relaxing and to finally get a full nights sleep was worth the airfare.
All in all, everyone who came down from Sydney had a fantastic weekend. Thank you to all the people from the Volks Enthusiasts Club in SA for making it such a good weekend. A special thanks to Peter Debiasi and workshop crew for helping us out, having the workshop open at all hours and pushing the cars in and out for 2 weeks. Also to Rachel for organising the $3,000 which got the cars down and back. All help was greatly appreciated and we will be back next year for another awesome weekend.
Racin' with the Locals
By Leigh Harris
July 2001
I dare say the neighbours weren't impressed to be awoken by the bark of my motor at 5 o'clock in the morning. My intake temp read just 5 degrees as the motor idled for several minutes in the driveway struggling to gain some temperature. It was time to go, nearby lights were starting to flicker on and I wasn't hanging around for any lectures from irate neighbours.
Destination - Cowra airstrip. Long time club member and friend Fabion Corio who relocated his family and business several years ago from Bexley to Orange had enthused me into driving to Cowra for some drag racing at their local airstrip.
Belinda and I were packed into the Beetle like sardines. I had removed the rear seat to try to compensate for the extra weight in the car with the tools and spares, to ensure that the car wasn't too low. The car was low to start with and I was to prove that along the way.
The dash from Sydney to Lithgow went quickly, the boost needle flicking up and down from 0.7 bar. A quick stop for breakfast at Lithgow McDonalds and we were away again! The exit from McDonalds was a bit tricky, having to exit from the entry in order to avoid the speed humps.
Bathurst came soon enough. A last minute left turn made in the main street would have impressed a few bystanders, with boost and sideways action from the old Beetle. Until now the roads were excellent, from here on the roads were terrible. Lots of ruts and pot holes made me drop my speed from 100 km/h down to a crawl in fear of tearing my exhaust headers off from under the car. I could now see why Fabion had commented that his floorpan bottomed out on some sections of road.
Making Cowra, we filled up at the local servo, with the Beetle attracting its fair share of attention. A number of locals crowded around as I added octane booster to the petrol tank as I filled the tank with petrol. One local seemed quickly amused at the sight of octane booster but soon stood in disbelief when I mentioned I added it to reduce pinging at high boost levels. Indeed the car was turboed.
My exit from the servo became a bit messy as I headed up the wrong side of the main street in order to reduce scrapping to a minimum. At that very second I swung behind a highway patrol car, no doubt looking for local heroes out to prove their worth on the way to the airstrip. The highway patrol officer didn't give me a second glance - the joys of driving a slow old Beetle!
Belinda and I were the last car to enter racing, some 45 minutes after the official closing time. As we pulled up next to the airstrip, I was nervous to see some 100 or so onlookers staring to see what all the noise had been about as I crawled down the entry road and came to a stop. The Beetle emitted the distinctive bark of a 2-litre flat four which at the time caught the attention of the V8 loving onlookers.
After explaining I had driven up from the south end of Sydney, which had taken some 5 hours, I was given the nod to race by officials. The locals seemed to be quite amused with a showing of 3 Beetles on the day; Fabion, Dave Becker and myself. With 'The Love Bug' being aired only the night before on local TV, I was given the number '53' during scrutineering. I think by now the locals were indeed having a chuckle at us.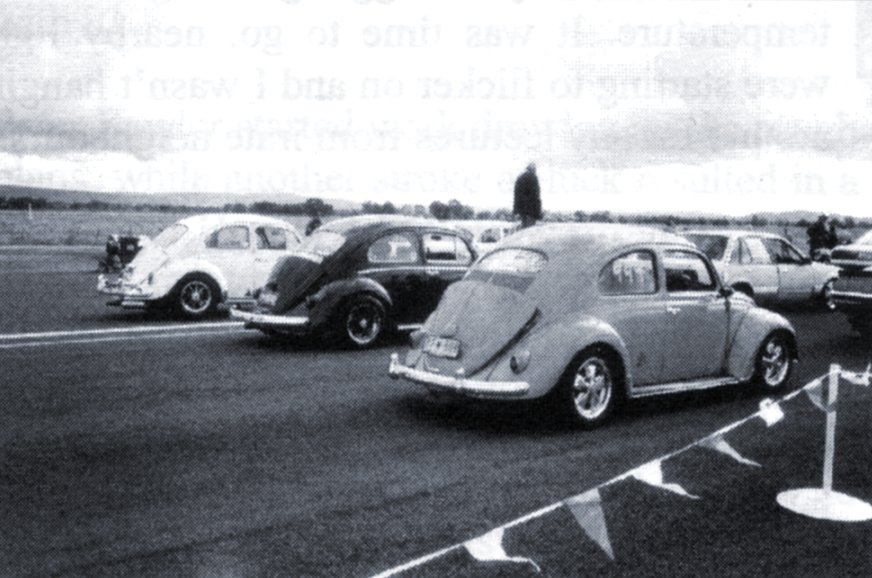 So there we stood, 3 VW Beetles and 40-odd V8s, two rotaries and two WRXs, one Sti and the other running the full kit - nitrous oxide, intercooler, water spray etc etc. Everyone seemed amused at our showing and stood whispering and joking until each Beetle had run a pass of the airstrip. Fabion in his 2016 cc twin-Weber oval was having problems like everyone else in gaining traction on the gravel covered airstrip surface, and the best Fabion could manage was a very respectable 10.14. Dave had flat-towed his white '64 Beetle up with it's 2007 cc 48 IDA motor and fiddled all day trying to improve his time. Slicks were slowing the car as the gravel spun like ball bearings under the tyres on the line, but by removing his fan belt at the end of each pass, he improved his time by 1/10 second. It was amusing to see Beck continually trying all different things on the day.
I felt a bit guilty by the day's end having never checked a thing on the car after such a long drive. My only improvement on the day was to screw more boost into the motor to compensate for a boost leak from somewhere near the intercooler pipe work.
Nothing looked better than seeing Fabion or Dave's car crab sideways off the start line as each car scrambled for traction on the slippery surface, indeed the crowd was having a ball, wondering what exactly was powering each Beetle as it struggled for traction.
The locals stood in disbelief as each time the 3 of us returned with times that were better than most of the V8s on the day. We had come from being the underdogs to 3 of the quickest cars.
At the start of each run stood the local police officer, complete with gun and cuffs. It was a funny feeling staring the cop out whilst he stood waiting patiently for each car to burnout and move to the start line.
After a brief lunch break the dial-ins began, three different categories of cars. Each driver was to nominate ('dial in') a time and try to run as close to this as possible without actually going quicker ('breaking out'). By now, everyone's cars were running faster and the three of us decided whether to try for as close to dial in or to keep running for outright speed. A trophy was to be awarded, so there was some friendly rivalry between the three of us. My first run was a joke. For some reason the car hooked up perfectly, wheel-spin was minimised and my car powered down the strip to run an 8.85 on a 9.1 dial in! By now I was only 0.1 behind the WRX driver who was driving the car like he'd stolen it! By the end of the day I'd fluked a 8.92 on a 8.90 dial-in, with Dave being just a little further off his own dial in time of 9.3. Fabion, who everyone had nicknamed 'Mr Consistency' from previous VW Nationals Drag meets wasn't having a great day with his Webers rattling loose but still ran a very close dial-in time also.
By the end of the day we stood there with the locals, who chatted and laughed in disbelief as word had spread that one of the Beetles was turboed. Locals peered through the top of the decklid of our Beetles or lay on their backs on the airstrip peering under my car trying to catch a glimpse of the turbo. Some of the locals admitted their conception of VWs had changed forever. How nice it was to go to an event and mix with other drivers and share laughs no matter what car they drove.
At the end of the meet we waved goodbye as we headed for home. Fabion headed off to the local pub where the trophy presentation was to take place in a little over an hour. Belinda and myself were eager to head for home with over 5 hours of driving ahead of us.
The locals seemed impressed with our efforts with several, including the local cop, giving us a wave as we cruised back down the main street heading for home. What a great day and a well-run event. Thanks for the invite Fabion and thanks to the people of Cowra.
A phone call Monday morning from Fabion confirmed I had run second fastest car of the day whilst picking up first place in dial-in for our category with Dave picking up second and Fabion picking up third. Poor Fabion was left to cop the torment and remarks as he stood at the front of the pub on that Sunday afternoon to collect all three awards! Beetles 1..2..3 !
VW Spectacular 2001 - Part 1
By Phil Matthews
September 2001
Ah, the north coast of NSW! Once again, the VW Spectacular at Nambucca Heads rolled around and I was looking forward to getting away for a few days for some sun and VW fun. This is a bi-annual show, and I'd missed the last one in 1999 by having to work; ones before that had always been tremendous fun and each one had something happen to make it memorable. Joke contests around the campfire; UFOs hanging from trees; singing in the back of Simon's Kombi; farting competitions in the Club VeeDub tent; BBQs at 4 in the morning - you name it. What could be expected in 2001?
Rather than get away late on Friday evening, drive up there in a heated rush and arrive tired and irritable in the early hours, I decided to take Friday off work and drive up at leisure, with a relaxed Friday evening arrival in mind, just in time for drinks. A much more civilised way of doing things. Furthermore, since I had all day, I decided to drive up the 'scenic' or 'agricultural' route, via Tamworth and Armidale, which I hadn't driven before. I also knew Boris, Steve, Leigh, Belinda and Birchall were headed up the same day by the normal coast route, so I intended meeting them in Valla Park early for drinks.
I gave my VW an oil change, tune and wash in preparation, and I left after work on Thursday night. Not much traffic at all once past Hornsby, and after a steady high-speed run on the freeway I reached the New England/Pacific Hwy fork at Hexham in what seemed like almost no time. I pointed my VW up the New England Hwy and unknown territory. Time for dinner, and a steak and chips and schooner of light beer at Maitland was ideal. I considered stopping for the night but decided to press on as there were plenty of things to see the following day, so into the VW again and on through a very quiet Singleton by about 9 pm, and an even quieter Muswellbrook about half an hour later. Fuel was starting to get short, so I decided to stop at the next station I came to.
Aberdeen was 15 km further and was completely dark and quiet, and another 10 km I was into Scone with the needle of the VDO gauge close to E. Sure enough, Scone was utterly deserted at 10 pm on a Thursday night! You could have fired a naval gun up the main street. Not a station open anywhere! My first planned stop for the morning was Burning Mountain at Wingen, 25 km further, so I pressed on, coasting gently along to preserve the last few litres in the tank. In no time I came to the Burning Mountain exit sign, which pointed to a neat resting area with toilet block just off the highway. I pulled in, parked and switched off, then had a quick look outside.
Secluded, dark and rather cold, and I was the only car around. I got out the sleeping bag and blanket from the front boot, took off my boots and bedded down for the night on my Beetle's back seat. The slowly fading warmth of the VW's cabin and the occasional rumble of a passing truck was all I felt as I dropped off to sleep.
I awoke just as it was getting light, and I peered out at a tranquil country vista through VW glass frosted lightly with ice. It was bitingly cold. I put away the sleeping gear, put on my boots and went outside. Burning Mountain is a series of rolling hills covered with gum trees, except for one interesting section that was reached by a fairly steep half-hour walk. About 5,000 years ago a flash of lightning or burning tree set fire to a seam of coal at the surface, and it is still burning today. The fire today is about 25m below the surface, and moves slowly south about a metre per year. The walk follows regions where it has already burned, and the brightly coloured soil and lack of undergrowth is startling. Thomas Mitchell first noted the burning mountain on his expedition north in 1835, and today a raised platform at the end of the walk gives a great view of the active area, together with some interesting information panels. An area about the size of a tennis court is completely clear of vegetation, with smoke coming from many cracks in the fragile soil. The air shimmers with heat. It reminds me of Rotorua in NZ, but it smells of coal smoke rather than sulphur and volcanoes! Geologists say it will go on burning for thousands of years yet.
Time to press on; it was about 8:30 am and things should be open by now. The fuel gauge was barely registering as I headed north again, but I soon reached the township of Blandford and filled up - at $1.02 per litre it was a bit pricey, but who cares. It sure beats walking!
I was slowed by road works, wide trucks and even a dirt section before reaching Tamworth, and time for breakfast. Mmm, Hungry Jacks, conveniently located beside the tourist info centre. I did stop briefly at Tamworth airport, where East West airlines' first plane sits preserved in a special building. A 1940 Avro Anson in beautiful condition, but locked up so you can't get close and must peer at it through large glass windows. A dead sparrow on the concrete floor near one wheel told me that no one had been inside for a while.
North of Tamworth was once bushranger country, the territory of the notorious Captain Thunderbolt. A large pile of rocks beside the road was supposedly one of his hideouts, the so-called Thunderbolt Rock, and I stopped here briefly to return a call from Leigh on our mobiles. Apparently they were all in Valla Park and had already opened the first beers - where the hell was I??? I rang back but Uralla is somewhat outside the Optus network and I could not get through. I pressed on through the pretty town of Armidale, and turned off the New England Highway at last and headed east towards the coast along the twisty, undulating and extremely scenic Ebor road. It was in surprisingly smooth condition, except for being a little gravely, and traffic was light. After 40 km of leisurely driving I turned off and stopped at the Wollomombi carpark. Just past the trees was a wooden viewing platform overlooking a gigantic drop down, down, down into the Oaky river valley - those scared of heights should stand well back! At the top of the valley was Wollomombi Falls, the highest waterfall in Australia. It drops more than 300m in total, with one sheer drop of 220m. Not much water the day I was there, but in flood it must be an awesome sight.
More twisty roads and the weather started to close in. By the time I reached Dorrigo it was misting and threatening to drizzle. The water made the road a little slick and hence that little bit more satisfying to drive. I wanted to look at the train collection at Dorrigo; a branch line was built from the main north at Glenreagh, near Coffs Harbour, in the early 1920s to serve the timber industry. It closed in the early 1970s but before that a huge collection of steam and electric locos, carriages, wagons and other rolling stock had been collected at the Dorrigo terminus. When the line closed it was cut off, but plans were in hand to open a train museum and run tourist trains on the disused line. 30 years later and we're still waiting! The yard is not open to the public, the locos and stock sit outside and rot in the damp mountain climate and the line itself is overgrown with wattle, blackberry and lantana and in parts has vanished entirely beneath the forest floor. What a pity. Dorrigo has the largest train collection in the Southern Hemisphere - twice as large as Thirlmere - including two 260-ton 60 class Garretts, the boiler and components from 3813 and a complete Silver City Comet set. They still plan to turn it into something like the National Rail Museum in York, UK. I fear that won't happen, at least in my lifetime. It would take many millions of dollars and decades more at current rate of progress.
So as darkness descended on Dorrigo and the drizzle set in, I started the VW once more and drove the remaining 50 km down to the coast and Valla Park. The mountain road saved the best until last, as it descended from the high escarpment down the slopes to the coastal plain in a dizzying series of tight, sweeping downhill left and right curves. Imagine the old road across Woronora multiplied a hundred, no, two hundred times, and add in thick rainforest that stretched up and across the road completely. Fantastic. Unfortunately I got stuck behind an old Tarago all the way down, and had to watch his brake lights for an hour before we got to the bottom at Bellingen and he pulled off to allow his smoking brakes to cool down. Obviously a slush box - no engine braking. My drums were reasonably hot but at least I also had second gear to slow me down!
I was told later that officials were supposed to be standing at the entrance to Valla Park caravan park, collecting money from every VW that entered. I must have been lucky; I went bombing through the entrance at 6 pm without being stopped, and pulled up near the main block where I recognised the silhouette of Birchall with beer in hand. "Oi, where you been, Slim?!" was his friendly greeting, and as I parked my VW by our cabin and grabbed my first beer I knew that we were all in for a great weekend.
The Friday evening is traditionally the informal, unwinding, catch-up with everyone night, and we certainly did that. Just beyond the park entrance is the Valla Park Hotel, where the Club VeeDub group gathered downstairs for dinner. There's no need to drive the extra 5 km into Nambucca for a good meal - the Valla pub food was sensational. I had a rump steak in pepper sauce that melted in my mouth, and I could see the others were just as happy with their pasta, schnitzels or seafood baskets. A few bottles of wine helped wash down the terrific food, and afterwards we headed for the upstairs bar for some after-dinner ales. Boris and Birchall bought some tickets in the beer raffle - and bugger me if they didn't win it!! They happily loaded the cases of beer into Birchall's Squareback for later consumption, while meanwhile the Karaoke was beginning.
After a few locals had a go, I got up to show them how it's done with a killer rendition of Bad Bad Leroy Brown; unfortunately they didn't have Ring Of Fire. Some of the local ladies were impressed and I got chatting to one blonde with deep, voluptuous cleavage but who had had too much to drink. I think we did a duet later, I can't remember, but after chatting her up for half an hour (I had my arm around her by this stage) she told me she was 52 – fifteen years older than me! I still thought she was a spunk. Leigh couldn't stop laughing and Belinda had the camera going.
I vaguely remember walking back to the park cabin with Birchall in the early hours, giggling and farting, and collapsed onto the bunk for a well-deserved sleep. Saturday morning would be the cruise to Nambucca Heads for the street parade, and we would need all our strength for the fun times to come...
VW Spectacular 2001 – Part 2
By Phil Matthews
October 2001
I awoke in my Valla Park bunk on the Saturday morning, with the rumble of many VW engines coming to my ears through the thin walls of the unit. Bleary-eyed and furry-tongued, I rolled over and peered at my watch. 8:30 am!! Nearly everyone was already up and about. A quick shower, on with my rumpled clothes and I staggered outside.
Already the many VWs around the large resort were being chamoised, started and manoeuvred into position for the cruise into town. I went over to the rest of the Club VW group and saw that Steve had already polished his Superbug to perfection, so too had Frank while Leigh was hard at work on his VW. I quickly grabbed a bucket and sponge, and washed off the Dorrigo road dust from my Beetle. Birchall was happy to leave his Squareback in all its dusty glory. By the time that was all done, and the first coffee of the day finished, the cars started to move as one to the entrance gates.
Every year the local police take control of the convoy, blocking the Pacific Highway for the time it takes for 100, 200, 300 VWs to drive up and turn left towards Nambucca Heads. The long line of VWs is always an impressive sight and we cruised along the highway in a steady single file. We turned off at the Nambucca exit, and headed into town. The line slowed to a crawl as the cars headed slowly along the main street, which the police also closed. I could vaguely hear someone speaking into a PA system as I passed, but couldn't understand a word over the noise of hundreds of VW engines. The convoy continued past the town centre, and out to a roundabout on the point where the line turned around and came back again. Thus both sides of the road were filled with VWs.
Into the main street again and the cars were carefully directed into several tight lines that completely filled the entire street. This year the cars began higher up and around the corner, so I'm sure there were more than ever in 2001. The racecars were kept separate at the top, which was a good idea. Once the parking was done, everyone tumbled out of their cars and had an hour or two to wander about looking at all the VWs, do a bit of socialising or maybe some shopping in the main street. The stronger ones headed to the pub for a beer.
In no time it was nearly noon, and the marshals began calling for drivers to return to their cars. I grabbed the paper, a bag of donuts and another drink and headed back to my VW, which just happened to be near the head of all the cars. The roar of many VW engines again filled the air, and everyone headed back to Valla Park in a more or less organised way. There were a number of things to do in the afternoon, and once everyone was back at the cabins we worked out who was doing what. Some wanted to stay and hang around the swapmeet, but most of us headed 10 km north to Raleigh raceway to watch the racing VWs.
A small, tight circuit set among close hills and thick gum trees, the raceway is reached via a private dirt road with corrugations, gravel and deep potholes. Assuming your VW makes it there without any parts falling off, the facilities are actually excellent and good views of the track are available everywhere. We placed ourselves on the hill overlooking the end of the main straight, and as Boris laid the blanket on the grass and Birchall got the beers out, we watched the race cars going around, three laps each, two at a time.
Our good friend Mr Steve Muller was on the microphone, excitedly describing the action, and the cars and their drivers. His knowledge of everyone and everything involved was impressive as always, and his passion for the VW marque was there for all to hear. The odd non-VW that took part received the full force of his caustic wit, much enjoyed by the VW fans on the hill. We all chuckled along with his pro-VW comments and banter, and even Frank farted his approval.
There were 17 cars competing in a number of classes, but I was surprised there weren't more. Many fast looking VWs were parked in the spectator areas or even back at Valla, and it's a pity more of them weren't out on the track. Nonetheless, we enjoyed watching the selection of cars that did race. The fastest of them all was Stan Pobjoy in his VW-powered open-wheeler hillclimb special, who did 2:33.96 for the three laps. Wayne Penrose was very fast in his impressive Sports Sedan Beetle, which although looking like a drag car managed to blast around in 2:43.12, the best of the sedans. Jeff Unwin's Type 3 was in a different class and he managed 2:49.36. His WRX-engined Notch got some ribbing from the commentator, but Jeff gets my vote for the best engine sound of the day - a delicious flat-4 bark with the whoosh of his wastegate on top. Mr Muller was competing in an ex-works Formula 2 VW Golf rally car, complete with race engine and sequential gearbox. This ought to have been very quick, but proved something of a handful to drive apparently. After the embarrassment of running out of petrol at one stage, he finished with 2:51.24. Next year his time ought to be much quicker, assuming the engine hasn't exploded into a million pieces first, judging from the revs it was turning. Something over 15,000 rpm it sounded like!
Saturday evening is usually the official dinner dance function and fancy dress back at the resort, but the Club VeeDub group decided to give that a miss and head instead into town for dinner and join everyone back at the bar later. Steve suggested a restaurant in Nambucca Heads we hadn't tried before, and after some slight navigating difficulties we enjoyed an excellent Aussie-style meal with fresh damper. No alcohol though - that would have to wait until we piled back into the cars and headed back to Valla Park. The official part of the night was over by then and the droning of the auctioneer was background noise as we propped up the bar for hours afterwards.
Sunday was the show and shine day, but unfortunately I overslept somewhat and didn't emerge into the daylight until 10:30 am. Too late to enter my VW, I was content to wander happily among the gleaming VWs. The standard of show car was high as usual, certainly the equal of what we see at the Nationals, and there were a few VWs on show that we hadn't seen before. Andrew Dodd had somehow found himself a 1950s vintage Tempo Matador, which is a small flat-nosed utility truck powered by a VW engine driving the front wheels! Unless you looked inside you would never pick it for a VW. Hardings brought along a series-2 Kombi pickup with a factory refrigerated van conversion. The guts were installed in the under tray area, and although it looked like a rats nest of copper piping, it actually worked. Again, most people had never seen one before.
I bought some goodies in the swap meet, mostly old VW literature and a few odd parts. I had to work on Monday, so I starting thinking about heading home around 4 pm. I packed my gear into the Beetle and went to say my goodbyes, and found that Boris and Birchall were leaving at the same time. I therefore missed the trophy presentations, but well done if you won something! We three tooted the remaining group in farewell and headed off towards home.
My Beetle, Boris' Kombi pickup and Birchall's Squareback took turns at leading on the way back, and we made very quick time. The new Pacific Highway is much improved and it seemed like no time at all before we came off the new bypass and stopped at Bulahdelah for fish and chips and a toilet break. I didn't look at my watch when I got home, but I'm sure we did the trip back in less than six hours. It was a terrific weekend and those who didn't go missed out on a great show. Again the weather was perfect throughout. I thanked Donna Pell for a great show, and asked her if it was on again in 2003. I don't know, she said, this could be the last one. However I also heard that accommodation for 2003 is already booked out (!) so you can bet it will be on for sure. Put aside August 2003 for a top weekend away.
A 1971 trip to Cape York in a VW
By Shirley Jefferay
January 2002
Ten months of planning went to good advantage, as we found we didn't suddenly think of this or that as the trip went along. We were unlucky enough to be going up top after a record wet season, back in July 1971. We used a 1967 VW Beetle with 80,000 miles (128,700 km) on the clock to do this trip. The vehicle was standard, other than under body protection and scrub bashing bar in front. Weight had to be cut to a minimum to allow for a total load of 42 imperial gallons (191 litres) of fuel when we left Coen. 25 km further north from Coen the road finishes and the track to the top starts.
Leaving Sydney at 3 pm Saturday, we arrived in Cairns at 9 am on Monday morning after a long but uneventful drive. A complete service of the VW, plus purchase of food, which we did not carry from Sydney, took some 3½ hours. We then headed out of Cairns, turned inland at Mossman (as the road to Daintree is a dead end), and camped Monday night at Holmes Creek, north of Mt Carbine. After we left the Cooktown Road at the Y intersection, we had good travelling to Laura.
After leaving there we started to get bad creek crossings and loose sand until we got to Musgrave, where we topped our fuel up and were told what to expect from there to Coen and also that we did not have much chance of getting there with a car.
Well Tuesday night saw us near Yarraden Station very bogged in endless sand. We camped until daylight and Jack then led the way through bush, and we got around loose sand. Slow going as we came into Coen Ranges, where the track had been badly washed out by the heavy rains. Coming into the Stuart River we saw a couple with a Holden Station Wagon who had been 5 hours getting across. Not a lot of water but a lot of sand on the north side. The south side was firm enough to be able to get enough speed to almost aquaplane the VW across the water, and this also gave enough speed to be able to get across the sand on the other side.
We arrived in Coen just before lunch, and our first call was the Australian Inland Mission for we had a parcel of Womens' Weeklys brought from Sydney for the manager, S. Lamb and his wife. They made us very welcome, and showed us around and had home made bread and tea.
Next call was the police station to see Sargeant Jack (we never learned whether that was his surname or his Christian name!) After a long talk with him he said we would not get past the Archer River, 70 km further up the track. He said he would be going out through there in a couple of days, and if we were still stuck there he would give us a hand to get out. But, he added, you might as well go to the pub, have a few beers and forget about the rest of the trip.
We filled our eight 8 jerry cans and the tank, left Coen and 12 hours later we were only 50 km further on. We were starting to think that Sarg Jack might be right. However we camped the night with the Archer River still in front of us. Next day, Thursday, saw us at the Archer, and we saw a lot of rock and plenty of water. However we got the Volkswagen across, then made a track up the sandy bank and then across almost 60 metres of loose gravel. No great dramas there.
After that there were creek crossings too numerous to count, with washed out tracks into and out of them. Sand, bogs, grass, mud, gravel, you name it and we had it. We pressed on and eventually passed the Merluna turnoff to Weipa, then another 60 km to the Batavia Downs turnoff to Weipa. We kept going north.
1.30 am on Friday morning found us on the bank of Wenlock River. We walked down and had a look, and decided not to cross until daylight. I might add here that by this time Jack had walked miles going ahead through creeks, feeling for unseen holes and rocks, holding the car and giving a push when it floated. He also pushed miles through the bush on foot for alternate tracks around bogs.
An early breakfast and on the move again. The Wenlock River was just deep enough in parts for the car to float, then touch bottom and become mobile again. Once across the river we drove up to the Moreton Telegraph Station where we were met by Dennis Scammel and his wife and mother in law. They already knew we were on our way, but were surprised to see a VW there on the spot and Dennis gave us to understand that if we went on we would be on our own. He gave us no hope of crossing the 27 Mile Creek north of the Telegraph Station. However after we had talked to them for a while and he saw our equipment and the type of provisions we had, he changed his mind quite a bit, but still maintained that if we got into trouble we could only expect to be helped when he came through on normal routine duties.
While we were there we asked if we could leave some of our things there, as we wanted to off load any excess weight. Dennis told us to leave anything we wanted to. We had used one jerry can of petrol, so we left two cans there plus odds and ends that we did not want. We left with a full tank of fuel and 5 jerry cans, and after what information we had from Dennis Scammel we were given plenty to think over. However after sending telegrams from there and having a cuppa, Dennis again pressed the point that would never get across 27 Mile Creek, but we could use his camp there until he came out. This camp had everything including a kero fridge.
While we were there the Flying Doctor called in to pick up an Aborigine family, some of who had to go to hospital. We had approximately 230 km to go to the top. Not far when you are on good roads, but a hell of a long way when you are only looking at a track cut out by four-wheel-drives.
The track was fairly good, a lot of sand which we were able to skirt around with no great loss of time. This was achieved by Jack running and stumbling through the stunted bush, picking out our track as I followed with the VW. Jack's quick decisions as he moved at a dog trot, to point out a track was what really helped to make good time.
We reached 27 Mile Creek but when we walked down and had a look, well it was no worse than what we had already encountered. It was very steep up the rest of the creek, but the Beetle ploughed through the water and mud, and up the bank to the top without hesitation. Ironstone boulders, bull dust, and then fast flowing rivers full of big boulders, logs, washed out tracks plus creeks that never seemed to finish. The Dulhunty, Skardon and Jackson Rivers all took some handling, not just the water but the approaches were a nightmare, but the worst of all was Cannibal Creek, which we thought was very aptly named. The water in these streams is so clear you can see everything in the water. There were plenty of fish, mainly black perch. The rest of the wild life was really plentiful, lots of kangaroos, scrub turkeys and galahs Further north was evidence of a lot of wild pigs. We spotted fresh water crocs (the small harmless ones) along numerous streams we had already crossed.
Dusk Friday night saw us across the Dulhunty, where we had tea and decided to push on. Night travel was difficult, if not impossible, in a lot of this country. We did not get far when we decided to camp. An early start next morning, and more swamps, bogs and creeks kept us busy. Finally, we arrived late Saturday afternoon at the Jardine River. This was the biggie, the river that we had been waiting for. What a sight. Over 150 metres wide, an average of 1.1 metres deep, flowing at over 5 metres per second (18-20 km/h) and so clean and clear you could see the bottom all the way over from the south bank, where we stood.
When you stood and looked at this mass of beautiful clear moving water, unpolluted, it drives home to you what a polluted world we live in, in our so-called civilisation.
There were two parties camped there, but they could not get their four-wheel-drives across that evening. While we stood and talked a third four-wheel drive also landed there. Later that evening around the campfire they laughed when we said we were going to the Top in the Beetle. However Sunday morning saw us making up a rough raft from an old 44-gallon drum, some 10-litre drums and empty jerry cans, some of which we borrowed from the other campers. Jack had already taken a nylon rope across and anchored it to a tree on the north bank. This rope was to be used to attach the car to, by means of steel Ds fitted to back and front bumper bars in case we lost control of it while getting across the river.
By Sunday sunset we had car loaded on to the make shift raft. We had already taken out everything we did not want for the last leg of the trip, which we left on the south bank.
By this time the laugh had gone from the campers when they had seen what had been achieved on Sunday. Two of them asked that if they were to help us push the car and raft across with the car (which was against the stream) would we give them a ride to the TOP? Anyhow we accepted. They wanted to pay us, but we reckoned they could work their way. And work was just what they did, for they helped get us across the mighty Jardine, and across the swamp after swamp we encountered over the next dozen km. Eventually we cleared the Jardine catchment and it was pretty dry going into Bamaga.
We later learnt from these two that this was the third time they had tried to get to the Top, but each time the Jardine River stopped them.
Bamaga is the last Native Mission Station in the north. Our first call was the Telegraph Station, which was run by Mrs Thera. We had two pewter mugs to leave with her, sent by the Highway Hotel at Wentworthville in Sydney, as well as a pennant from the Wenty Leagues Club. We took photos there and then around to the general store.
The settlement here is mostly made up of Thursday Islanders. We bought tobacco (remember tobacco?), tomatoes, apple cucumbers and few odds and ends to give us a change from the dry food we had been living on.
Then we went onto Chief Administrator, Mr Wilkinson to make ourselves known, and then left for the Top, some 48 km further on. But boy, what a track the last 30 km were. We got to the remains of Cape York Telegraph Station, just 13 km from the tip. From the old telegraph station (which was on top of a hill), we had to leave the old track as it was half a metre deep in dry loose sand, and make our way through the scrub. Once again Jack leading at a steady dog trot, plus our two passengers giving a push if needed. This went on for the best part of three km, after which we got onto more solid going.
The track in lots of places was very hard to follow as we were just the third vehicle up there that year; Mr Wilkinson had been up once after the wet, and the Leyland Brothers of TV fame had been in there as well. We actually met them at the Palmer River as we were going up; they were on their way back. Well at last it came, we were as far as you can drive a car. A short walk put us on the very tip of the Cape, the most northerly point of the entire Australian continent.
The big reward for this was there on the rocks, the biggest oysters we had ever seen. What a feast! Eight for me and ten for Jack, and what a pity to have to leave them so soon. We took photos and then started our return. The total expedition time to that point was nine days and 30 mins.
Early Tuesday morning saw us loading the VW onto the 'raft' at the Jardine crossing. When we reunited with the 4WD campers still there on the south bank, they told us they had got two 'crocs' on Monday night, 3.8 metres and 2.6 metres in length.
We repacked the car and on our way back late Tuesday afternoon we met two Toyotas with tourists coming up. One was badly bogged, but was able to winch itself out. However we pushed on, until we finally had to give up after dark because of the bad crossings, and we camped. Daylight was the only time you could travel here. You had to be able to see ahead and all around you, so you could move left or right to get the best advantage of the track.
Wednesday morning we were at it again, hoping to get to Moreton telegraph station that day. However this was not to be. We had caught up with a Land Rover, and then came across a Toyota hopelessly bogged. The Land Rover boys hooked on and pulled the Toyota out, but in doing so stripped several teeth off their crown wheel. We asked the Toyota crew to stay with the Land Rover to Moreton telegraph station. The Land Rover now only had two wheel drive, which was useless at the creek crossings. However after about five km the Toyota got in front, cleared off and left the Land Rover at the creek crossing. We then stayed with the Land Rover and helped them winch out of these crossings. The winch on the Land Rover was hand powered with a 27-1 ratio.
Well around 7.30 Wednesday night saw us at the 27 Mile Creek, just that distance from the Moreton telegraph station. Dennis Scammel was camped there. This creek was considered very bad even with 4-wheel drive, but the Beetle was through and up without hesitation. Dennis hooked his Toyota onto the Land Rover and helped it to the top of the bank. We camped there with Dennis and his mate and ate fresh meat that night, our first since leaving Cairns. There was also homemade bread.
Early next morning saw us on the move. Dennis was going back to the telegraph station, and so we all went there together. He also radioed his wife to have a cup of tea ready when we arrived.
Dick and Frank, the boys with the Land Rover, were happy to be there. This meant they would be able to get what parts they wanted flown into there.
We packed in what we had left there on our way up and, saying goodbye to the Scammel family, headed off. Dennis went down to the Wenlock River to see us safely across. We pushed on all day Thursday and came to the Archer River, 70 km from Coen, to find a truck blocking the track into the river. We were able to get the Beetle mobile enough off the top to get across 60 metres or more of loose sand, over the bank and across the river, without a hitch.
We were heading into the area that had taken us 12 hours for 50 km on the way up. Darkness had set in so we camped and had a good look around. Jack's uncanny thinking and decisions took us into the low scrub. Once again Jack was on foot, and with this kind of detour away from the main track, a lot of this we were able to travel very easily. Later Jack was back in the car, and we finished up doing the 50 km in 2¾ hours, which put us back into Coen.
We went to see Sargeant Jack, who was now thinking very differently about both our Volkswagen, and us from when we were there before. We called again at the A.I.M, bought more fuel, food and on we were off again, south.
When we finished early Saturday morning we were south of Laura. Then a short sleep, breakfast and onto Cairns just after noon Saturday, just short of 14 days since leaving Sydney.
The garages were shut in Cairns, so we went on to South Cairns to get an oil change and grease. Mike Leyland had seen us go through Cairns, so while we at the service station, he came after us to find out how we got on. He was a little surprised but very pleased to think we had made it to the Top. It's interesting that many years later the Leyland Brothers used VW Kombi Campmobiles on their TV show, Ask The Leyland Brothers.
Now with nothing more than bitumen road and 3,000 km between us and Sydney, the feeling of what was behind us was something one cannot explain. We just felt a great satisfaction in having achieved something the critics said could not be done with a stock standard family sedan; and more so that we were able to wave 'goodbye' to four wheel drives at the Jardine River and get to the Top.
Back in Sydney at 8:40pm Monday saw a finish to a trip that was worth everything that was put into it. We arrived back with the car still as it left; plugs, points, fan belt, and tyres. We did not put a spanner to the car, for one thing, for the 7,945 km, of which much is considered some of the hardest travelling in Australia. We used 955 litres of fuel, which cost us $105 (1971), which was 10.9 cents per litre then.
Clockwise round Oz in a Wasserboxer Campervan
By Chris Bellamy
April 2003
Ask most people about travelling around Oz in a campervan and images of aircooled T2 Kombis or rusty smoke-blowing backpacker Mitsubishi or Hiace vans come to mind for most people. Today the average Aussie traveller is probably doing it in a Japanese 4WD towing a camper trailer or small caravan. In the case of the many foreign tourists who outnumber Aussies on the road in tropical Oz, they are either cruising along in an endless procession of Mercedes Sprinter-based campervans i.e. Britzwagens, or in the case of the backpackers, 1980s vintage Falcon wagons held together with bits of wire or a prayer or two. The Sprinters are great machines and their 2.9-litre engines rocket them along while averaging 10 L to the 100 km. Also Falcons are much loved by aboriginal communities and as a consequence are very common up north, as any viewer of 'Bush Mechanics' on TV will have seen.
On my trip in 2002 I found that there were still lots of T2 aircooled Kombis doing their umpteenth trip, and more T3 Wasserboxers than I expected. I even encountered a few stalwart Tl split-window campers still out there. However I saw hardly any VW T4 based campers outside of South Eastern Australia.
After much preparation, my T3 campervan and I left Canberra on New Years Day 2002 heading south to follow the Snowy River Valley down into Victoria. My first encounter with the squadrons of Britzwagens was along the Great Ocean Road in Western Victoria where the Twelve Apostles draw tourists from far and wide. I then found that I was driving through the coldest summer for 30 years as I made my way along the cool coast of southern Australia. More seaside towns came and went and at Mt Gambier I crossed into South Australia or SA. This is about the only green bit in the whole of SA.
After Mt Gambier I said farewell to the last of the greenery for another 2000 km and rolled up the coast to the Murray Mouth. There I diverted across the water to Kangaroo Island, or 'KI' to the locals, which is an enormous island. These days one can drive around KI on bitumen but side trips take one onto the infamous KI corrugated dirt roads covered in ball bearing sized red gravel and a lot of interesting driving.
After resting in Victor Harbour I pulled into Adelaide. A compelling attraction for VW owners in Adelaide is a visit to Edwardstown. Not only do they have several VW spares/ repair shops there, but also several car yards selling aircooled VWs for very reasonable prices by east coast standards. A VW garage there gave my T3 a service and told me that those awful KI roads had damaged the rear gas shockers.
Soon it was time to head up North Road for the Barossa and then Port Augusta where I turned south again in order to head west via the Eyre Peninsula. At the tip of this Peninsula lies Port Lincoln of tuna-fishing fame. There I found that this very prosperous town supported not only an impressive fleet of expensive cars, 4WDs etc but also lots of T3 Kombis in daily use by lots of tradesmen. Then I headed north to Ceduna through dreamy places like Venus or Streaky Bays. Ceduna is not only the last chance to go shopping before arriving in Kalgoorlie but it also boasts a VW repair shop about 10 km west of town on the left.
After having had my air conditioning compressor replaced before I left Canberra, I drove in early Feb across the tree covered Nullarbor with the windscreen wipers going and the heater going! WA is another world away. One soon learns that the main industries in WA are mining, mining and more mining. Kalgoorlie, my first stop, is surrounded by them. I found it useful while driving along the endless dirt roads to have my UHF CB going to pick up the enormous ore-carrying road trains coming the other way. Many of their drivers were women! One copes with these monsters by getting off the road as they sit in the middle and give way to nothing but other road trains.
I then headed for Esperance and made my way along the stunning south coast of WA to Albany. There I met my first WA T3 owners who almost always drive Syncros. Albany also boasts a VW specialist. While off on a morning walk with some locals around some stunning scenery along King George Sound, some thieves crowbarred the front passenger door open and stole my cameras. As I was to discover repeatedly thereafter this is an issue one has to cope with right around Oz. After more dreamy south coast towns like Denmark, I made my way to Perth via Bunbury and Augusta, the south-west tip of Australia.
While the East Coast of Oz is undergoing a bad drought, Perth has been struggling with a drought that now spans decades and desalinisation is now being seriously considered. Perth boasts one of the 3 VW dealerships to be found in Oz west of Melbourne. The dealer there seemed to be doing well selling upmarket Golfs to the Cafe Latte set in one of the wealthiest cities in Oz. However I saw very few T4 vans on the road. Perth boasts a dozen or so VW specialists who mainly service air-cooled VWs, which I found to be the norm away from Australia's South East. My T3 got its next service there and a new pair of rear German gas shockers. Hence road handling improved greatly. This took place over 2 visits as a consequence of almost everything having to be flown in by overnight air freighters. Unfortunately a disinterested Sydney supplier sent the new door rubber for the rebuilt front door by road, which involved a week's wait.
Then it was time to head north and temperatures soon climbed into the 40s. By Exmouth the air conditioning was really getting a work out. Snorkelling on Ningaloo Reef gave one plenty of chances to cool down. After Exmouth I drove to Tom Price in the Pilbara in order to visit Karajini National Park and it s famous gorges. For those with a mechanical bent the mighty mine trucks with the million dollar tyres were an interesting feature of a visit to the Tom Price iron ore mine, which is huge. From there I took the private road which links Tom Price and Karratha on the coast. To drive the 300 km involved, one must view a video on the dangers that lie ahead and sign the usual waiver. As was to often to be the case thereafter I found myself making my way along a rough road linking one desert oasis with the next in the company of nothing but Landcruisers. With my T3 loaded with food and water I was worried about doing a tyre but the Michelin XCD LT 8 ply tyres never let met down, then or later. On the same road, I saw several overloaded Perth based 4WDs wearing wide tyres have some spectacular blowouts along the way.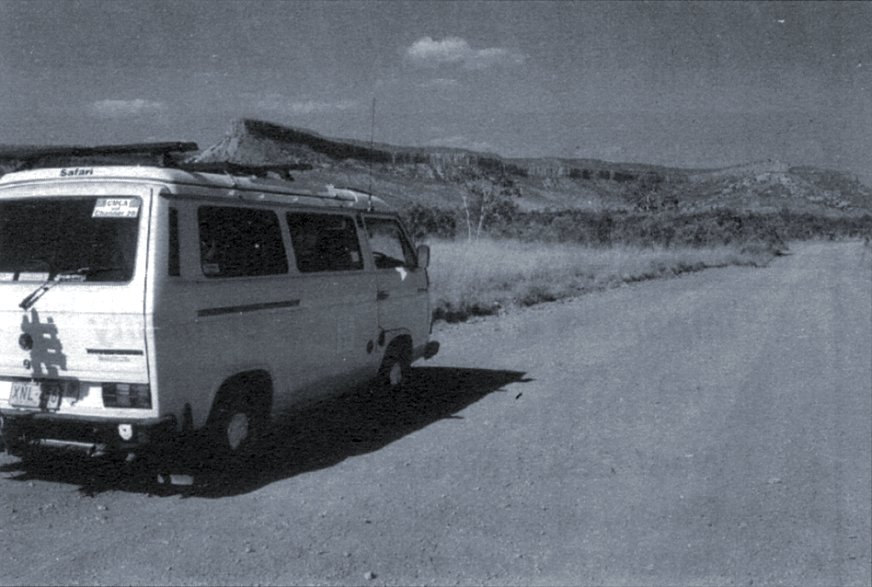 At Karratha I realised that the master brake cylinder up in the dash behind the wheel was leaking brake fluid, thanks to the relentless pounding on corrugated dirt roads. I had lots of phone conversations with the Perth VW specialist I had used and he sent up a procession of parts by airfreight while I and others tried to work out the source of the oozing brake fluid.
At Broome, in the Cable Beach Caravan Park I stayed in, I found myself in the company of five other T3 campervan owners. One owner was a VW mechanic from Melbourne who soon twigged my brake fluid loss problem was a cracked cap assembly on the top of the master cylinder! Also staying there was a young German couple travelling in their diesel T3 van they had brought over for the trip. Their poor old very low powered van also had to pull a heavy trailer containing a big BMW motorcycle. They had a lot of trouble getting their van serviced as it had a lot of parts that never appeared on Australian parts lists. A WA T3 owner I met there had set up their Syncro with 16-inch wheels, which were never imported into Oz.
Next came the Kimberley, that mecca of 4WD addicts. I could have done the famous Gibb River Rd but the Pentacost River was running too high for a T3 whose wading depth is only 350 mm. So I drove on both ends of it and used Highway 1 to get to Kununurra. The Kimberley is well worth visiting for its rugged scenery, wildlife, great gorges, rivers, rock art etc etc. The mechanic who replaced yet more fanbelts in Kununurra was just back from South Africa and was quite familiar with T3s, the taxi of Johannesburg, it seems.
A highlight of my time in the NT was visiting VW specialists there. There is a new dealer in Darwin who sells the usual modern range all geared up to run mainly on premium unleaded petrol which is unobtainable in the NT (only state I struck this). Two independent repair shops have carved up the maintenance work in Darwin between air and water-cooled VWs. I heard my first sad news story about T4 Syncros here, not standing up to gravel roads very well. More sad stories came as I went east. I headed for the Gulf after visiting Kakadu and the Centre. My T3 saw some really adventurous driving in deep bulldust, crossing innumerable rivers etc etc. It was all worth it to get to Lawn Hill NP with its rushing pristine rivers, lovely gorges, lush green vegetation etc.
After the Gulf, I headed for Cairns, where the rear brakes had to be rebuilt by an aircooled VW shop who services lots of old backpacker Kombis going around Oz again. Yes and the fan belts and rear shockers got replaced again. After Cairns I headed north to Cooktown, on a road to which is almost all sealed now. After a few days in dreamy lovely old Cooktown, I headed a few km north for Laura via Lakeland to see the famous rock art galleries. Alas another fanbelt went. This time the coolant expansion tank announced its days were almost over. The Swiss contractor for the RACQ patched things up and fitted another fanbelt. As often happens in far north Queensland foreign communities have sprung up. Hence Lakeland is mainly Swiss! After this I headed down to Townsville where the local VW dealer had a new expansion tank flown up for me. After Townsville the traffic got heavier and heavier and I started seeing lots of late model T4 vans in towns.
I got back to Canberra in September, had my T3 serviced and put it up for sale. To my amazement it sold very quickly. Having decided that my T3 was getting too old for outback touring, I sold it reluctantly in good condition. I then bought a new Japanese 4WD diesel utility which is very common out bush and which should be able to handle lots of gravel roads. In my view T4s are only for driving on good sealed roads.
For other T3 owners planning on touring Oz, I recommend the use of oil rather than gas shockers as gas shockers overheat too easily. Take lots of fan belts as the exposed position of the engine i.e. at the rear, means that lots of stones flick up and cut the belts up. The cooling system needs to be in top order to cope with the heat. Be prepared to change the oil, oil filters and air filters a lot. I used a Finer (air) Filter which one can clean easily rather than simply replace the paper based VW filters which are very expensive. Naturally it makes sense to have your T3 in top condition, since once one leaves the East Coast, one will find few VW garages with much knowledge of T3s. A list of East parts suppliers prepared to airfreight bits when needed would also help plus a good manual. Use light truck rather car tyres; the T3 14" size is a common one.
Lastly on the positive side, I found the body of my T3 very stiff and dust tight which was great when driving through bulldust. The clearance was good by modern standards on bad roads and the robust well-set up suspension stood up well, all things considered.
Top of the World - well almost!
By Martin Fox
October 2003
I thought I'd share with you some of my stories from a recent trip to Alaska and Canada. I'm pleased to report that Volkswagen is alive and well in both these places, although surprisingly more noticeable in Alaska than Canada. In Vancouver, almost every VW I saw was new: brand new Golfs, the majority of which were 2-door models; plenty of New Beetles, and a considerable amount of Jettas. I have not seen this many new VWs since my days in England, and certainly I have never seen new models like these - I guess they're the alternative to the Bora up there? (Yes the North Americans know the booted Mk4 Golf as the Jetta – Ed).
Travelling through the hinterland, I did come across half a dozen old Kombis of say 1970's era, however most were the 1980s squarer looking T3 models and not particularly well looked after. I would say though, in downtown Vancouver, 1 in every 5 vehicles, which passed me by, was a Volkswagen, which was quite pleasing to see. What I found though, was a distinct lack of older Beetles and I can recall seeing only 3 or so in the two weeks I spent around Canada.
And hey...they've got Sciroccos here too! Although some of them were hanging together by a thread! I did start to form an opinion whilst on my travels, that Canadians could possibly try a little harder to keep the legend alive, but I was limited to the western provinces and the story may well be different in Toronto and Quebec.
Onward we travelled up into Alaska, the temperature dropping to around a max of 2 deg C every day. The curious thing about most of the towns we visited is that they are locked in by water and have no road access. But that does not stop them from having more vehicles than people! And as for VWs? Well definitely more interest than their Canadian neighbours! In no less than two hours, I'd seen around 8 (old) Beetles in one town, of varying standards, and a few older Kombis for good measure. In fact, the newer Golfs and Jettas seemed not to have made it north of the border in such numbers.
In the delightfully named town of Skagway, I stumbled upon a blue convertible Manx buggy! Now even with a soft top to keep the rain out, why the hell would anyone want one of these in Alaska? But that's not all...turning the corner I saw an identical one in a parking lot, and later in the afternoon saw a third one being towed by one of those huge Yankee recreational vehicles. I guess someone has the mould for them up there. And again in Skagway, tucked away in a field behind the main street, just for the Audi lovers, a very well maintained early 1980s Audi 100.
Prior to my trip, I had taken the liberty of contacting two members of the Alaskan Arctic Air-Cooled VW Club (now that's a Club name for you!) in the hope that we could have met up. Unfortunately, most their clubs members are based up in Anchorage and several hours drive from where I was visiting. Nevertheless, I shall hopefully be staying in touch with them and I would recommend you visit their website at www.arcticaircooledvws.com - you will be pleased to see that Alaskans are just as serious about their VWs as we are!
Dubs and Dynos
By Jak Rizzo
October 2003
"Where's the harness?" "There's no harness," replies Leigh. I look towards the ceiling for the rollcage - there's no roll cage either! I look to the dash for a grab handle or anything that I can grip onto - there's nothing. I nervously wind down the window so that I can hold onto the door. Holy crap, I think to myself. This little '59 model Veedub just put 115.6 kW at the wheels onto the dyno; mine only put 65 or so and I've got a cage and harness!
Leigh hits the loud pedal, a huge shove hits me from behind and we are off. The needle on the Autometer tach holds steady on the rev limiter at 6000rpm, the rear of the car swings out; Leigh corrects; it comes back the other way. Second gear hits 5000 rpm, third gear hits 5000 rpm, we hit fourth and in the blink of an eye we have travelled about 600m up the road. I feel carsick, not just a little, a lot. "I'd really like you to have a drive of it, Jak," says Leigh. "No thanks," I reply, whilst trying to keep down my breakfast. "Are you sure?" "Yeah, I'm sure."
We do the same ritual through the gears back to the dyno. I think to myself, Thank God That's Over, but Leigh drives past the dyno in search of what he calls "a better road," to show me what the car can do. I think I have the idea. Another back street is found and the rollercoaster ride begins again, short shifting at 5000 rpm. The shove in the back from the torque is nothing short of spectacular (and sickening ). "The Porsche club would poop themselves if I turned up with this in my car," I tell Leigh. He smiles. "Sure you don't want to have a drive?" "I'm fine thanks," I reply as I look down at the lovely grey carpet and velour seats. If I don't get out of here shortly, Leigh's going to have to retrim his car!
We finally get back to the dyno and park it, and as I open the door I look down at the concrete path. That's looks good enough to lay down on, but I put on a brave face as everyone is looking our way.
We are at Silverwater at a company called Silverwater Auto Services, and there were a few VW enthusiasts putting their hot VWs through their paces on the dynamometer. It was a good chance for CT, Paul and I to get some numbers and some air-fuel ratio readings before our run at Eastern Creek on the 18th of October.
It was quite interesting. Here's some facts and figures of what we achieved on the day.
Peter McLeod's 356 speedster (1916cc) got 63.8 kW at the wheels. Engle 120 cam, ported 044 heads, 8.5:1 compression, 44 IDF carbs and a 40 mm header.
CT Hansen's Oval (1916cc) got 62.1 kW at the wheels. Pobjoy steroid spec, 30/70 cam, 044 40 x 36 heads, 1.25 rockers, 10.0:1 comp, 40 mm Berg header, 44mm Webers.
Paul's L-Bug (2110cc) got 69.9 kW at the wheels. It's a 76 x 94 mm combo, K-8 cam, 142 mm rods, 9.3:1 compression, 040 39 x 32 heads, 1.4 rockers and a 40 mm header, 45 mm Dellortos.
My Superbug (2027cc) got 69.8 kW at the wheels. Its a 73 x 94mm combo, K-8 cam, 145 mm rods, 9.0:1 compression, 040 40 x 35.5 heads, 1.4 rockers, 40 mm header with 45mm Dellortos.
Michael Said's Kombi (1971cc Type 4) got 45.6 kW at the wheels – not bad as the stock 2-litre Kombi engine is rated 51 kW at the flywheel. It's got a mild cam, stock valve heads and single throttle body for induction with Autronic SMC aftermarket fuel injection.
Leigh Harris' 59 Turbo (2007cc) got 'only' 115.6 kW at the wheels! Injected, turboed and intercooled with a boost leak.
As you can see, they are a little different to the high numbers that you see in the American magazines. I believe our figures to be more in touch with reality, and with all the cars being totally different in weight and spec, hopefully they will give you some idea on what can be achieved.
It takes more than a mild cam , big bore kit and twin carbs to get 75 kW (100-bhp in the old money) at the wheels, but I'm not that far off. For example, CT and I are practically side-by-side in a straight line despite the difference in power, as weight plays a big factor as well. Paul's car feels noticeably quicker than mine even though we had the same power, as he has a fully stripped interior, lexan windows, light weight Porsche wheels and grooved slicks, in comparison to my Superbug which still has the full interior, carpet, soundproofing, stereo, speakers, big heavy 17 inch wheels etc etc. Now where did I leave that 86mm crank lying around?
Around the world in 80 days
By Mark Moes
May 2005
It's been a long held ambition of my wife and I to take the kids, all four of 'em, with us to see the world and visit a few rellos scattered throughout. We have recently returned after realising this dream. One of the highlights, and provisos that we go, was to go to Mecca (Wolfsburg, for the dummies!) Part of our trip was to spend 5 weeks in Holland with relatives during which time we would make sojourns to Germany and France. The kids had to go to Euro Disney, or else! We had a hire car during this time, an Opel Zafira that served us well. We managed to clock up nearly 6000 km in the 5 weeks. Getting used to driving on the right hand side in a manual took a few days to get used to, but after that it was no trouble.
We planned our trip to Wolfsburg and booked a caravan park cabin in a town nearby. We arrived in Wolfsburg via one of the minor roads and it was exciting to see the castle and the 4 chimneys from the factory power station looming ahead of us. I recalled these images from pictures I had seen in books over the years. On arrival we were greeted with some very imposing buildings and immaculate grounds dominated by 2 glass towers with hundreds of cars in them. Not having any idea of where exactly to go, we turned up to an entrance of a parking area where others seemed to be going and announced that we wanted to go to the museum and do a factory tour. The parking attendant politely explained that the 'old' museum was in a different place and that we had arrived too late for a tour, and besides that we had to go into the new Autostadt in front of us to arrange a tour. (At that point, we had no idea what the Autostadt was). This all took some explaining because we didn't know much German and their English wasn't so hot either!
After getting further directions to the museum, we headed off. On arrival I was a little surprised at what I found. The old VW museum seems to be in a light industrial area and aside from the signage, looked a little downmarket compared to the imposing new Autostadt we had just come from. It was nearly 4 o'clock in the afternoon and the place looked deserted, the car park was virtually empty. It all looked a bit sad.
Who cares, I thought, I'd come all this way after years of dreaming, so let's just get in there! So we did. We were the only ones there, which was great as I ran-around like an excited little boy looking at all these cars that had only been in pictures up until now. The cars tended to be grouped in models - specials, historical, Type 1, 2 and 3s, Golfs, Polos, Passats, prototypes and New Beetles. There was a special Golf display showing all the models with films and images chronicling its beginning and evolution from the first generation onward.
I was amazed at the number of cars in the museum, yet by the end I kept thinking of ones that were missing. Some of my thoughts were answered the next day while at the Autostadt. Trying to list all the cars that were there would be difficult (but probably not impossible as I have them etched in my brain or on film) so I'll just run through some of my highlights.
A group of war vehicles - Schwimmwagen, Kübelwagen and my favourite, the 4x4 Beetle 'Commander Car' with a roller under the front beaver panel. A trailer and other accessories accompanied these. A group of splittie buses, including a panel van, a 21 window Kombi and a fire ladder truck. Then there was the Type 3 convertible, four-door Beetle taxi and a military Beetle with four canvas doors. Some other memorable cars were the specials like the Dannhauer & Strauss, Rometsch, Hebmuller Cabrio, a Beetle made entirely of wood, an iron lace Beetle and a Beetle covered with woven cane. There were many prototype, experimental and one-off vehicles covering decades of ideas. After a few hours wandering around, it was time to go shopping. At the entrance were some cabinets with numerous models that could be purchased as well as posters, postcards and other sorts of memorabilia like pens, watches and so on. After picking out a few models, postcards and other souvenirs (ain't that hard when you really would love to have them all!), we paid for them and cleared out as the lady was getting a bit toey since it was now way past closing time and I just didn't want to go.
We then spent the last hour or so of daylight looking around the city centre. We found a shop selling all sorts of knick-knacks so the kids and I spent a few more Euros on souvenirs.
We could tell we were in a Volkswagen town. Nearly every car was a VW, mostly Golfs, Jettas and Passats, but surprisingly also a lot of Phaetons (I guess there's a lot of VW executives living here). Hardly any Beetles left though.
On the way back to our cabin we all decided that we would go to the Autostadt the next day instead of travelling another few hours to Berlin. The girls decided that if it was crook, they would go shopping and leave we boys on our own.
We weren't sure what to expect, but it looked big, interesting and well organised. On arrival, we paid for our tickets and booked ourselves into a factory tour. The cost of 38 Euros was quite reasonable for a family of six, in comparison to what we had paid for other attractions on our travels. We expected we would knock it over in a few hours, but in the end we spent about 9 hours there, which was very good value for money! The girls missed their shopping trip.. .that says something for it!
There was so much to see and we didn't know where to start, so I paid for a half hour guided tour while Diana and the kids went and played on the CAD computers and other kids activities, like VW pedal karts, kids movies and jumping castle. Since I was the only one requesting an English tour, I had a guide all to myself. We walked around the park and he explained the overall concept of the park and what each building represented. The Autostadt concept came about from two ideas. One was from VW boss Ferdinand Piech, who wanted to create an expo displaying the brands belonging to the Volkswagen group. The other was in response to local Volkswagen buyers who wanted to pick up their new car from the factory and do a factory tour. The Austostadt is a merging of these two concepts.
There is even a Ritz-Carlton Hotel on site where visitors and those taking delivery of their new car can stay. So now a local German could buy their car from the dealership, arrange to pick it up from the factory, stay overnight at the hotel and have a factory tour. If the vehicle was built in the factory next door, the completed car would travel through a tunnel to one of the two towers and be stored there until delivery time. These glass-encased towers could each hold 400 cars. When the time came for delivery, it would then be prepared and transported to the delivery building. This building is set out like an airport terminal with shops, cafes and airport terminal arrival boards showing the customers name and the time and place for them to take delivery of their new Volkswagen.
Now that I understood the set-up, we began working our way around the complex. Each brand that belonged to the Volkswagen group had a pavilion in which to represent the 'flavour' or 'appeal' of their marque. There was a building for Bentley, Lamborghini, Seat, Skoda, Audi and of course Volkswagen. As well as that there was also a building, which showed the history of cars, and another building for VW commercial vehicles.
My favourite building was the historical one. In it were 5 floors of historical cars, displaying what I guess you'd call 'iconic' cars (of all makes) in one half, and the other half, the history of Volkswagen. This is where we saw many of the cars that were no longer in the 'old' VW museum.
Cars like Ferdinand Porsche's own Beetle, two replicas of the V30 prototypes, a commercial vehicle display, The Beetle seen on the Abbey Road album cover, VW Stoll Coupe, Porsche Type 32, a display championing the Beetle export program and the special 1955 one-millionth Beetle painted metallic gold with brocade upholstery. I suppose when the old museum eventually closes, all of the historic Volkswagens will be kept here. They will be rotated, as the Autostadt has more historic VWs than can ever be displayed all at once.
A quick rundown of the other buildings. The Bentley building reminded me of a hobbit house. The building is underground with a mound of grass over it. Upon entering we were shown the history of the Bentley and craftsmanship that goes into building these elegant cars.
The next building was Lamborghini, a tall rectangular, black building. We entered this in relative darkness and climbed the stairs onto one of two platforms. Looking through the jail bars was a yellow Countach mounted on a circular panel the wall. All is black and dark then suddenly we were treated to an extreme, ear-splitting sound, smoke and light show representing the power of this supercar racing through the city streets. At the end of the show, the circular panel holding the car flipped around to the outside of the building. From the outside it looks pretty cool too, with the Lambo suddenly appearing and smoke coming out of the circular gap.
The next couple of buildings were for Seat and Skoda. Seat based their show around the theme of the emotion of driving their cars as linked to their racing and rallying involvement, while Skoda were showing their historical links as one of the oldest car makers in the world (100 years, this year) and their cultural links to Czechoslovakia.
After that we had Audi, representing them as innovative and technically advanced (Vorsprung durch Technik) throughout its history. There were displays of their design and technological advancements through racing and rallying, as well as being a leader in four wheel drive technology with their quattro system. Some of the interesting exhibits were a super tourer racing car, a TT roadster carved out of aluminium and a prototype A8 wagon.
Then onto the VW building, which is a cube encased with glass windows. Inside it is a sphere in which we entered to be seated where we watched some short films IMAX-style on the hemispherical ceiling. These movies told a short story about people in various situations with the cars 'transporting' the story. In the adjoining all white room was a new white Golf GTI revolving on a platform, very impressive.
There was also one other building, which showcased the commercial VWs. Inside were a number of vehicles including a T4 camper van, a single cab T4, and a Caddy. The single cab had a hoist where the kids could operate the levers to lift a couple of dummy boxes on and off the back. This building also had an interactive historical display on the evolution of the Kombi. There was also a hang glider that circled above the displays. We were able to hop in that and by peddling were able generate the power to circulate around (sort of like a giant ceiling fan).
During the middle of the day we also had an English language factory tour. This had been booked on our arrival (which was tricky to figure out with the lack of English speaking staff). We piled into something that looked like a cross between a bus and a train (a bus with carriages). In German fashion it was all very organised. It took us touring through the factory grounds and into various parts of the factory. As we approached different sections of manufacture the side doors would open so we would have a good view of the operations. From memory they were building Tourans and Golfs at the time.
We did miss one exhibition. We hadn't realised there was more on offer outside the exhibition area. On the other side of the canal was a 4wd test track. Much to the disappointment of the kids, time just ran out to go for a drive in a Touareg.
After taking our time to see it all, including a second run through the historical building and a visit to the shop to buy some books, cars and knick-knacks, we sat down for a coffee and some German tucker before heading home. Would I go again? You betcha!
Frankfurt to Wolfsburg in a Golf TDI
By Anthony Garbis
December 2005
I awoke at 8:00 am on Tuesday, 24 July 2005 to the sound of my mobile phone alarm. I quickly jumped out of bed, as the day when I get to drive the autobahn and see the Volkswagen headquarters had finally arrived!
"Hannah! Get up! We're going to Wolfsburg!" I said with extreme Volkswagen-dork enthusiasm. She retorted with a subtle, slightly muffled, "Ugghhhh...."
After a morning shower and some overpriced scones and juice at the hotel restaurant, we got down to the parking garage by 9:30 am. The night before, the concierge printed out driving directions for me, albeit in German. "No worries, it's very easy. Take A5 to A7 to A39." The directions indicated a distance of 375 km from Frankfurt to Wolfsburg, and a driving time of 3 hours and 47 minutes.
While in the garage, we drove around for about 5 minutes trying to find the exit. Once we found the exit, I forgot that I was supposed to have the parking ticket validated first. So I drove around for another 5 minutes trying to find where the booth to pay was, but I couldn't find one. Sure enough, back upstairs right next to the elevator was the payment machine. I must have missed this due to my excitement about finally going to Wolfsburg. After we got out of the garage and onto the road, our trip started at 9:45 am - slightly later than I had wanted. Once on the road, the signs and directions were a bit confusing. I had a bad feeling that we were going to get very, very lost. Our Golf 5 TDI was equipped with a Blaupunkt TravelPilot, but it said the navigation wasn't installed. Luckily we found a navigation disk in the glove box, flipped down the screen, put it in, and sure enough the navigation started to work. One problem was now solved! The other problem was switching the navigation from Spanish to English. After about 10 minutes of fiddling, we were able to switch to a Blaupunkt indicated 'American,' and the nice lady on the navigation then spoke in 'miles' and 'feet' - it was quite nice. We plugged in 'Wolfsburg,' it calculated the route, and we were good to go.
Once we got out of the Frankfurt vicinity, the 120 km/h speed limit was removed and the roads opened up. This was my first time ever driving a TDI, and I have to say I was rather impressed. The engine is smooth at speed and has plenty of pull. For the most part, we were cruising around 160 km/h, but once, downhill with a slight tailwind, the car showed a speedometer indicated 206 km/h. Even at these speeds, in a base model Golf, the car was completely controlled. The change from the Golf 4 (of which I've had three) to the Golf 5 is like driving a completely different car.
In the middle of our trip, we hit a lot of construction traffic. In construction zones, the speed limit drops to 80 km/h, and unlike driving at home, people actually obey the speed limits - wow. The road went down to one lane, and after about a 20-minute hold up, we cleared the construction and continued on our way.
When we were within 80 km of Wolfsburg, the weather gods decided it would be a nice time to rain, just like it had for the past five days we were in Germany. We arrived in Wolfsburg at 1:00 pm and followed the signs to AutoStadt. While driving into the city, you pass the enormous Volkswagen factory on your left. AutoStadt is at the end of the factory, across from the Volkswagen Arena. The sheer size of AutoStadt, and the fact that all the signs were in German, made it hard to figure out where to park. Of course, I ended up parking in the farthest parking lot away from the entrance. And it was still raining. And the subsequent whining began.
After a 10-minute leisurely stroll in the rain, we arrived at the main building where you get your admissions card. We were hungry, so we decided to eat first, as the admissions building also houses the dining centres. When you walk in, you are given a dining card. The lady who gave us the card then proceeded to speak in German, presumably telling us how to use the card, and of course I had no clue what she was saying. So, I gave her the I have no clue what you're saying but I'll act as if I do because I don't want to be a tourist and ask if you speak English head nod, and we proceeded on our merry way. Essentially, you order your food, they swipe your card, and you pay when you leave; this reminded me of D-Hall in college, but with considerably better food.
After lunch, we proceeded to the admissions desk, and 28 Euros later we had our two admission cards. We were given a map and told to go outside and turn left (this time in English!) and start there.
AutoStadt consists of an automotive history museum, and then each Volkswagen brand exhibit (Bentley, Lamborghini, SEAT, Skoda, Audi, and Volkswagen). We started at the museum, and when you walk in the museum there is an escalator that goes to the 4th floor, and then next to it there are stairs that stop off at each level. Not knowing what to do, we took the stairs and went to the 2nd floor. When we were walking around, we realized we were always going in the opposite direction of everyone else. Then we figured out that we were supposed to take the escalator to the top floor and work our way down. But no - we were the two Americans that were constantly walking against the crowd of people.
After spending about an hour in the museum, we had to move on to the brand exhibits. The rental car had to be returned by 8:00 pm, and by this time it was already 2:45. Because of the time constraint, we decided to skip SEAT, Skoda and Bentley, and hit Audi, Lamborghini, and Volkswagen.
I was expecting to see more cars while in the exhibits, but that wasn't the ease. The Audi exhibit catered to their image of having 'The Technological Edge,' as the exhibit tried to be futuristic or ahead of the curve, whatever the curve may be. At the top level, there was a Le Mans video with one of their Audi Le Mans cars in front of the screen.
The Lamborghini exhibit runs every 30 minutes during normal business hours, and we were lucky enough to just make the next showing. The building is a relatively narrow black rectangle that is three stories tall. You enter on the mid level, and it is fairly dark inside. In front of you when you walk in there is a Murcielago mounted to the wall. Before the show starts, an announcer comes in and says something for about two minutes in German, and then the show starts. It's not much of a show other than some lighting and fog effects and the sound of the engine in the background. Midway through the show, the Lamborghini flips out onto the outside of the building.
Saving the best for last, we went to the Volkswagen exhibit. When you enter the building, all you see is a dome in the middle, with four walkways into it. We managed to piece together that inside the dome is a screen and they show a video, so we waited outside in the chairs until it was our turn to go inside. Once inside, it's almost like being in a planetarium, but instead of looking at stars you get to see Volkswagens (works for me!). They played four small videos, almost like the BMW films, each about five minutes long.
After the films were over, you leave the dome and when exiting, you pass through a room with a special edition Golf 5 in it.
Once we left the Volkswagen exhibit it was almost 4:00 pm, about time for us to leave. We spent about another 15 minutes in the New Car Delivery Centre, where they had a new Golf GTI, a Fox, Polo, Golf Plus, and a new Passat in the showroom. I spent some time browsing the parts department where they had a plethora of Volkswagen shirts, but I didn't buy any because I was told I had plenty of Volkswagen shirts already.
We hit the road at about 4:15 pm, and conveniently it started to rain again. The navigation put us into Frankfurt at 7:45, just before the 8:00 rental deadline. Fortunately, we didn't hit any traffic at all on the way back and we were able to keep up a good speed and we got into the Frankfurt vicinity in just under three hours. We stopped before the city to get some fuel, as the TDI went over 810 km on one tank at autobahn speeds - very impressive. After a 56-Euro ($78) fill up (ouch!), we were back on the road and we returned the car at 7:30 pm, 30 minutes ahead of schedule.
After 69 Euros for the rental car, 20 Euros for lunch, 28 Euros for admission, and 56 Euros for diesel, I had no regrets about the money I just spent. Driving the Autobahn and visiting AutoStadt was everything I thought it would be. The only thing I would do differently would be to rent a Porsche and make sure I had time to do a Volkswagen factory tour. Oh well, there's always next time.