Culture and Collectables
VW Magazines Part 1
VW Magazines Part 2
Tips For The Treasure Hunter
Aussie Bonnet Badges a Hit Overseas
VW Film Preservation
Check Out Those Leads!
Importing a VW from O/S
Compliance Plates
Hazet Toolbox Kit
Importing A VW
Sorting the VW Magazines
Batfink and Karate
Old NSW race tracks
New Australian Volkswagen magazine
1963 Bathurst VW model
The Farm
VfL Wolfsburg
VW Magazines Part 1
By David Birchall
November 1986
You may have noticed in previous issues of Zeitschrift that I have often advertised for copies of any VW magazines. I have been asking about VW Greats, VW & Porsche, Hot VWs and VW Trends.
These publications are all American, and I have discovered that many people like to collect them.
I caught the collector's bug many years ago and thought that some of you out there might like to know what years were printed, and how many issues. Please feel free to tick off your issues, and see if you have as many as I have managed to collect (read beg, borrow or steal).
Collector's Corner this month will feature VW Greats, which was first published in 1970. In 1979 the name of the magazine was changed to VW & Porsche. I actually bought the No.1 issue in the newsagent in 1970, but in the early years the issues were very infrequent.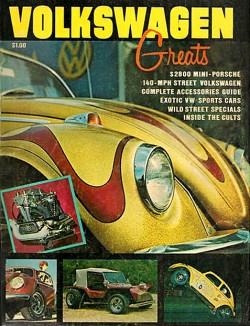 I hope this article is of interest to you and if you happen to have any copies I am missing, I would be more than pleased to swap for something you would like or alternatively, borrow your copy to photostat.
Incidentally, I am not sure if the Spring 1971 issue was printed, as there appears to be no record of it; but according to the way the magazines were printed and issued, it may exist.
| | | | |
| --- | --- | --- | --- |
| No.1 | 1970 | February | 1975 |
| No.2 | 1970 | April | 1975 |
| | | June | 1975 |
| Spring | 1971 | August | 1975 |
| Summer | 1971 | October | 1975 |
| Fall | 1971 | December | 1975 |
| Winter | 1971 | | |
| | | February | 1976 |
| Spring | 1972 | April | 1976 |
| Summer | 1972 | June | 1976 |
| Fall | 1972 | August | 1976 |
| Winter | 1972 | October | 1976 |
| | | December | 1976 |
| Spring | 1973 | | |
| Summer | 1973 | February | 1977 |
| Fall | 1973 | April | 1977 |
| Winter | 1973 | June | 1977 |
| | | August | 1977 |
| Jan/Feb | 1974 | October | 1977 |
| Mar/Apr | 1974 | December | 1977 |
| May/Jun | 1974 | | |
| July | 1974 | February | 1978 |
| August | 1974 | April | 1978 |
| October | 1974 | June | 1978 |
| December | 1974 | August | 1978 |
| | | October | 1978 |
| | | December | 1978 |
Tick off the issues and complete your collection!
VW Magazines Part 2
By David Birchall
December 1986
This month Collector's Corner features the magazine that succeeded last month's 'VW Greats'.
At the start of 1979, the name of the magazine was changed from 'VW Greats' to 'VW & Porsche'. In the editorial column of the February 1979 issue, the editor posed the question, "What's In A Name?" He also stated, "We have not and will not desert the loyal Volkswagen enthusiasts that have made the magazine what it is today."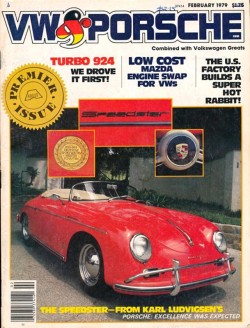 Although Porsche may have been the father of the VW, I feel the quality of VW-related articles (ie. Types 1, 2 and 3) has sadly diminished over the years. The straw that broke the camel's back arrived with the issue of October 1986. Would you believe another name change – VW and Porsche Etc. The editor then wrote "You are going to see some exciting new changes in VW & Porsche." (Oh no). The 'etc' allowed them to explore the exciting realm of other European automobiles, such as BMW, Mercedes-Benz, Saab, Volvo, Rover, Peugeot and Ford. Oh well, there goes the VW element of VW & Porsche magazine down the s. shute.
As of the end of this year they will be changing their name again, to VW & Porsche Incorporating European Automobiles (catchy title!) I will not be buying this magazine any more. Not that I am against the other marques, but after all the name 'VW & Porsche' should imply a VW-oriented content. With the 'etc' added, there goes my subscription.
After all, VW is VW and there are two other very fine American magazines still available for the VW purists. These being Dune Buggies and Hot VWs, and VW Trends. There were also two additional short-lived American VW magazines - VW Classic, published in 1983-84 by Hot Rod Magazine, and VW Action published by Daisy-Hi-Torque Publishing which concentrated on off-road racing. Less than half a dozen of each were ever published. I might look at them another time.
Since 1979 VW & Porsche has been printed bi-monthly, with a yearly supplement also produced called VW & Porsche Performance and Accessory Guide.
| | | | |
| --- | --- | --- | --- |
| February | 1979 | February | 1983 |
| April | 1979 | April | 1983 |
| June | 1979 | June | 1983 |
| August | 1979 | August | 1983 |
| October | 1979 | October | 1983 |
| December | 1979 | December | 1983 |
| Performance Guide | 1979 | Performance Guide | 1983 |
| | | | |
| February | 1980 | February | 1984 |
| April | 1980 | April | 1984 |
| June | 1980 | June | 1984 |
| August | 1980 | August | 1984 |
| October | 1980 | October | 1984 |
| December | 1980 | December | 1984 |
| Performance Guide | 1980 | Performance Guide | 1984 |
| | | | |
| February | 1981 | February | 1985 |
| April | 1981 | April | 1985 |
| June | 1981 | June | 1985 |
| August | 1981 | August | 1985 |
| October | 1981 | October | 1985 |
| December | 1981 | December | 1985 |
| Performance Guide | 1981 | Performance Guide | 1985 |
| | | | |
| February | 1982 | February | 1986 |
| April | 1982 | April | 1986 |
| June | 1982 | June | 1986 |
| August | 1982 | August | 1986 |
| October | 1982 | October | 1986 |
| December | 1982 | December | 1986 |
| Performance Guide | 1982 | Performance Guide | 1986 |
Tick off the issues and complete your collection.
I hope the article if of interest to some of you.
(Update - in the early 1990s the magazine was purchased by the Motor Trend group and renamed European Car. It moved upmarket to suit Mercedes, BMW, Jaguar and Audi enthusiasts and had no further classic Volkswagen content, although modern GTIs sometimes featured. It ceased publication in 2018 - Ed.)
Tips for the Treasure Hunter
By Natalie Driscoll
May 1988
Many of you probably dream about stumbling across a nest of old Ovals, clustered together under a gum tree in someone's back paddock. Maybe shelves of N.O.S. parts in an old country VW dealership that time forgot. Or even the elusive split-window Beetle tucked away safely in an old barn in the country!
For some the dream becomes an obsession, resulting in endless hours of searching, while for others, it's a way to get parts for their vintage VWs, as those who do have rare parts tend to hoard them.
Just recently Steve and I went a little treasure-hunting, heading out west to Parkes and working our way down south to Victoria. After arriving home a little weary and a lot wiser to the tricks of hunting, I decided to write down a few tips for the prospective hunter.
Old Ex-VW Dealers: Forget about NOS parts hidden on shelves at any dealer in the city or elsewhere - they've either thrown them away or a previous treasure hunter has raided them. BUT... it is a good idea to ask at a dealer if they know of any place locally where old VWs hang out; maybe there's a local wrecker that has quite a collection. Dealers of cars other than Volkswagen and second-hand car dealers are often a useful source of information, we found too. Try every avenue.
Coastal Areas: Probably a good area to miss, as rust has arrived well and truly before you have. But if you're really desperate...
Far West: NO GO! If you're into old Fords and Holdens, beaut! But forget about VWs. With the long distances farmers have to travel, and all that dust, they preferred big engines - up the front.
Off-The-Track Places: May be a bit more fruitful. Stop in at any pub, buy a beer and ask a few questions. Chances are that any cars haven't been picked.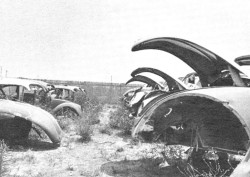 The Dump: Go to old country rubbish tips and if you're lucky, the crusher hasn't been the day before. You never know what you may find, as they are dumping grounds for old and unwanted cars.
Binoculars: These help to see all those Ovals under the tree in the far paddock. It helps prevent you from having to bang on every door of every house that has a collection of old cars out the back, or ferret through the old Morries, Fords etc.!
Other Entertainment: If you are going on a scavenger hunt for more than one day, who are you taking with you? Is he/she a VW enthus¬iast and as keen as yourself? This is extremely important and should be carefully considered or you could end up with a nasty little argument on your hands, or worse (Take it from experience). Think about the other person and go to places that will interest them too! It will be a nice relief for you and could save a relationship.
Treasure hunting is a great way to see the countryside and you'll find country folk more than friendly and extremely helpful. I found myself looking at every barn, wondering if a little pot of gold sat behind its closed doors and peering at a distant collection of old cars, expecting to see row after row of little round roofs of vintage Beetles. You start to believe that Ovals aren't rare any more, as you see so many at VW car shows, but believe me they are far from common and are becoming less so as time ticks on.
Anyway, happy hunting!
Aussie Bonnet Badges A Hit Overseas
By Dave Long
May 1991
It's just great the way our club magazine gets around, thanks to Rod Young's thoroughness and foresight. Zeitschrift finds its way regularly to several countries internationally, including Indonesia, the United States, England, France and Holland. We have an arrangement with all the overseas clubs whereby we show them ours, and they show us theirs. Rod peruses all the incoming publications for any feedback on our own efforts, or VW intelligence in general. It means that through Rod, the Club is always well informed and up to date.
'Luchtboxer' is a regular publication of Luchtgekoelde VW Club, Netherlands. The most recent issue to hand of 'Luchtboxer' contained a Letter to the Editor seeking help in further identifying one of those Gothic bonnet insignia for an early Beetle. Rod picked up a reference to Zeitschrift in the Editor's response to this enquiry. The translation from the Dutch goes like this:
"This is a photo of an object of which I do not know the origin. It is supposed to be mounted on the bonnet, and is made of cast aluminium. I cannot find the answer in any of my 'Bug' books and so I am coming to you with the following questions: Have you ever seen this object? Who made it? Are there any more or is this one the only one of its kind? All I know about this one is that it is around 35 years old."
C.W Vershoor
"Dear C.W. Vershoor,
What a coincidence! In the same week that we received your letter, we also received the magazine 'Zeitschrift' of the Australian Volkswagen club in Sydney. And printed in there is also a picture of this object. So we can answer your first question positively, and the answer to your third question is then logical. Unfortunately, nothing is mentioned about it in the Australian magazine, but obviously it is a special object, because it is pictured with a report of a 'conference'. Therefore, a request to the readers of 'Luchtboxer', because our curiosity has been aroused; who can enlighten us on this mysterious object?"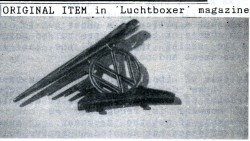 I have made a fair effort to pursue further the saga of those ornaments, which appear to be a mystery, even to those Australian Volkswagen fanatics who possess them.
John Weninger of Type VW Club in Melbourne has one on his original 1959 36-bhp (30PS to you Europeans!) and he couldn't explain its origins, although he did put me in touch with someone who was very helpful, Gary Collis, proprietor of Wolfsburg Motors at Coburg. Weninger has seen a '62 Beetle originally purchased new in Sri Lanka (Ceylon back then) and it had one of those emblems fitted from new. 'Hot VWs' magazine had an article in their July 1988 issue, which referred to two of the badges as the 'rarest of the rare', and they believed they had come from Australia.
All indications are that they were an Australian invention, and it is probable, though not absolutely certain, that they were only made in this country.
The manufacturer, from about 1957, was Merlin Metal Products of Coburg, Melbourne, a company that went out of business a number of years ago. Merlin Metal Products manufactured decorative diecast metal ware, and in particular 'mascots' for the bonnets of popular home grown cars, including the Aussie Holden (GM), Ford Falcon and Fairlane, Chrysler Valliant and of course the VW.
The VW types were produced in at least six different versions, generally highly elaborate structures, always incorporating the VW emblem; wings, perhaps a torpedo formation, and one version even features a kangaroo! The more common variety (and they are by no means 'common') are perhaps 15cm long by 10cm high, and designed to fit the curve of the beetle bonnet, astride the centre trim strip, requiring drilling of holes for the integral mounting bolts.
Gary Collis has owned several of these at different times, and retains three different versions for display. The spare genuine ones were sold. Gary says he knows of people who have paid $250 Australian for one of these in mint condition. He has had reproductions made of the one with wings and torpedo, which he sells for $75. They are made of diecast 'pot metal'. Heavy man!
Vic Brkovec of Volksbahn Autos at Pendle Hill in Sydney, is also adept at supplying some really scarce items for Volkswagens, starting from the very early 50s, especially Beetles. Vic comes up with some fairly scarce hardware from time to time, and there are stages he turns up with some rarities he didn't know were there in his stock! Like a box of those bonnet ornaments still their original tissue paper, which he took on one of his trips to the United States. They were sold for $US150 each, which is in line with Cary Collis' figure of up to $A250, given current exchange rates.
Vic has another curio of this kind, which incorporates the VW roundel and a wolf. It is more than double the size and triple the weight of the others, and has much larger mounting studs of about 6 mm, which go through the centre moulding strip, rather than either side. This one is so big it would probably need bracing struts or props to hold it in place when the car is in motion. He hasn't a clue where this one originated, nor for that matter what to do with it, although he isn't stupid! It was no doubt another of Merlin Metal Products' gothic fancy.
One of our own Club Veedub Sydney members, Dave Birchall, has one of the regular ones on his '56 'accessory' Beetle, like John Weninger.
Either love 'em or hate 'em, when confronted with one you can't ignore it, nor deny they are novel, and rare.
VW Film Preservation
By Phil Matthews
September 1991
The Club Veedub book and magazine library run by Michael Rochfort has always been very popular with our members. An excellent and ever-increasing range of VW/Audi material is available for perusal at meetings, and members may borrow the books as well for a month, free. Another excellent reason for joining Club VeeDub Sydney.
Now, thanks to much chasing and hard work from Phill Lander, six different VHS videos of old VW films have been added to the library for your borrowing pleasure. These have proved even more popular, and there's always a scramble when they're returned.
Phill created the library's 'access' copies from original videotapes owned by himself, Steve Muller and Steve Carter. You've probably seen them played on the TV at club meetings. Steve Carter, in turn, had made the original videotapes from old 16mm movie films rescued from LNC Industries in the early 1980s, together with other snippets from newer factory videos and the TV.
Since then, of course, LNC Industries have gone kaput. In some cases the original films have been lost forever and our videos are now the only copies left in existence. As a result, we've tried to rationalise the original 'preservation' videos so that Club VeeDub Sydney owns them rather than Messrs Lander, Carter and Muller, and we hope to keep the preservation videos secure in one location. Once this was done (or nearly done), it was possible to make access copies for the library to lend to you.
But that's not the end of the story. When LNC Industries surrendered the VW franchise to Ateco Industries in 1987, a great deal of VW material was thrown out. Books, records, photos, listings, signs, fiche, parts - and films – all went to the tip. A small portion was retained by Ateco (and subsequently TKM), some went into private hands, including some of our members, but your club was fortunate to at least save most of LNC's old VW films. Steve Muller is to be thanked for this stroke of fortune amid the reckless and irresponsible destruction.
We now have several dozen fascinating and rare VW films, all in 16mm format but in both colour and black & white, English and German and in varying states of decay. The foreign films are rare enough, but the Australian films in particular are likely to be the only copies in existence. We must not only preserve them, but they should also be available to members in video format, wouldn't you agree? A handful of them are already on our videos as described, but the majority have not even been viewed yet, let alone copied.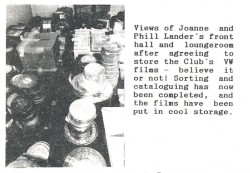 The reason is their condition. More than a dozen have suffered some physical damage like creasing, breakage, torn sprocket holes and missing leaders. One film can even had several brittle film segments rattling around loose inside. This damage results from rough handling, badly maintained and operated projectors and incorrect storage over the life of the films, but this can be overcome in most cases by careful restoration.
Another reason for leaving them alone until now was the varying film formats. Although they're all 16mm in lengths varying from 10 to about 40 minutes (300 ft- 1200 ft), the sound tracks are a mixture of optical and magnetic. Most 16mm projectors read optical soundtracks, which simply detect width variations in the stripe of optical track located to the side of the film. However, magnetic soundtracks require a magnetic sound head like a tape recorder, and the club's projector doesn't have one. We'll have to borrow a magnetic 16mm projector from somewhere (?) before many of the films can be played.
Most ominous, however, is the chemical breakdown of the cellulose acetate film stock, causing brittleness, splotching, colour fading and imbalance, and a distinctive 'vinegar' smell. This cannot be reversed; only minimised by better storage conditions. Over a period of time - decades, or years perhaps? – the film will become unplayable and will be lost forever.
Phill Lander approached the National Film and Sound Archive in Canberra for advice and spoke to Bruce Langner, a young engineer who had worked on the restoration of old 35 mm nitrate films, like the 1906 Australian silent classic The Story of The Kelly Gang. Bruce agreed to repair the physical damage to the dozen or so films requiring it, and for an extremely agreeable fee. He added white 'leader' film and 'countdown' stock to the beginnings, and black runout film to the ends. He carefully removed the transparent Scotch tape that had been innocently used for splicing, re-sorted all breakages and repaired them with special splicing glue. The sticky tape irreversibly damages the film emulsion, so never use it to splice film! Finally he repaired damaged sprocket holes by adding reinforcement film to the edges.
Phill Lander and I visited the Archive in Canberra to pick up the repaired films, and Bruce showed us around the facilities and told us a little of the Archive's work. Now based in the pretty Art Deco Institute of Anatomy building in Acton, Canberra, the Archive was set up in 1984 and it collects, preserves and provides access to Australia's moving image and recorded sound heritage. It grew out of earlier film and sound archiving activities at the National Library of Australia.
It is a vast job, not only managing the collection but also working against time to copy deteriorating films, recordings and other material. Their work aims at ensuring that a national collection of screen and sound material is preserved and available to present and future generations.
Normally the Archive collects material on a priority basis; it must firstly be Australian, and secondly material which is unique, rare and/or in danger of loss or decomposition. However, Bruce explained that the Archive is currently working on its two-year Collection Management Project (Comat), which effectively shuts down normal collection and access facilities. The project tackles the job of examining, relocating and cataloguing the ENORMOUS backlog of material currently under control - some 15,000 video tapes, 50,000 audio tapes and 42,000 cans of black and white film spread over half a dozen warehouses, most of it never-before examined.
The scattered collection will be moved to the Archive's new repository in the Canberra suburb of Mitchell, where the temperature and humidity are specially controlled. Data entry will be completed as the material is moved, and urgent audiotape preservation work will be done at the same time.
Only 30 staff will handle this job, which must be complete by mid-1993. In the meantime, collection material is inaccessible and the Archive's capacity to receive and process additions to the collection is non-existent. Only projects like Operation Newsreel, the Colour film Restoration Program and the Nitrate Film / Lacquer Disk Preservation Program continue unaffected.
Bruce agreed to help us where he could, and he gave us good advice on getting the best results on copying our VW films to video. He also volunteered to let us know if he came across any VW material in the Archive, which is quite possible. We are very grateful to Bruce and his fellow staff for their assistance.
Check Out Those Leads!
By Paul McKinley
November 1991
Over the years I have received various stories of rare old Volkswagens sitting in back yards, under trees or in farm sheds. But when you actually see them, '52 models became '62 models, or rust free means 'you get the rust for free!' but regardless of dead-ends, I still believe that it pays to follow up all these leads.
This story relates to my '58 Beetle, vintage rego 028. Many years ago while visiting the local bottle shop, a new VW Transporter pulled up alongside my '60 Kombi. The driver approached me, gasping at the old girls condition. He relayed that he had purchased a brand new '61 Kombi just like mine for work purposes, and that it had served him well over the years. We raved for a while, revealing we had a further common interest - the breed¬ing of purebred Bull Terriers. This led to a story about another Bully breeder in the south west of the state, who had two old VWs that just had to go. Yeah, yeah, one of those "little win¬dow" jobs, and the other was a later model that this guy had owned since new. Hmm, maybe worth a look at these old girls, as they were 'freebies' if they were removed from the property.
Steve Anslow (the guy giving me all this info) also revealed that he had passed this same info onto none other than the ubiqui¬tous Steve Muller many months before, but nothing had even¬tuated. Steve Anslow didn't have the country guy's address on hand, but doing a bit of detective work (Paul Clouseau!) later that night, I sourced name and address through the Royal Agricultural Society Kennel Control Breeder Handbook. I rang him that night and arranged to see the vehicles.
It was the oval that I was initially most interested in. So a quick (though nothing is 'quick' in a forty-horse Kombi) drive to Gundaroo resulted. Upon inspection, the oval was 'free of rust' as op¬posed to 'rust free' but had a very bad repair to a previous 'front-ender'. Quick evaluation of this by my panel-beating brain put this car into the 'great car-parts' category, or for a custom modification - definitely NOT a car for a ridgy restorer, so it was on to the other car.
The owner then proceeded to tell me the life history of his fully imported '58 Beetle while I gave it the old 'once-over'. The '58 was an intricate part of the goat-shed. Yep! Years of goat-shit everywhere, including the engine compartment, which was literally full of shit.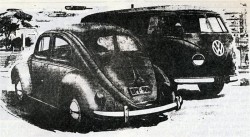 Yes, he had purchased the '58 direct from the South African factory; he'd driven it there for many years. When transferred to England, the '58 followed, then to the New Guinea highlands and finally to Gunderoo, where it served as daily transport to Canberra and back. The car looked very straight and very original - despite the goat shit. He proceeded to tell me that the car had no rust and that it had not even had a minor dent and the only reason it was parked was that the family had out¬grown the Beetle. The more closely I looked at this car and heard its history, the more I wanted it. The guy even went to extremes, telling me about all the factory accessories he had fitted prior to purchase. Moto-test fuel gauge, Bosch 6-volt halogen driving lights and exterior rear-view mirrors. But it was only when I opened the front bonnet and saw, right before my eyes... that the deal was clinched.
I had wanted to inspect the front hood area, wondering if the grey cardboard and back of dash cover where still intact and they were, along with 'Hazet Tourist' factory round tool-kit, still sitting in the spare wheel! Quick as a flash, I shut the hood. Licking my lips, I told him that "Yes, I will take them both."
I returned the following weekend with a truck to transfer one '57 oval and one '58 Beetle. Upon arrival I was straight to the '58's boot, looking for the loot! The tool-kit was still there. I proceeded to inspect it, gloating all along, to find it 50% com¬plete. Much to my relief, the previous owner announced that it would be better if the toolkit remained with the '58.
In the years since, this car has been fully restored to original condition and has pick¬ed up the odd trophy - and it drives like a beauty.
All I can say is - sniff out all those leads!
Importing a VW From O/S
By Paul McKinley
November 1991
As I recently imported my 1954 Barndoor pick-up (it's NOT a ute!) from New Zealand, I thought I should shed some light on this unknown aspect of a collector's life, in the hope of helping out any other prospective VW importers.
I nearly gave up amidst a mass of red tape and plain old misinformation from departments who should have known better.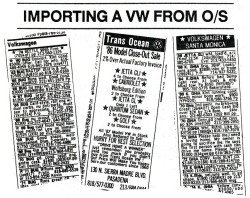 Firstly I should state that this article deals only with vintage cars; that is, cars which the Federal Office of Road Safety and the Australian Customs Service have deemed to have been manufactured 30 years prior to their import.
Initially I did some information sourcing prior to the purchase decision. I phoned numerous import customs agencies, receiv¬ing conflicting advice ranging from no duty / no sales tax situa¬tions to 74% duty and approx 24% sales tax regardless of age.
I also spoke to Ray Black, as I knew he had done some previous VW importing. He assured me that only Sales Tax was ap¬plicable. He phoned the next day revealing that the laws had changed since he last imported VWs, so was not sure about current dates/rules. So I let my fingers do the walking (and waiting) and braved the Government departments.
I phoned 'Technical Information' at the Australian Customs Service. They were very efficient and told me the FACTS straight. No Duty, 24% sales tax on vintage cars - You Beauty! They can also give current facts and figures regarding non-vintage cars, should you want to import a newer VW. They informed me that I had to apply to the Federal Office of Road Safety for a 'Vehicle Import Authorisa¬tion', as this was essential before proceeding with purchase.
This was a free service, although you had to provide support¬ing documentation regarding the vehicle (previous certificate of title or registration) re: type, age, and manufacturer.
With all facts and figures at hand, it was time for evaluation of the vehicle to see if it was a viable proposition. Yes, this was going to be an expensive operation, so a close inspection of the vehicle in question is advised, as photos can be quite deceptive (rust, mechanical condition, etc).
For transport, I had sourced various prices for one 20-ft container ex Christchurch berth Sydney containing 1 VW pick-up. Prices ranged from $A2,800 to $3,200 (wow - that's a very expensive piece of ocean!) These prices were from Australian shipping companies. Luckily, the guy I purchased the pick-up from had a 'good connection' in NZ shipping circles, so a deal was struck for $NZ1,700 - still very expensive, but about half the Aussie price.
Quarantine: I was also advised to have the vehicle thoroughly steam cleaned in NZ, as it had to pass quarantine inspection at this end of the trip. This is yet another Government department that requires all sorts of information re: vehicle and shipping. There is also a $A67 inspection fee. A further fee is required for reinspection if the vehicle is found to be dirty.
With all this done, you have to play the waiting game. What is normally a 3-4 day voyage ended up a FOUR WEEK wait due to wharf problems in Melbourne and Sydney (surpise, surprise!)
The day arrived, so I made my way to Port Botany with all the relevant paperwork. I thought it would be so easy - no way! As I had personally imported the goods and NOT employed a cus¬toms import/shipping agent, I was to be LAST container off the rank, unless I wanted to pay $3,000 CASH for unpacking and returning of the container. Who said the wharves are corrupt?! Yes, I returned the next day with the cash. I paid the man and drove off in the '54 pick-up, which still had current NZ rego plates.
What a GREAT feeling driving the 'barney' across the Harbour Bridge, with both semaphores waving to passing motorists! YES! I'd done it. Regardless of all the red tape and extra expenses, it was all a very worthwhile exercise.
Compliance Plates
By Philip Lord
March 1993
Have you ever wanted to own a rare VW? One that was never sold here by Volkwagen; that 1980 1303 Cabrio, or 1985 Golf GTI for example, that you might see advertised in the papers. Because it's here and already registered, it's much easier than going overseas to buy one, not to mention much cheaper. There may well be exceptions (like a 1303 Cabrio!), but generally later VWs don't rate as collectables here. That combined with the poor value of the Aussie dollar means that unless you fortuitously buy a car dirt cheap overseas, have a mate who owns a freighter, and happen to have friends overseas who will put you up for at least 3 months, you are not likely to get a rare VW cheaper than one that's already here.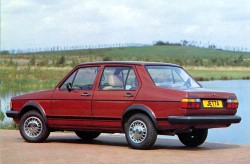 For the owners, or prospective owners of pre-1972 cars, the issue of compliance plates is of little relevance, as they were only commonly fitted after mid-1972, although the first Australian Design Rule (ADR) came into force 1 January 1969. This ADR required seat belts for front seat occupants, and later ADRs were also mostly safety-related (or emissions standards) requirements. However if your VW was made after mid-1972 and is not fitted with a compliance plate you will not necessarily have trouble with registration. There is a myriad of requirements and restrictions that may or may not affect your car. Because of the changing rules there have been misunderstandings concerning eligibility for registration. It is the aim of this article to provide basic information on compliance plates together with the latest rules concerning their fitment.
A compliance plate is a small metal plate attached to the vehicle by the manufacturer or importer, to inform the registering authorities and the owner of the vehicle that
it was manufactured to meet all the safety and emissions standards for that type of vehicle. It is usually under the bonnet of cars, riveted to the firewall (for Golfs, on the radiator support panel, for Beetles, next to the lock mechanism in the front boot, and for Passats in the plenum chamber area). For vans it is fitted in the footwell area of the cab (for Kombis it is in the driver' s door aperture, T3 and T4 near the door catch).
Various styles of plate have been used by VW, but you will recognise it as a compliance plate by the statement on it to the effect that it is fitted with the approval of the 'Australian Motor Vehicle Certification Board', or alternatively, since August 1989, that the vehicle is 'Manufactured to Comply with the Motor Vehicle Standard Act 1989.'
Compliance plates have a month/year stamped on them, but this does not necessarily relate to month/year of manufacture, as is often assumed. Especially imported cars, which may be in transit for some time, and then held in bond in customs for a while, before the compliance plate is affixed, or dated if affixed during manufacture. This month/year date even might relate to when the vehicle is released from storage by the importer to send it to a dealer - which could be a few years after it was actually built!
For example, a late-model Golf GTI that has 1992 Australian compliance is not necessarily a 1992-built car – more likely a 1990 one. Later imported cars have a tag affixed near the compliance plate that says, 'Built date: (month/year)', which does indicate the month/year that the car was assembled. For post-1980 cars, the VIN is a fail-safe indication of model year, which should be checked together with the compliance plate. The 10th digit is the model year – A=1980, B=1981, and so on.
If the car was not imported by the manufacturer or importer, it may have been by a private individual where the vehicle qualified as a personal import. In these cases, especially if imported after 1990, the vehicle must be made to comply with all ADRs. There are engineering companies which have sought and secured the right to modify and then affix a compliance plate to such vehicles . At present the only VW that has generated sufficient interest to have been ADR complied is the Californian spec. Golf Cabriolet.
If the car has been personally imported since 1989, and was eligible to be registered as such, it will have a yellow plate with the words Personally Imported Vehicle on it. This means it meets basic standards of the Administrator of Motor Vehicle Standards, and of the registering authority of the state in which the car was first registered after being imported.
In 1992 the rules changed a little, to the advantage of owners/buyers of cars fifteen years old or more. Previously cars made before 1974 were exempt from the requirements of the Motor Vehicle Standards Act, but this now includes cars made up to 1977. As a local buyer of a private import all this means is that you need not look for a compliance plate or personal import plate, for a car that is pre-1977 and is already registered here. Even if it has never been registered here, the only requirements for registration will be minimal (depending on the state or territory).
Where this could pose problems is when the vehicle is a 1974 to 1977 model imported under the old rules (which only exempted vehicles built before 1974) and imported for wrecking only. In these circumstances (which also applies to newer cars imported since 1990), the Federal Office of Road Safety (FORS) will have on file the vehicle's details (engine and chassis number), accessible by all state registering authorities. If the vehicle comes up in the FORS file, it cannot ever be registered in Australia.
If you buy a car that was privately imported and is registered in the state that you wish to continue registering it, then you should have no problems except for ensuring that the vehicle is roadworthy. If you transfer to another state you may have trouble registering it. The requirements are different in some states or territories to others, but most treat private imports with suspicion, and usually subject them to a full ADR check before proclaiming them fit (or unfit) for registration. The primary concern is with right hand steering, basic emission controls (like a charcoal evaporative canister) and seatbelts/restraints, including mounting points for child seats. In some cases post-1985 vehicles will have to run on unleaded fuel.
So if you bring home that ACT-registered 1984 left-hand drive Mexican Beetle that Joe Dodgy sold you for a song, you will not get it registered unless you move to Canberra, where until 1985 left-hand drive vehicles could be registered, and those which were can continue to be registered), or you will have to convert it to right-hand-drive and perhaps do other modifications.
In summary, in buying a rare VW you need to establish the following:
1. That the vehicle meets the requirements of the Motor Vehicle Standards Act if under 15 years old, whether by fitment of a compliance plate, a personal import plate, or prior Australian registration.
2. That the vehicle meets the requirements of the state/territory in which you wish to register it.
Hazet Toolbox Kit
By Phill Lander
April 1993
In 1868 a German blacksmith was asked by one of his customers to make some hand tools to help with a machine that he was developing.
The customer was none other than Gottlieb Daimler, who with fellow countryman Karl Benz, pioneered the world's first automobiles.
We know the rest of that story, but what is not so well known is that the blacksmith was Hans Alfred Zerber, who went on to form Hans Alfred Zerber Trading, the company whose name was then shortened to HAZET, the famous German hand tool company.
About eighty years later, Volkswagen and Hazet combined forces to produce the famous spare wheel tool kit, the Hazet Tourist. In the early 1950s, servicing facilities were not as abundant as they are now and owner maintenance was the order of the day. Another factor was that metric sized nuts and bolts were not as common in all parts of the world as they are today, so a comprehensive tool kit was needed without taking up too much space in the car. Volkswagen designed the toolbox to fit into the spare wheel, and Hazet supplied the tools, some from their standard range, and some designed especially for VW.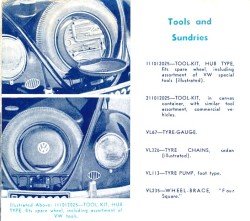 A transfer was applied to the inside of the hinged lid to show the position of each tool, although the tool combinations varied over the years and this was not always represented in the transfer. Two versions of the kit were marketed, one by Volkswagen with the VW logo embossed in the lid, and the other with the Hazet insignia embossed.
Over the years of production the make up of the tool kit changed to fit in with the changes to the cars. For example, in 1958 a third small Phillips screwdriver was added to permit the removal of the front blinker cover. So to the concours purist it is incorrect to display a three-screwdriver tool kit in a pre 1958 Beetle.
Another variation was the lining material of the toolbox. The very early (and rarest) versions had a felt liner, which was glued in place; whereas the later style had a flocked liner, which is similar to a thin coat of velvet.
The pre-1956 box came equipped with a generator nut spanner, which was 36mm on one end and blank at the other. As the size of the generator nut was changed to 21mm, the spanner was replaced by a 21 x 36mm.
In 1966, Volkswagen (Germany) changed the wheel design to a more modern style that no longer fitted the toolbox, and so by mutual agreement between Hazet and Volkswagen, the dies to manufacture the toolbox were destroyed.
These toolboxes are now hard to find and can be quite expensive due to their desirability by vintage enthusiasts. If contemplating purchasing one of these rare accessories, be sure to check which tools are included, as replacements may be hard to obtain and/or expensive.
Tools Fitted to Hazet Toolboxes:
Spark Plug Tool 764
This is a swivel head box spanner. These were still available until a few years ago and were common.
Multi Grip Pliers 760
These are still available under this part number but are a different shape from the original.
Combination Pliers 1850
These are still available but differ slightly from the original.
Screwdrivers 811-6, 813-3, 814-02A
These are almost impossible to find. The handles were made of wood and were discontinued many years ago, being replaced with the more modern plastic handles. Reproduction screwdrivers are available but are very expensive.
Socket Wrench 527
A 14mm box spanner with a swivel head and a T handle. Later models may have been 13mm. No longer available but still may be found second hand.
21 x 36 Ring Spanner 561
Earlier boxes were supplied with a single ended 36mm spanner, until the generator nut was changed to 21mm and the 21x36 spanner was introduced. Extremely rare and very expensive if found. Replacement spanners were offset at the 21mm end.
Wheel Brace 772-2
No longer available. Original versions came with a metal handle, whereas the more modern replacements came with a plastic handle and a hubcap remover.
Open End Spanners 450
These varied throughout the production life of the Hazet Tourist, but the most common are the 7x8 and the 10x12mm.
Combination Ring Open End Spanners 600
These also varied throughout the production life of the toolbox. Most early versions were 14mm and the later were 13mm.
Importing a VW
By Philip Lord
April 1993
What cars do you see when you look around in a car park in an Australian city? Quite a few Commodores, Falcons, and too many Toyotas. Perhaps you will notice a few late-model Audis and T3 Transporters. You will probably see a few (ageing) Beetles, Kombis and an occasional Golf or Passat. But where are all the more modern Volkswagens? They seem a rarity, except that TKM Automotive Pty. Ltd. have made a meritorious attempt to bring in some Volkswagen cars since 1990, such as the Golf GTI, Golf Cabrio and Passat GL 16V, something that previous VW importers promised but never delivered. TKM have done even better with Audi, pushing the marque into the spotlight, capturing the attention of prestige car buyers and winning an ever-increasing share of the prestige car market.

However if you want to buy a used VW car under ten years old (as opposed to a van or bus - they have been almost continuously available), your choice is really limited to either the more expensive post-1990 cars, or to the often cheaper, but harder to find private imports. Indeed it is often a difficult search if you want to buy any Volkswagen/Audi that was not ever officially imported. If you are taking an overseas trip, say to England, Europe or the U.S., it will be tempting to bring back a Volkswagen or Audi. Volkswagen is King in these areas. So many Volkswagens and Audis are on the roads, and the typical European/U.S. car park will seem to be overflowing with exotic-looking Ur-quattros, Sciroccos, Corrados, Passats and so on.
Last month with an article on Compliance plates, we covered what you need to know when looking for a rare VW already in Australia. In this article we will go one step further and discuss the requirements for bringing in your own handpicked Volkwagen/Audi from overseas.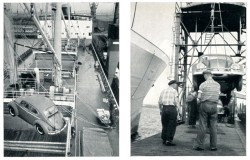 There is one principle that the rules governing privately imported motor vehicles have maintained with distinction - change. From the first restrictions on privately importing a car in 1978 (the end of duty-free private imports), there has been a shift of emphasis from the imposition of tariffs to the imposition of strict registration requirements. This change of emphasis has found Australia more closely following the lead of some overseas countries, particularly the U.S., where environmental and safety regulations are among the toughest in the world.
Until the mid-eighties, the prerequisites for a vehicle's registration in Australia after being privately imported were almost incidental. It was of more interest to the authorities that customs duty/sales tax had been paid on the vehicle. While the Federal government continues to impose a tariff and sales tax, compliance with safety and environmental standards are becoming more pertinent with privately importing a car.
The change to the current import rules was, ironically, motivated by pecuniary interests, and not by safety and environmental concerns. Prior to the Motor Vehicle Standards Act (in effect from 1 August 1989), to import a second-hand car and get it registered was, as suggested above, far easier. Provided the appropriate sales tax and import duty was paid, and it was right-hand drive, the imported car could be registered (after a roadworthy inspection) without great difficulty. The problem was that there was no conformity between state registering authorities with regard to safety/environmental requirements. This was not a problem with the small number of individuals buying a car overseas, whether they used it there or had it sent to them here. There was not sufficient volume to be concerned about making these cars comply with all Australian Design Rules.
Importing second-hand cars blew-up into an issue when business speculators saw a profit to be made by importing large quantities of second-hand Japanese cars from Japan. Due to registration requirements in Japan (where registration rules makes it progressively more difficult and expensive to register a car once more than a few years old, almost regardless of its condition) these cars could be bought very cheaply, and sent to Australia where they would sell for sometimes half the price of an equivalent Australian-delivered Japanese car.
Of course the new car importers and dealers objected to this, as did the owners of Australian-delivered Japanese cars. If the individuals who bought the Australian-delivered Jap cars were the only ones to be disadvantaged the story might end there. This was not the case, however. The captains of industry were hurting, so with lobby group pressure the Federal government became involved. The argument put forward by new car importers was that these ubiquitous second-hand imports did not comply with all Australian Design Rules, and thus were unsafe. As there were large numbers involved, it was making a mockery of the whole Australian Design Rules idea, that all these Japanese cars could be sold with only a minimum of Australian Design Rule compliance, while those sold by the new car importers had to comply.
Another problem was that the second-hand cars were very often slightly different in specification to the Australian market cars, making spare parts difficult to obtain (and the Australian importers were understandably reluctant to get them). Thus the Federal Government stepped in, and formulated the Motor Vehicle Standards Act.
The Motor Vehicle Standards Act, as of its introduction on 1 August 1989, requires the mandatory compliance of imported motor vehicles to all Australian Design Rules. If an imported vehicle does not meet Australian Design Rule requirements, evidenced by a Compliance plate, a letter of compliance or a letter of agreement to make the vehicle comply after importation, then the importer is deemed by the Act to have committed an offence. The offence is punishable by a maximum $12,000 fine. The vehicle may have to be exported or destroyed.
However, there are a few exceptions built into the Act that make it less draconian. To import any car new or second-hand under the post-July 1989 rules, an application form must be sent in The Federal Office of Road Safety (FORS) for 'Vehicle Import Approval', preferably before the vehicle arrives in Australia. This application takes about three weeks for the Federal Office of Road Safety to process. Approval should be granted if the vehicle meets one of the following criteria, and without the approval you will not be able to take possession of your car once it has been landed in Australia.
Although the rest of this article refers to post-1976 cars only, at this point it may be pertinent to briefly mention earlier cars. If you want to import a pre-1977 car you do not have to use the car overseas at all, and do not need a compliance plate. All you need to do is comply with state registration requirements. All states will at least require it to be right-hand drive and have seat belts. Left-hand drive cars pre-1964 can be registered but only on club vintage plates, which have conditions to their use and really cannot be considered as a substitute for full registration.
The easiest way to import a car (in terms of Australian Design Rule requirements) is to bring one in after having used it for a minimum of three months overseas before shipping it (and above all have documentation to prove this). The Motor Vehicle Standards Act stipulates that no more than one car per year per person can be imported. This entitles the car to be what the Federal Office of Road Safety calls a 'personal import'. Only Australian citizens or migrants with permanent resident status are eligible to import a car under the 'Personal Import Scheme'. The car will need to meet some minimum safety standards, (such as seat belts and child seat anchorage points), be right-hand drive and then comply with your state registration authority's interpretation of what Australian Design Rules a personal import should have. The car will be issued with a yellow Personal Import Compliance plate.
Another way to bring in a car without having to comply with all Australian Design Rules, or first use it overseas, is if you wish to wreck the vehicle or use it for racing or rallying. Sounds perfect for bringing in an Ur-quattro - but a word of warning. You will still need an import approval from the Federal Office of Road Safety to get the car from the docks, and with the car's data and intended use of import recorded by The Federal Office of Road Safety (The Federal Office of Road Safety also include evaluation and display vehicles in this category). The car cannot ever be road registered. Every registering authority in Australia has access to the Federal Office of Road Safety file of such vehicles, and would check that file if you tried to register such a vehicle.
Even if your Ur-quattro imported for rallying took your fancy so much that you would take it with you overseas, regardless of cost, for a three month holiday so as to get it registered (and thus qualify for a private import) on your return you would find that the vehicle is still unregisterable. The Federal Office of Road Safety does not seem to take such enthusiasts into account, and apparently your Ur-quattro's chassis/engine numbers will be sentenced to life imprisonment inside the Federal Office of Road Safety's computer.
The way to import a car without using it overseas, and still have it registered in Australia, can be done in two ways. The first is to order a new one overseas, where the manufacturer is willing to affix a compliance plate or issue a letter of compliance. This assumes that the manufacturer has already approved the model you want to buy for Australian Design Rules. For Volkswagen/Audi, it would be appropriate to approach TKM Automotive, as they may in fact be able to bring in a car for you as a special order. In the case of second-hand vehicles it is difficult to obtain such a compliance plate or letter of compliance, as most European and all U.S. market cars do not exactly comply with Australian Design Rules. In these instances the car must be made to comply after being imported.
There are organisations that have gained 'Compliance Plate Approval' from the Federal Office of Road Safety, which gives them the permission to modify a particular make and model of vehicle to comply with Australian Design Rules and the affixing of a compliance plate. Gaining such approval does not come cheaply as each organisation that applies for Compliance Plate Approval has to offer a vehicle that has proven by engineering tests (some which are destructive) to comply with Australian Design Rules. At present only the Californian model Golf Cabrio has been approved out of all Volkswagen models.
As was mentioned earlier, import rules have changed and may well continue to do so. If you are going to take steps to import a car, it would be a good form of insurance to get the very latest information. To do so, contact The Federal Office of Road Safety on (06) 2746013 or (06) 2747483 (24hr service), or write to:
The Administrator, Motor Vehicle Standards, Federal Office of Road Safety, GPO Box 1553 Canberra A.C.T 2601
Sorting the VW Magazines
By Phil Matthews
November 1997 – updated 2001
In the late '80s and early '90s, with the booming local interest in Volkswagens, several different Australian VW magazines suddenly popped up in newsagents. Some lasted only an issue or two, some a bit longer. Several different publishers, and different egos, got into the act. Today, many VW enthusiasts take pleasure in collecting them.
There have been such a lot of different magazines, with a myriad of different names from different publishers, that it is very difficult to keep track of them. The trouble with most of the Australian VW magazines was that they sometimes engaged in the annoying publishing practice of not printing the date on them. This makes it quite difficult today to catalogue them for future reference in your home library. Which one came out first and when - Super VWs or Street VWs or VW Annual? And how can you tell if you're missing any issues? This article can hopefully help by listing the issues from the various publishers, in the correct order.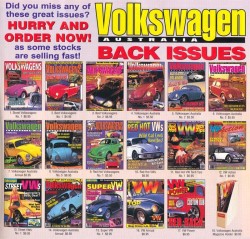 So why did they change the bloody name every time the next issue came out? Why didn't they just print 'VW Australia magazine, Dec '97'? The reason was that by changing the name they could keep the same issues on your newsagent shelves longer. For example, when The Womens' Weekly for July comes out, the left-over unsold June issues have to be bundled and sent back to the distributors to be kept for a little while, then pulped. Who wants boxes and boxes of old Womens' Weeklies sitting around? This costs the publishers money. And even if they're stored rather than pulped, they're certainly NOT on the shelves awaiting someone to buy them.
Now consider last month's 'Shiniest VWs' magazine. Along comes the next issue - this time called 'Groovy VWs No 1'. Neither has a date anywhere on it. The poor newsagent doesn't know it's the same magazine with just a different name, so she puts Groovy VWs on the shelves NEXT TO Shiniest VWs, without removing the earlier issues.
This is great for the publishers, as they have a much greater chance to sell all their older issues because they're on the shelves a lot longer. They don't get taken down! It's also good for the newsagent, because her shelves look fuller and it makes novices think that there are heaps of titles available.
The problem is that less wary VW enthusiasts can find themselves buying VW magazines that are months - even years - old. I browsed one in 1999 that had a preview of the 1996 Nationals in it! So although the practice is perfectly legal, and they do it for perfectly good financial reasons, I've always thought it does the average VW enthusiast, who is a lot less pedantic than me, something of a disservice.
Be that as it may, which ones came out when? How can you know if you've got every issue or not? After some considerable head scratching, mag shuffling, note taking and emailing other magazine collectors, we've come up with this list. My thanks go to Phill Lander for his assistance, the only VW enthusiast who is MORE picky than me.
Australian VW Power
Published by Syme Media Pty Ltd, Melbourne
Editors: Tim Britten, David Morley, Tony Glynn
December 1988 - June/July 1992
21 Issues.
An easy one to start with! VW Power was the first Australian VW magazine since Volkswagen Australasia Ltd published their in-house 'New Horizons' magazine in the mid-1960s (four issues only of that one – very collectable). The magazine coincided with the rebirth of Volkswagen on the Australian market, as well as the first few VW Nationals, so they rode the wave of a rekindling of VW enthusiasm in Australia. They sold well for several years, but they did contain many factual errors due to articles by general auto journalists, rather than VW enthusiasts. However it was still a good effort, with some nice cars, articles by the famous Larry Perkins and stories on modern VWs as well as older VWs. Quality dropped significantly over the last half dozen issues before the magazine folded. VW Power is very easy to keep track of, as they did the right thing by printing both the date and the issue number on each one. Simply put yours in numerical order from 1 to 21, and you'll soon see if you're missing any. They pop up today at VW swapmeets all the time, so they aren't that difficult to find.
Fast Fours and Rotaries' Hottest VW
Published by Federal Publishing, Sydney
Editor - Todd Hallenbeck, Dean Evans
1992 & 1993
2 issues only
This was the first attempt by another publisher to fill the gap left by the death of VW Power. Rather than a true periodical, they were rather two collections of 'best' VW stories previously published in Fast Fours and Rotaries magazine. They were even labelled as such - 'Enthusiast's Issue'. There were only two of them - the second one clearly labelled as 'No. 2'. They were published eight months or more apart, as the first had a report on the '92 Nationals, while the second had a preview sheet for the '93 Nationals. Fast Fours and Rotaries magazine went right away from VWs in subsequent years, so a third issue never eventuated.
Australian VW Scene
Published by Lex Cowley, Brisbane
Editor: Lex Cowley
Autumn 1995 - Winter 1997
8 issues
Another easy one. Lex put this one together in his spare time and out of his own pocket, so there were no iron-clad publishing dates. However, he numbered each one properly so again, sort yours into numeric order to see which ones you're missing. Eventually costs became prohibitive and production ceased. Due to the small circulation, the first two or three issues are hard to find and very collectable.
Performance Volkswagens No. 1
Published by Australian Publishing and Printing Company, Sydney
Editor: James Garrod
Winter 1996
1 issue only
A one-off effort from a company not known for successful magazines - they also produced 'Best Geminis' and '4s and Rotary Mania' magazines. No doubt an attempt to cash in on the VW scene, with articles on cars we'd already seen in other magazines.
Best Volkswagens No.1
Published by Australian Publishing and Printing Company, Sydney
Editor: Paul Beck
Winter 1998
1 issue only
A woeful second attempt by the same publishers, two years later. It contains two car feature articles and two tech articles that were simply reprints from the issue above, including one that said "..it's a sobering thought in 1993…" This was published in 1998! A very lazy, sloppy effort. Dreadful.
The 'Paradise' VW magazines
Published by Express Publications, Sydney
Editor - Geoff Paradise, James McRory
October 1993 to July 1998
The closest effort to the standard set by VW Power a few years earlier, but plagued by inconsistencies. The first in this series was published as a 'special edition' by 'Hot 4s and Wild Rotaries' magazine, no doubt in direct competition with the two issues put out by Fast 4s and Rotaries mentioned earlier. That parent connection was never mentioned again, and instead the following illogical and confusing series began:
1. Red Hot Volkswagens No.1 - Oct '93
Julie Lindsay's green '70 Beetle on the cover. Has a report on the 1993 VW Spectacular at Nambucca Heads, as well as Dak To The Future Part 1 (this was a useful clue for sorting them). Geoff Paradise's editorial was also of an introductory nature, saying the issue was a 'prototype' and there may be others. There were.
2. Best Volkswagens No.1 - Jan '94
Michael Kristen's red '74 Beetle on the cover. The giveaway here was again Mr Paradise's editorial, referring to the above first issue and saying this new one was a fill-in while waiting for the new 'Volkswagen Australia' magazine to appear. Also contains a report and photos of the '93 Nationals from the previous Easter.
3. Volkswagen Australia No.1 - Apr '94
Barry Caddle's red '74 Superbug on the cover. Intended as the 'first' in a new series of magazines, complete with German headings inside, obviously inspired by our own club magazine, Zeitschrift. Also helpful in placing this issue in order was the report on the NRMA Rocks meet in January '94, and also Dak To The Future Part 2.
4. Volkswagen Australia No.2 - Jul '94
Jeff McKeown's blue '63 Cal-look Beetle on the cover. The title makes this one easy to place, for once. We'll overlook Geoff Paradise claiming that VW made 21 million cars in 60 years - that's only the Beetle total of course. This issue has coverage of the '94 Nationals (Easter), and also Dak To The Future Part 3.
5. Volkswagen Australia No.3 - Oct '94
Rob Jurgensen's yellow '71 Beetle on the cover. Again a logical title, which was to unfortunately conclude the longest run of correctly named magazines. No event reports this time, but the issue did have Dak To The Future Part 4 within, which made it easy to confirm its place in the order.
6. Volkswagen Australia Annual - Jan '95
Simon Barnfield's red '66 Beetle on the cover. This one's called an 'annual' even though it's actually just VWA No.4. Easily placed in sequence by Dak To The Future Part 5 and the centre spread ad for the upcoming VW Nationals '95. Also a repeat of the Stan Pobjoy article from Best Volkswagens No 1.
7. Volkswagen Australia No.5 - Apr '95
Keith Hausler's blue '56 Beetle on the cover. After flirting with an 'annual' previously, they returned to the right sequence. Geoff Paradise's editorial continues the story he began last issue. The experiment with German headings ends and normal English returns. No event or tech reports, just cars in this issue.
8. Street Volkswagens No.1 - Jul '95
Karen Armitage's purple and white '64 Beetle on the cover. A name change. The editor claims newsagents didn't know 'Volkswagen Australia' was a car magazine (!), so every future issue would now have a different name. Coverage of the '95 Nationals a few months earlier places this one in order.
9. Best Volkswagens No.2 - Oct '95
Terry Borg's blue-green '73 Superbug on the cover. The next instalment in the series, Dak To The Future Part 6, and a report on Valla Park VW Spectacular on the August long weekend makes this one easy to place in sequence. Some good technical articles by Jeff Unwin raises the standard of the issue quite a bit.
10. VW Action No.1 - Jan '96
Emma Jerrens' black and white '64 Beetle on the cover. Quite a number of clues help to place this one in order. There's the centrespread preview form for the coming '96 Nationals, an article on Flat Four's Shootout the previous November, and also Dak To The Future Part 7.
11. Street VWs No.1 - Apr '96
Kevin Reely's yellow '56 Beetle on the cover. This issue should not to be confused with Street Volkswagens No.1, three issues ago! Dear oh dear, Geoff. The cover model has very nice bosoms though. This issue has the January NRMA Motorfest report, and also Dak To The Future Part 8.
12. Volkswagen Australia Annual - Jul '96
Dean Goode's blue '71 Superbug on the cover. Geoff himself loses track of things this time, as this issue has another (different) article called Dak To The Future Part 8! He also gives this issue the same name as issue six above. Even though it's called an 'annual', all the stories are original, not repeats, which is great.
13. Super VW No.1 - Oct '96
George Zabeck's dark green '57 Beetle on the cover. A rather critical article on the '96 Nationals, six months after the event, which doesn't help date this issue very accurately. More useful is a colourful mail-order ad for all the previous 12 back issues, complete with pictures of each cover. They're not listed in the right order!
14. Best Volkswagens No.3 - Jan '97
Geoff Paradise's own orange '78 Cabrio on the cover. An easy one to place. A mention of the Sydney Motor Show the previous October in the Editorial, as well as a report on the Vintage VeeDub Supplies' BBQ. Richard Holzl supplied Dak To The Future Part 9, and there's a 1997 Nationals programme in the centre.
15. VW Action No.2 - Apr '97
James Cottee's red '74 Superbug on the cover. The magazine is now up to 106 pages, 16 more than before. Geoff also mentions in his editorial that, as he writes, the '97 Nationals are only two weeks away, so that dates this issue nicely. This issue was to be his last, as he left Express Publications shortly after.
16. VW Annual - Jul '97
Sergio De Caires' green-blue '72 chop-top Superbug on the cover. James McRory takes over as Editor after Geoff's departure, and pens a suitable greeting. A report on the '97 Nationals, just gone. A few minor editorial mistakes but generally a good effort for James' first issue.
17. VW Power - Oct '97
John Pinnington's red '64 Beetle on the cover. The size goes up again, to 114 pages. James' editorial mentions that this is his second effort, and it is indeed much improved with more Kombi and Golf stuff. The News section is all information from Zeitschrift and the Club VeeDub website - thanks James!
18. VW Action No.3 - Jan '98
Adam DeBoynton's yellow '71 Superbug on the cover. James mentions that his magazine is again sponsoring the VW Nationals, which was moving to Fairfield in 1998. A four-page Nationals program in the middle. Also a report on the '97 VW Spectacular at Nambucca Heads, five months earlier.
19. Street VW No.2 - Apr '98
Jeremy Dawson's red '70 Beetle on the cover. A report on Flat Four Club's VW Shootout the previous November, held at Panthers for the first time. Last issue's promised article on 'Beach Baja' doesn't eventuate, but there is an excellent article on buying a series 1 Golf instead.
20. Street VW No.4 - Jul '98
Joe Saba's green '58 Beetle on the cover. James' editorial explains that the Australian magazine market is a tough one due to high costs and competition from overseas mags. Unfortunately, so tough that this was to be the last magazine in the series. A report on the VW Nationals at Easter, and one final ad for back issues.
In addition to the twenty-part series described above, Express Publications also published four more Volkswagen magazines that don't fit in the sequence. They were of two specific types. Firstly, these first two were both sold with one of the normal above issues as a 'bonus double pack', in a plastic bag:
Red Hot VWs - A 1996 collection of reprints of previous articles concerning radical VW kit cars, street buggies and Bajas, and Beetles with body kits.
Beetle Mania! - A 1997 collection of reprints of previous articles, this time concerning trick street Beetles, customs and convertibles.
Secondly there were two additional full magazines, both published in 1997 and sold individually in newsagents:
Red Hot VW Tech Tips - a collection of technical and 'how-to' articles, mostly reprints from normal issues but a couple written especially for this one.
Street VW Yearbook - a collection of some favourite car articles from the year, reprinted with a couple of new ones and a bonus poster in the middle.
VW & Porsche Power
Published by Paradise Publishing and Media Co, Sydney
Editor: Geoff Paradise
Late 1997
1 Issue.
Geoff Paradise's first and only attempt to start his own VW magazine after leaving Express Publications. Mostly VW stuff, with only one Porsche article. Only 66 pages in total but a dollar cheaper than the Express competition. There are articles on the Frankfurt motor show, the coming Golf 4 and '97 Valla Park show. This magazine was heavily financed by Wynn's automotive products, as the middle 16 pages are all full-page Wynns ads. A flop in the VW market place, and Geoff then left the VW scene to return to V8s, his main interest.
Australian Volkswagen Magazine
Published by Express Publications, Sydney
Editor: Nathan Ponchard
December 1998 to August 1999
4 Issues
After a six-month hiatus following the end of the Street VWs-Best VWs-Super VWs or whatever series, Express Publications decided to try again. This time they put together a new editorial team with real VW experience, knowledge and enthusiasm led by young Nathan Ponchard. The format was similar to the previous series, a colourful glossy 98-page issue every three months, but it had been skilfully redesigned and looked immensely better. The photos and articles were of a much higher standard and had been written by someone who clearly knew what they were writing about, which was a refreshing change. They also kept the name the same each issue, and numbered them in sequence - hooray! No.1 appeared in Dec '98, No.2 in Feb '99, No.3 in May '99 and No.4 in Aug '99.
Each magazine was better than the last, but sadly Express Publications decided to stop publication after the fourth issue. Sales had been good but apparently they could not justify the costs involved in continuing.
Note – several years after this article was published, a new publication called 'Volkswagen Magazine Australia' began in 2004, edited by Craig Hughes, and it continues to the present day. In 2009, with the 22nd issue, VWMA overtook VW Power and became the longest-published professional VW magazine in Australian history. Visit the VWMA website for more information – Ed.
Batfink ! (and Karate)
By Phil Matthews
December 1998
Who remembers this classic cartoon from the 1960s, with a little surprise for the VW fan? What do you mean what am I talking about?
Batfink was a series of 100 five-minute animated cartoons, produced from 1966-1967 for the television syndicator Screen Gems, by Hal Seeger Productions, whose most recent sucess had been the 1965 TV series Milton The Monster.
Hal Seeger had been an animator and writer for Max Fleischer Studios while still a teenager, which did the original Betty Boop cartoons among other things. Seeger eventually opened a business of his own, contracting out work based on his own creations like Muggy Doo, Boy Cat and Mean Moe. His first TV success was Milton The Monster, created in response to the two smash hit TV series of the previous season, The Munsters and The Addams Family. Milton was a large, menacing-looking Frankenstein-type character who was actually quite friendly, and was voiced by Bob McFadden. Muggy Doo headlined some of the support cartoons, with other characters such as Stuffy Derma and Fearless Fly helping to fill airtime. Fearless Fly also got his own series later.
In January 1966, ABC premiered the classic Batman TV series, staring Adam West and Burt Ward, which was an immediate smash hit - KAPOW! Seeger immediately thought a satire would be a good idea so he set to work, and in April 1966 was awarded copyright on two pilot episodes of a new cartoon called Batfink. The episodes 'Pink Pearls of Persia' and 'The Short Circuit Case' introduced us to a humanistic bat, with his own special tools for solving crimes that baffled the city's police force. These included wings "like a shield of steel", useful for deflecting bullets and other projectiles, and his "Supersonic Sonar Radar" which took the form of the word BEEP. It was able to give Batfink clues to where the villians were hiding, or their activities. Unlike Batman, Batfink did not have a secret identity and stayed in costume all the time. He lived in a split-level cave that featured a hotline through which the police chief could alert Batfink to mischief afoot.
In the two pilot episodes, and the 98 that followed, Batfink's chauffeur and strongarm man was the capable Karate. A large Oriental dressed in a kimono but with a Brooklyn NY accent, Karate could chop through doors, brick walls, and other obstacles as needed. In fact, to introduce us to Karate's strength, the first shot of the cartoon's opening tides is of Karate breaking through a door. Karate drove Batfink around in the Batillac, which was a pink Volkswagen car equipped with bat fins and a sunroof. Batfink would lean out through the sunroof to emit his Supersonic Sonar Radar BEEP. One more than one occasion, where we saw the Batillac blown into the air or fall from a cliff, we got a peek under it to notice a rear to front drive shaft and a central differential - a four-wheel drive Volkswagen!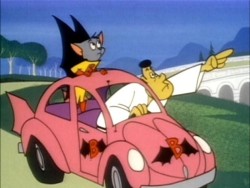 Batfink's arch-nemesis in most of the cartoons was Hugo A Go Go, a small man with a German accent, who lived in an astronomy observatory / lab on the edge of a high cliff. Hugo was always inventing some new device or trap to take over the world and/or put an end to Batfink. Other episodes included a veritable rogue's gallery of colourful fiends. Here's a list of some of the colourful baddies that Batfink came across:
Ebeneezer The Freezer, Gluey Louie, Sonic Boomer, Judy Jitsu, Brother Goose, Brain Washday, Sporty Morty, Stupidman, Greasy Gus, Swami Salami, Roz The Schnozz, Wishbone Boner, Goldstinger, The Shady Shadow, Party Marty, Robber Hood, Sandman Sam, Daniel Boom, Napoleon Blown Apart, Buster The Ruster, Cinderobber, Victor The Predictor, Jerkules, Blankenstein, Whip Van Winkle, Tough McDuff and my favourite, M.P.F.T.B.R.M, which stands for Millisecond Photo Flash Temporary Blinding Ray Monocle!
Most episodes featured Batfink and Karate getting into a situation from which there seemed no escape. The action froze as the narrator recapped Batfink's plight and made mention of his slim chances for survival. But the resourceful bat always managed to find a way out of whatever scrape he was in, and justice always prevailed in the end.
The adventures of Batfink were concocted by three talented writers who all found success in their later years. The late Heywood Kling became a successful writer of live-action sitcoms, Dennis Marks remains a top animation producer/writer (he recently did Jetsons: The Movie), and Nick Meglin is presently one of the editors of Mad Magazine. Despite the talents of these writers, the Batfink stories fall into a pattern easily spotted after watching a few episodes. Crime committed, Batfink summoned, radar sent out, Batfink lured into trap, last minute escape, tag gag at the end.
Giving voice to Batfink was Frank Buxton, a respected writer and producer of TV, as well as a radio historian and game host. Many of the other characters, including Karate, were the responsibility of Len Maxwell. They worked against a background of sound effects and musical cues from a variety of composers, including Winston Sharpies and his son, Herschel Burke Gilbert. Some of their early work was for the 'The Hunter' cartoons on King Leonardo.
The 100 Batfink cartoons were released in September 1967 by Screen Gems, and were placed in major markets. As stations bought the rights to show the individual cartoons, they were not bound to broadcasting them as a half-hour show and could be as flexible as they wished, either by dropping them into other cartoon programs or as a program of either 5 or 15 minutes duration.
Hal Seeger took a loss on the Batfink series, and had to abort some new shows in development while Batfink was in full production. Even so, Hal Seeger productions remains in business in 1998, still occupying office space on West 45th Street in Manhattan. Hal himself, now in his 70s, still takes on the occasional project and worked on TV shows as recently as 1988.
The cartoons continued to air on television throughout the 1970s and 1980s, after which they disappeared from distribution. I remember seeing Batfink on Channel 10 in Sydney up to about 1977 I think, but not since. Up until the late 1990s Batfink remained one of the few animated series of the 1960s that had never been put onto home video or syndication, but recently an 8-tape VHS collection of Batfink cartoons has been released, finally. Adding to Batfink's obscurity is that no merchandising was done for the character, except for a Halloween costume by Collegeville. No one ever made a model of the Batillac, for example, which was a pity.
Is this really the finish of Batfink (and Karate?) There's only one way to find out. Don't miss the next Batfink show!
Old NSW Race Tracks
By Terry Walker
March 2004
It's astounding how many NSW motor racing circuits have existed over the years. Equally amazing is the number that still exists, if you know where to look for them.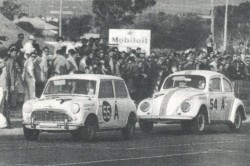 It is still possible to drive around many long-dead NSW racing circuits such as Orange's Gnoo Bias, some of which have changed little since they were first used. It's also possible to find the remains of others, famous in their day, but now decaying in the sunshine. Much of Warwick Farm and Catalina Park still exist, and fragments of Mount Druitt. Others have been completely swallowed by development and rebuilding, and exist only in memory. Here are descriptions of the most famous race circuits in NSW.
Albury, NSW
Albury is one of NSW's forgotten road racing circuits. The reason for this is that the outbreak of World War 2 ended its operations after just two meetings.
In the 1930s, an anniversary celebration seemed a good excuse to conduct a race meeting. There had been 150th anniversary races at Benalla in Victoria, and centenary races at Victor Harbour in South Australia, both in 1936, why not also at Albury for its 150th in 1938?
A brief announcement appeared in the Argus newspaper in January 1938: "In conjunction with the 150th anniversary celebrations at Albury in March, the Victorian Sporting Car Club will hold an Interstate Grand Prix car race of 100 miles for £300 in prizes. The event, which will take place on March 19th, is attracting entries from leading racing drivers in NSW, Victoria, and South Australia. The course is four miles from Albury and is 4½ miles in length, with two corners and two gentle bends. Two hills inside the circuit will provide a natural grandstand for the spectators."
The meeting was in fact the usual smorgasbord of short races, plus the major feature race over some 34 laps. A useful £700 was taken at the gate, and the major race was won by Wangaratta driver Jack Phillips in a Ford V8 special, not only on handicap but also on fastest time (2 hours 13 minutes 15 seconds, at 67.5 mph). He was followed home by George Bonser and Les Burrows.
Given the success of the event, a second meeting was run on the June long weekend in 1939. The Interstate Grand Prix had been renamed the Albury and Interstate Gold Cup; it was co-promoted by the Riverina Car Club, and the feature race was shortened to 76.5 miles. Jack Phillips again took the trophy, ahead of Bob Lea-Wright and Les Burrows, both in Hudsons, with John Crouch in an Alfa Romeo fourth. Phillips averaged 75.5 mph for the race. Three months later the world was at war and there were no further races at Albury.
The circuit, sometimes referred to as the Wirlinga circuit, has changed radically since the late 1930s. The whole north end of it has been extensively modified and built over by suburbia, while the western straight is now just a dirt track. Only the south-eastern quarter remains more or less original. Even that has changed slightly; Bowna Road has had the 'gentle curve' at the junction of the Riverina Highway eliminated in recent years.
The circuit can best be approached from the middle of Albury via the Hume Highway, and then east into Borella Road, which runs onto the Riverina Highway and takes you through to St John's Road and Bowna Road junctions. The two meetings apparently had different start / finish positions, but it is not clear which start was used when.
Amaroo Park, Annangrove, NSW
The official opening of the Amaroo Park motor racing park was held on 12 March 1967. It was the culmination of a decade-long development programme by wealthy industrialist Oscar Glaser to construct a complete motor sporting complex. It had begun with a hillclimb track, followed by the addition of a dirt short circuit, a motorcross track, a dirt speedway, and at last the 1.2-mile hot mix racing circuit.
The opening meeting was a very low-key closed event, with entry by invitation of the promoters, the Amaroo Sporting Country Club. Drivers from the ARDC (Catalina Park, Mount Panorama), the AARC (Warwick Farm) and the NSWRRC (Oran Park) were invited. 1,000 spectators enjoyed a day's racing. The next meeting on 9 April 1967 was the first public meeting.
A series of brisk race meetings were held during 1967 and into early 1968, but crowds were poor. This was thought to be because of inadequate spectator facilities. The circuit effectively closed in mid-1968, but re-opened on 31 May 1970 with much-improved public access and spectator areas, with the races run by the ARDC. The circuit flourished during the 1970s.
Skyline, where the cars come over the top of the ridge and curve left, was originally called The Crest. STP Corner was originally called The Cutting; Rothmans was called The Hairpin (and popularly as 'Stop Corner'). Ron Hodgson Corner was first called Speedway Corner. The outright lap record was set by John Bowe in a VES Kanda open wheel race car in 1987, 44.36 seconds. The Formula Vee lap record is 59.34 seconds. No other VWs hold any Amaroo records, but Greg Murphy's Audi A4 set the Up To 2000cc Touring Car record of 50.80 sec in 1996.
One of the early plans for Amaroo was an extension to 3 miles to form a Grand Prix length circuit, but this never came to fruition. The normal 1.2-mile (1.93km) length was more than adequate for great racing. The longer circuit would have been expensive to construct, with much of it out of sight of the control tower. In any event, the Australian Grand Prix was awarded to Adelaide in 1985.
With Sydney's suburbs sprawling ever outwards, Amaroo was eventually surrounded by housing developments and was beset by complaints about the noise. The number of meetings was cut back in the 1990s, with the last professional race held in 1998, when the ARDC sold the circuit and moved to Eastern Creek. The track was then torn up and the land subdivided for housing development.
Amaroo is in rural Annangrove, and can be approached from the southwest via Windsor Road and Annangrove Road, or from the southeast via Old Northern Road, Kenthurst and Annangrove Roads. Today only the starting straight remains (it's now a driveway on private property), and the crest up to Skyline is a suburban street. The road now ends just before the old right-hand 'loop', with a house sitting where the track used to be.
Brooklands, Werrington
In the years after WW1 there was a spate of super-speedway construction in Sydney, inspired no doubt by England's famous Brooklands track. There was of course Maroubra, known as Olympia Motor Speedway, and the one mile Penrith Speedway. In the 1920s a giant speedway was announced, to be known as 'Brooklands', to built at Werrington.
It was built in a paddock on the Western Highway not far from Werrington station, and consisted of two banked semicircular ends joined by two short straights. And there, mysteriously, it ended. Nobody ever raced at Brooklands.
For more than fifty years the huge speedway lay unused, never quite completed. It is clearly visible in 1940s air photos, which can be browsed at the NSW Lands Dept. It even shows on 1940s One-Mile Army Ordnance Survey Maps as 'Brooklands'.
Eventually, the Cobham Remand Home was built on the south end of the site, obliterating the south banking. In photos taken at the time of protests against the building of the centre, the derelict banking could be seen in the background. More recently, the Nepean Campus of the University of Western Sydney has occupied the rest of the site.
The north banking was demolished in the years after, and the land is now grassed parkland with a walking and cycling pathways across it. The best approach is via Ranee Street (which used to be Werrington Road) via Walker Street and Chapman Street. The end of the Chapman St cul-de-sac is very close to where the north banking used to be.
It's a shame that no evidence of Brooklands Werrington still exists, or can be made out today from the air. Although no race was ever run, it is likely the track was intended to be anti-clockwise, with the start line halfway down the eastern straight.
Catalina Park, Katoomba
The Blue Mountains Sporting Drivers' Club started work on the 2.1-km Catalina Park circuit as early as 1954. When the Speedway Act closed down almost all circuits in NSW except for Mount Panorama, the ARDC began to take a keen interest in this circuit. It could easily comply with the Act, and the ARDC promoted all meetings there after the official opening in 1960.
The circuit was built at the bottom of a valley with very steep sides, and the run from Craven A Corner to Bosch Corner was steeply downhill and very fast.
The circuit closed in 1969, for complex reasons involving the owners (BMSDC), promoters (ARDC) and the local council. There were occasional moves to reopen the track but it remains extremely unlikely this will ever happen. The nearest it got to re-opening was the short-lived TV Rallycross rage of the early 1970s, when a number of VW-dominated dirt events were held in the infield, and parts of the tarmac circuit, before the rage ended.
It has recently been revived and used for speed events such as lap dashes, and in 1993 for the Bol d'Or, a 'race' meeting for historic cars, decided by a single race. The 1994 Bol 'Dor was successfully completed in November.
The all-time lap record of 53.6 seconds (139.7 km/h) was set by Leo Geoghegan in his 2.5-litre Lotus Repco V8 race car, a major improvement on the record set at the first meeting, 62.9 seconds by Frank Matich in a Lotus Climax 2.5.
Catalina Park still exists, its bitumen surface in reasonable condition. In the late 1970s the timing tower still stood, although in derelict condition. You cannot drive around the track, as it is locked up when not in use to prevent hooning and vandalising. You can, however, walk or cycle around it. It is a shame it cannot be used now for regular club events - not even static shows. It is now protected Aboriginal parkland called 'The Gully,' with its motor racing history minimised and deprecated.
Gnoo Blas, Orange
The Gnoo Bias circuit was a community project for the people of Orange, when the Australian Sporting Car Club walked away from Bathurst to start a rival circuit.
Gnoo Bias was laid out on a roughly triangular loop of public roads south of the town, and with a lap of 6.04 km it was only slightly shorter than Mount Panorama. The circuit opened in January 1953 and closed in 1962.
A number of important races were held on this daunting circuit in its short life, including the South Pacific Championship. It also hosted the first-ever Australian Touring Car Campionship in 1960, which in those days was decided by a single race.
The passage of the Speedway Act led to the slow, painful death of Gnoo Blas, a death by a thousand bureaucratic cuts. Speedway Act safety fences were built, and niggling alteration after niggling alteration was made to conform to the ever-changing whims of the body that enforced the rules (the Police), but in the end the circuit was forced to close.
Gnoo Bias is beautifully preserved. The Council has elaborately signposted the old circuit, and even the starting grid markings are still visible. A drive around it is quite revealing. The crowd and photographers tended to gather at the start-finish and along the very long straight. The back straight, between Mrs Mutton's Corner and Brandy Corner, was largely ignored but was actually the hairiest part of the track. Connaghan's Corner looks innocent enough on the map but the track is narrow, and only a single strand barb-wire fence lay between the cars and a sudden drop into the adjacent paddock at the right-hand curve. This is immediately followed by a tricky swoop through a dip in the road.
The kink at the end of the long main straight looks a lot tighter from the drivers' seat than it does in any air photo or map. Cars were at maximum speed as they approached the kink. The only significant change since the circuit closed is between Brandy Corner and The Radius. That short section, containing a very narrow wooden bridge, has been cut off by a revision of the road junction. The bridge and road are still there though, and if you are on a motorcycle you can thread your way past the barricades and use that stretch too.
Maroubra, Sydney
The Olympia Motor Speedway was constructed in 1925 on 70 acres of land leased from the State government. It cost a whopping £34,000 to build the egg-shaped, steeply banked concrete track, and another £8,000 to install the electric timing gear and scoreboard.
The original company went bust in 1926, and the track was sold at auction to Mr. J.S. Taylor, one of the original shareholders, for £10,850. He sold it to another company, which wanted to turn it into a trotting track but this was opposed by both locals and creditors, who were still owed a fortune. This company also went bust and in November 1927 the circuit was sold to a Mr. G.W. Taylor for a mere £2,500.
Apart from its shady financial history, the circuit saw some very fast and exciting racing. It was officially five-sixths of a mile (1.34 km) around on the inside edge of the concrete, and both cars and motorbikes could lap at over 100 mph (161 km/h). Meetings consisted of a series of heats and finals for both cars and bikes. The track was dangerous, as are most high-banked tracks. Experts were alarmed at how close cars got to the top of the banking at high speed, which suggested the curve of the banking wasn't quite right. Some cars did go over the top, such as star driver R.G. 'Phil' Garlick, who went over the top in his supercharged Alvis in January 1927 and was killed instantly.
From late 1926, after floodlights had been installed, Maroubra was run in the evenings, and attracted a considerable following. Eventually, however, the circuit just faded away. By 1930 it was used only for novelty events. The infield occasionally filled with water, and at one cub event there in 1930 most of the infield was a shallow lake. The long garage and other infield buildings were flooded, and in places water lapped against the bottom edge of the concrete bowl. Throughout the 1930s and 1940s the track rotted; sand blew over the site and snakes basked in the sun on the cracking concrete. By the end of WW2 parts of the bowl had collapsed. In the 1950s the Government developed a housing commission suburb on the site.
NSW Lands Dept air photos were taken in 1930, when the infield was dry. The tunnel and long garage in the centre were clearly visible. Today, nothing whatever remains of Maroubra. If you stand in the centre of Coral Sea Park you are in what was once the centre of the circuit. If you drive slowly around Minneapolis Avenue you are probably following the line of the south-east banking.
Occasionally, however, there are stories of home builders digging up ancient slabs of concrete from the sandy foundations when they excavate. Perhaps much of Maroubra's concrete is still under the surface somewhere. In addition, the centre garage once had a Roman-style mosaic tile panel, which was never recovered. It's still under Coral Sea Park, somewhere.
Marsden Park, Richmond
The Marsden Park airstrip was the venue for two major meetings in the days just after WW2. The airstrip, confusingly, was actually in nearby Berkshire Park, just beside Richmond Road.
The opening meeting was held on the June long weekend in 1946, under the title 'Victory Day Races'. It was purely a one-day event, with practice in the morning and a series of short sprint races (some only two laps) starting at 1:45pm. The NSWSSC was the promoter, and the Five Dock Motor Cycle Club supplying an efficient body of marshals. These were sorely needed, with spectators wandering across the track willy nilly in the middle of races.
Six months later, on Australia Day 1947, the ASCC ran a meeting on the strip, this time a long 18-lap handicap feature race. The supporting races were the usual mix of scratch and handicap races for sports and racing cars. The winner of the only long race at Marsden Park was R.S. Ward in an MG TB, but was denied the trophy when he lapped 3 seconds faster than in practice, when the handicaps were calculated. Second placed R.H. Mitchell in an Austin Special was awarded the trophy.
While a ghostly outline of the strip's location can be seen from the air, there is no evidence of the circuit from the ground today. To get to the location, you simply head north on Richmond Road. The original entrance was next to the service station near the recently constructed Sanctuary Drive intersection. However, the best access now is to turn left off Richmond Road into St Mary's Road, then turn right into any one of the cross roads, First Road to Fourth Road inclusive.
The area has been subdivided into semi-rural housing properties, and a number of them have been built over the exact location of the former strip. It's almost impossible to tell from the ground where the strip was, with only some long straight fences and long gravely driveways giving a clue.
From a very detailed 1948 air photo, you can clearly see the strip and the raceway down one side and up the other, with hairpin corners at each end. You can also see the two different lengths used for the two major meetings. No, it is not known which length was used for which race.
Mount Druitt, Sydney
This famous track started life as a WW2 emergency airstrip near Ropes Creek. It was used for several race meetings before Belford James Jones took out a lease on it in 1950, and it was soon the 'home' circuit of the newly formed Australian Racing Drivers' Club. At first, the circuit was basically up-and-down the airstrip (like Marsden Park), with a roughly 950 metre lap. The ARDC's members worked hard over the years, and it was lengthened considerably to 2.4 km during 1951-52, involving a diversion off the strip into adjacent vacant land to the south-east of the strip.
Mount Druitt was famous for the happy-go-lucky family atmosphere, which prevailed until its sad closure in 1958. A complicated series of events involving the Speedway Act, CAMS, the ARDC and the land lessee culminated in its permanent closure, in sensational circumstances, in 1958. In November that year, one day before the lease expired, Belf Jones drove around the track with a road ripper, digging a serpentine trench all the way around and making the circuit unusable. In 1960 he was acquitted on a charge of malicious damage, a sad but dramatic end to the circuit.
Both the original up-and-down airstrip circuit, and the later modified version with a chicane, are clearly visible on period Lands Dept air photos. There were also two slightly different versions of the long 2.4-km circuit; a few races used an extra loop on the airstrip past the entry to Farm Straight.
There is also at least one report of a much longer track, which veered further east after Tyresoles corner, right down the other side of a ridge to a tight hairpin, and then rejoined the usual circuit near Castle Curve.
The circuit languished for many years, unusable. In the mid 1960s the State Housing Commission built a complete suburb (Whalan) over a large part of the track, and the Whalan-Shane Park sporting complex occupies sections of the old airstrip straight. However, some fragments of the track still survive.
Parts of Farm Straight and Pit Straight (accessible off Debrincat Ave) were still there in the 1980s, and so was Tyresoles Corner, although this has been lately been destroyed by the construction of Coventry Place Industrial Estate off Kurrajong Avenue. Parts of Strip Straight still exist as the entrance road into the Sports Complex. If you look closely you may still be able to see the undulating trench in the bitumen along Strip Straight near the sports complex, which Belf Jones dug in 1958 and which helped ensure that the circuit never reopened.
Nowra, NSW
The Nowra aerodrome was built by the RAAF in the war years, but soon after the war it was surplus to requirements. It was effectively decommissioned as an operational RAAF base, but a few years later was recommissioned by the RAN as HMAS Albatross, headquarters of the Fleet Air Arm. In between there was a period where the base was owned by the RAAF but not in active use, and race drivers happily managed to secure it for the proposed 1947 NSW Grand Prix, which had been run at Bathurst the previous year. Seven days before the 1947 event was to take place, the AAA forbade the use of the title 'Grand Prix', reserving it only for the national event. Still, the race went on.
A very long circuit of 4.4 miles, using both runways, was employed for the big event, held on Monday 16 June 1947 (June long weekend). Alf Barren's Alfa Romeo topped 124 mph and he drove the fastest lap of the race, 2 minutes 52 seconds at 91.05 mph, but Tom Lancey from Manly won the race on handicap in an MG at an average of 70.7 mph.
On 7 December 1952 the ASCC brought the racing cars back to Nowra for a much less ambitious race meeting. By then the Navy was in charge, and didn't intend closing down the runways for mere racing cars. However there was a set of highly suitable taxiways, hard stands and aprons which could be strung together to make an effective, if much shorter, racing circuit of 1.6 miles. The feature race was the Redex Handicap over 30 laps. This was the last meeting at Nowra.
HMAS Albatross today serves both as a RAN base and as the Nowra airport. It was also home to New Zealand's Skyhawk naval force in the 1990s until it was disbanded. Air shows are held there at least once a year, and the aviation museum is well worth a visit. However, don't expect to be able to retrace the two racing circuits.
Oran Park, NSW
This durable racing circuit was founded by the Singer Car Club (later the NSW Road Racing Club) at a time when it had just 30 members and $200 in the bank. Through the generosity of wealthy Camden grazier and earth-moving contractor Dan Cleary, who provided not only the land but also the all-important construction equipment, the 1.0-mile Oran Park circuit opened in February 1962. Its target was the numerous 'club' racing drivers who did not aspire to the big time Warwick Farm and Bathurst races.
Since then the circuit has grown like Topsy, the first increase being to 1.2 miles by extending down to Energol corner and straightening the straight. Some years later it grew to 1.63 miles by the addition of the flyover and loops out to Coca Cola. Oran Park was the venue for the 1974 and 1977 Australian Grand Prix. It hosted rounds of the Tasman Championships after Warwick Farm died, as well as rounds of the Touring and Sports Car Championships.
Apart from these changes to the layout, a huge amount of earth has been moved around the site. A dangerous dip in the main straight has been filled, and many of the seemingly natural spectator slopes are, in fact, artificial.
Oran Park is still in use in the early 2000s after more than 40 years, although today it is overshadowed by Eastern Creek for major events. It remains popular with club racers. There is a growing understanding that its days are numbered, as suburbia edges closer. Nearby land is already being subdivided for houses, and an 'Oran Park Estate' has already been proposed. The imminent closure of this fine circuit, with its long and exciting history, will be a very sad event.
(Update - it closed in 2010 and was bulldozed for housing. No trace of the old track remains. Some of the new housing estate streets have been named after famous local racing drivers and car makers - Ed.)
Parramatta Park, Sydney
In 1951 the Parramatta Park Trust and the ASCC agreed to the development of a circuit inside the park. The original deal involved considerable road surfacing work and fencing within the park, and the right to run four meetings a year.
The plan was for a 3.2-km circuit of Grand Prix standard, and a short 1.6-km club circuit. The circuit opened for racing on 28th January 1952, and over its fairly short career a number of exciting and enjoyable race meetings were conducted over both layouts. There were 5 meetings in 1952, 11 in 1954 and 12 in 1955. The track closed at the end of the 1955 season.
It never did evolve into a world-class Grand Penrith Speedway, Penrith Prix circuit, as the promoters had hoped in 1951.
One of the more surprising features of the circuit was the single lane section along the river behind Government House, where a row of handsome trees grew (and still grow) right the edge of the roadway.
In 1958 the NSW Light Car Club organised a major race meeting at the Park, as part of Parramatta's 150th anniversary celebrations. At the last minute the Government banned the race on the grounds of public safety. By law, roads within the park were public roads and no racing could take place without the consent of the Commissioner of Police. An accident at the Penrith Speedway that killed a number of people was cited as a reason, but that accident had occurred in 1938 - 20 years earlier!
This decision was the beginning of the end of most NSW circuits, including Gnoo Blas and Mount Druitt, as well as the Park.
Parramatta Park has not changed a great deal since the 1950s, and the racing circuit is still there, in the form of bitumen tourist roads. The original racing circuit curved up the driveway right past the front door of the old Government House, but today this section is a one-way road. But unfortunately it is the wrong way to allow nostalgic circuit cruisers to lap the original circuit.
Penrith Speedway
Opened in 1921, the Penrith Speedway, a one-mile (1.6 km) clay 'tri-oval', had an exciting and sometimes tragic history. It was built on a 100-acre site on the north side of the railway lines, conveniently close to Penrith railway station.
In 1926 the circuit was substantially revamped, with the 'corners' eased and slightly banked, and the whole track significantly widened. The changes made the track faster and theoretically safer, although the first meeting on the improved track saw some high-speed spinouts. The public had a splendid view of the proceedings from the natural embankments on the south-eastern corner, close to the start-finish line.
There was a disaster on the track in 1938, when a car crashed into the crowd and killed some spectators, a horrifying event captured on newsreel film. The film was showed at the subsequent coroner's inquest. However the verdict was that it was an accident, and Penrith Speedway continued in business. It had by now outlived its eastern rival, Maroubra, which was closed by 1931.
In 1938, with the Australian Grand Prix scheduled for NSW, it was suggested that the Speedway could be extended to two miles to accommodate the event, but this did not eventuate. The Grand Prix was held at Mount Panorama.
Racing continued after the start of WW2, right into 1940, but it petered out in the face of war mobilisation, fuel and tyre rationing, and the disappearance of drivers into the armed forces. There was said to have been one last race meeting in 1942, just before the Commonwealth moved in, leased the site and built a military depot on it, but it wasn't reported in the press.
In September 1945 the Government formally purchased the property from the estate of the late Sydney Smith, and it has been in Federal hands ever since.
The construction of the base obliterated the old clay racing circuit, although it's possible that at least part of one of the internal roads follows the alignment of the track. There was an aerial photo published in the Daily Guardian in 1925, and there are also pre-war aerial shots taken by the NSW Lands Department.
Pound Hill, NSW
This was one of NSW s least-known circuits. It was located on a property called 'Wahgundy', a few miles southeast of the town of Dunedoo. Built in 1956-57, it was originally an oil-bonded dirt circuit of a little less than one mile. Later, some of the corners were paved with the intention of eventually sealing the whole circuit.
1959 was a difficult year for NSW motor racing. Parramatta Park was a distant memory, and Mount Druitt was about to die in dramatic circumstances. The three tracks near Sydney - Catalina Park, Amaroo Park and Oran Park - were yet to open, and Warwick Farm was still under construction. With only Gnoo Bias and Mount Panorama still active, Pound Hill was NSW's third circuit and things looked promising for the Dunedoo club. They held four enjoyable race meetings on the circuit between 1957 and 1959.
Unfortunately for the Dunedoo Car Club, the circuit was on private property and was not covered by any sort of lease contract. It only existed with the goodwill of the property owner, but for a number of reasons that goodwill faded and in 1959 the circuit closed down.
The club did investigate another site about five miles away, secured a lease and surveyed the course, and even began clearing the site. Unfortunately the program ground to a halt, and the new circuit was never built. Today there is a short speedway at Dunedoo, but no road racing circuit.
For years after, Pound Hill circuit could still be seen, disused, in its natural amphitheatre by the river flats on the 'Wahgundy' property. As late as 1980 the remains of the paved esses were still faintly visible from the air. It is doubtful if any of it still exists 45 years after it closed.
Schofields, NSW
Originally a wartime RAAF base on the northwestern outskirts of Sydney, Schofields later became a Navy establishment called HMAS Nirimba. For a brief period in the late 1950s, a window of opportunity opened when the base was temporarily decommissioned.
The Manly Warringah Sporting Car Club and the North Shore Car Club joined forces and held a successful sprint meeting on the airstrip. On 6 July 1958 the clubs held the inaugural Schofields race meeting, a closed event for members of the two clubs, plus the MG Club and the ASCC. It was a one-day effort with early practice followed by a card of seven three-lap scratch races. One event was a typical amateur-style inter-club relay race.
A number of famous names competed, in some less famous vehicles: Ian 'Pete' Geoghegan (supercharged Standard 10), Brian Foley (Austin Lancer), Ralph Sach (Holden), Frank Matich (Austin Healey), Frank Gardiner (Jaguar D-Type), and Robin Orlando (MG Special), to name a few.
The circuit was a handy 2.3 miles per lap, quite fast and open, but as it was a purely temporary circuit it lacked facilities such as grandstands, covered pits and timing towers. It had to be set up, raced on, dismantled and cleaned up all on the same day - a very long day for the volunteer officials.
Schofields was very short lived. A handful of events were held, and it closed by the end of 1959 when the RAN restored the base to full operation.
The racing circuit used the main north-south runway and adjacent taxiways, and it is still intact. The Navy relinquished control of the property in 1994 and the airfield is now closed. Long grass now grows between the wide, crumbling runways. A large hanger was built in the centre to house the 'Bond Blimp' airship in the '80s, but this is now empty. The southern-most east-west runway is now adjacent to the Nirimba TAFE, built on the old Navy campus, and a small section is used for driver training, skidpans and tarmac motorkhanas. No doubt it will all be developed in due course into a new housing estate for evergrowing Sydney.
Warwick Farm, NSW
The 'Farm' was the brainchild of the AJC, owners of Warwick Farm racecourse, and was inspired by the successful Grand Prix circuit built inside Aintree Grand National racecourse in Liverpool, UK. British Auto Racing Club chief Geoff Sykes was consulted early on, and he migrated to Australia to run the 2.25-mile bitumen circuit laid out in the grounds of Warwick Farm. The racing was controlled by the Australian Automobile Racing Company, which had an associated racing club.
The track opened in 1960, and its first big event was the Tasman Cup round in January 1961, with a stunning field of internationals lining up on the grid. Stirling Moss (Lotus), Dan Gurney and Graham Hill (BRMs), 1960 World Champion Jack Brabham (Cooper), and Innes Ireland (Lotus); plus a strong field of locals including Alec Mildren, Bib Stilwell, Bill Patterson, Lex Davidson, Arnold Glass, Noel Hall and John Roxborough.
The AARC was stunned by the huge 65,000 crowd that rolled up for the meeting, despite fierce January heat. However, the Farm was expensive to run; putting down and taking up the two crossings over the grass horseracing track was very costly, for example. It needed large crowds to sustain it financially. When the Tasman series ended as a major international series in 1970 and the crowds dropped off, the circuit was doomed. The AJC was now sustained by the TAB, and no longer needed the relatively low returns from car racing. It was also reluctant to spend large sums upgrading the circuit.
The Farm lingered on until 1973. By then CAMS was seeking to have the track lined by Armco, and when it was not installed the circuit was closed for good. The last major race was Round 8 of the Australian Touring Car Championship on 15 July 1973, won by Peter Brock in a Torana XU1. A further meeting was scheduled for September 1973, but did not take place.
Parts of the circuit still exist, more than 30 years after it closed, although much of the bitumen has crumbled back to dirt and grass encroaches on the sides. The short circuit, inside the horseracing track, can no longer be used due to developments inside the racecourse. The pit garages are still there though, and the bridge over the lake is still there too. A 1970s plan for a short circuit to the north of the racecourse, using Hume Straight, Creek Corner and the Esses failed to materialise. These tarmac sections were torn up, and are now grassed over for horses to exercise on.
New Australian Volkswagen Magazine
By Phil Matthews
October 2004
The Australian Volkswagen importers, Volkswagen Group Australia Pty Ltd (VGA) have just published the first issue of their new glossy magazine (Autumn/Winter 2004). It's called, not surprisingly, 'Volkswagen Magazine'. It's the first Australian-produced VW company magazine for owners for 38 years - since 'New Horizons With VW' ended publication after just four issues in 1966.
The editor of the new magazine is Paul Jenzen, also described as VGA's Project Manager. He penned the introductory article, which begins: "Welcome to the first edition of the new biannual Volkswagen magazine. The team at Volkswagen Magazine have sourced a selection of stories from our colleagues in Germany and some of Australia's best lifestyle journalists for this edition." Indeed, the magazine has international support from Ruediger Schingale at Volkswagen AG in Wolfsburg. However, it is still edited by VGA, and designed and printed by Penfold Buscombe in East Botany.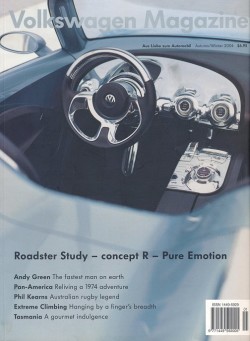 This first edition is 66 pages of glossy, good-looking material. There are many short articles and photos on the latest VW product news, some of which we've put in Zeitschrift this month. There are also longer articles on the Golf R32, the VW Roadster Concept R and the new T5 Transporter. There is an article on VW Genuine Accessories for the Golf GTI and the Touareg. There's a fascinating article on a 1974 30,000km drive from Alaska to the tip of South America in a (then-new) Golf.
However, like the NRMA's Open Road magazine, there are also other interesting articles on things not directly related to cars. In fact, VGA's magazine reminds me very much of a glossy airline in-flight magazine.
There is an article on Andy Green's world land speed record run; an article on rock climbing and other stories on Cooper's Creek, Tasmanian restaurants and various wine vintages. There is an interview with former Wallaby Phil Kearns (who owns a VW Touareg), and summaries of the latest movies, CDs and books (like Saturday's The Australian newspaper).
Overall a very impressive effort and one that puts VW owners on equal footing with BMW, Mercedes and Audi drivers in the glossy magazine stakes. Unfortunately there are no Australian VW history articles, nor any technical articles for older VW enthusiasts. There are no stories on how to rebuild a 36-bhp motor, for example. Oh well, you can't have everything! The next issue, which will be out soon after you read this, will have articles on the new Golf 5 and a look at VW's hi-tech Dresden factory.
I only spotted a few technical mistakes. For example, the article on the T5 repeats the error from VGA's press releases when it says: "The original Kombi was powered by the same 1.3-litre air-cooled engine found in the Beetle..." I've seen this error repeated by motoring journalists in their newspaper articles too, which goes to show they just paraphrase VGA's press releases without doing any original research themselves. It is wrong.
The original Kombi did NOT have a 1.3-litre engine (and for most markets, never did). On debut in March 1950 the VW Transporter was fitted with the Beetle's 1131cc 25 DIN hp engine. This was increased to an 1192cc 30 DIN hp design in December 1953, then a redesigned 1192cc 34 DIN hp motor in June 1960. The larger 1493cc 42 DIN hp motor appeared in January 1963 and was based on the new Type 3 engine but with an upright construction. The 1584cc 50 DIN hp appeared with the new big-windscreen, second generation Transporter in August 1967. However, there WAS a 1300 Kombi made for the Italian market - an optional 1285cc 40 DIN hp unit similar to the Beetle engine - but only from 1965 to 1967.
Perhaps I can be generous and claim that it's only a typo - after all, 1131 and 1.3 litres are pretty close, and probably where the error came from. But they're not the same thing. The original Kombi had a 1.1 litre engine, not a 1.3.
Here's a more interesting error (that doesn't involve VWs), about which I'll indulge you in some space science. In the article on Andy Green's Thrust SSC world land speed record car, it says that: "...while free from the Earth's gravity, astronauts have hurtled through space at speeds of around 40,000 km/h."
The idea that there is no gravity in space is a common misconception. Earth's gravity actually extends infinitely into outer space and decreases according to the inverse square law. The moon itself is very much in Earth's gravitational field - which is why it orbits around the Earth, some 384,400 km away, instead of flying off into space.
To reach the moon you can either burn your engines all the way there, at enormous cost in fuel and weight, or you can reach a high enough speed first and coast all the way there. This is what the Apollo moonships did, using both the Earth's and the Moon's gravity to their advantage.
This is what happened. From an Earth orbit, coasting around at 28,000 km/h, they reignited the Saturn third stage engine and burned for just over five minutes. This boosted their speed to some 38,960 km/h, moving the ship on a path out of orbit and towards the moon. They then shut off the engine, ejected the stage and coasted all the way. However, the ship was still like a ball thrown up - it still slowed as the Earth's gravity pulled it back. It's just that their initial speed was fast enough to reach a point high enough where the Moon's pull on the ship was greater than the Earth's.
This happened nearly three days after leaving Earth orbit, when Apollo was only 62,000 km from the moon. By that time it had slowed to only 3550 km/h; but then the moon's gravity made it speed up again. By the time the ship was ready to orbit the moon, it was doing more than 8,000 km/h. Another engine burn was necessary to slow the ship down to 5,900 km/h, lunar orbit speed. If they hadn't done this last burn, the ship would have simply whipped around the far side and headed back towards Earth all by itself. This was called a 'free return trajectory'.
So they coasted all the way to the moon, with their trajectory calculated as a function of both the Earth's and the moon's grip at any given moment. In free flight the astronauts were 'weightless', but the ship was still very much under Earth's gravitational attraction.
The trip home was the reverse. The Command Module's engine was lit to push the ship out of lunar orbit and back toward Earth. It only needed to reach that same point, only 62,000 km/h from the moon, where Earth's gravity became stronger than the moon's. From here the ship simply fell all the way home. Thus it was purely Earth's gravity that enabled the nine Apollo command modules to reach 39,890 km/h just before re-entry into Earth's atmosphere on return from the moon.
And when it did hit the atmosphere - not straight down, of course, but at an angle of only 3 degrees from horizontal - the ship was slowed to only 660 km/h in the space of less than 5 minutes by atmospheric friction. This was a crushing 6G deceleration!
The point is that astronauts have never yet 'escaped' from Earth's gravity, even when on the moon. Only robot probes to the other planets have escaped from the Earth. As for escaping from the Sun - well, only the Pioneer 10 and 11, and Voyager 1 and 2 space probes have done that - but that's another story.
Anyhow, these issues aside, the new VW magazine is still a great read. You can secure your copy of this interesting magazine by visiting your Volkswagen dealer, or VWGA's head office in Botany if you're nearby. Issues will come out every three months; more VW magazines for your collection.
1963 Bathurst VW model
By Peter Roberts
April 2005
In the 1963 Armstrong 500 production car race at Bathurst , the Class 'A' winner was the Volkswagen 1200 Standard, driven by Barry Ferguson and Bill Ford. Now a much faster Ford GT Cortina driven by Bob Jane might have won overall, but the most exciting spectacle that day was watching the little VW dice with a Mini 850 in the 'littlies' Class A. All day the VW and the Mini diced, side by side and overtaking each other at different parts of the famous circuit. On the last lap the Mini was in front, but Barry Ferguson outbraked the Mini on the last corner (Murray's at the bottom of Conrod Straight) and the Mini overturned! The VW won, the only-ever class win for a Volkswagen at Bathurst.
I decided to make a model of this famous car. The basic kit for this model is the Tamiya 1/24 Scale 1966 Model Volkswagen 1300 Beetle. Unfortunately, there were several subtle changes between the Australian 1963 and German 1966 VWs. I have tried to incorporate most of the more obvious differences in building this model of the 1963 Ferguson/Ford car.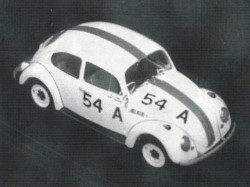 Barry Ferguson himself kindly helped with the interpretation of some of the sign writing on the car, as the photo references were not too clear on these points. The following points cover most of the changes I made to the basic kit.
I converted the model to right hand drive, using a dashboard from a Hasegawa kit (also '66!). I modified the interior to 1963 'Standard' spec, primarily the steering wheel and dashboard. Australian standards did not have a glove box lid, fuel gauge or horn ring.
All chrome strip mouldings removed from body, doors and bonnet. I couldn't do much about the larger windows in the body shell (that Euro Beetles got from 1965-on), but I did change the front wing window pillar from slanted to vertical (1963 spec).
Rear number plate light pod was modified. This was done by shortening the width, but to be more accurate, it should also be a little deeper (1963 spec).
Engine lid handle was changed from push-button to 'T' shape (this was taken from a Mini Minor kit!) (1963 spec).
The Euro wheel ventilation slots were filled to give solid wheels (1963 spec). I also added valve stems to the wheels, a little detail touch that can look quite effective and is obvious with the white wheels.
Engine detailed - distributor wired, vac-advance and fuel line added. Unfortunately, this work is difficult to see on the finished model, and equally difficult to photograph!
Wire headlight guards built from scratch and added to lights.
All chrome items stripped, cleaned up and repainted with a chrome finish
NSW Rego label decal reduced from original 1963 item (by chance, the correct month too!) Decals were made from own artwork using photos as a guide
Unfortunately, this model was rushed a bit in order to have it ready for a club competition, and in doing so, some of the green stripe (Castrol Green) 'bled' under the clear finish. I did not have time to correct this, so it is a slight blemish on the finished model. I also did not have time to 'rubber' all the windows, but these points are not overly obvious and do not seem to detract too much from the appearance of the finished model.
As well as the information kindly offered by Barry Ferguson, I used the following references in making this model:
Original VW Beetle" by L. Meredith, Bay View Books Ltd, 1994
Australia's Greatest Motor Race 1960-1999 by Greenhalgh, Floyd and Tuckey, Chevron Publishing Group, 2000
Australia's Greatest Motor Race - The Complete History by Tuckey, Lansdowne Press, 1981
The Farm
By Bruce Walker
May 2005
Meet Nick - a long-time VW mechanic and lover of the marque. Nick lives about 30 minutes outside Canberra in a very peaceful setting. He has everything on his farm that he needs - house, family, large workshop - and a paddock full of Volkswagens.
Nick actually reckons he has over 400 VWs, and from walking through the paddock, I think this is probably a good guess. Some of the cars are basically complete (minus engines), others are picked-over shells, shadows of their former selves. They have contributed parts over the years so that other VWs can continue running.
To walk around the farm is an eye-opener for anyone who classes themselves as a VW addict. Wandering past the workshop you see an array of Kombis, Bugs and Golfs -some are here for repairs, others might be for sale, and some are here after their final trip in life. A short stroll up the track and you pass not only an old shearing shed, but the beginning of what can only be called a vast collection of cars. As well as many VWs, he has a few other makes - but VWs would make 99 percent. I walk past a Notch body, a couple of split Kombis, and a line of Beetles, as I head for the gate. There's a burnt-out Beetle shell and a large pile of body panels.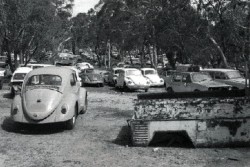 By now we're into the main paddock - which row to start in? An off-road buggy to the left, a dented Notch in front, or a row of Kombis to the right. Every lane leads on to another seemingly endless row. Every car has a story - to think that all of these cars have belonged to loving owners at some point makes you want to take them all home. Some of the Kombis still have sign writing showing their previous operator, giving an indication as to what they used to be used for. Split Kombis, T2s, a few T3s here and there. Panels, window vans, campers, single and dual cabs utes, they're all here. From the moss on some of them, they've been here a while.
I pass an oval Beetle and move into a large row of Type 1s, mostly standard models but there are a few interesting ones thrown in like a cut-down Beetle that would have been a buggy, and a couple of Beetle-utes. There are some lovely (?) 80's fibreglass Porsche kits - and just a lot of Beetles. Row upon row of them.
And then the Type 3s leap out at you - squares, notches, fasties, they're all here. For the water-cooled guys, there are some early Golfs here, both petrol and diesels, Aussie-made LSs and later German GLS models. You'll have to excuse my lack of description, as I'm not that familiar with Golfs, but there are a number of them here, plus a few other water-cooled types like some Passats.

Walking up another lane, I'm surrounded by more Kombis, some which would have been great campers in their time. I pass one with a fibreglass add-on roof, another T3, even an old 'glass buggy body.
Eventually I walk beside another shed, and stacked neatly outside are rows of panels, doors, bonnets. Rumoured to be inside this shed are dozens of engines and gearboxes, in various conditions. Of course, there are also vast amounts of mechanical parts lying beside their 'donor vehicles' around the farm.
Nick has compiled this impressive stash of VWs over a number of years. There are always cars awaiting repairs in his front yard, and he uses a quantity of the paddock parts to keep other cars alive, as well as using new parts where required. He also sells cars (running, or shells), used parts, and has a large stock of new parts on the shelf.
Feel like dabbling with a Beetle project? Your future nifty Notch, cruising Kombi, gorgeous Golf, or useful Ute could be sitting here right now, waiting for you to take it home. OK, so a lot of the cars may have various areas of damage from their former life, and some will have rust, but the local environment has helped by keeping these steel beasts in the best condition possible.
Time to leave the farm and close the story. While Nick is tinkering on an engine over there, we'll give you his contact details. The business name is Volksparts, and you can contact him on 0412 345 126 or (02) 6238 1686. Give him a call during business hours and he'll help you in any way he can (please remember that he's a one-man business).
VfL Wolfsburg
By Phil Matthews
October 2005
It's rugby league Grand Final day as I type this, with Wests Tigers playing Nth Qld Cowboys tonight. As South Sydney aren't playing I really don't care who wins! Saints, Roosters, Eels, Panthers, we all follow our different teams. I also follow the NSW Waratahs in the rugby union, with a soft spot for Randwick in the club rugby. You might also have cheered for the Swans last week in that other code.
Soccer (or football as they call it now) is a bit different in Australia. Did you follow Marconi or Hakoah? Olympic or Apia Leichhardt? It's always been something of a game for 'wogs,' or New Australians as we call them now, here. In England they have the multi-billion dollar Premier League, which is enormously popular and famous all around the world. Chelsea have recently joined other powerhouse clubs like Arsenal, Spurs, Liverpool and Man Utd, but at least we've heard of them.
In Germany the top football competition is called the Bundesliga, and has been traditionally dominated by sides like Bayern Munich, Bremen and Hamburg. Which team do you follow? Do you care? I thought not.
Well now you can! As VW fans we can all follow one team in the Bundesliga, even if we don't like soccer. There is a team based in Wolfsburg, which of course is Volkswagen's home town.
The team is called VfL Wolfsburg – VfL stands for 'Verein für Leibesübungen,' which means 'Club for Exercises.' They were formed on 12th September 1945 in a barracks on Reislingger Strasse, in the postwar wreckage of Wolfsburg. They began with just one senior team, and lost their first match to an English Army team 0-8, played on a muddy field next to the VW factory. However the foundation was laid and the following year saw two senior teams, a youth team and a school team. VfL Wolfsburg won their first local area championship in 1947.
The local trainer at the time was a man called Bernd Elberskirch, who had ten green coloured jerseys at his disposal. Bed sheets donated by the public were sewn together by wives to make the shorts to go with the shirts. The club not only stuck with green and white as their club colours, but the town also adopted the same green and white colours. Wolfsburg does NOT use blue and white VW colours, as you might think!
The club's local pub was the 'Zum Brandenburger Adler' at the Rothenfelder Markt, near where the town courts stand today in der Nahe des heutigen Amtsgerichts. The sports field was between the town's only grammar school and some fields, which belonged to the German Working Front until the end of the war. The first club offices were located in the town hall barrack at the Steimker Berg.
In 1948 VfL Wolfsburg moved to a new, dedicated playing field called VfL Fields, which had tiered seating and a running track. The field next to the VW factory, where they used to play, later became the park next to VW's high-rise administration building.
VfL Wolfsburg became the Niedersachsen Amateur league champions in 1950, and again in 1951, 1952 and 1954 when they played a match against Heider SV for promotion to the then-top league in Germany, which was then called the Oberliga North. VfL Wolfsburg won 2-1, watched by over 12,000 people. They were now in Germany's top league! It was still amateur in those days.
Further expansion of VfL fields took place in 1961, when the town of Wolfsburg and Volkswagen jointly contributed 650,00 DM for new seating and terracing. VfL Wolfsburg played an exciting friendly match against Brazilian club FC Santos, in front of 10,000 people. The Brazilians brought all their World Cup stars with them, including Pele, and were too strong. They won 6-3.
German football became professional in the 1960s and was reorganised. VfL Wolfsburg remained an amateur club and played in the lower rung Neideraschen league. They were champions here in 1963 and were promoted to the Regionalliga Nord.
In 1969 the club got its first mascot, in the form of a goat named 'Onkel Willi', named after the VfL patron Dr. Willi Wolf. As it turned out, Willi was not a lucky mascot. VfL Wolfsburg were runners up in the Oberliga Nord, and participated in the promotion places to the Bundesliga in 1970, but things went down hill after that.
A new German second division was created in 1974 from 5 former regional leagues. VfL Wolfsburg competed but Volkswagen were suffering their own financial troubles in the early 1970s and could not support the club as they once did. VfL Wolfsburg were relegated to third division in 1974, returned to second division in 1975 and went down to third again in 1976. While they attempted to break back into second division in 1977, they were to remain in the third division throughout the 1980s. The only bright spot was a German FA Cup match against premier league side Werder Bremen in 1987. VfL Wolfsburg lost 4-5 in extra time, but had been 1-4 behind at the 80th minute!
VfL Wolfsburg, now known as the Wolves, won the Oberliga Nord third division championship in 1988, 1991 and 1992, when they finally won promotion back to the second division for 1993. In 1994 they finished 5th in second division, and the Wolfsburg town council, together with Volkswagen, give the club a 5 million DM loan for much needed stadium repairs and general expansion.
In 1995 the club finished 4th in second division, and made the German FA Cup final against Borussia Monchengladbach. The Wolves lost this one by 0-3. However the VfL Fields were much improved with new main stand seating, lights, toilets, sound system and scoreboard.
Coached by Willi Reimann, the Wolves won a nine-goal thriller against FSV Mainz 05, and finished second in the second division table behind Kaiserslautern in 1997. After five seasons in division 2, the Wolves were promoted to the Bundesliga (first division) for the first time in their history. The new North Stand was opened at VfL Fields and the ground capacity grew to 20,400.
VfL Wolfsburg's first year in the Bundesliga went badly when the coach resigned half-way through the season and the club looked set to be relegated back to second division. New coach Wolfgang Wolf inspired three consecutive 1-0 wins at the end of the season and the club finished safely in 14th.
Wolfsburg improved in 1999, finishing sixth in the Bundesliga and qualified for the UEFA Cup for the first time. The Wolves defeated the Hungarian Cup winners VCS Drebrescen in front of 72,000 spectators.
In 2000 Wolves player Zoltan Sebescen made his debut for Germany against Holland, becoming the first ever VfL Wolfsburg player to represent his country.
The club finished seventh in the Bundesliga in 2000, and the board decided on a major restructure. The professional football organisation was separated from the football club, and became a limited company, VfL Wolfsburg-Fussball GmbH. Volkswagen AG owned 90% of the shares, with VfL Wolfsburg football club holding the other 10%. VW AG gradually bought out the football club to achieve 100% ownership.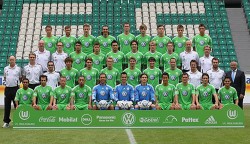 The new organisation had outgrown the old VfL Fields, so approval was given to build a brand new stadium in the Allerpark.
In December 2002 the grand opening of the new Volkswagen Arena was held, with 20,000 people visiting the shiny new stadium. Sports demonstrations, an appearance by the Norwegian band A-ha ('Take On Me'), and a huge fireworks spectacular seen by fans and celebrities alike brought the Wolves' new 90,000 m2 home to life.
In the three years since the Volkswagen Arena opened, it has become the third most recognised venue in Germany, following only those of Hamburg and Munich. The total cost of construction was 53 million Euro, and was completed in only 18 months. The VW Arena holds 30,000 people, with 22,000 permanent seats and 8,000 standing positions that can be converted to 4,000 seats for international matches. 12 entry-exit stairways enable the entire Arena to empty in only 10 minutes.
Special seating includes 1,200 Business Seats with direct access to catering; VIP seating with separate catering access, and 32 corporate boxes for 10 people each with outdoor seating, and moveable glass panelling facing the pitch. All 35 boxes are sold out for 2006. There are 80 dedicated wheelchair places with easy access and toilet facilities.
The Arena has 20 kiosks, 13 of them on the promenade and 7 on the top floor. During a typical Bundesliga match, fans consume 11,000 beers, 8,300 soft drinks, 1000 kg of hot chips and 1000 kg of bratwurst. VW Arena has more than 600 toilets, the most in the Bundesliga.
The translucent PVC roof has 172 floodlights aimed at the pitch, each weighing 25 kg. There are also 84 PA speakers in the roof, each one weighing 250 kg. There are two huge video screens, each one 36 m2.
Let's not forget the club mascot, Wolfi! He was born in Wolfsburg in June 1997. He is 1.97 m tall and weighs 85 kg. He enjoys playing and dancing with kids, and his favourite foods are liquorice and the WolfsBurger from the Arena's Soccer Cafe. His favourite song is 'Grün-Weiß VfL,' and his favourite web page is www.vfl-wolfsburg.de. You can email him at woelfi@vfl-wolfsburg.de