Passat
The New B3 Passat
1990 VW Passat GL
The Car Australia Couldn't Afford
The TS Passat
VW Passat – A Dedication
The Hat Trick
Passat Pleasures
In For The Long Hall
From Humble Beginnings
A New Driving Dimension
Refinement of A Theme
Passat Perfection
1995 Passat
New Passat Set For Australia
W8 Passat
Of water-cooling and goat paddocks
14 million Passats
The New B3 Passat
By Simon Matthews
June 1988
The Volkswagenwerk decided to introduce their third generation Passat a couple of weeks before the Geneva Motor Show, but the Swiss extravaganza was chosen as its public launch pad. The all-new Passat has a range of engines that are (at last) installed transversely, driving the front wheels, and there is a new gearbox and a new rear suspension.
Designated B3, the latest Passat is the third of the series to carry the name (almost five million have been sold since 1973 - not large figures by VW standards) but strangely the new model will be made only in four-door sedan and five-door Variant form, according to VW.
Since the Passat history began, a five-door hatchback has been included in the range, but VW says that although a prototype has been developed, it won't be manufactured. Some seasoned industry observers are of the opinion that the VW Group is stretched financially with the forthcoming Corrado sports model, and the new Audi coupes, and others say they believe the Passat hatchback won't hatch.
In the past, Passat sales included 61 percent Variants, but the hatch notched up 20 percent compared with the sedan model's unimpressive 10 percent. So, it seems odd the new range consists of only sedan (which does not have folding rear seat backrests) and Variant.
The bodywork is all-new and the design department has concentrated hard on increased stiffness and improved aerodynamics (Cd is 0.29). Integral rain roof channels are a feature, side-windows are flush fitting, there is improved airflow around the engine, and boot lid spoilers are fitted to the sedan models. Doors are of a new design, with narrow window frames and double-sealing.
Interior space has been increased significantly without adding to overall length (one of the advantages gained by a transverse engine and gearbox) but the wheelbase is some 76mm longer, spelling improved ride. The aforementioned design changes have resulted in an internal total area of 2,9761 litres. The sedan's luggage area is rated at 1,005 litres, and the Variant at 1, 6992 litres.
In Europe the new Passat is offered with three different trims: CL, GL, and GT. The basic 1595cc 53 kW CL features internally-adjustable door-mirrors, tinted glass, side-impact protection strips, four-speed ventilating fan, adjustable top seat-belt mountings, central locking (for doors, luggage compartment, and petrol filler-flap), height-adjusting driver's seat, rear reading lights, seat headrests and four-spoke steering wheel. Volkswagen's standard central locking operates not only on the doors, but closes electric windows and optional electric sunroof when fitted.
The 1781cc 79 kW GT uses 6 x 14-in light alloy road wheels, has sports seats, tachometer, multi-function trip computer, longitudinally-adjustable and reclining rear bench seat with 33/66 split (the GL also has the rear seat facilities), and power steering.
Top Passat is the 1984cc 100 kW GT 16V with four valves per cylinder, a maximum speed of 206 km/h (sedan), and a 0 -100 km/h acceleration of 9.9 seconds. All new Passats will be available as sedans or Variants. By the end of 1988 there will also be a turbo-diesel (with intercooler), powered by a new edition of VW's 1588cc 60 kW engine.
VW has designed and developed a completely new five-speed manual gearbox for the Passat range, and all models from GL up are equipped with it. Two Bowden cables have superseded gear-change linkage, and a lighter, more precise change is claimed.
Chassis design too has been modified, a longer wheelbase being adopted along with a 66mm track, and a switch to 4-in road wheels. The front suspension retains a Mac-Pherson coil-strut and anti-roll bar layout, but the rear suspension incorporates a (everybody's doing it!) 'steering' element. The torsional beam axle is displaced to a defined amount during cornering manoeuvres, and aided by wedge-shaped bearing elements, results in a neutral roll-steer effect.
The trailing-arm torsion axle has track-adjusting bearings, torsionally matched to the suspension to permit a varying reaction to cornering side-loads. There's no doubt Europe's industry is keen to prove that sufficient 'automatic' rear-wheel steering can be built in to the chassis to render the complicated (and expensive) Japanese rear-wheel steering systems superfluous.
All new Passats have larger, servo-assisted brakes, the GT being equipped with discs all-round, but other models having front discs / rear drums.
The new Passats have solid-state, computer-style modular wiring, the system being divided into 26 harnesses which VW claim improves reliability. The new system is devised so that the fault-monitoring computer can interrogate the layout for faults, which it then stores in the memory. There they can be viewed via the service mechanic's computer when the car is garaged for maintenance.
With easier maintenance in mind, VW have adopted bolt-on wings, panel bearing sections and front apron. Joints are rubber and PVC-sealed, box-sections are filled with hot wax, plastic liners are used in wheel arches, and mufflers are of stainless steel. The manufacturer covers the Passat with a 12-month, unlimited distance mechanical warranty, a three-year paintwork defect warranty, a six-year corrosion perforation warranty, and there is to be a pan-European service that will run for six years on each car.
1990 Volkswagen Passat GL
By Barry Winfield
August 1990
Like it or not, the Volkswagen Passat is a car for the times. It is light, economical, and compact, with a voluminous interior. It performs and handles well, and - best of all - has a remarkably low price in its unexpectedly well-equipped base form. At a cost of only $US14,770 (we estimated $18,000 in George Kacher's European introduction story in July 1988), you get a car with power steering, air conditioning, and a five-speed manual transmission. Options like ABS, a new electronically controlled four-speed automatic transmission, forged alloy wheels, cruise control, a sunroof, a stereo/cassette with six amplified speakers, and power windows, locks, and mirrors obviously push the price upward. There is also a handsome wagon version, available only with an automatic transmission.
The Passat is a car in which the design effort has been directed toward aerodynamics, performance, handling, packaging and refinement as if it were a Weight Watchers exercise. The Wolfsburg company has used its know-how to pare the weight down, to fold a limited amount of metal skin around a large pas¬senger compartment, to use intelligent but simple suspension design for good handling, and to install an engine of modest size and appetite but quite reasonable performance.
The result is a car that is sophisticated, not bloated, despite a roomy passen¬ger compartment with rear seating that is adjustable for reach and rake in much the same way front seats normally are. Rear headroom may be compromised for six-foot-plus passengers, but the car's interior-to-exterior volume ratio is sensational. It's so high that the shell design posed serious crash-resistance considerations. However, the car meets all the required collision parameters and is, besides, one of the most actively safe cars to drive.
Powered by a two-litre, 100 kW version of Volkswagen's sixteen-valve four-cylinder engine (VW's narrow V6 is still not ready), the Passat claims a 0-100 km/h sprint time of 8.8 seconds and a top speed of 205 km/h. Respectable figures in their own right, these achievements are only a small part of the car's dynamic repertoire. There is excellent feel at the wheel, with crisp, linear steering response, an almost total absence of torque steer, and plenty of grip. Volkswagen's toe-correcting bushes in the trailing beam axle impart a secure neutral feel to the rear end, and the low-slung rack and pinion mechanism (the tie rods are at the hub centre level) lends a great sense of directional integrity to the car. The Passat is a member of a relatively small clique of vehicles that seem to almost to pick their own lines through bends. In particular, we like the car's linear roll characteristics, which result in well-controlled body motions in cor¬ners, and the thoughtful damping and pitch-control strategies, which help the car regain its poise gracefully after encountering sharp crests or gulleys.
Although, as Volkswagen's people freely admit, (the Passat is not the quietest car on the crust, it combines firm spring and roll disciplines with a comfortable, smooth ride. Anyway, the car's admirable aerodynamic qualities (a Cd of 0.31 in twin-mirrored, fat-tyred, tail-spoilered U.S. spec) keep wind noise to a whisper. Mechanical noise has been effectively subdued by isolation of the front suspension on a sub-frame and by VW's decoupled longitudinal engine mount, which stops engine vibrations from being transmitted by the cowl (acting as a giant speaker cone).
Cable linkage is used for the manual transmission's shift lever, and it is smoother and more positive than most cable systems found in rival models. Despite having the same push down-for-reverse spring loading, the Passat's shifter does not impart the annoying sense of rubberiness that Audi's shifter does, and it is weighted to blend with the other controls, which encourages coordinated driving. The automatic four-speeder has dual shift-point programs (economy and sport) with engine com¬puter integration that aids smoothness by retarding ignition timing during shifts. The one we tried was adequate, although unlikely to give the Japanese sleepless nights.
With more interior volume than the Infiniti Q45, the Passat weighs in at a fraction less than 1400 kg and behaves like a much smaller car. Despite the engine's characteristic sixteen-valve snarl, it is clear that it has been tuned for the broadest possible power band and not for the customary multi-valve eagerness at high revs. Being a mere two-litre, the engine's midrange response is not as effortless as that of cars with more cylinders or displacement, but there's enough poke to provide usable flexibility and deceptively understated highway speeds. Part of its calm progress is because of low wind-noise levels, partly because of the stability of that extraordinarily forgiving chassis.
On dirt roads - where most cars will enact their entire handling routine at comparatively low speeds - the Passat is predictable, poised, and servile. Go into a bend a little hot, and the front pushes gently. Go in hotter and then back out of the throttle, and the car settles into a four-wheel drift. Push your luck harder still, and the car will rotate obediently, ready to restabilise at the urging of ei¬ther the steering or the accelerator. Our experience on asphalt was limited to the initial understeer, but we're sure that more time and speed will coax the rest of the act from the car. During this sort of silliness the seats prove to be less supportive than those in a dead serious road-racing car, but they'll do well enough in the family transport role that Volkswagen humbly forecasts for the car. So will the rational control and in¬strument layout, the height adjustable steering column, the effective air condi¬tioning, the split rear seatbacks (in 60/40 proportion), and the car's overall character.
To coincide with the stateside debut of this capacious carryall, VW is changing its marketing emphasis from German engineering to plain old VW good value. But there is a distinct European flavour to the cars, and it is refreshingly subtle. The company's big challenge, now, is to communicate the promise of long-term enjoyment in a car that is spirited and versatile yet carefully dedicated to the real needs of the motoring family. We wish Volkswagen luck.
The Car Australia Couldn't Afford
By Philip Lord
June 1991
DOOMED TO FAILURE! That is how the Australian VW importer must have seen the future in the early 1980s. With crippling prices and dwindling sales, LNC Industries pulled VW out of the passenger car market in 1981. Although in typical VW tradition the Passat and Golf were well-engineered cars with excellent dynamics, they lacked the multiple parcel shelves, coin trays and other such alluring features that the Japanese were offering in cars half the price. Thorough engineering and dynamic safety didn't rate highly in the value for money stakes, it seems. Simply put, VW had become uncompetitive in this market. Fortunately for VW aficionados, today VW is back - albeit at a price.
In the eight-year absence and $30,000 cost difference of Passats old and new, there has been a transitional model that was not sold on the Australian market, due to reasons mentioned earlier. To compare the first Passat, the series 1, with the current model (series 3) it would appear as if the only similarity is the VW badge. Such disparity is alleviated when one remembers that the series 2 filled the gap.
The series 2 Passat was built by VW in Wolfsburg from September 1980 to April 1988. A totally new design, the series 2 was also longer and wider than its predecessor. The running gear was much the same as the series 1, an Audi-based north-south engine/gearbox fitment, driven through the front wheels. New features included electronic ignition, 5-speed gearbox option and a variety of minor engine improvements. A wide range of engine sizes was available on the series 2. A choice of 1.3, 1.6 or a 1.8 litre petrol engines (and 1.6 litre diesel and turbo diesel) was offered in the four-cylinder range. A first for VW was the option of 5-cylinder engines on the series 2. Sourced from Audi, these were available in 1.9, 2.0 and 2.2 litre capacities.
The series 2 employed VW's first constant four-wheel drive, the Passat Syncro Variant being thus equipped from its introduction in 1985. While persisting with north-south engine configuration, the series 2 did break new ground with its suspension design. While the front suspension was nothing spectacular (a revised Macpherson strut arrangement), the rear suspension incorporated an innovative trailing arm bush design. This new bush prevented excessive lateral movement in the torsion beam axle. The success of this feature has been affirmed by its use in the new series 3 Passat.
Fuel economy being more important to the buyer was reflected by the introduction of the 'Formel E' option on the Passat 2. The 'Formel E' package consisted of an electronic cut-out and re-start of the engine actuated by the clutch. Also included in this package were an economy meter, 5-speed gearbox and aerodynamic spoilers front and rear.
Sales of the series 2 commenced in Europe in September 1980. The series 2 was sold as either a two or four-door hatch or a five-door wagon. The UK market saw their right-hand drive Passats come on sale a year later. A notchback derivative called the Santana was introduced in September 1981 to continental markets, and a year later to the UK in right-hand drive. The Santana sold in the UK and the continent was a luxurious car. Standard features including power windows, power steering and opulent trim. The Santana was briefly assembled by Nissan for the South-East Asian market in 1983-1984, and was still being produced in Shanghai, China in mid 1988.
In 1985 VW conceded failure with the luxury image it tried to establish with the Santana, and incorporated it into the face-lifted Passat range released that year. Simply called the Passat sedan, it affirmed the perception that consumers had all along that the Santana was just an upmarket Passat.
The series 2 was sold on the US market as the Quantum, sales commencing in September 1981, and ending early 1988. The Quantum was available as a sedan, wagon and 2-door hatch. The Quantum received very good press when released, but soon was seen as too expensive and rather conservative in design.
Not nearly the worldwide sales success the Beetle and Golf were, the series 2 Passat/Santana was nevertheless a popular car on its domestic market. The Variant (wagon) started to sell very well in the UK, particularly to fleet buyers. It was considered by company reps to be a well-made car, and importantly for fleet use, durable and reliable. With such qualities the series 2 may have been a winner for VW in Australia, had it been possible for the importers to be keen and for prices to be competitive. Such a pity that never happened.
The TS Passat
By Phill Lander
February 1993
Most VW enthusiasts are aware of the Passat, the first of the new-generation, front-engine, front-drive VWs that arrived in Australia back in 1974. A very good car, in spite of what some might say; so good in fact that Wheels magazine voted it Car of the Year back in '74. Passats are cool.
Particularly cool was the sporty version, the Passat TS. Not many seem to be around these days (an increasing problem with all VWs here, of course), but it's always fun to spot one cruising the streets. How was it different from the cooking Passat, and why was it that step above the other models in the range? It was, in fact, the fastest and most powerful Volkswagen to be sold in Australia until the Golf 2 GTI appeared in 1990. Let's read what VW Australia themselves had to say about the Passat TS. This release from Norm Newbon of their PR Dept. dates from June 1974:
TS Passat -Touring Sports from Volkswagen
Following the earlier release of the Passat sedans is the TS Coupe, the top-of-the-line in new generation VW vehicles. The TS is a true touring sports car designed with long distance, high speed, safe driving and the driver in mind. The new TS has been given all the features required of a touring sports car, in one package.
The essence of the TS Coupe package is the excellent cabin layout and appointments. The driver lowers into a rally/aircraft-type seat (as does his passenger), which boasts velour cloth inserts with vinyl bolsters for excellent lateral support. They also have demountable head restraints for full layback seating.
The TS seats give excellent thigh and back support which, when combined with the cloth insert, makes for totally excellent long-distance comfort.
From the driver's seat can be seen all instruments -tachometer, speedometer/odometer, warning gauges. Down to the left the clock, voltmeter and oil pressure gauges are located in a console. All dials can be seen with ease from the driving position. The driver has full visibility at all times not only to the instrument layout, but also to the road due to the excellent amount of window area, with dual halogen headlights for visibility when night driving.
The TS incorporates the features of other Passat models, such as negative roll radius and diagonal dual-braking system, which gives the TS extraordinary road feel and stability.
When these features were designed in the Passat range no other car, with the exception of the Mercedes Benz saloon, had them. They ensure also that the Passat will travel in the direction of the steering; ie. it is unaffected by road conditions or surface.
To this safety package has been added a high-performance, high-economy 1471cc four-cylinder, overhead camshaft engine. The combination of the five bearing crankshaft and the steel wire-reinforced, plastic-toothed camshaft belt make for engine smoothness and quieter running. The electrically operated cooling fan ensures that all available horsepower is sent to the driving wheels.
The water-cooled, thermostatically controlled power unit has a twin-stage downdraft carburettor and gives 63.4 kW at 5800 rpm, with 119 Nm maximum torque at 4000 rpm. This torque is a feature of the Passat, despite its relatively small engine capacity. The valve shape, size and layout, plus the combustion chamber design and absence of push rods makes the unit lively, free-running and responsive.
A genuine 170 km/h maximum speed and 0-100 km/h time of 12.5 seconds is achieved through four-speed manual transmission. Power delivery is via a single dry-plate clutch with logical takeoff of the shift linkage to ensure the central gear lever gives easy and accurate shifting with short movements.
The entire power drive block is rubber mounted and supported in a separate subframe that helps to insulate noise and vibration from the body, and is held up by a front suspension system that guarantees handling, stability and comfortable ride.
Location is by coil springs on telescopic shock absorber struts connecting lower wishbones with roll resistance provided by a stout anti-roll bar.
The negative steering roll radius complements the suspension, which is designed to provide neutral camber and toe-in angles at all stages during cornering, and self-centring steering action is strong when the car exits from comers with the power on.
The rear suspension is a torsion beam axle, two trailing links and a Panhard rod. The coil springs are mounted separately from the shock absorbers. Balanced spring characteristics are achieved under all loads by super-progressive coil springs on the rear axle. The effect is obtained by the varied coil pitch and different wire thickness. There are also progressive rubber buffers front and rear.
The front-rear weight balance is responsible for contributing to the high primary safety engineering of the vehicle. Unladen, the vehicle has a 60/40 front/rear bias, but fully laden the ratio is an even 50/50. Proportionate weights in between produce relatively balanced front/rear distribution.
Wind tunnel testing is a relatively cheap way of proving the styling and aerodynamics of a motor vehicle body - but there is no cheap way to engineer and prove safety and strength. VW engineers researched the latest construction technology, added a few ideas of their own and came up with the strongest, lightest body ever, with supreme safety, a "must" in this class of car.
Safety is continued with a body meeting the combined demands of strength, rigidity, safety engineering, roomy passenger accommodation, all-round visibility, minimum weight, durability, service ease and access, style and aerodynamic efficiency - a seemingly incompatible list of design parameters.
The driver also has the added advantage that he knows the Passat TS is fitted with Uniroyal Rally steel-belted radials with maximum rubber on the ground, due to the 175-70 tyre size. The TS has a ten-metre turning circle.
As if these safety and performance benefits included in the TS Passat were not enough, the driver need only have a maintenance service for his Passat every 10,000 miles, and oil and lubrication, every 5,000.
The only additions to be made to complete the package are the optional factory air conditioning and steel sliding sunroof.
Passat TS Coupe is certainly the top of the line in the Passat range, and has been designed with the driver and his travelling companions very much in mind.
Passat TS Coupe Equipment:
Variable instrument lighting. Head restraints for front seats. Twin reversing lights. Combined ventilation/heating system with infinitely variable fresh and warm air mixing. Two speed blower makes system independent of vehicle and engine speed. Heat taken from engine cooling system. Through-flow ventilation slots in rear panel on two door models. Cool and warm air distributed via full width defroster duct below windscreen, two footwell vents in lower part of instrument panel, side window defroster vents on both sides and a fresh air duct on left and right of instrument panel. Entire system regulated by two levers. Interior trim black velour cloth, front seats adjustable to 11 positions, backrests to 7. Floor covered with carpets. Footwell side panels and rear parcel shelf with carpet, side members and luggage compartment floor also carpeted. Safety instrument panel with black plastic padded surface. Padded safety leather-bound sports steering wheel. Safety steering column with detachable coupling. Safety door inner handles. Two padded sunvisors. Safety interior mirror. Two ashtrays. Three hand luggage compartments: one with lid, one in console, one near driver. Three grab handles on roof members (with clothes hooks in rear). Interior light with contact switches in door pillars. Two-door models have safety seat backrests which are also held in forward position. Two-speed windscreen wipers. Windscreen washer with electric pump. Parking lights can be switched to left or right and go out automatically when the engine starts. Headlamp flasher. Self-cancelling turn signals with lane-changing and emergency light function. Permanent underseal for body and wheel housings.
Instrumentation: Speedometer/odometer/tachometer. Combined instrument with temperature gauge and fuel gauge and numerous warning lamps, plus clock.
Dual halogen headlights. Front reclining seats. Cigar lighter. Electric clock. Trim mouldings on all windows. Side panel trim mouldings with PVC inserts. Wide trim moulding on radiator grille. Trim moulding on lower edge of luggage compartment lid. Sill panel mouldings and trim mouldings on door and side trim panels. Rotary latch luggage compartment lid lock. Wood grained instrument panel. Lockable glove box. Safety armrests on all doors. Illuminated glove box and heating/ventilation controls. Glow illumination for lighting and emergency light switches. Trip recorder. Finger moulding on handbrake lever. 'TS' emblem at rear.
VW Passat – a Dedication
By Phil Lord
February 1994
Australia's original flirtation with the Passat was brief. It was only from 1974 to 1977 that the Passat sold well, after which it became too expensive to be a purchase proposition for virtually anyone but the VW committed buyer. Brand loyalty must account for it, because the choice must have been difficult in 1982 knowing that your $13,000 could buy a luxury Commodore SL/E V8, or a basic 4-cylinder Passat.
Although the second series (1980-1988) Passat never officially made it to the Australian market, the third (1988-1993) certainly did. A few years ago (mid-1991) you could buy a brand new, Australian market (and hence Australian compliance) Passat sedan or station wagon from your local Volkswagen dealer. What many people don't realise is that TKM cancelled the Australian release of the Passat after 14 cars had already been sent over. Indeed it was an 11th hour pull out, as TKM had already showed the car at the 1990 Sydney Motor Show, with brochures and a price list, intending to have the car available in early 1991. Now the series three is out of production, these 14 cars are certainly a limited edition. Of the 14 that came over, 2 are in the club; one belongs to Bill & Shirley Moore, the other to me. Our impressions of this model can be read further on in this issue (below).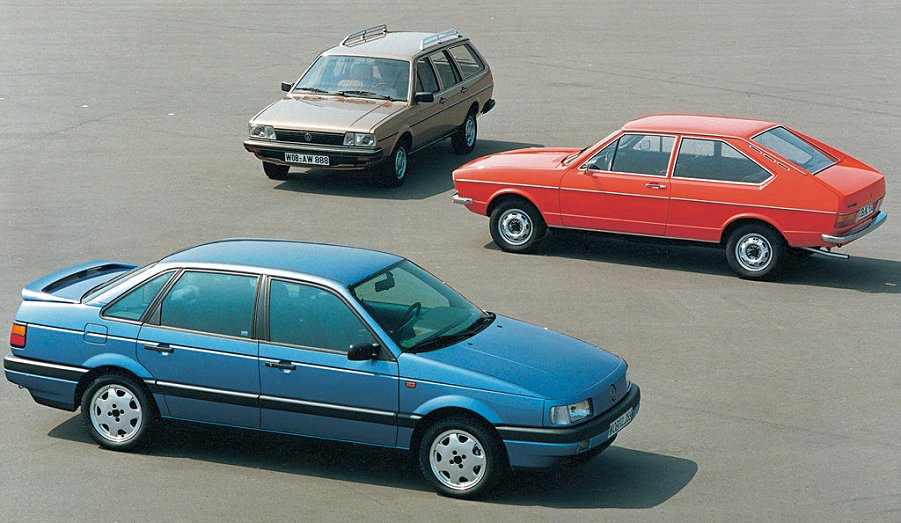 With a little luck, the new series four Passat may well make it to Australia. Even though Volkswagen Germany are keener than ever to sell the Passat at the right price, for it to have any chance of success TKM must raise the buyers' perception of the Volkswagen name, and especially the Passat name, in Australia. During the late 1980s and early 1990s the Passat became the car you would own if you really couldn't afford a car - it was considered the worst heap on the used car market. So selling a new $35,000 car with a name that conjures up an image of a heap of junk might be a problem that TKM may face marketing the car here.
Indeed many of the old series ones now are in such condition, but mainly thanks to neglectful owners grinding out the last dregs of life from the car. It seems that when these cars have changed hands often, they become prey to people who consider thing like oil changes a total waste of money. I spoke to yet another happy Passat owner yesterday, who has owned his '76 LS sedan since new. He remarked just how little maintenance his car needed; a CV boot chews out every few years, he said, but after 250,000 km not much else goes wrong with his car. This is not an uncommon story either.
The new Passat has been promised to us by mid-year, but there is many a slip between the cup and the lip, as they say. In all fairness, we've heard this all before. The Golf VR6 (which is a definite for Australia), if well marketed, may well instigate the change of image that will drag Australians' perception of Volkswagen out of the 1970s and into the 1990s.
The Hat Trick
By Graeme Horsnell
February 1994
I got a 'phone call the other day. "Hey, you still got a Passat?"
"Two."
"How about an article for Zeitschrift?"
"Sure. There's a third Passat in the family I could include as well."
1975 and 1992 were good years - the years in which I most recently bought cars. See, I apply the concept:- don't fix it if it is not broken. The third Passat was also bought in 1975 along with the first one.
If you've been to the Nationals you've seen the first one, a flipper blue manual Variant. It has now covered nearly 240,000 km. Problems? Very little which is not fair wear and tear. One valve grind and de-coke, one clutch, no other engine repairs. One set of brake shoes, one master cylinder, pads, the latter about every 40,000km. The third set of struts (gas now) has been fitted. Warranty problems were few; the rear section of the exhaust lasted only 9 months and wheel alignment due to faulty suspension were the two most noteworthy items. The paint died about four years ago.
Would I buy another one? Yes, I did in 1992. A 1977 GLS 2-door hatchback. A much quieter car - not being a Variant helps. It has the remote gearchange but the old system works better than reputation might have you believe and the old system has never needed any replacement parts, just lubrication. It has a little rust (O/S/R guard) but otherwise no problems bodily or mechanically and it has covered nearly 200,000 km.
The third Passat is a 4-door and has covered 88,000 km but, apart from brake pads, has had about the same number and type of major jobs done on it as the Variant. But it goes like a rocket. Can't explain why it is such a much more willing performer.
None of the three have rust problems that require attention. The secret is good old smelly (deodorised?) fish oil about every five years. What also helps, of course, is a good dose of T.L.C both bodily and mechanically. Thorough washing (plain water), about three polishes a year and a full service each year as rego comes up. C&S Autos are excellent (unsolicited plug) and are good at ferreting out parts.
Cost you ask? The Variant was $6,000 and as Wheels said in 1977, who'd pay the $1,500 over and above a Datsun 180B or a Ford Cortina wagon? Me. And I've kept all the receipts. Some examples: first service and towbar $80, mesh sun-visor $16.50, second service $10, 30,000km service $67.53 including diagnosis (remember them?), a set of plugs cost $5.00 in 1979, a windscreen in 1980 was $103.35 fitted.
Currently each Passat gets a major service annually at a cost of about $150 (including parts) and a couple of oil changes in between. Points and plugs get regular cleaning. Fuel consumption on the city cycle is about 11 Ll/100 km and country cycle 7-9 L 100 km depending on which Passat. The Variant uses about 10% extra when compared with the other two.
One idiosyncrasy worth noting: if a Passat refuses to idle but otherwise runs OK, check the idle jet. Unscrew it and blow it through. I found an insect in there one day.
If you're contemplating buying a Passat, you can get one for the price of a catalytic converter. Amongst the usual things to look for, check the following: CV boots, the cooling system (coolant concentration is vital), the steering boot, the struts, the battery carrier, rear springs (they break, but are cheap) and rust (doors and rear guards especially). An abused Passat may be a tricky buy.
The Passats have proven themselves to be durable, safe, fun cars. Their configuration was quite uncommon then, but very much the norm on most markets now. Pity about the dashboard cracks.
Passat Pleasures
By Bill Moore
February 1994
Prior to my recent move to sunny Queensland, I made a difficult decision - to sell one of my (and particularly my wife's) pleasures and treasures. Yes, Casper, the 1972 Type 3, had to leave home and make way for something which thrived on air-conditioning and not air-cooling. Casper had been a good and faithful beast for four years after Shirley had spotted it at Boris and Teena's Sausage Sizzle.
I had no idea what Shirley wanted to drive, looking at Hondas, Lancers and, believe it or not, a Golf Cabrio when we arrived in Brisbane. Three months of searching, but nothing grabbed my attention.
One weekend I had to be in Sydney for business and I conned Steve Muller into lending me a 1991 Passat station wagon for a few days to get me around. Well, this car was rather fun to drive except for the auto, which would have left Shirley very cold, and the price - well, say no more. I went back to Brisbane with still nothing in mind.
The next weekend Shirley and I trudged along to the local dealer for a further look at a Cabrio, and this time we had the Ladyship's golf clubs and buggy just to see if we could fit them in the boot.
I suggested Shirley had better sell her woods as there was no way they were going to fit. The high-pressure salesman then had Shirley and I heading down the road in a 1991 Passat sedan (auto, of course) but this one was like a dog with three legs - good sitting down, but slow on the uptake. No way was I going to pay over $34K for a grey auto Passat. Anyway, I did not like the styling.
I will not bore you with the next six weekends of trudging the multitude of car yards in Brisbane. It was like a Paris to Dakar.
Back to Sydney again, this time with Shirley, to have a look at a good old Audi which Mullers had just traded. Shirley was impressed; plenty of space for three sets of golf clubs at once.
She then spotted this "white thing over there" and thought it looked pretty good for size and space.
But did it have manual transmission? A quick run around the block, some earnest negotiation with TKM, a panic 'phone call to my bank manager, a signature and you guessed it - we were the owners of a white manual Passat SON 284. This car had only travelled 4,300 km during its life with TKM, as it spent some time off the road with some rear-end damage.
The next thing was to get to Brisbane, so Shirley decided to drive it back then and there. Of course, my airline ticket was non-refundable, so I left on the 4.00 pm 'plane and Shirley managed to get away at 5.00 pm the same night. At least it would give me time to clear out the garage.
Not likely - 4.00 am the next morning the door bell rings and Shirley has made it back to Brisbane in eleven hours, trying to convince me she had a sleep for two hours somewhere near Armidale and claiming she could not keep the speed down to the limit: "it just kept creeping up."
This all happened twelve months ago and now we have 16,000 km on the clock. Apart from a replacement water pump and a plastic weld on the fuel tank (from the prior accident) Casper 2 has been great for Shirley. I was allowed to take it down to Nambucca in August, and can confirm the claimed maximum speed of 206 km/h is achievable.
Let me get back to the original reason for a replacement car - air conditioning. The Passat has a two-stage unit - normal and high. We have been unable to run the car on high, even with the fan trimmed back to level one. Normal is outstanding and with the fan set on level four, it will chill (not ice) a can of Tooheys Old in about four minutes.
I hope to keep the car for many years and now have it garaged with my '54 Beetle and '68 Country Buggy.
For something different I wanted a set of personalised number plates, but here in Queensland you must have three alpha and two numeric to make up the lettering, so "VW" was out. Still, I did make up something different and let me tell you, I must have had twenty different people ask me what 'VUU-92' meant.
By the way, Shirley now keeps her Golf Clubs at the Professionals shop at the course permanently, so I could have had a Cabrio after all - but I bet the air conditioning is not as good.
In For The Long Haul
By Philip Lord
February 1994
Twelve months down the track my 1991 Passat GL 16V has been a source of both enjoyment and disillusionment. Early impressions led me to believe that I would be in for a trouble-free run - at first the car did everything I would expect of a $40,000 German prestige car. Later, it did a few things that I wouldn't have expected.
I bought the ex-TKM fleet Passat manual sedan from Muller & Muller after it had already been on the road for six months, and travelled 11,300 km. Only a few minor parking scrapes marred the Alpine white exterior, and the interior was unmarked and rattle-free. I've since added another 20,000 km, nearly half of which has been long-distance travel. The Passat has become a firm favourite for long-distance hauls; it soaks up the kilometres with consummate ease, leaving driver and passengers fresh and relaxed at journey's end.
Long-distance touring has indeed proved very comfortable behind the wheel, and with the Passat's generous interior space, passengers also have a comfortable ride. A recent trip from Canberra to Nambucca saw the Passat tackle the wide variety of road and traffic conditions with aplomb. Heavy rain on the return trip to Canberra made road conditions abominable, yet the Passat never put a foot wrong.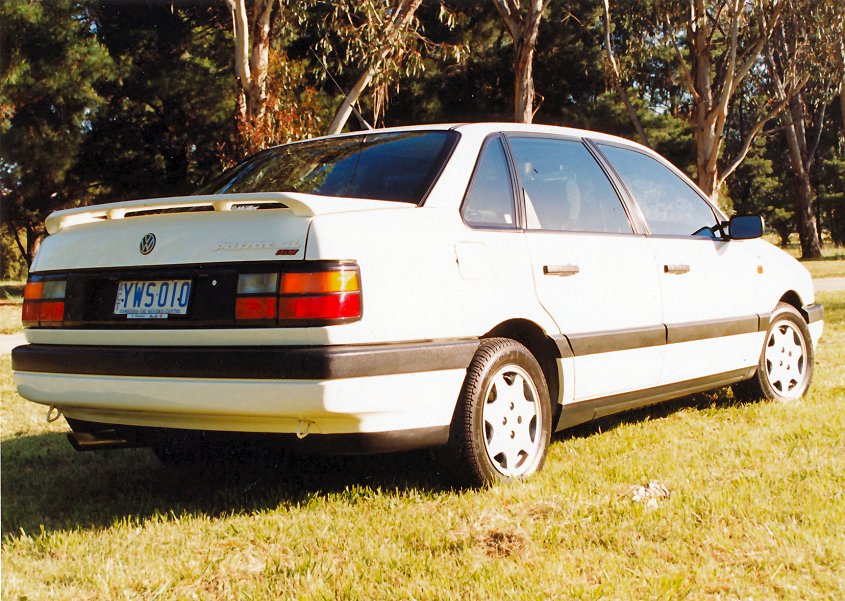 Performance could be better with the Passat; it was a gutless wonder at low revs, and needed to be wound out to give its best. This is a heavy, high-geared car that is not well suited to the high-revving 16-valve engine. From say, 40 km/h to 70 km/h in second gear, a plain-Jane series one Passat LS 1.5 would eat the 16V. I've recently done some minor modifications that have improved low-speed response; now something happens when you put your foot down, making it easier to drive in town and keep up with the traffic.
Typical fuel consumption on a trip is 7-8 litres/100 km, while around town it increases to 10 litres/100 km. Oil consumption has been 0.5 litres every 2,000 km on average, while the owner's manual says that up to 1 litre/1,000 km is normal. With 15,000 km service intervals, Volkswagen obviously expects owners to check the oil level regularly; I wonder just how many will be that prudent. I have changed the oil and oil filter every 5,000 km; 15,000 km between changes equals short engine life in my opinion. The 15,000 km minor service cost about $70 whilst the 30,000 km major service was $98.50. The 30,000 km service should have cost much more, but some service parts did not need replacing as they already had just been replaced in conjunction with warranty items.
The Passat still feels very robust after 32,000 km on the odometer. All body hardware and controls are just as they were when I picked up the car. I admit I am a perfectionist, and so do not subject it to rough treatment: no dirt road driving and it has regular waxing and it is always garaged. Nonetheless, I do use it often; it can almost find its own way to Sydney and back, with the number of times its done the Federal/Hume run.
Wheels magazine tested the Passat in 1990, and commented on how little notice the average Aussie punter took of the car. Well, I really wish that was my experience - I've lost count of the number of times people ask me what it is, the number of times the car is gawked at and cars linger in traffic while their drivers check out the Passat.
My year with the Passat has not been all beer and skittles though. At its 15,000 km service, the coolant pump was found to be leaking through the shaft seal. While replacing this, a loose crankshaft sprocket was discovered; its keyway had snapped off and the sprocket was working its way around the crankshaft. The crankshaft drives the valves via this sprocket and a toothed belt, so while the valve timing was progressively more and more out, if would have been only a matter of time before pistons started unceremoniously hitting valves. Shortly after this service the Passat conked out after (as was later discovered) taking a gulp of unmetered air through a loose pipe. At 24,500 km, due to electric fuel pump failure, the Passat did the dying swan act again. A microswitch that tells the idle stabilisation valve to come on has been malfunctioning for most of the time I've had the car. The symptoms have been an idle either too low or too high. A new ECU (Electric Control Unit) and a new idle stabilisation valve were fitted before the actual fault was discovered using the VAG analysis tool. The Continental tyres have 'gone off', probably because the car was standing for a while before being used. At first I thought it was wheel bearing failure, such was the rumbling noise coming from the front of the car.
The harsh Australian Sun has had its way with several bits of plastic trim; the door protector strips are buckled and five of the interior pillar trims have fractured. The dash was slightly buckled when I got the car, but doesn't seem any worse for wear a year later. The VW emblem on the front was replaced as the plastic 'chrome' was wearing off. The rear VW emblem fell off, because the clips holding it on were brittle and cracked.
I've been very fortunate having a 2 year/60,000 km warranty with the Passat. This has meant that almost all the above-mentioned problems have been fixed under warranty.
Some enquiries I've made have shown up my car as the 'problem child' of the batch; no other Aussie Passat has had as many problems as mine. Perhaps my car was standing for too long out at Wetherill Park before TKM used it. That might explain why it has suffered the kind of faults it has. I'm confident that my car is over its teething problems now, and should provide comfortable motoring for many trouble-free kilometres ahead.
From Humble Beginnings
By Philip Lord
February 1994
By 1973 Volkswagen sorely needed some way of improving its declining sales. It had already tried to inject a little interest in its range for car buyers with offerings such as the 411/412 and the K70, yet failed to inspire most to part with their cash for such cars. The Beetle was not going to remain Volkswagen's staple anymore; its heyday had passed and it was already fast slipping into obscurity as far as sales were concerned. Further, the Beetle was becoming a safety/emissions legislation nightmare, with the various legislation requirements that its markets (especially the US) were starting to demand. Volkswagen needed to come up with something that would sell, be safe and smell sweet.
With Volkswagen's just-acquired marque - Audi - came much experience in contemporary front-drive water-cooled cars. Volkswagen decided to borrow the just-released Audi 80 design for use for its own range. Hence the Passat was born. Minimal Volkswagen engineering/design went into the B1; only in the fastback and variant rear styling and rear suspension did Volkswagen really contribute to the Passat development. From the front doors forward it was pure badge engineering - with perhaps the minor exception of the different headlight shape on some Passat models.
With the official European release in May 1973, the Passat was available in a two-door coupe, four-door sedan and five-door wagon body styles. Until 1978, there were five basic models to choose from:
Passat L, (1.3 litre engine, 40 or 44 kW),
Passat LS (1.5 litre, 55 kW or 1.6 litre, 63 kW from 9/75)
Passat TS (1.5 litre, 48, 55 or 63 kW or 1.6 litre 63 kW from 9/75)
Passat GLS (1.6 litre, 5 1, 53. 55 & 63 kW from 9/75)
Passat LE and GLE (1.6 litre, 61 kW, from 9/75, Japan and Sweden only)
The LE and CLE were fuel-injected and were fitted with a catalytic converter; they were primarily for Japan and Sweden, but no doubt a similar engine was used in the Dasher (the Passot B1 American market name) in the US.
Another notable model was the TS. This was the sports model, which in European markets was available in either a 2 or 4-door configuration.
Volkswagen tapped into the hatchback market with a 3 & 5 door hatch available on most trim levels from September 1975. The Passat's fastback style had many think it was a hatchback from the start.
In 1978 Volkswagen gave the Passat a facelift, thus making its Audi heritage less obvious. Audi had in fact released its second series 80 in 1978, so was slowly becoming less akin to the Passat (although engines were still shared.) With the face-lifted Passat came some new models: the luxury GL model and new diesels, the Passat D, LD and OLD, all fitted with the 37 kW 1.5 litre diesel engine.
The TS sports model was replaced as part of the '78 update in early 1979 by the GLI, which featured an 81 kW K-Jetronic 1.6 litre engine. The GLI featured 'level 2' luxury trim plus Recaro-style front bucket seats, 5x13 alloy wheels and a rear spoiler.
The only notable 'special sales campaign' models in the series one Passat were the Passat LX (from 9/76 and again from 9/79, for England and Europe only) and the Passat MX (from 9/79, for the Netherlands only).
Series one Passat production ceased in Emden, Germany in August 1980. The series one has soldiered on though, still being produced in Brazil (in heavily updated form) in 1990.
A New Driving Dimension
By Philip Lord
February 1994
The series three Passat was released in April 1988. It was a much bigger car than its predecessor; at nearly 4.7 m long and weighing 1200 kg it had become the biggest and heaviest car in its class, larger than the Citroen BX, the Ford Sierra, Peugeot's 505 and even its Audi stablemate, the 80.
The series three was available as a sedan or wagon, and although a five-door hatch was spied under development, it never came to fruition. This was because Volkswagen found that, as far as full-size family cars were concerned, only 9% of domestic sales were fastbacks. About 75% of registrations for this class were notchbacks.
The new Passat's drawcard was its improved interior space, compared to its predecessor and competitors. As Herbert Schafer, Volkswagen's Head of Design remarked, "This Passat is not only new but looks it as well. The exceptionally low nose section without conventional radiator grill makes it quite unmistakable on the roads. But the most special feature of the Passat is its vast interior space."
While overall length was increased from 4530 mm of the old model to 4573 mm, interior length (from the rear seatback to the front wheel well) took a jump from 1904 mm to 2001 mm. This interior measurement is better in the Passat than larger cars; the Mercedes 200 and Volvo 740 can manage only 1900 mm, yet both are much larger cars externally.
Technological improvements for the series three included a shift to east-west engine/gearbox placement, and a new cable-operated gearshift linkage. The cable gear change had problems early on (with difficult gear selection), but Volkswagen developed a modification for it as a running change during the 1991 model year.
The series three received recognition for its advances in car design in 1989 by winning European Car of the Year.
A wide range of engines was available for the series three, with the fitment of catalytic converters and running unleaded fuel becoming standard across the range within a few years. Initially 1.6 litre 53 kW, 1.8 litre 66 kW and 1.8 litre 79 kW motors were available as unleaded vehicles running catalytic converters, while later in 1988 a 2 litre 16 valve 100 kW became available also. In late 1990 a 2.8 litre 128 kW six cylinder, the VR6, was introduced, as well as an 8 valve 2 litre with 85 kW. At about this time also the 1.8 litre supercharged 118 kW G60 motor became available, but only in GT trim with syncro four-wheel drive.
The series three was initially offered in three levels of trim; CL, GL and GT. The CL, as the base model was well equipped. Too well equipped it seems for some markets, as a lower specification (and lower price) L became available later. The GL was the luxury model, with features such as central locking, adjustable-height driver's seat and rear seat head restraints. The GT, the Passat sports model, had 6x14 alloy wheels, wheel arch extensions and side skirts, front fog lights, sports front seats and tachometer as standard equipment, and also a multifunction display (MFA) on the 79 kW engine and above. For the 1990 model year a constant four-wheel drive Passat was introduced, the GT G60 syncro.
Some special sales campaign Passats were marketed, such as the Exclusiv, basically a GL with the VR6 motor and BBS alloy wheels. Another one was the Passat Edition One, fitted with BBS RM 6.5X15 alloy wheels and half-darkened taillights.
In the US market the series three sold as CL and GL models with the 2.0 litre 16 valve, from 1990 to 1993. In 1993, the US Passats were expanded to three models, the GL, GLS and the GLX. The GL and GLS were fitted with the same 2.0 litre 16-valve motor. The GLS had more standard equipment than the GL, such as ABS, Zandvoort 6x14 alloy wheels and power sunroof, but the GLS wasn't offered as a Variant. The top of the range GLX was fitted with the 2.8 litre VR6 motor, ABS, Electronic Traction Control, BBS 6.5x15 alloy wheels, leather seats, steering wheel and shift knob and power sunroof.
For the Australian market, the Passat was fitted with the 2.0 litre 16 valve engine, and was specified in GL trim. Included as factory fitted equipment for the Australian market series three Passats included: air conditioning, power steering, electric window; and mirrors. Fitted locally were Pioneer KEH-1600 radio/cassette units matched to factory-fitted speakers. Retail price at release in November 1990 was from $40,490 for the manual sedan. The Passat was officially withdrawn from volume sales in June 1991, although 14 imports had already arrived. The 14 cars were sold through Volkswagen dealers in Brisbane, Sydney and Melbourne, with several advertisements placed in the classified sections of the Brisbane Courier Mail, the Sydney Morning Herald and the Melbourne Age.
The last series three Passats were built in August 1993, having established in its five-year production a more prestigious reputation for the Passat. It achieved somewhat of a record in its domestic market, where the Passat Variant took an incredible 90% of fleet sales.
Refinement of a Theme
By Philip Lord
February 1994
The introduction of the fourth generation Passat took place at the Frankfurt Motor Show in September 1993. The new Passat is not new; in reality it is a makeover of the previous model. The monocoque chassis and roof are carried over from the series three, as are many other components, such as the engines, dashboard and seats. It has answered a major criticism of the last model - no obvious grill. Now the Passat has a grill you can see and touch.
Volkswagen has established a precedent with updating its Passats mid-life; both the series one and two had up-dates at about the four year mark of their approximately 8 year model lives. And so too with the series three, yet this time Volkswagen have taken an each-way bet; it is a heavily up-dated series three, but VW want to call it a 'new' model - the fourth series. There's no getting away from the fact that this car is really just a refinement of a theme, not something completely new justifying a series four tag, even though VW say 65% of it is new. Perhaps VW's financial woes have something to do with it wanting to establish a new model, without having to spend the research and development dollars to achieve this.
Whichever way you look at it, the 1994 Passat is an improvement over the previous model. Body rigidity is up 31% in the sedan and 17% in the Variant. Two new engines are offered in the series four; a 1.9 litre 66 kW direct-injection diesel and a 110 kW 2 litre 16 valve (which replaces the 100 kW unit of the series three). The manual transmission remains the same as the 5-speed of the series three, while a new 'smart' 4-speed auto box replaces the 4-speed auto of old. Steering is 20% lighter, according to Volkswagen. Longer damper units and progressive rate coil springs have, together with the extra body rigidity, made for a quieter and smoother ride.
All in all the series four is a more refined vehicle that suffers for its old engines, but with Volkswagen's new pricing policy will no doubt be competitive on specs and sell well.
Passat Perfection
By Ernst Englehart
May 1994
In August 1974 we purchased our Passat station wagon. We traded in our '62 model Beetle, which after 12 years of constant use could no longer accommodate our growing family of two young boys.
Our past experience with Volkswagen was that of a reliable vehicle, which made our decision easy. We bought it from Swanton's in Hurstville. We liked the spaciousness for the driver, and the fact that three adults can sit with comfort on the back seat, unlike some modern contemporaries.
Our car likes the Australian sunshine. The mellow yellow paintwork is still original. Many people have commented to us on the good looks of the vehicle. Two decades later, that is truly astounding.
We are contributing the good performance of the Passat to the fact that we've had it serviced regularly since we bought it. Furthermore, it has always been serviced by the same person. At Swanton's it was a young and dapper Gorden Harrison, who worked in their service department and continued to service the car at Durhams Service Centre, Peakhurst. He is still writing the pink Inspection Certificate and tells us with a grin that the car has good rust, not bad rust.
Like all Passats of that vintage, it experienced gear linkage problems. It was Gordon who was determined to fix it. He fitted whatever new modifications became available from LNC.
After that time it was quite a relief to drive down the mountainous road from Hill End to Sofala and find that the gearlever stayed in second, where you thought you had put it. Before that the engine screamed at you to tell you to double clutch quickly and get back into gear.
The ride in the Pasat has always been rough, never smooth. However, the good autobahn driving characteristics are still being experienced on our new freeways. The car is going quite well. A few squeaks here and there, but nothing major.
For the past 19 years my wife has been given reliable transport to and from the hospital where she worked. The odometer reading is 127,000 km. Tyres are Goodyear Grand Rally radials.
The engine compartment is in original condition, with the exception of a new alternator, clutch, batteries and a new French radiator. Some years ago a valve grind job was done. One of our best investments we made, apart from the car, was a stainless steel muffler. We had it fitted at that time when stainless steel was the rage, and everybody made them to measure.
We have lost patience with the factory dashboard.The cardboard version will simply not stand up to the Australian sun. We have replaced it once at great cost, but it has cracked again under the heat. We were thinking of replacing it once again, but we don't want to buy a car, only a dashboard, we keep telling the attendant at the parts counter, when he tells us the price.
The Volkswagen tradition is carried on in our household. Our two sons drive Beetles. They are 1971 and 1974 models. Both are enjoying their form of transport. Plus a 1966 Split Window Kombi is in the process of restoration. Here is another family that has learned to rely on Beetles, like a generation of Australians before them.
The day we purchased the car we fell in love with it and 20 years later the love affair with the Passat has not waned.
1995 Passat
By Paul Tagg
November 1994
Volkswagen's latest addition to its Australian passenger car range is the new Passat, now into its fourth generation.
TKM attempted to introduce the previous Passat model 3 in 1991, but halted the project due to high costs after only a handful of cars were imported. But now, with the Passat 4, TKM is getting serious and the Passat will be a regular model in the Australian lineup.
The new Passat is aimed at the family car market and has a very roomy interior for its class. Interior space is said to better than any direct competitors and even some cars in the class above. Volkswagen's 'cab forward' design philosophy, maximising space given to the people using the vehicle and least space for the drive train, helps the interior space.
Standard eguipment on the GL is comprehensive, including twin front air bags, electric windows, power steering, central locking, electric mirrors, air conditioning, adjustable lumber support on the driver's seat, split folding rear seat, folding rear armrest, velour cloth upholstery, a digital stereo radio cassette with electrically amplified roof aerial and height adjustable steering column.
The Passat GL is powered by a 2.0 litre 85 kW engine, as used in the Golf and Vento. The engine is designed to produce the torque that is essential for good acceleration and relaxed driving. The gearbox options available are five-speed manual gearbox or four-speed electronic adaptive DSP automatic gearbox.
Top speed for the four cylinder is 195 km/h in manual and 192 km/h in automatic form. Rest to 100 km/h takes 11.8 seconds, or 12.9 seconds for the automatic gearbox with a half load on board.
Fully independent suspension with passive four wheel steering - a feature first debuted by Volkswagen in the Passat 15 years ago - ensures the Passat goes around corners as well as it does in a straight line. The wide track and long wheelbase that help so much with the interior room also aid stability under all conditions. Four-wheel disc brakes are standard.
The Volkswagen Passat matches the passive safety of twin air bags - as fitted to all Volkswagen passenger cars - with the active safety of ABS anti-lock brakes, which are standard on all Volkswagen Passats. Like all Volkswagens, the Passat is built to surpass all safety legislation with a margin of 40 per cent, and it has been subjected to a whole range of crash tests that are not required by legislation.
The Volkswagen Passat GL sedan will go on sale soon after the Sydney International Motor Show, when prices will be announced. It will be joined in 1995 by the Passat VR6 sedan and wagon version with the 2.8 litre engine.
New Passat set for Australia
By Nick Senior
July 1997
The new fifth-generation Volkswagen Passat, which will debut at the Sydney Motor Show in October with sales starting in early 1998, is an all-new design with nothing more than the name carried over from the previous model.
The new Volkswagen Passat takes Volkswagen confidently further into the luxury car sector than ever before. It is an all-new model that shares and expands on many features from the award-winning Audi A4 range from the Volkswagen luxury subsidiary, combines them with a new, larger body to produce a new standard setter.
Prices and final Australian specification will not be announced until the new Volkswagen goes on sale, but the Australian Volkswagen importer is prepared to say that it plans to have the entry level version under $40,000, and the range will be topped by the 142 kW V6 Passat.
With a drag coefficient of 0.27, the new Volkswagen Passat is at the head of the class for airflow efficiency. The new Volkswagen Passat's elegant, high-class appearance is further emphasised by the narrow panel gaps. They are evidence of an unusually rigid, strong body shell that is 10 per cent stronger than the car it replaces. And, to ensure that it stays that way, it is the first car in its class to have a fully galvanised body shell and an 11-year body warranty - a world first.
When it comes to occupant protection, the new Volkswagen Passat offers more than most. In addition to the twin front airbags, the new Volkswagen Passat is ideally equipped to ward off the effects of potentially dangerous side¬swipe impacts with a number of special reinforcements and structural members. All four doors contain multiple anti-intrusion tubes, with each door also filled with a special impact absorbing foam material.
Developed within the Volkswagen Group, the new four link suspension used at the front of the new Volkswagen Passat almost entirely eliminates unwanted driveline effects, such as torque steer and provides a suspension response that is both entertaining and safe, as well as setting new levels of ride comfort.
All versions of the Volkswagen Passat have front and rear disc brakes, with those at the front being ventilated and the latest fifth generation ABS brake system is standard. The steering wheel is both height and reach adjustable.
A unique range of modern engines: five-valve technology in all engines. The Australian range of new Volkswagen Passat sedans is planned to be available with a unique range of engines, ranging from a 92 kW 1.8 litre engine to a 142 kW V6 engine, via 1.8 litre Turbo with 110 kW, all with five valve technology for better performance, lower fuel consumption and lower emissions. The new Volkswagen Passat is the first car from the German carmaker to be offered with five valves per cylinder, and this new 1.8 litre unit is available in two versions. Normally aspirated, it offers 92 kW, with the five valves giving it the performance of a larger 2.0 litre engine - for example, a top speed of 206 km/h - but at the same time the economy of the smaller engine.
Fitted with a turbocharger, the five-valve engine produces 110 kW and a combination of a high efficiency engine that is light and compact produces a performance profile that is outstanding. Top speed is 223 km/h, it will cover the 0-100 km/h dash in 8.7 seconds, yet, its average fuel consumption is an impressive 7.9 litres per 100km.
Topping the range is another first: A five-valve V6 engine that also boasts variable camshaft control and a variable intake manifold. From 2.8 litres it produces 142 kW and 280 Nm of torque, figures that put to shame engines that are more than a litre larger and which use considerably more fuel. This combination gives the top Volkswagen Passat outstanding performance: It can top 238 km/h and sprints to 100 km/h in a sports car-like 6.6 seconds.
The Passat 1.8 will be offered with a five speed manual gearbox or the option of a electronic 'fuzzy logic' Dynamic Shift Program (DSP) automatic gearbox that writes its own operation programs to match the driving style, allowing it to produce an effectively infinite number of different gearchange pattens.
For the top two versions of the Volkswagen Passat, there is another unique feature: A five-speed Tiptronic automatic gearbox as standard. It takes the normal DSP four-speed gearbox, and not only adds an extra ratio for better performance and economy; it also adds a Tiptronic gear change. This feature, previously only available on the most expensive luxury and sports cars, offers the driver the choice of fully automatic gear change, or at the flick of a lever, a fully manual gear change, but without having to use a clutch pedal. The best of all worlds.
W8 Passat
By Jamie Vondruska
April 2001
Geneva, Switzerland - With the unveiling of the 202 kW Passat W8 at the 71st Geneva Motor Show, Volkswagen has launched itself into a new segment: the premium range of the upper-mid-class. A luxury eight-cylinder car has been created, based on the 2001.5 face lifted model launched at the end of last year in Europe, and now leads the way with a superbly engineered, groundbreaking engine concept.
This wholly new, highly compact four-litre, eight-cylinder design currently represents the most powerful engine in the Volkswagen range. It provides superior comfort and refinement; already developing its maximum torque of 370 Nm of torque at 2,750 rpm and is capable of propelling the Passat to a maximum speed of 250 km/h. The Passat W8 will be available as a saloon or estate from the second half of 2001 in Europe and all models will be equipped with 4MOTION four-wheel drive. Volkswagen of America isn't expected to introduce this model till the North American International Auto Show in January of 2002. It probably won't appear in Australia until the end of 2002.
The Passat W8 symbolizes the subtle luxury of a high-quality saloon. It presents a new opportunity for all those Volkswagen customers seeking a level of power and comfort previously not offered by the brand's product range.
These are motorists demanding power and comfort, preferably from an eight-cylinder engine, in a car at the transition between the top segment of the upper-mid class and the luxury class. The accomplished safety of high power with four-wheel drive as standard equipment makes it the ideal combination. This drivetrain concept is an exception among the eight-cylinder cars available until now.
The balanced nature of the technological concept 'W8 / 4MOTION' has a special appeal and with the attractive price positioning of the Passat W8 Volkswagen predicts it will have an above-average potential to conquer new customers.
Dr. Karl-Heinz Neumann, head of engine development at Volkswagen, explained the new drive system philosophy behind the W8: "Well before development of the Passat W8 models was underway, Volkswagen had made a clear decision that it would not only tackle this segment with exceptionally powerful and comfortable low-emission engines, a further declared aim was to bring out a new class of vehicle with a maximum level of active safety. It was therefore decided that our saloon and estate customers in the W8 class would all have the benefit of permanent four-wheel drive. This uncompromising decision, with which the Passat W8 marks the start of a high-tech product offensive, will have a lasting impact on technology standards within the luxury class."
The Passat's new eight-cylinder engine is based on the V/W engine series; more specifically two VR4 engines. V stands for a V-shaped cylinder arrangement and W for a twin-V layout. This series includes engines up to a cubic capacity of 8.0 litres. Thanks to their technical layout, they offer excellent power delivery and refinement. In addition, they allow very compact construction. The Passat's 202 kW W8 is only 42 centimetres long and its height and width are both roughly 70 centimetres. The cylinder banks of the highly versatile double-V engine have an offset angle of 72 degrees. In addition to its four-valve layout, major technical features include two balance shafts for smoother running, the use of roller-rocker fingers in the valve train, plus variable intake and exhaust valve timing for a more dynamic torque curve. The crankshaft has a high-performance construction with a crank pin offset of 180 degrees, underlining the sporting character of the W8 - this flat crankshaft design is generally used only in sports engines. With its especially tuned exhaust system featuring two twin tailpipes the Passat W8 has a sporting sonorous exhaust note.
The drivetrain comprises a six-speed gearbox combined with 4MOTION. The four-wheel drive system features an automatic locking Torsen central differential and four electronic differential locks (EDL) and is combined with the electronic stability program ESP and traction control TCS. It also comes with the option of a five-speed Tiptronic gearbox with manual shift mode.
A key feature of the Passat W8 saloon and estate is an extensive range of standard equipment. The new top-of-the-line model can be recognized from the outside by two sets of twin chromed tailpipes, bi-xenon headlights as standard, additional chrome exterior trim, 17-inch alloy wheels with 225/45 R 17 tires and an extended program of paint finishes.
The standard interior of the Passat W8 also differs from the configuration of the four, five and six-cylinder models by additional features such as front and rear curtain airbags, special luxurious trim on the roof pillars and headliner, chrome trim and wood paneling, its own very exclusive leather-material seat upholstery, an onboard computer, and electronic climate control (Climatronic). As far as security is concerned, the Passat W8 also features an antitheft alarm system with interior monitoring.
The comprehensive program of optional equipment for the Passat W8 means it can be tailored to perfectly match individual needs. This included features such as comfort leather seats, new leather or leather-Alcantara sport seats, a dynamic navigation system with audio and TV unit, a digital sound package, and especially heavily tinted rear windows.
Of water-cooling and goat paddocks
By Graeme Horsnell
November 2003
How do the two elements of the title of this article go to together? Read on....
My VW ownership experience started in the late 1960s with a white Fastback. A great car that saw us through until the mid '70s. The nearly 100,000 miles we put on it convinced us of the good value that VW cars represent. They are not perfect, of course.
1975 saw the need for a four-door vehicle – we had a baby on the way. Trolling around brought us to McCallums Volkswagen at Strathfield. Remember them? We tried a flipper blue demo Passat Variant, liked it and bought it - one week old and a few hundred km on the clock. It had aircon, a nice radio-cassette for its time and we had a few bits and pieces added to boot. $6,000, a premium price in those days, but we were hoping it would be good value. At the same time, the in-laws bought a four-door sedan. There were a few minor teething problems, but nothing major.
Unfortunately, the four-door got written off a couple of years ago by a clown in a Mercedes. In its life of short trips it went through a number of mufflers but very little else.
But back to the wagon. We still have it. Cheaper motoring would be hard to find. The body is still in first class condition. About 10 years ago it had a respray and since then it has had a couple of small runs up the rear, one courtesy of a government bus. The paint has held up better than the original applied when the car was locally assembled. How to keep the rust at bay? Garaging every night is the major factor and every few years, fish oil. Ever seen a rusty fish? And for $10 it's an unbeatable bargain. I recently found some rust under the windscreen in the plenum chamber, but I've attended to that.
What about mechanical durability? you ask. The engine was replaced three years ago at just over 300,000 km. Our son and I built a Golf-spec 1600 with back up from C&S Autos. It just went straight in and we've put 60,000 on that - no problems. All other major mechanicals are original, even the CVs. The pads last about 40,000 km a set and the shoes have been done once, but wheel cylinders go about every ten years. Mufflers last about five years. The original tail pipe lasted a few months! The VW bean counters got that one wrong! Struts last about 200 000 km and shocks longer.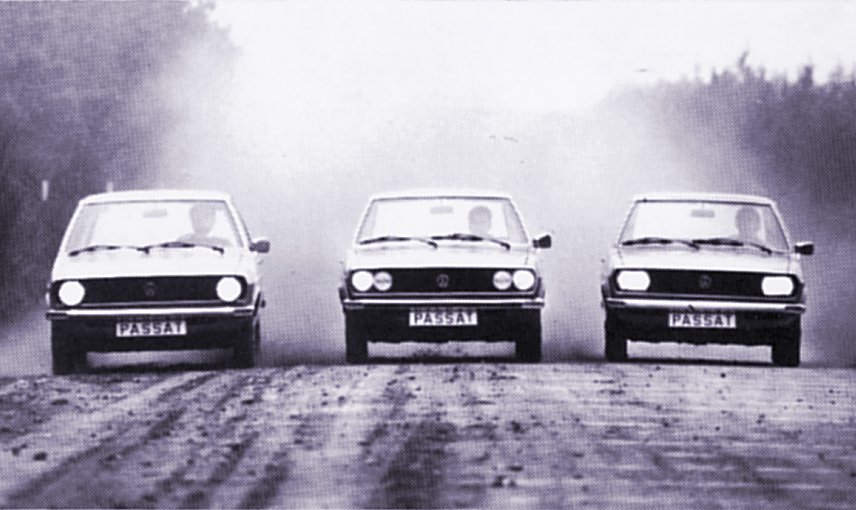 The bottom line though, as with all Volkswagens, is preventative maintenance. For years we have patronised Ron and Ted at C&S Autos at Padstow (02) 9774 3340. This not meant as a free plug for them but the reality is they have the expertise and desire to do a good job. I'm sure they don't mind my saying that $200 for parts and labour for the annual major service is top value.
Would I buy another 1970s Passat? Unquestionably, yes - and I did. 'Glutton for punishment' and other more derisory expressions I hear from the Passat haters – that is, people who have never owned one. A 1977 GLS came into our possession in 1992. At under three grand, but that was still a lot to pay! It was intended as the car our two kids would learn a bit about driving on. Notice I avoided the expression 'learn-to-drive,' because you never finish learning! But that's another story completely. The GLS turned out to be a perfect classroom and eventually our daughter took over the ownership of it. She drove it a while in the country but older rare cars are not the ideal for a person who is only a little mechanically minded and certainly not capable of doing repairs. So she bought herself a new car and I bought the GLS back this year - it was still too good to be consigned to Simsie's crusher. So a respray was done and attention given to some minor details and she's shipshape again.
So what about the goat paddock? It pays to read Zeitschrift - as you, dear reader, are doing right now!
"Free Passat parts," it read. FREE? Now there's a price too good to reject! It's hard enough to find Passat parts as it is - and I'm not about to say where I normally go because you'll go there too and beat me to it! Picture a tin shed on the far side of a goat paddock and bingo! Passat parts dutifully and carefully removed and stored, enough to keep me going for a while.
We have come to so respect the good value that water-cooled VWs represent that in 2001 we bought a new Polo and it hasn't disappointed either. 5 L/100km on country trips can't be matched by many and for two people, the size of the car is more than adequate. But the Polo is another story.
What are the two Passats worth? Commercially very little, but to me a lot! And half a lifetime of memories. They really are true Volkswagens, and sadly unappreciated. So, if you see us in our blue wagon or white GLS, give us a wave, with all digits please!
14 Million Passats
By Kris Harchwitz
June 2006
Volkswagen in Emden today produced the 14 millionth Passat. The model is one of the world's most popular mid-range cars and is currently the most successful vehicle in its class in Germany.
"The Passat guarantees safety, quality and economy," said Plant Manager Siegfried Fiebig as the vehicle left the production line. This is confirmed by numerous accolades from experts, journalists and customers who have put the car through its paces in recent months. The anniversary vehicle was a reflex silver 103 Passat Variant Highline 4-Motion.
Worldwide, Volkswagen currently produces 2,900 Passat vehicles of various series every working day at the plants in Emden, Zwickau/Mosel, Shanghai (China) and Anchieta (Brazil).
Last year, Volkswagen delivered some 600,000 Passat to customers all over the world. The main markets in Europe include Germany, UK, France, Spain and Italy. The main sales areas for the Passat outside Europe are Asia and the USA.
The Volkswagen Emden plant produces the Passat Limousine and is the only plant to produce the Passat Variant. 2005 was the year of the new Passat (6th generation) ramp up. Some 216,400 vehicles left the assembly lines in Emden in 2005.
Europe's most modern press shop has been in operation in Emden since 2001. Two vacuum transfer presses, each designed for a total force of 73,000 kilonewtons, can produce about 20,000 parts per day. At the end of December 2005, about 8,800 people were employed at the plant.