1973 Beetle - Carl Moll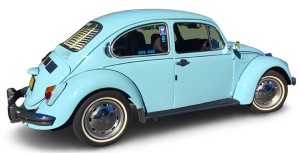 This 1973 1300 Beetle resto journey begins in the 1950s when my German parents arrived in Adelaide, and all their European friends drove Beetles or Kombis. My earliest memories are Sunday picnics in the Barossa Valley as my folks drove to the wineries to buy flagons of hock (early Aussie wine!) so they could enjoy the wine flavours of Europe. In the '70s I used to go to work in a colleague's brand new Beetle and loved it!
Fast forward to the 1990s and my 4 teenage kids were learning to drive and looking for a 'cool' car. I got some good advice from a local VW mechanic, Hans at Klaack Motors in Fairfield, Sydney: "Buy the best car you can afford."
After looking for weeks and finding lots of worn out cars, I responded to a Beetle For Sale ad from Reliable Automotive at Artarmon and test drove an 'OK' Beetle. When I agreed to buy it I was handed a folder full of history from the 2 previous owners.
So began a journey and a 'light' resto over the next few years where I replaced rubbers, roof lining and other trim bits. Also the engine was overhauled and front disc brakes were fitted by Klaack.
In 2008 when the car was handed back by the 'kids' I got a chance to really look at the car, and found the 35 year old body was suffering from rust issues that would be terminal if not addressed. The body also had 3 shades of Flipper Blue paint from previously poor repairs, especially around the windscreen and back windows. Despite all the issues it was reliable, not to mention a joy to drive. I wanted to preserve this car, as according to records on our webpage it was one of only 924 Australian-built 1300cc Beetles sold in 1973. They are much rarer than the 1600cc Superbugs and Type 3s sold in the same year.
I spent some time looking for a repairer prepared to tackle rust. There was rust in the bottom of the A-pillar on the driver's side and when I washed the car I smelt moisture in the car. It turns out that previous rear window area rust repairs weren't water tight.
I decided to restore this car to factory original (with a few comfort exceptions), and after a 12-month search found a repairer recommended who was prepared to tackle rust. Many businesses I approached said they "don't do rust." I found Adrian and his team at Panther Prestige Smash repairs in Penrith NSW. When I explained the various body dents, blemishes and rust, he suggested that if I was prepared to leave the car he would get the boys to work on it between other jobs, as long as I wasn't in a hurry...
So in March 2014 the resto began. The body was dismantled, panels stripped, and the true state of previous panel damage and rust issues revealed. This car presented well as a car for its age, but paint hid poor repairs, rust and bog. Doors were rusted so badly, held together only by the glue of the rubber seals!
After months of stripping and repair, Shane and Paul were on top of this resto. The body had new fabricated sections welded into both sides of the rear window area, as well as doors, front windscreen area, new front apron welded in, and various other rust issues resolved. I visited every Thursday at 7 am to check progress, and where necessary my shopping list. This often included being able to quickly source replacement doors from Klaack, various metal and rubber bits, including a new dash pad and plenty of advice from Boris (and Michael) at Vintage VW in Campsie, and Leanne at Volksbahn. Club VW members in Sydney were also able to assist and that was a bonus.
While the body was stripped for repair I had the engine removed by Adam at Mountain Mechanics who tidied up the motor and arranged powder coating of the tinware and pullies. So over the months a slow resto in spare time began. By September 2015 the body was ready for paint. Flipper Blue was the factory colour, but the colour numbers left some confusion for Jason the painter. By the early 1970s Nissan had taken over the Clayton VW factory in Victoria and used the VW code number for a Nissan colour - green). But Leanne from Volksbahn was able to provide the exact tint numbers so we had the actual formula for the VW colour.
So with the car painted it was sent to Gary's auto trimming at Girraween to re-trim the interior. Gary was recommended by other happy VW members and we agreed on a cloth seat trim (not original vinyl but suits comfort in our climate!) Gary replaced the headlining, reupholstered the seats, installed sound deadening and new carpet to original specs. The interior is first class and shows Gary's attention to detail.
After a final reassembly that included a brand new padded dash from Vintage Veedub, new vinyl door trims , new window channels, replaced scratched door glass and electric wiring reconnected and sorted, the verdict was that this was now a brand new 1973 Beetle. I picked up the car in December 2015 after 21 months, and although it went on for a lot longer than inspected, the journey was worthwhile.
The car drives like a new car, (with the help of the sound deadening and new carpet etc) and with fit and finish so good and no rust makes this a keeper. Costs blew out along the way but what new classic car can you buy for $16 K? These cars are classics.
Special thanks to members of Club Veedub in NSW for their support. Anyone undertaking this kind of resto can benefit from the VW club scene. I recommend you join a VW club in your state and tap into the knowledge, expertise and tips that clubs can provide and save you a lot of time and money. Plus they share your passion, and some have club libraries and videos to help you with the jobs you plan to do.
We as a family will enjoy this '73 beetle for many years to come.
Carl Moll