1958 Beetle - Carl Moll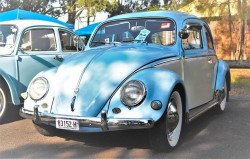 Back in 2011 at the VW Nationals show at Fairfield NSW there was a 'for sale' area inside the entry gates. I spotted an elderly guy (Brian) who was selling a great looking 1958 Beetle. I looked closer, saw a price of $8000 and told the owner it was too cheap.
"Yes mate" he said. "But the missus has told me to sell it today" was his reply.
My mate Gordon looked it over and said it was a bargain. I told him I don't have the money so he said "I'll go you halves" So we agreed and we bought a really nice country car.
It was from Wauchope, near Port Macquarie NSW and had been well restored. That was all Brian knew but he gave me pictures of a serious pull down and restoration. But with no papers, service details etc. it was a gamble.
Brian explained his ownership, was honest and had spent years improving, detailing and replacing with stainless steel bolts, bumpers etc. It was a well cared for car.
Since 2011 I paid Gordon out, and have continued the improvements as follows:
Replaced the flywheel seal
Installed a '61 synchro gearbox (non-synchro gearbox in traffic is a nightmare)
Replaced the running boards
Fitted Coker white wall tyres
Refurbished the Semaphores
Replaced the existing decklid with a 'W' lid off an Oval build 6 months earlier.
This year (2021) installed front disc brakes and dual brake master cylinder
Replaced the pushrod tubes and seals so no more engine leaks.
My mechanic identified that the tinware on number 3 cylinder was missing. A call to Boris at Vintage VW secured the missing bits and it was installed.
Special thanks to Boris and Michael ( Mobile Mechanic) who have made this car a reliable and fun show car and sunny day Sunday driver ( but no seatbelts so the wife wont travel with me! )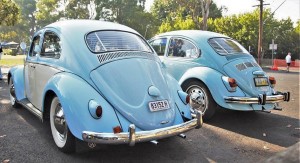 Carl Moll