Aussie VWs
Popular Beetle Always In Tune
Beetle Riding High For Reliability
Australian VWs
Lanock Motors (1954-1991)
Boatswagens
Ten Years of DUB-064
Volkswagen Geared Up For A Comeback
VW Industrial Engines
Australian VW Ambulances
Buying a Volkswagen Downunder
Rod Penrose's world-record-breaking Beetle drag car
Country Buggy Takes It All In Its Stride
The Peter Keegan Story
The Last Australian Beetle
Popular Beetle Always In Tune
From the Daily Mirror
August 1985
An old Volkswagen Beetle is the most reliable car, with fewer problems than modern models, a survey has found.
Readers of CHOICE, journal of the Australian Consumers Association, have nominated the Beetle as the top trouble-free car, irrespective of age. The Mercedes Benz range is the most reliable make.
The magazine's annual national reliability survey is based on the experiences of more than 8,200 motorists. It covers 78 different Australian, Japanese, European and British models with no limitations on their age or mileage.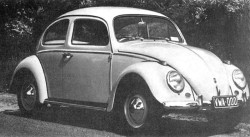 It gives a reliability rating of 92 percent plus to VW Beetles with an average age of 14.7 years, and fixes their average maintenance costs at $8 per 1,000km.
This is second only to the $5 per 1,000km cost reported by owners of another ageing car, the Mazda 808.
The Beetle is the only car to receive a well-above average classification, with above average models (80/91 percent) including Toyota Camry, Honda Prelude, Subaru Leone, Mercedes Benz 230E/280SE, Honda Accord, Toyota T18 and Volvo's superseded 100 series.
The best-placed four-wheel drive vehicle is the Toyota Tercel in 15th position, while the Holden Belmont and Premier, in 29th place, has the top ranking for Australian-made cars (Huh? – the VW was Australian made – Ed).
Popular new and used cars listed as below average (45-56 percent) include the Ford Telstar, Holden Camira and Nissan 200B, which the survey said suffered from a variety of minor problems such as electrical faults and water leaks.
Choice calculated the reliability rating by adding the percentage of cars that had no breakdowns in 1984 and the percentage that were off the road for less than a day for repairs, then dividing the figure by two.
Its report claims that some local cars are plagued by system faults and poor assembly, but said the Japanese cars, despite some of their high ratings, were not above criticism.
Car manufacturers are waiting until they have made a detailed study of the report before they comment.
Beetle Riding High For Reliability
From the Daily Mirror
March 1988
After all these years an astonishing truth has emerged – for reliability you would have to go a long way to beat a Beetle. The unpretentious German people's car, first developed when Hitler was at his height, still rates as one of Australia's most reliable cars.
Readers of CHOICE, the Australian Consumers' Association journal, nominated the Volkswagen Beetle as one of the most trouble-free cars, irrespective of age. The humble VW stands in good company, with the Honda Prelude winning top honours, and Mazda and Toyota also highly favoured.
The magazine's annual national car reliability survey was conducted among more than 2,000 car owners across Australia. It assessed more than 60 different Australian, Japanese, European and British models.
The irrepressible Beetle/Superbug scored a reliability rating of 80 percent, with an average age of 17 years. Said a spokesman for the Automobile Association of Australia, "It's still a very popular car in Australia.
"One of the beauties with the Beetle is it's so very simple. Spare parts are plentiful and most owners can make their own repairs. It doesn't have the complicated electrical systems of most modern cars."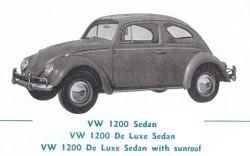 Japanese cars were again highly rated, with the Honda Prelude given an 88 percent reliability rating.
Australian cars fared poorly in the survey. Owners' complaints ranged from major electrical faults to rattles, squeaks and shoddy door locks. More than 25 percent of the European-manufactured cars – such as Fiat and Renault – reported engine troubles.
Among Australian and part-Australian cars, Toyota was better than average with only 8 percent of owners reporting similar problems.
The survey also revealed that electrical systems caused problems in almost all makes. The most common problems experienced with Australian cars included faulty locks for doors and boots and seals that fail to provide protection from draughts or to keep out water.
Rattles and squeaks and interior trims that fell off were also mentioned frequently. Air conditioning failure was a problem found in all makes of car.
One of the surprise results was the fall from favour of the Mercedes Benz. This luxury car dropped to a placing that is now just average.
The survey found that most cars were replaced after 10 years because of age, rust or mechanical unreliability. Only one in three consumers bought the same car again.
A spokesman for the Automobile Association said the survey confirmed what the industry already knew – that Japanese and fully imported cars are the most reliable.
Australian VWs
By Michael Rochfort
April 1991
As one of the numerous countries outside Germany where Volkswagens were manufactured and assembled, Australia occupies a special place in the history of the Beetle.
Australian-made Beetles attained a very high level of local content, and Volkswagen was the third best-selling make on the Australian market, behind Holden and Ford, in the early 1960s. Beetles were at first built up from CKD (Completely Knocked Down) kits, but after 1959 were fully manufactured from Australian-made panels.
Body shell tooling was made by Chrysler Australia! As tooling is a very expensive item, it does not make sense to change models very often, especially in a small market like Australia; consequently, we find that Australian-made Beetles did not receive all the body modifications made during the 1960s to those made in Germany and sold in Europe and the USA.
The 1960 - 67 Beetle in Australian in fact received very few of the major changes made to their European cousins during the same period. The 1960 body style stayed with us for the duration.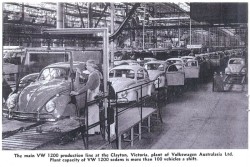 For the 1965 model year, German Beetles received a new body shell, featuring a much bigger glass area. This body, which can be spotted by the thinner door and window pillars, and by the way the front door 'flipper' windows have a rear edge that leans back slightly rather than being vertical, was not seen in Australia until 1968. That was when Volkswagen Australia abandoned local manufacture, and reverted back to assembling German CKD kits in August 1968.
By then of course, many more detail changes had been made to European models. Be careful then, when ordering your window rubbers for your '67 restoration project, if you are getting them from the 'States. Australian 1965-67 Beetles use European rubber from 1964 and earlier!
In 1966, German Beetles were equipped with five-stud wheels with ventilating slots, and also hubcaps similar to, but not the same as, the '69 and on local cars. In contrast, 1966-67 local cars retained the older style, unventilated wheels with domed hubcaps.
With engine specification, the Australian market fared much better, with updates occurring within a year or so of their European introduction. Local content for engines, and gearboxes, was not as high as it was for body panels. Even so, Australia missed out on some interesting combinations that would be looked upon as 'real bitzers' by your average local Volkswagen enthusiast.
For example, the 1967 'rest of the world' Beetle featured the larger windows, vertical headlights, older (63-67) tail lights, older 'towel rail' bumper bars with overriders, horn grilles in the front mudguards, the 1500cc engine and an engine lid like our 1500 Beetle. Even the door locks were a different, 'in-between' design. This represents a true intermediate model between the 'old' and the 'new'. Yet in the U.S., this model is considered to be a classic and is the most valuable of all to them, excluding vintage and coach-built models, of course.
The 1961-62 model Australian tail light is an item not found on German Beetles. German Beetles went straight from the small, all-red reflecting taillight of the 1959/60 36-bhp model to the large, three-segment blinker/stop/reflector taillight that we eventually got on the so-called '1962½' model. Our 1961 taillight was a unique smaller two-part orange/red lens on a smaller metal housing. Naturally, it is impossible to find new replacements today.
Because of local manufacture, king-pin front suspension also lingered on Australian-built Beetles, much longer than in Europe. Again, ball joint front ends did not replace king pin front ends until the 1968 CKD-assembled Beetle.
Australian-made pre-'67 VDO fuel gauges for Beetles have electric fuel senders and gauge operation, unlike Euro/US gauges which were purely mechanical.
Another good illustration of Australia's uniqueness in the VW story is the matter of 1971-1976 paint colours. If you can't find your touch-up colour in the Holts Duplicolour range, try looking under Nissan / Datsun !!
The reason is that Datsuns were assembled in the same VW-owned factory as VWs – as were some Volvos. Some of these other makes left the production line painted in 'VW' colours, and vice-versa. Some colours such as Antarctica White and Kalahari Tan, which we accept as VW colours, are really Datsun colours!
In conclusion, don't feel despondent if your '65 and on Beetle features the older body style. South African Beetles used the same body shell until the early 1970s, while Brazil used this body shell until production ceased in 1986.
(Note - this article was the genesis for the updated Australian Volkswagens reference page - thanks Michael)
Lanock Motors 1954-1991
By Phil Matthews
June 1991
The last Lanock Motors dealership, at Australia St in Camperdown, closed down on May 31st after 37 years of business. Lanocks was for many years not only Australia's biggest and most successful Volkswagen dealer, but also one of Australia's biggest dealers of any marque.
The story of Lanock Motors goes right back to the first days of VW imports into Australia. Lionel Spencer's Melbourne-based Regent Motors (Holdings) Ltd won the Australian import rights for Volkswagens in 1953, and he imported the first VWs into Australia in October of that year. By the year's end, 31 VWs had been brought in.
In 1954, Spencer awarded the NSW distribution rights to Sydney-based LNC Industries Ltd. The initials stand for Larke Neave and Carter, which was a division of Larke Hoskins Pty Ltd, a large and successful Chrysler and Chevrolet importer that went way back to 1924.
In 1946, however, two directors of Larke, Neave and Carter, Mr. E.R. Lane and Mr W.R. Locke, severed connections with the parent company and established a new division called LNC Industries Ltd. They began selling Citroens and Bristols initially, and in 1954 were awarded the VW NSW franchise.
To distribute the new VW marque in NSW, LNC formed a new company, Lanock Motors Pty Ltd, which was an amalgam of the names Lane and Locke. The first workshop was set up at McLachlan Ave, Rushcutters Bay, and the showrooms were set up in William St. City. Doug Donaldson was a salesman at William St, but later became Sales Manager.
In those days LNC Industries also owned Grenville Motors, the Rover distributors, and Lanock Motors was able to convince Grenville to trade their Australia St. Camperdown premises for Lanock's Rushcutters Bay workshop.
Volkswagen sales boomed, due largely to the Round-Australia Trials successes, and Lanocks began to expand. New premises at St Leonards opened, followed by another workshop and mechanics school at Five Dock, and another dealership in Hornsby.
The mid to late 1960s were Lanock' s best years, as they continued giving good service and kept expanding. They took over Barker Motors at Killara, and also opened agencies at Bondi Beach and Maroubra. At their peak there were actually eight Lanock Motors in Sydney. However, that wasn't all, because Lanocks also had an agency in Wollongong, Adelaide, Perth and Darwin in their heyday.
In 1968, Melbourne-based Volkswagen Australasia was dissolved, and LNC Industries was awarded VW distribution rights for all of Australia under the command of Doug Donaldson. LNC Industries established a new company called Volkswagen Australia, which was headquartered in Lanock's William St offices at first. In 1972 Volkswagen Australia moved to a new head office in Waterloo Rd, North Ryde. LNC added the Subaru franchise in 1973, and the ugly Japanese cars began sharing Lanock Motors' facilities.
Many of Sydney's old VW dealers had gone out of business or changed marques by the mid-1970s as VW's sales dropped. Robert Dewley at Bankstown, Youngs at Collaroy, Motorways at Cronulla, Rockdale and St Peters; Peter Warren at Liverpool, Freshwater Motors at Manly, Ronstan Motors at Lakemba and Sarkis Bros at Campbelltown had all gone. Even Lanock Motors began to feel the pinch, as they closed their William St City showroom in 1973, Five Dock in 1974 and Hornsby in 1975.
By 1980, only St Leonards and Camperdown were left. LNC Industries suffered financial difficulties and was bought out by the Melbourne-based Liberman Investments group in 1984. LNC sold off their Volkswagen Australia business to Ateco in 1987, and Lanock Motors was sold to the City Ford group in 1988. No VW passenger cars were sold in Australia after 1982, and not even selling Subarus, Fiats and Renaults could keep Lanocks alive. The St Leonards branch was wound down in 1989, leaving only Camperdown. City Ford dissolved Lanock Motors as of the end of May, and the premises will actually be used to sell Toyotas, would you believe.
I spoke to Chris van Tijen at Lanocks during that last week, where I was able to take the photos and understand some of the history that was being laid to rest. Chris told me that when he joined in 1976, they would have sold 40-50 VW sedans and 30 Kombis per month with ten salesmen, although in the early 1960s they would have distributed 1,200 VWs monthly to all dealers intrastate. Nowadays, about 15 Kombis per month was about it. Lanocks stopped selling Audis in 1989.
Lanocks were famous also for their Campervan rentals, an idea that began in 1971. This year they still had 15 VW Campmobiles for rental, but all were sold by mid-May and the facility was shut down.
After speaking with former manager Paul Playoust during the week, Dave Long and I were invited to Lanock's wake at Norths Leagues Club on Friday night, 31st May, which was both a tremendous honour and privilege. Organised by former manager Peter Nacard, more than 150 people were in attendance; staff from all branches; mechanics, salesmen, office staff, management; old and new.
Former Camperdown Manager Gil Slattery was MC, and he made everyone feel welcome, including ourselves, and he gave us some idea of the significance of the night. Former Lanocks Operations Manager Dick Higgins spoke well, telling of how Lanocks began back in William St, all those years ago.
Current TKM Managing Director Peter Sturrock then said a few words. He started with three days at work at Camperdown under Gil Slattery in 1971! He told us that over the 37 years, Lanocks at Camperdown alone sold 19,531 new VWs, a remarkable figure. It's good to know that a former VW man is today at the helm of today's VW importers.
Trevor Chard, the last General Manager of Lanocks, was also the last to speak. This is it, he said, the final. He payed tribute to the staff and the spirit that made the 37 years possible, and thanked those in attendance. There was also recognition for Lee Donaldson, widow of Doug, who sat at our table with a tear in her eye.
Dave and I acted as ambassadors for Club VW that night, handing out Zeitschrifts and making good conversation with the old boys. We have been lent priceless VW archive material and gained much in the way of old stories of how things used to be.
This may be the end of one era, but the start of another.
And who is now the oldest VW dealer in Sydney? Following Lanock's closure, the oldest is McCallums of Strathfield, now a Mercedes dealer who still sell VW parts if not new cars. They've moved their VW sales to Sylvania. Club patrons Muller and Muller at Lakemba are the oldest at the same location. Some old country VW dealers still exist as well, notably Bill Worner at Mittagong, Dalex Motors at Nowra and Jupiter Motors at Wagga.
(Note - a rewritten and much updated version of this article appeared in the June 2011 issue of Zeitschrift)
Boatswagens
By Phil Matthews
July 1992
Stories of floating Volkswagens are a part of popular folklore. The first indications of the Beetle's ability to float probably came about by cars being driven into rivers by mistake, or perhaps being caught in floodwaters. The very nature of the Beetle's construction - its platform chassis, airtight body and excellent sealing - means that the stories are not just fancy.
In fact, the American magazine Sports Illustrated once set about proving the Beetle's floatability once and for all. Writer Horn Huston reported in the 19 August 1963 issue that they lowered a completely standard VW carefully onto the surface of Homosassa Springs in Florida, by crane. The little VW remained on the surface for 29 minutes and 12 seconds.
Of course, the VW can be made even more seaworthy with a little modification. The most famous VW sailor of today is Sydney's Paul Greene, who has been building his '64 Beetle to cross from Melbourne to Tasmania across Bass Strait. Paul hasn't had it easy. Doubters and jokers plagued his first crossing attempt in 1988, when bad directions caused him to hit a sandbar with the Sea Bug before he even reached the open sea. Nevertheless, he pressed on with a slight leak and reached about 10 km out before the tender boat also developed problems in the huge seas, and he was forced to turn back. Further attempts since have met stubborn resistance from the water police regarding safety, liability insurance and the public interest, in spite of Paul's careful design and engineering expertise. In recent years the Sea Bug has been laid up and only appears occasionally at VW Club shows.
But Australia's first Boatswagen came much earlier. The first one was built out of a 1956 Beetle by VW dealers Stuart Campbell and Norm Manners in Perth, and they launched it into the Swan River in November 1959, as part of the celebrations for the opening of Perth's new Narrows Bridge. As a promotion stunt it was extremely effective. The car had been modified only by fitting a snorkel tube to the carburettor, and a propeller to the engine.
A few weeks later the same stunt was pulled in Sydney. Lanock Motors, the NSW VW distributors and the state's biggest VW dealer, launched its own Boatswagen into Sydney Harbour. Some of our older members may remember the occasion; in fact, Lanock's Service Manager, Reg Goodall, had built the Boatswagen with help from Club Veedub's present-day patron, Joe Muller. An in-depth description of the car appeared in the March I960 issue of Modern Motor magazine.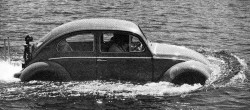 The first problem was to ensure the 1959 VW was watertight and wouldn't sink when driven into the water. This turned out to be a simple task; the body drain holes are comparatively small, so they proved easy to seal. Removable plugs were fitted in the rear floor pits and in the front luggage compartment where the spare tyre sits.
The VW has a waterproof underside anyway and a bulkhead across the car, so that the body is basically a tank design. The control cables are enclosed in the central tube, impervious to water, and the clutch, footbrake and accelerator cables stem from the central tube. Consequently the pedals do not pierce the floor, as with conventional designs, so no sealing was necessary at this point.
The doors were sealed only by the dust rubbers, normally fitted to any VW. The only extra insurance against water entry at this point was given by coating the dust rubbers with heavy grade motor grease; a similar precaution was taken at the lower door hinge.
Usual standard equipment was carried under the front bonnet (including the spare wheel); this compartment was also sealed by the normal rubbers, with the added precaution of masking tape around the edges.
After some 20 minutes in the water this tape was removed, and it was found that very little water had entered the front compartment, barely enough to cover the lower few centimetres of the spare tyre (which is carried at the most forward and lowest point).
Naturally, the water sealing of the engine had to be given some special attention. Theoretically this had to be prepared so that it could, if necessary, operate when completely immersed in water, but in practice this proved to be not strictly necessary, as the car floated so high that the engine was only half submerged.
The spark plugs were sealed with rubber. The oil bath air cleaner and oil filler cap were raised about 400 mm in level with tube spacers, and a snorkel was fitted to each of the twin exhaust pipes. The distributor was also raised about 250 mm with a spacer, and sealed; but it was found necessary to also equip it with a breather tube, because condensation occurs inside a sealed distributor when it is operating totally enclosed by cold water.
Propulsion for the Boatswagen was supplied by fitting a 10 x 8 propeller on a brass shaft passed through the rear bumper bar. This shaft was fitted with a universal joint and mounted on the crankshaft pulley. A small, curved piece of galvanised iron was mounted above the universal joint to prevent excessive spray.
The car was now ready for its sea trials. They chose a gently sloping beach for entering and leaving the water so that there would be no risk of damaging the fast-revving propeller on rocks or other obstructions.
When entering the water, the VW threw a high circle of spray until it was completely submerged. Stabilised by the floating tyres, the car floated evenly and surprisingly high up in the water; yet the weight of the wheels and general centre of gravity were such that there seemed to be no tendency to roll, even when turning in a beam sea.
No rudder was necessary; the usual steering gear and the mass of the front wheels proved sufficient for the Boatswagen to make quite sharp turns in the water.
The experiment demonstrated that the VW is not tail-heavy, despite its rear engine. The rear end actually carried more weight than usual (with extras such as the heavy propeller shaft, snorkel, tubing etc), yet the car floated evenly. The front and rear wheels were similarly submerged and no compensating weight was needed at the front of the car.
The VW was given its first private trial at Rose Bay, in relatively calm water. It handled well, with a calculated speed of over 5 knots (9.3 km/h). A small boat, powered by a 5-hp outboard motor, found difficulty in keeping pace with the car.
The Boatswagen made its bow to the general public on January 2 1960, during the St George Motor Boat Club's championship meeting on Kogarah Bay. A strong southerly had whipped up a brisk, choppy sea, and speedboat events had to be postponed til late afternoon, but the Boatswagen sailed out regardless, in company with the cruiser-type craft that were then competing.
The car was driven with both windows down, and the driver and passenger raised laughter among the many spectators by giving normal traffic signals before making turns.
At the end of each run the car was beached and thoroughly hosed out, including the engine, which continued to operate even while the pressure hose was played on it.
On subsequent occasions, Lanock Motors sent the Boatswagen across the 800 m Middle Harbour stretch four times, with the VW in the water more than forty minutes on each occasion. Whatever happened to the car over the years since, Joe?
Ten years of DUB-064
By Phil Matthews
July 1992
I've subjected the reader to stories of my Beetle several times before in Zeitschrift. The reason I'm writing about my '64 Ruby Red VW again now is that an important anniversary was passed in February – I'd owned the VW for ten years. I know many readers have owned their VWs for longer than this (I wonder what the record is?), but as I'm only 28 now that's not a bad effort. Surely there can't be many VW owners out there who still own and drive their first car every day.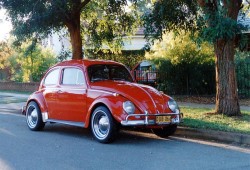 Anyway, people who know me understand my love of trivia such as numbers, facts and figures. It so happens I've kept a meticulous record of fuel purchases and mileage done, so what better way to celebrate DUB's 10th birthday with me than to summarise its performances over those ten years. I hope you find them as interesting to read as I did to work them out - and also I bet they will be interesting to look back on in years to come. I wonder what the price of petrol will be in 2002 - will we be driving VW electric cars then?
My original speedo was calibrated in miles, as Australian-built VWs of the time were. Along the way I was lucky to pick up a metric 40-hp speedo, as used in Europe. To save clashes, I've converted everything to kilometres for familiarity.
1982: Travelled: 14,981 km. Fuel Used: 1,396.39 litres. Spent: $522.81
The VW had the standard 40-bhp 1200 engine then, and was used for daily commuting from Padstow to Kensington and Homebush that year. The cheapest petrol then was 25.9 cents per litre at Solo, while the dearest was 43.9c at Shell. My best tank consumption was 6.3 L/100 km while the worst I did was 14.8 L/100 km. Of course, calculating economy from tank to tank is misleading; its best to average it out over ten or so tanks.
1983: Travelled: 11,151 km. Fuel Used: 1,078.88 litres. Spent $452.55
Daily commuting from Padstow to Milsons Point. The best time I ever did was 19 minutes after starting at 4 am one morning. The 40 horse dropped a piston in October, whereby we built a 1500 motor out of junk parts. It later blew up on the Putty Road in November, and the VW was taken off the road for the next three and a half years. The cheapest petrol I found in '83 was 36.9c, while the dearest was 53.4c (at Jenolan Caves, NSW). The speedo passed 100,000 miles (160,930 km) on 9 August. My best tank was 6.3 L/100 km, while the worst was a shocking 22.3 L/100 km. For the short time it existed (only 1,389 km), the 1500 motor averaged 10.8 L/100 km.
1987: Travelled: 5,803km. Fuel Used: 750.41 litres. Spent: $393.91
Restoration complete, the Beetle was back on the road with a 1790cc twin-40DCN Weber motor. The rise in fuel consumption shows this! Not many km this year, owing to both to problems and careful looking after of the newly rebuilt VW. It made it to Valla Park for the first time, but teething problems with the carbs, gearbox, clutch and some bent bodywork kept it off the road from September to January. The cheapest petrol I bought in '87 was 46.5c at Ampol, while the dearest was 58.9c at Mobil. Best tank consumption was 6.6 L/100 km driving up to Valla Park, while the worst was 18.0 L/100 km when trying to iron out the bugs.
1988: Travelled: 12,445 km. Fuel Used: 1,439.06 litres. Spent: $713.20
A better year, as the VW became more reliable. It was on the road all year except November, again with carburettor problems. However, the Bug again made it to Valla Park, as well as visiting Canberra and Jindabyne that year. Note how the average price of fuel dropped - strange, I don't remember that. The cheapest I found in '88 was 39.9c at Shore Petrol, while the dearest was 59.9c at Shell. The best fuel tank all year returned an unbelievably low 6.1 L/100 km, while the worst was 18.5 L/100 km.
1989: Travelled: 10,069 km. Fuel Used: 1,207.43 litres. Spent: $661.32
A generally reliable year of simple daily commuting, apart from the usual trip to Valla Park. In June I moved work from North Sydney to Homebush, so the VW got more work then than the train did. So sure of the VW's reliability was I that I planned a two-week driving trip through Victoria in November, but the Veedub foxed me by breaking a clutch cable and shift fork the week before. It was thus off the road from November to January, in which time I put in a Type 3 transaxle and boosted the engine to 2007cc at the same time. Cheapest fuel I bought in '89 was 47.6c at BP, but the most expensive was an amazing 63.9c at Ampol just after the new engine was put in. Tankwise, my best effort in '89 was an uninspiring 8.4 L/100 km, while the worst was 19.7 L/100 km.
1990: Travelled: 9,623 km. Fuel Used: 1,123.31 litres. Spent $788.77
The most significant thing this year was the huge jump in fuel prices, thanks to our friend Saddam and his Kuwait tour. The VW was used just for commuting this year, and despite the bigger, hotter engine, the fuel consumption actually dropped slightly, which was pleasing. Shortly after the Nationals Drag Day, the diff packed it in and the VW was off the road from June to September to have it replaced. Self-repair jobs are never quick as you'd like, but I passed 200,000 km in the second week of September. The cheapest fuel I bought in '90 was 60.9c at Esso, while the dearest was an unbelievable 87.9c at Shell during the height of the Gulf Crisis in October, when I had to spend an unheard-of $26 to fill the tank! This remains a record to this day. My best tankful that year was 8.8 L/100 km that I actually achieved twice, six months apart, while the worst was 16.3 L/100 km.
1991: Travelled: 15,379 km. Fuel Used: 1,830.01 litres. Spent: $1,200.50
I travelled further in my Veedub last year than in any other year I've owned it, more than 15,300 km. Not a great amount compared to some members, perhaps, but a milestone for me nonetheless. This was all the more surprising when the records show the VW was off the road from May to August last year, owing to water in the carbs and some elusive electrical gremlins. Apart from that little glitch, the Dub did well last year. Consumption increased slightly, thanks to my part-time job delivering Pizzas, which means the VW idled at the kerb a lot! At least fuel prices went down, thanks to Operation Desert Storm. I also bought more fuel and paid more for it in total than ever before. The cheapest fuel I bought in '91 was 50.2c at Shell, while the dearest was 72.6c at Mobil in Canberra. The best tank result was 6.4 L/100 km, while the worst was 22.3 L/100 km. Both of these results I'd class as statistical anomalies. Remember the results are more accurate if they're averaged.
Overall results for 10 years:
Travelled: 79,451 km
Fuel Used: 8,834.49 litres
Spent: $4,739.06.
Average Fuel Price: 53.04 cents per litre.
Average Consumption: 11.12 L/100 km (25.36mpg)
Average fuel cost per kilometre: 5.96 cents
Number of tanks of fuel bought: 320
Average tankful bought: 27.61 litres
Average amount spent each time: $14.81
Average distance travelled per tank: 248.3 km
(Note - sadly this car was written off in an accident in 2001. A summary for 1992-01 was never written.)
Volkswagen Geared Up For A Comeback
From Sydney Morning Herald
July 1993
Volkswagen, after more false starts than the Eastern Suburbs railway, is planning a concerted comeback to Australia with annual sales of 7,500 cars, commercials and people movers within three to four years.
But the comeback will only happen if it can find Australian-made components good enough, and cheap enough, to supply its German factories. The best-case scenario is an annual order of $400 million worth - enough to bring reciprocal boatloads of VWs down under at good prices.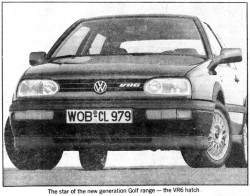 It's all part of what the Feds call the export credits scheme. What it means is the return of good German cars like the Golf, sharper pricing on people movers like the Caravelle and a brace of Audis. The strategy is the same one employed by Peugeot, which is already reaping the benefit of its local parts buying with a $3,000 price cut on its 405 model.
In a significant first step announced last week, the Volkswagen Audi Group will open a purchasing office in Australia, one of only five in the world, within the next three months. It will be charged with identifying locally made components for shipment back to Wolfsburg and Ingolstadt. The VAG organisation buys about $50 billion worth of components annually, a figure its controversial new purchasing czar Ignacio Lopez plans to slash by finding more competitive pricing outside Europe.
Lopez is the renegade former General Motors defector. Unlike most European auto executives he knows Australia's capabilities on cost and quality through his GM experience with Holden's long-running exports of Family II engines to Opel. More recently, the local boys have been shipping parts to GM's Swedish affiliate, Saab, for the new 900.
Although nothing is finalised there is a chance the first major contract, possibly for catalytic converters, may be announced within a few weeks.
Of more immediate concern to car buyers are VW's product plans. The Golf VR6, the six-cylinder successor to the old GTI and one of the most potent cars in Europe, is on the schedule. It will sell for $45,000, similar money to the BMW 318i but offering a lot more equipment and performance.
Further down the scale, four-cylinder Golfs are being examined for local consumption at mid to high $20Ks. Similarly equipped, they'll be line-ball or better than Japanese products. Both cars are likely to be released early next year.
VW will take advantage of a 2.5pc drop in import duty that comes into effect on 1 January 1994. Ultimately, the number of cars available will depend on how competitive Australian parts makers can be on cost and quality.
VW Industrial Engines
By Lance Plahn
July 1997
I think by now most VW owners have seen the engine that powers their VW put to another use. They were popular in industry as Air Compressors or driving Generators, Welders, Water Pumps, Drilling Rigs and even powering aeroplanes and boats.
These motors are called Industrial Motors or 126A Motor. One such motor is used as an Air Compressor. The motor is basically a standard 1600cc single port motor, with No. 3 and 4 head removed and an expensive Compressor Head fitted. There is no need for the push rods and tubes on that side, so a bung is fitted to the four push rod holes in the crankcase. They do retain the cam-followers.
The engine now runs on two cylinders ( No.1 and 2), while 3 and 4 act as the compressor. After exiting the head, the compressed air goes through a condenser to cool the air, then to a storage tank. The tank is fitted with a valve, so when the pressure in the tank exceeds safety limits, it blows off, but when the pressure is too low it signals the governor to increase the engine revs.
The governor is driven by a toothed belt, taking its drive from the crank. The governor then controls throttle operations, being idle when pressure is built up in the tank or continuos revs when the air is being used. The Solex carb is only small and very simple.
Compressor Units usually have an electrical starting system, same as in the car's battery, starter motor and charging system. All this is fitted into a portable frame or made into a trailer. These compressors can run two jackhammers at a time. Due to the nature of use, these motors enjoy a good life and do not have the same problem as they do vehicles, eg., burning valves, cracking heads, leaking heads and pounding out crankcases.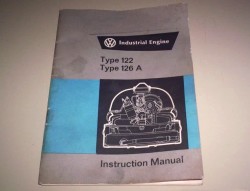 Another use for the 126A motor is to drive a Generator. The Australian Army have a number of these units nicknamed 'Gen Sets.' They use them in the field and at Exercise to power refrigerators and lights. The generator is a 10 kV unit. Motor and Generator are fitted in a frame and they are very heavy, requiring four men to lift them, and everything is painted green. There is a sound-deadening compound applied to the tinware.
These motors have to be handcranked to start, and they take a bit of effort to fire up. But worst of all the crank handle comes dangerously close to the ground. Starting of these units is a job for men only. Ignition is by magneto, and to stop the motor there is a kill switch.
The Army tells me these motors can run up to 40 hours straight in the field, stopping only to refuel. At 40 hours they are serviced.
Australian VW Ambulances
By Steve Carter
August 1997
Ambulances are changing shape in Australia, with the traditional large Ford F150 Ute-based ambulance giving way to the Volkswagen Transporter van-based ambulance in New South Wales, Victoria and Tasmania, saving money as well as lives.
"Although van-based ambulances are a common sight in Europe and America, Australia had been slow to follow until the advantages offered by the Volkswagen Transporter became simply too compelling," says Ewan Ramsay, Managing Director for Volkswagen in Australia. "Quite simply, the Transporter Ambulance costs less to buy and less to run, is quicker and safer, larger and more versatile and easier to drive than its conventional competitors. It is an unbeatable combination."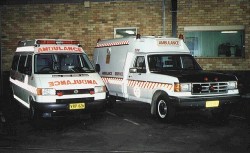 The latest ambulance from Volkswagen is for the Victorian Ambulance Service, and it is based on the long wheelbase Transporter van. Like the Transporter Ambulances serving in Tasmania, the Victorians are using their Transporter Ambulances for emergency service. In New South Wales the Volkswagen ambulances are for neonatal transport and care.
The comprehensive ambulance conversion process is carried out in Australia by the famous Sydney-based Trakka company, which tailors the Transporter ambulances to each application. The Victorian ambulances offer a choice of two stretchers and stretcher carriers and one sitting person, or two people seated and one stretcher. Conversion from one set up to the other takes seconds.
Another passenger may sit alongside the driver and there is full walk through access from the driving compartment. A raised roof not only allows additional headroom, it also enables bright lights, locker space and a storage area to be fitted. Access is via a sliding side door that opens up into the roof and a large rear hatch, which also doubles as shelter when open. A second sliding door is fitted on the driver's side and this gives quick and easy access to the gas storage bottles. The entire interior is covered with hardwearing and easy-to-clean vinyl.
The Transporter offers a range of drive train options that enable the ambulance, once again, to be tailored to particular needs. For emergency ambulances, there is the powerful 2.5-litre 5-cylinder 85 kW engine with either a manual gearbox or the sophisticated Dynamic Shift Program automatic gearbox. For non-emergency service, there is the option of a diesel engine. Normally front wheel drive, the Transporter is also available with a fully automatic 'Syncro' four wheel drive system that has no impact on interior space or ride heights.
With the combination of front or four wheel drive, quick, responsive steering, fully independent suspension, all wheel disc brakes and engines developed on race and rally tracks, as well as Volkswagen's enviable reputation for reliability and durability, the Transporter ambulance minimises risk in responding to an emergency.
"Volkswagen vehicles, both cars and commercial vehicles, are a common sight in the hands of all the emergency services in Europe and around the world," says Ewan Ramsay. "Here in Australia we know that they can offer the superb combination of saving lives and money, as well as making the lives of those who work and travel in them easier and safer."
Editors' Note: In practice the VW T4 ambulances proved too small for front-line service, and were unpopular with ambulance staff. The NSW Ambulance Service withdrew all of theirs by 2003, and they were sold off. Ex-ambo T4s, with high roof and two sliding doors, made popular bases for campervan conversions. The NSW Ambulance Service has re-equipped with larger Mercedes Sprinter vans. The Volkswagen equivalent, the LT and later Crafter, were not considered for Australian ambulance service until the mid-2000s. Scottish-born Ewan Ramsay left TKM Automotive (the then VW importers) in 1999 to join Volvo Australia. Today's VW importers are the VW AG-owned Volkswagen Group Australia.
Buying a Volkswagen Downunder
By Lance Plahn
October 1997
How a tourist from overseas buys a Veedub and cruises around Oz.
Australia for the past decade has become a popular place to visit. Maybe this could be attributed to Hoges' 'Throw Another Shrimp on the Barbie' advertising campaign. What ever reason, Australia caters for all budgets and tastes, from Y.H.A. to Five Star accommodation, to the big city with bright lights, the Barrier Reef to the wild life and outback, and tipping is not a custom here.
Some tourists stay for a few weeks and visit a few sites, but many, mainly younger generation obtain a visa for three to twelve months stay. This poses the question of how to get around this big country? The main three options could be:
• Use public transport. All modes are safe and very frequent, travelling to all destinations. The only draw back could be cost for some modes.
• Hire a vehicle. This would depend on your length of stay. Hertz have a number of T4s converted into campers; again cost is the factor.
• Buy a vehicle and travel to your desired destination at your leisure, stopping where and when you want.
Buying a vehicle and travelling has and is very popular. If you're a VW fanatic, the only choice will be a Volkswagen, with the obvious choice being a Kombi Camper.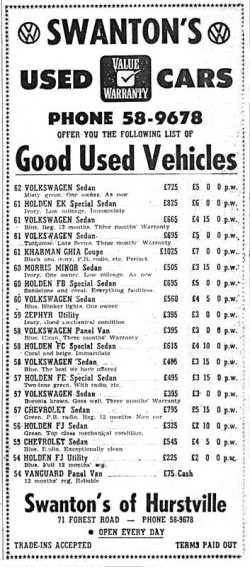 There is at least one caravan park in every town and a very good sprinkling of roadside rest areas, allowing either 24 or 48 hour free camping. These are situated just outside city limits, having toilet facilities and fireplaces. Some have showers. The trick is to make use of these rest areas for a few days and then stay at a caravan park to catch up on housekeeping duties such as laundry etc. There is a good supply of second generation Kombis with either a 1600 or Type 4 power plants, price ranging from $2,500 to $5,500. Note if the motor fails, the vehicle resale value drops, bottoming out around $300.
As we know VW made other models too. There is a good supply of '60s Beetles, due to full local manufacture until 1968. That year saw the introduction of the 1500 Beetle until 1971, with the release of the Super Bug 'til 1975. The last Beetle sold in Australia was in 1976, which had a 1500 body and front end with double-joint rear end and a 1600 twin-port engine. Other models such as the Type 3 range, Karmann Ghias, Cabriolets, Country Buggies (early Australian precursor of the 181), split-screen Kombis, and ovals are available in limited supply at higher prices.
You will notice my emphasis has been on early model VWs. That is due to the fact that vehicles are considered to be expensive here, with Government figures stating that the average age of vehicles on the roads in Australia is 13.5 years old. Supplies of late-model T3 Kombis is good, with prices much higher. Although a Mk1 Golf can be sourced at reasonable prices, only a few Mk1 Passats remain. There were no new VW cars sold in Australia at all in the 1980s, so you won't find these models for sale like you do in Europe. Golf sales did not resume in Australia until 1990, when the Mk1 Cabriolet and Mk2 GTI were imported by TKM in small numbers. At thirty thousand plus each they took well over 12 months to sell, and they are too new to appear on the budget second-hand market yet. Hopefully, with the Mk3 range and the Polo now on sale too, in 10-15 years the local second hand market will have lots of budget-priced used modern VWs to choose from.
The next item on the agenda would be to locate a suitable VW. There are a number of ways to do this but first, consider that you will be entering Australia via an international airport, more than likely Sydney. The problem is knowing the location and means of transport to potential acquisitions. Means of sourcing suitable VWs could be:
• Classified section in local and major newspapers
• Trading Post (a classified-only newspaper) and backpacker
• Specialist car magazines such as Unique Cars and Classic Car
• The internet. Try CarsGuide, Drive and even Ebay.
• Contact VW clubs; most have E-mail, web sites and for-sales sections.
• VW workshops and repairers often have VWs advertised for sale.
With mode of transport now acquired it's time to hit the road, but first ensure you know the road rules. You will also require a current valid driving license (country of origin will be OK). For those who don't know, Australian vehicles are like British – Right Hand Drive. Also be warned, Police here take a dim view on life threatening offences, and issue on the spot infringement notices (tickets - and that's not for the lottery neither) for such offences as:-
• Exceeding the speed limit. Offences where speeds exceeding the limit by more than 30 km/h are settled in court. Speed limits are well marked. As a guide, 60 km/h in built up areas and 100 km/h on open road or as marked.
• Driving under the influence of alcohol. There are Random Breath Test units set up regularly, but every Police car can pull you over and breath test you. The legal limit is 0.05. Blow more and you will lose your licence on the spot.
• Not wearing a seat belt. All occupants must wear a seat belt if provided.
• Failing to obey Lawful signs, ie. failing to stop at stop sign, failing to give way at a give way sign, running a red light, and so on.
You may like to check out the local VW club scene (events, shows, swap meets or club meetings, you will be made welcome) while you're in Australia travelling around, again check with the clubs for details. Enjoy your stay.
Rod Penrose's world record-breaking Beetle drag car
By Steve Carter
May 2002
On the 3rd November 2001 Rod Penrose, driving his chop-roof VW Beetle drag car, broke a long-standing 'Hot VWs' magazine 'A Sedan' world record at Heathcote Park Raceway in Bendigo Victoria (since then, the record has been recaptured by Ron Lumis in the USA).
Two days earlier Rod had the car on chassis dyno for the first time and after 8 dyno runs, the car had produced 297 kW and 628 Nm of torque at the rear wheels. This reading was taken at 7,632 rpm at 185 km/h with 2.1-bar boost. This was calculated to be 382 kW (512 horsepower) at the flywheel.

Rod loaded the car onto the trailer and headed for Bendigo. First run off the trailer the car misfired, backfired, farted and ran lean enough to melt a spark plug. The time was 11.46 @ 98.1 mph (158 km/h).
Rod then richened the fuel mixture and wound up the boost to 1.6-bar. With the wheelie bars set very low so as not to wheel-stand, the car spun the wheels all the way down the ¼- mile. The time was 10.06 @ 143.1 mph (230.4 km/h). The next run, Rod lifted the wheelie bars a little, richened the mixture again and increased the boost further to 2.1 bar. The car ran very straight and very fast, clocking a 9.27 second pass with no mph recording on this run.
Rod was feeling good at this stage, so he decided to richen up the fuel mixture again and reset the boost at 2.1 bar - according to the onboard data logger the boost was only 1.6 bar – and the car ran 9.26 @ 151.6 mph (244 km.h).
After downloading the data, Rod found that he was still only getting 1.6 bar from the turbo. After closer inspection, Rod found an adjusting bolt from one of the wastegates had vibrated out and was missing. After replacing the bolt, the car ran a 9.56 @ 152.8 mph (246 km/h).
Rod downloaded the data from this run and found he was still only making 1.6 bar of boost. This time he found that the dial-a-boost on top of one wastegate was winding itself shut; therefore one wastegate was operating at 2.1 bar and the other wastegate was operating at only 0.9 bar; which is why it was producing only 1.6 bar of boost on total. Race tape was used to hold the offending dial-a-boost open.
The next run the car lifted the front wheels in all four gears and went as straight as an arrow. The 60 foot time was 1.41 seconds, and the time at halftrack was 5.82 @ 124.58 mph (200.5 km/h). The end result (8.96 @ 155.87 mph (250.9 km/h)) was good enough to set both ET and mph records for the 'A Sedan' ¼- mile. 'A Sedan' class is unlimited VW style engine configuration, steel body, fibreglass bonnet, doors, engine lid and mudguards are allowed. Wheelbase must remain + or – ¾" for the body used.
Some statistics about Rod's car:
Start line launch at 5575 rpm
1st gear is gone in 1.26 seconds at 8518 rpm.
2nd gear is gone in 2.46 seconds at 8961 rpm.
3rd gear is gone in 4.25 seconds at 9180 rpm.
End of ¼-mile run in 8.96 sec @ 155.87 mph (250.9 km/h) at 9035 rpm.
Gear change from 1st - 2nd takes 0.11 seconds
Gear change from 2nd - 3rd takes 0.14 seconds
Gear change from 3rd - 4th takes 0.14 seconds
Acceleration - 0-100 km/h in 1.92 seconds, 0-200 km/h in 5.4 seconds
Boost temp at start of run 80 deg Celsius and 188 deg Celsius at the finish.
Maximum fuel pressure: 380 kPa
Maximum boost pressure: 2.1 bar (215 kPa)
Engine displacement - 2810 cc
Case - Autocraft, dry sumped
Crank - Scat 86 mm. Type 4 mains and flanged for flywheel
Rods - Carrillo, Porsche journal
Heads - Autocraft pro series, 50.5 x 40.5 Del-Nest titanium, K 800 springs, ported by Rod.
Cam - Autocraft 925, steel billet
Piston and cylinders - Autocraft 102 mm forged pistons and ductile steel cylinders.
Rings - Dykes top and Autocraft 2nd and oil scraper
Oil pump - Autocraft 3 stage dry sump
Rockers - Autocraft pro series 1.25:1 ratio
Pushrods - Autocraft dual tapered chrome molly
Compression - 8.72:1
Intake - 65 mm mild steel tube tubing, HPC coated with chassis shop blow off valve.
Induction - T72 turbo, dual turbonetics wastegates with dial-a- boost controllers
Exhaust – 50 mm primary tubes 56 cm long, HPC coated, 90 mm turbo outlet, HPC coated
Ignition - Compufire dual coil packs with Auto Meter pro control rev limiter
Clutch - Dual disc with floater plate and custom pressure plate
Transmission – '75 Kombi casing, 1st 3.55, 2nd 2.06, 3rd 1.44, 4th 1.04
Ring & pinion - Richmond 4.60:1
Differential - Dave Folts aluminium spool
Axles - Dave Folts 12 cm shorter swing axle conversion.
Special mods - Gene Berg intermediate housing and hi torque starter
Car - 1968 Beetle, 125 mm chop on roof, fibreglass one piece front and rear guards, 2 mm aluminium floor, 0.8 mm aluminium firewall, interior panels, air scoop and engine lid. 1.2 mm aluminium rear wing, steel doors, roof and quarter panels.
Chassis - Mild steel & chrome moly tubing weighing 110 kg.
Front suspension – 200 mm-narrowed VW king & link pin. Willwood disc brakes with 4 piston callipers.
Rear suspension - 82-cm long chrome moly trailing arms with Spax adjustable shocks, 420 kg springs, Willwood 5 lug hubs, 13¼ semi floating discs with 4 piston callipers
Wheels rear –15 x 8 spun aluminium, 28 x 9 Mickey Thompson slicks
Wheels front - 15 x 3½ spun aluminium, 23 x 4.5 Formula Vee tyres
Car weighs 649 kg without driver and 752 kg with driver.
These Penrose boys are pretty clever. Rod is a motor trimmer from Dapto and his brother Wayne also from Dapto, is the owner of Wayne Penrose VW and is Australian Hill climb champion in his Beetle.
Country Buggy Takes All In Its Stride
From 'Power Farming and Better Farming Digest', May 1968
August 2002
Power Farming has severely tested the Volkswagen Country Buggy over 1,100 km of typical country areas including some extremely rough scrub and mountainous regions and feels this is ideally to agricultural operations where the expense of a four wheel drive vehicle is not warranted. This specifically what the Country Buggy has been designed for. It is not intended to compete with four-wheel drive machines, as it does not posses the power required for such demanding work.
The concept of the Country Buggy is entirely Australian and revolves around Australian conditions and the peculiar requirements of a country vehicle. As well as thorough testing during development in Australia three units have been checked out at Wolfsburg, Germany, for assessment of test track and mechanical performance.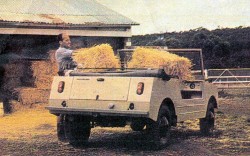 Powered by the proven, 1285 cc, four cylinder, air cooled Volkswagen engine developing 50 bhp at 4600 rpm (an 1192 cc power unit developing 40 bhp at 3,900 rpm is also available), the test vehicle proved to be a fast and stable conveyance when travelling rough terrain as well as main roads.
The main aspects of design which lend themselves to fast, stable cross country travel are the high clearance, excellent traction, wide track and low centre of gravity.
Equipped as standard with 15 in. wheels and 5.60 x 15 4-ply tyres, the Buggy is endowed with a 23-cm ground clearance when fully laden. To further aid this above ground height, the body construction embodies a minimum front and rear overhang and platform chassis absent of any cables or controls, and if this latter section is grounded, it is possible to slide the vehicle over the obstruction without incurring costly damage.
Good traction is an essential requisite for any off-the-road vehicle and while the Buggy does not posses the potential of a four-wheel drive, it handled anything I subjected it to without much trouble. This included soft creek beds, mud, soft sand and steep loosely surfaced grades. The name Volkswagen is synonymous with rear-engined vehicles and with engine similarly located over the driving wheels on the Buggy, traction is aided immensely.
The only annoyance I experienced on the 1,100 km test was a tendency to hop on excessively inclined loose slopes. However, this was simply overcome by allowing the engine revs to drop and permit the rear wheels to again grip the surface.
My tests in this respect were performed with vehicle virtually unladen, one passenger and about 100 kg on the tray, but I feel, with a 250-300 kg payload, traction would not be lost, as the extra weight over the driving wheels would obviate this.
With its wide track, front 1375 mm and rear 1360 mm, and low centre of gravity, the handling of the vehicle was exemplary. My impressions from the test were that it would be virtually impossible to upset the Buggy except under the most foolhardy manoeuvres.
Although designed for cross-country work, the Buggy was equally at ease on main roads. Handling under these circumstances was again excellent with no obvious over steering or under steering characteristics. Even under severe cornering, one was not overcome by an unnerving premonition of rolling.
Fuel consumption was pleasing aspect with an overall figure of around 10.5 litres per 100 km. Highway travel was facilitated with a top speed and cruising speed of 105 km/h, yielded a mileage consumption of just 9.3 L/100 km, and only stretches of tough going in low gear did fuel usage increase to 14 L/100 km.
Coupled to a tubular centre section frame with welded-on platform chassis is a welded steel body of heavy gauge with box section side members. All outer body are constructed with strengthening ribs to minimise damage in heavy bush or outcrop country. Heavy-duty box section front and rear bumper bars are solidly supported on the body and a towing eye is incorporated in the rear bar.
The body construction features large wheel wells, which prevented any packing or clogging of heavy mud on test. Beauty may not be one of the Buggy's attributes but it certainly is of solid and practical construction to endure tough treatment from the agriculturist.
Equipped with a fold down windscreen fitted with laminated glass, the slopping front bonnet provides excellent forward vision and incorporates a lockable weatherproof compartment for the spare wheel and tools. Asymmetrical headlights and turn indicators are positioned on the front bonnet.
Housed in a spacious rear compartment facilitating easy servicing and maintenance, the four cylinder engine is located slightly rearwards of the driving wheels. It transmits its power through a dry, 200 mm diameter, single plate clutch to a four speed, fully synchronised gearbox/differential assembly and finally through swinging half shafts to reduction gearboxes at the rear wheels.
The engine is fitted with a heavy duty, two stage air cleaner comprising centrifugal pre-cleaner and oil bath sections, to remove dust and dirt contaminants. One point I queried on the air cleaner was its placement. The engine air intake nozzle is positioned directly in the flow of air to the fan from the bonnet louvres.
Although I have been assured that the efficiency of the air cleaner is ample to prevent dust damaging the engine, provided air cleaner servicing is carried out as instructed, I would like to see the air intake nozzle directed into the recessed compartment over the wheels. This compartment remained quite dust free after 1,100 dusty kilometres.
Suspension on the Buggy is independent all round with torsion bars and trailing arms to rear axles, and torsion bars and cranked link arms at the front. These provide positive wheel contact with the ground under most conditions. A great deal of thought has been given to operator comfort without sacrificing ruggedness.
This fact was most evident over both rough surfaces and main road travel on the test. The ride was smooth and not objectionably harsh as is expected from an off-the-road vehicle, yet proved rugged enough to withstand considerable buffeting off the road.
The front torsion bars are identical with those of the VW Beetle to afford ride comfort, while the two cranked link arms and king pin assembly are interchangeable with those of the VW 1-tonne commercial vehicle for strength and durability. The rear suspension is predominantly from the commercial, incorporating the reduction boxes to give increased lugging with a hill climbing ability of 60% (1 in 1.66). The suspension system is then completed with telescopic hydraulic shock absorbers and a front torsion bar stabilizer.
Apart from its ride and handling attributes, the Buggy is an operator's pleasure with controls being light in operation. The steering over the 1,100 km proved effortless with no hint of fatigue on the part of the driver. The clutch and the gearbox were a delight to use, as were the reassuring brakes. All felt quiet sturdy in construction.
The brakes were more than adequate for the weight of the vehicle and proved consistent under all conditions experienced. These comprised a front and rear hydraulic system acting on 250 mm diameter drums and a mechanical handbrake on the rear wheels.
While on the subject of operator comfort, the Buggy's driver and passenger appointments were quite adequate for such a vehicle. Both are provided with comfortable bucket seats with fore and aft sat as well as varied back squab positions. The back squabs are also fitted with automatically locking devices to prevent any forward shift of payload on hard stops forcing the driver or passenger out of the seat. Seat belts are included as standard equipment.
Instrumentation is confined to a speedometer embodying odometer, and ignition, oil and turn indicator warning lights. Panel controls include two position light switch-parking and headlights and dipper switch, windscreen wiper switch and screen washer, key start ignition, self cancelling turn indicator lever and horn button. A large glovebox compartment and grab handle positioned on the passenger side while a sun shield is located on the driver's side only.
In addition to the passenger compartment, the Buggy provides a rear tray for cartage or storage purposes of 1.3 sq. metres. Permissible payload for the vehicle, weighing 775 kg, is 365 kg. The payload tray is at a convenient height to loading and off loading without excessive strain.
Optional extras available at present are the smaller 1,192 cc engine; a soft convertible top and side curtains and winter tread tyres. The test vehicle was fitted with the three later options, which I feel would be most essential accessories for the agriculturist, especially in wet weather
The soft-top and side curtains afforded extremely good protection to driver, passenger and payload on the test with negligible draft being apparent at speed. Although heavy rain was not encountered, the water proofing of the interior by these accessories appeared to be quite good.
Additional extras envisaged in the future for the Buggy are a limited slip differential, power take off and hardtop. The limited slip differential would be invaluable on the vehicle to further aid traction properties. The PTO will consist of a standard size shaft protruding from the rear of the engine compartment and will be operated off an extra flywheel pulley through a V-belt with an over centre movement for engagement.
The one item I would like to see featured as optional equipment is a heater.
Volkswagen sedans and commercial have had heaters incorporated as standard as long as I can remember, working on a heat exchange principal form the hot exhaust pipes which proved quite effective. The reason they are not incorporated on the Buggy is because of the redesigning of the exhaust system to provide added clearance and a position of muffler away from water and mud contamination. The test was carried out in early April, which is by no means indicative of winter conditions and even at this time, temperatures inside the cabin were quite cold. With the engine positioned at the rear, no heat is obtained from this source as in more conventional vehicles.
Being built from predominantly from already available standard Volkswagen components, the Buggy would pose no problem in regard to spare parts as VW dealers are spread throughout Australia.
The price of the basic 1285 cc Country Buggy is $1,598, or for agricultural where sales tax is not applicable, $1467.50. The vehicle as tested with three options: soft-top, side curtains and winter treads, which brought the total cost to $1,708.70, or $1,558.15 without tax. Further information can be obtained from your local Volkswagen dealer.
The test car was by courtesy of Lanock Motors Sydney.
The Peter Keegan story
By Michelle Cook
November 2002
For most people, Volkswagen Beetles conjure up images of Herbie the Love Bug. But for Peter Keegan from Orange, NSW, the VW Beetle represents world records and drag racing.
In September 1972 Keegan drag raced his 2200cc, four-cylinder VW Beetle sedan over the quarter mile in a world record time of 10.82 seconds. "It was the world record for the four cylinder class," Keegan said. "I got the record down to 10.23 seconds. I was going 134 miles per hour (215 km/h) at the finish line." Keegan became the first person in the world to post a sub-11 second time in a Beetle.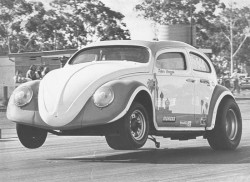 His fascination with cars started when he was involved in hill-climbs, and his brother was involved in drag racing.
"I used to be mixed up in hill-climbs," he said. "My brother Brian got into doing drag racing at the Castlereagh track (near Penrith in western Sydney) and I would go and watch. I saw a Volkswagen in a hill-climb and thought it would be good in a drag race because it is light with its weight at the back. I drove a cab for 12 months to get the money."
Keegan knew he made the right decision to move to drag racing after his first race in the Beetle.
"The first time I raced it, it went 12.9 seconds which was unbelievable in those days," he said. "I gradually made changes and a lot of work went into it."
The changes paid off with Keegan not only posting world record times but also attracting big crowds.
"It was really a car that was the crowd favourite because it wasn't supposed to do what it did," he said. "Sometimes it went back on two wheels and drove like Herbie. People loved it and the promoters loved it. It brought in the crowds. At the time it was the quickest sedan. It was quicker than the big V8s."
Keegan started out knowing little about Volkswagens and enlisted the help of other
Orange locals. "I didn't know that much about Volkswagens, and Norm Campbell, the Volkswagen dealer in Orange, helped me out," he said. "I got some sponsorship from Volkswagen Australia, and Camel Filters, and ended up making money out of it."
Spending 10 years in the sport, Keegan eventually left when his home track was sold. "They closed down Castlereagh International Dragway in 1984 and it wasn't the same," he said. "They also changed the way they ran the races and started handicap races. I went back to hill-climbs again for a little while."
Keegan still loves Volkswagens but he restores them. "I've got a 1973 Volkswagen Kombi sitting in my shed at the moment looking beautiful," he said. "It took me about 18 months to finish it. All the cars I have built have won trophies and medals at Kombi shows."
Even though it's been 30 years since the record races, Keegan thinks about return the drag strip. "It was really good at the time. I had a mile of fun," he said. "Having another go is always back of your head but I'm doing other thing and I'm-too busy. I would like to get into more serious stuff specialised car, but it's all a pipe dream."
The last Australian Beetle
From Modern Motor, May 1977
January 2005
After an Australian sales run of more than 23 years, the Volkswagen Beetle has succumbed.
The Volkswagen Beetle phenomenon is one that will never be repeated in industrial history, as we know it. The philosophies, design and engineering employed in the production of the Beetle over the past 40 years have proved one important thing: that it can be done.
The success of the Beetle as a mass produced, multi-functional vehicle over those years has been largely responsible for the establishment of Volkswagen as a household name around the world.
It was with these thoughts in mind that we drove the last VW Beetle in Australia. The car, one of about 50 still left in stock, will be placed in VW's Australian museum as being representative of all of the Beetles sold in Australia since the introduction of the car in 1954 (it actually ended up in Green's Motorcade museum in Leppington, western Sydney, until it was sold at auction when the museum closed in 1982 – Ed.)
Current sales figures for the little Bug now run at almost 20 million, worldwide, and more than 260,000 in Australia alone. But to think that the Beetle is dead would be wrong, for they are still being put together at a rate of 1,500 per day worldwide, 350 of those at the Emden factory in West Germany (The Golf replaced the Beetle at the main Wolfsburg factory in 1974). The production peak for the Beetle was reached in November 1971, when a total of 5,900 Beetles were being assembled per day, 4,300 of those in West Germany.
Though the drop-off in production is significant in illustrating the decline of the model, it in no way indicates a decline in the parent company, which is now responsible for the production of a completely new and equally successful line of VW models: They include the Polo, Golf, Scirocco and Passat in passenger vehicles and the well-known range of light commercials and leisure campers, available in a wide range of configurations for local and export markets. The Golf was such a success that the one-millionth took just 31 months; the Beetle's one millionth took ten years.
However, it's the last Australian Beetle that really concerns us now. It follows a line of locally made Beetles that goes back to 1954. At first they were assembled in Melbourne (by train carriage makers Martin and King, owned by Clyde Industries) from German CKD kits, but more and more Australian-made parts were added each year. Volkswagen Australasia was formed and they bought the Martin and King factory in Clayton. By 1959 the body panels were being stamped, and by the mid-'60s the Beetle was at least 80% local content. Maximum production was 24,000 Beetles in 1964, but dropping sales and huge financial losses saw the factory revert back to CKD assembly in 1968. The basic '1300' bug appeared in 1970 and lasted until 1975. The Superbug came along in 1971 but was discontinued in 1975, and only the '1976' 1600 remains.
It's difficult in many senses to look at the last of the 1976 Beetles as a 'new' car. The reputation good or bad that surrounds the particularly unique aspects of the Beetle have had 40 years to evolve, and have a good deal to do with the legend of the Beetle and its success as a people's car.
If you'd never driven a Beetle, the initial reaction was usually one of mild shock, experienced not only by drivers but also by unsuspecting passengers, particularly in wet weather.
Recollections will probably vary from one person to another: For instance, horrific tales of driving across the Sydney Harbour Bridge with a 25 knot crosswind blowing your VW from one lane to another were common. Similarly, tales about the VW's rather curious handling characteristics could hardly be described as complimentary, and no doubt there are many of us who break into a cold sweat when we recollect the times our everlasting Bug lifted both outside wheels and seemed to roll over in slow motion while the contents of the car floated through the air as if suffering the effects of weightlessness.
All this, you might think, would turn people away from VW. Not so, and the reason is basically simple. People also remember them starting every time, even in the coldest weather; running for years without complaint on the smell of an oily rag, and costing next to nothing to service at the friendly VW dealer in every town. What VW Beetles had in their favour was that they were cheap to run, as reliable as Old Nick, lasted forever, and maintained an incredibly high resale value.
With rose-coloured glasses people also say they were cheap to buy. Maybe in America, where they were cheap compared with the giant Chevys, Fords, Chryslers, De Sotos, Buicks, Mercurys, Pontiacs, Plymouths and Cadillacs that Americans bought. In Australia they were comparatively expensive; Morris Minors were cheaper, and so were Simcas, Hillmans and Austins. The Deluxe Beetle was nearly a thousand pounds in the early '60s; you could buy a Holden for only a hundred quid more. VW's cheaper 'Austerity' Standard Beetle was a flop – Australians were actually prepared to pay more for a Deluxe. In Australia it wasn't purchase price that sold them, it was VW's other advantages that made them a success.
The car's popularity amongst the younger set had a dual foundation. First, they were cheap enough (after 5-10 years) to be a first car for literally generations of drivers, and with a little bit of modification to suspension and engine, plus a set of radial tyres, the humble VW Beetle took on many of the cult aspects of a sports car without the heavy expense or insurance commitment. This reputation was forged by the VW's overwhelming successes in the Round Australia Trials. With young drivers, these considerations were of critical importance because most of their decisions concerning purchase of a motor vehicle were governed by the money they could afford to outlay.
The second important feature about the Beetle was that it was such a basic car in its most standard form that modifications to the interior and mechanicals were, in varying degrees, almost mandatory. The cult that evolved around Beetle modifications included specialist books and magazines on the subject of customising, car clubs, race meetings and a vast range of ancillary industries built up around the VW Beetle ethos.
In effect, what began life as a humble 1200 Beetle could, at reasonable expense, be turned into a fire-breathing drag car, a Formula V open wheeler, a rally-cross special, a sand buggy or even a power plant for a light aircraft.
The sales philosophy behind the Beetle was centred on the car's strength, reliability and economy, demonstrated publicly by the Redex, Mobilgas and Ampol trial wins; the class win against Minis at Bathurst, floating across Sydney Harbour and surviving a year in Antarctica - and the appeal of those features was largely responsible for the car's continuing success over 40 years.
Though it could hardly be described as a high-performance engine in its standard form, the Beetle proved to be an ideal city car. Its reliability under all climatic and topographical conditions was reason enough for its wide acceptance. However, good as the car was, its run eventually had to come to an end, and apart from the debut of VW's modern range, the other major factor for the Beetle's demise in Australia was the introduction of stifling safety and anti-pollution requirements under the determinations of Australia's Design Rules (ADRs). VW Australia was not prepared to invest large amounts of money and development to make the ancient Beetle comply.
Though the 1600cc engine in the last Beetle is a vast improvement over the well-known 1200cc unit, its performance is severely limited compared to the Beetle's modern replacement, the Golf.
The standard cross-ply tyres are another drawback, and though they are fitted in an effort to maintain the initial low cost of the Beetle, they limit its handling potential seriously, especially in greasy road conditions.
Volkswagen's decision to launch the Superbug in February 1971, showed just what could be done with the 1.6-litre engine. Accordingly, the Beetle underwent the most drastic and significant body design changes of its long history. The nose was bulged, the windscreen was curved, and the front track was widened. Suspension changes were also effected with the incorporation of double joint rear suspension of the Porsche type. Fuel consumption on the 1600 Superbug was better than 8.5 litres per 100 kilometres, while that of the latest Beetle is only 9.2 litres - a sad consequence of the ADRs.
Power and torque has also suffered, though the weight on the base Beetle stand at 780 kg compared to 870 kg for the Super Bug.
Of course, the comparison isn't really a fair one, but it is interesting to see just what our design rule restrictions are doing and see one reason why it has been necessary to come up with new vehicles designed and built along the lines of the Golf.
Steering on the '76 Beetle was characteristically light, and gave a floating sensation unless a heavy load was placed in the front luggage compartment to help make the wheels track better. Again, radial-ply tyres can help in this area.
Interior space in the little Beetle has always been pretty good, though access to the rear luggage compartment is now more difficult than the old rubber strap retainer routine.
The interior design of dashboard, steering wheel and controls is vastly improved over earlier models, with a padded steering wheel giving good positive control at the wheel and a much safer impact zone than the old cast metal job.
Probably one of the biggest complaints about the Beetle was the poor seating, the cause for more sore backs and numb bums than many of us would like to remember.
Rationalisation of the model range in 1976 after the end of the Superbug and the introduction of the Golf, saw the '76 Beetle revert to a combination of past model features. The Superbug body style was dropped in favour of the older VW 1300 type body. That meant a return to the flat windscreen, less bulbous torsion bar front and rear ends and the relocation of the old front guard indicators, though the newer 1600cc motor was retained with the double-joint axles and the Superbug's front disc brakes. In technical terms it's probably the 'best' Beetle sold here since 1954, even though the factory is now owned by Nissan.
Still it wouldn't be fair to test the Beetle as a new car, because it's not and now, despite the application of cosmetics and an improved interior, the Beetle is dying. The best we can do is remembering the Beetle as it was. The lady isn't a shadow of her former self.