Club VeeDub
Welcome to Club VW
Club VW – The Structure, The Objectives
About 'Zeitschrift'
Our First International Inter-Club Visit
Association of VW Clubs
Club VW Information
Club Meetings Aren't Boring!
Club Veedub, not Club VW
Show Judging Criteria
Eight Reasons to Join Club Veedub
Drags Clarification
Zeitschrift Editorial
Club Veedub Turns Ten!
Tenth Anniversary Drive
From the New Editor
Club Veedub has its own domain
Club Veedub Playstation night
Visiting Club VeeDub's Nationals
No more photocopying!
VW Nationals Quiz
Vice-President's Report
Club Veedub Turns 20!
Older Zeitschrifts
Welcome to Club VW
By Chris Edwards
February 1985
Welcome to CLUB VW and on the first of many informative monthly magazines.
It all started on 16 January 1985 during the Volkswagen Club of NSW's monthly meeting (this club is currently celebrating its 30th anniversary).
Rod Young, Phil Matthews, Alex Simpson and myself were, as usual, non-plussed by the club's attitude to VWs. Totally overrun by Mazdas and Datsuns the club could no longer cater in many ways for any VW product. As we four represented virtually all VW knowledge and enthusiasm within the club, we decided to form a GENUINE Volkswagen Club on the spot (here I am at Phil's 21st with my wife, and Simon Matthews and Rod Young).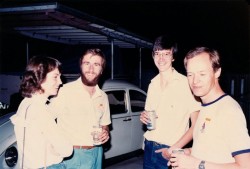 I was outspoken that night with my ideas on how I would structure a club for this special breed of car, and my ideas were unanimously accepted by Phil, Rod and Alex – somehow that made me President.
We set about contacting businesses regarding their support in the form of discounts for members; the reaction has been very good, with a number of major suppliers and service agents coming to the party.
To promote the Club we simply drafted a little dodger and set about distributing copies on VW windscreens. The dodger said to meet at Parramatta Park on 10 February 1985 at 12:00 noon.
19 Volkswagens came out of the woodwork, which is about 4 times the number of VWs ever seen by any of us at any VW Club of NSW turnout, and five of them are current VW Club of NSW members, myself included. 23 members were signed up, cumulatively owning a total of 53 Volkswagens. On the day there were 2 Kombis, one Type 182 Thing (Trekker), a beautifully-restored Type 1 '56 sunroof, one '61 Karmann Ghia, a very clean Type 3 Fastback, one Golf and numerous other Beetles, stock and modified. I daren't forget Rod Young's 2-litre fuel-injected fibreglass Type 3 wagon (with a lift kit!)
We were mostly strangers to each other, and after an hour of introductions wwe sat or stood around on the grass for a very informal meeting. I roughly explained what we hoped to achieve for each other as a club, and put forward my ideas on how the Club should be structured. There were no objections.
Most of us then set out in convoy for a park near the river at Windsor, where we consumed some deplorable junk food and talked some more. Then it was on to another new member's home nearby, that of John Watt. We filled his lounge room, drank his drink (lemon squash and coke) and watched 'The Love Bug' on his video. Thank you to John and his wife Trish for their hospitality.
Meeting finished at 6:30pm – Club VW is up and running, and may it last as long as the breed, with a reputation to match.
Club VW – the Structure, the Objectives
By Chris Edwards
February 1985
'VW' represents a legend that will never die. The 'Beetle', as the Type 1 became faithfully known, was the start of an empire that would grow to become, without a doubt, the most technologically advanced and innovative automotive design and manufacturing firm on the globe – V.A.G. (Volkswagen Audi Gruppe).
After the war the occupational British couldn't give the VW plant or concept away. Henry Ford II was told by his deputy, Ernest Breech, when asked his opinion, "Mr Ford, I don't think what we are being offered here is worth a damn!"
Eventually, this unwanted lemon was given back to the Germans, under the directions of Heinz Nordhoff, and the rest is history.
The car is different, the Club is different.
Unlike any other car club, our members are under no obligation to appear at any event. Why? Because our aim is to extend the life of every VW and Audi on the road. We will attempt to do this by providing discounted parts and service to all members, as well as recommending proper service procedures and specialised car care advice through this monthly magazine. With Club VW, legendary service lives on.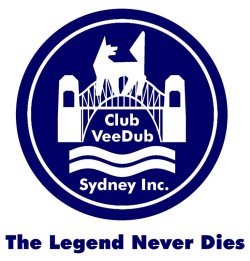 The Club is socially active first; the common element is VWs.
To become a full member, you must own one of any VW or Audi-based product. This includes NSU, Auto Union, DKW and Porsche.
We will provide the best advice on restoration and modification at our disposal.
We will maintain a library of VW manuals and VW-related material.
We will look into the setting up of a 'tool library', containing specialised equipment.
Organise events such as swapmeets, advanced driver training, concours, off-road, drag and track meets.
Establish and standardise a list of events (and rules to govern them), for an annual or bi-annual 'Bug In' style fixture (all yet to be decided)
We will attempt, to the best of our ability, to cater for most of the various uses VWs have been put to.
We anticipate an emphasis on restoration, as history has shown that cars, modified or not, inevitably end up in the hands of restorers. Herein lies a Car Club's strength.
The Committee should be made up of members representative of each form of interest within the club, so that no one overpowering element will smother other members' VW interests.
About 'Zeitschrift'
By Phil Matthews
February 1985
Hello and welcome to the first ever issue of 'Zeitschrift', the magazine of CLUB VW. This magazine will in future, strive to provide the best in articles on all facets of VWs, including technical information and 'how to' tips, VW history both here and abroad, the latest on new models and points of interest from within the VAG organization, as well as reports on CLUB VW activities such as social runs, publicity drives, and reader participation. The Editorial staff hopes you enjoy all we present to you.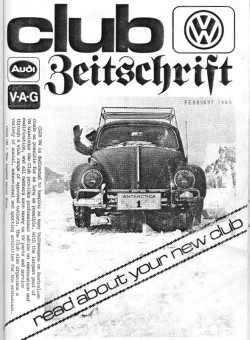 Perhaps a few words on how the name Zeitschrift came about. The President had prepared a rough design for the magazine cover, much as it now appears. However, to enable the magazine to be accepted by Australia Post as a Registered Publication, the name of the magazine could not be just 'Club VW magazine.'
We had some discussion on what we should call the new magazine, with suggestions ranging from 'The Bugger' to 'Volks-News'. Eventually, however, the suggestion was made that the name 'magazine' be translated into German, as 'Club VW Magazine' seemed about as good a name as any. So, a quick telephone call to the Club German expert Rod Young soon gave us the word 'Zeitschrift', which is German for 'magazine' or 'journal'.
After repeating this word a dozen or so times to ourselves to get the pronunciation correct (SITE-shrift), it was decided that this was a very suitable name, given the German origins of our favourite car, and so 'Zeitschrift' it was from then on. Why not say it to yourself over and over until it sounds as familiar as 'Kubelwagen'; we aim to make it a household word!
For the first month Zeitschrift is printed with the aid of a photocopier and an ex-education department screen printer. Satisfactory, but not yet in the league of publications such as the 'Volkswagen Spectacular' from Nambucca Heads. If any readers know of a printing firm that is willing to negotiate regarding the future production of Zeitschrift, please let us know.
For the first month also, we have sent Zeitschrift to a wide range of VW businesses in Sydney. Hello to them all! We hope to see you in future at a Club event. We will support you if you support us! There is plenty of VW enthusiasm out there as the President has already mentioned; we plan to harness and concentrate that and to make it last as long as possible. Advertising is a way to do this; rates are as follows:
Full page (each issue) - $15.00
Half page (each issue) - $7.50
Quarter page (each issue) - $3.75
Compared to other enthusiast publications these are reasonable rates – and readership can only increase in the coming months! Contact the editor if you wish to further both your business and the legend that will never die – the Volkswagen.
All contributions from readers are welcome for the magazine, and we print anything on VWs and Audis that may be of interest. The next issue of Zeitschrift should be out in the early weeks of March, possibly just after the monthly meeting. Look for us…JOIN CLUB VW!
Our First International Inter-Club Visit
By Rod Young
March 1986
This January, I found myself in, of all places, Paris. Before leaving Australia I had noted the address of a French VW club "Wild VWs and Buggys" from VW Trends magazine (when are we going to be in there?) One morning, while the rest of the group I was with was doing touristy things, I thought I'd chase them up.
Paris is somewhat the same size as Sydney, and after three Metro connections, a ride on a fast suburban train, a bus ride and at least a two-kilometre walk, I found the address. There was no indication of any VW club being there. At the garage next door they told me that some people used to meet there a few months previously, but they had gone out into the provinces somewhere, and weren't nice types anyway. This news didn't sound very promising, but having invested so much time, I was determined to make contact with a VW club. I rang VAG France to ask about other clubs, and they gave me an address and phone number for the 'Club International des Cabriolets et Collectionneurs de Volkswagen', on the other side of town.
I managed to get in contact with them over the phone, and arranged to meet them on the following weekend. I was lucky to meet them at that time, as several of the members were getting together to arrange to put two cars into an upcoming car show – a 1969 Cabrio and a Schwimmwagen.
I was picked up from the railway station in a Renault 5 by Lionel, who runs the club computer. He took me to where Daniele, the Secretary lives, and I was shown her immaculate late '70s black Cabrio. Soon after Robert, the club's expert on old VWs, showed up in his beautiful '69 Cabrio. Cabriolets are pretty highly sought after in France. We sat around all afternoon talking VW and drinking whisky. In the evening, after more members had arrived, they took me in another Renault 5 to an Algerian restaurant, where they shouted me to a couscous. I was treated like royalty. They showered me with gifts – a club T-shirt, bumper badge, magazines, stickers, and a beaut little carrying case with a picture of a Beetle on it, all of which was much admired by people at our last meeting. They loved my Club VW sloppy joe. We can be proud of our logo; it's pure class. I promised to send them some more of out paraphernalia in return.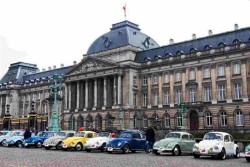 CCVW started as a club for VW Cabriolets only, but recently opened its doors to other air-cooled VWs also. They will only admit factory faithful cars. It has been going for five years, has around 250 members, and offers member services similar to our own. Their annual dues are 250 francs, or $50. This is food for thought. There is no such thing as club discounts from dealers and parts sellers, and the prices I saw were much higher than here. They didn't believe me when I told them how cheap things are in the States.
So, do you see the benefits that membership of a VW club brings? There are VW clubs all over the world, so why not make friends through these clubs wherever you travel. I now have VW friends in four countries, and intend to maintain contact with CCVW. By the way, their club magazine is a slick little publication called 'Contact'.
By the time you read this, I hope to have shown slides of all the interesting VWs I saw in France, if they turn out. I hired a VW Polo for the day, and it was a really great little car. I also picked up all the brochures I could.
Association of VW Clubs in NSW
By David Birchall
November 1986
The Flat 4 Club of Sydney has proposed the formation of an 'association' of VW Clubs in New South Wales.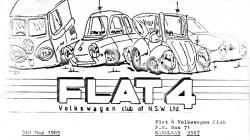 An initial meeting to discuss this proposal was held on 15th September 1986, with members from Club VW Sydney, Central Coast, Flat 4 Sydney and VW Club of NSW in attendance.
At this meeting, Steve Muller and myself were present. The pros and cons of such an Association were discussed, and each club's representatives were to report back to their members on the possible formation of the VW Association. A letter was also forwarded to all those Clubs who were not able to attend.
Club VW Sydney discussed the matter at the most recent Committee Meeting, and at the monthly meeting at Concord RSL. It was decided not to join at present.
At the second meeting of the proposed Association, held on 20th October 1986, Boris Orazem and myself attended. We informed the other Clubs that Club VW Sydney, Illawarra and Canberra would not as yet join the Association. Disappointment was expressed in this decision. Out of the eleven clubs in NSW, five have expressed their desire to form an Association.
Our committee has given these following reasons for its decision not to join the Association:
1. Club VW is in itself an association of five separate clubs, namely Sydney, Illawarra, Canberra, Central Coast and Hunter Valley.
2. We see no benefit in an association of clubs with such divergent interests.
3. The logistics of such an association – for example, finding venues, travelling such great distances, providing two representatives for each meeting and providing all participants with minutes of meetings, are formidable.
4. Many of the stated aims of this association, such as avoiding clashes on the calendar, have been and still can be met by efficient correspondence between clubs.
5. The time, money and red tape involved would be prohibitive.
On the whole, the committee feels that there are too many voices too far apart for anything of worth to be achieved, and that we should therefore withhold our participation.
Club VW Information
By Rod Young
March 1988
Welcome to the VW Nationals '88. This weekend has been the culmination of about eighteen months' planning and hard work on behalf of Club VW and other friendly VW clubs. Who, then, are your hosts for VW Nationals '88?
Club VW was started nearly three years ago by a group of hard-core VW enthusiasts, and now comprises affiliated clubs in Illawarra, Canberra and the Hunter Valley.
Club VW's logo consists of a stylised version of the Wolfsburg crest, with the Sydney Harbour Bridge substituted for the original castle. It is an appropriate design, uniting two very recognisable symbols.
At present membership of the Sydney club stands at about 160. In the beginning we stated that our main aim was to keep as many Volkswagens on Australian roads for as long as possible, and we are sure that we have been successful in this goal by maintaining people's enthusiasm in VWs. Many of our members are long-time VW 'names', which gives us a tremendous pool of knowledge and contacts. We are not just a local club, and in fact have many members living in distant parts of the state, interstate and even overseas. We also correspond regularly with overseas clubs and have had several international visits from VW enthusiasts.
Membership is open to any owners of VW or Audi vehicles. All facets of the VW scene are catered for – restored vehicles, high-performance projects, pure show cars, kit cars, off-road, competition and daily drivers.
Membership entitles you to significant discounts at many businesses, all of which are detailed in the magazine. The cost of belonging to the club can quickly be recouped just by taking advantage of these discounts.
Many of our members' cars are impressive, to say the least: how about a Kübelwagen, a Schwimmwagen, eight split-window Beetles, a 1986 Beetle, seven Type 181s, half a dozen Beetle cabrios, a Karmann Ghia cabrio, about forty Oval-window Beetles, the Sea Bug, a Golf GTI, and a Scirocco! Many of these vehicles will be on show at the VW Nationals.
The club organises about three Picnic Days per years. These are more impressive affairs than the name may suggest, as close to 200 cars have attended past events. The successful formula is to head for a pleasant area with a picturesque drive on the way, spend a relaxing day talking to other VW owners and enjoy the available refreshments.
Club VW Sydney is perhaps unique in that we have made available special vintage number plates, in conjunction with the Department of Motor Transport. Members with cars over 30 years old may fit them with Club VW plates, which are green on black, and they pay very low rates of registration and insurance. This is a great way to ensure that cars that would otherwise sit idle in garages are kept on the road, and can be seen by enthusiasts.
If you are interested in joining Club VW, you may do so at the Club stand on site. You'll be sure to make some good friends, learn more about VWs and have your enthusiasm to work on your VW rekindled!
Club Meetings Aren't Boring!
By Natalie Driscoll
August 1988
I know that a lot of our club members do not attend club meetings; not that it is compulsory. Neither do I, as a matter of fact, but my excuse is that I have Tech on Thursday nights. But, I did manage to sneak away early and make it along to the July meeting, and I must confess that I was impressed. Not only by the numbers of people actually attending the meeting, but also by the quality of the meeting itself.
The last meeting I attended was several months ago and considerably smaller, consisting mostly of the usual faces. But the meetings of late seem to be at least twice as large, with new faces all over the place. Obviously the VW Nationals has had a bit to do with the increase in numbers and enthusiasm. But I was amazed to find that not only did members come along, but members' friends tagged along too and actually appeared to be enjoying themselves!
So what is it about a simple old Club VW meeting at Concord RSL that attracts people as far away as Mona Vale, Engadine and Bowen Mountain?
Several weeks ago, I attended a North Shore Sporting Car Club meeting and found it less than stimulating. A lot of people attended the meeting, but I found the quality lacking. The formality of the meeting just killed me. Droning over the minutes of the last meeting, seconding and thirding and on it went.
When comparing the two, it is easy to see what makes our club meetings so refreshing and enjoyable. Dull details of decisions made by the committee are not lumbered on general members. They can sit back and enjoy the informative videos or talks. They can buy tickets in the raffle; maybe win a prize testing their VW knowledge on those hard little quizzes cleverly set by Rod, or just sit back and enjoy their drink and free munchies supplied by the club.
Best of all, the atmosphere is very relaxed and very friendly with people mixing freely. But with its relative informality it is still a well-organised and growing club. Have you been lately? Or even at all?
Maybe you should set aside the Thursday night, pop down and try it out. I totally recommend it and truthfully believe you will be surprised.
Club VeeDub, not Club VW
By Stephen Muller
November 1990
At the Extraordinary General Meeting on Thursday September 20th, held for the purpose of a fresh go at electing the Club President for 1990-91, Bill Moore, our Treasurer, reported on his investigations and efforts towards incorporation of Club VW.
For reasons concerning trademark protection, it is not possible to use the name 'Club VW Sydney', so it has been necessary to incorporate under another name – 'Club VeeDub Sydney.'
From that meeting, if I am to interpret Bill's remarks correctly, the successor to Volkswagen Australia Pty Ltd, Ateco (or TKM Holdings, as it has now become), will not or cannot permit use of the VW name and logo indiscriminately, but only under very strict trade conditions. The licensee in Australia is subject to a substantial monetary bond over correct use of the name and trademark.
Other car clubs such as the VW Club of NSW have been established long enough to avoid these restrictions, which have been enforced particularly in the last year or so. A spy of mine, who is in the thick of this action, having worked for most of these main VW distribution organisations, told me that the licensee is taking the trademark issue very seriously. They are insisting that those establishments using 'VW' as part of their business names, without authority, will have to comply within a stipulated time or, presumably, face prosecution. Years of Beetle tradition cut no ice here.
Show Judging Criteria
By Steve Carter
March 1991
Many people ask at car shows what it is that judges look for in their cars. It can be summed up in one short phrase:
"Cleanliness and attention to detail."
Just because a guy has chrome tinware, multiple carbs, a 2180 engine and stinger exhaust doesn't mean he will win unless the above rule is observed.
Much the same can be said for paint and interior – 'attention to detail.' For example, not having polish embedded in rubbers and escutcheons*. (Isn't that a lovely word? I even like saying and writing it. I'll write it again: escutcheons.) A toothbrush will clean the polish from these areas, preferably an old one. Also, don't forget to wash your inner guards and make sure there is no overspray on suspension and wheels. Also, some judges are really against modified vehicles having tyres protruding from under mudguards and similar safety-related defects.
Getting onto standard cars; nothing is more obvious than if a standard car has different parts fitted, like late-model tail-lights on a 40-hp Beetle, or a Superbug engine in an Oval or vice versa; or even a late-model dipstick in an early engine. These things stick out like a pimple on a pumpkin, so if you're not sure about the originality of some parts on your car, while it is being judged is a good time to ask, within reason.
* On VWs, escutcheons can be found around door handles and bonnet handles.
Eight Reasons To Join Club VeeDub
By Rod Young
March 1991
One of the major reasons that we hold the VW Nationals every year is to attract new blood. We hope that you will be impressed enough by what you see that you'd be willing to queue up to join.
If you think about it, there are some compelling reasons for the VW enthusiast to join a club.
Congregating with like-minded souls gives you great encouragement when you're partway through a several years-long resto job and have lost the will to go on. Your new chums can offer you moral support, perhaps the name of a friend of somebody who used to have that elusive part you've been trying to find for eighteen months; their own experiences at what you're doing and a role model to follow because their car is finished.
You can get a nice warm feeling in your heart knowing that (if you actually help out with running things) you are helping a lot of people in our aim to keep Volkswagens and Audis running for as long as possible in this country. What's more, every year we support a worthy charity, so you don't need to donate to the Salvos any more.
Let's say you had a 30+ year-old, unregistered, but quite nice car sitting in the garage. You were always intending to restore it one day, but didn't want to risk driving it much on the road, nor did you want to pay full registration and insurance costs for what would only ever be a weekend car. We have you covered. We are Australia's only VW club to offer the benefits of Vintage Registration. Yearly rates can be described as hardly more than nominal, and our black and green plates look really smart.
Any time of day (some do it early in the morning) you can ring any of our resident self-styled experts for technical advice. We are only too pleased to dispense it and you won't get better anywhere.
It goes without saying that you will enjoy yourself at any of the social events that we put on several times a year. Picnic days, observation runs, visits to other club's dos, restaurant nights, Christmas party, Shark Island Cruise; even club meetings are good fun. None of this dry, "I move to second the motion that the minutes be accepted" stuff.
Our monthly magazine, 'Zeitschrift' (German for 'Magazine') is surely the largest, most informative, humorous and entertaining VW club publication in Australia, and possibly the world. Many times people have said it should be on sale for $5 at the newsagents. Yours for free as a member.
If you're the hard-nosed type, presentation of our membership card at numerous VW-related businesses can quickly recoup your yearly fee with the money saved on the parts or service that you were going to pay full price for.
You will learn a lot.
Drags Clarification
By Jeff Unwin
April 1993
Once again the VW Nationals and associated drag racing at Oran Park has come and gone. It was great NOT to have a stand to man, and instead spend the day out of the traders' area with my family.
This year there was a certain amount of drama associated with the Gene Berg Perpetual Trophy for the Fastest Road Registered VW. It would appear that some quarters had rightly thought that the rules governing vehicle eligibility for the trophy was to say the least, 'non-existent'. This was actually my fault for not setting out any guidelines, sorry folks. The means by which the 'lack of rules' was brought to everyone's attention may have been a 'grey area' - Black or white depending on who you spoke to. I have drawn up a set of proposed rules so that anyone, and hopefully everyone, will have some input into this area.
Anyway, after numerous conversations and faxes with Gene et al, the trophy actually changed hands a number of times, ie in order of times recorded:
Richards / Pobjoy – vehicle had incorrect documentation
Boris – vehicle had Perspex windows
Jeff Unwin - Gene and I deemed it necessary for me to withdraw so as to ensure there would be no 'trophies for the boys' syndrome
Dave Becker - Next fastest, but red-lighted his fastest run
James McKinnon - The eventual winner
The buzz from seeing my auto notch (with no kickdown) win King of the Hill and Fastest Reaction Time is still ringing in my head. To all who saw Greg Bendl drive my pocket notch, would be saddened to hear that Greg's yellow '68 Bug (louvred rear lid and detailed single Dellorto engine) met with a particularly wet Royal National Park corner, taking out 5 guideposts and only being stopped from going over a 15 metre embankment by the meshfence. His Dad is very upset because he bought the car new in 1968.
All in all, a great Nationals. The really satisfying part for me was that communication and compromise were the real winners on the day, with hardly any yelling and screaming of any importance.
Road-Registered Rules for the Gene Berg Trophy:
1. Vehicle must be registered; ie. Chassis number to match up with registration papers, sticker and plates.
2. Cooling system must be intact; ie. Cylinder tin, fan housing and fan fitted (optional if fanbelt fitted on any run).
3. Best time in racing only to be counted.
4. Vehicle must run on pump petrol; ie. Unleaded, Optimax or BP 98.
5. Street tyres must be run (no drag slicks, but road tyres of any condition OK)
6. Rear seat and seat belts are optional, but both front seats must be fitted.
7. Fibreglass guards, whaletail, spoilers and bumpers O.K., but doors and body must be of metal.
8. No perspex windows allowed. All windows must be glass.
9. Spare wheel must be fitted (this is for safety reasons).
10. Exhaust is free, but must meet track noise requirements.
11. Vehicles for this class must be able to be driven on the street. If there is any doubt you could be asked to go on a 15 km drive.
Zeitschrift Editorial
By Philip Lord
July 1994
It is time for me to move over and give someone else a go at being editor of Zeitschrift. I've edited twelve issues over the last eighteen months and it's been a sometimes pleasurable and always educational experience. When in a fit of recklessness I said I'd take on Zeitschrift I was working part-time and had few other commitments. Now I'm doing full-time study (with 30,000 words of assessment due this semester!) and part-time work, the ability to put in thirty hours per month of writing, editing, desktop publishing, photocopying, collating, gluing and mailing just isn't there. I believe it is better to do a few things well then many things in a mediocre fashion.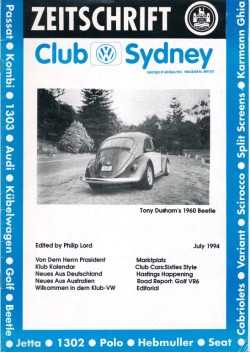 While I'd managed to make the mag look pretty it was/is light on for material. But after a long day of study/work/kicking the cat etc, who could be bothered researching and writing articles as well as assembling the mag? I guess I should've just kept doing it out of a sense of duty but after our readership survey (where I got back 24 questionnaires out of a possible 206) I decided that even if I busted my gut to get you top quality material you guys wouldn't really notice. To the 24 that responded, hearty thanks, and I'll pass on your instructive comments to the next editor to incorporate into the magazine. To the rest, where the hell were you?
For my journalistic aspirations, editing Zeitschrift has been very useful and I'm grateful for having been given the opportunity to give it a shot. Now I suppose I should roll the credits: to the people without whom all this would not have been possible – Mr Phill Lander, sanity break editor and info supplier; Anthony Healey, foreign correspondent with copy always spot on; and Caro Martin, Rod Young and Paul Tagg who came up with info/technical support in the nick of time on more than one occasion. I'll still haunt the pages of our mag from time to time with some irreverent copy, but as editor, I'm out of here!
Club VeeDub Turns Ten !!
By Phil Matthews
February 1995
"Come what come may, Time and the hour runs through the roughest day." William Shakespeare, Macbeth Act I Scene 3. Or consider the Roman poet Virgil (70-19 BC), who wrote in his series Georgics (Book 3, 30 BC), "But meanwhile it is flying, irretrievable time is flying."
These thoughts have occurred to me this week because, all of a sudden, it's ten years (!) since Club VW was initiated. I know because I was there at the time. 16 January 1985 was the exact day, I remember it clearly; so I've volunteered to edit Zeitschrift again to celebrate the Club's birthday That's appropriate, because I also edited the first Zeitschrift in February 1985, so I hope you like the effort. But I'm getting ahead of the story.
Back in 1984 the VW scene in Australia was very different from today. No opportunity existed for VW enthusiasts to get together and share their enthusiasm for the marque; no VW shows, no VW swapmeets, no VW picnics, no VW meetings The importers had stopped selling VW passenger cars and VW parts were generally very difficult to get. Hardly anyone went to the trouble of actually restoring a Beetle or Type 3 as it was just too hard. The VW clubs of the time were still dedicated solely on the 1960s-style 'all makes' rallycross and motorkhana dirt racing scene, and showed no interest in the new VW-only restoration and 'show and shine' scene emerging in California and England.
The first VW Spectacular in Nambucca Heads in 1984 changed a lot of attitudes. For the first time, VW owners realised that a pure VW enthusiasts' club could exist - and several of them suddenly sprang up along the NSW north coast.
Believe it or not, the catalyst for Club VW Sydney was the first Variety Club 'Bourke to Burketown Bash', scheduled for June 1985. Several high-profile celebrity VWs were competing, including ones driven by Barry Ferguson, George Reynolds, and Ron and Val Taylor. At the January 1985 meeting (16/1/85) of the NSW Volkswagen club, I mentioned this event and suggested on behalf of the club's occasional VW drivers that the club get behind it. Rather than do so, we were stonewalled by stupid objections regarding whether the Variety Club was CAMS affiliated, clashes with club rallies, interest for non-VW owning members, and so on.
At the conclusion of this meeting, the four VW owners, Chris Edwards, Rod Young, Alex Simpson and I talked, in the dark street outside the Beecroft meeting hall, of the futility of the current situation. There were too many non-VW owners in the NSW VW Club. The existing political agenda was well set; we could not change it. However, we knew of many VW owners who would join with us in a new environment, particularly Steve Muller and his many VW friends such as Andrew Dodd, Ray Black, Steve Carter, Boris Orazem, Paul McKinley, Greg Figgis and so on. Chris Edwards was particularly outspoken that night; we all agreed that a new VW club was justified, and was the only possible solution. He volunteered to be its inaugural President. So, with a membership of four people, Club VW Sydney was born.
The following weeks saw us, and Chris in particular, formulate the code by which Club VW Sydney would operate. Firstly, the club was dedicated to keeping as many Volkswagens on Australian roads as possible. It was to provide professional advice on restoration and modification of VWs, and members were to be able to save money on VW parts and service through a wide variety of approved outlets. The club would also organise a variety of social, educational and sporting activities for the enthusiast.
Club VW was to be socially active first. Membership was to be exclusively open to owners of any Volkswagen or Audi product only, in order to avoid the problems encountered by previous VW clubs. We wanted to maintain a library of manuals and VW related material. We would look at setting up a 'tool library' of specialised VW equipment. Events such as swapmeets, advanced driver training, concours, drag and track were envisaged, but we particularly wanted to set up an annual or bi¬annual 'Bug-In' style event, just like in America and the UK.
We designed a flyer, and we photocopied about 200 sheets for sticking under VW windscreen wipers. It said to meet at Parramatta Park on the 10th of February 1985 at 12:00 noon. I particularly remember going over the entire Roselands carpark with these sheets, one for every VW I could find.
We were told it wouldn't work. But on the day we saw 19 Volkswagens turn up, a number never before seen together by any of us. We signed up 23 members that day, and we owned 53 VWs altogether between us. We were all strangers, but after an hour or so of chatting Chris stood up and spoke about our new club and its ideals. He was warmly applauded for his efforts, and most people we spoke to seemed to want the same things.
After a while most of us headed off in convoy to John Watt's residence at Windsor, where we drank his drink and watched The Love Bug on video (quite a novelty then). We finally headed home at 6:30pm, and Club VW was up and running.
The first committee meeting was at my place at Padstow on 27/2/85, and we decided the next event was to be a run to Wisemans Ferry, again from Parramatta Park, on March 3rd. An even greater number of VWs turned up, and after a period we left in convoy towards Wisemans Ferry. From there we followed the dirt road up to St Albans, which has a wonderful old pub and grassy lawns for gathering cars together. A terrific day with some minor stuff-ups, but it helped us learn plenty about organising an event of this sort. We gave away trophies for the first time, which hopefully made up for the horrendously rough dirt road on the way up! Dave Birchall's 10th anniversary run to the same venue should be great.
The first monthly meeting was held at Bob Parry's residence at Westmead on 13/3/85. Right from the start we agreed that meetings would be run in an informal manner, with none of that "I move the motion that the minutes be accepted" stuff. The first committee was elected - President Chris Edwards, Vice President Steve Muller, Secretary/Editor Phil Matthews, Public Relations Rod Young, Social Officers Alice Brandjes and Julie Pride, Technical Adviser (Restoration) John Hall, and Technical Adviser (Modification) Rod Young. A 'general committee' of Steve Muller and Dave Golding was also elected.
We also discussed a meeting hall, the Knox Motor Club Show, a logo for Club VW stationery, posters, stickers and signs, Zeitschrift (which comes from the German word for 'magazine') distribution and content, and many other issues of a new club. Those who were there may also remember the slides we showed outside in Bob's backyard, showing the Seabug being launched from Pier One, which I had taken a few months earlier.
The next big event was the VW Parts Swapmeet at Parramatta Park on 28/4/85, the first event of this type ever held in Sydney. Unfortunately it poured with rain, but luckily we found a large vacant marquee already erected in the park for the Sydney Theatre Company, and we gratefully moved in for the afternoon. Four benches were laden with parts, and a great day was had by all, despite the dripping rain and water trickling across the grass floor.
Amazingly quickly, Club VW became a habit for everyone involved and it became difficult to remember life without it. We moved into the Granville Town Hall for our monthly meetings, with Eileen Carter and my sister Emma doing the biscuits and coffee. Zeitschrift was coming out bigger and better each month. We actually bought a computer (in 1985!), and branches were started up in Canberra by Tom Subi, and Illawarra by Dave Cameron Rogers. The latter club began after one of our gatherings down that way at Jamberoo Fun Park had such a large local turnout, and I do recall it was a terrific day. We also began the inter-VW Club 10-pin bowling challenge, which unfortunately seems to have died off of late.
The VW Spectacular of 1985 was memorable; as for most of us it was our first. Remember it? It was the first year that Paul Greene took the Sea Bug up there and gave us a demo on the lagoon. Later in the year came Dave Birchall's Lane Cove Park Picnic, which featured the first volleyball challenge between ourselves and Flat 4. This has also become something of a tradition whenever we get together, but they seem to beat us more often than not.
1986 saw Chris Edwards resign as President due to work commitments, and he disappeared from the scene. I think I've only seen him once since, which is a great pity and he was missed a great deal for quite a time. Rod Young took over as President, just in time for the debut of another Club VW tradition, the famous Carter's Krauty Kaper, which was run for the first time in March 1986. Steve and Eileen did a great organising job on this navigational trial, but the first winners were the Waldren/Solo team from Flat 4.
The first 'annual' meeting and election night was held at Concord RSL in July 1986 (we moved there from Granville in March), and afterwards the club really took off. A new, professionally-run committee led by Steve Muller, Dave Birchall, Rod Young, Luis Guevara, Andrew Dodd, Alice Brandjes, Darryl Donald, Jeff McVey, Les Robinson and me, revamped the club out of its amateur beginnings A new, colourful Zeitschrift emerged under Rod's control, the meetings became bigger and better with Steve Muller in the social atmosphere at Concord RSL, Club Vintage Plates were initiated by Ray Black, Boris Orazem began his famous Sausage Sizzles at Picnic Point, and of course work began on the club's biggest event, the VW Nationals.
I could go on and happily reminisce for pages and pages, so much good stuff has happened. Happy birthday Club VeeDub! Here's to lots more of them.
10th Anniversary Drive
By Bob Jurgensons
March 1995
1985-1995. What have we all done in this time? Well one thing is for sure - Club Veedub Sydney survived to see its 10th Anniversary.
Starting at Parramatta Park, as did the original event back in 1985, the weather this time around was not so good, actually pretty piss poor if you ask me. Anyway one by one the car park slowly filled up with some old faces and their cars, along with some newer members to make a fairly healthy attendance.
After the pole shuffle was over the convoy was short lived. Unfortunately, the Beetle of Leigh Harris decided to have what appeared to be a major malfunction without getting out of first gear. Quick on hand was the S.K.A.B. team to offer their expertise, but as much as I don't want to admit it, we goofed. A metric shifter and a pair of long nose pliers supplied by Brian Walker wasn't going to rectify a locked up engine, so poor Leigh and his dead Beetle had to be moved to the local servo, where he made other arrangements.
Well that was one unexpected problem out of the way, but where did everyone else go? Not having a clue where St Albans was, a quick read of the 10 year old UBD was the only option apart from wetting your finger and holding it in the air to find out where the air cooled exhaust fumes were coming from.
Brian decided to take charge in search of the other Wolfsburg Warriors, leading us through the back streets of Parramatta. Tempers got a little frayed, constantly waiting for Sebastian to catch up in his Oval Ragtop, so I thought why not roast a Ford Falcon for a change. A common problem on Sydney roads is two lanes, one car parked on the inside. Somebody has to give in and I'll tell you now, that wasn't me. Sitting at a pedestrian crossing with lights, all concentration was on the green light. With the green appearing the 1904cc T3 Wagon took off with Keith Haeusler about an intake valve clearance behind me, and the Ford Falcon nowhere to be seen.
Eventually we caught up to the others and continued in single file to Wisemans Ferry, which took us across the river to the road to St Albans. The better half of the road was dirt with a couple of Vee Wees getting crossed, up so I hear. The venue at St Albans was a neat little pub where most of us had a hearty steak and salad washed down by a couple of health drinks, and spent the afternoon being serenaded by an old fart and his piano accordion.
But I would have to say the highlight of the day was the return to Wisemans Ferry, where it was discovered that my trusty Type 3 had a flat tyre. Looking over to see where the ferry was the S.K.A.B. team along with Simon Matthews swung into operation to perform a record setting 35.74 sec tyre change. Not worrying about the fuel or windscreen condition we drove onto the ferry and continued home. Hope to see the same faces and more at the next event.
From the New Editor
By Steve Carter
August 1996
Welcome to the new format for Zeitschrift. Some may say we've gone backwards with the production of our monthly magazine, but the committee have thought long and hard and have decided that this new A4 format stapled newsletter was the answer. In producing this newsletter, costs have been dramatically reduced. It should be much easier to meet the deadlines (ie not waiting on the printing company); we will not have to chase advertisers, and it is not the burden it was to the Editor. In the past, the production of the magazine was such an ordeal that people took on the chore under sufferance. Due to the many people involved in the production, it was difficult to get the magazine to our members on time. I am here to prove (I hope) that even a simple motor mechanic with a passion for VWs can produce an informative, entertaining read, and most importantly, an opportunity for our members to exchange ideas.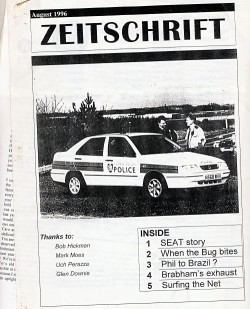 This is my first attempt at a newsletter (let alone a Word Processor!) and I would welcome constructive criticism and even help if you feel so inclined. I have a current typing speed of 11 words per minute with 92% accuracy so I'm afraid I will have to end my first Editor's Column as the Christmas edition will need my immediate attention!
By next month's edition, I hope to have had time to do a tutorial on this software (MS 'Publisher 95') and produce, what I hope, will be a newsletter that will improve with each edition. Thanks for your patience; I will give it my best shot. I look forward to contributions from our members and readers. It is very easy to knock things - and that's OK - but why not put your thoughts on paper, or better still, come up with a solution/improvement and we as a Club will surely benefit.
The Club has recently acquired some new equipment to help produce this magazine. We now have a flatbed scanner, which recognises text in magazines and such, and can export it into the club magazine for editing and printing. We have also purchased a high volume photocopier on which to produce this magazine. The club computer is now hooked up to the internet, and in the near future we will have our own Club VW 'homepage' to advertise our club and future events. This is bound to assist with interest in the Nationals, and also to establish links with other VW clubs, locally and internationally, to exchange information.
I'm already encouraged with the positive feedback received from this new format of the magazine. From next month we will implement a couple of ideas provided by Lance Plahn, such as using three staples down the left side rather than one, a different VW on every cover, and moving to two columns per page. Thanks Lance! I'm very happy that people are looking at the long-term saving instead of the lack of a glossy cover. I will endeavour to provide informative and educational articles, and this is clearly what club members are asking for. Is there something you would like to see, either as a regular article or perhaps a special interest story? Please give me a call.
In my capacity as Editor, I hereby announce an incentive (funded by myself) to the person contributing the best article to appear in this newsletter. This will be decided by reader feed-back and will be awarded on a quarterly cycle. The first of these being presented for contributions between July and September. All written nominations should be forwarded to Club Veedub Sydney Inc, PO Box 1135, Parramatta NSW 2125 or handed to me personally. I hope this will encourage budding writers or just members with a story or information to share. The incentive will be decided at the next committee meeting and will be published in September's issue. That's it from the Editors desk. Bye for now.
Club VeeDub has its own domain!
By Steve Carter
December 1997
Great news! After being one of the first Australian VW clubs to have its own web page, our club now has a registered domain name, clubvw.solweb.com.au. I believe that we are the first VW club in Australia to have its own domain name. I will be moving everything over to the new location in the next few weeks.
The reasons for needing a domain name are:
1. We were getting too much traffic for a standard dial up account, which means that our club site is attracting a high amount of interest on the net, and consequently a high amount of interest in club activities; i.e. the VW Nationals.
2. When we changed servers (the people that host the club site) earlier this year, it was some time until Internet users could find us again. This problem will now be overcome as we now have our own unique address, which we can use even if we change servers.
Another very important benefit to club members is access to the Internet via our server, who if you join it will allow you to use an E-mail address that is linked to the car club. For example you can join Alpha Dot and have an exclusive e-mail address such as joeblogs@clubvw.org.au.
You can contact alpha dot net Aust Pty Ltd on 02 9439 9812. The costs are 60 hours per month access for only $35.00 per month or a 15 hour per month account costs $20.00 per month. Both accounts incur a once only setup fee of $27.50.
Being a veteran of the net for 12 months now I can tell you that alpha dot net is a reliable server. Being a VW owner I tend to be stingy and look for the best deal with quality service. I have a friend that manages a large computer store and has free access to many of the large servers for evaluation purposes and he has not found any to equal alpha dot net.
Club VeeDub PlayStation night
By Phil Matthews
June 2001
In the never-ending search for new and undiscovered VW motor racing thrills, we recently held our first-ever Club VeeDub PlayStation Challenge. Who would be fastest around the electronic racetrack? Could the young kids beat the oldies, or would the old dogs show the youngsters some tricks?
Lugarno Scout Hall was the venue for the competition, and with banks of heaters along the walls was a lot warmer than the movie hall at Smithfield! Three PlayStations were hooked up. Two were attached to TVs at the back of the room as practice machines, and the main PlayStation was attached to the club's hi-fi stereo PA system, video projector and movie screen -just like a home theatre! Eileen and Steve made sure everyone felt comfy - cold soft drinks for the kids, beers for the Club VeeDub boys, nibblies, and tea and coffee too.
It was fairer to pick a race game that most people weren't familiar with. Games like Need For Speed, Colin McRae and Grand Tourismo are all great fun but competitors who already owned them would have an unfair advantage on those who didn't. In the end, we went with TOCA 3 - World Touring Cars, the latest instalment in that excellent series. The best thing about it was that in addition to the usual British circuits, it had overseas tracks like Laguna Seca, Suzuka, Surfers Paradise - and Mount Panorama, Bathurst!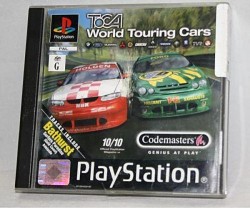 So we located 3 copies of the game for the evening, and set them all to Bathurst for a five-lap practice race, driving an Audi A4 (the game didn't include any Volkswagens, so the Audi was the closest). We ended up with 13 competitors for the evening, divided into four categories. We had Primary School Kids, Young Adults, Powder Puffs and Grey Hairs, and everyone started their five lap practice runs. Real V8 Supercars lap Bathurst between 2 minutes 10 and 2 minutes 15 seconds - how would the Club VeeDub drivers do?
Everyone did marvel at how close TOCA 3 was to the real Bathurst track, and how familiar the scenery was. From a standing start on Pit Straight (in 12th spot!), you chased the others around Hell Corner and up Mountain Straight. Good drivers could easily pass 6 or 7 cars up the hill, and try to stay out of trouble as the race swept around GTX and into the Cutting. This very tight left-hander was the scene of much mayhem as the drivers steered with the guardrails! Still climbing, the good drivers flat out through Reid Park and the left-hander at McPhillamy, just before the overbridge. Once past that, it was over the top and down into the Esses, followed quickly by the Dipper. Crash, Bang! Get the line right and you were through quickly, picking up another 5 or 6 cars. Get it wrong and you smashed your Audi against the rail, destroying wheels, tyres and engines. Some Audis burst into flames on impact!
Forrest Elbow was very tight and difficult to squeeze through, but once past that it was onto Conrod Straight. The Audis topped 215 km/h down there and into the right hand sweeper to Caltex Chase. Onto the brakes 50m out and hard left, then right again under Dunlop Bridge, past the pit entry and Murray's corner. If you avoided the sand, it was under the FAI Bridge, past the pits and start line and a new lap. Great stuff!
Everyone had at least two 5-lap practices, and some needed every lap, smashing their Audis along the way and needing to pit to repair the damage. David was the fastest Primary Schooler, setting the pace with a blistering 2:12.35 best lap and a flying 5 -lap best time of 11:26.55, although he had four practices to get it right. Young Duncan was slower but did improve greatly after a few laps, especially when trying NOT to smash the Audi to smithereens.
The three girls had a great fight in practice, with Eileen just pipping Belinda for fastest lap. 2:27.05 to 2:27.74, although Belinda was more consistent and faster over five laps, 12:41.10 to 12:44.66. The kids yelling in Eileen's ear while she was trying to drive wouldn't have made things easy, but it was still a close result. Cynthia had one good lap, a 2:27.47, but couldn't maintain the rhythm over five laps and, in fact, pulled a shocker - 13:41.51, the second slowest of all (but at least she was faster than Keith!)
A real stoush was going on among the Club VeeDub boys. Simon pulled a fast 2:21.10, to be pipped by Adam with 2:18.13 and 48 seconds faster over the 5 laps. Simon then equalled Adam's best lap time but blew out over his 5 laps with a massive stack on the mountain. Leigh was next and was seriously off the pace, while Sebastian's first run is best not mentioned. Keith's was even worse, with pieces of his Audi left scattered over the mountain. Adam had a second run but the beers were kicking in, and the result was a shocker. Keith tried again and got the slowest 5 lap time of the whole night, 14:47.20, with a best lap time of only 2:23.27, the slowest of all the boys. Leigh took the controls and then got into groove immediately, blasting around in only 2:11.89 on one very hot lap. However a prang at a crucial stage landed him only 12:15.16 for the five laps. Adam knew he could better than his last pathetic effort, and he did - a 2:17.50 best lap and 11:41.15 for the five. Sebastian then proceeded to beat that with a superb lap of 2:17.42, and 11:56 for the whole 5 laps. So Leigh finished with the fastest lap, but Adam was the best over five.
In the oldies dept. Brian was cruising around the circuit and taking good care of his Audi, but at the expense of his times, which did not compare favourably with the other drivers (particularly after a few beers). He jagged a 2:25.32 lap and got a best 5-lap time of 12:50.12 - a bit on the slow side but still better than Keith! Steve took his PlayStation driving very seriously, particularly since his son David had set the fastest times previously, so he was on a mission. He managed a best lap of 2:13.93, only a second slower than David but a couple of seconds behind Leigh's snorting lap. His 5-lap time was also very good at 11:43.85, but some 20 seconds behind his flying son. So then it was up to your modest writer to fly the flag for the oldies, and I'm happy to say that I was able to succeed with a blistering lap of just 2:07.14 and a 5-lap time of only 10:56.92 on my first attempt. Sadly my other attempt was a good deal slower, thanks to the frosty beers that I'd imbibed by then, but nonetheless the oldies were in front at the end of the 5-lap practice session.
At this juncture, the ever-wonderful Eileen Carter had arranged for pizzas to be delivered to the hall, and not just your ordinary Pizza Hut rubbish either. Everyone took advantage of the pit stop to refuel, and although the number of pizza boxes looked formidable when they arrived, we soon polished them off (except for the ones with pineapple, which are yuck).
So to the finals to decide the winners - a two lap sprint of Mt Panorama on the big screen. Hopefully the drivers would benefit from all their experience from the 5-lap practices, but those beers might have the opposite effect. The kids were first up, as Eileen couldn't wait to take them home. Duncan did the two laps in 4:50.19, a very good time, but David blew him away with a superb 4:39.26. Eileen went next and got around in 5:06.12, but the two boys disrupted her drive and she was happy to drag them, kicking and screaming, home. Nonetheless. DAVID wins the Primary School award.
Belinda and Leigh also headed off home (they were driving to Cowra early in the morning where Leigh was racing his car), so Belinda didn't do the two laps and forfeited a chance for the Powder Puff. All Cynthia had to do was beat Eileen's time and it was hers! Keith massaged her shoulders, whispered encouragement (I think) in her ear and she sat down at the controls with everyone watching. And what a shocker it was - 5:32.66 for two laps! So EILEEN wins the Powder Puff.
Again, the real competition was in the young blokes category. Leigh was up first, just before he and Belinda headed home, and scorched around in 4:45.73. Simon followed this with 5:03.31, then Keith got his act together with a 4:56.98, and although he's a bit off the pace he's gotta be happy with that. Hammo (whoops, Adam) then took the controls, and threatened to blow everyone away. Sadly the reality was a bit different, as he went on to drive a very ordinary 5:12,19, slower than everyone except Cynthia! It remained only for Sebastian to have a run, and he drove a superb race to finish with 4:43.18, two seconds faster than Leigh. SEBASTIAN wins the Young Adult category.
And as the others retired to the seats to watch and finish the last of the beers, the oldies had their last run. Brian again finished with a pristine, undented Audi but a time of 5:15.26, even slower than Adam but a bit quicker than Cynthia, as it turned out. Steve was next and was driving seriously fast when a massive off in the Dipper wrecked his engine and any chance of a quick time. He limped home in 5:10.92. Once again it was up to me as the last driver, and after a lucky escape up the mountain the first time when I pushed a Falcon into the Cutting wall, I got a clear run to record a 4:33.67, the fastest time of the night, but only six seconds quicker than young David. PHIL wins the Grey Hair trophy, as well as the Audi poster (donated by Duncan's father and signed by Brad Jones) for fastest time.
On handicap, the Club VeeDub PlayStation Trophy goes to David Carter, for a couple of superb drives and the winning times on handicap for his category. Well done David! The superb trophy, based on a VW camshaft donated by Frank Watkins and decorated with Sony controllers and CDs, will be presented at the next meeting. David will hold the trophy until we have a rematch night sometime in the spring, probably with a different PlayStation race game. Should be a good one, so watch this space!
Visiting Club VeeDub's Nationals
By Bill Sundermann
June 2001
I'm the secretary of the Volkswagen Club of Victoria, based in Melbourne. I recently requested to come along and have a look at the VW Nationals, which we in Victoria are not familiar with. I hope you find my report makes interesting reading.
Recognition? This report could not have been written without the assistance and advice of David Birchall of Club VeeDub to which VWC of Vic is extremely grateful.
Background? This report covers a visit by the writer to Club VeeDub's major show/swap meeting at Fairfield Show Grounds in Western Sydney, and by comparison lists items where our own performance could be enhanced.
General Commentary? Club VeeDub holds its Nationals at the Fairfield Show Grounds every Easter. Fairfield is close to Parramatta, the demographic centre of Sydney and as such, the site is well located. The showgrounds has a very large covered area ideally suited to displays and has very secure boundaries. Offices and toilet facilities are good and available. Parking for visitors is enormous and right adjacent to the grounds' entrance. There were between 70 and 80 cars to be judged and their standard of preparation was very high. By our standards there were a large number of trade stalls, all under cover and about 15 swap sites, all with a large swag of goodies. As discussed later, children were well catered for and the club had an excellent stall selling club gear and recruiting new members. Foodstuff provision was identical to ours but a very good seating area enhanced Club VeeDub's arrangement.
The site was well laid out with very adequate walkways. Entrance fees were $7.00 per person and stall costs were considerably lower than ours. I did not obtain full details as I had been offered a chance to meet with organiser David Birchall on Saturday evening but airline disruptions delayed my arrival and I met with David during his busy time on Sunday. There were approximately 60 sponsors, several of which were Victorian firms.
The average visitor could very adequately cover the entire meeting in detail in about one and a half hours. The car park outside had a large and lovely collection of vehicles, many of which would prove show winners in Victoria. The club arranged a food stall, a drinks caravan, an ice-cream van, a band, a loudspeaker system, merry-go-round, jumping castle, tables/chairs, games, magazines, club clothing, an office with facilities, an intercom system, layout for the event, ticketing and a team to run the meeting on the day. It was a friendly, well-run affair. Temperature was about 28 degrees and fine. A fair crowd was in attendance.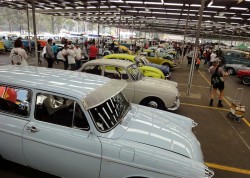 Major Issues we could learn? The Nationals are excellent value and we should hold cruises to this meeting just as we have to the SA Bug-In. The venue is excellent and we should seek out a similar covered area. Differences between the two financial structures were highlighted. We should at least examine a structure whereby funds are generated at the gate in entrance fees and traders/swappers have significantly lower costs. To obtain a large number of sponsors, we need to look at sponsorship charges, Ours may be too high currently. Looking at Zeitschrift, their excellent magazine, we may need to reconsider advertising costs. With about 60 advertisers, some from Victoria, Club VeeDub can charge much lower prices for advertising and we need to consider doing the same to attract advertisers. This way we could actually end up with more income coming from a larger number of lower priced adverts.
We need to consider having classes of vehicles called 'show cars' and classes for those vehicles that are restored to factory specification thereby not disenfranchising those people that restore to original condition.
We would do well to consider the children's entertainment available and also the engine rebuild time challenge race. We need a better public address system at events. We need to have club clothing available at events of this type.
Club Vee Dub is a well-run club that we should make an attempt to become closer to.
Good Aspects of the Show? (Listed in no specific order)
• Entry to the ground was available at any time. I arrived at 7.50 am, a little over an hour before starting and was allowed in without question.
• The show is held under cover.
• There was plenty of natural light in the undercover area.
• Within the designated areas of trade, show and swap, parking appeared relaxed, with no specific areas for each category of vehicle.
• The numbering system used on each entry enabled a trace back to the owner.
• Entrants were encouraged to nominate their vehicles before the show,
• Plenty of visitor parking.
• Ground well inclosed.
• Space available inside to unload trailers.
• The club-designed clothing of good quality was available for the event. This clothing was the responsibility of a merchandising manager.
• Children's games provided were excellent, comprising painting small model Beetles, colouring in drawings and face painting. In addition a merry-go-round and jumping castle was provided.
• The presentation standard of the vehicles was extremely high, to the standard of Pebble Beach for the outstanding ones. One real Kübelwagen was present.
• The judging sheets are about the same as ours and are well handled by experienced chosen judges.
• A very good eating area was provided and toilets were close and very clean.
• There appeared to be plenty of club helpers available.
• In the swap area, clubs from SA, Qld and Newcastle had stalls. There were many interstate visitors.
• Asphalt underfoot was safe and level. Lots of sponsors. Lots of trade stands.
No more photocopying!
By Steve Carter
August 2001
At the July committee meeting we discussed getting rid of the club photocopier and commissioning Snap Printing Pty Ltd to print the magazine every month. The costs are outlined below. I have been printing the magazine for about 5 years now, and frankly I have had enough. It takes a lot my time printing the magazine - buying paper, toner and waiting for the photo copier service man to arrive etc., not to mention the intrusion a photo copier has on a house, smell and the room it takes up.
What we have decided is to get Snap to print the magazine for us in the almost collated state (only the cover needs to be put on, then stapled and folded), which would cost about $90.00 (total) per issue more than it costs now. To keep costs down we have decided to limit all issues to 24 pages maximum. Snap only need 3 days notice to print the magazine and do it straight from a burnt CD that I give to them. They use digital copiers and you would have already have seen a great improvement in picture quality. They will also put us on a monthly account.
Approximate cost for producing Zeitschrift on club copier:
360 copies x 24 pages x $0.02 per page (copier service agreement)
= $172.80, + $75 A3 paper, + $44.98 thick A3 cover paper, + $166 toner
Total approx. $458.78 per month
Snap Printing cost:
$605.00 fully assembled (stapled & folded), or
$540.00 almost collated (only the cover needs to be put on then stapled and folded)
Of course we still have the option to increase the size of the magazine in future. Here is the breakdown for, say, 32 pages:
360 copies x 32 pages x $0.02 per page (copier service agreement)
= $230.40, + $151.84 A3 paper, + $59.82 thick A3 cover paper, + $221.30 toner
Total approx. $663.36 per month
Snap Printing cost:
$796.00 fully assembled (stapled & folded), or
$720.00 almost collated (only the cover needs to be put on then stapled and folded)
As you can see the costs to have the magazine professionally printed are only slightly higher than at present, but Snap produce a much higher quality result in a shorter time, and saves me lots of work and hassle. The committee had no hesitation in authorising us to use Snap printing from now on. They are located at Penshurst, which is really convenient for me for drop-off and pick-up too.
We can offset the printing costs by seeking business card-sized ads for the magazine – we are asking $100 for each one for 11 issues (not counting the VW Nationals issue). If your business would like to advertise in our 'Trades and Services Directory', please contact me.
VW Nationals Quiz
By Phil Matthews
May 2003
This special quiz was written for the VW Nationals 2003. It is quite tricky - you will need to be a VW expert to answer some of these! The winner was Shirley Pleydon, who won a car care kit for her expert VW knowledge. See how YOU go! Answers are at the bottom.
1. What two names were used for the Type 181 open-top car in Mexico?
2. How much longer is the wheelbase of a MacPherson-strut Superbug than that of a torsionbar Beetle?
3. Name TWO very important VW-related things that Ferdinand Porsche's chief engineer, Franz Reimspeiss, designed in the late 1930s?
4. What is the wheelbase of a Series 2 Kombi (1968-79), to the nearest 10 mm?
5. What popular name was given to the VW Type 147, designed for the German Postal Department?
6. Due to wartime petrol shortages, what other fuels were the VW Type 230 Kübelwagen and sedan designed to run on?
7. What was the first VW sold in Australia that had a 1600 cc engine?
8. What was the VW 1303 called when it was sold in Australia?
9. What letter would the modern chassis numbering system use, in the 10th position, to indicate that the car was made in 1990?
10. What is the bore and stroke, in millimetres, of a 1971cc VW Kombi engine?
11. What was the last year that a VW Type 1 Beetle came off a German production line?
12. The first two Beetles were officially imported into Australia in October 1953. What was the engine capacity of those two VWs, to the nearest cc?
13. VW Beetles were once made in which FIVE German cities or towns?
14. Which model of Volkswagen was available with the factory M69 option - a gun rack?
15. What is the 3rd gear (i.e. Top gear) ratio on VW Beetle semi-automatic gearboxes?
16. Which special Volkswagen model has a rear bonnet stamping that is almost identical to the front bonnet?
17. Which British major was in charge of the wrecked VW factory at the end of WW2?
18. To the nearest litre, what is the fuel capacity of the fuel tank in Beetles with MacPherson-strut front suspension?
19. Who became the managing director of the Volkswagenwerke in 1949, and stayed until his death in 1968?
20. What extra thing does a VW Type 115 have that makes it different from a Type 111?
21. What colour was the special vehicle called 'Antarctica 2' painted?
22. Which Volkswagen model was designed by Luigi Segre?
23. What is the capacity of a VW motor with an engine number starting with AB?
24. VW originally intended calling the new 2nd-generation 1968 Kombi the 'Clipper' but they couldn't. Which other company sued them for use of the name?
25. VW Beetles were once made in which two countries in Africa?
26. What was the widest stock wheel that was ever fitted to German-made Beetles, and what size tyre was fitted as standard?
27. The 1939 VW Type 60K was a special streamlined race car, designed to race between which two European cities?
28. What year did VW have their most successful sales year around the world for Beetles - they sold 1,291,612 of them?
29. Which VW went on sale in Australia for the first time in 1963, priced at £1249?
30. Who drove a Golf GTI at the Bathurst 1000 on five occasions, from 1976 to 1980?
31. What was the last year that VW Beetles were fitted with 16-inch wheels?
32. What sort of VW did Gary Campbell and Gerry Murphy drive in the 1969 Bathurst 500 race (to 7th in class?)
33. What sort of Volkswagen is a Type 143?
Nationals Quiz Answers
1. While the Type 181 was called the 'Thing' for the US market, that name was NOT used in Mexico. In Mexico it was called the VW Safari, and the special tourist version with a striped seats and canvas parasol roof was called the VW Acapulco.
2. A torsion bar Beetle's wheelbase is 2400 mm. When VW went to MacPherson struts for the Superbug, the wheelbase was increased to 2420 mm, so it is 20 mm longer.
3. Franz Reimspiess joined Porsche's design bureau in September 1934. The sleeve-valve and flat-twin designs tried in 1935 and 1936 were not working, so Reimspiess designed the original flat four engine. He also designed the familiar round VW logo.
4. The wheelbase of a series-2 Kombi (1968-79) is the same as a series 1 Kombi (pre-'67), and also the same as a torsion bar Beetle - 2400 mm.
5. The German Post Office said that the VW Type 147, with a special light-van body with two sliding doors and built on a Karmann Ghia platform, was to be called the 'Special Purpose Postal Vehicle on VW Chassis'. Surprisingly this name never caught on. Instead, we know it today as the Fridolin.
6. Gas burners were fitted to all German home vehicles after 1942, which for VWs included both Kübelwagens and Beetle sedans (KdF-Wagens). They could be run on either wood or coal gas, normally brown coal but sometimes black (anthracite) coal as well.
7. The first VW sold in Australia with a 1600 cc engine was in 1966. Locally-made Type 3 sedans and wagons had 1500 cc engines, and were joined in 1966 by the fully-imported 1600 cc TS Fastback. Kombis did not have 1600 engines until 1968; Superbugs in 1971.
8. The European 1303 was the second-generation MacPherson-strut Super Beetle, with panoramic curved windscreen and redesigned, padded dashboard, in Australia it was called the Volkswagen Superbug L (or 'L-Bug' for short).
9. Since 1980 there has been a standardised international chassis number system, used by all vehicle makers, using 17 digits. A typical one might be WVWZZZ11ZLW123456. The 10th digit is the year, starting with A=1980, B=1981, C=1982... and so on. However the letter I is not used as it can be confused with the number 1 -so 1990 is 'L', as shown in the example.
10. A 2-litre Kombi engine is a Type 4-based design, with a bore of 94 mm and a stroke of 71 mm, giving a capacity of 1970.9 cc.
11. The last German Beetle sedan was made in Emden in January 1978, but Cabriolet Beetles were still produced by Karmann of Osnabrück until March 1980.
12. The first VWs officially imported into Australia, in October 1953, were oval-window cars with the 25 PS 1131 cc engine. The 30 PS 1192 cc engine was introduced on German cars in December 1953, when it was included in all subsequent imports, and CKD kits assembled in Australia, after that. These reached Australia from April 1954, when the VW was first sold in NSW.
13. Beetles were made in five German cities - Wolfsburg (1945-74), Emden (1964-78) and Karmann's Osnabruck works (1949-80) were the main ones, but they were also made in VW's Transporter factory in Hanover (1974-75) and in Audi's Ingolstadt plant (1965-69).
14. VW produced hundreds of special 'M' extras and special features. The M69 Gun Rack option was available for the Type 181, and also later for the 4WD Iltis off-road car.
15. The Beetle 3-speed semi-auto gearbox had a taller top gear than the 4-speed manual. The semi-auto's top gear is 0.88, compared with the manual's 0.93.
16. The beautiful and rare (only 696 made) cabriolet called the Hebmüller was made only from 1949 to 1952, when a fire destroyed the factory.
17. The British army officer in charge of the Wolfsburg Motor Works from 1945 to 1949 was Major Ivan Hirst, of the Royal Electrical and Mechanical Engineers (REME).
18. A Super Beetle's 42-litre fuel tank is slightly larger than a normal Beetle's 40-litre fuel tank.
19. Ex-Opel executive Heinz Nordhoff took over the Wolfsburg VW plant in 1949, and remained in charge until his death in 1968.
20. A Type 111 is a LHD Beetle Saloon. A Type 115 is the same car fitted with a sun roof.
21. Although the first Antarctic VW, 'Antarctica 1' was standard VW Ruby Red, the follow-up car 'Antarctica 2' was painted International Orange.
22. Luigi Segre was the chief stylist at the Italian Ghia design company, and he drew the lines for the first Karmann Ghia 2+2 coupe in 1953.
23. An AB engine number is a 44 PS 1300 cc VW engine, made between August 1970 and July 1973. After that, 1300 engines had AR engine numbers.
24. The airline Pan-Am sued VW for their use of the name 'Clipper' for their 1968-69 Microbuses. Pan-Am had called all their aircraft 'Clippers' since the flying boat days of the 1930s, and all Pan-Am flights used 'Clipper' as their call signs. VW had to back down.
25. VW Beetles were made in two African countries; South Africa (1951-1979) and Nigeria (1975-1986)
26. While nearly all German (and foreign) Beetles had 4½ J x 15 wheels from 1968 to 1978 (4J x 15 earlier), the special German 1303S model of 1973 called the 'Yellow and Black Racer' had pressed steel 5½ J x 15 wheels with 175/70 HR 15 tyres as standard.
27. The lightweight, tuned and streamlined VW Type 60K of 1939 was designed to race from Berlin to Rome, but the start of World War 2 in September ended that idea.
28. VW's most successful Beetle year in Australia was 1964; in the US it was 1969; but worldwide it was 1971, with nearly 1.3 million Beetles sold around the world.
29. The model debuting in Australia in 1963, for £1249, was the Type 3 1500 Station Wagon (Squareback). The Sedan (notch) also went on sale at the same time, but it was only £1199. The Fastback wasn't sold here until 1966.
30. Chris Heyer drove the Golf GTI at Bathurst between 1976 and 1980. His co-drivers over that time included Peter Lander and Rudi Dalhauser (VW's top test driver). Chris also raced a Passat in 1975, and an Audi 5+5 from 1981-85.
31. VW changed from 3.00 D x 16 wheels to 4 J x 15 wheels on 1st October 1952.
32. In the 1969 Bathurst 500, Gary Campbell and Gerry Murphy drove a VW 1600 TS Type 3, the last time an air-cooled VW competed. They finished 7th in class. Gary Campbell was the proprietor of Provincial Motors, a former VW dealer in Liverpool.
33. A VW Type 14 is a Karmann Ghia. A Type 141 is a Karmann Ghia Cabriolet, and a Type 143 is a Karmann Ghia Coupe.
Vice President's Report
By Leigh Harris
July 2004
The past month's calendar has been full thanks to Joe and Raymond organising what have been two great club outings to the upper Blue Mountains and Picton. Both were a great opportunity to take out those vintage cars and daily drivers out for a blast this winter along with fellow Volkswagen enthusiasts and enjoy the country air.
I decided it was time to take my turbo '59 off the road and store it away for a while (before I was possibly stored away for a while by the state). I have parted with my air-conditioned, power steered, well heated daily driven Nissan Pulsar after 8 years and am back piloting a 1977 Deluxe Microbus every day. My last Kombi was a 1968 single cab pickup, which I bought back in 1994 and drove for quite a few years (which many of you may remember). Back then you would pass and wave to a dozen Kombis daily; it's only now I've noticed how few there are on the road. Is it the lure of late model cars with heaters that don't potentially asphyxiate you when turned on for the first time? Or that many youth of today don't wish to become VW home mechanics on weekends and would rather reach their destination faster in air-conditioned high performance car (more often than not a Japanese import). Or do they just prefer to reach their destination at all?
How I look forward to summer sitting in bumper-to-bumper traffic with no air conditioning, looking down at someone 10 years my junior driving a late model car with air conditioning. With their vehicles' windows wound up listing to the stereo and having a pleasant conversation with their partner as I slump over the steering wheel of my Microbus just looking into the distance at where my destination may lie (more than not a VW spare parts shop.)
Yep, remind me why I bought another old Volkswagen. Ah yes, the ability to work on a vehicle without needing diagnostic equipment to repair that problem with the ABS or tiptronic one-of-a-kind transmission that more often than not costs more to repair than the actually resale cost of the car. Or the fact that I can drop the motor out of my old Volkswagen at home on Friday night onto the garage floor and have it rebuilt and back in the car by Sunday night ready for the commute to work on Monday. Or was it that great friends (many I've met from this very club) can give me advice and lend a hand on those hot Sunday afternoons in summer as we try and balance and rock a newly rebuilt motor back into the car using a K-Mart special trolley jack that is leaking and a pair of house bricks, in bare feet with a motor that doesn't seem to want to line up on the gearbox main shaft. I'm sure we've all been there!
Then there's always the excitement in tightening up those four big bolts engine bolts, ancillaries such as fuel and accelerator cables and cranking that engine for the very first time waiting for oil pressure. Then running the cam in at 4000 rpm for five minutes, watching that newly painted exhaust burn and smoke. Almost to the point where the neighbours are bringing in their washing in off the clothes line due to the excessive smoke and reaching for their garden hose. Thinking you've finally snapped and you've done the inevitable and set fire to that VW after hearing profanities cursed all weekend (such as when you've tightened that last engine case bolt to look down and see half a cam bearing lying on the floor (hmm is that an old or new one- f#$k).
But then you're finally going for a run down the street for the first time in that car that still may not be complete at 6 o'clock Sunday night (i.e.: no rear tinware or engine lid). Whether you take pleasure in repairing, rebuilding or modifying, if it's Volkswagen and you're a member of this club you're never alone. Your interest is something we all enjoy. Owning what is to most just an old Volkswagen!
On that note if you wish to come along to this month's meetings and possibly put your hand up to take a place on our committee for the next 12 months we would only be too please to have you along. Remember with this great club of ours you really only get out of it what you put in. The more time you spend at VW gatherings the more time you will chat with others about VWs and more often than not step away every time learning that little bit extra about something VW which you may not have already known.
Love to see you all there!
Club VeeDub Turns 20!
By Phil Matthews
February 2005
Welcome to the 20th Anniversary edition of Zeitschrift! It's hard to believe that our Vee dub club is 20 years old already; where on earth has the time gone??
I was involved in the formation of Club VW, as we called it then, back in 1985 when the VW scene was quite different from how it is today. VW clubs around then were still doing dirt motorkhanas, rallies and bush bashes, as there were a lot more VWs around then and they weren't considered to be precious classics like they are now. It was very difficult to buy hot-up or resto VW parts anywhere, and VW-only events were non-existent. In fact most club dirt racers drove Mazdas, Datsuns, Toyotas or Minis at events and to work every day.
We formed Club VW to fix these problems, as we were a group of enthusiasts who loved their VWs for what they were, not for how fast they could be made to bash around a dirt track. Our first gathering was at Parramatta Park on 10 February 1985, where nineteen VWs gathered together for an organised chat and a picnic. We all agreed to proceed with our new club, so after a first committee meeting (at my house!) we organised another run, this time up to St Albans. I think we ought to have another run up there after the Nationals are over.
Our first meetings were held at Granville Town Hall, followed in later years by Concord RSL, Auburn RSL, Auburn Soccer Club and now the Greyhound Club.
Zeitschrift has come a long way since the old days of using an awful black ink Gestetner wax stencil copier! Zeitschrift is German for 'magazine', in case you are wondering what that word means. It's pronounced 'SITE - shrift.'
We grew slowly and steadily until 1988, when there was a huge leap when we ran the first VW Nationals. This was the first large, professional VW show to be held in Sydney and began a tradition that is now in its eighteenth year, bigger and better than ever! The Nationals really woke up the VW scene in Sydney, and today we all reap the benefits of all the hard work put in by Dave Birchall, Steve Muller, Rod Young, Bob Hickman and all our members too numerous to mention.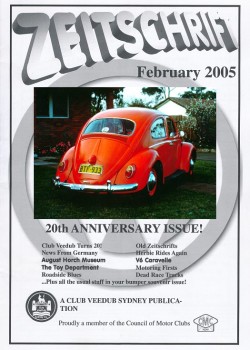 I believe today we have the ideal environment for VW enthusiasts. Club Veedub is large and financially secure enough to put out a fantastic magazine; host a brilliant and much awarded website; buy library books, magazines, tools, videos and DVDs for free use by our members, and organise any VW event you care to name. Yet, we have tried to make the whole thing fun at the same time. Our meetings are always entertaining—no moving and seconding the motion stuff—and we have a great bunch of people that makes getting together a joy. There really is something for everyone.
Happy birthday Club Veedub!
President 1985 Chris Edwards
President 1995 Ivy Martin
President 2005 David Birchall
Vice President 1985 Rod Young
Vice President 1995 David Birchall
Vice President 2005 Leigh Harris
Secretary 1985 Phil Matthews
Secretary 1995 Rod Young
Secretary 2005 Bob Hickman
Editor 1985 Phil Matthews
Editor 1995 Paul Tagg & Nikki Davis
Editor 2005 Steve Carter
Treasurer 1985 Luis Guevara
Treasurer 1995 Caro Martin
Treasurer 2005 Martin Fox
Raffle Officer 1985 Steve Carter
Raffle Officer 1995 Christine Eaton
Raffle Officer 2005 Christine Eaton
Older Zeitschrifts
By Phil Matthews
February 2005
The first issue of Zeitschrift was February 1985. It was made of only 5 sheets of A4 paper, stapled together. The cover was photocopied (at my work!) while the rest was printed with a Gestetner. This involved a two-layer wax stencil, which was fed into my Dad's Olivetti portable typewriter. The page was then typed (using no ribbon, just the hammers), with any mistakes having to be patched with a hard-drying pink fluid like toenail polish. Photos could not be done. Drawings could be done by scratching the stencil with a sharp point, like a pair of compasses.
The finished stencil was then fed onto the Gestetner drum. Some machines were electric, but our machine was a hand-cranked example that we borrowed from Darryl Donald at Rogate Spares. As the crank turned the drum, thick black paste-like ink was forced through the porous drum surface, through the stencil (cut by the typewriter) and onto the paper as it was drawn past it. All going well the wet printed page was then ejected into the tray, but more commonly it would jam or stick to the drum. It was a filthy, gooey machine to have to clear out. Old clothes were a necessity!
Address labels were hand-written for the first few issues, but we bought our first computer in June 1985. This was not a PC, but an Olivetti TES501 Text Editor, about the size and shape of an office desk. It could store 128K on two 5" floppy disks, and had an LCD screen that showed one line at a time. System memory was a mighty 8K (that's 8192 bytes!) It was over $10,000 when new in 1981, but we got it second-hand for $200. I used it until the July 1986 issue, when it had a fatal hardware failure. Rod Young had bought an Apple IIe computer by then, and was able to take over. The Olivetti went to Simsmetal shortly after that.
By the time of the fifth anniversary issue in February 1990, Rod Young had been controlling the magazine for three years, but with the excellent idea of farming out the editorship of individual issues to different people (like Steve Carter does now - that's how cum I'm doing this month's). Dave Long edited the February 1990 issue.
The magazine was much improved over my early issues. All pages were now professionally printed on large A3 sheets, then collated, folded and stapled into an A4 format by PrintMail at Artarmon. The cover was thicker, mono-colour and glossy. Printing and formatting was done by Rod on his Apple IIe, which allowed different fonts, right justification, two columns, and page headers and footers. Column sheets were pasted onto a layout sheet, with pictures and photos and decoration added later. Advertisements were possible. Dave Long provided many interesting technical articles over a long period of time and he always made interesting, if controversial, reading.
In the mid-1990s Paul Tagg and Nikki Davis, having taken over from pro journalist Phil Lord, shared the editorship job. For the 10th anniversary issue in February 1995, I volunteered to do a special anniversary issue. For the first time we used Microsoft Publisher, and I designed a two-column template with Club Veedub page footers. I used it for a few more guest issues, but Paul and Nikki's single column layout survived another couple of years. Steve Carter changed the format again when he took over the editorship in August 1996, when he also began using MS Publisher. It makes things so much easier. The only pain is having to update software every couple of years. I still use Publisher 2000, while he has already gone up to Publisher 2002. Of course, my version cannot read his files.
By the time the Feb 2000 (15th anniversary) issue rolled around, Steve Carter had really fallen in love with MS Publisher and had much improved the cover design and the general layout. Today's issue is a further evolution. The coming of the internet has made the job vastly easier, but PCs, MS Publisher, CD burners and Snap printing have also helped. Steve's latest innovation is USB memory sticks for transferring the file to the printers.
Technology marches on!