Humour
For the Love of a Volkswagen
Smoke !!
Valla Park
Shark Island Harbour Cruise
What Is a VW Enthusiast?
Figo's Believe It Or Not
Now That's Funny
How To Impress Your Wife
Valentines Day Checklist
What Pieces Me Off
Twenty Terrific Tips
Klub Korrespondenz
Around And About
Twenty More Terrific Tips
Klub Korrespondenz #2
Another Twenty Terrific Tips
Ten Handy Hints on Road Safety
Ask Frau Brunhilda
All About Hand Tools
How To Drive In Sydney
Point-scoring for Men
Some Christmas Jokes
How to Drive Like a Moron
All about Burnouts
Oil Changes by Gender
The Cabriolet
The tools VW forgot
Sydney Fast Car Exam
VW Book of Records
10 Best Car Repair Tools of All Time
Used Car Classified Translations
One Day at the Parts Counter
You are Probably a Petrol-Head If…
Memories of winter in an old air-cooled dunger
For the Love of a Volkswagen
By Eileen Carter
March 1988
One bright spring morn', at the crack of dawn,
I bought myself a Bug,
A '64 with a kicked-in door,
And a motor best described as a slug.
We got inside, and to my surprise,
There's heaps of room in a Beetle,
But that's the front, 'cause in the back,
The position's sort of foetal.
So there we were, the wife and kids,
In a compact sort of style,
But their faces grim and hers a sneer,
As we clocked another mile.
"Economical", I said, and motioned with my head,
To the cassette player on the dash,
And the language she used, as she yelled and abused,
Damned lucky we didn't have a smash.
"Six volts is no big deal," I said,
"I'll stick in an inverter",
And she said, in no uncertain terms,
To "stick it up my blurter."
Now enough's enough for any man,
And my civility was forced,
And I thank the Lord that their bickering,
Was overrun by the exhaust.
They held their tongues and sat very still,
To calm my jangled nerves,
But I swear to God, I could have beat
That Morris 'round the curves.
Well I had four, the Morris one,
My wife's figure's like King Kong's Bundys,
And if I could just get rid of them,
I'd make that Morris hoon pooh his undies!
I don't need them to sit around,
And bitch about my car,
And ever since I got divorced,
I've travelled wide and far.
And I'll find that Morris driver,
In his little heap of rust,
And I'll run him one more time,
And make that Morris eat my dust!
Smoke !!
By the Editor
July 1988
At last, a simple guide to the principles of a motor vehicle's electrical system.
Forget all that nonsense about magnetic fields, voltage and the flow of electrons along a conductor, for it is just that…nonsense. A myth put about by auto electricians to support their lavish lifestyle at your expense.
The reality is SMOKE! When you think about it, it all becomes startlingly obvious. Smoke makes all things electric function. If the smoke escapes, the component stops working. For example, the last time you had to grovel under your VW to replace the starter motor, didn't it start smoking before it stopped working? Of course it did.
The wiring loom in your VW carries smoke from one device to another, pumped around the system by the generator, and stored in the battery. When a wire springs a leak, it lets out all the smoke and everything stops. The starter motor needs lots of smoke to work properly, so it has a very thick wire going to it. Little electric parts don't need as much smoke, so their wires are smaller.
The battery can store lots of smoke dissolved in the 'battery acid', which is why they were once called accumulators, until it became apparent that we unwashed home mechanics would twig to the secret.
Naturally, the battery has caps to keep the stored smoke inside the battery. If you try to dissolve too much smoke in the battery, it will escape through those little holes in the top. This is why those new-fangled batteries with sealed tops will explode if they get too much smoke in them.
Of course, all self-respecting auto electricians will vigorously deny that this is the case, but after coming upon this truth we felt bound to pass it on to our faithful readers.
Valla Park
By Eileen Carter
September 1988
The mood was right for a great weekend
Up at Valla Park,
With suitcase packed and Cibies on
We set off in the dark.
It took a while to wipe his smile
As we hurtled through the bends,
And my knuckles white, from gripping tight
Hurt as much as our rear ends.
Some seven hours later
As the sun was shining bright
We arrived up there, a little worse for wear,
And my hair looked just a fright.
The excitement really gripped him,
And as I look at him,
His saliva glands worked overtime
And drooled right down his chin.
"All these Volksies in one place," he said
"Would blow your mind away,
I just can't think of a better way
To spend a holiday".
He looked at me and whispered,
"These cars are my whole life."
I said, "Well that's just marvellous,
but what about your wife!"
He said, "Oh, here we go again,
What's wrong with you this time?"
I said, "There's more to life you know,
Than cars parked in a line."
"Oh yeah," he snarled and added
"Gene Berg has even came,
And he's lecturing on Sunday
And he's got stickers with his name!!"
I thought I'd better shut my mouth,
The weekend had just begun,
And we strolled around the cars,
And boy, was that great fun.
He explained to me about each car,
Its colour, type and year
And the original specifications
As I yawned from ear to ear.
"You women don't appreciate
The qualities of this car,
You couldn't tell a roofrack
From a stabiliser bar!!"
Well I tried real hard to look impressed,
And I said, "Well, goodness me!"
And that prompted him to tell me
About some German history!
He waffled on about the "Krauts"
And all about folklore,
And I said to him in a cutting voice
"Well, at least we won the war!"
No more was said again that day
And I looked forward to the dance,
And Club Vee Dub with its fancy dress
Would surely stand a chance.
The Hallidays looked really great
Parading 'round the floor,
And Dave was holding up the bar
As he'd done the day before.
Eddie swung his hips in beat
And had his dance card full,
And Boris thought of splits and
Tricks on Eddie he could pull.
The food just tasted super,
Congrat's go to the cook,
But Sue must've had too much,
'Cause the next day she was crook!
Monday came around at last
And we were homeward bound,
Complete with an oval's mudguard
And other stuff he found.
I believe it's on again next year,
Perhaps you'd like a lift,
You can take my place and enjoy yourself,
Please accept it as my gift.
Shark Island Harbour Cruise
By Rod Young
December 1990
Yes, you really should have been there, landlubbers. Perfect weather, pleasant shipmates and impeccable organisation from Tony Andrew.
A crew of us met at Birkenhead Pier on Sunday the 18th and prepared for the ocean voyage. I was wearing my oilskins, carrying my passport, had had my shots and seasick pills and was preparing for the lifeboat drill, but nobody else seemed to be bothered with that.
Our brave little vessel made its way through the harbour with absolutely no drama; hardly worth writing about really. No sharks were sighted on the way. No men overboard. No distress flares. But I did see a submarine.
It turns out that Shark Island is inside Sydney Harbour. No wonder I couldn't find it in the atlas.
It's actually part of the Sydney Harbour National Park. There are no buildings there, except for a sort of bandstand and the toilets, which have got surely the most spectacular view I have ever seen from inside a lavatory.
In spite of the clear skies, it was blowing a gale across the harbour, and I had left the oilskins on the ship. But on the leeward side (like my nautical turn of phrase?) there was adequate shelter from the, ah, at least force seven wind, and we set up camp, barbecue and drinks dump, all of which Tony had thoughtfully provided.
We were stranded there until at least four thirty so we immediately developed a desert island mentality. First, explore the island and look for fresh water. It didn't take me long to find the toilets. Then, check out the ability of the island to provide long-term sustenance. Well, Tony had taken care of that with the barbecue, so that was covered. So, no need to hunt for wild animals - there were bits of them in the esky. Next, light a fire. We knew that we didn't have to attract any passing ships with a bonfire because the skipper did promise he would come back in the afternoon. But raw meat is so much less palatable than the cooked variety!
And this proved to present a problem for the Club VW contingent. Tony had surely asked himself the well-known question: "If you were to be shipwrecked on a desert island, what would you take with you?" His answer would have been: "Female company, a full esky and a barbecue." Nowhere on his list was "shifting spanner".
Still, island ingenuity came to the fore. A bit of bush fitting and a pair of scissors ensured that a gas seal was established. Our rations were soon sizzling.
After the rudimentary requirements of survival had been attended to, we could consider how to pass the time without going mad. These were the things to do:
- drink
- talk to old friends (the preferred activity)
- explore the island again
- check out the view from the toilets
- look at the harbour (next-most preferred activity)
There was a limit to how many times you could explore the island, as it wasn't all that big. But it was interesting. I found some plastic. We all wondered where all the ugly pipes coming out of the water led to, and I'm still wondering.
Looking at the harbour wasn't hard, as there was 360° of it. It was fascinating actually – never a dull moment. There were:
- yachts
- seaplanes
- ferries
- cargo vessels
- hydrofoils
- a dredge
- the Bounty (funny how it went so well without any sails up)
- a paddle steamer (I thought I'd been on the island too long when I saw that, but others saw it too)
- sea birds
- no sharks (why did they call the island that, then?)
- expensive real estate
- more yachts of all types
to see.
The yachts actually provided the best entertainment. The wind was so strong that they either went spectacularly quickly or spectacularly over.
One cockleshell hero actually had the gall to try and beach his hulk on our island after capsizing it. How we laughed at his pitiful attempts to lift the sail out of the water. He managed not to smash his craft on the rocks, then accused us of enjoying the spectacle of his near-disaster. Well, he was right, I suppose. The swine then crawled out of the sea onto our island, leaving the boat in the hands of some children. He reappeared carrying a stick, which he proceeded to ram into the broken-off stub of his lightweight, hi-tech rudder handle. They don't build tillers like they used to.
With all those things to do, boredom was not on the agenda.
We were rescued even before the skipper's previous ETA and made it back to Birkenhead Point with absolutely no drama. I spotted a submarine on the way.
Congratulations, Tony, for a great outing, just the sort of good idea we need for a club function. He has assured us that it will be on next year, so take my recommendation and don't miss the Shark Island boat!
What Is a VW Enthusiast?
By Phil Matthews
January 1991
A VW enthusiast is someone who:
Imagines a smooth Cal-looker with perfect paint, custom interior and hot motor with nitrous where a rusty lump of metal sits in the junkyard.
Has trouble remembering his wife or girlfriend's birthday but can recite reams of part numbers, statistics, dates and obscure VW automotive trivia for hours on end.
Always ends a sentence about a car with "but it could use a little more horsepower".
Thinks a REAL VW is a fully restored, low mileage original split or oval beetle with correct fittings and colours, white-wall tyres, all original log books and papers, and loaded with genuine VW period accessories.
Hates the taste of your homemade honey-oat bars or peanut butter biscuits but happily siphons petrol from the Kombi to the Type 3, fuel dribbling through his lips and teeth.
Cringes at the thought of all those 'potential restoration projects' going to the crusher at Simsmetal.
Remembers important events chronologically by which car or cars he or she owned at the time.
Thinks a holiday is a motor wrecking yard tour through two states.
Thinks a REAL VW is a lowered, customised Cal-looker with 2.1 litre Gene Berg engine, 4 wheel disc brakes, full cage, Porsche 911 wheels and lustrous metalflake paintwork.
Complains that washing up detergent is bad for his hands, yet happily spends hours in the garage with CV grease, oil, petrol, brake fluid, kerosene, carb cleaner and WD40 soaking into his skin and hair.
Judges his sister's new boyfriend by the kind of car he drives (and how much he knows about it!)
Spends all day slaving away in the workshop then, for relaxation in the evening, will catch up on old issues of various VW magazines to keep his mind sharp.
Thinks a REAL VW is a high tech, electronically fuel injected, supercharged, 16 valve, four wheel drive wunder-Golf of the 21st century.
Goes to the movies with you and whispers in a loud voice "Hey, look at the '67!" when one appears in the film background, no matter how briefly or obscurely.
Carries a photo of his car around in his wallet.
Is offended by his girlfriend's remark that she doesn't care what kind of car he picks her up in as long as he's on time! (he also is someone who has a lot to learn about women.)
Will show you albums of photos of VWs he's owned, but will only show you pictures of his family if requested.
Believes all perfumes smell the same in a flowery sort of way, yet can tell the brand, type and age of a bottle of motor oil with one sniff.
Thinks the perfect home would be a three-bedroom unit atop a huge, completely outfitted, multi-car garage.
Goes to a Club VW picnic or social outing and spends all the time talking about VWs with all the other guys. If there are some ladies there, though, he'll open the conversation with "Hi babe, how's your VW been running?"
Hated the movie 'Gremlins' for the way Steven Spielberg put down Beetles. He would also remember that Steven Spielberg wrecked a Kombi in 'Back to the Future' and a Superbug in 'Poltergeist'. He thinks Steven Spielberg is a jerk.
Owns or has copies of all the 'Herbie the Love Bug' movies. Not only that, but he can tell what year model all the stunt cars are that appear throughout all the films at a glance.
Thinks a REAL VW is the faded, patched, chuffling 1500 '68 that costs almost nothing to run, starts every time and has dripped oil on his driveway for twenty years.
Is completely baffled by people who are NOT into VWs.
Figo's Believe It Or Not
By Greg Figgis
March 1991
I feel I can add further evidence in support of the Volkswagen Beetle as a Japanese invention.
While I was waiting at Palm Beach in December for Club VW members to arrive for the Vintage Picnic Day, I was approached by an old Japanese gentleman. He must have been drawn to the '51 Split which I drove that day, and as he toddled over from the golf course, he clutched a yellowed old piece of paper. In broken English he excitedly told me he had worked on a top-secret project in the 1930s for an Asian People's Car. It was coded 'East Asian Sphere of Prosperity Coolie Car', abbreviated to 'Project Origami'.
The old man unfolded this weathered document, which proved to be plans and perspective drawings, which share much in common with our familiar Beetle. He insisted it was Japanese in design, and then elaborated with technical details.
Body/chassis were unitary construction of laminated paper; glue used was a centuries-old formula of great strength, unfortunately lost after WW2. Power came from a single cylinder engine with twin opposing pistons, of 2-stroke principle running on rice wine and whale oil. Transmission was something like the DAF infinitely variable automatic, employing rubber bands (seriously - I know he wouldn't have lied to me).
Lowering his voice, the old Japanese golfer confided that the 'real invasion' plan for Australia in WW2 went more like this: Japan was really more intent on the paper mills at Burnie, Tasmania, and bombing Darwin was simply a feint to distract Australia's attention. Had us all fooled, didn't they?
Why paper mills, for Sakimoto's sake?
Well, they badly needed paper to build the Origami in quantities such as they had in mind and when the three midget submarines sent to capture Burnie arrived in Sydney Harbour by mistake, their plan was instantly scuttled.
So the Asian Coolie Car was put on hold for a time; then the factory at Hiroshima went up in smoke in 1945 (paper burns easily, remember?), and the project was never rekindled.
Club members may be wondering why go to such extremes for a supply of paper? Paper comes from trees, and many of you will know the extent to which the Japanese are conservationist. They have forests of trees of their own, but are too smart and conservation-minded to cut them down. They prefer to use other peoples'!
Looking at the plans, it is easy to see why the Origami was going to be so cheap, because the buyer had to cut it out, fold and assemble it himself. Sounds like fun, doesn't it?
Anyway, the old gentleman left me a copy of the plans and wandered back to his golf, muttering about Eden and woodchipping!
Now That's Funny
By Peter Matthews
June 1992
Did you hear about the successful tycoon who took delivery of the latest model Rolls Royce?
As he drove away from the showroom in his pristine Roller, an old Volkswagen pulled up alongside him at the traffic lights. Winding down his window, the VW driver cried, "Hey mate! Is that the latest model Rolls Royce?"
"Yes, it is," the Rolls man pompously replied.
"Does it have those beautiful leather seats?" the VW driver asked. "Naturally," the Rolls driver replied.
"What about all those power-operated options?" "Yes, of course it has."
"What about the double bed?" "Double bed? Why, er … no," the Rolls man admitted.
"Hah! Never mind, the VW has!" the Bug pilot smiled, and then sped off into the traffic with a roar.
Stung by this insult, the Rolls driver hurriedly did a U-turn and sped back to the Rolls Royce showroom. "I want this car to be fitted with a double bed, and I want it to be done immediately! Is that clear?!" he demanded. "No trouble, Sir!" the manager replied. "You can pick it up first thing tomorrow."
Next morning came and the Rolls owner took delivery first thing, and drove away from the showroom with a new purpose. I'll find that VW driver and show him, he thought. I'm not paying out all this money for the finest car in the world without it having a double bed! Especially when a crappy old VW has one!
He drove around the eastern suburbs, and eventually spotted the VW in the car park of a shopping centre. The windows of the VW were all steamed up. The tycoon pulled up alongside, climbed out of his Roller and knocked on the window of the VW. After a moment the window wound down.
"Good sir, I just wanted to tell you that anything your - ahem - Volkswagen has, the Rolls Royce has too, and jolly bigger and better."
"Is that all?" the VW driver demanded. "And you got me out of the shower to tell me that?!"
How To Impress Your Wife
By Earl Fittings
February 1995
1. Pinching the light bulbs from inside the house because the ones in the garage keep blowing (mainly because you've overloaded all the circuit boards). This always puts her in a good frame of mind, especially if she trips over the cat on the way to the toilet in the middle of the night because the hallway light won't work.
2. Chasing your wife's dog around and around the backyard, trying to kick its bum and retrieve your good Hazet screwdriver at the same time ! - BUT - the moment Rover jumps on the lounge, isn't it just amazing how he suddenly becomes your dog. Poor Rover changes owners more times than you've had busted valve springs, and he hasn't even left the back yard.
3. After cleaning the grease off the vintage 36-bhp VW motor you've just acquired for your oval-window pride and joy, you then proceed inside to wash up for lunch. Upon doing so you leave half the engine gunk and grime on your wife's nice clean towels. That's bound to keep you in the good books and sleeping on the garage floor!
4. Whilst rolling your restored pre-'68 Kombi out for its once-a-week wash, you run over your wife's foot. Between the missus' ranting and raving and the bloody dog barking you can't figure out what all the commotion is about. Usually impresses the neighbours too!
5. Upon opening the garage door on a Sunday morning, you discover that the cat's been locked in there all night. Immediately you realise that there are tiny paw prints up and down the bonnet of your VW Street Machine. The little woman isn't at all impressed by the manner in which you throw the cat over the neighbour's fence.
6. After a hard Saturday night working under your VW, all you really want to do is sit in front of the idiot box, but the little woman gets very stroppy when you and Rover lay on the nice clean lounge (mainly because you forgot to change out of your greasy overalls).
7. A good way to impress her is when she has to go to the comer store in her Golf for some bread and milk, and finds that it's out of petrol and the front seat is covered in grease because you needed it to go to the wreckers for that hard-to-find part.
8. It's been another hard Sunday rolling around on the garage floor, trying to replace your VW's transmission. Now it's time for bed. You're too shagged out to take a shower, so you roll into the cot smelling like a Gobi Desert camel and looking like you've been a grease monkey for Australian National Railways. The sheets need washing; so what if they were only changed this morning.
9. It's 7:00am Sunday and all the neighbours are sleeping; but not you, it's time to give the 2276cc Beetle a tune. So after several dozen big blips on the throttle to warm it up, you commence to Rev The Ring out of 'er. Imagine the neighbours' (who had a hard night on the town) delight, not to mention your wife's.
10. One of the best ways to impress her is to make sure you wear your whitest T-shirt or best jeans whilst cleaning parts or lying under the car; this always puts you in the good books.
11. It's been another late night bench session with the VW boys, and the time has come for your mates to go their separate ways. Before commencing to leave, however, they begin their usual 'burnout' competition outside you or your neighbour's house. Imagine your neighbour's surprise; he can see plenty of smoke but is a bit unsure as to what part of his house is on fire.
12. Once again the good lady has complained about the bedroom looking like a parts warehouse, or the lounge room has taken on the appearance of an automotive library. Doesn't she know you can't keep those precious NOS parts in the garage (mainly because there isn't any room), or the reason the car magazines are on the coffee table is for when there's nothing good on the idiot box. Besides, they help to impress your mates!
13. That bloody dog's at it again, only this time he's decided to try and bury your best metric ring spanners. Speaking of rings - once again you're in the process of trying to use his bum for a football. Can't understand why the wife's yelling again ...!
Valentine's Day Checklist
By Will Handzel
February 1995
Since Valentine's Day is on everybody's minds at this time of year, we thought we'd do something a little different and offer some tips for your relationship with the one you love. Relationship maintenance is just as important as car maintenance, so to keep things running smoothly outside the garage, here are some timely do's and don'ts...
For the men:
Surprise her with gifts (flowers are a good one). Don't work on the VW every night. Talk about subjects other than VWs. Don't let your friends do burnouts in front of the house. Spend time with only her, doing something she likes to do. Water the plants, mow the lawn, wash her car. Don't pretend you're Peter Brock on the last lap at Bathurst when you drive her out to dinner. Don't use the nice towels to clean up oil spills. Don't use the oven to stress-relieve connecting rods. Don't use the Crock-Pot to clean your parts.
For the women:
Buy parts cleaner in bulk when on sale. Be honest with your man - don't tell him junk cars are OK in the backyard if they aren't. Realise cars are an important form of recreation for your man, but buy him light beer, since it's not real exercise. Trade off activities - you'll go to the swap meet if he (happily) helps you with the grocery shopping. Surprise him by checking the oil in your car and adding oil if needed, making sure the windscreen washer reservoir is full and telling him your car is running great. Listen to his car story for the umpteenth time and smile at the end. Don't tidy up his work area in the garage.
His Real Meaning:
Sometimes, guys just don't hear what is being said - this is even more true around Valentine's Day than normally. So take a look at these translations to be sure you know what is
going on.
What she said: "Oh, you don't have to get me anything!"
What you heard: "Oh, you don't have to get me anything!"
What she meant: "Oh, you don't have to buy me anything lavish but I better get something!"
What you said: "OK, honey."
What she heard: "I'll get you something nice."
What you meant: "I'm glad I don't have to spend any money on that!"
What she said: "The drags? That might be fun."
What you heard: "I'd love to go to the dragstrip."
What she meant: "The drags again?! Sheesh!"
What you said: "Well, great!"
What she heard: "I appreciate you doing this for me, let's do something you like next weekend."
What you meant: "I'm glad she likes hanging out at the drags."
One (Big) Thing:
OK guys, either finish the four project cars you are working on or sell off some of the junk. This alone will make your loved one happier. Take the money and buy something nice for her (not a set of wheels for the custom VW you're building).
Valentine's Day Gift Suggestions:
YES
Flowers, Dinner, Jewellery, Chick Flick, Chocolates, Perfume
NO
Air compressor, 'VW Bug-o-Rama Drag Racing' video, VW workshop manual, earrings in the shape of cam lobes, Scented trees for her car
Why You Should Try Some Of These Suggestions:
Maybe then you won't go to the drags alone.
What Pieces Me Off !
By Keith Haeusler
August 1995
Refilling your engine with oil, and 2 minutes later you realise you forgot to tighten the sump plug.
When you go to switch to reserve and its already been used, and you're 100 km from the nearest servo.
You drive your VW for 10 years without a flat, then when you finally have one, you remember you took your spare wheel and jack out last weekend to clean your front boot.
You've just finished installing your new engine and fire it up, and oil pours out everywhere because you forgot to put in the cam plug.
When your Brazilian window winder snaps with the windows half way up, and its raining.
You spend all day tuning your engine, trying fix that annoying misfire, with no luck, and your sister asks if you changed the plug leads – you didn't.
When you leave the distributor cap clips off after setting the tappets, and your car stops in the middle of the busiest intersection.
When you're changing the fuel filter under the car and the petrol pours in your eyes.
Twenty Terrific Tips
As submitted to Zeitschrift
September 1995
TO avoid losing your car keys, whenever you put them down ring a friend and tell them exactly where you put them. Later, if you can't find them, ring your friend and ask them where they are.
MAKE your Passat look like a taxi (from a distance) by sellotaping an old cornflakes packet to the roof. Two-dozen or so cornflakes packets glued together also make an ideal new workbench for the garage.
PRETEND your VW Cabriolet is a normal sedan by keeping the folding roof up at all times and by painting the fabric the same colour as the rest of the bodywork.
SAVE petrol by pushing your VW to your destination. Remember to open the engine cover, and invariably passers-by will think you have broken down and help.
FOOL smartarse motorists by standing near a big roadside puddle while wearing a skindiver's wet-suit underneath your ordinary street clothes.
A handy hint for motorists: After you've parked, switch off your VW's engine before getting out of the car. This not only reduces engine noise and fuel consumption, but is also good for the environment.
YOU can easily find your VW in a large, dark carpark at night by painting it with luminous, glow-in-the-dark paint. Other motorists will find you easier to see on the road, too.
SAVE wear and tear on your Golf's tyres. Simply drive all year round with snow chains fitted.
DON'T waste time and money trying to fit stronger, brighter headlight bulbs to old 6-volt Volkswagens. Simply drive closer to the object you are trying to see.
PREVENT thieves from stealing the Krooklock from your VW by attaching one end to the steering wheel and the other end to one of the pedals, then lock it with the key provided.
YOU can avoid the problem of drink/driving by drinking so much alcohol that by closing time you have completely forgotten ever owning a car.
RE-SPRAYING your VW? Cover it with Glad-Wrap first. If you don't like the new colour simply peel it off and start again with another.
BEAT police speed traps by stopping your VW every 200 metres and pretending to mess around with the engine. This way traffic cops will be unable to accurately record your speed for any length of time.
DRIVERS with hats - you can easily increase the speed of your motor vehicle by pressing down the accelerator pedal – that's the one to the right of the brake pedal - with your foot. Don't press the pedal in the middle or on the left. The further you push it down the faster your car will go.
PREVENT thieves from syphoning the valuable petrol from your VW's fuel tank while you've left it parked unguarded. Before leaving your car, transfer the fuel into large plastic buckets, which you can then take with you. When you return to your car, simply pour the fuel from the buckets back into your fuel tank through a funnel.
SHORT drivers may find it easier to see through the windscreen of their VW if they sit on a stack of telephone directories the next time they go for a drive. If this is still not enough, simply add another telephone directory or two.
FOR safety-conscious drivers of older VWs -keep a foot pump next to your brake pedal, and connect it to an inflatable wading pool folded on your lap. If you are about to have a crash, pump rapidly and the inflated pool will cushion you from injury.
Klub Korrespondenz
October 1995
In a crowded car park, my husband and I were unable to find our old Volkswagen. We looked and looked. We felt proper fools when, after three hours, we remembered we don't own one.
Luckily we both saw the funny side!
Mrs. E. Rolands, Parramatta NSW
"There's not enough room in here to swing a cat," a friend told me when he saw inside my new VW T4 Transporter. I wasn't impressed after spending so much money, so after he left I performed a little experiment. He was wrong. There was easily enough room, provided the seats were folded down first. Unfortunately however they weren't, and my tabby cat Tiddles died instantly from a broken neck.
T. Caplan, Birkenhead NSW
The other day I was driving in the traffic when I heard a loud car stereo playing Strawberry Fields Forever. I looked around and realised it was coming from a Volkswagen nearby, which had personalised number plates saying 'BEETLE'. I had to laugh. Doesn't the silly owner realise that the name of that famous group is spelt 'B.E.A.T.L.E' ?! What a stupid waste of money. You can easily save money yourself on expensive personalised car number plates by simply changing your name to match your existing plates.
Mr. KVL-741 Jesmond NSW
I used to have trouble remembering what all the traffic light colours mean, which can be quite dangerous. However, being a greengrocer I soon found it useful to associate the lights with similar coloured fruits. The red light is like a tomato, the first two letters of which are found in the word 'STOP'. Amber is like a lemon, which ends in 'N' as does 'SLOW DOWN'. Finally, green is like a gooseberry, the first two letters of which spell 'GO'. I hope your readers might find these suggestions useful.
G. Sprake Arnold NSW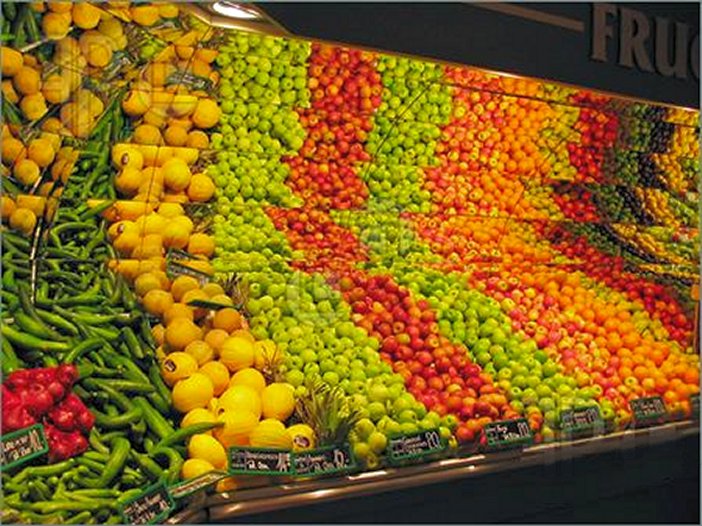 My new VW Golf VR6 is practically identical to my neighbour's, and I have difficulty deciding which one is mine. I thought I had solved the problem the other day when I had a sunroof fitted to mine. However I arrived home only to find that my neighbour had done exactly the same thing! At last, I think I have solved the problem. Last night I went out into the street and broke my neighbour's windscreen and headlights with a garden spade.
D. Ashcroft Marsfield NSW
I bought a taillight bulb for my Volkswagen for only 15c back in 1967 and installed it in the taillight housing. 28 years later and it's still there. Now that's what I call value for money! Can any of your readers beat that? (Unfortunately the bulb 'popped' early in 1968, but other than that it's as good as new).
D. Porter Chisolm NSW
I'm fed up with Zeitschrift's blatant 'selling out' to advertising. Once again I open up my favourite car club magazine (June 1995) to see pages of ads for car workshops, parts suppliers and other automotive specialties. Can't you keep this crap off the pages? The last issue was so bad I had to go down to the 'Coolabah Café' in Maroubra, here in sunny Sydney, where you can find a real beer and as much fine fresh food as you can eat, and all for the price of twenty ciggies. Mmmmm, Coolabah's! For the real Aussie taste of Australia.
Gary Spence, Coolabah Cafe, Maroubra NSW
Around and About
By Keith Haeusler
November 1995
The following anecdotes are all true! I swear. Only the names have been changed to protect the fools involved.
A bloke needed his windscreen changed as the old one was scratched beyond belief. It looked as though the previous owner had used Jif instead of Windex. Being a little nervous about doing the job himself, he called up his mate, Al Bundy, who had just replaced all six window rubbers in his Kombi. Not a problem! Al jumps in the passenger seat and puts both feet up on the windscreen just as his girlfriend had the Saturday night before (hang on that's a different story) and gave it a good boot. Windscreen shatters, glass flies everywhere, all over the freshly painted bonnet. Exit red faced Al minus one friend.
Al then went home to change some rear wheel bearings. He's removed the brakes and stub axle, then proceeded to belt the crap out of the bearing but it wasn't moving. For 10 minutes he's been belting away with a 2 kg hammer. Having worked up a sweat (unusual for this guy) he's decided to spray in some WD40, so he wipes away some grease. Again he's as red as a beetroot. Why you ask? Because he didn't remove the circlip, that's why!
Curly and Mo are refitting a Kombi engine, only they can't get the gearbox to drop out of it's top mount. Heaps of swearing and cursing is going on under there. Larry calls out from the distance, "Curly! Are you helping under there or being a hindrance?" You had to be there. Levering the gearbox down with a crowbar and it still won't budge. Mo crawls further under to investigate, and what does he find? Curly left one of the bolts in, didn't he!
Another Kombi owned by a very handsome bloke, goes in to get rego'd and dynoed. Up it goes on the hoist. Just as Biff is taking his finger off the UP button a crackling sound is heard, and moments later he is being showered with broken PVC. Biff's never had a Kombi on the hoist before. It's gone up into the roof and broken all the conduit for the lighting. Good one Biff!
Yet another Kombi on a hoist story. This one belongs to Mike and Mal Leyland. I'm not sure of the circumstances, but this Kombi's motor is out, it's on the hoist and there's a piece of 4x2 timber about two metres long between the gearbox and a floor jack. After the job was done Mal lowers the hoist. Only the front of the kombi came down, while the back end seemed to be floating on air. Yep you guessed it, they forgot to take out the piece of timber. An amazing balancing act.
Sticking with hoists, a fella named Homer was removing an engine from a Beetle. It's up on the hoist and he's going to take all the nuts off and leave it hanging on the studs. As the last nut comes off, the motor came down on top of him. It was a semi automatic and the bottom has bolts instead of studs. Lucky for Homer he escaped with a lump on the forehead and a damaged fan shroud (and ego).
Manuel had left Fawlty Towers, and was now changing an air filter on a forklift. When he'd finished he started it up. It was coughing and spluttering and belching smoke. When the filter was pulled out again it looked just like new. Still in its plastic bag!
Bart got tired of chasing his mate's Beetle with his 40 horse, so he decided to build up a big motor. He bought himself a new case and set to work clearancing it for the stroker crankshaft. Someone came out to check out his progress and noticed the case was getting a little thin. Bart pressed his finger into the case and it went straight through. He had re-invented the crankcase breather with a hole the size of a ten cent piece. Now he's kicked up a right royal stink. A brand new case and half a day's work. Thank God for Devcon hey Stinky!
Twenty More Terrific Tips
February 1996
DON'T sell your old Passat for scrap. Simply park it on your front lawn, remove the engine and fill the space with soil and flowers. Hey presto! An instant garden.
IT seems a waste to throw out old spark plugs after you've serviced your Beetle. I always nip inside to the kitchen and pop them inside the cornflakes packet. They make great surprises for the kids.
KOMBIS with overheating problems can easily be cured by diluting the hot engine oil with several litres of liquid nitrogen.
NO time to wash your VW on a busy weekend? Wrap your car in masking tape and remove the dirt by simply peeling it off.
INCREASE the life of your VW's carpets by taking them out, rolling them up and storing them in the garage.
FOOL neighbours into thinking your old VW has an expensive car alarm fitted, by sleeping in it each night and sounding the horn for one minute at regular intervals.
KEEP a tin of red paint in your VW. If you see a motor accident you can then pour it over yourself and pretend to be involved.
DRILL a 2cm hole through the bootlid of your Audi A4. This will allow you to check that the boot light goes out when you close the bootlid.
SAVE on your club membership fees by only joining every second year. This means you don't have to go to the same events every year. You can change the colour of last year's magazines using coloured pencils, and simply re-read the same old articles.
BEFORE driving your VW at night, stare into a pair of 150-watt globes for half an hour. Then if drivers of oncoming cars forget to dip their lights, you'll be acclimatised and the glare will not bother you.
TEACH your teenage kid the value of a dollar by wrecking his first car with a large mattock. He will then have to work hard in his job to earn enough to buy a replacement vehicle.
STOP your cheap, thin car seat covers from wedging up your bum in stop-and-go traffic by simply taping your cheeks together with cloth gaffer tape.
KOMBI owners - pretend you have a fantastic sex life by going into the back, drawing the curtains and jumping up and down vigorously, moaning loudly while you do so. Look at your neighbours' jealous faces every time you go near the VW.
SHOW a complete lack of imagination by calling your VW 'Herbie'. Complete the illusion by painting your VW white with a blue and red racing stripe, together with '53' in a circle on the bonnets and doors. This is particularly effective if your VW is a Golf.
HAVE your revenge - install you VWs number plates upside down. This will ensure that, should your car ever be booked by a parking officer, they will crick their neck trying to identify your vehicle.
OLD drivers - are you worried that some poor sod behind you who's late for work, is going to get past you on the road? Simply wander aimlessly from left to right and back. That will stop them.
DESIGNING a new paint scheme for your VW street machine? Take a tip from the fashion designers. Paint long, thin parallel stripes along your VW to give the impression that it is longer than it actually is. Or paint thicker hoops along its length to create a new, shorter look. This works a treat with non-VWs as well.
GIVE your home garage that 'big city car park' feeling by putting boom gates across the entrance, 'P' and 'Full' signs on the front door, and inviting drunks to urinate against the wall.
IF your brakes fail while you are reversing, open all your cars doors and, if possible, the boot. This will greatly increase wind resistance and help bring your car to a standstill.
A 500 mL bottle of car shampoo, sent via InterFlora, is the perfect romantic gift for a girlfriend who likes washing her car.
CROOKLOCKS designed to secure car steering wheels can just as easily be fastened to your home toilet seat, thus preventing burglars from using your toilet.
Klub Korrespondenz #2
February 1996
Not long after we married, my wife and I moved into a new house in Mount Gravatt. Imagine our surprise to find our next door neighbour had a blue car - the very same colour as our own!
Mr. K. Harrison, Mount Gravatt
EDITORS NOTE: - Under the conditions of the Fire Precautions Act 1971 I am obliged to carry out a fire drill on the letters page of this magazine every 12 months. A fire alarm will sound at some point on this page. When you hear the alarm you must stop reading at once and put the magazine down. Do not open it again until you are given the all-clear signal -The Editor.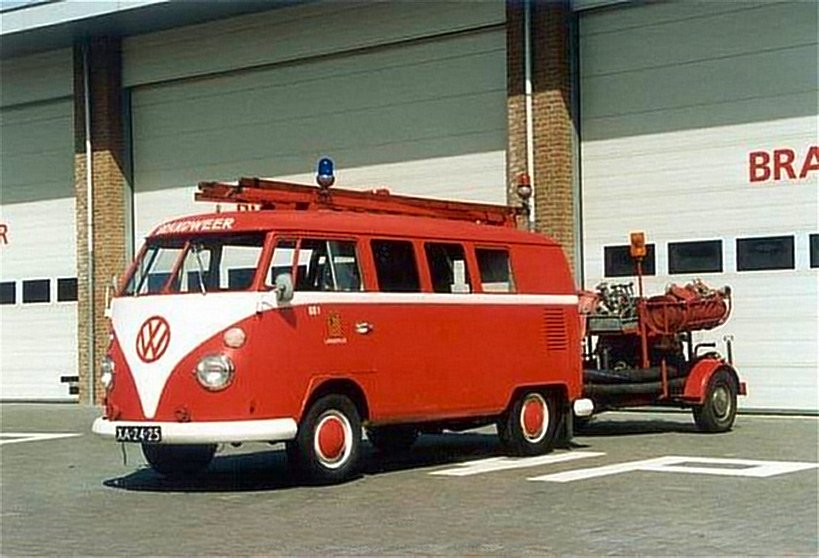 In the January 1987 issue of Zeitschrift, a Mr. Walker advised readers that letting down all your car's tyres would make it easier to locate your vehicle in a large car park. Ridiculous. I believe it would be easier to see, and therefore much more effective, if you let down the tyres of all the other cars in the carpark. Your car would then stand the tallest!
S. Weaving Arnold, VIC
Last week our children painted the family Kombi a virulent shade of bright orange. Imagine my husband's horror when he saw the old bus - our garage decor is all in blue. How we laughed when we realised that bright orange is the same colour the Kombi was before!
Mrs A. Dixon Shortland, NSW
Congratulations to Club Veedub on its 11th birthday, and for the 126 issues of Zeitschrift printed in that time. The last issue, Jan '96, was another corker - the funniest one yet! My husband and I read Zeitschrift religiously and have never missed a single issue, apart from the ones made from 1985-95. Mind you, it's not as funny as it used to be.
Mrs B. Hartnell, Sinnamon Park, NSW
It's a complete disgrace that you had so much advertising in your last issue. What a shame to see you dirtying your hands with money from these big greedy commercial organisations. Don't think your readers are fooled.
G. D'Ercole,
Quality Western Auto Repairs – the best little repair shop in town
Right on Gilbert St at St Marys. Come and see us today!
I was enjoying a lovely cup of tea in my lounge room, when I suddenly caught sight of what I thought was a large beetle out of the corner of my eye. Luckily it was just my husband's VW, which he likes to bring in each night, as we don't have a garage.
N. Blackett-Ord, Allden, NSW
In previous articles you've asked for readers to send in war stories, especially if they involve the VW in Germany. Well, I have one to pass on. My uncle Reg shot 15 Germans in Wolfsburg while serving with the Army, as well as destroying much of the machinery there. Unfortunately, this was in 1973, so he was never decorated with the medals usually awarded to exceptional soldiers.
Vic Jackson, Montacute, NSW
Can any readers tell me the best route by car from Normanhurst to Bankstown and the approximate journey time, as I have a job interview there tomorrow? Any help would be much appreciated.
R. Murray, Normanhurst NSW
Ding-a-ling-a-ling-a-ling-a-ling-a-ling-a-ling-a-ling-a-ling-a-ling-a-ling-a-ling-a-ling-a-ling!
So VW is back, eh? Well I'm not impressed. I went to one of the Sydney dealers and ordered two VW part nos. 865 000 278 (door sticker) and was told they were no longer available! What sort of nonsense is this? In any case, VW won't be back until we have proper Volkswagen dealers, not all this 'Classic' and 'European Cars' rubbish. Can you imagine pulling your VW Campmobile into Oodnadatta European Cars for an oil filter? Get with it, TKM!
G. Tyler, Parramatta NSW
I've been worried for some time over people making stupid jokes about the VW Golf. I repeat for the benefit of readers that the car is named after the Gulf Stream (Golf Strom in German), the ocean current branching from the warm waters of the equatorial current, which flows north from the Gulf of Mexico. It slows to a widening 'drift' off Newfoundland, splitting as it flows east across the Atlantic, and warms what would otherwise be a colder climate in the British Isles and Western Europe. Perhaps VW should produce a TV ad to explain this. Greg Norman should narrate.
Julius Grafton, Frenchs Forest NSW
It seems stupid for VW to call their new concept van the 'Noah', the mythical Hebrew Biblical character (Genesis ch. 5-9) who built the ark so that two of every species could survive the Great Flood. After all, it is highly unlikely that the VW Noah could fit eight people (Noah, his wife, his sons Shem, Ham and Japheth and their wives), let alone two of every species on earth. The African Elephant, for example, grows up to 4m long and weighs up to 8 tonnes! In any case, the VW Noah could never float for 40 days and 40 nights, unlike a good ol' Beetle.
Will we see the VW Moses next?
Brian Grazer, Epping NSW
Could you please settle an argument for me. My hairdresser says that the VW Golf 3 came BEFORE the Golf 1. I say that there was only one model of Golf, and that was the Golf 2. Please prove me right, and lay to rest once and for all the myth that hairdressers are stupid.
Sincerely,
Dirk Squatt, Blacktown NSW
What you don't know can't hurt you, or so they say. Well, last week I didn't know that my brakes had failed, and the resulting crash hurt me a great deal. So much for bloody experts! Gillian McMannus, Lane Cove NSW
Another Twenty Terrific Tips
As submitted by our readers
June 1996
DON'T waste money on expensive Stanley tape measures in the workshop. Get a length of elastic from your wife, and make marks at one centimetre intervals with a texta. Hey presto! A telescopic ruler that takes up very little room in the toolbox or overalls pocket. By stretching it by a factor of 2.54 it can easily be converted from metric to imperial measurements.
PAINT the windows of your VW black in order to enjoy the advantages and serenity of night-time driving throughout the day.
PRISE open the windows of the car next to yours next time you use a car park. That way, car thieves will find that car a much more attractive proposition than your own.
CAR alarms are so expensive nowadays. If you avoid turning yours on, car thieves will not know you have one installed, and are much less likely to remove it from your VW.
MOTORISTS. Always carry a large plastic tub and 200 litres of water in bottles in your car boot. In the event of a flat tyre this will help you locate any punctures you may have.
IMPRESS your friends by making a list of all the objects in your garage, and then invite them over to play I-Spy. Watch their faces as you keep on winning!
THERE have been tips before on easy ways to remember what the traffic light colours mean, but the easiest way by far is to say this little rhyme to yourself as you approach:
When the red light does shine,
I must stop on the line,
When the amber is there,
Then I'd better take care,
But when the green light does show,
Then off may I go.
DO you often have the misfortune of hitting and killing small furry animals on the roads at night? Don't just drive on. Stop and pop the poor victim into the boot of your car. Eventually you will have enough of them saved to make a small coat or jacket for your wife.
YOUR VW's heater not working? Prepare for cold weather by coating yourself thoroughly with Dencorub or Tiger Balm before you go for a drive.
CONVINCE your neighbours that your VW is faster than it really is by painting racing stripes over the roof, and drilling several holes in the muffler.
WHILE waiting for the traffic lights to turn green, keep some loose change in your right-hand trousers pocket. As each minute passes by, transfer one coin into your left-hand trousers pocket. When the light turns green the number of coins in your left pocket will tell you exactly how many minutes you have been waiting.
SUNDAY drivers - try pressing your accelerator pedal further down towards the floor of your vehicle. This will make your car move forwards much more quickly.
MAKE checking your VW's oil level easier by adding a bottle of blue food colouring to the crankcase. The level on the dipstick will then be much easier to see.
BEAT car theft by always towing a car trailer behind your VW. When you park, simply drive your VW onto the trailer and padlock it securely in place.
PRETEND you don't live in Sydney by always driving around Sydney with the street directory open on your lap, and always asking people for directions.
MOTOR mechanics: try dressing in brightly coloured clowns outfits or harlequin suits, instead of plain old greasy overalls. Customers would feel much happier being told they're up for a major repair bill by someone wearing a red nose and face paint.
TAXI drivers: why not pop into a workshop and ask them to fix your blinker lights for you. That way other motorists will then know where the hell you are going.
MAKE motorists slow down in your suburban street by getting your wife to dress up as a policewoman, and getting her to point her hairdryer at them as they pass by.
MOTORISTS: Remove your trousers and tie them around your neck before getting into your VW. You'll then be able to remove your handkerchief, keys or wallet from your trouser pocket with ease, even after you've fastened your seat.
BEETLE owners: Drill a two-inch hole through your glove box lid. When you then open your glove box, hey presto! An instant cup holder for those delicious Slurpees or Giant Gulp cups. Just like a newer car has!
AN even sprinkling of flour will lighten the colour of your VW's carpets. If you don't like the new shade, simply vacuum it off. Chimney soot can likewise be used for darkening your carpets.
GOING to a Club VW Committee meeting? Silence your flatulent backside by pulling apart your buttocks before you let one go. Hey presto! No more embarrassing 'fart' noise.
MAKE your friends think you have an expensive car phone in your VW by phoning them up, asking them to repeat everything they say, then hanging up halfway through their reply.
AVOID carburettor icing problems this winter. Stop your car every 5 minutes and pour boiling water over the engine from a thermos flask you prepared earlier.
PRETEND you're in a European city by simply sitting in your VW all day with the engine running, occasionally honking your horn, and never actually getting anywhere.
GOING to a Club VW Committee meeting? Avoid soiling your trousers by not pulling apart your buttocks when you think you are about to fart.
Ten Handy Hints on Road Safety
By Cyrus Pressler
June 1997
I used to be a careless, thoughtless and hopeless driver. Then I took up the new Drinker's Ten Point Safety Plan.
Eliminate your driving worries by following the plan listed below. For further information, please contact me c/o Ward 9, Sydney Hospital, Macquarie St, Sydney.
1. If totally tanked and finding difficulty in getting your key into the ignition switch, withdraw immediately from the car, proceed if capable, to the front or rear of the vehicle and read out slowly and loudly the letters and numbers on the registration plate. You might have the wrong car.
2. When driving at more than 150 km/h/ never converse with other occupants of the vehicle. It's apt to take your mind off the fact that you're having a hell of a lot of fun driving that fast.
3. If embracing a bird while driving, keep one eye on the rear vision mirror, one eye to the front and an eye on the other side of the road. When you can accomplish this, take a lucra-tive job with the circus.
4. If you're full and incapable of driving, but still eager to get moving, start motor, flatten accelerator and lean on the horn. Police will soon appear to assist you.
5. If lost on a country road at night, keep careful count of the number of pedestrians you hit. If you find you are hitting more, then you are getting closer to a town.
6. If you must drink and drive, have a rest before leaving the hotel. Most publicans won't mind you lying on the bar floor or the pool table if they know you're doing it for a good cause.
7. Ensure your car is equipped with the best safety devices. Foam rubber padding in the boot will protect those dozen bottles from breaking in the event of an accident.
8. Before illegally using another person's ve¬hicle, check with the owner to see that it's roadworthy.
9. Study the road laws carefully. You will be quite surprised at some of the provisions. For instance, it is an offence to try to run over a person who owes you money or has skipped with your best bird.
10. Don't just remember that courtesy pays, insist on it. After you've done a courteous act, force the other car into the kerb and lean on the driver to pay up pronto.
Ask Frau Brunhilda
June 1997
(Editor's note - Herr Doktor is currently overseas and so this month's questions will be answered by his wife, Frau Brunhilda.)
Dear Doktor,
I recently bought a second-hand VW Golf, but the previous owner painted it a funny colour. Do you approve of oyster-coloured cars? Shades, Sylvania
Yes, particularly if, like yours, it has an overhead clamshaft.
Dear Doktor,
What is the best way for me to fix my leaky inner tube? J.S., Seven Hills
Don't fool with it yourself. Let your family doctor attend to it.
Hello Frau Doktor,
I have always been interested in Soviet-Bloc cars, and recently added a Trabant to my collection. However, I really want to find a Lada or a Zil next. Do you have any advice about Russian cars? Zaz fan, Zetland
Yes but it's far too Volga to put in print.
Help me Frau Doktor!
I used to do freelance modelling in my bikini for car magazines and so on. One day while I was changing, I bent over to pick up my handkerchief, and the photographer took a picture of my bum. I didn't give it another thought until last week when I saw that photo on a girlie calendar. Do I have a case against someone? Miss Curious, Croydon
No. As far as I know there is no law against showing the date.
Hello Herr Doktor,
I'm almost finished restoring my 1961 VW, and I wish to wash inside my fuel tank, which has become rusty inside. What's the best way to do this? Washing, Warwick Farm
This is quite out of the question, unless you're very very short! I suggest you continue to wash in the bathroom along with everyone else in the family, and use the fuel tank for storing petrol like it was designed to.
All About Hand Tools
June 1998
Hammer: Originally employed as a weapon of war. Now used as a kind of divining rod to locate expensive Volkswagen parts in the immediate vicinity of the object we are trying to hit.
Mechanic's knife: Used to slice open cardboard cartons delivered from your favourite parts supplier; works particularly well on boxes containing new soft tops or seat covers.
Electric hand drill: Normally used for spinning steel pop rivets in their holes until you die of old age. Also works well for drilling rollbar mounting flange holes in the floor, just above the brake line or wiring harness.
Slip-Joint Combination Pliers: Used to round off bolt heads, crack nuts and make blood blisters on your fingers.
Drill press: A tall upright machine useful for suddenly snatching flat bar stock out of your hands so that it smacks you in the chest and flings your beer across the room, splattering it against the babe-filled calendar over the bench grinder.
Wire wheel: Cleans rust off old bolts and propels them at the speed of light somewhere under the workbench. Also removes fingerprint whorls, skin on the knuckles and promotes visits to the eye doctor (see safety glasses).
Safety glasses: Protection for the eyes. Seldom used until after a visit to the doctor to remove metal fragments.
Hydraulic floor jack: Never quite reaches high enough. Used for lowering a Beetle after you've installed a new front sway bar, trapping the jack handle firmly between the sway bar and the front axle beam.
Eight-foot-long 2x4: Used for levering a Beetle upwards off a jammed hydraulic floor jack. Usually either too short or too long, by at least a metre.
Tweezers: Used for removing wood splinters from hands after using a two metre-long piece of two-by-four without gloves.
Mobile Phone: Used for calling your nearest mate to see if he has a hydraulic floor jack, or ordering pizza during an all-night wrench-a-thon so you can go on tomorrow's Club run.
Bolt and stud extractor: An expensive, precision tool that snaps off in bolt holes. Ten times harder than any known drill bit.
Timing light: A stroboscopic Instrument for illuminating grease build-up on crankshaft pulleys. Also makes excellent dance-floor effects when your favourite '70s disco song comes on the radio during a late night shop session.
Two-tonne chain hoist: Used for testing the tensile strength of ground straps and electrical wires you forgot to disconnect when removing an engine.
Battery electrolyte tester: Used for transferring sulphuric acid from the battery onto the bodywork, the sleeve of your new shirt, or the inside of your toolbox after determining that your battery is dead as a doornail, just as you thought.
Trouble light: The mechanic's own tanning booth. Sometimes called a lead light, a good source of Vitamin D, the 'sunshine vitamin', which is not otherwise found under Volkswagens at night. Health benefits aside, its main purposes are to (1) burn your fingers, (2) make white spots in front of your eyes, and (3) consume 40 watt light bulbs at about the same rate that 105mm Howitzer shells were used during the Battle of the Bulge. More often dark than light, its name is something of a misnomer.
Air compressor: A machine that takes energy produced in a power plant many kilometres away and transforms it into compressed air that travels by hose to a pneumatic impact wrench that grips rusty nuts or suspension bolts last tightened some 30-odd years ago in the VW factory, and promptly rounds them off.
Butane lighter: Kept in toolbox to light acetylene torch because you can never find the appropriate 'spark' lighter, even though you remember buying at least five of them. Usually results in singeing all the hair on your hand.
Oxy-acetylene torch: Produces a hot flame, used to remove bolts with rounded-off heads, and to cut various metals into unrecognisable shapes. Also produces an erratic version of the Tamworth Two-Step when a hot piece of cutting slag burns through your Dunlop Volleys.
Phillips screwdriver: Normally used as an alignment tool (note the unusual bends), a leather punch, a paint stirrer, or to stab the foil seal on a bottle of carb cleaner, power-steering fluid, brake fluid or other liquid, simultaneously squirting the contents on your new T-shirt. Also used for rounding off Phillips screw threads.
Straight-blade screwdriver: A device used to pry with, such as when opening a can. Will do an excellent job of slipping off screw heads and scratching paint, especially if the paint is new.
Chisel: A hand-held cutting tool. Meant to be struck with a hammer, but usually the hammer hits the holding hand.
Tool Storage Unit: A heavy duty, lockable wheeled metal box, carefully divided into separate trays, boxes and compartments to keep all your tools in. Tools automatically move between the areas by themselves. Will always be missing the specific spanner, socket or screwdriver you are looking for.
Sockets: Cylindrical chrome components that always roll just out of reach when you're lying under your VW, making you reach after it and hit your head on the gearbox. The size you're after will always be missing from the set.
Ratchet Drive: An instrument with a reversing mechanism that will always jam if you're reaching into an almost inaccessible location in the engine bay. Can also be used for a hammer when you can't be bothered looking for your proper one.
Torque Wrench: Designed to click or point at a pre-set torque, in such a way that you can't see or hear until after you've over-tightened the nut by 200%.
Allen Keys: A peculiar set of varyingly sized L-shaped hex bars that never quite fit the recessed screw heads you're trying to remove, and round them off internally.
Long-Nose Pliers: Designed to reach into tight, recessed areas and retrieve nuts that you've dropped there by mistake. Jaws will be bent or worn enough to allow the retrieved nut to escape just as you lift it out, and to fall back to where it was before, or deeper.
Electric Polisher: A rotary machine fitted with a soft, fluffy lambs-wool buffing pad. Will buff through faded but good paint and back to the undercoat faster than hand polishing.
Floor Creeper: A flat, wheeled platform that is built low enough to lie on and slide under your VW and just scrape rather than bang your forehead on the exhaust. Also leaves distinctive rectangular grease marks on your back.
Extension Cord: Similar good tangling properties to a length of rope. Will always be slightly too short, or if not the far end will pull out of the wall socket as soon as you've crawled under your VW. Increases the failure rate of lead light bulbs by 200%.
Feeler Gauges: Fan-like tool that, when folded, disappear in the bottom of your toolbox. When unfolded, the size marking of the gauge you want is always obscured by dirt, wear, grease or rust, or the leaf you want will be missing.
Micrometer: Precision tool that allows you to measure your mistakes to the nearest .001mm. Can also be used as a spanner in an emergency.
Tape Measure: A spring-loaded length of spring steel that retracts at great speed. The far end will let go and snap back in such as way as to always hit you in the testicles.
Spanner: Either an open-ended or ring design which will always not quite fit the old rounded nut you're trying to move. Will also make wonderful musical 'ping ping ping' noises when you drop it out of reach into the remote bottom of your engine bay.
Puller: A two or three-toed unit that will be missing the vital nut, thread or bolt head that enables it to work together. If you patch it together with spare nuts or bolts, the puller legs will be either too long or too short.
Battery Charger: A device with a metronome-style display, which makes explosive gas and an interesting hum when you connect it to a dead battery. Also dims your house lights.
How To Drive In Sydney
By Dirke Longwell
December 1998
1. Indicators. The sole purpose of indicators is to annoy people. Ideally, when suddenly changing lanes, they should not be used at all. If you feel you MUST use them when you cut someone off, wait until you are completely in the new lane, then flash your indicator once only. If someone from out of town makes the mistake of indicating before changing lanes, accelerate hard into the gap and give them a look as if to say, "What are going to do next you moron, molest my children?!" Always indicate the wrong way when going around roundabouts. Indicators are never used when turning corners, as the fact that your car turns is explanation enough.
2. Lanes. The general rule is to drive in any lane you feel like, but to drive fast in the slow lane and slow in the fast lane. Even so, you will always find the lane next to you is moving faster than the lane you're in at the moment. This is true even when you change lanes, which you should do at every opportunity. Sydney drivers never stay in the one lane for more than ten seconds.
3. Overtaking. Overtaking is the purpose of life. Overtaking someone else is good for your soul and maintains your faith in your VW. Being overtaken by someone else is only OK when you've deliberately slowed to avoid that radar trap up ahead. If someone overtakes you for any other reason, go home and shoot yourself.
4. Dress. Wear a baseball cap (facing backwards) when you drive. This makes your VW go faster. Always wear sunglasses too, even at night. Fuzzy dice are no longer cool. Instead, have a fluffy stuffed Cartman or Mr Hankie the Christmas Poo (from South Park, of course) dangling from your rear vision mirror.
5. Handbrake. The handbrake should never be used. The major car makers are currently considering removing it from future models. Leaving your car in first gear is sufficient even on the steepest hill. If possible, fit extra brake lights/ strips so you can really dazzle the car behind you every time you touch your brakes in traffic.
6. Types of Car. Men should drive either a Commodore or Falcon, preferably a ute. People with no penis should drive a smaller, more effeminate car like a Ford Fiesta. This gives every man the right to assume his Commodore or Falcon is invisible, and drive accordingly. People who live in the northern and eastern suburbs should drive huge four-wheel-drive vehicles, as they often encounter heavy mud slides, creek washouts, sand dunes and deep snowfalls on the way to pick the kids up from their private schools. Only weirdos drive Volkswagens.
7. U Turns. Always try to fit a U-turn into your journey, however unnecessary it is.
8. Trucks. Cars are on par with cigarette butts in the urinal to them - mere playthings. 100-metre long B-double semis and road trains should always be driven on busy city roads and highways during peak hours. Most truck drivers drool, have only one eyebrow and are incapable of eating a meal that involves using a knife and fork.
9. Traffic Lights. A red light doesn't actually mean stop unless you are the fifth car to go through. Yellow means put your foot down. Never wait for the lights to change to green as you can usually creep across the intersection without anyone noticing. When the green comes, blast away to get to the next red light before anyone else. Make sure you change lanes at least four times in the process, even if you only pass one car in doing so.
10. Giving Way. Never give way as it's a sign of weakness. If someone gives way to you, never acknowledge it. Give them a dirty look or the finger as they're probably either homosexual, a communist or a piece of tree-hugging hippie crap.
11. Taxis. Taxi drivers own the roads, so they can do whatever they want to. Despite this, they never take the most direct route to where you want to go. How can they think about directions when they are gesticulating at other road users, swearing at passengers in Greek or Liberian or Turkish and listening to 2RPH on the wireless, all at the same time? All taxis are held together with gaff tape, have dried vomit on the floor, beaded seat covers, and smell like leaky barbecues.
Point-scoring For Men
By Phil Matthews
December 1998
Simple Duties:
You go out to buy her flowers. +5
But return with a case of beer. -5
You check out a suspicious noise at night. +5
You check out a suspicious noise at night and it's nothing. 0
You check out a suspicious noise at night and it's something. +10
You pummel it with a cricket bat. +20
It's her cat. -50
Social Engagements:
You stay by her side the entire party. +5
You stay by her side for 10 minutes, then leave to chat about VWs with a drinking buddy. -5
Named Stephanie. -10
Stephanie is a goddess. -15
Stephanie has large breasts and a cherry 1967 Karmann Ghia with a Berg motor. -20
Saturday Afternoons:
You visit her parents. +5
You visit her parents and actually make conversation. +10
You visit her parents and stare vacantly at the television. -10
And the television is off. -15
You spend the afternoon watching the V8 touring cars on TV in your underwear. -5
And it's not really your underwear. -10
Her Birthday:
You take her out to dinner. +5
You take her out to dinner and it's not at your local Leagues Club. +10
OK then, it is your local Leagues Club. -5
And it's All-You-Can-Eat night. -10
It's a Leagues Club, it's All-You-Can-Eat night, and you bump into ten other blokes from Club Veedub out on the turps. -15
You give her a gift. +5
You give her a gift and it's a new set of metric spanners and socket kit. -10
You give her a gift and it's not anything to do with your Volkswagen. +10
You give her a gift and it's chocolate. +20
You give her a gift that you'll be paying off for months. +30
You wait until the very last minute, then buy her a gift on the way home that day. -10
From the only shop still open, the local 7-11. -20
With her credit card. -50
And it's something useful for your VW. -100
Thoughfulness:
You offer to wash her Hyundai. +5
You offer to pull out her engine and replace it with something decent. -10
You don't laugh when her Hyundai breaks. +10
You offer to pick her up at the bus station. +20
You forget to pick her up at the bus station. -25
Which is in Redfern. -35
And the pouring rain dissolves her leg cast. -50
A Night Out, Just The Two Of You:
You go to the latest Schwarzenegger movie. -5
You go to the latest Kevin Costner film. +5
You go to see a live comedian. +5
He's lewd, crude and sexist. -10
You laugh at his jokes. -20
You laugh until your sides ache. -30
She's not laughing at all. -40
Which makes you laugh harder. -50
Driving:
You take her for a long romantic drive +5
To a junkyard swapmeet in Oberon -5
You lose the directions on the trip. -10
You lose the directions and end up getting lost. -15
You end up getting lost somewhere in the back streets of Cabramatta. -20
Where your VW breaks down. -50
The local gangs arrive and she finds out you lied about having a black belt in karate. –100
Communication:
You go for three sentences without mentioning your VW, tools or even cars in general. +5
When she wants to talk, you listen, displaying a concerned expression. +20
When she wants to talk, you listen, for over 30 minutes. +25
You listen for more than 30 minutes, without looking at the television. +30
Because you've fallen asleep. -100
A Night Out With Your Mates:
You have a few beers. -5
For every beer after three, -5 for each.
And miss her curfew by an hour. -10
You get home at 4:00am. -20
Your mates drop you home at 4:00am then have a burnout competition on the street in front of her bedroom window as they leave. -30
You get dropped home at 4:00am smelling of stale booze, cigarettes and vomit. -40
And not wearing any pants. -50
Is that perfume? -200
Some Christmas Jokes
December 1998
Keith is blatting along in his turbo Beetle when he has a terrible accident with a beautiful redhead in a Mazda MX5. Boths cars are wrecked but amazingly, neither is hurt.
As they both crawl out of the wreckage they see each other and are attracted to one another immediately. The redhead says, "I can't believe neither of us is hurt. It must be sign from God!" Yeah right, thinks Keith. "And look at this," says the redhead. "I still have a bottle of Jack Daniels under my seat, and it isn't broken even though my car is a wreck. Wow, another sign from God! Surely he wants us to celebrate, drink the bottle and get to know one another!" She hands Keith the bottle.
"Right on, babe!" says Keith, who takes the bottle, looks down her cleavage then takes a huge swig. Belch, then another big swig. He hands her the bottle, but she puts the cap back on and gives it back to him.
"Hang on babe, aren't you having any?" Keith asks.
The redhead says, "No...I think I'll wait for the police."
Two Dutch girls are cruising the streets in their low low low Cal-look Bug, heading into the back streets of Amsterdam. As it gets closer towards sunset, the increasing dark and unfamiliar territory, and the rough-looking men on the footpaths, starts making the girls a little nervous. What if the old Cal-looker broke down?
Nervously, one girl leans over to the other driving and says, "you know I've never come this way before."
The other one say, "Me either, I think it's the cobblestones."
Frank is on holidays in the US when he sees an American Indian lying in the middle of the road, with his ear against the ground, listening intently. Curious, he goes up to the Indian and asks him, "Mate, I'm from Australia. Can Indians really hear things with your ear to the ground like that?"
"Ug" replies the Indian.
"What do you hear?" Frank asks, amazed.
"I hear him Volkswagen - 1967 Squareback, dark blue, EMPI 8-spoke wheels, Thunderbird exhaust, deep sump, sheepskin on him seats, man in suit driving at 65 mph, got him black dog on back seat. Labrador."
"Amazing! You can hear all that?"
"No, him run over me 10 minutes ago."
What's the difference between a Volkswagen and a Mercedes?
Diana wouldn't be seen dead in a Volkswagen.
A young bloke has started work on a property in the bush. One day the owner sends him up the back paddocks in the old work Kombi pickup to do some fencing work, but come knock-off time he hasn't returned. The boss gets on the CB to see if he's all right. "Come in, mate, are you OK?"
"I've got a problem, Boss, I'm stuck here," the young bloke radios back. "I hit a pig with the Kombi."
"Ah well, these things happen sometimes," says the Boss. "Just drag it off the road so nobody else runs over it in the dark."
"But he's not dead, Boss, he's gotten tangled in the Kombi's bull bar and I've tried to pull him loose but he's kicking and squealing and he's real big, Boss, I think he might hurt me."
"Never mind", says the Boss, "There's a .303 in the back of the Kombi, get that out and shoot it, then drag the carcass away and come on back."
"Okay Boss."
Another hour goes by and there's still no sign of the young fella. The Boss gets back-on the CB. "Calling Gaz, come in mate, we're still waiting. What's the problem, son?"
"I got the pig off the road, Boss, but his motorbike is still jammed under the Kombi."
Two nuns, Sister Rosemary and Sister Helen, were touring through eastern Europe in their old 1955 oval-window VW Beetle. One evening they found themselves on the road from Tirnaveni in Transylvania, when they stopped at a remote, dark intersection.
Suddenly, from out of nowhere, a little Dracula, only half a metre tall, jumped onto the front bonnet of their old VW and started hissing at the nuns through the windscreen.
"Oh Mercy!" cried Sister Helen. "How horrible! Whatever will we do?"
"Do not worry Sister. Turn on the windscreen wipers," said Sister Rosemary. "That will dispose of that abomination."
Sister Helen turned on the VW's 6-volt wipers. After a moment they knocked the little Dracula down, but with a flap of its cape it was back up on the bonnet, again hissing at the nuns through the Oval's windscreen.
"Oh my Lord!" cried Sister Helen. "It's back again. What can we do?"
"The windscreen washers, Sister!" cried Sister Rosemary. "I filled the washer bottle with Holy Water back at the Vatican."
Sister Helen pumped the VW's wiper switch, and little jets spurted out onto the sinister creature. The little Dracula squealed as the Holy Water burnt his skin, but he flapped his cape and hissed at the nuns once more.
"Mother Mary!" exclaimed Sister Helen. "I fear that didn't work. What hope is there?"
"Quickly Sister!" cried Sister Rosemary, reaching for her silver necklace. "Show him your cross!"
Sister Helen wound down the Oval's door window, leaned out and shouted "GET THE F*#K OFF OUR CAR !!"
How To Drive Like a Moron
By David Birchall
April 1999
When there's traffic behind you, always drive 15-30 km/h below the posted limit.
When driving at a slower speed, stay in the right-most lane.
When travelling with pets, make sure they sit on your lap with half their body hanging out the window.
If you own a Kombi pickup, transport your ugliest family members on the flat bed and make sure they drool and stare at other drivers.
Use the top of your car to transport cargo and make sure everything is loosely tied, if tied at all. Roof racks are optional.
When carrying large things on the roof of your car, drive with your right arm out the window and use your feeble little hand to keep the cargo from falling off.
Whenever possible, children should sit on your lap, at least until they're about 8 years old.
Whenever possible, cut off other drivers and then slow down.
Slow down drastically for every little bump in the road.
Maintain flexitime at work so that you can drive around leisurely when others are rushing to get to work on time.
Whenever you see a police car, even parked, slam on the brakes and drive 20-30 km/h slower than the speed limit.
While travelling down residential streets, drive at 5 km/h and look at all the houses and landscaping. In fact, look everywhere except out the front windscreen.
Feel free to give other drivers the middle finger at will. If they do it back, wait until you get to the next red light, get out of your car and beat the living crap out of them.
If you have a car phone, use it as much as possible and pay no attention to the road. If you have no one to call, hold the phone up to your ear and pretend.
Swerve into the opposite lanes to avoid hitting roadside obstacles... like Styrofoam cups and Mars Bar wrappers.
When waiting in line at a set of tollgates, wait until you are at the window before starting to search for your coins.
Keep your brake light blinking by keeping one foot on the brake pedal at all times.
Never use your ashtray. Flick cigarettes out the window when you are finished with them.
Throw soft drink cans and food wrappers out the window when driving on highways.
Your car stereo should be blasting mindless rap music at approximately 900,000 dB.
If you get lost while driving, the best place to stop and get your bearings is at a green light.
If for some reason you had to pull over on the shoulder, wait until a car is approaching to pull back onto the road.
Save time by reading your newspaper and having breakfast and coffee while driving to work.
When at a petrol station, pull up to the front-most pump. This way people will have to wait until you are finished before they get serviced. You should also pay with a credit card so that it takes twice as long as cash or EFTPOS.
If you approach a bicyclist on the same side of the road, pass him by leaving only one centimetre between him and your side-view mirror.
Adjust your car seat so that the drivers behind you only see the top of your head and a pair of knuckles on the steering wheel.
If you see an emergency vehicle travelling on the opposite side of a concrete divider, stop abruptly.
Make sure that you drive all types of slow or wide vehicles during peak traffic hours.
When approaching a give-way sign, either accelerate without looking or come to a full and complete stop.
If another driver is courteous enough to let you in front of him/her, show your appreciation by letting the entire world in front of you, including semi-trailers and construction vehicles.
On multi-laned roads, always drive at the same speed as the vehicle next to you. Try to 'box' in drivers behind you, who are attempting to pass.
If you see a vehicle getting in your lane directly behind you, hit your brake pedal. The closer the vehicle, the harder you should press.
If your vehicle is capable of spinning its tyres on dry roads, take advantage of this. Make as much black smoke as possible.
When driving in heavy bumper-to-bumper traffic, always drive with at least 10 car lengths in front of you.
Steer your car towards any small animals or rodents running through the street. Then, yell to everyone else in the car, "Hey, did you feel that little bump? I just ran over a bunny rabbit!"
If another driver honks at you, ignore it, continue to do exactly what you are doing, and give him a dirty look.
If you get lost in a residential neighbourhood and need to turn around, find a newly paved or sealed driveway to do so.
When drivers ahead of you pull over to let emergency vehicles pass, accelerate so that they cannot merge back into traffic.
When driving in a lane that is going to end because of construction, ignore all the 'LANE CLOSED - MERGE AHEAD' signs. Then wait until the last second and cut off the other drivers that had the common sense to switch lanes earlier.
The more expensive of a car you drive, the more you have the right of way.
If you need to stop to ask for directions, wait until there is a car behind you and stop in your lane to block traffic. Try to ask directions from either a 90-year-old local, a deaf person, someone who speaks no English, or a child.
When picking up a passenger during the very early morning or late night in a residential neighbourhood, stop in front of the house and honk the horn. Either a series of long honks or in a melody of a song such as 'La Cucaracha' is appropriate.
Keep your ski racks on all year round so that you look like a police car in other car's rear-view mirrors.
If you are a part-time volunteer at a local fire department and have one of those blue 'ooh-look-at-me- I'm-important' flashing lights on your car, use it whenever you go shopping or to a restaurant.
Use your driving time as an opportunity to have an intimate encounter with your girlfriend.
When parking in a residential neighbourhood, always park in the street blocking someone else's driveway.
When parking on a residential street without kerbs, always make sure that you park partially on someone's lawn.
Always change the radio station, tape, or CD while you are in the middle of changing lanes.
If you are a driving school instructor, make as many appointments as possible during peak traffic times. Then inform your students to drive really slow and not to worry about the 'crazy morons' on the road.
After filling your tank and paying at a busy petrol station, leave your car in front of the pumps while you use the toilets, browse the magazine rack and shop for a snack.
Always save your nose picking for when you're behind the wheel.
Let other drivers on the road know that you're listing to your favourite song. The best way to do this is to steer the car with your knees, pretend to be holding a pair of drum sticks, and start beating away at the steering wheel and rear-view mirror while bobbing your head all over the place.
If another driver does something stupid to tick you off, get out of your car at the next red light and scream at him through his window to get out and have his arse kicked.
Drive until you are 130 years old, with no eyesight, hearing, reflexes, wit, or pulse.
When running into a local 24-hour convenience store, leave your 2-year old toddler in the car alone with the engine running.
Keep the driver seat as far back as possible so that you can barely reach the pedals.
When approaching a bicyclist or parked car in your lane, swerve carelessly into oncoming traffic to go around it.
Save money. Don't bother with insurance.
If you legally posses a gun and your state permits unconcealed carrying, drive with it on your dashboard so that anyone you cut off will have second thoughts about 'flipping you the bird.'
If you are on holidays and you see any sort of wildlife, stop in your lane to take a lot of pictures. Or try to run over it.
After you cut off a vehicle, give a 'Thanks-For-Letting-Me-In' wave and nod to the other driver.
When driving home with a hot family pizza box, drive with it on your lap.
If you're driving fast, stick one arm out the window, twist your hand back and forth and pretend to be an aeroplane as the wind lifts your arm.
Never adjust your mirrors so that you can see anything. Or adjust them so that you can see your hair.
When leaving a fast food drive-thru restaurant, drive straight into traffic by steering with your knees, as you balance a large Coke between your legs and unwrap your hamburger to pull the pickles out of it, which you throw out the window.
If you get pulled over by a law enforcement officer, try to talk your way out of the ticket. Even if you drive a souped-up red car with no muffler or seat belts, illegally tinted windows, bumper stickers that say 'Legalize Marijuana' and a personalised number plate that says 'COPSUX'.
If you are bored and looking for something interesting to do on a summer night, try Car Bowling. To do this, drive through a residential neighbourhood on garbage night. Hold a bowling ball out the car window and drive as fast as you can. Then slam on the brakes and let the ball go.
If you are driving a loaded dump truck, or pulling a box trailer, never cover the top. Then drive as fast as possible to cause a storm of debris to fly toward traffic behind you.
There are NO motor vehicle laws that are applicable to cops. If you are an officer of the law, feel free to speed and make illegal U-turns. If traffic is exceptionally heavy and you want to make an illegal turn, flash your red and blue lights and go for it.
When travelling with a pet in the back seat, turn around every 2 minutes and make sure little Pookey is okay. "How are you doing, Pookey? You like the car, Pookey? Who's my little Pookey? Good Pookey!!" Meanwhile, drive with one hand on the steering wheel and the other reaching behind the seat petting Pookey's little ears.
When approaching a curve in the road, slow down as if the road is ENDING.
When having another vehicle follow you to wherever you're going, and a third car merges between you, drive at 10 km/h just to make sure that your followers (2 cars behind) can see you.
If you have an automobile newspaper route, don't pull over as you slow down to throw the papers out the window.
Always drive with your left arm behind the passenger seat.
Drive with your seat far back enough, that a dentist can fill cavities while you travel.
If you are supposed to wear glasses or contacts while driving, don't.
Drive closely behind speeding ambulances and fire engines so you get ahead of everyone who pulls over to let them pass.
If someone leans on their horn to get your attention to curse at you for a moronic thing you just did, ignore them and don't make eye contact.
Drive with enough boxes and packages in your car so that they completely block the side and back windows.
If the driver behind you is honking and flashing his headlights because he's in some sort of emergency rush, do NOT pull over to let him pass.
When coming home from work the evening before a holiday, always drive like a maniac to increase your chances of getting into an accident. If you do get into an accident, try to take as many other vehicles with you as possible to jam up traffic with people who want to get home early.
When driving around curves, always drive over the line and into the oncoming traffic lane.
Keep your hi-beams on at night until oncoming cars are only a few car lengths away and the oncoming driver puts his hand over his eyes.
Sit in the right lane at a busy intersection, waiting for the lights to change green. When they finally do, THEN indicate you want to turn right.
If you're in front of a smaller car, coast slowly down hills to remove their momentum, then power away up the other side.
Turn up the radio to cover the noise of a screeching alternator belt.
Drive with your right arm hanging as far as possible down the outside of the door.
After periods of rain, aim your car at the big puddles and throw as much muddy water around as possible.
On country roads you should drive 10-20km/h slower than the speed limit to allow traffic to build up behind you. When you finally reach the overtaking lane, nail it and blow them away. Slow down again when the overtaking lane ends.
Tow a trailer with faulty brake/tail/ indicator lights, piled high with junk so your car's tail lights can't be seen.
Make sure you take your time when reverse-parking into a spot on a busy street. Pull up far enough out into the traffic to block it, then reverse at 0.0001 km/h into the spot. You should bump the kerb at least twice, pull out without warning and then slowly reverse in again, as many times as you feel necessary.
When oncoming drivers flash their lights at you to warn you of cops up ahead, don't do the same to others once you've passed the radar trap.
Wear a baseball cap backwards when you drive, while vigorously chewing gum.
All About Burnouts
By David Freiburger
March 2000
Burnouts are cool. Old ladies, pedestrians, the fuzz, your parents, and the owner of the parking lot categorically do not understand. Little kids dig burnouts. Groovy chicks are jiggy wit' 'em. And car guys live for illicit tyre spin. But why?
There's plenty of allure if you really think about it. Much more than a simple overpowering of rubber, I can think of at least 10 brands of burnouts, each with distinct character: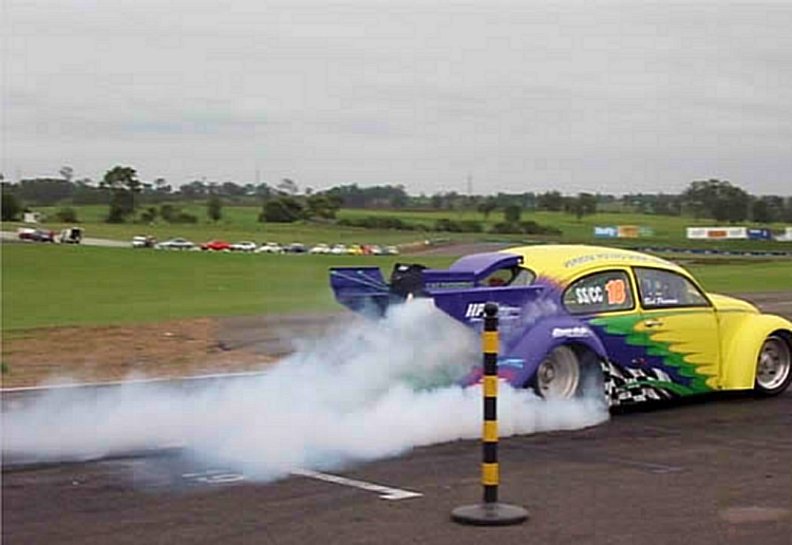 Your First Burnout: No doubt, you did your first chirpie in your parents' car, probably before you got your licence. Remember the feeling? You 'accidentally' spun a tyre in your Dad's HZ Premier going around a corner, then looked back over your shoulder for the next 15 minutes wondering if you were going to get caught. If you did, you probably wouldn't have a licence to this day.
The Neutral Slam: Nothing frags an automatic like five-granding the motor, then dropping from N to D, but teenage car guys are bent on finding out the fun way; the technique is good for at least one savage smoky. I suspect my father is just learning as he reads this that I puked the driveshaft out of his Valiant Regal wagon by Neutral-slamming the wee out of it while leaving a high school party. It's about the only time that I lied to my folks ("It just fell out."). Oops! Now I'm probably grounded.
Look At Me: Speaking of high school, is there a school auto shop, parking lot, or main hangout in the country that isn't scarred with radial dust? Boiling the hides for hero points with the babe from home science is a teenybopper manoeuvre, but unpreventable. And no matter how much of a pig your old high school ride really was, the older you get, the faster it will have been. Still, I'm confident that today's Hondas would be put to shame by the redwall-blazing 428 Super Cobra Jet Mustang that was my friend Greg Parson's senior-year smoke machine.
Buddy's-Car Burnouts: I don't care how old you are, if a friend lets you drive his hotted-up VW, you're gonna do a burnout when he's not around. Don't even try to deny it.
Rental-Car Abuse: The day the first front-wheel-drive cars hit rental fleets was the day travelling automotive journalists discovered brake drags. It's one of the few benefits of wrong-wheel drive. The parking brake resembles an OE Line-Loc; jerk the handle, stab the skinny pedal, and boil the front skinnies. Weird. Actually, most front-drivers will just drag the locked rear wheels, but it's still fun and, if we understood the officer correctly, punishable by imprisonment.
Brake Stands: Remember the day you learned to work the brake pedal against the throttle to make the car stand still while you roasted the rubber? You're more of an artiste if you can use your three feet to brake-stand with a manual trans. It's murder on trannies and brakes but a mandatory talent for burnout contest.
The New-Motor Smoky: You just fired up your latest mill, the healthiest you've ever built. You'd like to break it in, let the valve springs warm up, and give it some time to settle. I give it three blocks, maybe four, before you tear the treads.
Go Fer Distance: There's renown and jail time to be had with a car that'll lay tracks for three city blocks. My proven ingredients for lengthy rubber include a dead-stock 455 (Buick, Olds, Pontiac-your choice), a highway-geared open diff, and an aged bias-ply pumped to the max. A tad of throttle tickling will net a spinner that last longer than it'll take you to get cuffed and stuffed. The tarmac will bear your witness for months.
Arrested in the Empty Parking Lot: Donuts. Rockfords. Brodies. E-brake turns: all variations on the spin-rubber/get-stupid theme and pure fun. We've all done it, but it's a good way to roll your car, which sorta puts a damper on things. Still, getting sideways, crossed up, and backward is a thrill they could charge for - and they do. Sign up for defensive-driving classes or stunt-driving training and you're sure to get your money's worth in a safe environment.
Underground Car Park: The easiest. Smooth, shiny concrete floors enable even piss-weak cars like Hyundais, Kias and Protons to chirp the wheels. You can also hear the sound of the screechie bounce off the smooth concrete walls. You can even squeal the front tyres by cranking in some lock and jabbing the throttle.
Legal Burnouts: We'd heighten our delinquency if we didn't reiterate that the only way to avoid Rodney King treatment is to limit your tyre smoke to the dragstrip and sanctioned burnout competitions. Sure, local stores have been known to sell burnout bleach at discount prices during our Summer Cruise, but we don't have anything to do with it and don't endorse it. However, we do plan to throw the world's largest legal burnout party at our Summer Cruise. Be there because everyone loves a healthy burn. If you're a car guy who frowns on tyre spin, you're wearing your panties too tight.
Oil Changes By Gender
By Carmel Morris
November 2000
Women:
1. Pull into VW workshop, 5,000 km since the last oil change.
2. Drink a cup of coffee
3. 15 minutes later, hand over Visa card to pay $30 bill, then drive away with properly maintained VW.
Men:
1. Drive wife's car to Super Cheap Auto parts shop on Saturday morning and spend $50 on oil, degreaser, WD-40, Nulon oil additives, Turtlewax car polish, Armorall, hand cleaner and little scented trees.
2. Drive to VW parts shop, as Super Cheap Auto does not sell VW oil strainer gasket sets. Buy VW oil strainer gasket set.
3. Socialise with VW shop owner and staff for 2 hours, drinking three cans of beer in the process.
4. Drive home, stopping at corner shop to buy newspaper. Have late breakfast while reading motoring section of Saturday paper.
5. Head to garage to start work on VW. Discover that plastic draining pan and old oil containers are already full of old filthy oil, dust and dead insects. Oil puddle underneath where someone spilt old oil several weeks ago.
6. Instead of taking old oil to the tip for recycling, find shovel in garden shed, dig hole in wife's flower garden and dump old oil.
7. Wipe up spilt oil with old shirt (Xmas present from last year). Throw oily shirt down the hole in flower garden. Cover up hole.
8. Hot work! Go to workshop fridge, grab beer can, open and drink.
9. Drag hydraulic jack out from under the workbench and brush cobwebs off it. Spend 10 minutes looking for jack handle. Jack VW up. Spend 30 minutes looking for jack stands.
10. Find jack stands behind old pushbike frame at back of garage, underneath pile of junk that needs to be disposed of one day.
11. Start VW and run for 5 minutes to warm engine. Get head spins from fumes in closed garage; open roller door. In frustration, open another can of beer and drink it.
12. Turn off motor. Place drain pan underneath VW engine.
13. Look for 19mm socket and drive. Damn. Look for 19mm ring spanner. Bugger. Look for 19mm open-end spanner.
14. Give up and use adjustable spanner.
15. Try several times, finally unscrew oil drain plug from crankcase after rounding the edges.
16. As oil comes pouring out, drop drain plug into pan of hot oil. Oil splashes onto your face and clean shirt (which you forgot to change)
17. Clean up. Wipe face with sleeve. Have another beer while oil is draining.
18. Look for 10mm socket and drive to undo the oil strainer. Shit! Look for 10mm ring or socket spanner.
19. Undo six nuts with adjustable spanner. Plop, plop, plop go the nuts and copper washers into the pan of hot oil.
20. Mates from Club Veedub turn up all of a sudden. Finish the case of beer from garage fridge with them. Talk about VWs all afternoon. Decide to finish the oil change tomorrow.
21. Sunday morning - drag the pan of cold oil out from underneath VW.
22. Dig another hole in backyard and dump old oil. Throw kitty litter on oil you just spilt, as well as yesterday, and where you and your mates walked.
23. Open fridge - oops, no more beer, drank it all yesterday.
24. Borrow wife's car to drive to bottle shop to get another case from cool room. After placing cans in garage fridge, open and drink one.
25. Carefully prise oil strainer from bottom of VW crankcase with oversize screwdriver. Put in old ice cream container with dirt scum on bottom, pour in kerosene and clean strainer with old paintbrush. Wipe with filthy rag.
26. Can't be bothered digging another hole; pour dirty kerosene onto flower garden. Beer.
27. Straighten bent oil strainer. Carefully push onto crankcase with new gaskets.
28. Dig up backyard to retrieve oil strainer nuts and drain plug from hole. Another beer.
29. Tighten nuts with adjusting spanner. Slip with spanner and bang knuckles on crankcase.
30. Bang head on rear bumper in reaction.
31. Swear loudly. Throw adjusting spanner across garage. Open and drink another beer.
32. Grab new oil container and begin pouring into VW oil spout. Slip and pour half a litre over tinware. Notice oil puddle underneath.
33. Race to find adjusting spanner. Tighten drain plug that you forgot about before.
34. Lower VW from jack stands. Wheels land in oil puddle. Reverse out, leaving oil tracks.
35. Scatter more kitty litter. Sweep up into large bucket, and dump in new backyard hole.
36. Drive VW a litre of oil short for 15,000 km or more before you finally find time for another oil change.
The Cabriolet
By Peter Gentles
March 2001
A young blonde female stockbroker was bored with driving her BMW 323i. It lacked individuality and, besides that, every other girl in the office had one. She fancied something a bit more individual - maybe a convertible!
That weekend she was passing her local VW dealer, and spied a beautiful Golf Cabrio. It was wonderful and she fell in love with its gorgeous red paintwork.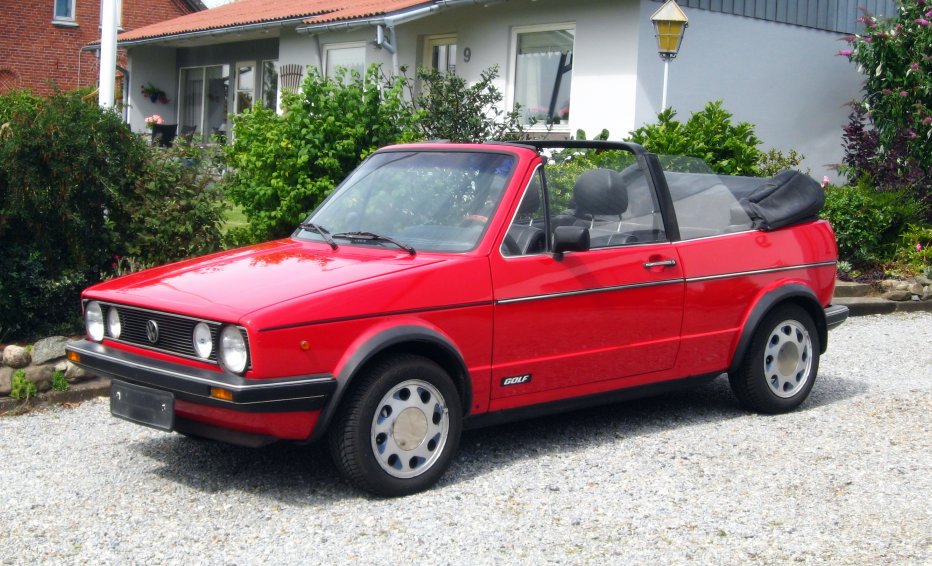 An empty cheque stub later and she was off, cruising down the leafy country lanes enjoying her beautiful new VW. Her long blonde hair was flowing in the wind, music was blaring from the stereo, what could possibly go wrong?
With that thought, there was a splutter from the 1984cc, 85kW VW engine and the Golf Cabrio slowly coasted to a stop. She got out and lifted the bonnet, and after a few minutes she concluded she didn't have a bloody clue what was wrong.
Luckily she had her mobile phone in her purse, and she made a quick call to the 24-hr Volkswagen Assist service. After a short wait, she saw a bright shiny yellow van pull up behind her.
"That's a lovely car," said the roadside serviceman. "What seems to be the trouble?"
"Well it just conked out I'm afraid," said the blonde, brushing back her hair.
"Hmm, let me have a look then." He set to work under the Cabrio's bonnet, and ten minutes later he called out, "OK, crank her over!" Sure enough, the starter spun, the VW motor burst into life and was soon purring along at idle.
"Thank goodness!" cried the blonde. "What was the matter?"
"Oh, simple really," said the repairman as he wiped his hands. "Just crap in the fuel injectors."
The blonde was shocked. "Oh, really?" she replied. "How often should I do that?"
The tools that VW forgot
By Steve Carter
April 2001
VWX-000 - Zip ties, any size, length, and colour
VWX-001 - Duct tape
VWX-002 - Baling wire to attach heater box cables, fix broken accelerator pedal linkage, and attach license plate to front overrider
VWX-003 - Small wire brush for all electrical connections
VWX-004 - Magnet-on-a-stick, fishes spark plugs and tin screws out of shrouding
VWX-005 - Mirror-on-a-stick
VWX-006 - Bluetack, retrieves dropped spark plugs and sockets from inside Type 4 tinware, retrieves dropped rotor from Type 1 pulley tin
VWX-010 - German/English phrase book, for swearing at your VW in its mother tongue
VWX-011 - BFH (Big F*#king Hammer)
VWX-012 - 1.5m cheater pipe for rear axle nuts, flywheel. See also VWX-024
VWX-013 - Stocking cap
VWX-014 - Socket set, used as drifts to install bearings and seals
VWX-015 - J-bolt with threaded end filed square, used in lieu of church key
VWX-018 - Rag for front window defrost assist
VWX-020 - 1 metre 6.3 mm fuel hose cut into 8-16 cm lengths to install plugs, also doubles as a stethoscope for finding unusual engine noises and synchronizing dual carburettors. Can also be used as fuel hose
VWX-024 - 60 cm adjusting spanner for rear axle nuts, flywheel. See also VWX-012
VWX-049 - Lighter that no longer flames for lighting VWX-050
VWX-050 - Blue Wrench (gas torch)
VWX-051 - Friend with good hearing for setting timing without lights or instruments
VWX-052 - Rope for securing items to roof rack, pulling bus out of sand, etc.
VWX-053 - Shovel
VWX-054 - Friend with small hands for retrieving objects that fall into the cracks
VWX-055 - Wire, attaches items to roof rack (steel is real)
VWX-068 - Small plastic Esky for beer
VWX-069 - Large metal Esky for beer

VWX-101 - Milk crate, a place to sit while pondering your engine
VWX-101D - Milk crate covered with shag carpet
VWX-175 - Old link pin used as an Intermediary Pounding Device for straightening bumpers, guards, or wherever an IPD is needed
VWX-176 - Piece of railway track used as anvil
VWX-177 - Piece of I beam used as anvil
VWX-178 - Strong friend holds your vice, which is breaking free from the workbench
VWX-200 - Small size cheap rolling floor jack
VWX-201 - Plywood base for VWX-200, prevents sinking into mud or sand
VWX-202 - Short length of 4 x 2" wood for VWX-200, increases jack height to allow lifting front wheels off the ground
VWX-203 - Pieces of split firewood blocks the Bus from rolling
VWX-204 - Round from a tree used to place transmission support under transmission supports Bus when the transmission is removed
VWX-250 - Golf tee plugs fuel hose
VWX-601 - Test light (for local manufacture) Made from an instrument bulb holder and bulb, a cable with connector on one end (attached to bulb holder) and clip on the other, and a cable with clips on both ends (one clip on bulb holder body) Note: fit a 6V or 12V bulb as appropriate
VWX-602 - 20 cm long rod with 17 mm hex nut welded to rod on flat side of nut used to remove and replace transmission fill and drain plugs
Sydney Fast Car Exam
December 2001
Time allowed: 1 hour. Write good mate.
1. If Mario fits a monster tacho to his TE Gemini, how much quicker will it go along Bexley Road on a Friday night?
2. Farouk has 7 children and gets $630 a week from Centrelink. He goes to the TAB and puts half of it on a nag in the 5th race at Warwick Farm that's paying 22 to 1 because his mate Ali says it's a fix. How many stolen car stereos does he need to sell when the horse fails to finish?
3. Jim just got a big payout from Workcover for a bad back. Does he A) Spend the money on a holiday back to Greece; B) Put concrete columns on his house at Earlwood; C) Have his Mazda RX3 resprayed in pearlescent orange?
4. If George and his mates go cruizin' in Brighton Le Sands on Friday night, how many stone chips will his Toyota Supra get if he doesn't fit his car bra?
5. How much quicker will Ali's VK Commodore go if he fits the stolen VL Turbo badge on it, and moves the number plate to one side so it looks like he's running an intercooler?
6. From how far away can you hear Ricky Martin being played in Rocky's Hyundai Excel, if he has just fitted four 500-watt stack amps and eight 15-inch subwoofers?
7. How may chicks goes Habib need to say he scored with in his Pulsar SSS on the weekend if he wants to sound cool to his work mates at the panel beaters on Monday?
8. Nick's 6 mates want to go down to Wiley Park McDonalds in his VK Calais 5.0-litre.
A. How much petrol money will they need to get off each bro' if he's running a 3000 rpm stall and a 4.11 diff ratio?
B. If they cruise down Canterbury Road at 40 km/h with the stereo pumping, how many times will they get called bloody wogs?
C. On the way, how many drags will they have against XD Falcons?
9. Who should Famina go out with on the weekend?
A. George, a DJ who drives a Gemini with fake supercharger inlets;
B. Mario, who works for his father's concrete company and drives an XF ute with a Pioneer sound system and no front bonnet;
C. Spiro who's unemployed but can get drink cards at Rivas Nightclub?
10. If Con works at Franklins at Fairfield, how much overtime will he need to do to pay Ali the delivery driver for the sickmate 18-inch Simmons wheels he just scored?
11. Nguyen's parents just bought him a brand new Honda Civic.
Part 1: He has $2000 to spend on aftermarket parts for his car. What should he buy?
A. A full 4-inch stainless exhaust with a zoomie chrome turbo tip
B. 18-inch Zepter chromed wheels and low 25-series Yokohama tyres
C. A rear carbon-fibre Nascar-style wing
D. A Mugen racing sticker pack
Part 2: How many stuffed toys should he glue to the dashboard?
A. Less than 10
B. More than 10
C. More than 20
Part 3: How much quicker will the car go if he colour-matches the mirrors, the brake rotors and the windscreen wipers?
12. Gazza wants to put either a Jim Beam sticker or an Oakley sticker on his Torana. Which one will get him more roots?
13. If Gino chops the springs on his parents' VX Commodore, how many times a week will he get hassled by the cops if he puts dark 95% tinting on the windows as well?
14. How much better will Bruno's stereo system sound if he puts an Alpine sticker on the back window of his Bluebird?
15. Enzo wants to drop a burnout at Ashfield Maccas. How many RPMs will he need to get to before he drops the clutch, if his fat cousin is in the back seat of his Sigma?
16. How long does it take Fadi and his three mates to strip a hot Subaru WRX in Belmore?
VW Book of Records
December 2001
Loudest Car Stereo
The Technics car stereo fitted to the 1969 Volkswagen Beetle belonging to Sebastian Semos (Aus) reached a momentary peak noise level of 312dB whilst waiting at lights next to some girls in Cronulla, Sydney, on 8 July 1998. This noise level is equivalent to 17 Concordes taking off inside the car. Loud doof doof music is rumoured to attract girls. The girls walked away.
Car Parking
The smallest kerb-side space ever successfully reversed into by a woman was one of 19.36 metres, equivalent to three standard parking spaces, by Mrs. Elizabeth Simpkins (Aus) driving an unmodified Volkswagen Golf GL on 12 October 1997. She started the manoeuvre at 11:15 am in Cremorne, Sydney and successfully parked within one metre of the pavement 8 hours 14 minutes later. There was some damage to the bumpers, mudguards and all four doors of her own and the two adjoining cars, as well as a shop frontage, the concrete kerb, 31 passing buses and two lamp posts.
Car Customisation
Judged as a proportion of the overall value of the car, the accessories fitted to the Volkswagen Beetle owned by Mr Brian Walker (Aus) of Sydney add up to the world's most expensive car customisation project, of 105,761%. Between 8 March 1987 and 22 September 1990, Mr Walker had spent a grand total of $68,486.99 on his green VW in an attempt to attract girls to his vehicle. His purchases included a genuine Chop Top Full Body Styling Kit ($3500), 'Nightride' Disco Stop Lights ($299), two polished Kadron carburettors ($850), Scorpion talking alarm ($550) and a chrome-plated Monza exhaust system ($485). The car was valued at $60 when he sold it to buy a VW Transporter.
Car Repairs
The largest bill for fictitious work carried out on a woman's car by workshop mechanics was one of $16,322.85 charged by Kapadi Bros' Motors Pty Ltd. of Sefton, NSW. Calling in for a routine service on her one-year old VW Polo, Mrs June Speares (Aus) agreed to pay for, amongst other things, new ocelots ($752), cracked gangle pins ($1785), realignment of main blidort rod ($2268), new bodgies and widgies ($312), a set of left-hand solenoid flaps ($485) and new chrome-plated piss-take valves ($320). No work was actually carried out on the car during the six weeks it spend at the garage, but 7,400 km was put on the clock and she later received a speeding notice from the QLD police in Port Douglas.
Longest Wheel Spin
The greatest length of time a car has screeched and spun its rear wheels to impress some girls was achieved on 9th July 1999 by Adam Hamilton (Aus) in his souped-up VW Beetle. When traffic lights in Sutherland, Sydney, turned green he attempted to pull away at such a speed that his rear wheels spun for an amazing 17 minutes 42 seconds before his car began to move. Rubber smoke filled the street and both tyres eventually burst. The girls walked away.
Traffic Light Cosmetics
The longest spell oblivious to traffic lights whilst applying makeup was one of 1 hr 51 mins 39 sees by Mrs Janet Cheney (Aus), in her VW Vento at an intersection in the centre of Crows Nest, Sydney on 1st August 1998. Mrs Cheney, a piano teacher, beautified herself through 212 cycles of the lights, creating a backup of irate motorists stretching 25km towards Gosford.
Incorrect Driving
The longest journey completed with the handbrake on was one of 564 km from Canberra to Port Macquarie by Dr. Julie Thorn (Aus) at the wheel of her Audi 100 on 2 April 1990. Dr Thorn smelled something burning two kilometres into her journey at Manuka, but pressed on through Goulburn and Sydney with smoke billowing from the rear wheels. This journey also holds the record for the longest completed with the choke fully out and the right indicator flashing.
Multi-task Driving
The most impressive display of multi-task driving was achieved by powdered milk salesman Wayne Benshaw (Aus) at the wheel of his VW T4 Transporter. On 12 August 1998, while driving at 140 km/h in freezing fog on the Hume Freeway north of Melbourne, he simultaneously shaved, ate a sandwich, dictated a letter, read a road map, filled in his expenses, sipped his coffee, re-tuned the radio, took his jacket off, smoked a cigarette, trimmed his toenails and spoke to his wife on his mobile phone.
10 Best Car Repair Tools of All Time
By Peter McQueen
March 2002
There are only 10 things in this world you need to fix any car, anywhere, any time.
1. Duct Tape: Not just a tool, a veritable Swiss Army knife in sticky and plastic. It's safety wire, body material, radiator hose, upholstery, insulation, tow rope, and more - in an easy to carry package. Sure, there's prejudice surrounding duct tape in professional competitions, but in the real world, everything from Le Mans-winning Porsches to Atlas rockets and attack helicopters use it by the metre. The only thing that can get you out of more scrapes is a mobile phone.
2. Vice Grips: Equally adept as a spanner, hammer, pliers, baling wire twister, breaker-off of frozen bolts and wiggle-it-til-it-falls-off tool. The heavy artillery of your tool box, vice grips are the only tool designed expressly to fix things that are buggered up beyond repair.
3. Spray Lubricants: A considerably cheaper alternative to new doors, alternator, and other squeaky items. Slicker than pig phlegm, repeated soakings will allow the main hull bolts of the Titanic to be removed by hand. Strangely enough, an integral part of these sprays is the infamous Little Red Tube that flies out of the nozzle if you poke it into an inaccessible corner (one of the 10 worst tools of all time).
4. Margarine containers with Clear Lids: If you spend all your time under the bonnet looking for a washer that fell somewhere in the engine when you accidentally brushed it off the top of the air cleaner, it's because you eat butter instead of margarine. Real mechanics consume kilos of the tasteless vegetable oil replica just so they can use the empty tubs for parts containers afterward. (Some of course chuck the butter-coloured goo altogether or use it to repack wheel bearings.) Unlike small springs, nuts and clips, margarine tubs aren't connected by a time/space wormhole to the Parallel Universe of Forever Lost Parts.
5. Big Rock at the Side of the Road: Block up a tyre. Smack corroded battery terminals. Pound out a dent. Bop noisy know-it-all types on the noodle. Scientists have yet to develop a hammer that packs the raw banging power of a good sized lump of granite or limestone. This is the only tool with which a 'Made in Malaysia' emblem is not synonymous with the user being maimed.
6. Plastic Zip Ties: After 20 years of lashing down stray hose and wiring with old bread ties, some genius brought a slightly slicked-up version to the auto parts market. Fifteen zip ties can transform a hulking mass of amateur-quality wiring from a mass of over-cooked spaghetti into something remotely resembling a wiring harness. Of course it works both ways. When buying a used car, subtract $100 for each zip tie you find under the bonnet.
7. Ridiculously Large Stanley Screwdriver: Let's admit it. There's nothing better for prying, chiselling, lifting, mixing, breaking, splitting or mutilating than a huge flat-bladed screwdriver, particularly when wielded with gusto and a big hammer. This is also the tool of choice for all oil filters so insanely located that they can only be removed by driving a stake in one side and out the other. If you break the screwdriver - and you will, just like Dad and your metalwork teacher said you will - who cares, it comes with a lifetime guarantee.
8. Bailing Wire: Commonly known as MG muffler brackets, bailing wire holds anything that's too hot for tape or ties. Like duct tape, it's not recommended for NASCAR contenders, since it works so well you'll never need to replace it with the right thing again. Bailing wire is a sentimental favourite in some circles, particularly with the Sigma, Gemini, Kingswood, Cortina and Datsun 200B set.
9. Bonking Stick: This monstrous tuning fork with devilish pointy ends is technically known as a tie-rod separator, but how often do you separate tie-rod ends? Once every decade if you're lucky. Other than medieval combat, its real use is the all-purpose application of undue force, not unlike that of the huge flat-bladed screwdriver. Nature doesn't know the bent metal panel or frozen exhaust pipe that can stand up to a good bonking stick. (Can also be use to separate tie-rod ends in a pinch, of course, but it does a lousy job of it).
10. A Mobile Phone: See tip #1 above. When all else fails, you can still ring the NRMA or your Dad to come and rescue you. If you don't have a mobile, some 20c coins and a phone box is almost as good.
Used Car Classifieds Translations
By Peter McQueen
March 2002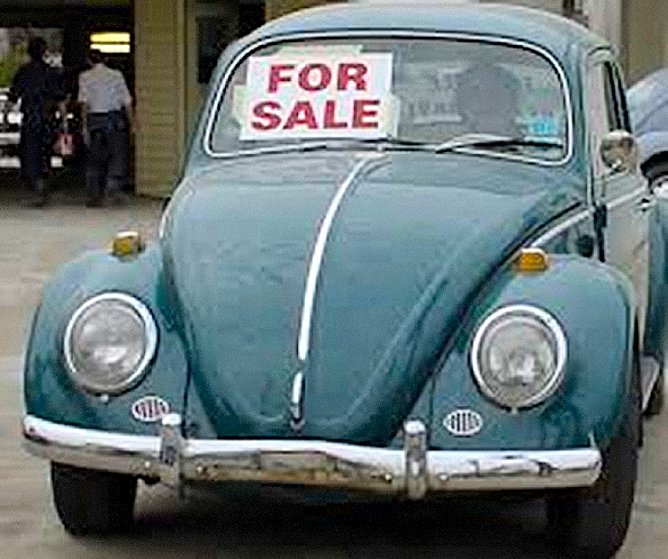 If the ad says.... it really means....
MUST SELL... Before it blows up.
RUNS FINE... I was going to say "runs beautifully" but I had a last-minute attack of conscience.
NEEDS SOME BODY WORK... It was sideswiped by a road train.
WELL-MAINTAINED... I occasionally gave it a wash.
LOOKS LIKE NEW... Just don't try to drive it anywhere.
ALL ORIGINAL... I never had anything fixed, adjusted, or replaced.
LOADED WITH OPTIONS... Each one more troublesome than the last.
NEVER SMOKED IN... Unfortunately, that's the best thing I can say about it.
PROJECT CAR... I can't figure out how to finish it and I doubt you will either.
LOTS OF POTENTIAL... To drive you insane.
NEEDS MINOR REPAIR... Doesn't run.
ENGINE QUIET... Uses 90-weight oil and sawdust.
PARTS CAR... Beyond repair.
ROUGH CONDITION... Too bad to lie about.
IMMACULATE... Recently washed.
CONCOURS... Recently waxed.
NEEDS MINOR OVERHAUL... Needs engine.
NEEDS MAJOR OVERHAUL... Phone the junkyard.
BURNS NO OIL... It all leaks out.
REBUILT ENGINE... I cleaned the spark plugs.
DRIVE IT AWAY... I live on a hill.
DRIVE IT ANYWHERE... Within 10 kilometres.
DESIRABLE CLASSIC... No one wants it.
RARE CLASSIC... No one wanted it even when it was new.
STORED 20 YEARS... In a farmer's field.
NO RUST... That you can see.
RAN WHEN STORED... But it won't start now.
NEVER APART... Bolts too rounded to loosen.
SOLID AS A ROCK... Rusted solid.
SPARES INCLUDED... The parts I don't know how to install.
RESTORED, WITH 0 MILES... Won't start.
RESTORED, WITH 2 MILES... Starts, but won't keep running.
OLDER RESTORATION... First owner washed it but I never did.
GOOD INVESTMENT... It can't be worth much less.
NO TIME TO RESTORE IT... You can't buy the parts needed.
95% COMPLETE... The other 5% doesn't exist.
CLEAN... Student dude at traffic lights squeegeed the windscreen.
GOOD TRANSPORTATION... It's ugly as sin.
ENGINE BLUEPRINTED... I don't know what it means either.
EXCELLENT FUEL ECONOMY... It's slow.
LOW MILES... The odometer was turned back.
ONE OWNER... I can't give it away.
SECOND OWNER... I bought a real lemon.
SURE TO APPRECIATE... That's why I'm selling it now.
OR BEST OFFER... I'm guessing here.
FASTER THAN A V8... Off a cliff.
OTHER INTERESTS CONFLICT... Wife's ultimatum: "Either that f#%cking thing goes or I do!"
One Day at the Parts Counter
By Steve Carter
October 2002
The other day I was in a local auto parts store. A young blonde lady came in and asked for a 'seven ten cap'.
The staff all looked at each other with some puzzlement, and said, "What's a seven ten cap?"
She said, "You know, it's right there on the engine. Mine got lost somehow and I need a new one."
"What kind of car is it on?" they asked. Now I'm thinking of an old Datsun Seven Ten perhaps, but she said no, it's a Buick.
"OK lady, how big is it?" She makes a circle with her hands about 5 cm in diameter.
What does it do? "I don't know, but its always been there."
One of the guys behind the counter gave her a notepad and asked her to draw a picture of it. So she drew a circle about 5 cm in diameter and in the centre she writes '710'.
The guys behind the counter are looking upside down as she writes it and they just fall about laughing in hysterics. One guy said, "I think you want an OIL cap."
She said, "Seven ten, oil cap, I don't care what you call it, I just need one, and I don't see what is so funny about it."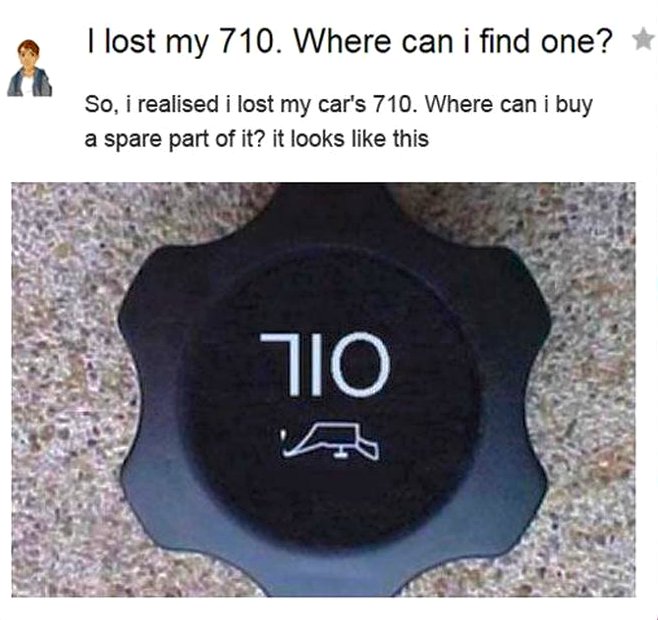 You Are Probably a Petrol Head if:
By Simon Matthews
March 2003
* The exhaust emissions test guy starts laughing as soon as you pull into their bay.
* Your wife or girlfriend is afraid to drive your car.
* YOU are afraid to drive your car.
* Your wife or girlfriend refuses to even ride in your car.
* You spend more on tyres than on food.
* Your local council decides not to re-pave your street with that new rubberised tarmac because you've already "done such a good job."
* You spend more on car insurance than on house payments.
* Your insurance company had to create a whole new actuarial table to cover you and your vehicle.
* You have ever argued with your wife over making the mortgage payment or buying that new set of extractors while they're still on sale.
* Your local city council has passed a law making it illegal for you to even enter a school-zone unless you are on foot.
* Traffic advisories are issued over the radio whenever your car is spotted during peak-hour.
* You have to go to the race track to buy petrol.
* Your mechanic names the new extension to his workshop after you.
* You have speed shops on your telephone and mobile speed-dial.
* You're tempted to wear your fire suit just to drive to the office.
* You refer to the intersection at the end of your street as 'Turn #1.'
* You get pulled over for doing 155 in a 60 zone but the cops will let you go if "they can look under the bonnet."
* News footage of cops chasing you is used as a training video at your local police academy.
* You are not allowed to attend the Vintage Rego Day for fear of scaring everyone.
* You get an anonymous phone call asking if you are interested in being in the Cannonball Run.
* Your face looks like you are riding a NASA centrifuge when you drive the car.
* You need parachute braking.
* There is no possible way to 'sneak out' of your neighbourhood at 6 am.
* Your pets scramble for their hiding spots as soon as the garage door is opened.
* Fuel is delivered to your home in 44-gallon drums.
* You wear earplugs in your car.
* You find out that stock side mirrors don't hold up at speeds exceeding 235 km/h.
* Your exhaust pipes are a larger diameter than your leg.
* Your fuel pump can be used to water a golf course.
* Your engine idles at 2800 rpm.
* You measure the fuel you use in 'litres per minute.'
* The local airport complains about the noise coming from your garage on Saturdays.
* The fire department has ever showed up at your house because alarmed neighbours reported smoke billowing from your garage.
* You consider ABS and traction control as options for the 'driving impaired.'
* You think the primary purpose of wings is to PREVENT flight.
* You feel compelled, on a road trip, to beat your previous best time.
* You are happiest when your street car's tyres are worn to racing depth and the wear bars are showing.
* When something falls off of your car, you wonder how much weight you just saved.
* When you hear "overcooked it," instead of food you think "off the track."
* You change engine oil every other week.
* You sometimes hear little noises from your passengers when you get on the throttle right after turning in.
* Your racing budget is one of the big three - mortgage, car payments/maintenance, girls.
* Your email address refers to your race car rather than to you.
* You've paid $2.00 a litre for petrol without complaining.
* You buy new parts because you can't remember where you put the spares.
* You bought a race car before buying a house.
* You bought a race car before buying furniture for the new house.
* You find that you need a new house because you've outgrown your garage and the neighbours are threatening violence if you park one more vehicle on the street or in the front yard.
* You measure all family acquisitions in terms of the number of race tyres that could have been purchased.
* You sit in your car in a dark garage and make car noises and shift and practice your heel and toe, while waiting for your motor to get back from the machine shop.
* Your garage holds more cars than your house has bedrooms.
* You have enough spare parts at home to build another car.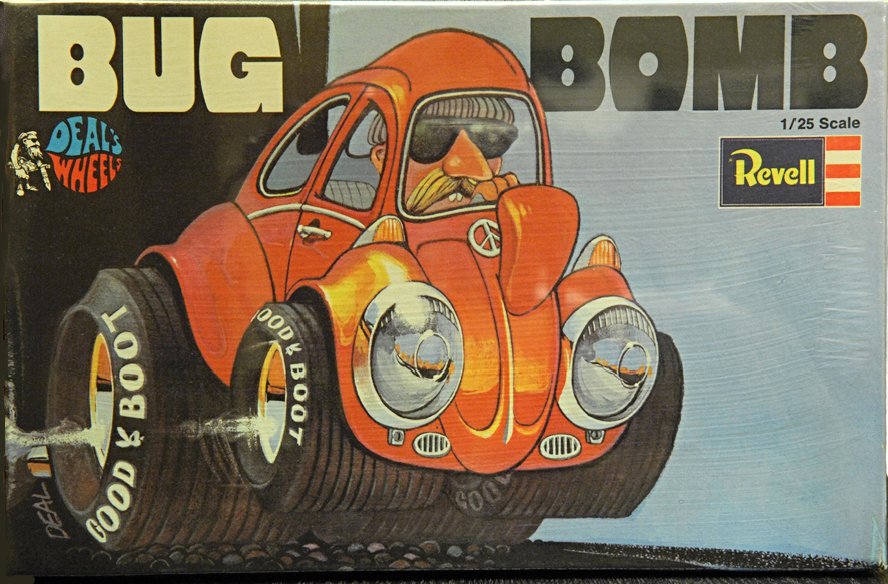 * More than one parts supplier recognizes your voice and greets you by name when you phone.
* You have car parts in your cubicle at work.
* You're registered for wedding gifts at Repco Auto Parts and Racer Wholesale.
* Your Christmas list begins with "another set of GB 411-454s and Pauter rods," and your wife or girlfriend knows what they are.
* You have a separate drawer for 'garage clothes.'
* The reading material in your bathroom consists of auto parts and racing supply catalogues, several books written by famous drivers, and 400 car magazines, none of which have centrefolds.
* You talk to other cars on the road, calling them by the manufacturer's name.
* Your first date with a spunky new girl is asking her to crew for you.
* Your criteria for selecting a significant other include auto repair skills. Air tools optional.
* Your family remembers your hair colour as "grease" or "oil-coloured."
* You plan your wedding around the shows, swapmeets and race schedules.
* You astound the clerk at Sidchrome by bringing in a snapped breaker bar every other week or so.
* You remember the rego, numbers and detailed engine specs of every car you've ever owned, but can't remember your phone number.
* Your family brings the couch into the garage so they can spend some time with you.
* A neighbour asks if you have any oil, to which you query, "Synthetic or mineral?" and they reply, "No no, sunflower."
* You enjoy driving in the rain on the way to work or school.
* You always late apex the intersection and try to pass a few cars coming out.
* Everywhere you go, you try to find the fastest line through the turn.
* You always do a toe and heel downshift while whoever might be your passenger gives you a real funny look.
* You can't stand understeer.
* You always want to change something in your daily driver street car to make it handle better.
* You've ever tried to convince your wife you needed that flow bench to fix the air filter on her station wagon.
* You save broken car parts as 'mementos.'
* Your last several freeway forays included just brushing the curbs as you apexed the on-ramps perfectly.
* You've found your lawnmower runs pretty good on 108 octane race fuel (but doesn't particularly care for E10 alcohol).
* The local tyre shop won't honour the tread life warranty on any car you have been within 50 metres of.
* The shop manager at your local car dealer mutters, "Dear Lord…" under his breath after he sees the size of your exhaust piping.
* The local police and state Highway Patrol have a picture of your car taped to their dashboard.
* You spend more time polishing your exhaust tip every day than you do showering.
* Instead of pictures in your wallet, you have timeslips.
* You would choose a rollbar over air conditioning if it were an option.
* You enjoy driving through wet, empty parking lots and using the emergency brake to kick the back end out.
* White smoke coming out from under your tyres is a common sight.
* You consider the redline a 'conservative suggestion', and the rev limiter a 'fun limiter.'
* Your idea of a good time is sitting around figuring out gear ratios and the ideal final drive ratio for given situations.
* When someone refers to 'The Good Book', you think of the Gene Berg catalogue.
* You own five cars and only one of them is street legal.
* You know the ¼-mile times and skid pad numbers of your ride-on mower and want to improve them.
* You've embarrassed your wife or girlfriend at least once by insisting on wearing your full-face helmet while driving.
* You know the 'racing line' of every turn in your daily commute to work, including your alternate routes, and practice hitting them every day.
* You quote your street tyre wear life in weeks rather than years.
* You regularly live test your rev limiter on that straight that's a little too long for 2nd but not worth going into 3rd for.
* You've started looking for sponsors for your daily commute.
* After you tell your wife where you'd like to go on your holiday she answers, "Why, is there a race there?"
Fond memories of winter in an air-cooled dunger
By Peter McQueen
August 2004
Ahhh yes...do I have fond memories of winter in an air-cooled dunger?....Let me see now....
... The steering wheel is a skinny old stocker, so it feels about -17° when you first start driving and your fingers are really stinging badly and you seriously wonder if they're going to actually stick fast from the cold...
… And now the windscreen is fogging over from your face sitting about 15 mm from the glass and you are huffing and puffing a kind of stale, lingering mist as you're hunched over desperately trying to stop the sub zero vinyl seat-back freezing your kidneys solid ...
... All the while your eyes are streaming 'cause the quarter windows are wide open (well...one is wide open, the other is batting back and forth like the wing on a lame duck) as you unsuccessfully try and stop the previously mentioned windscreen fog by introducing a good imitation of an Icelandic hurricane, and with the palm of one hand you're wiping and smearing the build up of oily halitosis droplets all over the screen, but to no avail as the pancake sized watery slick is more impossible to see out of than the frigid misting was ...
... Now although you are swerving blindly and repeatedly into the oncoming lane you really decide to take your life into your own hands and fumble with your shivering and, by now, almost numb left hand to quickly pull up one, then the other lever on either side of the handbrake, 'cause even Ferdinand Porsche himself didn't have the faintest clue which one was supposed to involve heating what part of the car, and of course you've forgotten that the little black ball is missing off the end of one lever so the fleshy pad on your index finger is actually sliced right open (down to the white bits that you initially always mistake for bone but aren't, actually, so you know it's really deep) and it's only the intense cold that stopped you noticing it to start with but, by crikey, it's really bleeding now...
... And you've done all this lever pulling in some futile and foolishly optimistic hope that at least the tiniest smidgen of lukewarm air will be somehow able to jump the highly turbulent 20-cm air gap between the heater box outlet and the heater channel in the car under-body, 'cause God only knows where those two connecting hoses went. And that's only if (and it's a really big 'IF') by some miracle the heater cables are not completely rusted away, and furthermore by some unlikely act of providence still attached, 'cause you definitely didn't re-fit them last time you spent the entire day getting the engine back in after trying to save $25 miserable bucks on a Latin American, so-called 'custom-flow stealth header' (Ind. Brasiliera) that you were absolutely positive you could modify to fit properly; but you spent the better part of a weekend proving what everybody else (including the manufacturer) already knew...that neither Harry Houdini or Arnold Schwarzenegger could ever make that baby fit and you'd only admitted this to yourself at 11.23pm Sunday night....
... And by the way, your single-handed efforts at 'easing' the engine in and out seven times have ensured that the paint on the muffler is now badly scratched up, so the retailer that sold it to you would laugh right in your face if you try and return it. And what's worse is your beaver panel is completely trashed too, with really big cracks appearing in the trowel load of bog you previously snuck in there and painted over when no-one was looking, and of course all this jiggery-pokery has put the final nail in the coffin for the engine bay seal...
.... And so, at 12.24pm Sunday night you did not re-attach those fiddly, rusted cable ferrules on the heater box levers; you just drank the last beer of the 6 pack and stared vacantly into space (cause re-attaching the cables meant going under the car again and being forced to look at the original, Swiss cheese-like stock muffler you had to put back on to get the engine back in, and by this time you'd really grown to hate those pin-head sized, stinging bast#rd pieces of oily grit that have a mind of their own and tenaciously hang on for years. Then when you venture under the car to confirm you've just stripped number three upper exhaust stud they detach themselves and drop, like they were laser guided, into the really sensitive red part in the corner of your left eye) and anyway you'd convinced yourself that you wouldn't be able to find the ferrule thingies anyhow, so why bother, but they were probably at the bottom of the ice cream container that's gone all brittle, somewhere in the evil smelling and inch thick treacly black slime that looks like something out of the Exxon Valdez catastrophe, or else one's rolled under the Country Buggy shell that you're holding to sell at a massive profit cause you're sure they'll be "all the rage again one day"... and the other is wedged firmly in the treads of one of your Dunlop Volleys....
... Meanwhile back in the car mid-winter Monday morning all you actually get for all your trouble is a polar blast snap-freezing your right ankle and a sudden, overpowering and increasingly nauseating stench of seriously unburned hydrocarbons, nicely mixed with brain-cell depleting monoxides that are literally pouring from the thumbnail sized rust hole that's blown through the asbestos bandage, square of Milo tin lid and # 8 gauge coat hanger wire you wound around the exhaust heat riser which, when actually functional, was supposed to warm the now completely iced over and wheezing old 28 PICT carb on the motor that some VW designer with a cruel sense of irony called the 'Fresh Air' 40 horse that just might have started with 40 (maybe) but has, on average, faithfully shipped a horse or two to the knackery every other year...
Know what I mean.....?